Chocolate. Biscuit. Cake. The favorite of the Queen for over 80 years. Don't you want some?  You won't believe how easy It is!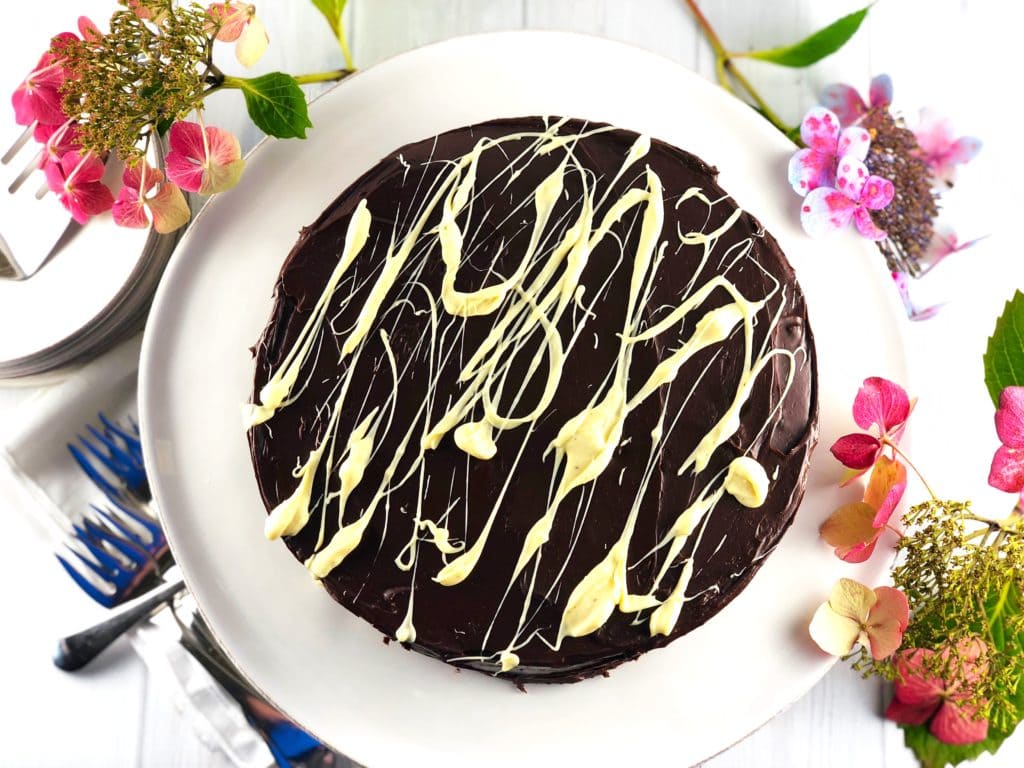 You know those days, right? The days where you want, no NEED, a bite (or 20!) of creamy, dreamy, satisfyingly rich chocolate.  Or is it chocolate cookies we want? Or chocolate cake? Wait. It isn't just me, is it?  You have these thoughts too, right?  If you don't, either stop reading now – "No chocolate biscuit cake for you!", or keep reading and this will be the first of many of those days.  Because this is the answer to that all important chocolate question – it's the Royal Chocolate Biscuit Cake. It's everything! Because it's a chocolate cake made from cookies. Dang!  Leave it to the Queen. Obviously, this is just one of the reasons she RULES! (Speaking of all the other ways she rules, have you seen "The Crown"?!)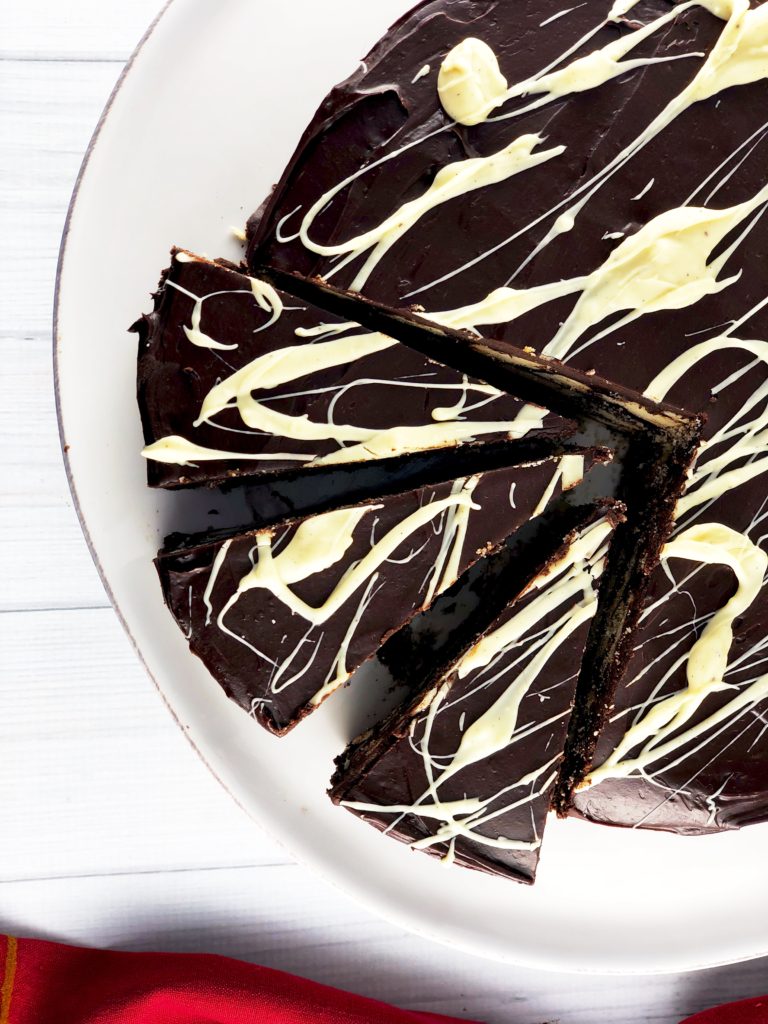 According to the Queen's former chef, Darren McGrady, Queen Elizabeth even travels with this cake. It is the one dessert she makes certain she finishes every last piece.  Apparently, she has long served it to Prince William, which may be one reason why it was his choice for the Groom's Cake at his wedding. As I was looking for a recipe, I found there are quite a few out there for this particular cake, though all similar instructions. My recipe was inspired by one I found on Food Network. Also known as Chocolate Fridge Cake, it is infinitely customizable, by adding nuts or dried fruits or even other candies.  But I decided to go with the classic here, just the tea biscuits and chocolate.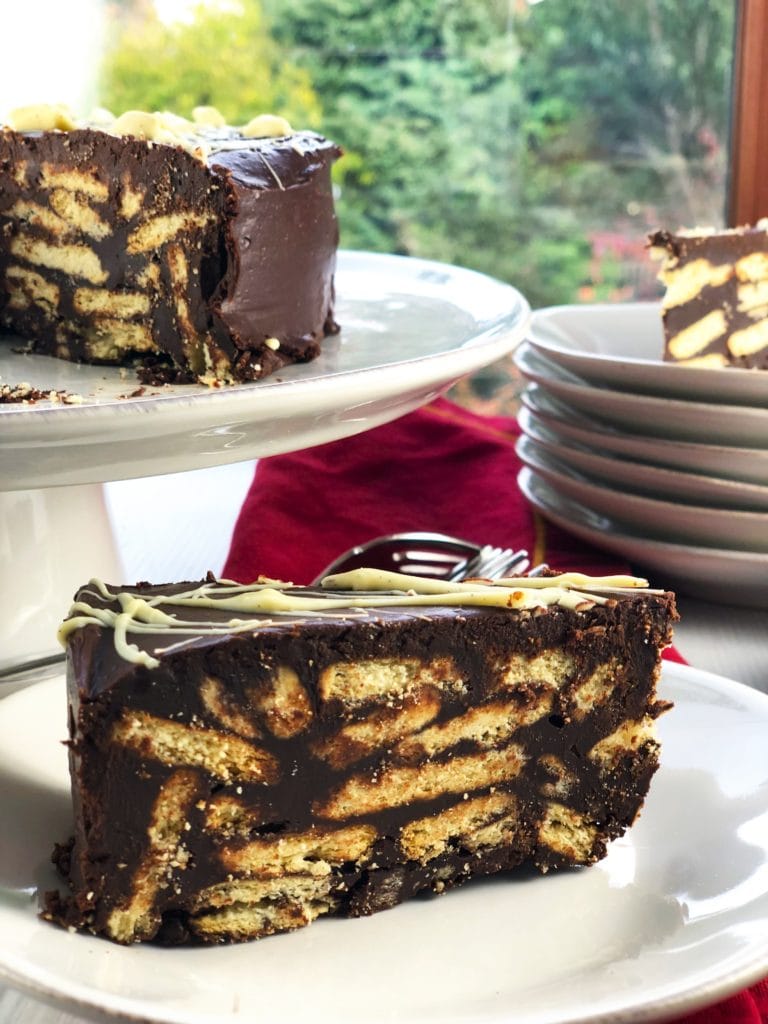 Did I mention it's NO BAKE? Just break up the biscuits (cookies) with your hands, and prepare a simple chocolate ganache – a thick chocolate pudding-like sauce. Then, pour that ganache over the cookies, stir a little, and put that lovely mix into a lined pan.  I used a 9" Springform, but you could also use a loaf pan or a 9" square pan. Chill it, then frost it with – get this – MORE chocolate ganache.  Ok, just cut a slice for me right now!  It's that good.  But you knew that already, didn't you?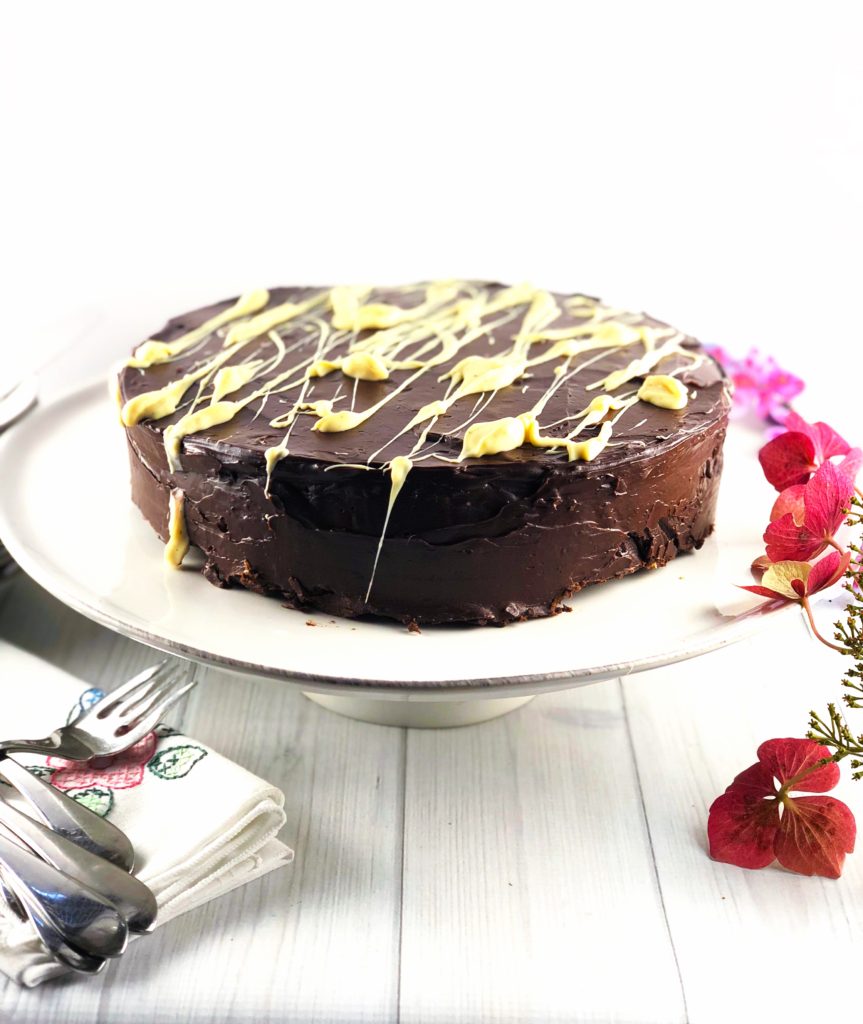 If you're looking for more reasons Queen Elizabeth is awesome, I highly recommend The Crown, available on Netflix.  If you're anything like me, you'll find yourself thinking, "How is it I never knew this about the Queen?" – she's kind of a BOSS! I understand she's even (mostly) a fan. And, wouldn't Chocolate Biscuit Cake be a good treat to enjoy while watching an episode or two or "The Crown"? Cheers! And Enjoy!
If you like my Chocolate Biscuit Cake, and you're a chocolate fanatic like me, check out these Chocolate recipes!  Or, if you like a no-bake dessert, you'll love these Easy No-Bake Cheesecake Bars or this luscious No-Bake Chocolate Peanut Butter Cheesecake!
PIN Chocolate Biscuit Cake for Later ->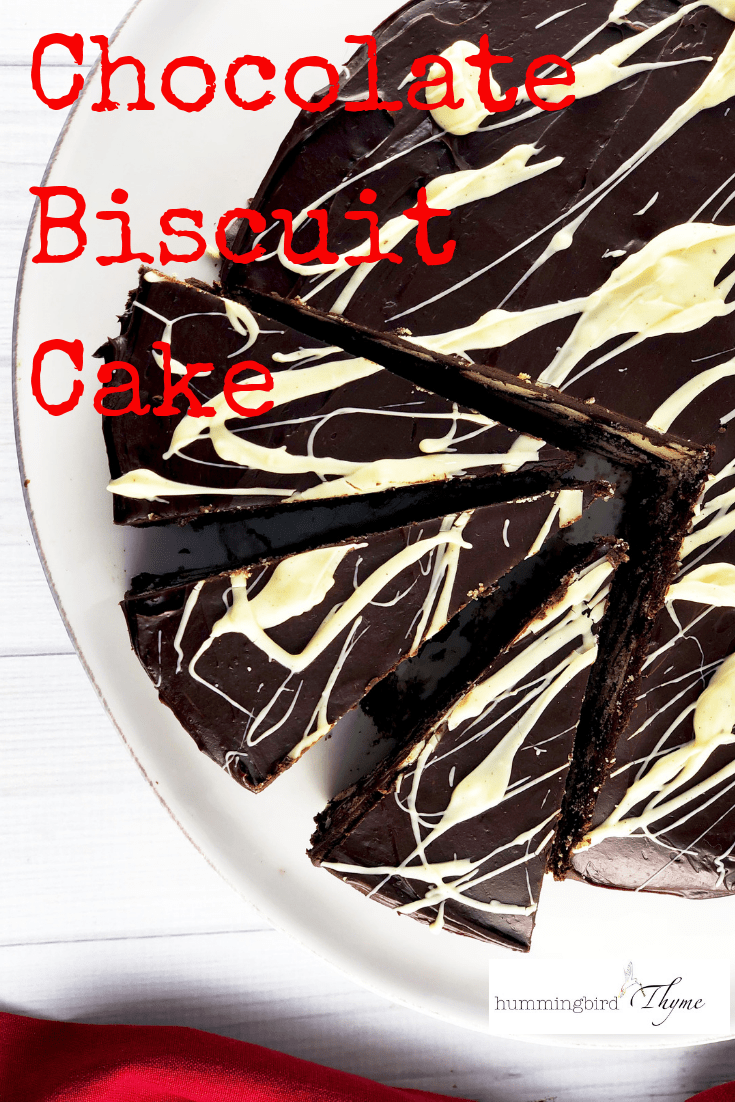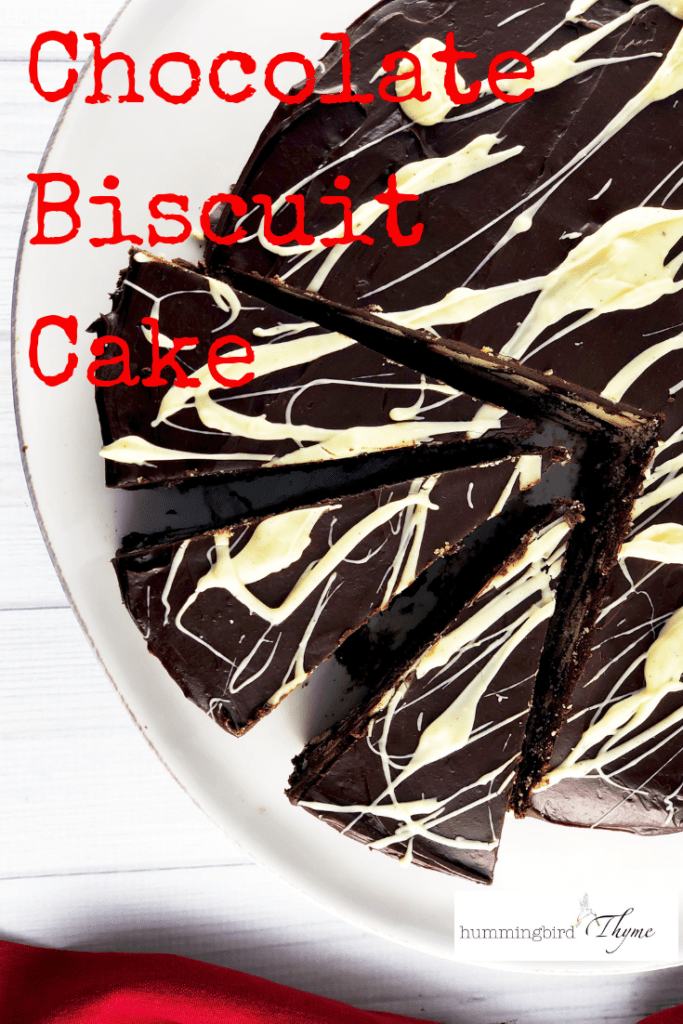 Print
Chocolate Biscuit Cake
This is the legendary Chocolate Biscuit Cake – the one the Queen loves and Prince William requested at his wedding!  Once you taste it, you'll know why!  It's so easy to prepare, no baking, and serves a crowd.
It's customary to use McVitie's Rich Tea Biscuits or Digestive Biscuits, but I also tried Kedem brand tea biscuits, which may be easier to find, and they are just as good.
If you can't find Lyle's Golden Syrup, you could substitute regular corn syrup, honey or sugar.  But once you taste Lyle's, you'll know why it's in the recipe.?
You can use baking chocolate, chocolate chips, or bulk chocolate.  I like bittersweet, but others have used semi-sweet with similar results.
You will need either a 9×5 loaf pan, or 8-9" Springform or cake pan, or even a 9×9 pan, lined with plastic wrap in order to remove the cake from the pan when ready to frost.
Author:
Prep Time:

30

Total Time:

30 minutes

Yield:

16

servings

1

x
Category:

Cakes

Method:

No Bake

Cuisine:

British
Ingredients
For the Cake:
2

pkg. McVitie's Rich Tea Biscuits, or similar – 400 grams (

14 oz

.)

1 1/2

sticks, (12 T) Butter

1

c Whipping Cream

1/3

c Lyle's Golden Syrup

20 oz

. Semi-sweet or Bittersweet (preferred) Chocolate, chopped, or chocolate chips

1/4

c Cocoa Powder

1/4

t Kosher Salt
For the Frosting:
1

c bittersweet (or semisweet) chocolate chips (or

5 oz

. chocolate, chopped)

1/2

c whipping cream

1

T Lyle's Golden Syrup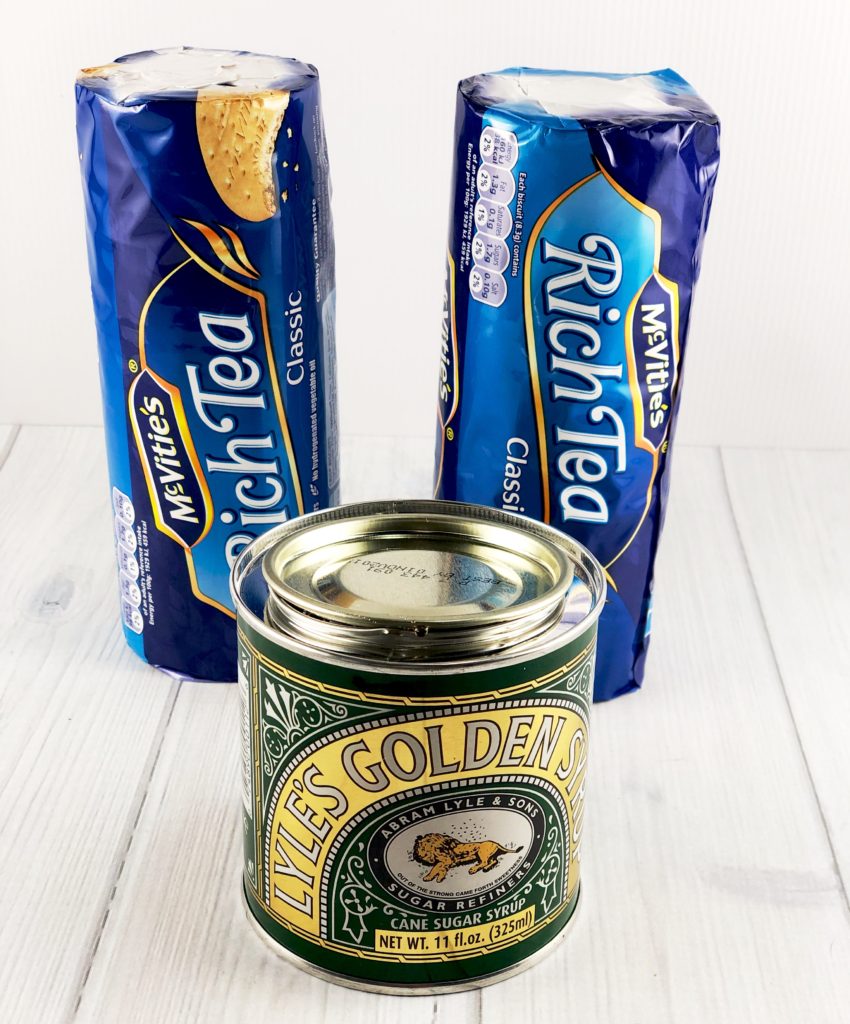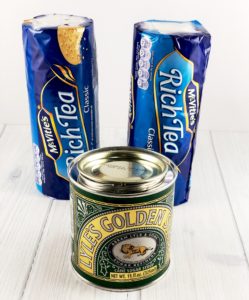 Instructions
Make the Cake
Into a large bowl, break Biscuits (cookies) into pieces the size of large almonds or postage stamps. Set aside.
Over medium-low heat, in a medium (2-3 qt) saucepan, melt the butter, then add cream and Golden syrup. Heat to simmering.
To the simmering butter mixture, add the cocoa powder, chopped chocolate and salt.  Stir until chocolate is melted and fully incorporated.  Stir until glossy.
Pour warm chocolate over broken biscuits and stir until each biscuit is coated with chocolate.
Spoon mixture into plastic-lined pan, pressing biscuits into corners, and occasionally rapping the pan on the counter so no air pockets are left.
Smooth the surface of the cake as much as you can.  Refrigerate at least 2 hours before frosting.
Make the Frosting
Release springform from its base if using. Invert cake on serving plate, removing the plastic wrap. If using a non-springform pan, invert cake onto a plate and gently remove plastic wrap.
Place chopped chocolate or chocolate chips in a bowl.
Heat the cream and Golden Syrup to simmer.
Pour the cream mixture over the chocolate.  Wait 5 minutes, then stir until glossy.
Let mixture cool a bit (up to 30 minutes), then pour on top of cake, spreading it toward the edges of the cake until it falls down the sides.
Decorate as desired. Serve or return to refrigerator.  The cake also will keep at room temperature for a couple of days, assuming it lasts that long.
Keywords: Chocolate, cake, biscuit cake, british, tea biscuits, no bake
Recipe Card powered by