The intense flavors of this Citrus Chicken Tagine will transport you. North African spices along with oranges and olives will put this on your list of favorite chicken dishes!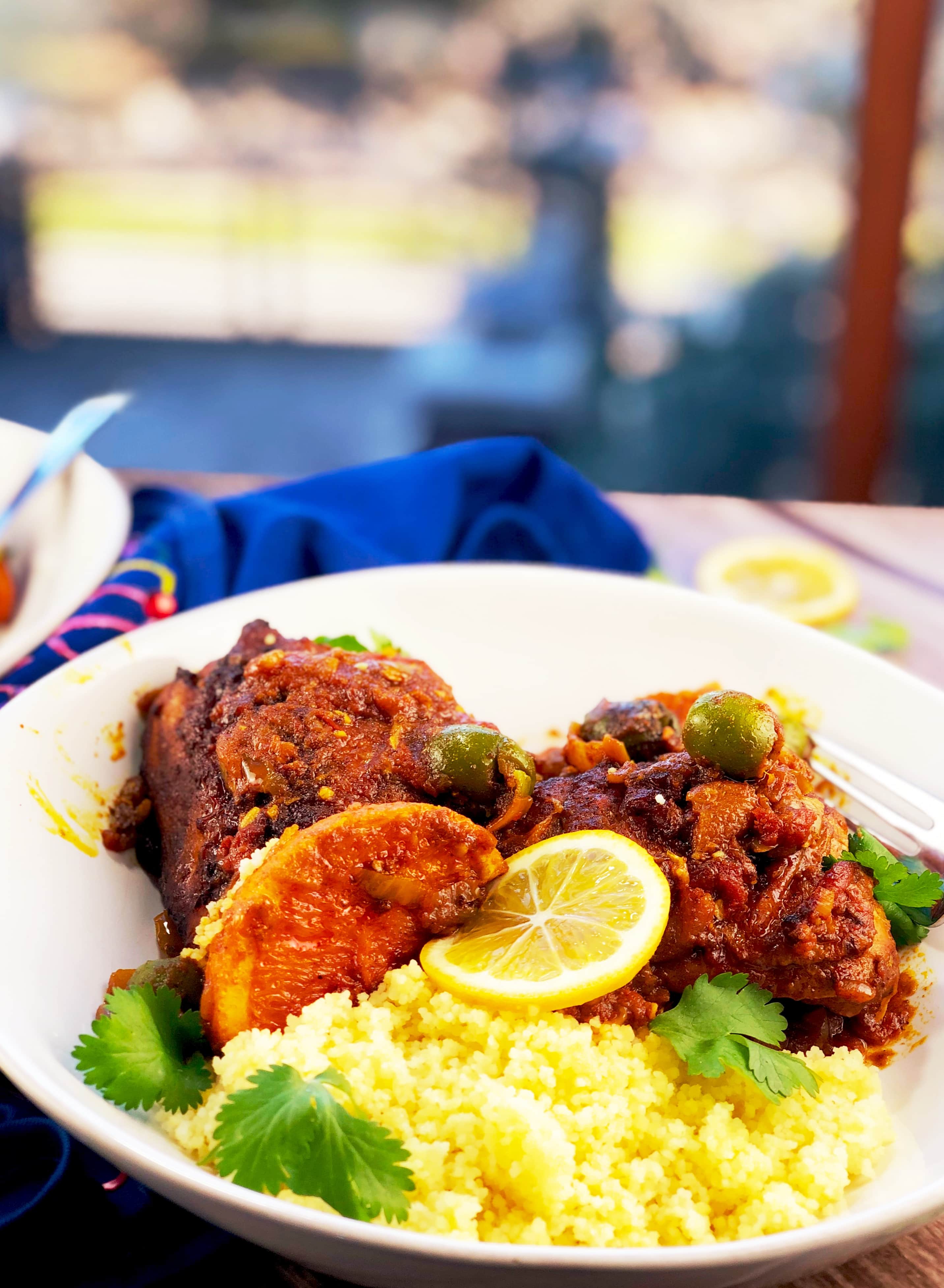 When we were kids, we all learned about cooking from my Mom, who was raised on a farm and learned to cook for a large hungry farm family of 8. They raised their own chickens, so she knew her way around a bird, from start to finish, for sure! She taught the three oldest of us girls one chicken recipe apiece. So, I became the resident chicken fryer, my sister Cathy the barbecue chicken queen and my sister Beth, the oven-fried chicken master. Don't think there was any gender issues here, we were 6 girls, plus our parents. So we were the obvious (read: only) choice.
Anyway, the fried chicken I learned to cook was pan-fried in the device made infamous in the 60s and 70s, the Electric Skillet. All the joy of stovetop cooking without the stove! A lot easier to cleanup than the stove, too. It was our kitchen's workhorse. It made scrambled eggs for 8, 4-at-a-time Grilled Cheeses, Sloppy Joes for a crowd, among other things. (So… why don't we use this anymore? Because they do still make them. You could buy one HERE) Really, at least one meal a day for us. It looked a lot like this: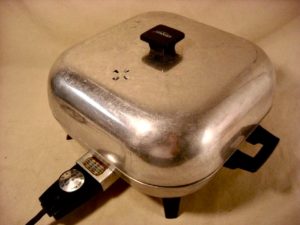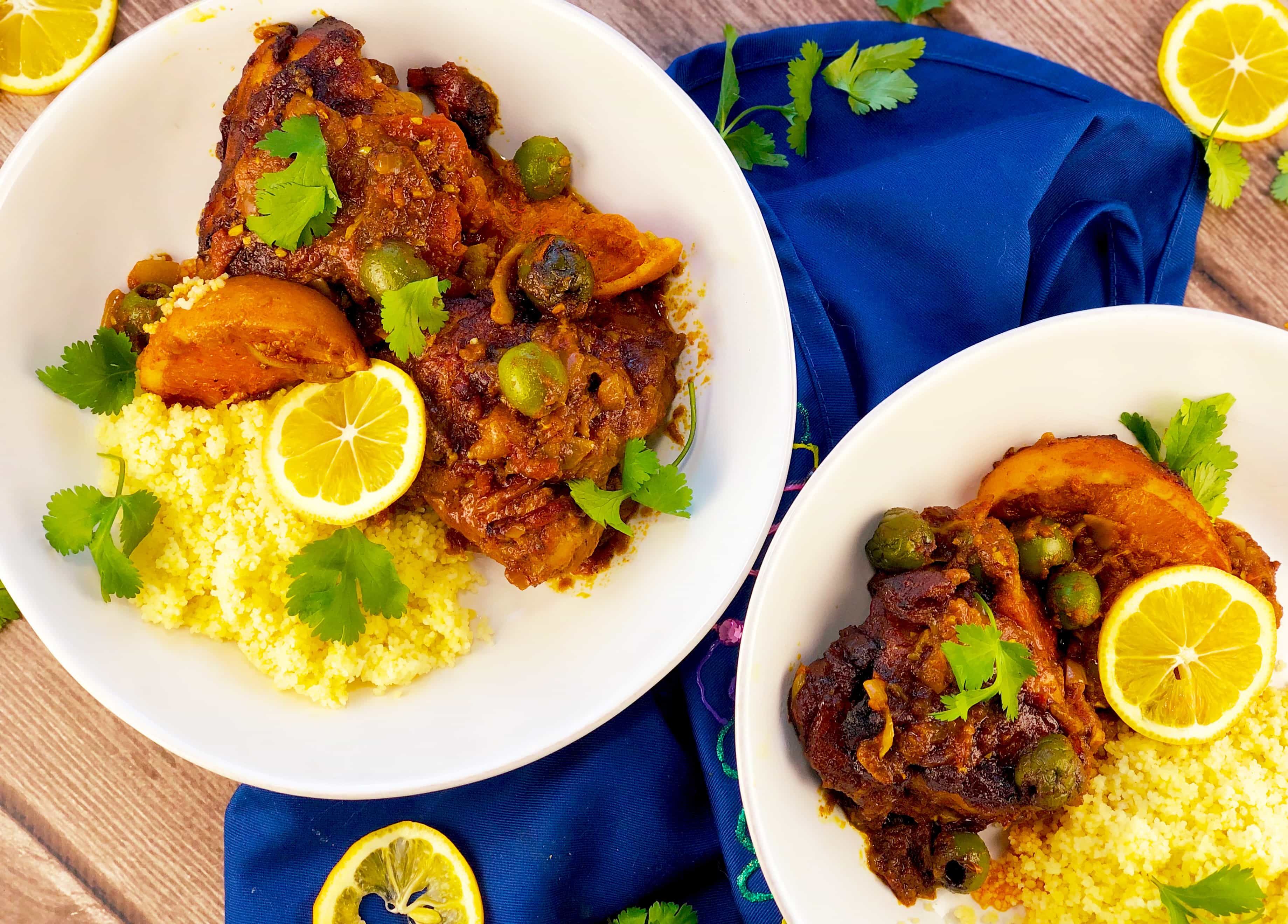 It did not, however, ever make Citrus Chicken Tagine. I think the closest it got was this (don't judge, it was delicious!) Apricot Chicken made with a healthy scoop of apricot preserves and some dijon mustard. We loved it! However, had Mom known about Citrus Chicken Tagine, she most likely would've made it in said Electric Skillet.
This chicken, a recipe from Geoffrey Zakarian on Food Network's The Kitchen, is so flavorful you'll want to make it again and again. Perfect for guests, perfect for your hungry family. So, you'll note the list of ingredients looks rather long, but that's just because the list of spices contains many. If you prefer not to make the spice mixture, just substitute about 4 Tablespoons of Ras-el-Hanout, a ready-made spice mixture that includes most of these spices in similar proportion. It's often found in the spice section of the grocery, or you could get it HERE.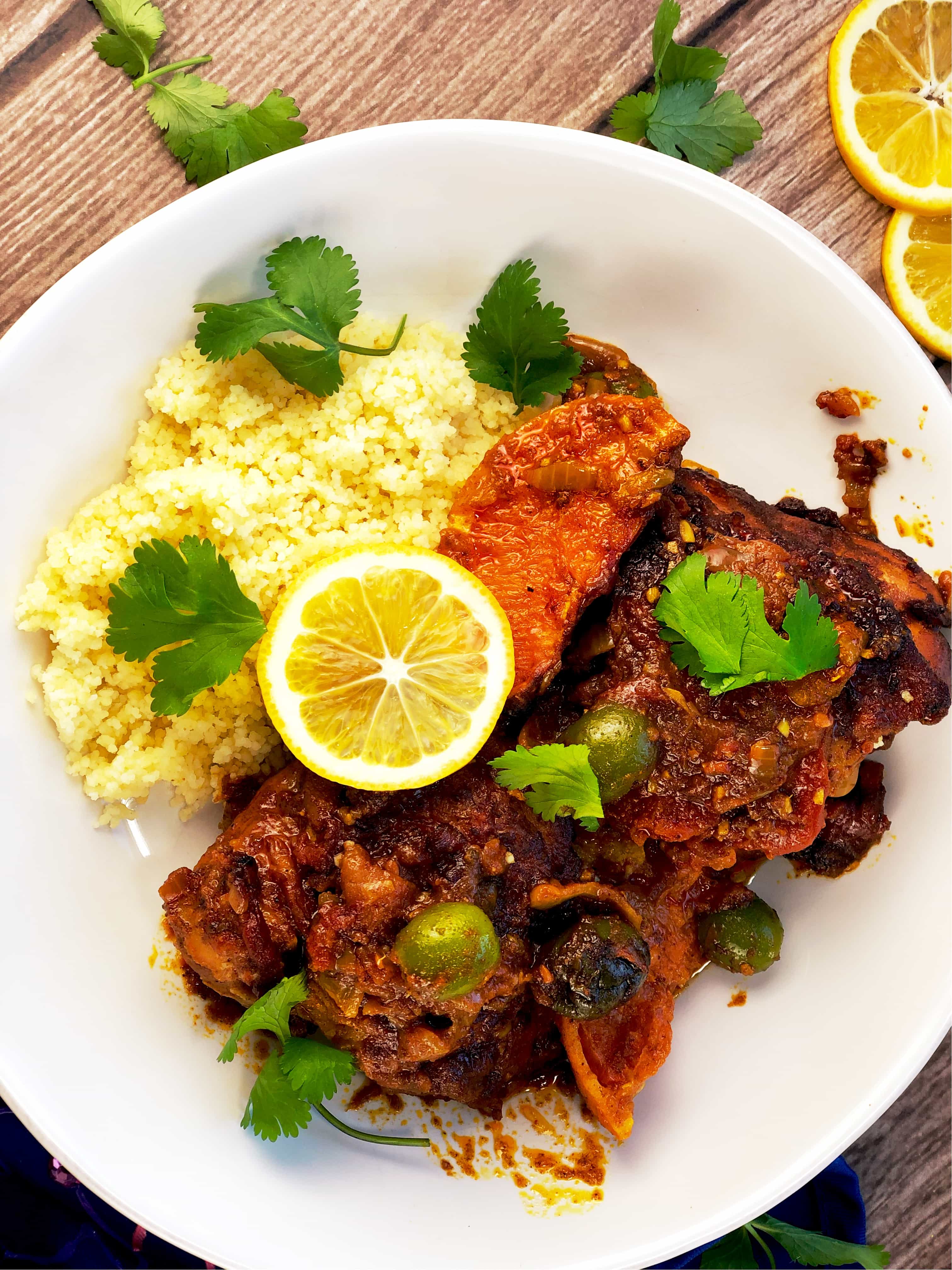 Surprisingly, it's pretty easy to make, you just mix up a spice paste with harissa and the dry spices – cumin, coriander, cinnamon, and a few others you likely have and some orange zest. Then, rub it on the chicken, and saute it. Next, saute some onions and garlic, add the sautéed chicken back, along with some tomatoes, sliced oranges, green olives, apricots and preserved lemon. Then toss it in the oven for the flavors to deepen and the chicken to become fork-tender. I mean, isn't your mouth watering at the thought of all that deliciosity on a single bite? Mine, too! Enjoy!
And, I'm interested to see how many of you have cooked in an Electric Skillet? If so, what did you cook? What was your go-to chicken?
If you like Moroccan spices, don't miss my favorite Moroccan Vegetable Soup, so tasty and satisfying. (Vegan, too!)
PIN this CITRUS CHICKEN TAGINE ->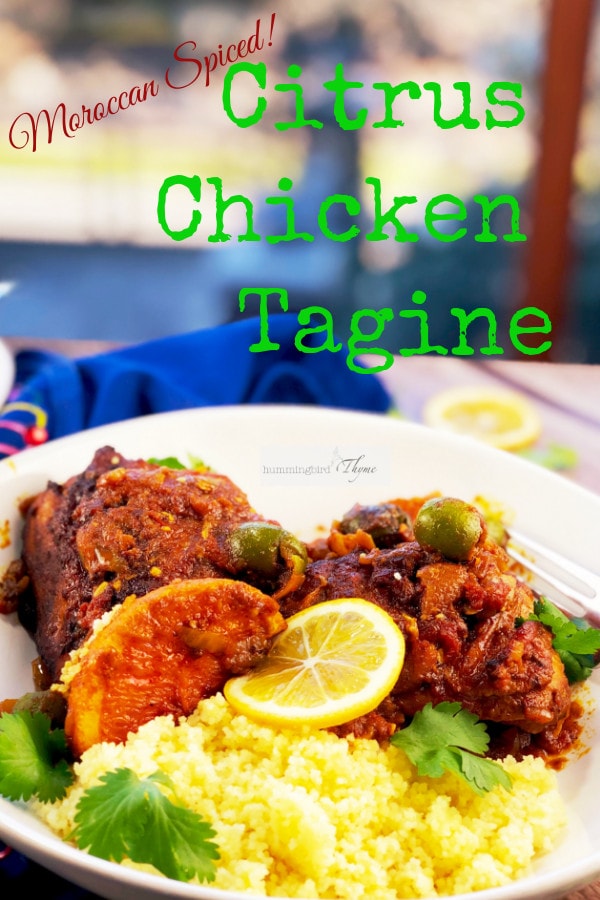 Print
Citrus Chicken Tagine
Adapted from a recipe from Geoffrey Zakarian that I saw on The Kitchen, this Citrus Chicken Tagine doesn't need a Tagine, just a deep enough dish to saute in and go into the oven. I used a large Dutch oven for it.
The prep time for this is relatively short, but the cook time is long, since you cook it low and slow to make the chicken thighs fork-tender.  You won't be sorry for putting in the time. Promise!
I served the chicken with couscous, but you could serve it with na'an, rice or noodles!
Author:
Prep Time:

30 min

Cook Time:

2 hr

Total Time:

2 hr, 30 min

Yield:

4

–

6

servings

1

x
Category:

Chicken

Method:

Stovetop and Oven

Cuisine:

North African
Ingredients
For the Spice Rub:
2

T Harissa 

1

T Smoked Paprika

1

T Ground turmeric

1

t Ground Cumin

1

t Ground Ginger

1

t Ground Cinnamon

1/2

t Ground Coriander

1/2

t Ground Allspice

1/2

t Cardamom

1/2

t Cayenne Pepper

2

Cara Cara Oranges, Zested, then cut into

eight

hs
For the Chicken
4

T Canola Oil

8

Bone-in Chicken Thighs

4

Cloves Garlic, minced

1

Red or Spanish Onion, diced

1 1/2

c (half of a large can) Whole Tomatoes, hand crushed

1

c Chicken Stock

1

c Large Green Olives, pitted

1/2

c dried apricots, diced

1/4

c Chopped Prerserved Lemon
To Garnish (optional)
1

Meyer Lemon, thinly sliced
Fresh Cilantro and/or Mint leaves
Instructions
Prep the Spice Mixture:
Preheat oven to 325F. Heat a wide braising pan, or a Dutch Oven or Tagine, over Medium-High heat.
Next, In a small bowl, mix together the harissa, smoked paprika, turmeric, cumin, ginger, cinnamon, coriander, allspice, cardamom, cayenne, zest of the two Cara Cara oranges, and 2 Tablespoons of Canola oil. Stir until a paste is formed.
Sear the Chicken:
Season chicken thighs with salt and pepper. Then, rub half of the paste over the chicken thighs, making sure they are coated top and bottom.
Pour the remaining 2 T Canola Oil into the hot pan. Place the thighs, skin-side down into the oil.  Leave for 5 minutes. They should be golden brown and easy to turn at this point. Turn and cook until other side is golden as well, another 4-5 minutes.  Place thighs on a plate and set aside.
Finish Composing the dish:
Into the pan, add the onion, remaining paste, and the garlic. Use a wooden spoon and scrape any browned bits from the pan. Cook until onions are softened and lightly brown, about 5 minutes more.
Place the chicken pieces atop the onion mixture, then add: tomatoes, (crushing with your hands), stock, olives, apricots, preserved lemon, orange slices.  Season with salt and pepper, remembering the preserved lemon and olives add additional salt. Braise in oven, partially covered for 1 hour, 15 minutes.  Uncover and continue to braise 15-45 minutes longer, until chicken is fork tender. 
Garnish, if desired, with sliced Meyer lemon and cilantro and/or mint leaves
Keywords: Moroccan, Chicken, Tagine, Citrus Chicken Tagine
Recipe Card powered by