Tender and Fluffy, the Ultimate Cinnamon Rolls with Cream Cheese Frosting. Made with a couple of secret ingredients, these will be Classic in your home!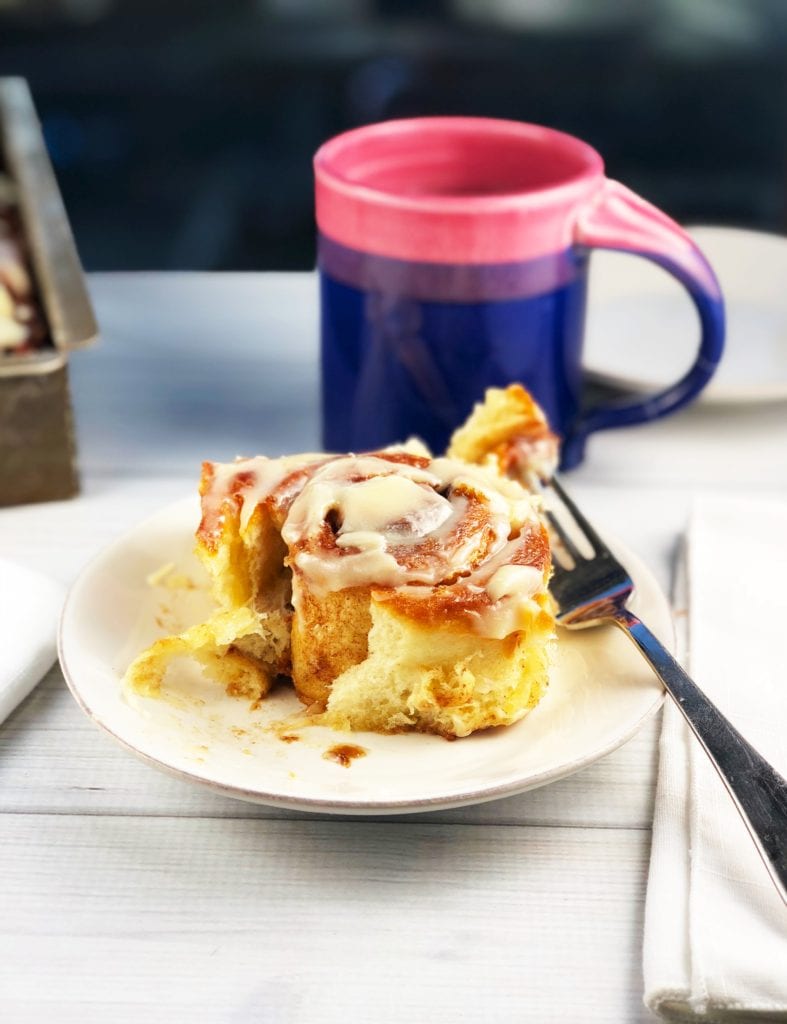 Growing up, we had a big freezer out in our garage.  It was purchased because with such a large family (8 of us!), we needed to buy extra of everything, on the cheap.  So at some point, Mom and Dad decided to buy an entire "side of beef" that practically filled the freezer, but at 1/3 the price of the grocery store, how could they not? It lasted us a loooonnnnggg time, that beef. Anyway, once the beef stores started decreasing, Mom would bake.  And one of the best thing she baked (in large quantity) was Cinnamon Rolls with Cream Cheese Frosting. She'd bake dozens at a time and pack them up in foil for us to reheat on Sunday mornings. I imagine her spending all day, rolling out the dough, filling it with butter and cinnamon, tightly rolling it up, slicing, baking, frosting. Sometimes she did this on weekends when we could see (and help!) the magic happen.  A wonderful way to spend a day, if you ask me. We felt like the luckiest kids in the world!
And, truth be told, we were, because those things were not only made with love, they were scrumptious!  I've been on the hunt for her recipe for years now.  It came from her personal bible, Good Housekeeping Magazine, circa 1970, I would guess. I finally gave up the hunt and put together my own recipe. If anyone out there has that original GH recipe, let me know! I'd be thrilled to have a copy!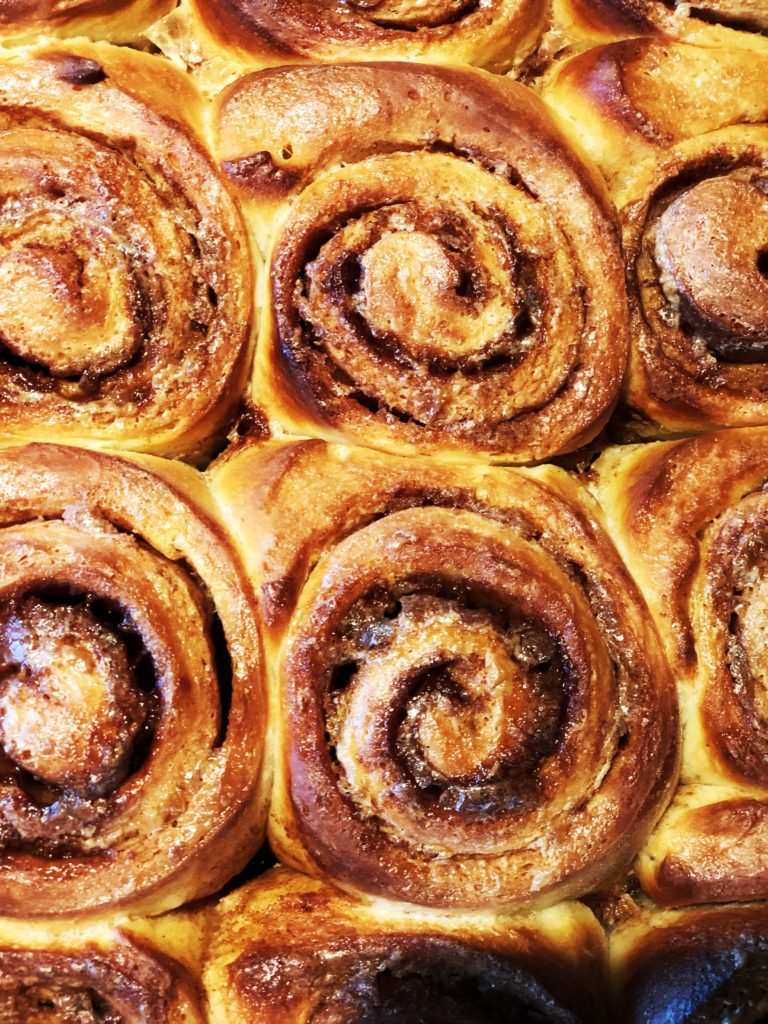 In searching for that recipe, I looked in my Grandma's memorial Cookbook, thinking maybe it was there.  It wasn't, but the closest recipe I found was from my Great Aunt Sarah. These women were obviously way better cooks than I am, because for me, this instruction is not going to result in Cinnamon Rolls: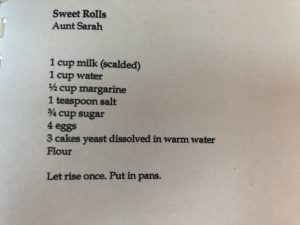 I just need a bit more information.  How much flour? Time? Temperature? I certainly have some work to do. Kudos to Aunt Sarah.  Like I said, better cooks than I am.

So I set about putting together a recipe I think is as good as the one my Mom made.  My Cinnamon Rolls with Cream Cheese Frosting recipe was adapted and inspired by this one, from which I used the secret of pouring cream over the rolls prior to baking, and also a recipe I found in the Culinary Institute of America's Professional Chef, a book that has recipes that will feed a restaurant full of people, but also some good tips.  The tidbit I used from that book is to add Cardamom to the sweet roll dough.  This was a bit of genius! A subtle flavor which complements the cinnamon, it really makes the dough special. I highly suggest adding cardamom to your sweet roll dough.  You won't be disappointed!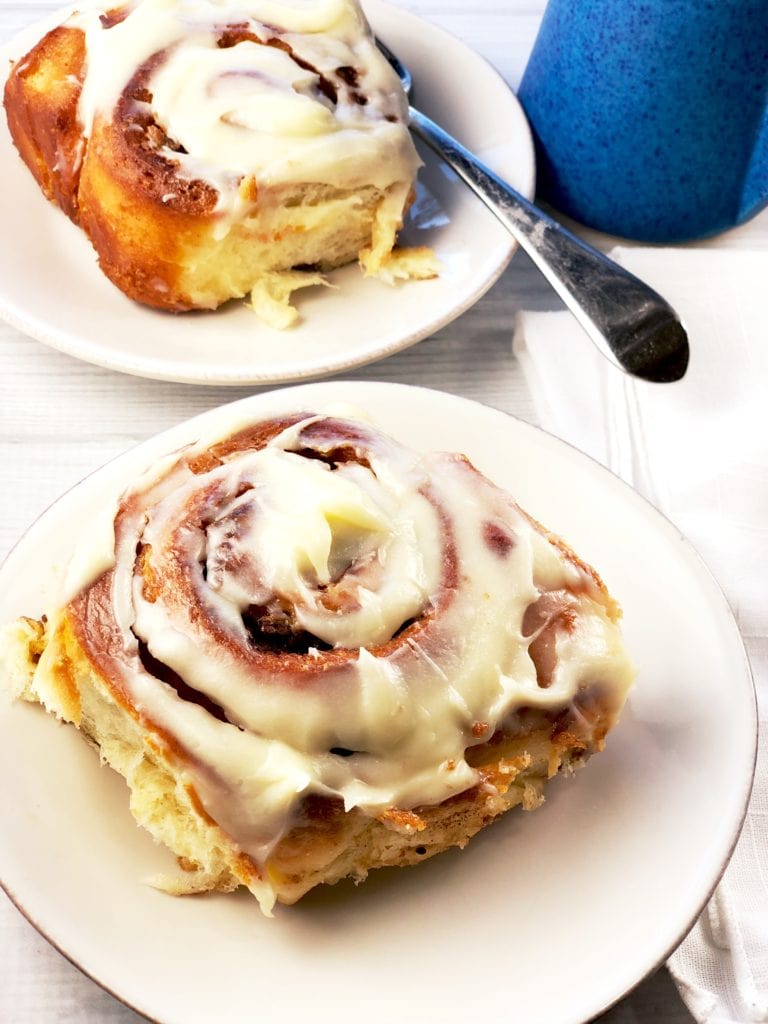 Although I didn't make a freezer full of Cinnamon Rolls with Cream Cheese Frosting, the 15 I made were enjoyed as much as those I had as a kid.  Baked with love and a little cream and cardamom.  Enjoy!



If you love brunch recipes, be sure to check out my Easy Cheddar Onion Scones, and these Cream Biscuits with Black Forest Ham and Cheese.   Both quick, easy, yummy brunch recipes!
PIN Cinnamon Rolls with Cream Cheese Frosting for later ->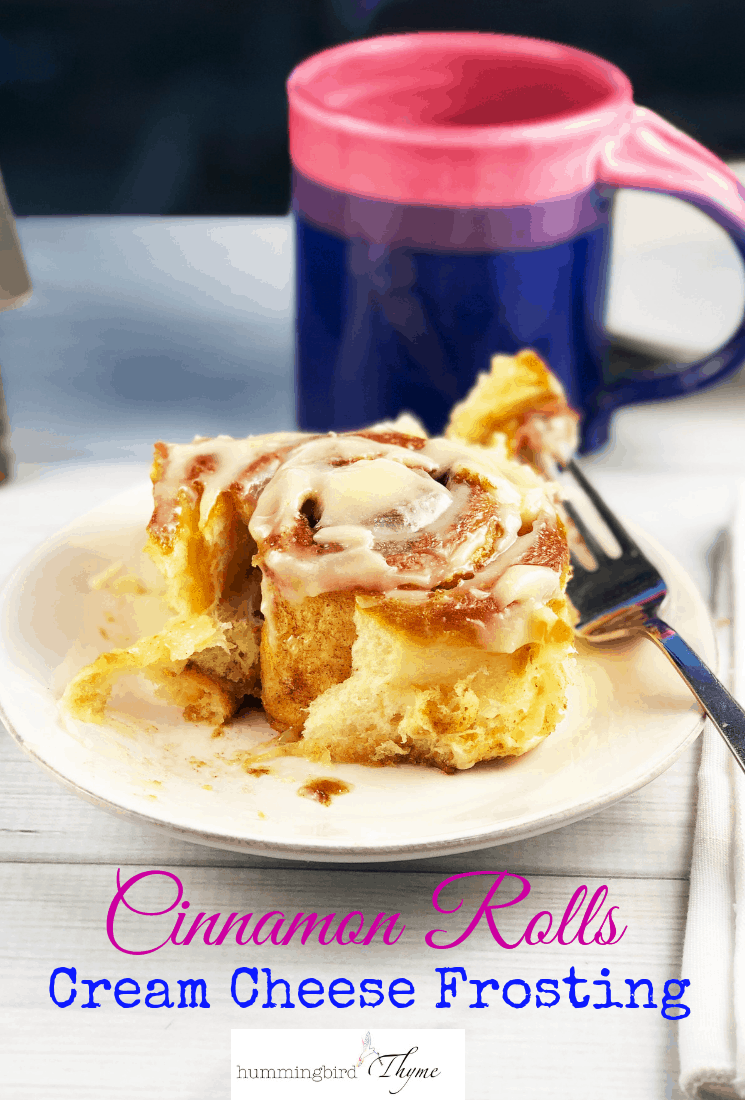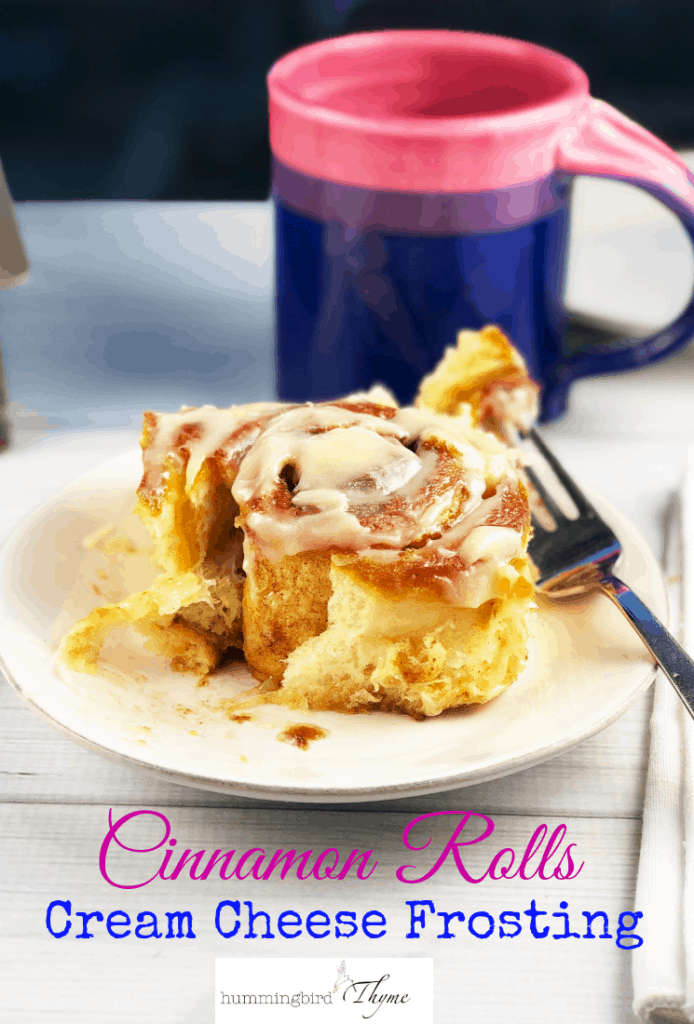 Print
Ultimate Cinnamon Rolls Cream Cheese Frosting
These Cinnamon Rolls with Cream Cheese Frosting are so scrumptious, you may just want to double the recipe from the get-go!  Although they take a bit of time, they are fairly simple to make.  You will likely need an electric mixer with a dough hook, or be ready to knead for 10-15 minutes for the dough to be elastic enough to roll out nicely.
For me, this recipe made 15 rolls.  I placed 12 in a 9×13 pan, and the remaining 3 in a loaf pan to bake.
Author:
Prep Time:

45 min active, 3 hr inactive

Cook Time:

20-22 min

Total Time:

3.5 hours

Yield:

15

rolls

1

x
Category:

Breads

Method:

Baking

Cuisine:

American
Ingredients
For the Dough:
1

c milk (whole or 2%), very warm (around 120F) SEE NOTE 1

1

pkg (.25 oz) Instant Yeast

1/3

c Butter, very soft, almost melted

1/2

c Granulated Sugar

1/2

t Salt

2

Lg eggs, room temperature

4 1/2

c AP Flour, plus more if needed

1/2

t Ground Cardamom
For the Filling:
1/2

c butter, softened to easily spread

3/4

c Brown Sugar

1/4

c Granulated Sugar

2 1/2

T Ground Cinnamon

2

T Cornstarch

1/3

c Heavy Cream
For the Frosting:
4 oz

. (

1/2

brick) Cream Cheese, room temperature

3

T butter, softened (I used the remainder of the stick from the dough or about

2.5

T)

3/4

c Confectioner's Sugar

1/4

t Salt

1/2

t Vanilla Extract
Instructions
Make the Dough:
Warm milk in the microwave until very warm or to temperature noted on your yeast packet.  Pour it into the bowl of your stand mixer. Sprinkle yeast on top of the milk and whisk in. Wait 5-10 minutes until it begins to bubble or foam a bit, then, using the paddle attachment, at Medium-low speed, add the butter, sugar, salt, eggs and cardamom.
At low speed, mix in the flour until incorporated, then remove the paddle attachment.  Replace with dough hook.  Knead at Medium to Medium-high speed until dough is elastic and still a bit sticky or "tacky".  This should take 5-7 minutes or so.
Oil a large bowl, and form the dough into a ball. Place the dough in the bowl, cover with a cloth or plastic wrap and keep in a warm place until the dough has doubled in size, about 1-2 hours, depending how warm your kitchen is. While the dough rises, make the filling, and prepare your pan(s) by lining with parchment, and coating with cooking spray or butter. I used a 9×13 pan for the first 12 rolls, along with a 9×5 loaf pan for the 3 extras.
Make the Filling:
In a small-medium bowl, whisk together the brown sugar, granulated sugar, cinnamon and cornstarch.
On a large, flour-covered surface, roll the dough into a rectangle that is around 14×18".
Spread the softened butter over the entire rectangle.
Sprinkle the cinnamon mixture over the butter.
Starting at the long side of the rectangle, tightly roll the dough into a log, trying not to stretch the dough. The tighter you roll it, the better!
Using a sharp knife (or dental floss!), slice the log into 1 1/4 – 1 1/2" thick slices.  Place in pan(s).
Cover pans and set them in a warm place until doubled in size, about 20-30 minutes. Preheat oven to 350F.
Brush cream over the rolls.
Bake rolls until golden and baked through, 20-22 minutes.  (Mine took 20 mins)
Make the Frosting:
You can cool the rolls completely, or at least 15 minutes prior to frosting.
In a bowl, mix together all of the frosting ingredients.
Spread over baked rolls.
Notes
Please follow specific directions on your package of Instant Yeast. Mine said 120-130F.  I realize others give varying temperatures, and instructions.
Nutrition
Serving Size:

1/15 recipe
Recipe Card powered by