It's time to get your spice on! Oven Fried Hot Honey Chicken! Super-spicy Chicken with a drizzle of spicy honey! All roasted on a sheet pan? Including the side dish? Yes, please!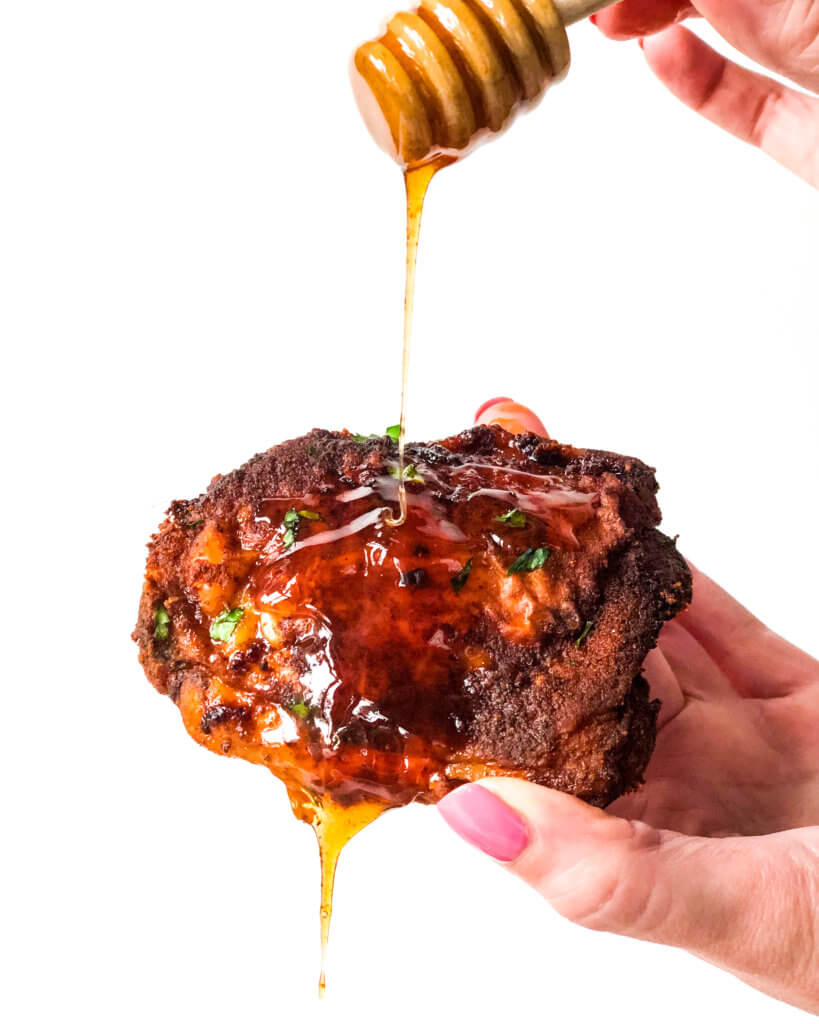 You can tell from my previous few posts that I've been feeling a little spicy lately. I mean, Crispy Buffalo Chicken Wings? New Orleans-Style Shrimp? And, now Nashville-Style Hot Chicken drizzled in spicy honey? Ooooh. It's getting warm here.
For awhile now, I've been working on a recipe for a Spicy Chicken, that can be drizzled with Hot Honey, and is easily prepared. Also I wanted it to be both intensely flavored and crispy. And, cooked in the oven, since I don't deep-fry at home unless I really really need some true French fries, you know, the kind fried in duck fat. And I'm willing to do the cleanup. Which doesn't happen often.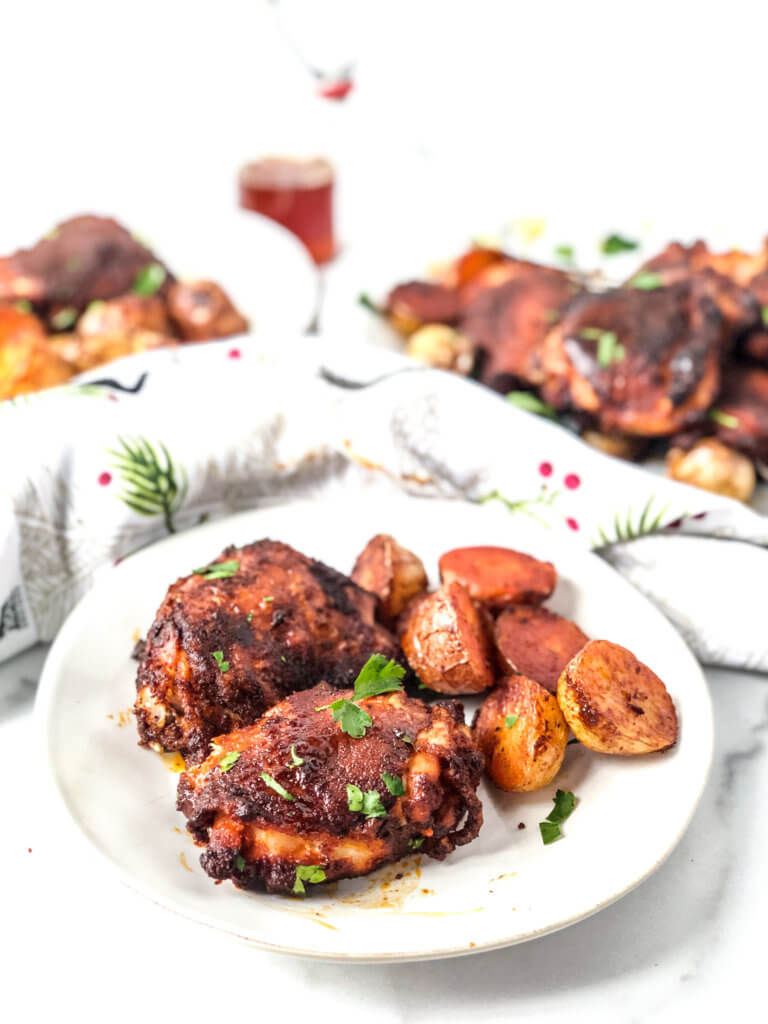 So, Hot Chicken, also known as "Nashville Hot Chicken" is a specialty you can now get in many cities throughout the United States. But one of the originals, Hattie B's, in Nashville, is particularly famous for it's Hot Chicken. Here, chicken is salt and peppered, and then deep fried. Next, it's topped with a spice-infused hot oil, which includes 3 Full Tablespoons Cayenne Pepper for each Chicken! Now, that'll make you sweat!
I didn't use that much cayenne in mine, so no one's face turned red. But it was excitingly spicy! In such a good way. Note, I used 1 Tablespoon cayenne for similar amount of chicken – Hattie's recipe encouraged me to increase it from a single teaspoon, which I found barely spicy. If the full Tablespoon makes you nervous, start with 1-2 tsp Cayenne pepper, and work your way up to Spice Nirvana – the full Tablespoon. Because you WILL make this again. It's that good!
Once you drizzle the crispy oven fried hot chicken with the hot honey, you'll see this dish is EVERYTHING you want need! Spicy, sweet, savory, tender, crispy, and sticky! Just pass me a napkin. And that jar of honey!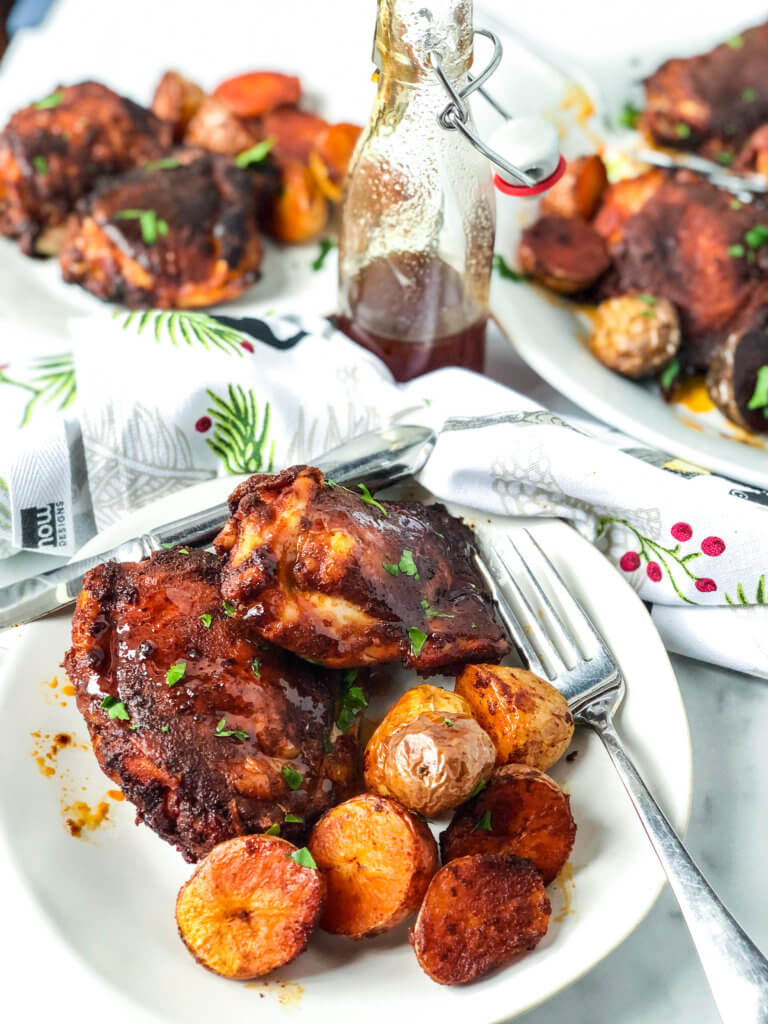 So join me on this spice train! Enjoy this oven fried take on Nashville Hot Chicken! It's quick, easy, and best of all, SPICY!
Enjoy!
Looking for chicken recipes? Try this super-flavorful Citrus Chicken Tagine or these super-simple Soy and Honey-Glazed Chicken Thighs or this super-quick  Chicken Puttanesca! So many chicken recipes on my site, just type "chicken" into the search bar for many many more choices!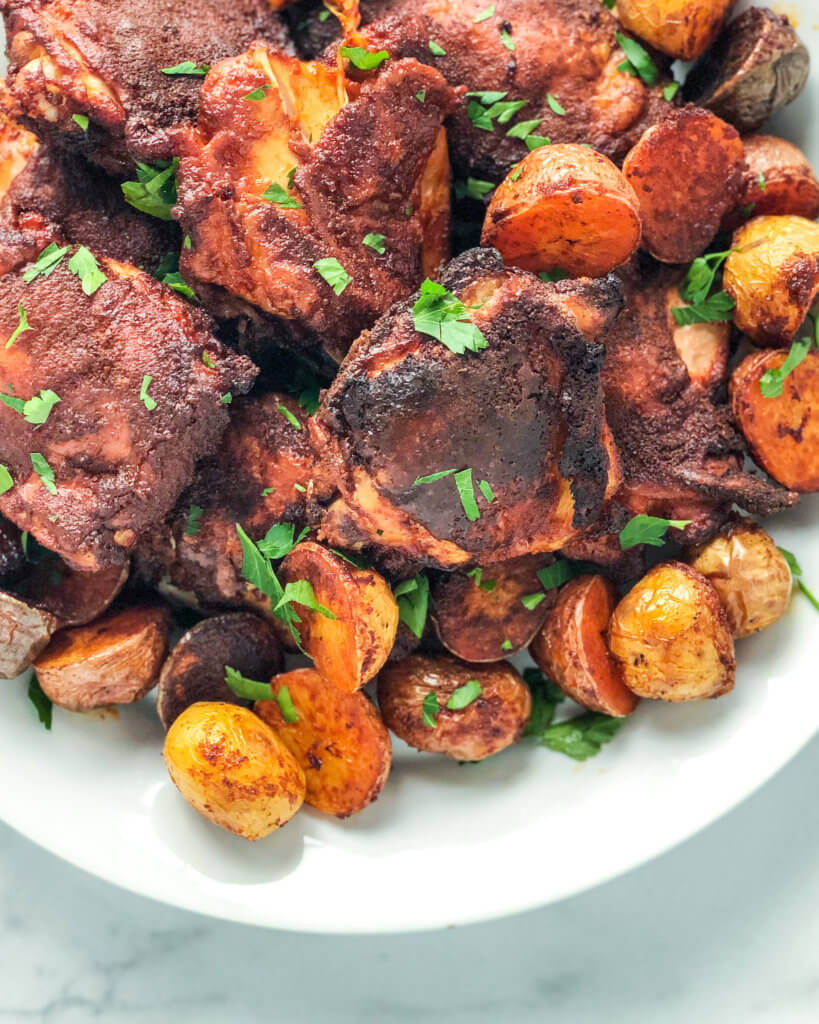 Oven Fried Hot Honey Chicken Details ->
This post may contain affiliate links. As an Amazon Affiliate, I may earn a small commission, at no cost to you, for purchases you may make of items linked from this site.
This recipe is so easy! Just make the spice mixture in a plastic bag (or a bowl) drop your chicken pieces into it, coat them well, and place them on a buttered Sheet Pan. Into a 425F oven, turn once, and your chicken is ready! I love topping mine with a drizzle of hot honey – a 2-ingredient recipe you can make in 1 minute flat!
Traditionally, Nashville Hot Chicken is served with sweet pickles and white bread slices. I made mine with halved baby potatoes, which roasted nicely along with the chicken. They aren't spiced before being placed on the pan. And they cook in the chicken shmaltz and butter. And they do pick up a bit of spice too. I mean, what could be better?
Just how spicy is this chicken?  If you're serving someone who isn't fan of spicy food, or if you prefer your food only mildly spicy, you may want to start with 1 tsp, at most, of cayenne pepper. I used 3 tsp in my recipe, and it was "excitingly spicy". Not turn-your-face-red spicy, but the heat was definitely there! I thought it was perfect, but I would not have wanted it any spicier. So if you're in doubt, start with 1 tsp, and increase it next time you make this if you want more heat. The hot honey, even though it is spicy, actually brings down the heat a bit as well.
Can I use other cuts of chicken besides thighs? Yes, of course you can! You could use a whole, cut-up chicken, or include legs with the thighs. The coating will coat about 3.5-4 lb (1.8kg) of chicken. However, I feel like the fattier pieces, like the thighs and drumsticks are best with the spice.
Can I use non-spiced honey? Yes! If you don't want spicy honey over spicy chicken, then just warm your honey a bit to make it easier to drizzle. No problem at all! For my Hot Honey, I used this recipe from A Couple Cooks because it was genius(!), super-quick and super-delicious. You can use any hot sauce, but I used Sriracha, because it's what I had on hand. Or, if you don't want to make it, you could buy it here!
AP flour/Baking Powder? I noticed you mentioned using flour or baking powder. Why are they substitutable here? I often use AP flour when making oven-fried chicken. It makes the chicken skin crispy when baked at 400-425F, and is easy to use. But I've found, as. with my Crispy Oven-Fried Chicken Wings that baking powder-coated chicken skin dries and crisps especially well during a long bake time. I tried it with the shorter time for this recipe and found the taste is similar to using flour, and crispiness was still good, although not as good as it was for the longer-baked wings. So I feel like it's a valid substitute if you want to try it. But you need to use they type of baking powder that doesn't contain aluminum. My favorite is from Bob's Red Mill.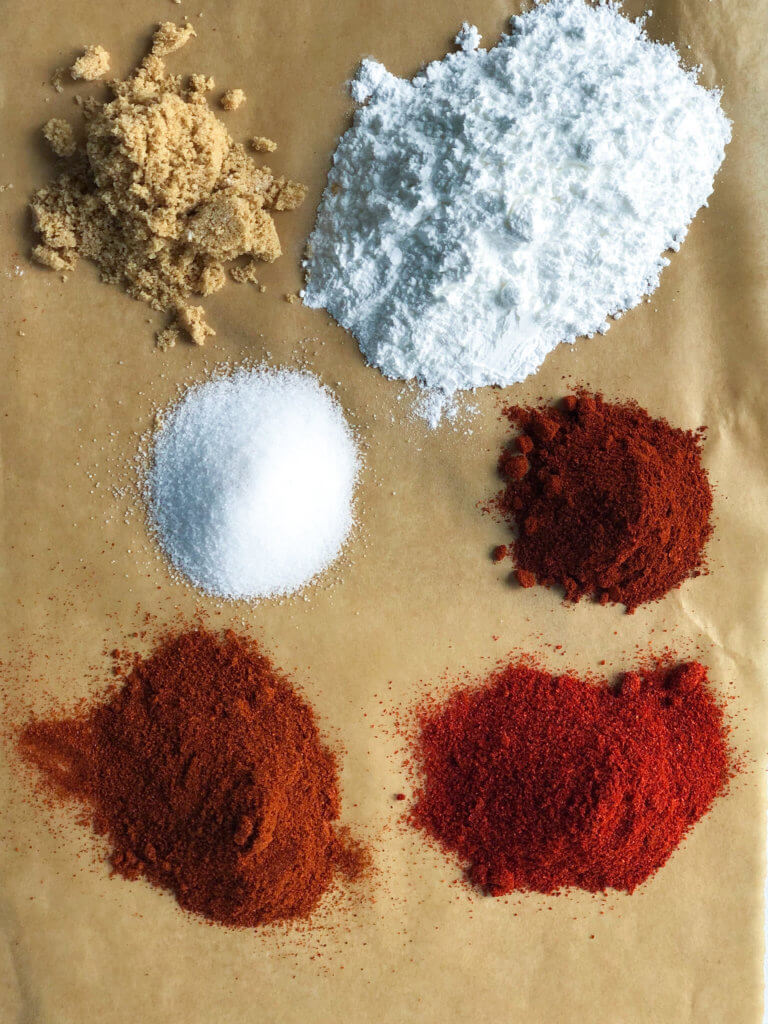 Print
Sheet Pan Hot Honey Chicken
Hot and spicy chicken! So crispy and delicious! Drizzle hot honey on top for an extra kick of spice along with some sweetness! This chicken is sooo good! Serve with potatoes if desired, and plenty of napkins!
If you aren't a hot-and-spicy fan, feel free to use just 1-2 tsp (or less!) of Cayenne pepper, and/or serve with plain (not spicy) honey!
I included potatoes with my chicken for a nice side dish. The potatoes get just a little spice from the chicken, but they bake in butter and schmaltz. So tasty!
Special Equipment needed:
gallon size zippered plastic bag (or dredge each in the spice mix)
Half-sheet pan
Author:
Prep Time:

15 min

Cook Time:

40 min

Total Time:

55 min

Yield:

8

chicken thighs

1

x
Category:

Chicken

Method:

Oven

Cuisine:

American
Ingredients
8

bone-in, skin-on chicken thighs (about

3.5

–

4

lb, or

1.6

–

1.8

kg)

1/4

c (30g) AP Flour or Baking Powder

2 tsp

Chile Powder (Chipotle, Aleppo, or any other)

1

T Smoked Paprika

1

–

3

tsp Cayenne Pepper, to taste (See Note 1)

1

T Brown Sugar

2 tsp

Salt

1/2 tsp

freshly-ground Black Pepper

3

T Butter, melted
For the Honey:
1/4

c (4 T, 60 ml) Honey

2 tsp

Hot sauce (Such as Frank's, Cholula, Sriracha, or Tabasco)
(Optional) Potatoes:
1

–

1.5

lb baby Potatoes, any color
(Optional) Serve with:
Sweet Pickles
Cole Slaw
White bread or rolls
Instructions
Preheat the Oven:
Heat oven to 425F (Conventional Oven) or 400F (Convection/Fan).
Cut potatoes in half, if using.
Dredge the Chicken:
Into a large plastic bag, place the flour (or baking powder), spices, brown sugar, and salt and black pepper. Shake well.
Place all chicken pieces into the bag. Shake until all pieces are coated with the flour and spice mixture.
Pour butter over the sheetpan. Place chicken thighs, skin-side DOWN on the sheet pan. If making potatoes, place the halve, cut-side down, interspersed between the chicken thighs.
Place pan in the oven, and roast chicken 40-45 minutes, turning after 20 minutes. I checked the potatoes and left them cut-side down to crisp.
Test chicken with a thermometer – it should be 165F degrees. 
Make the Hot Honey:
Into a bowl, place the honey and hot sauce. Microwave 30 seconds. Stir.
Drizzle over roasted spicy chicken.
Notes
1. If you don't like mega-spicy food, use just 1 tsp of Cayenne. I used the full 3 tsp, and for me, it was pleasingly spicy. The hot honey actually calmed the spice of the chicken a bit. 
Nutrition
Serving Size:

1 chicken thigh with hot honey
Keywords: Hot honey chicken, recipe, Nashville Hot chicken, how to make hot honey, spicy chicken thighs, sheet pan hot chicken, Spicy honey Chicken recipe, easy hot honey chicken
Recipe Card powered by
PIN Sheet Pan Hot Honey Chicken Thighs ->