Do you love Banoffee Pie? Me, too! But this Peanut Butter Banoffee pie recipe elevates each of the ingredients in a way you didn't know you need! It's truly the ULTIMATE Banoffee!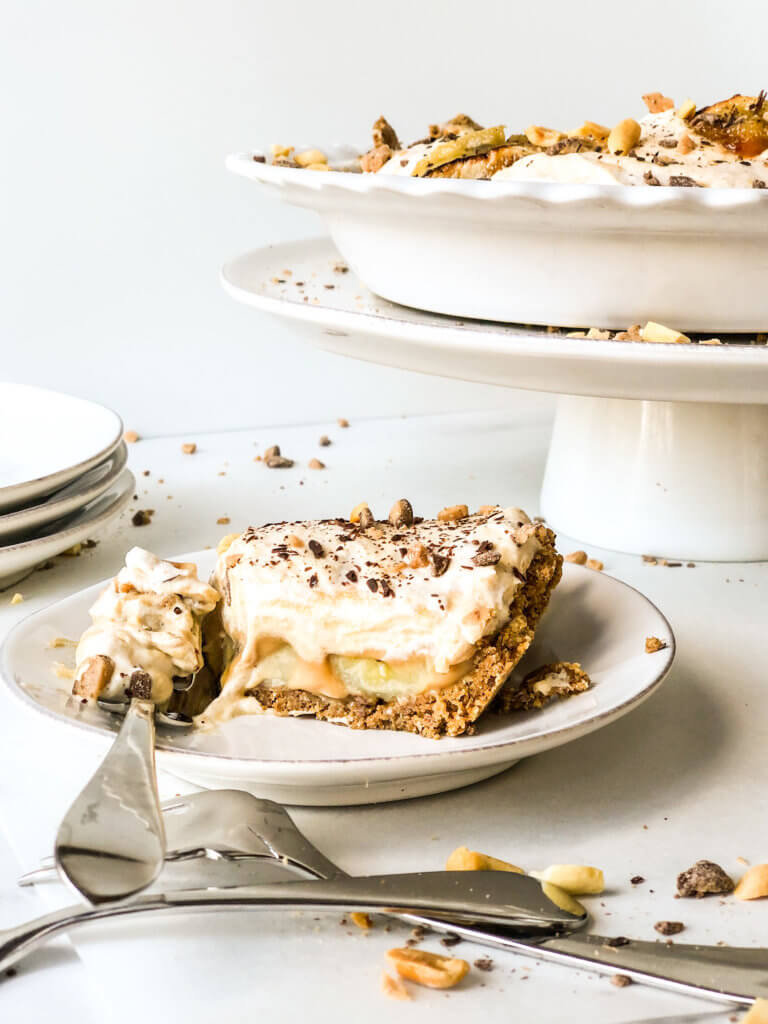 I've been staying home a lot lately. You, too? There's just a lot going on, and what was our normal routine is just…no longer our normal. For now at least. You, too? But I'm feeling the bright side. How often in the past have I thought, "if only I had a few hours at home to scrub this tile!" Or, "I really need to get started on that tax return!" And, "wouldn't it be nice to re-fill and alphabetize my spices". But, if you know me, my real thought is, "If I had the time, I would love to simmer a few cans of Sweetened Condensed Milk so I would have a year's supply of Dulce de Leche!"
So I'm working through this list and the result: Peanut Butter Banoffee Pie! (I simmered those cans!) And, this pie! It's one you NEED to make! (Ok, I skipped the first 3 items on that list….so far, anyway 😉)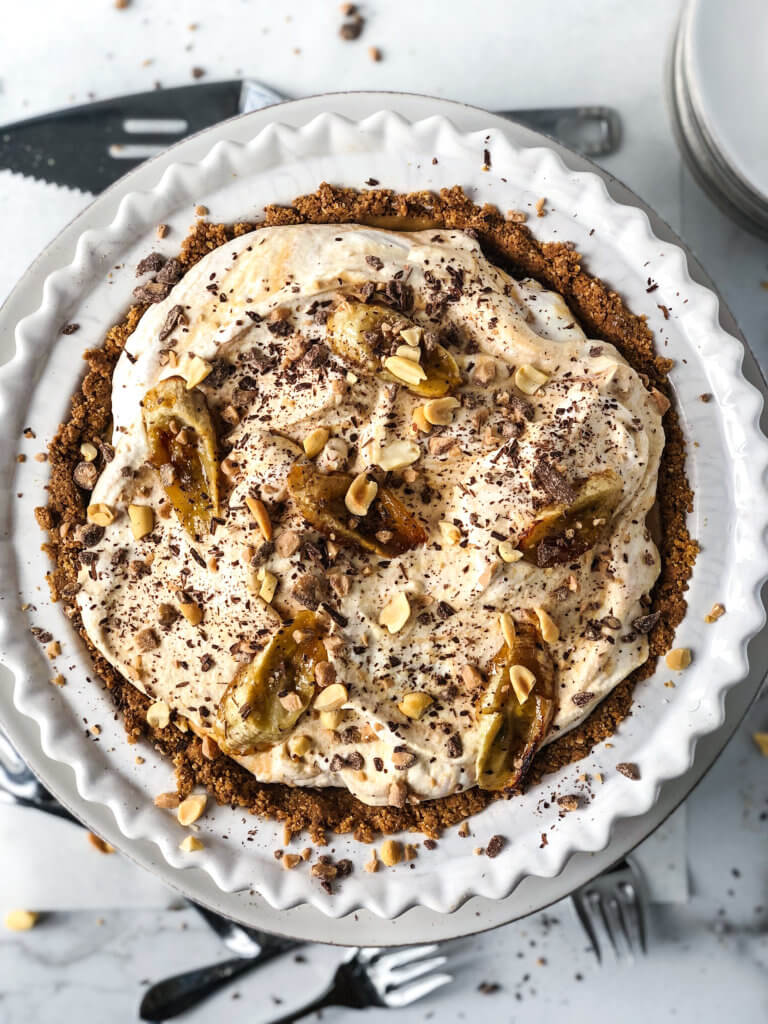 When I first heard of Banoffee (Banana+Toffee) Pie, I wasn't sure whether the sum was greater than the parts. And, to be perfectly honest – for me, it was a little "one-note" – kind of sweet crust, sweet bananas, sweet caramel. And my bananas turned a little brown, which didn't really spark joy. So I knew it needed to be jazzed up a bit.
This recipe supplies all the joy-inducing notes that I needed! The caramel has a touch of salt, the bananas are roasted with the faintest bit of lime juice, then put atop the NO BAKE but still crunchy Chocolate Oat Cookie Crust. And the topping? Peanut Butter Whipped Cream! WOOHOO! You may not want to share this pie, but with a house full people who also are staying indoors, I guarantee, you'll be their hero!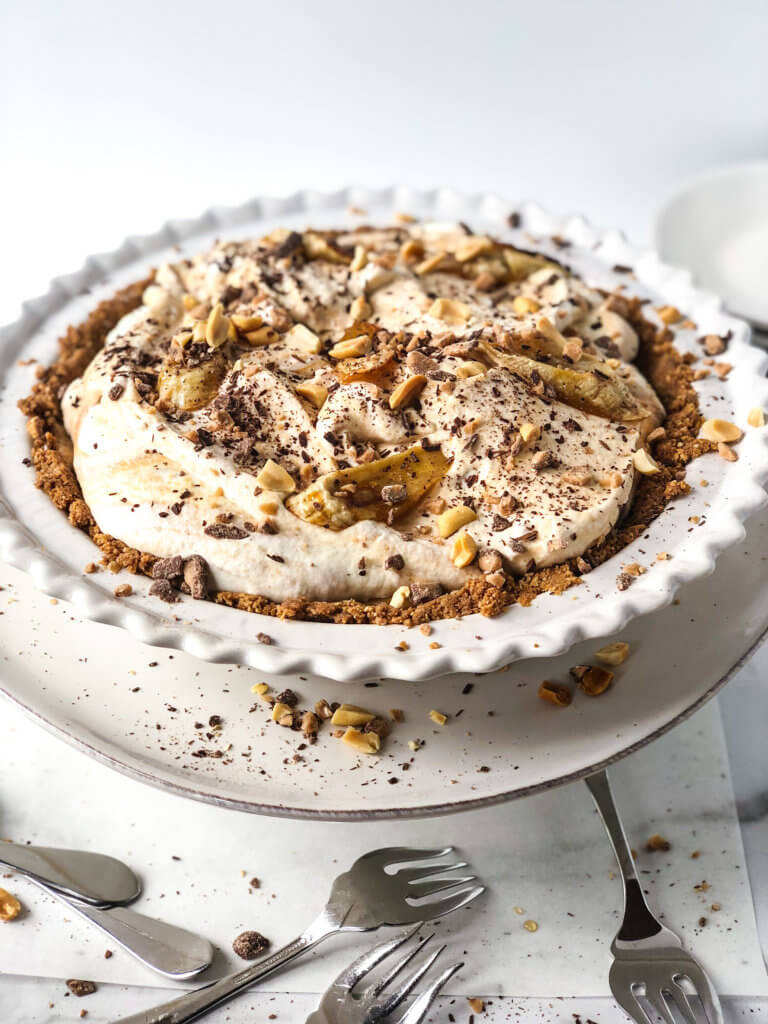 So check this item off your list: Make the Ultimate Peanut Butter Banoffee Pie! And, make several cans of that lovely dulce de leche! We've got the time, right? No one in your house will be sorry! 
And, if you're spending more time around the house these days, what kind of things are you doing? Besides making a pie, or two, anyway.
Enjoy!
If you're looking for pies, check out this Tom Douglas Triple Coconut Cream Pie, this amazing Key Lime Tart, or this amazing Peanut Butter Pie.
And, if you want more peanut butter treats, don't miss my No Churn Salty Peanut Butter Ice Cream, or Yummy Peanut Butter Cake!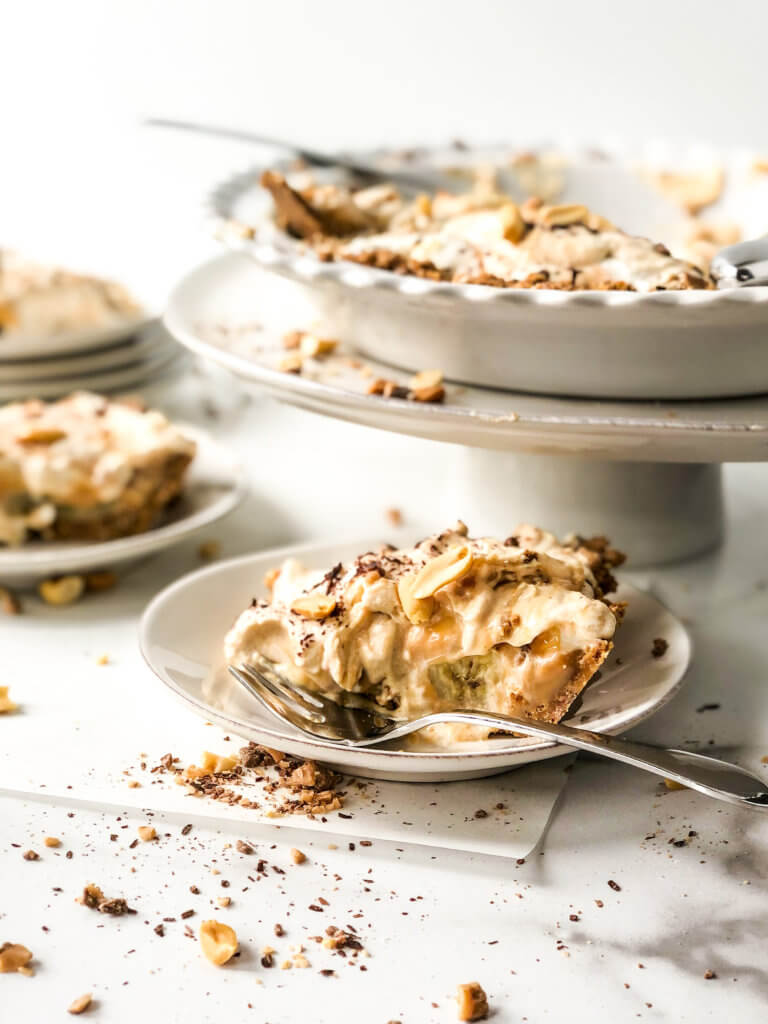 Peanut Butter Banoffee Pie Recipe Details ->
This post may contain affiliate links. As an Amazon Affiliate, I may earn a small commission, at no cost to you, for purchases you may make of items linked from this site.
Banoffee Pie is a classic British Dessert, that was developed to improve upon an American recipe for "Coffee Toffee Pie." The traditional British recipe uses either a Shortcrust or a Digestive Biscuit (cookie) crust, followed by a layer of dulce de leche caramel, then sliced bananas and whipped cream topping.
In my recipe I adapt this recipe from BBC Good Food, where the crust is made with "dark chocolate oat biscuits", also known as Chocolate Hobnobs. And the bananas are roasted to add extra flavor and some awesome tiny notes of tartness from the lime juice with which they are brushed prior to roasting. They are mashed up a bit and placed below the toffee layer, so no browning of these bananas! Also, to the topping, a swirl of peanut butter is added. Totally the Ultimate Banoffee!
And easy! Multiple steps, but each is simple and straightforward.
1. Make the Dulce de Leche: (or buy it already made Here) I love dulce de leche, but I always feel like it needs just a touch of salt to deepen the flavor and mute the intense sweetness just a touch. So I added a bit of salt to mine, just 1/4 teaspoon of Kosher Salt. You'll just pour the Sweetened Condensed Milk (or, buy some of this already-made Dulce de leche) into a metal bowl. Add 1/4 tsp Kosher salt and 2 tsp water. Stir.
Then get the Instant Pot ready. Pour 1 1/2 cup water into the pot. Place the bowl of condensed milk into the Pot. Set it to Manual Pressure, for 60 minutes. This should produce a gorgeous toffee-colored dulce de leche. While the caramel is cooking, make the crust.
If you don't have an Instant Pot, see an alternative oven method from Epicurious by clicking Here.
2. Make the Crust: Traditional Banoffee Pie uses a Graham Cracker or Digestive Biscuit Crust. But I followed the lead of BBC Good Food, and went with the Oatmeal Chocolate Hobnobs. You can use Milk chocolate or dark chocolate. I prefer the Dark Chocolate flavor. You need a total of 14 cookies, or about 9 oz. It's a super-simple crust. Just grind up the cookies in a food processor (about 15 pulses) or crush in a reusable plastic bag. Pour melted butter over and mix together. Then press into your 9" pie plate. Refrigerate while you prepare the flllings.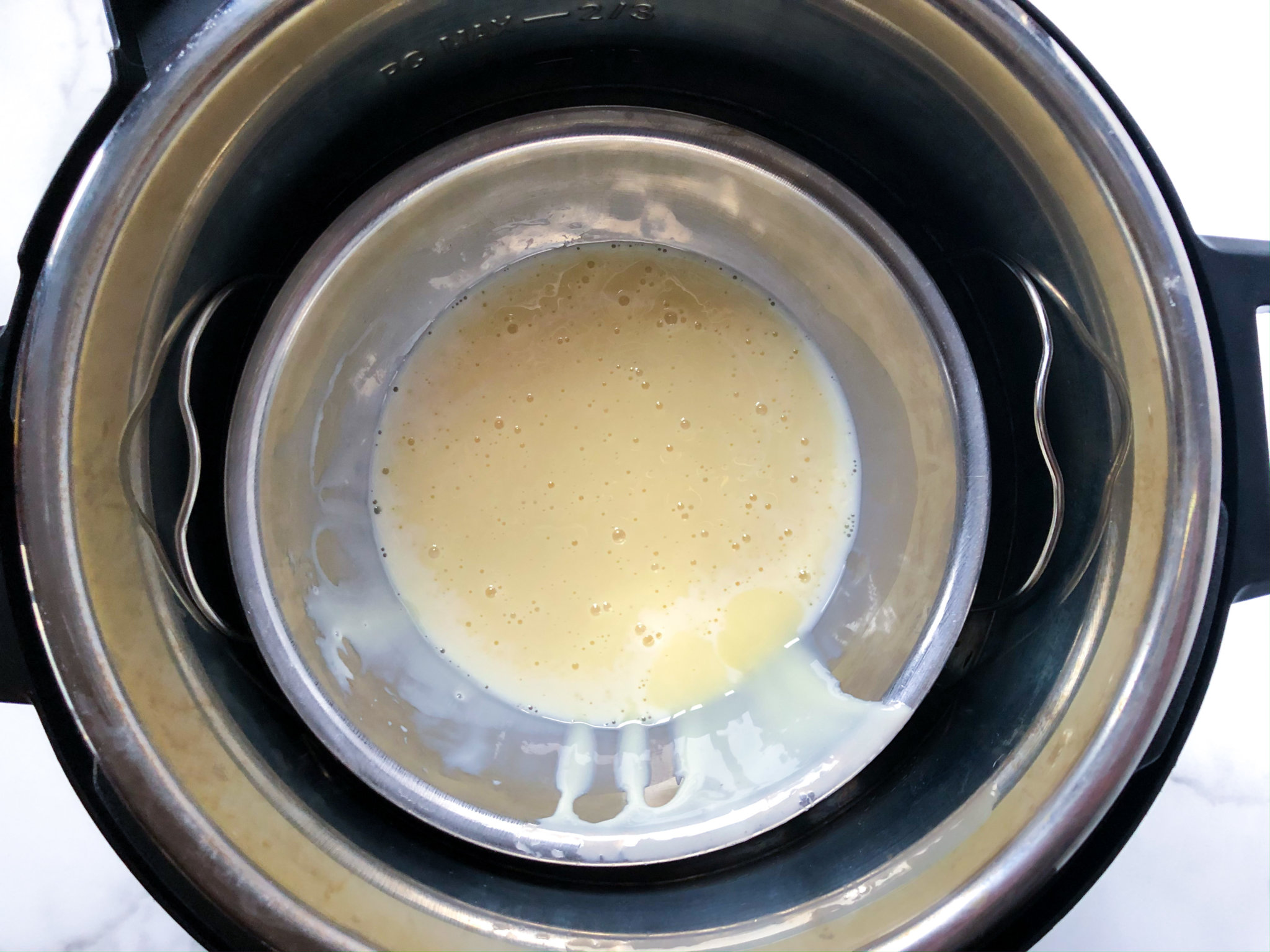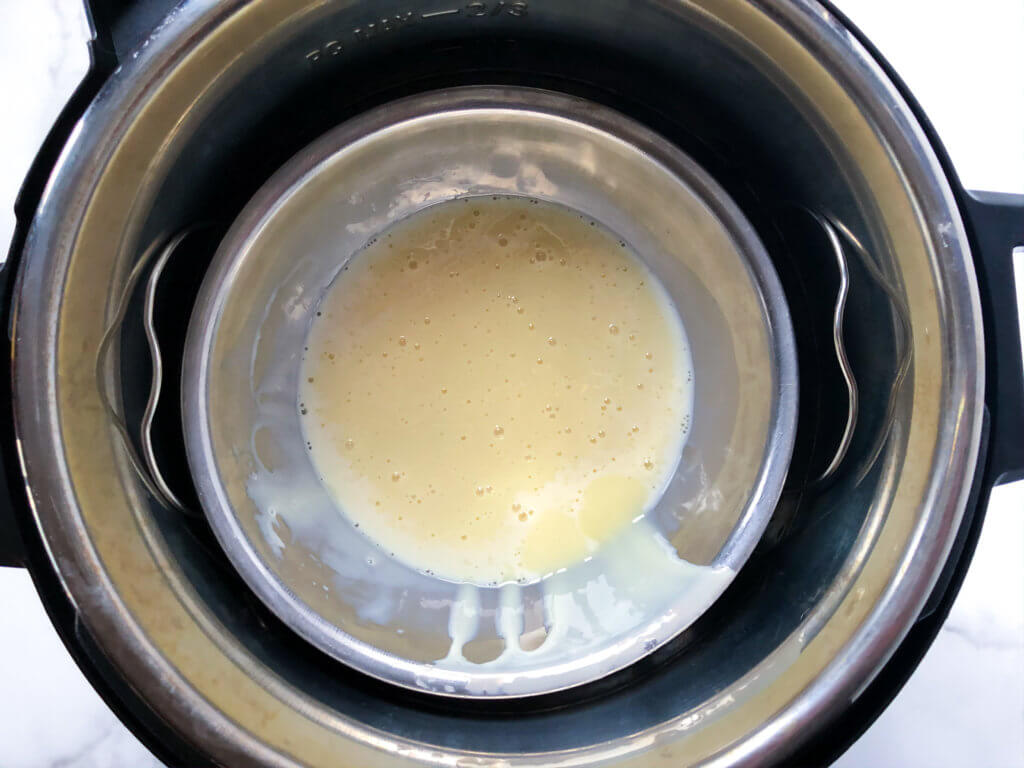 3. Roast the Bananas. Slice 4 medium bananas lengthwise. Brush each with a bit of lemon juice. Then sprinkle brown sugar over all the bananas. Roast in a 375F oven 15-20 minutes until edges are beginning to turn golden. Place the roasted slices into the refrigerated crust. Mash a bit with a fork, to make a (sort of) even layer.
4. Pour the Dulce de Leche over the Bananas. Pour the dulce de leche over the bananas. If desired, sprinkle flaky sea salt over the caramel. At this point, the pie needs to be refrigerated 4 hours (or more) to prevent the whipped cream from melting.
5. Make the whipped Peanut Butter Topping. You'll want to wait until just before serving to make this layer, to avoid some collapse and weeping that often happens with whipped cream topping. But it's quick and easy to make: you'll just need to whisk together about a third of the cream, confectioners' sugar and peanut butter. Then whip the rest of the cream to soft peak form, then fold in the peanut butter swirl. Top the pie, and dig in!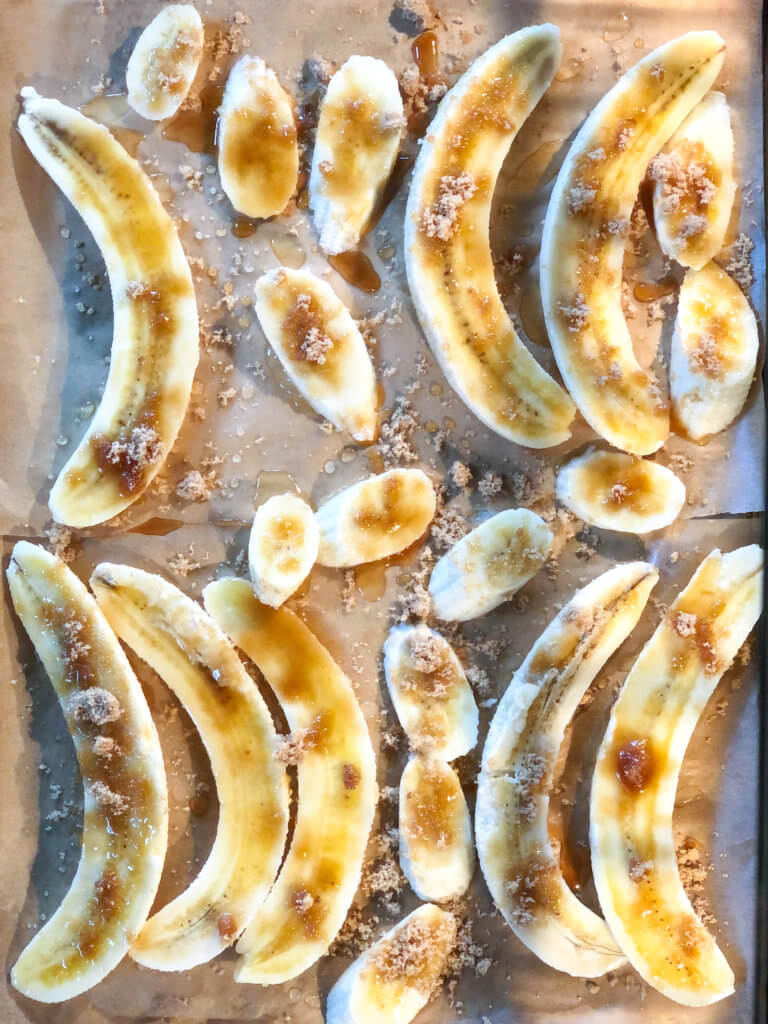 Print
Peanut Butter Banoffee Pie
A mountain of good taste in this pie! An already tasty pie made better with just a few "tweaks". And Peanut butter, which in my experience, makes everything better!
Recipe slightly adapted from BBC Good Food
Author:
Prep Time:

45 min

Cook Time:

60 min

Total Time:

75 min + chilling time

Yield:

1

–

9

" pie

1

x
Category:

Pies

Cuisine:

British
Ingredients
For the Crust:
9.2 oz

. Package Chocolate Hobnobs (dark or milk), about 14 cookies

5

T Butter (about

65g

), melted
For the Roasted Bananas:
4

Medium Bananas, ripe, about 1 3/4lb

4

T (49g) light brown sugar
Juice of

1

lime
For the Caramel Layer (See Note 1):
1

can (14-oz.,396g) Sweetened Condensed Milk (SCM)

1/4

t Kosher Salt

2

t water
Flaky Sea Salt (I like Maldon brand)
For the Peanut Butter Whipped Cream:
6 Tbsp

(

100g

) Smooth Peanut butter (I used all-natural, unsweetened)

7

T (50g) Confectioners' Sugar

1 1/2

c Heavy Whipping Cream, divided
Instructions
Make the Caramel (Dulce de Leche):
Pour the Sweetened Condensed Milk (SCM) into a metal bowl that will fit in your Instant Pot. Mix together the salt and water. Stir into SCM.
Pour 1 1/2 c water into your IP. Place your trivet into the IP. Put the metal bowl containing SCM on the trivet. Seal the IP. Set to Manual High Pressure for 60 minutes, Natural Release. The entire process will take about 90 minutes. You can use this time to prepare the other parts to the pie.
Make the Crust:
In a plastic bag: seal the cookies in a large zippered (reusable if you have) Plastic Bag. Crush into crumbs with a rolling pin. Pour the melted butter into the crumbs and mix around with your hands until it is like wet sand. Then press into the bottom and up the sides of a 9" pie plate. Refrigerate while preparing the bananas.
In a Food Processor: break the cookies in half. Place into food processor and pulse about 15 times. The cookies should be crumbs. Add the melted butter, process until parts of it come together and looks like wet sand. Press into 9" pie plate. Refrigerate.
Prepare the Bananas:
Preheat oven to 200C/390F for Conventional Oven or 365F (Convection/fan).
Peel the bananas. Slice in half lenthwise. Place the banana halves on a baking sheet. Brush lightly with lime juice (about 1 Tbsp or a bit more). Then sprinkle with brown sugar. 
Roast in preheated oven for 15-20 minutes, until caramellized. They should not have fallen apart and should have slightly golden edges.
Remove from oven to cool a bit.
Compose the Pie:
Remove the chilled crust from the refrigerator. Line it with the banana segments. With a fork, gently mash the banana segments down a bit until a level surface is formed. You can mash them before puttting them in the crust, if desired. 
Stir the dulce de leche to make it smoothe. Pour the warm dulce de leche on top the banana layer. Sprinkle with a pinch or two of flaky sea salt. Refrigerate at least 4 hours before serving.
Prepare the Whipped Peanut Butter Topping:
In a medium bowl, whisk together 1/2 c cream, peanut butter, and confectioner's sugar until uniform and smooth. Set aside.
In a separate bowl, using whisk, hand mixer, or stand mixer, beat the remaining cream until it is fluffy and soft.
Fold the peanut butter mixture into the whipped cream and top the pie. 
Serve.
Notes
1. In some areas, or On Amazon,  you can purchase caramelized SCM. If it's available in your area, I would recommend doing that. Otherwise there are several methods to caramelize it. I've included the one I find easiest in the recipe. Another method can be found HERE.
Keywords: Banoffee, Peanut butter, Peanut Butter Banoffee Pie, pies, dulce de leche, bananas, british desserts
Recipe Card powered by
PIN Peanut Butter Banoffee Pie Recipe ->