THIS PIE!  Coconut crust + Coconut filling + Toasted Coconut Chips on top = Triple Coconut Cream Pie.  It's been known to convert even non-coconut lovers! Dreamy!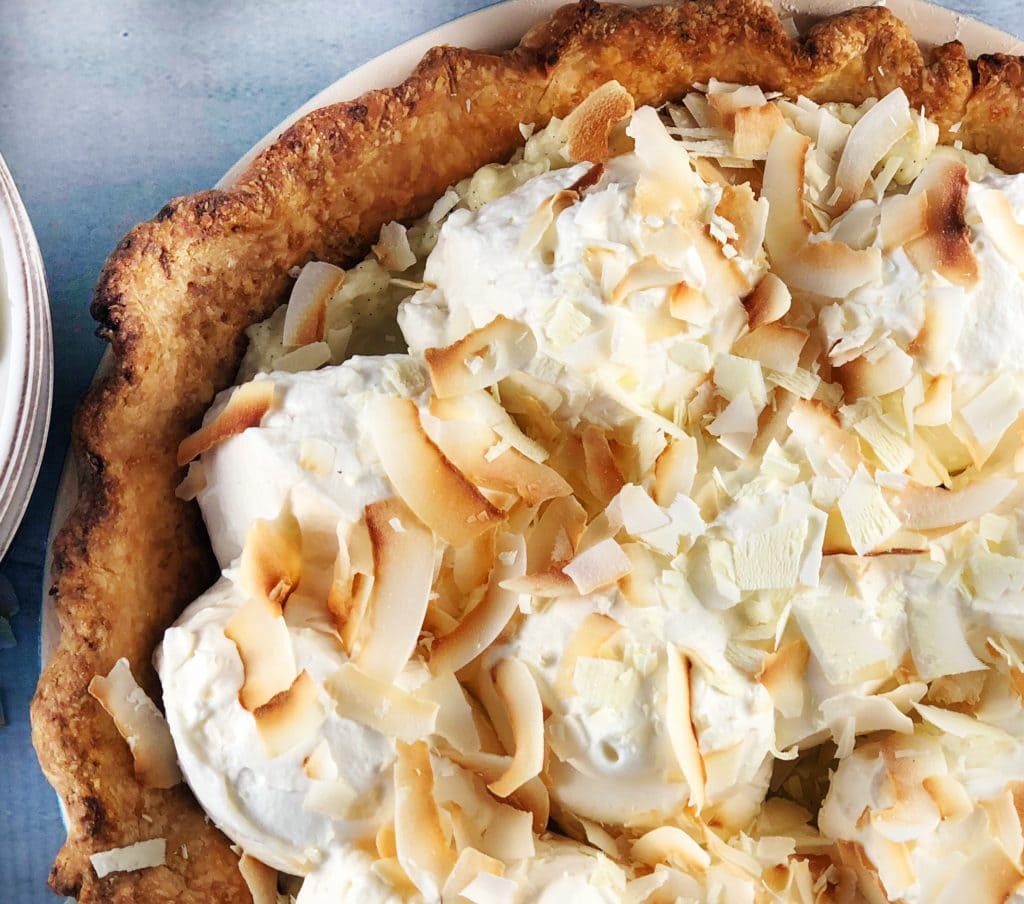 It's Birthday Season in my house!  Of the 5 of us, 4 of our birthdays fall between April 3 and June 3.  That usually means 4 birthday dinners (or parties ?!), 4 days of celebration, 4 sets of thank you notes, and 4 Over-the-Top Birthday Cakes! Wow! … You'd think, right?  But sometimes, just sometimes, I wish for the birthday where someone says, "How about a Birthday Pie?"  This year, it happened.  And my baby girl wanted not just any old pie, but one of my all-time favorites, Tom Douglas's Triple Coconut Cream Pie. A crispy, coconutty shell encases the best coconut pastry cream you've ever had. All of that yumminess is (over-the)-topped with a mountain of whipped cream, and covered with toasted coconut chips and shavings of White chocolate.  If your mouth isn't watering now, check your pulse. WOW!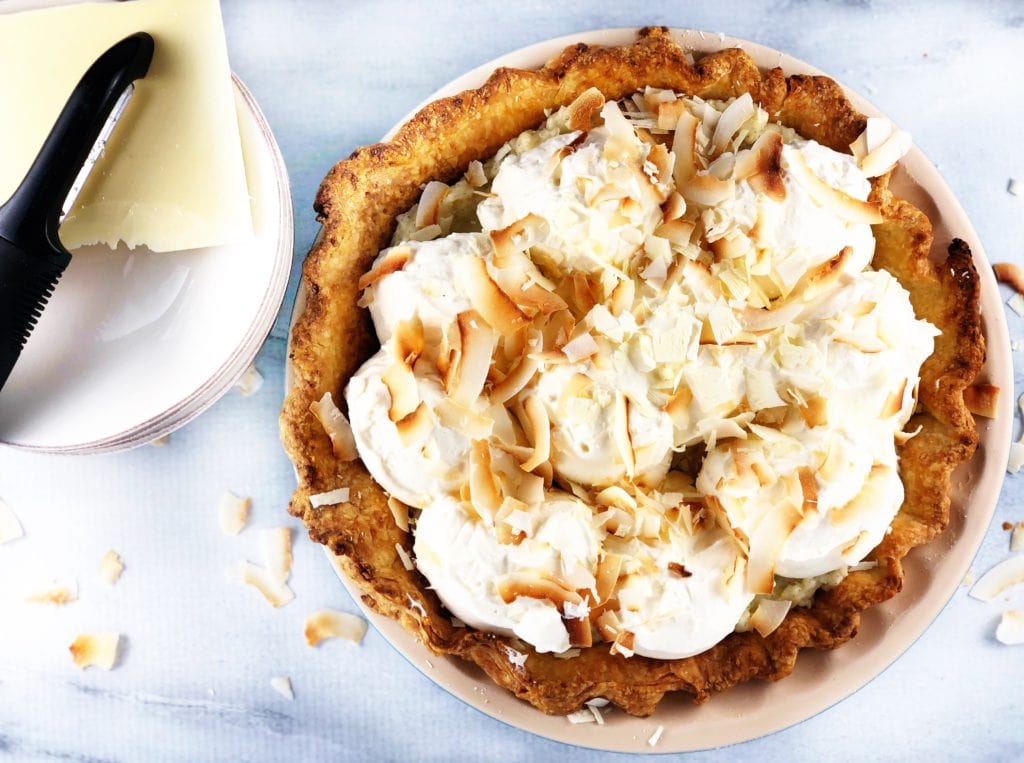 Tom Douglas is nothing less than a celebrity here in the Pacific Northwest.  His restaurants are among the best in town, each offering Tom's spin on classic comfort foods, local favorites, pizza, even plant-based cuisine. All amazing!  His original restaurant, The Dahlia Lounge, made famous by a scene in "Sleepless in Seattle" was the first to offer this Triple Coconut Cream Pie, and several others now follow suit. I, personally, can't leave any of his restaurants without a slice.  It's a masterpiece.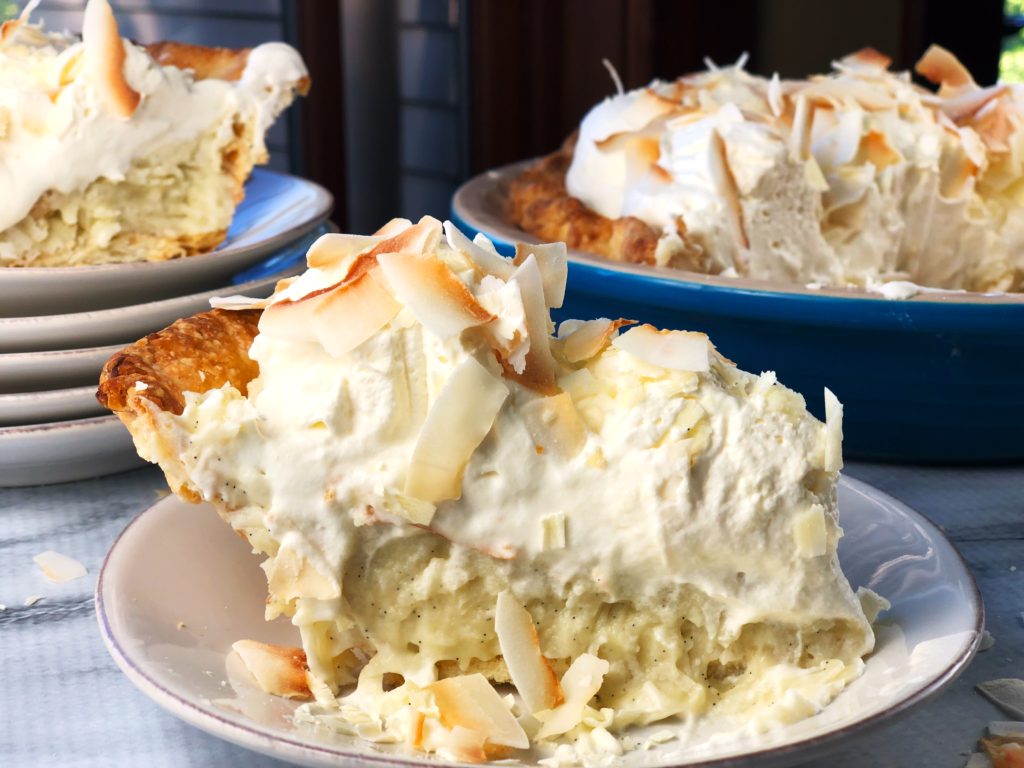 When my daughter was younger, she loved cooking and participated in various cooking camps and classes during the summer months.  I met Tom at a cooking store where he was promoting his cookbook Tom Douglas' Seattle Kitchen, which contains the recipe for this completely over-the-top Coconut Cream Pie. I bought the book and asked him to autograph it for my daughter (ok, I admit an ulterior motive:  I wanted this recipe).  I made the pie a couple of times from the recipe in the cookbook, but noticed over the years a few adaptations have been made, by Tom and others, each producing slightly better results, in my opinion, at least. Instead of 2 cups of milk, it seems pretty standard now to use half coconut milk and half milk, but it's fine to use 2 c regular milk if you wish.
And, Deb Perelman, of Smitten Kitchen, made a couple of adaptations I copied here.  She reduced the sugar in the whipped topping. She also has a genius way to avoid using pie weights for baking the shell, which I include in this adapted recipe.  This is an important change, since the shell is, as she describes, "pesky".
I received a question about where to purchase coconut chips. I got them at my local grocery or Trader Joe's. But if you can't find them they sell Coconut Chips at Amazon. If you click the link you could at least see what to look for at your grocery.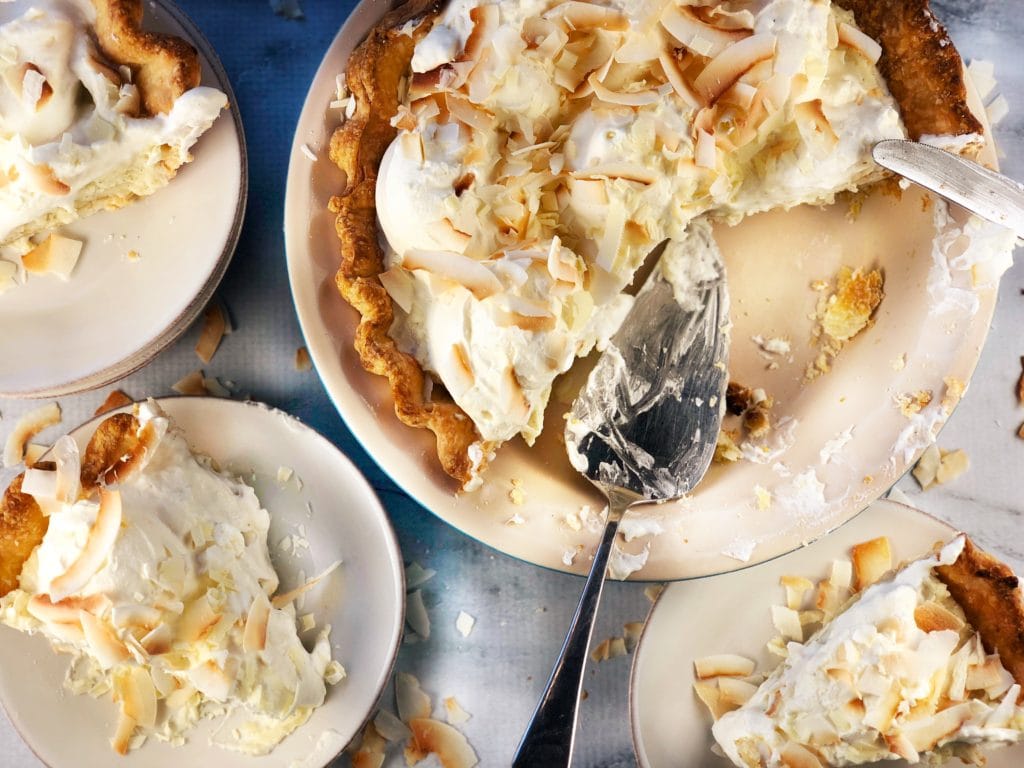 So, next time there is a birthday in your house, maybe give this festive pie a try.  You might start a new tradition. Or maybe for a regular Sunday night.  Once you try it, this pie is bound to become one of your all-time favorites! Enjoy!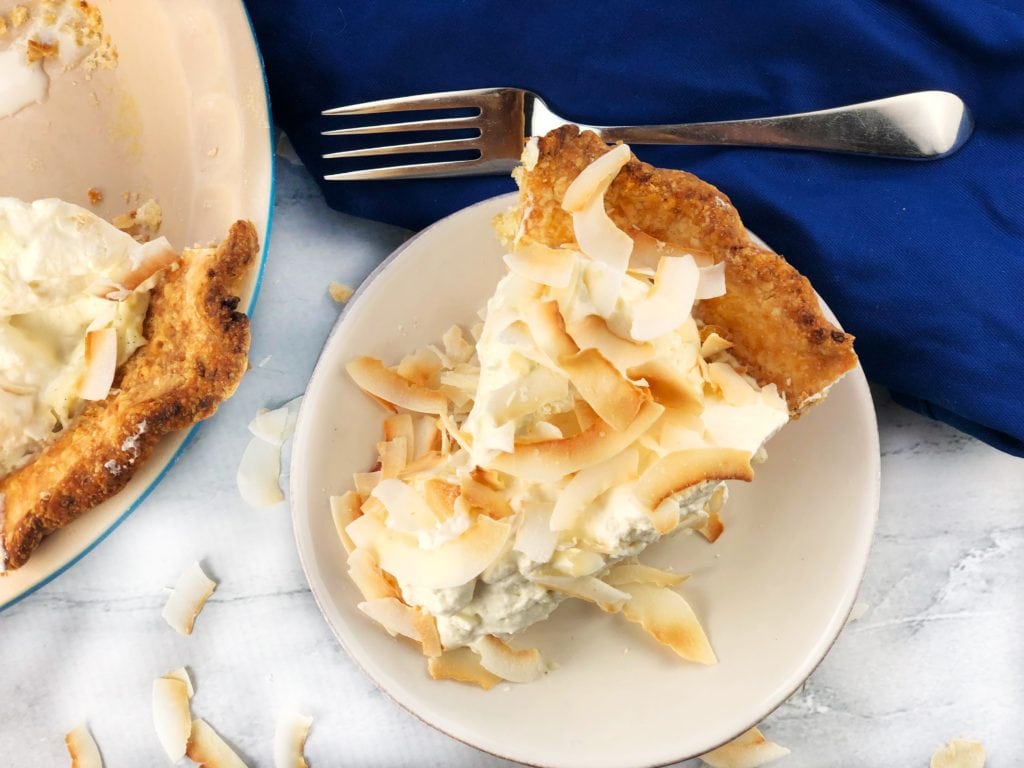 Print
Tom Douglas Triple Coconut Cream Pie
Truly, the BEST Coconut Cream Pie you've ever had!  I adapted this pie only slightly from Tom Douglas' Seattle Kitchen. I used a change suggested by Deb Perelman's Smitten Kitchen, and reduced the sugar in the whipped cream from 1/3 c to 2T.  If you like yours sweeter, feel free to add more than the 2 T.  I did; however, follow her recommendation to use a vanilla bean.  I know how expensive a full vanilla bean is, but if you ever have a special occasion for which you want to make this pie, it really does make a difference to use the bean.  Otherwise, I'd use a full tablespoon of natural vanilla extract.   I also added a couple pinches of salt, because that's just who I am.
This pie does take awhile to prepare. So be sure to read through the instructions before starting.  You can do it in pieces – make the shell the night before, for instance.  It does take some chilling time after it's assembled, so plan for that.  All in all, it takes about 2 hours to make. Then an hour or so of chilling time.  So plan accordingly.
Ingredients
For the Coconut Pie Shell
1

c plus 2 T AP Flour

1/2

c Sweetened Shredded Coconut, loosely packed

1/2

c COLD unsalted butter, cut into

1/2

" dice

2

t Granulated Sugar

1/4

t Kosher Salt

4

–

6

T ice water, or more, as needed (I used

5

T)
For the Coconut Pastry Cream (Filling)
1

c Milk

1

c Coconut Milk

2

c Sweetened Shredded Coconut, loosely packed

1

Vanilla Bean, cut in half lengthwise, or

1

T Natural Vanilla Extract

2

Lg Eggs

1/2

c plus 2 T Granulated Sugar

3

T AP Flour

1/4

c Butter, Softened

1/4

t salt (Kosher salt preferred)
For the Topping
2 1/2

c Heavy Cream, refrigerated

2

T Granulated sugar

1

t Natural Vanilla Extract
For the Garnish
2 oz

. unsweetened coconut "chips"
Small White chocolate bar or chunk, about 2 oz, to shave
Instructions
Make the Coconut Pie Shell
In a food processor, combine the flour, coconut, sugar and salt.  Pulse a couple of times.
Add the diced cold butter and pulse enough times that the biggest bits of dough are pea-sized, about 16-20 pulses. Slowly stream in the water and pulse until the dough, adding enough cold water until the dough just begins to hold together when you pinch it.  This happens at just the moment before the dough starts to look sticky. If you keep pulsing and it appears sticky, it will still be good. Not perfect, but not a disaster.  (This is how long I pulsed, it was delicious!).
Pour the dough onto a sheet of plastic wrap, and pull the wrap around the dough to form a ball. Then flatten the ball until it forms a disk and inch or inch and a half thick. Refrigerate at least 30 minutes, or up to a few days until ready to use.
When ready to bake, place the unwrapped, still chilled disk, on a flour-covered surface. Flour hands and rolling pin.  Roll dough into 1/8" thick, 12-13" circle.
Carefully lift the dough occasionally with a bench scraper to be sure it isn't sticking.
Gently transfer to a 9" pie pan, being careful not to stretch it out, because it will shrink when it is baked. Trim the dough to a 1-1/1/2" overhang. Fold the overhanging dough under and flute the edge with your fingers.
Freeze the unbaked shell at least 20 minutes, and up to a day before baking. This will minimize the shrinking when baked.
When ready to bake, preheat oven to 400F (or 375F for Convection) oven. Remove shell from freezer.  Butter a sheet of foil and press firmly into the shell, including into the fluting you made along the edge. Bake 20-25 minutes. Carefully remove he shell from the oven. Gently and carefully remove the buttered foil. If the edges are getting too dark, feel free to cover the edges with strips of foil to prevent further browning. Return the un-foiled shell to the oven and continue to bake until the bottom of the shell begins to brown, about 10-12 minutes.  Allow to cool completely before filling. 
While the oven is still on, toast the coconut chips you will use as a garnish.  Lower temperature to 350F. Scatter chips over a sheetpan and bake 5-8 minutes until golden. Remove to cool. Reserve for garnish.
Make the Coconut Pastry Filling
Combine the 2 milks and coconut in a medium saucepan. Slice the vanilla bean in half, then scrape the seeds from the vanilla bean into the mixture, and toss in the pod. (If you are using vanilla extract instead of the bean, DO NOT include the vanilla at this point.). Place the saucepan over Medium-High heat and stir until mixture is steaming but not boiling.
In a separate small bowl, whisk together the eggs, sugar and flour until well-combined. Temper the eggs by pouring 1/3 c of the hot scalded milk into the egg mixture while whisking briskly. Then add the warmed egg mixture to the saucepan of milk and coconut.  Return to the Medium-High heat and whisk until the pastry cream begins to bubble.  Continue to whisk until the mixture is very thick.  This could take an additional 4-5 minutes.
Remove from heat and add the butter, whisking until it melts. Remove and discard the vanilla pod, if using. Transfer the pastry cream to a bowl, stirring occasionally until it begins to cool. If using Vanilla extract, add a full Tablespoon at this point and stir in. Cover the pastry cream with a sheet of plastic wrap, making sure the wrap covers the surface of the cream.  Refrigerate.
When the pastry cream is cool, spoon into the prebaked pie shell, smoothing the surface.
Make the Whipped Topping
In a large bowl, place the heavy cream sugar and vanilla extract.  Whip at medium speed, gradually increasing to high speed, whipping to peaks that are firm enough to hold their shape.
Pile the whipped topping on the cold pastry cream. You can use a star-tip inserted into a pastry bag, an ice cream scoop (as I did, inspired by Smitten Kitchen), or just pile it on.
Garnish
Sprinkle the coconut chips and shave the white chocolate across the top of the whipped cream.
Slice pie. Sprinkle more coconut chips and chocolate shavings,, as desired.  Serve.
Recipe Card powered by
PIN FOR LATER->