Do you consider yourself Creative?  This Easy! Healthy! Fresh! Gnocchi Primavera with Chicken Sausage may prove to you once and for all that you indeed are!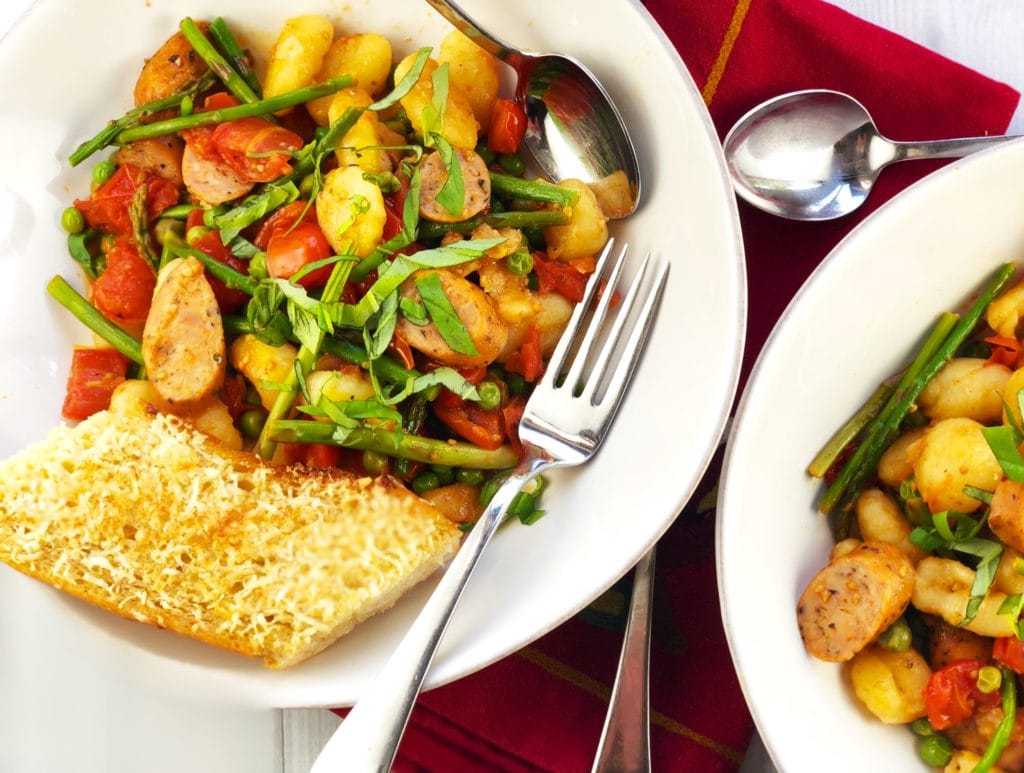 I grew up in the era where some people were "creative" and the rest of us … well, sadly, we just weren't. We might as well not even try.  I made attempts to draw, paint, and write poems.  I even tried out for the high school play, like my "creative" friends, but truly was not very skilled.  So I just assumed I was not creative.  However, I was "smart" which, if you boil it down, really meant I had a good memory, and did well on tests. Recognize that I say this a bit flippantly because in reality, I just really wanted to be "creative", and didn't think much of my "smart"ness. But, I channeled myself and my ambitions in the "smart" direction, with success, I have to admit.  Fast forward to my adult years.  As I've met, gotten to know, and observe, these three amazing children of mine, I've seen how each is wonderfully creative in his or her own way.  As THEY have taught ME, I've come to believe that we are all creative.  We each just express that creativity in different forms.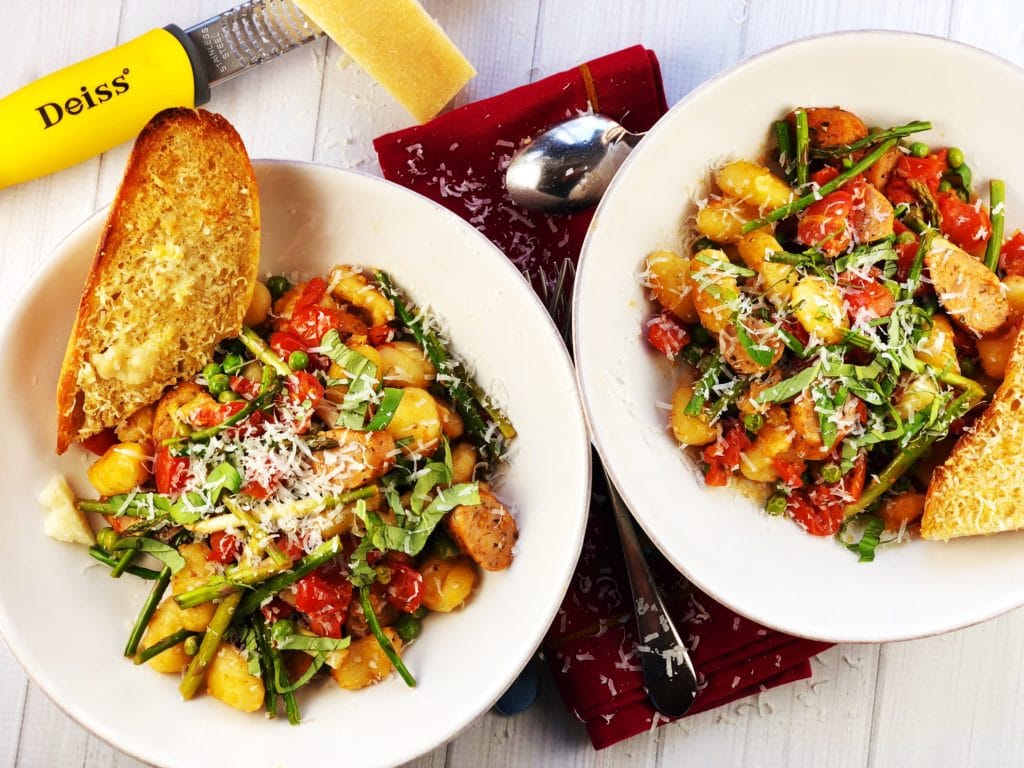 For instance, many years ago, I loved gardening.  I mean "love with a passion" everything about gardening. I pored through the tulip bulb choices, finding the most unique color palettes and shapes (of which there are many even for tulips, believe it or not!) being sure to choose some marked to bloom "Early", some that would bloom "Middle Season" and some "Late", just so I could show them off for the longest time possible.  I couldn't wait to plant literally hundreds of bulbs in the fall, and I patiently awaited their stunning blooms in the spring.  I also planted pots overhanging with fuschia, gardenia, lobelia, petunia to line my front steps and boxes to line the large upstairs window.  Over time, though, I replaced those activities with taking kids to sports practices and games, trips to the park and the zoo, filling the kiddie pool, etc. Planning ahead has become more difficult, and I've come to enjoy the beauty of simpler things that I can create quickly. Much the way I loved creating a garden, I now love creating beautiful dishes, like this Gnocchi Primavera, in the kitchen. I can satisfy my creative needs on the spot!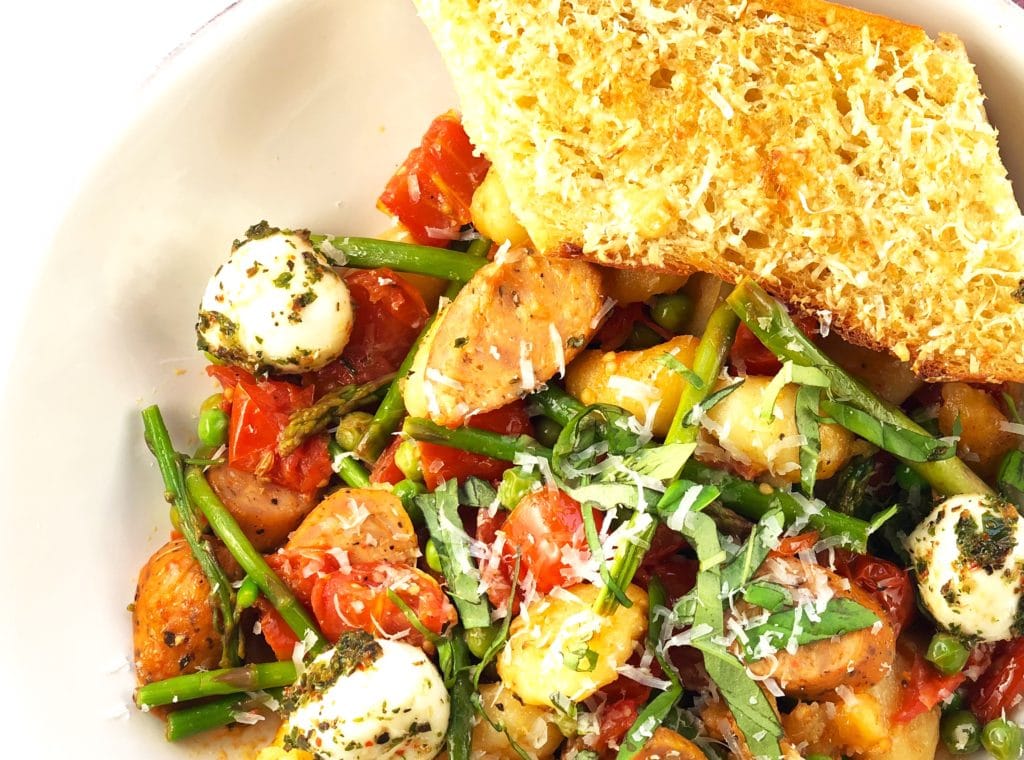 Gnocchi Primavera with Chicken Sausage celebrates the fresh vegetables of the season:  sautéed cherry tomatoes exude their sweet juice to make the sauce, fresh peas and asparagus add sweetness and texture.  Crisping the gnocchi in butter and olive oil deepens its flavor and provides a complement to their pillowy softness. I added chicken sausage (feel free to use any type, or omit) to amp up the protein factor. Topped with Parmeggiano Reggiano, this dish is positively dreamy! For the record, I have made Homemade Gnocchi before – it is easier than you think and truly sublime!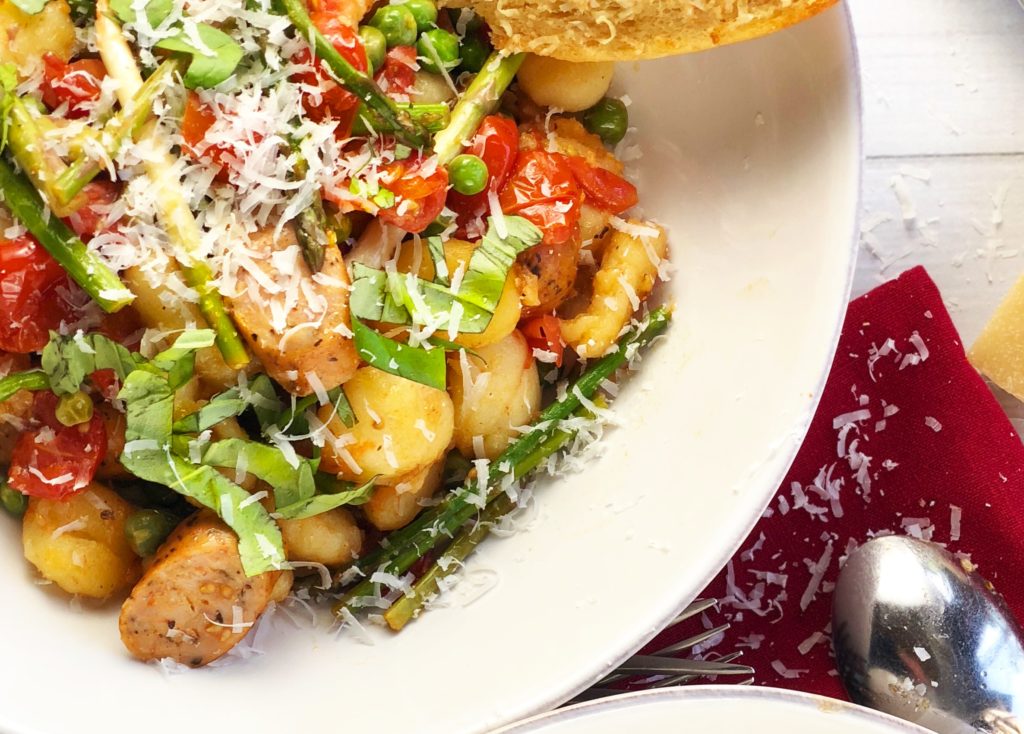 So, on those days you need to express YOUR creativity, saute some veggies and crisp up some gnocchi, mix it all together and you'll have One Spectacular Meal, fit for a king – or queen – or and ARTIST!  Enjoy!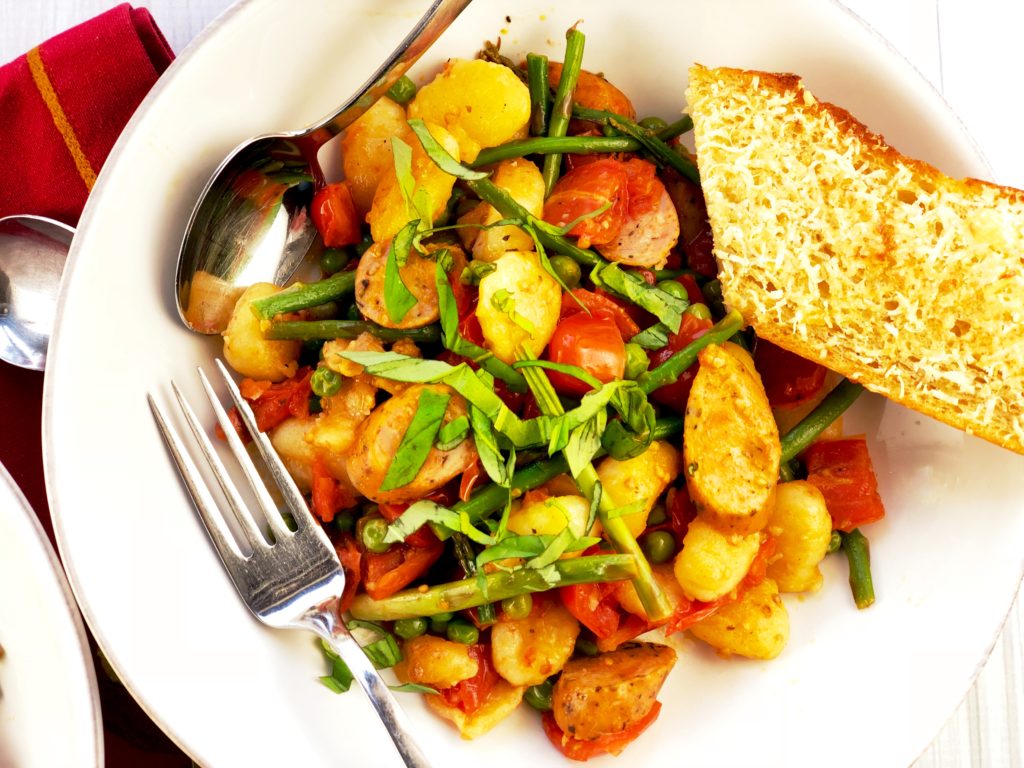 To see my most Popular Pasta Post, Chrissy Teigen's Lemony Cacio e Pepe, click HERE
Print
Gnocchi Primavera with Chicken Sausage
A full meal in a single dish! Sautéed gnocchi and sausage, loaded with fresh vegetables and topped with Parmesan Cheese.  Easy stovetop prep in 2 saute pans.  What's not to love?
Feel free to substitute other vegetables for the asparagus and peas.  A nice squash would be lovely, or some bell pepper strips. 3-4 cups of fresh veg total is what you need, in addition to the cherry (or grape) tomatoes.
Author:
Prep Time:

10 min

Cook Time:

15 min

Total Time:

25 min

Yield:

6

servings

1

x
Category:

Pasta

Method:

Stovetop

Cuisine:

Italian
Ingredients
5

T Extra-Virgin Olive Oil, divided

2

T Butter

2 pints

cherry tomatoes, sliced in half

1 1/2

c fresh (or frozen) peas

6

–

8

oz thin asparagus, ends cut, then stalks cut into thirds

4

–

5

sausages (I used Italian-style Chicken Sausages), 1/2" slices

1

package (about

1

lb) gnocchi

10

–

12

oz package fresh mozzarella balls, marinated in seasoned olive oil

8

–

10

basil leaves, sliced thin
Grated Parmesan, (or Parmeggiano-Reggiano) to pass at the table
Salt and Pepper
Instructions
Saute the Vegetables to make the "sauce"
In a large saute pan, over Medium-High heat, pour 3 T Olive oil. When oil is hot, add the sliced tomatoes, and cook until they exude much of their juices, about 2 minutes. Add the peas and asparagus, Salt and Pepper everything in the pan, and saute for a minute or two, then turn heat to low and cover, while you prepare the gnocchi. (See Note)
Saute the gnocchi and sausage
Heat a second medium or large saute pan over Medium heat.  (Or you could do this in the bottom of a 5-6 quart pot).  When the pan is hot, spoon in 1 T olive oil, add sliced sausage, browning on both sides, about 3 minutes/side.  Remove to a paper-towel lined plate while you prepare the gnocchi.
Into the pan, pour 2 T olive oil and melt the butter.  When hot, saute the gnocchi until it is golden on both sides.  This should take 4-5 minutes for the first side, and about 3 minutes for the second side.
Assemble the dish
In whichever pan is the largest, mix together the vegetables, sautéed gnocchi and sausage slices, stirring gently to toss.  After a minute or two, remove from heat.
Add the mozzarella balls, if using,  and the basil. Salt and pepper to taste.
Serve at the table, passing Parmesan (or Parmeggiano-Reggiano) cheese to grate over the dish.
Notes
If your sautéed tomatoes and green vegetables don't seem "saucy" enough for you, feel free to add a bit of water or some vegetable or chicken stock, that should make it a bit more saucy.
Recipe Card powered by
PIN FOR LATER ->