Oh, the flavors of this Chicken Puttanesca Recipe – capers, olives, garlic! There's no simpler or more flavorful sauce! And, what could be better than to sauté some chicken and let it finish cooking in that yummy sauce? 30 minutes from fridge to delicious!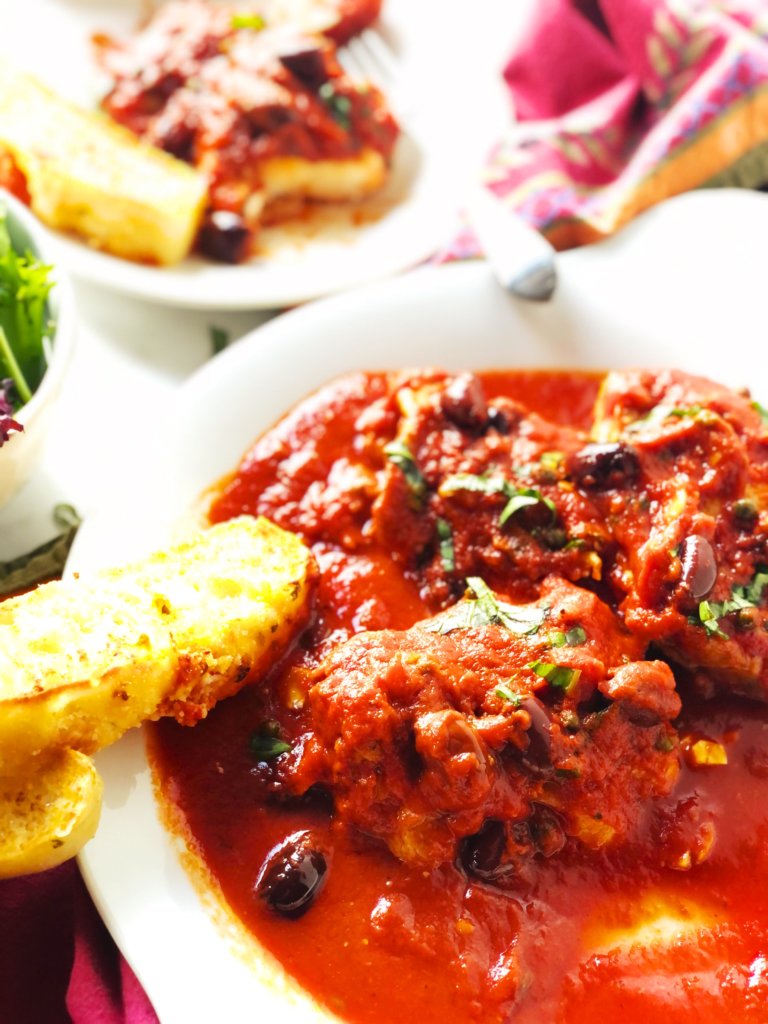 Busy days and evenings – we're back to that now, are we? Post holidays? I know I am. These times make for rushed cooking and dining, which often results in poor food choices. I hate that, don't you? I much prefer a leisurely dinner of delicious healthy foods. But often, flavor takes T…I…M…E. Something we I don't always have. That's where the miracle of Puttanesca comes in.
Puttanesca, meaning "in the style of the prostitute", for the reason that it can be prepared quickly, between other responsibilities. Ok, then. Not a name we'd choose in this century, I'm guessing. Apparently, invented in the mid-20th Century in Naples, the original puttanesca was made by a chef who found himself low on ingredients, for a group of hungry patrons who arrived at his restaurant late in the evening. (Is it just me or does this seem to be a similar origin story to the infamous "Buffalo Wings?") He made a sauce of tomatoes, olives and capers, and Puttanesca was born. In the Lazio region, puttanesca also includes abundant garlic and anchovies, and the dish is topped simply with chopped parsley.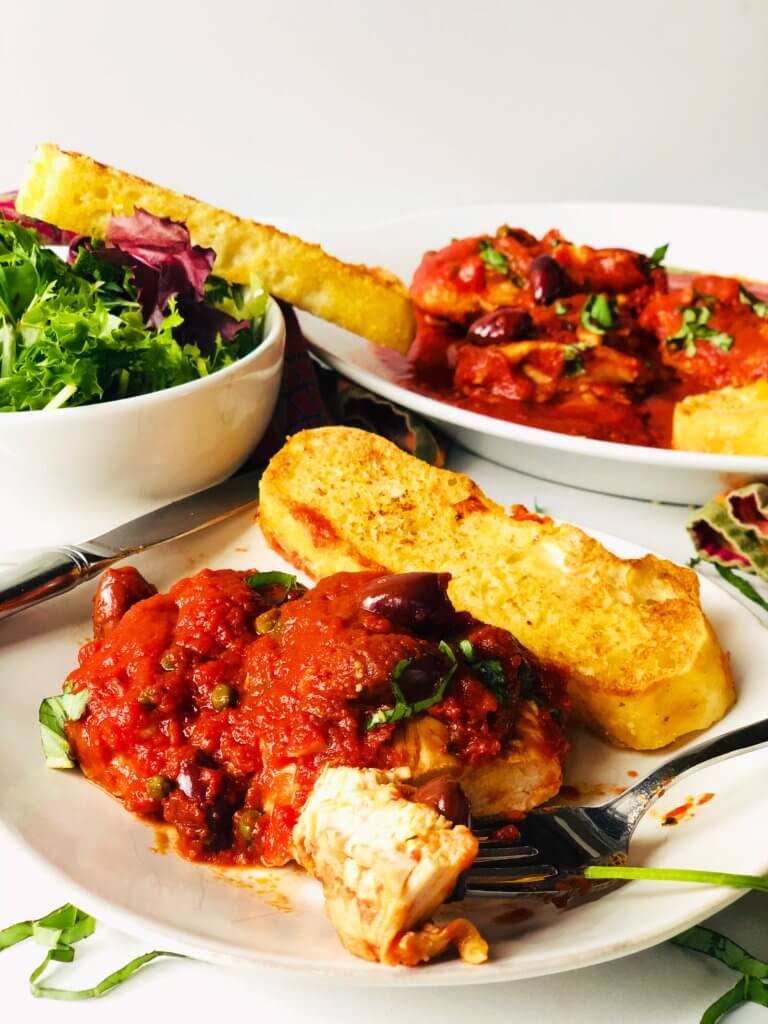 I know Puttanesca as one of the most flavorful sauces I'd ever tasted. But then again, anything that starts with garlic and anchovies has got to be exceptional, right? Wait…you don't like anchovies, you say? You could leave them out, but I beg you, give this a try! Anchovy adds a depth, and "presence." It doesn't overwhelm the dish. You know it's in your beloved Caesar salad dressing, don't you? And so many dishes you love in an Italian restaurant. So maybe start with one. Or two.
Next, a can of lovely Tomatoes – whole, crushed, puree, you choose – for the body of the sauce, Kalamata olives and Capers for some saltiness and punch to the sauce. Stir it all up, and the sauce is complete! Seriously, a 5 minute sauce. How quick and easy is that? The flavor-to-time-needed ratio one of the absolute best.
You can stop there, but to make a speedy delicious dish even better, I decided to add chicken, in order to make a complete One-Dish Wonder of a meal. I brown the chicken, then set it aside while making the sauce in the same pan. You'll just add your browned chicken to the sauce, and let it finish cooking in the sauce while you toast some bread or make some pasta!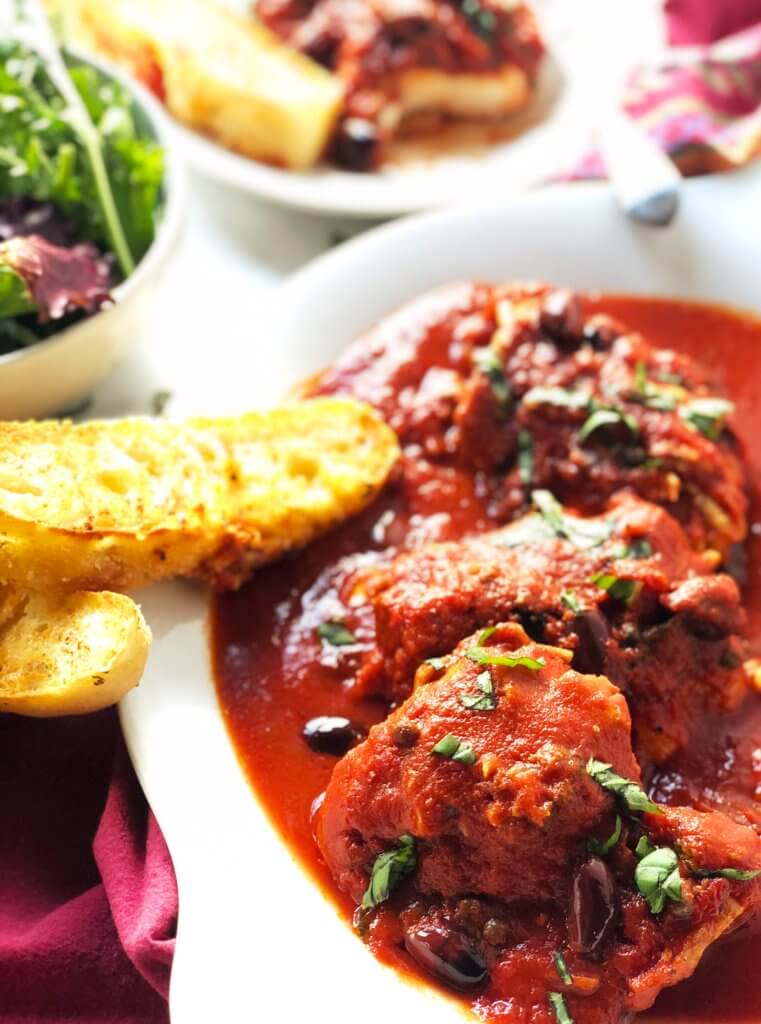 And, now, I can't believe I'll ever STOP making this dish. Truly, one of the easiest weeknight meals I can think of. So, please, enjoy some Puttanesca! Don't miss all this flavor!
Enjoy!
If you're looking for other quick, easy and flavorful dishes, don't miss this Swordfish with Oregano-Caper Sauce or my Honey Sriracha Salmon
If you love Italian food, check out this Amazing Lamb Ragu with Peppers from Lidia Bastianich, or Chrissy Teigen's phenomenal Lemony Cacio e Pepe with Arugula. So so good!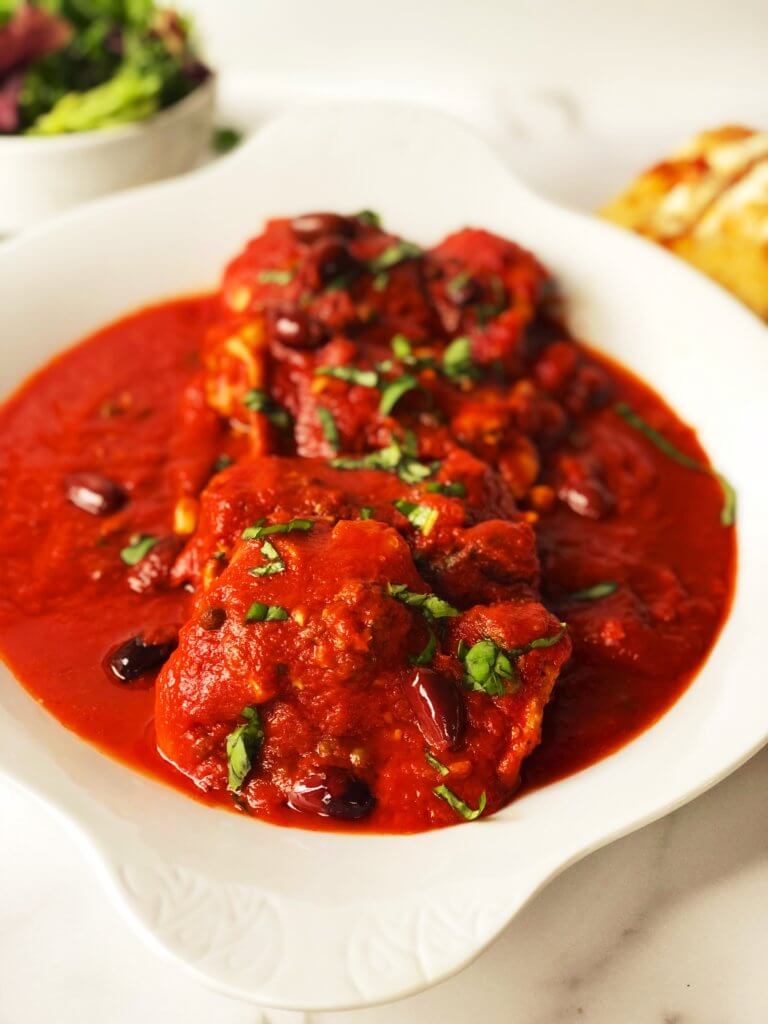 Puttanesca Recipe Details ->
This quick Chicken Puttanesca recipe is so easy  and so flavorful, you'll truly wonder where it's been all your life! 
It's important to start with good tomatoes. You can use whole, peeled tomatoes in puree, or a can of Tomato Puree or Crushed Tomatoes. I find the San Marzano varieties (You can get them by clicking HERE or the "Get Ingredients" in my recipe card) particularly flavorful. If you choose the whole tomatoes, you may want to crush them with a spoon as they cook.
But for the recipe, you'll first brown the chicken pieces in oil. You can use boneless, skinless breasts or thighs, just realize the thighs will take slightly longer to cook, but it's difficult to overcook them. Even though the breasts cook more quickly, they dry out if overcooked. And, of course, cooking time will vary with thickness.
After the chicken pieces are browned, remove them to a separate dish, along with any brown bits. Add an additional tablespoon of oil to the pan and toss in the chopped garlic. Once that is fragrant, (about a minute), add the chopped anchovies. (I like to buy anchovies in a jar, since you rarely use enough to use a whole tin.) Stir them around, and when you can smell their aroma, add the tomatoes, capers, and Kalamata Olives. Bring the sauce to a boil, then nestle the chicken pieces back in, along with the brown bits and any juices they may have left in their dish.
What to serve with this chicken? While the chicken pieces finish cooking, it's a good time to make your pasta and/or garlic bread. I love dipping toasty, buttery, garlic toast in that tasty sauce – so good. You could also make the Chicken Puttanesca into a sandwich. Just add the pieces to sections of baguette or sandwich bun, maybe top with some mozzarella, and another easy dinner idea!
Add a green salad, and you have a perfect quick and easy weeknight dinner!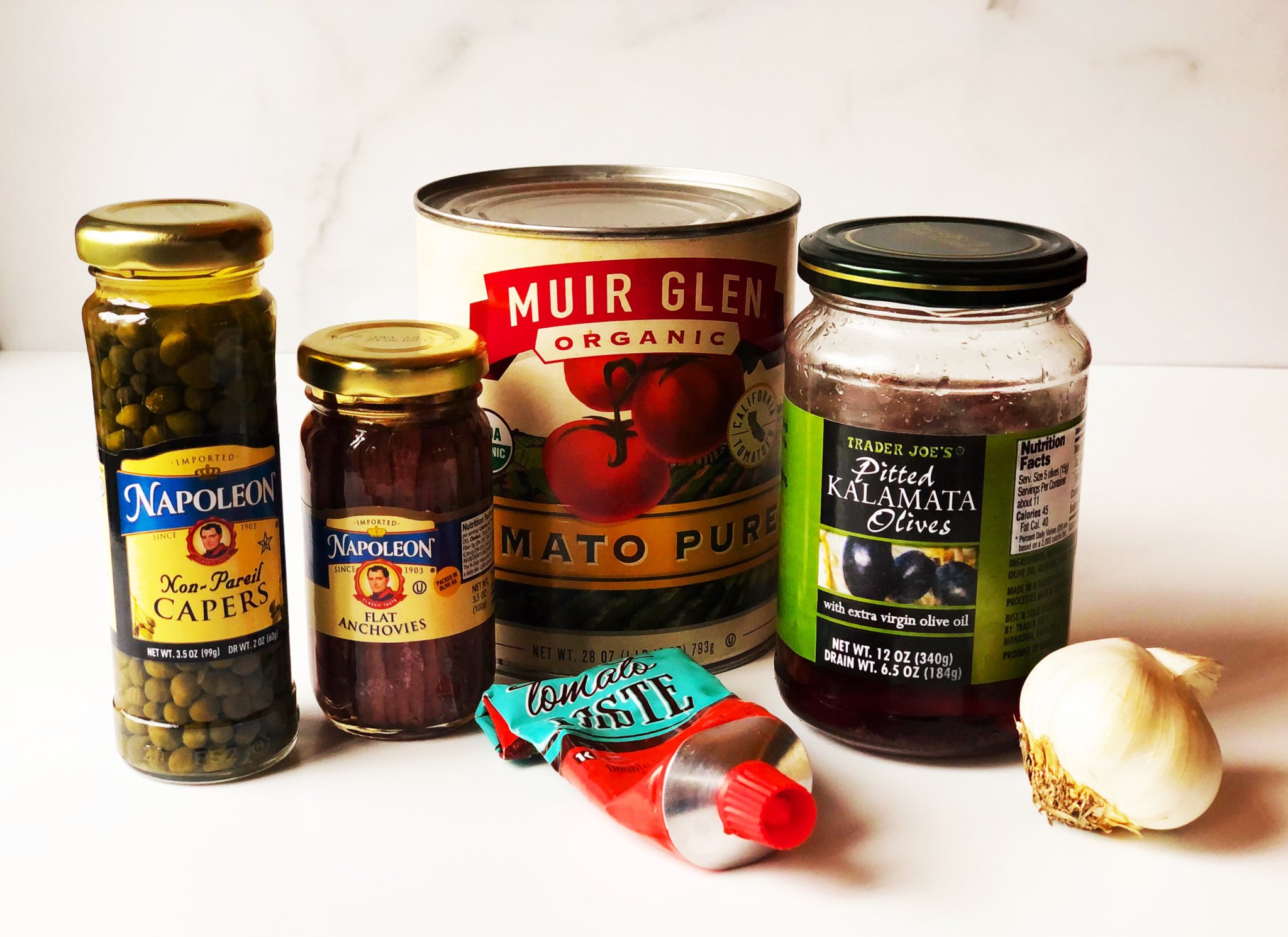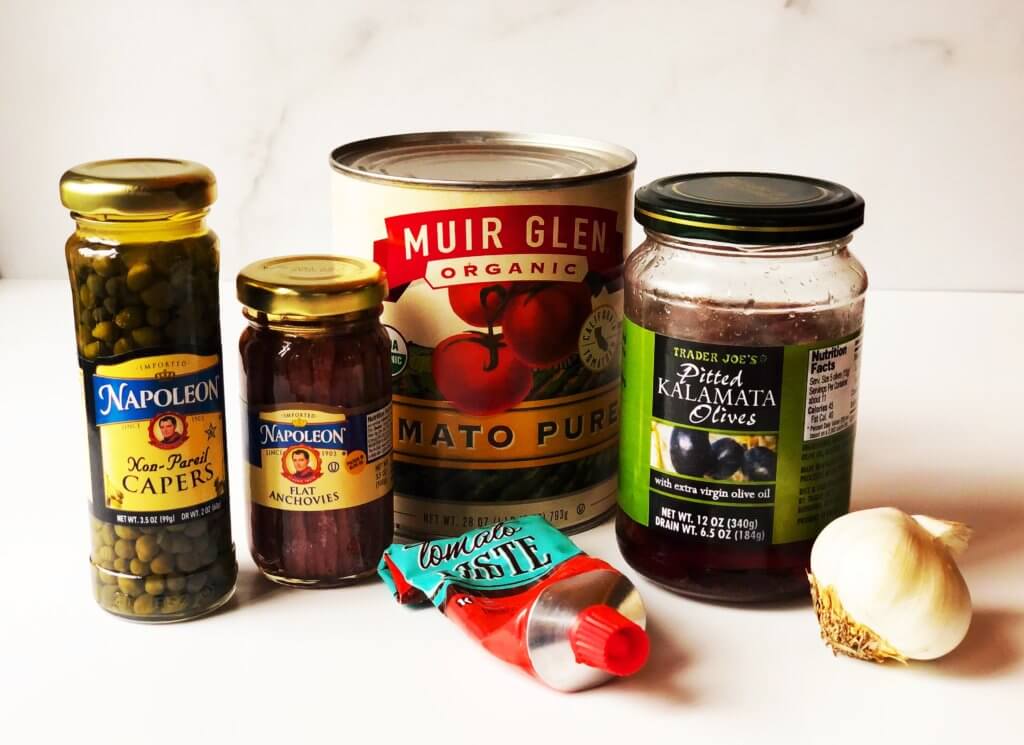 Print
Quick Chicken Puttanesca
This quick chicken Puttanesca takes just 30 minutes from fridge to plate! Just brown the chicken pieces, make the sauce, then nestle the chicken in the sauce to finish cooking. While it cooks, make some pasta and/or garlic bread to dip in that tasty sauce! Or add some cheese and make Puttanesca sandwiches!
Author:
Prep Time:

12-15 min

Cook Time:

18 min

Total Time:

30-33 min

Yield:

4

–

6

servings

1

x
Category:

Chicken

Method:

Stovetop

Cuisine:

Italian
Ingredients
1 1/2

lb. (.68kg) boneless, skinless Chicken breasts or thighs

3

T Olive Oil, divided

2

–

4

cloves garlic (I used 3), minced

4

Anchovies (fewer is fine), chopped

1

–

28

oz. (

794g

) can San Marzano or Plum tomatoes in puree, or tomato puree

1/2

c pitted Kalamata Olives

4

T capers

1

T Granulated sugar (optional)
For Serving: (all optional)
Grated Parmeggiano Reggiano Cheese 
Crushed Red Pepper Flake

12 oz

. (

340g

) Spaghetti or other pasta, or
Loaf of Crusty bread, or
Crusty sandwich rolls
Instructions
Saute the Chicken Pieces:
Salt and Pepper the chicken pieces. In a 10-inch skillet, over Medium to Medium-high heat, pour 2 T Olive oil. Once it shimmers, add the skinless chicken breasts or thighs. Brown until golden on each side. Remove to a plate.
Make the Sauce:
Adjust the stove temperature to Medium heat if necessary. Scrape the bottom of the pan, removing brown bits to the plate with chicken pieces. Add the remaining Tablespoon of oil. Once it shimmers, add the garlic and stir until fragrant (about 1 minute).
Add the anchovies, and stir until fragrant, about 1 minute.
Pour in the tomatoes, olives, capers, and sugar, if desired. Stir. Let come to an aggressive simmer.
Place the chicken pieces and any brown bits and liquid from the plate or bowl into the tomato sauce. Chicken pieces should be covered by the sauce, or nearly so.
Reduce heat to low or simmer, so sauce is gently simmering. Cook until chicken pieces are fully cooked. This should take 12-16 minutes for chicken breasts, and 15-20 for thighs, depending upon thickness.
 Taste sauce and add additional salt and/or sugar, if desired. (I added about 1 tsp. Salt) Prepare pasta and/or garlic bread, if desired. Check chicken for doneness, then serve with pasta or garlic bread.
Keywords: Chicken Puttanesca
Recipe Card powered by
PIN Chicken Puttanesca Recipe ->