Bring this easy Muhammara Dip, a spicy and subtly sweet Middle-Eastern red pepper and walnut spread, to any party, and you're sure to get asked back over and over again. You won't believe the FLAVOR!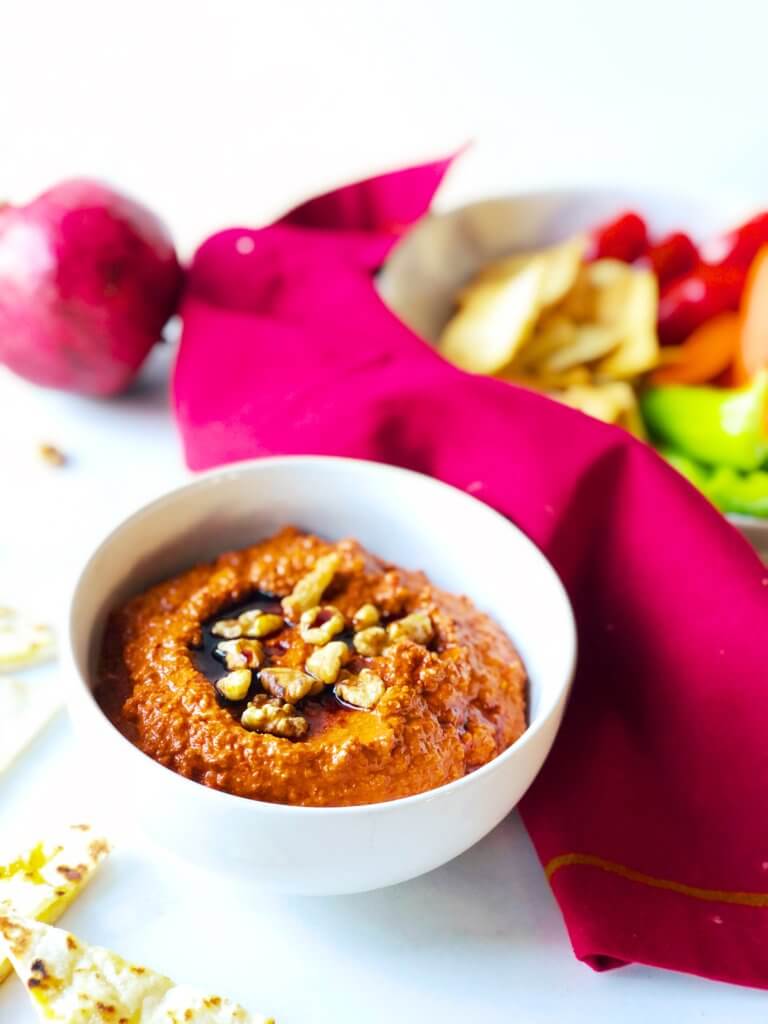 What to take to that big cocktail party? Or dinner party? I'm taking  Muhamarra! (Moo-huh-MARR-uh) A dip/spread/eat-on-everything-then-lick-the-bowl appetizer that will be your new and forever favorite! If you've never tasted Muhammara, you need to know, it's unlike anything you've ever tasted. Truly. 
Roasted red bell peppers and walnuts, blended together with pomegranate molasses, olive oil, garlic, some red (Aleppo!) pepper. I mean, stop me when I mention something bad here. Total of 10 ingredients, each of which has a vital role, just tossed and blended up in your food processor. Could also work in a blender. And, you really can taste each ingredient in this dip.
The best thing about this particular recipe is that it is somewhat forgiving. You could add a little extra Pomegranate Molasses if you like, or more olive oil if you want to thin it out. Some extra peppers or bread crumbs to make it thicker. Extra garlic, as I did recently (3 big cloves) for a group of Garlic Maniacs I know.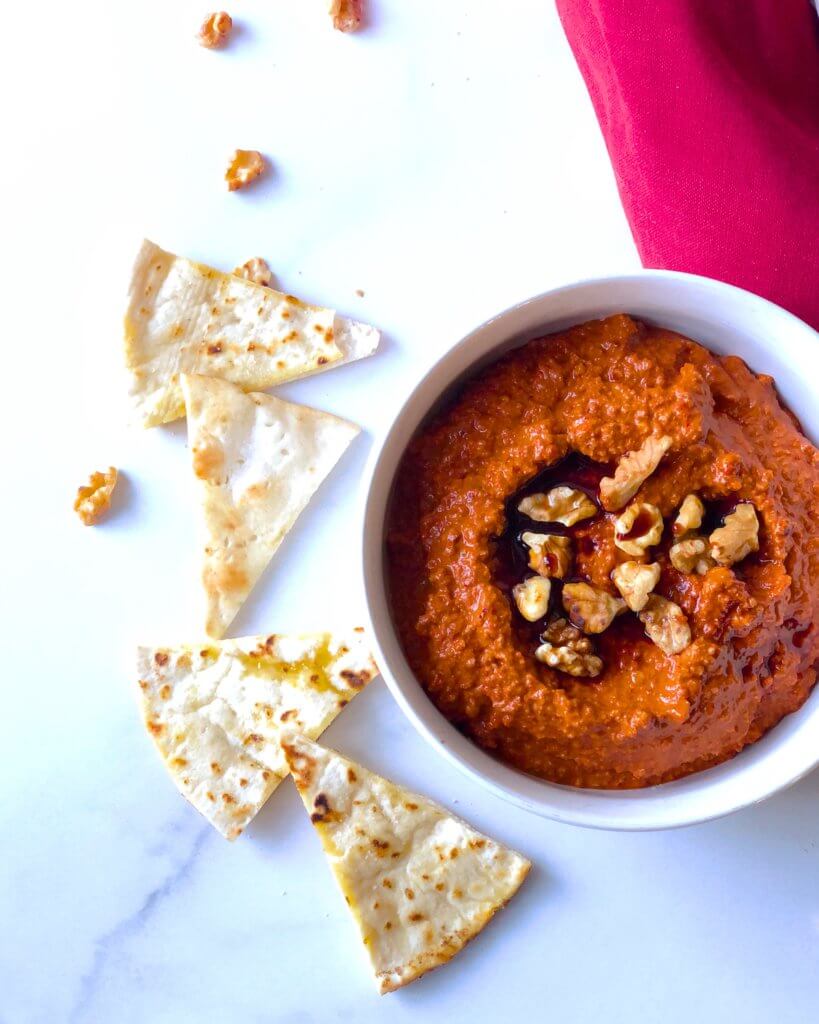 Muhammara originated in Aleppo, Syria. But you might have guessed that from the Aleppo Pepper in the recipe. Don't worry, you can substitute red pepper flakes for the pepper, if that's what you have. Muhammara is traditionally eaten as a dip for bread or vegetables, or as a spread or sauce for meats and kebab. It also appears in Turkish or Lebanese cuisine.
Once you make it, you'll be looking for opportunities to make it again. That's why I keep a jar of roasted red peppers in my pantry. For Muhammara emergencies. Yes, it's a thing.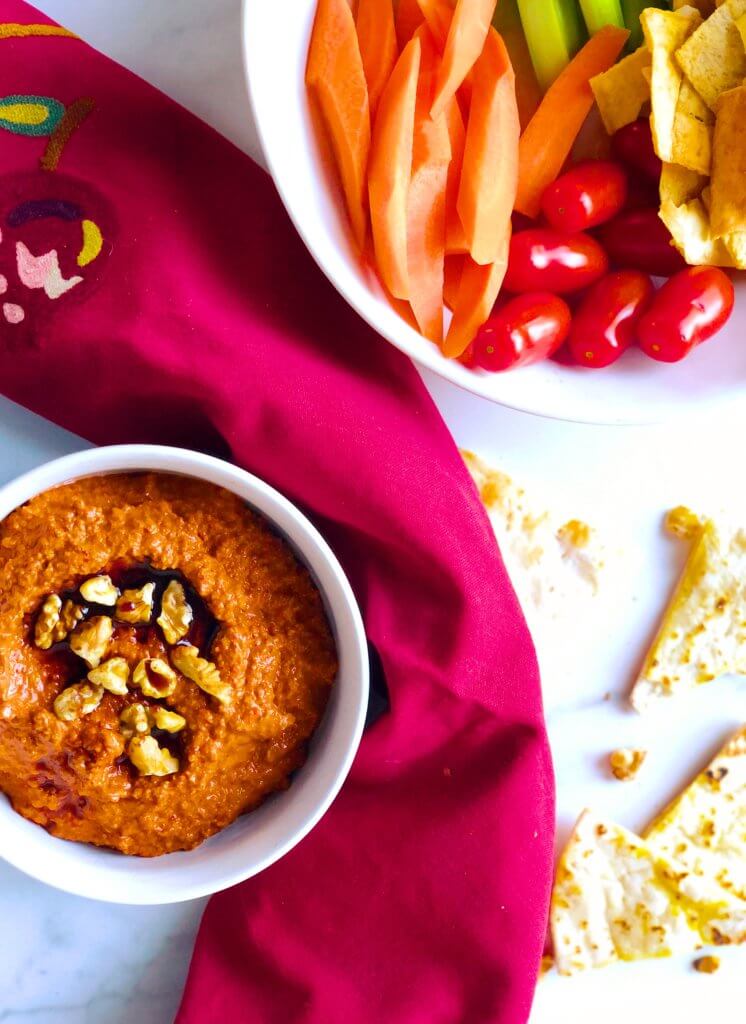 Perfect for a cocktail or dinner party, a New-Year's Eve Bash, or a quiet movie night inside, Muhammara is where it's at, friends! 
Enjoy!
Looking for other Middle Eastern flavors? Check out this oldie-but-goodie, "Eggs in Purgatory" otherwise known as Shakshuka, or make some homemade Doner Kebab, an unforgettable Turkish sandwich!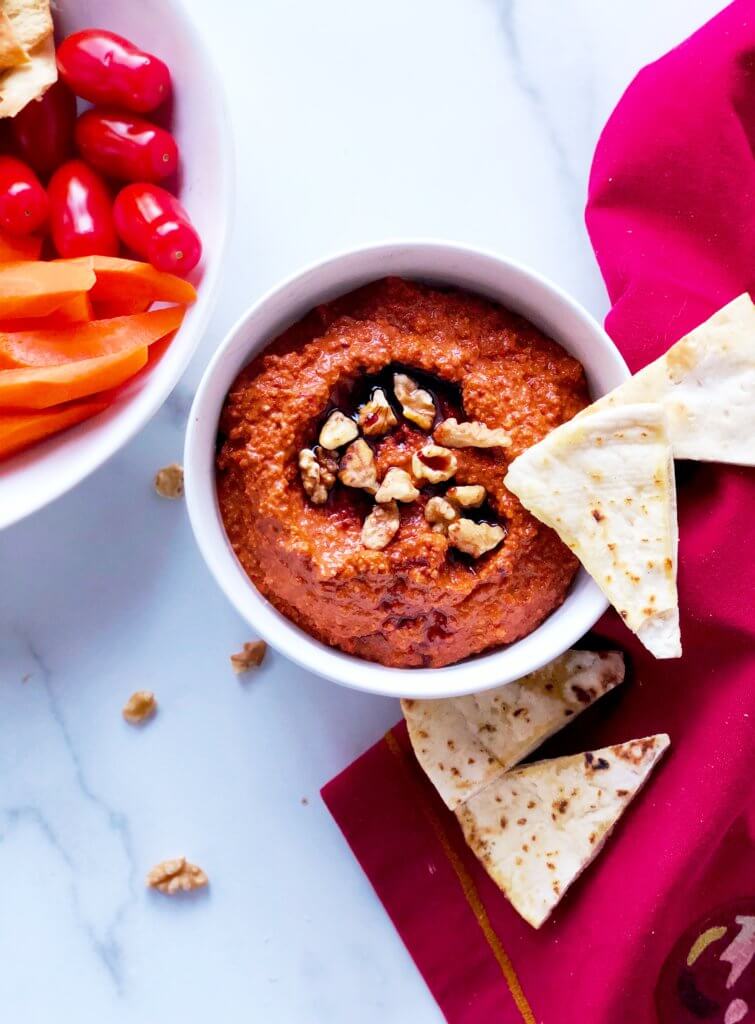 Recipe Details
Muhammara is so easy to make! It's 10 ingredients that create such exceptional flavor, you'll make it again and again. The recipe is quite forgiving, you can adjust any of the ingredients to taste. Just toss the 10 ingredients into a food processor (This is the one I use) and pulse. I like to add a bit more lemon juice, garlic, an pomegranate molasses to suit my tastes. So once you've pulsed the ingredients, just check and see if you'd like a bit more of any of the flavors and feel free to add, and pulse a few more times! Easy!
I used a jar of Roasted Red Peppers in this recipe, but you could also roast fresh bell peppers yourself, if you're so inclined. You can broil them in an oven or over a flame, until the skins blacken, about 12-15 minutes altogether. Then place them in a bowl and cover with plastic. Wait 10 minutes, then peel as much of the skin off the peppers as you can. Otherwise use an 8 oz. jar, which usually contains about 3 whole peppers.
For the breadcrumbs, you just need to use fresh bread. I've used whole grain bread or a white roll that is leftover from dinner the night before. A small-ish roll will create just about a half-cup of soft crumbs.
Aleppo Pepper may be an unfamiliar spice. I find it in the "Bulk Spice" section of my grocery, or you could buy it at Amazon. But you can substitute 1/2 tsp Red Pepper Flakes for 2 Tbsp of Aleppo Pepper.
Pomegranate Molasses can be purchased Here or you can reduce pomegranate juice to about 1/3 to 1/2 its volume over low heat. I detail the instructions in the recipe card, below.
I like to serve Muhammara with fresh cut vegetables or toasted pita bread or Pita Chips. It's also good as a sandwich spread for veggie sandwiches or a sandwich made with chicken or beef.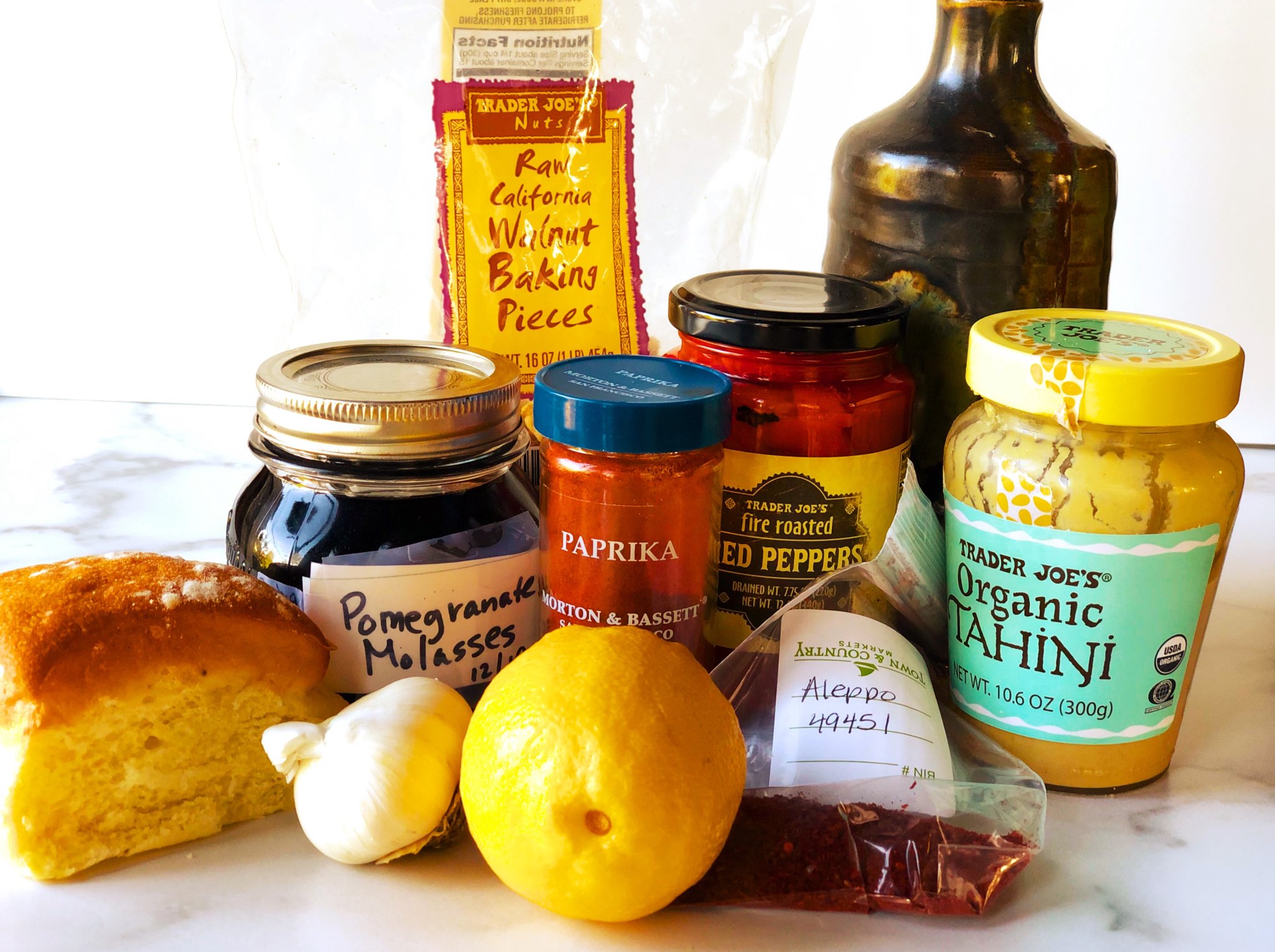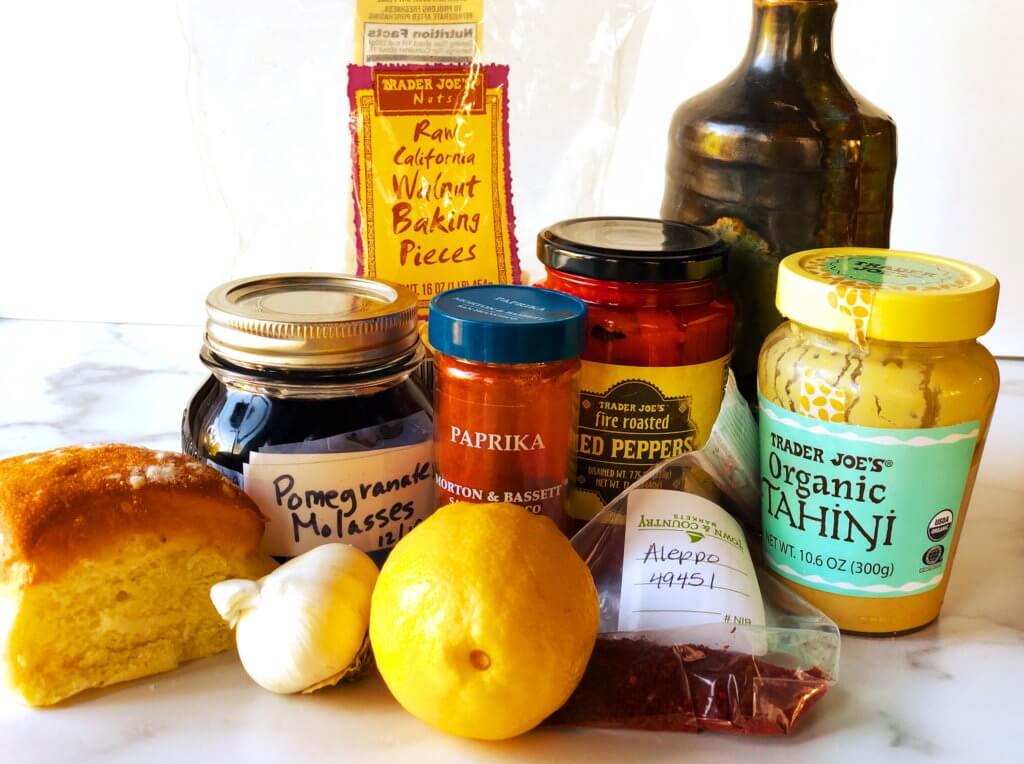 Print
Muhammara Dip – Red Pepper and Walnut Spread
Muhammara is a dip or spread made with roasted red peppers, walnuts, pomegranate molasses. It is savory, nutty, spicy and sweet! Use as a dip or a spread on just about anything! 
I chose this particular recipe, adapted somewhat from May 2019 Bon Appetit because you just toss all the ingredients into a food processor (or blender) and pulse away until it reaches the consistency you like.
Ingredients
1 cup

walnuts

1

 7-8 oz. jar Roasted Red Bell Peppers, drained

1

–

2

slices bread or

1

dinner roll, fresh and soft, to make 1/2 c breadcrumbs

2 Tbsp

Extra-Virgin Olive Oil

1

–

3

cloves garlic (I used 2)

1 Tbsp

Tahini

2 tsp

Lemon Juice, or more to taste

1/2

t Paprika

2 Tbsp

Aleppo Pepper or

1/2 tsp

Red Pepper Flakes

2

–

3

Tbsp Pomegranate Molasses, to taste (See Note 1)

3/4

–

1

tsp salt, to taste
Instructions
Toast the Walnuts
In a small frypan over Medium-Low heat, toast the walnuts until they become golden brown and begin to smell fragrant and nutty, stirring regularly. This will take 4-5 minutes. Be careful not to burn. Transfer to a bowl and let cool a bit. (See Note 2)
Make the Muhammara
Into the bowl of a food processor, place the bread, and pulse until it has formed crumbs, 5-6 pulses. Check to confirm it is approximately 1/2 cup. If it's a bit more, you can remove some if you like.
To the breadcrumbs, add the toasted walnuts, red peppers, olive oil, garlic, tahini, lemon juice, paprika, Aleppo Pepper, and 2 Tbsp of the pomegranate molasses.
Pulse 15-25 times until it has the consistency you want. We like to maintain some texture.
Taste and add salt to taste, more lemon juice, and/or pomegranate molasses if desired.
Garnish with walnuts and more pomegranate molasses, if desired.
Notes
1. If you can't find Pomegranate Molasses, you can make your own by reducing 4 cups of Pomegranate Juice over medium-low heat. Just bring to a simmer, and once bubbles begin to form in the middle of the pan, reduce heat to low or Medium-low to maintain that level of simmer. Reduce volume to 1 1/2 – 2 cups. This takes 45-60 minutes in my experience.
2. You can also toast walnuts in a 350F oven for 7-10 minutes, but, as with the pan, watch carefully so they don't burn.
Recipe Card powered by
PIN Muhammara Spread ->