These Savory Scones will change your idea of a scone forever! Slightly sweet, with distinct savory flavor from Grana Padano cheese and fennel, they are quick and easy to make! Perfect for weekend brunch!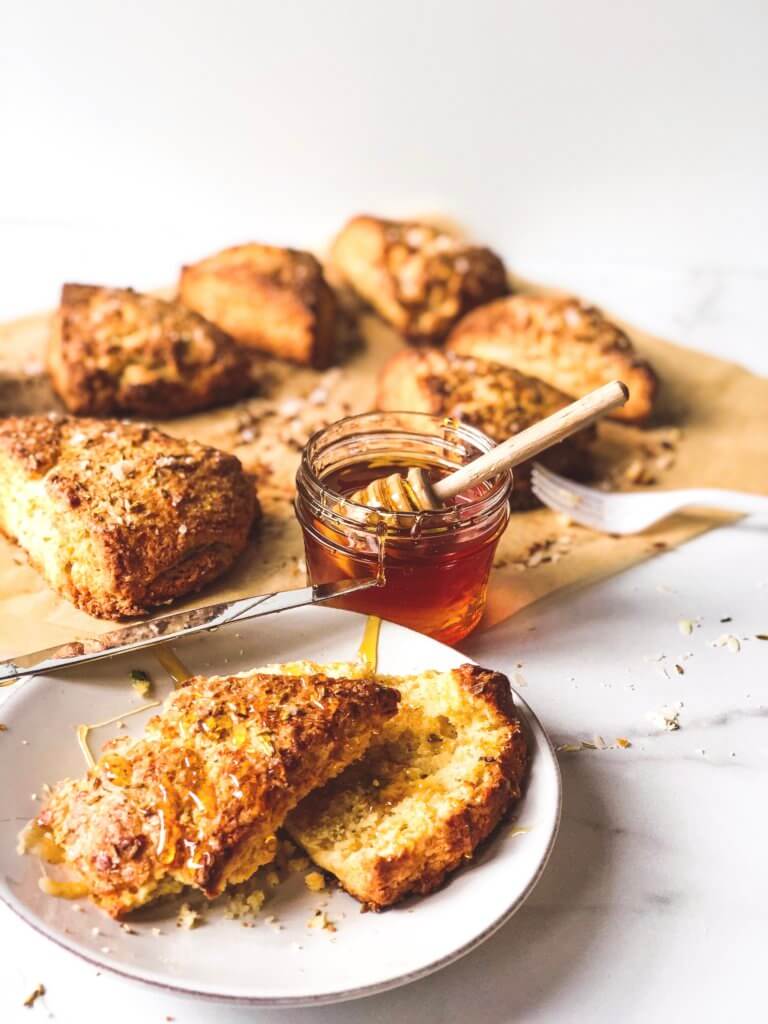 When I was a kid, one of my favorite things to do was play with Play-Doh. You know, that soft, gushy stuff that comes in the yellow can? There used to be just a few colors, but now, of course, the possibilities are endless. (I'm aware that some kids, not to be named here, also used to eat this "non-toxic" stuff!) But even with my zero sculpting skills, I loved working with it. I was always the kid who had a grand idea in my head of what I wanted to make, but couldn't quite put it altogether. You know, I would want to make a fully-functional Ferris Wheel with different colored baskets and people sitting in them. As if my 6-year-old hands could do that. Apparently, Tinker Toys were more my speed.
But, there's something about working with dough, isn't there? Whether it's a yeast dough or something quick and easy like biscuits or scones, just the thought of making a dough and molding it into something that turns into bread is just so enticing. And, since I didn't get any Play-Doh for Christmas, I had to make these Savory Scones with Parmesan and Fennel, just to get my dough fix!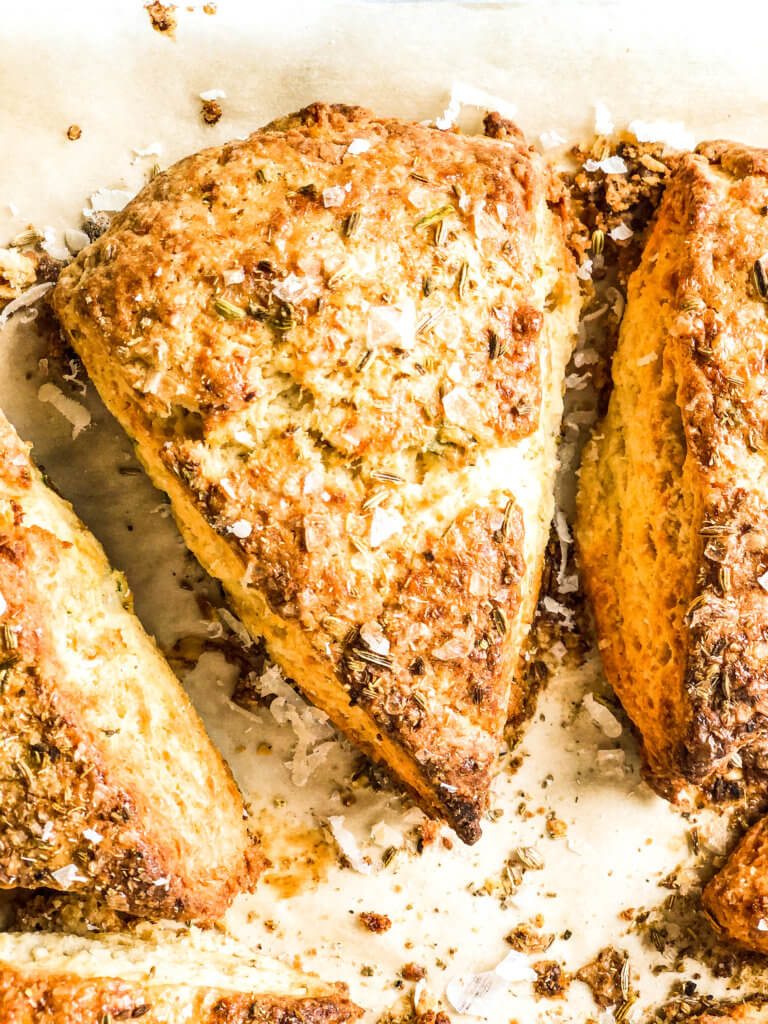 And these scones, I'm here to say, are fan-tas-tic! A little bit sweet, just a tiny bit, to balance out the salty Grana Padano. You can use Parmeggiano-Reggiano if you want, but I like the slightly milder, kind of "sweeter" Grana Padano for this scone. I feel like it's a better complement to the bit of sugar in the dough, and allows the more delicate fennel flavor to come through.
The resulting scone is light as air, with that salty, cheesy flavor we all love and a bit of fennel. You can add a bit of fresh chive for some visual interest and a touch of flavor, if you like.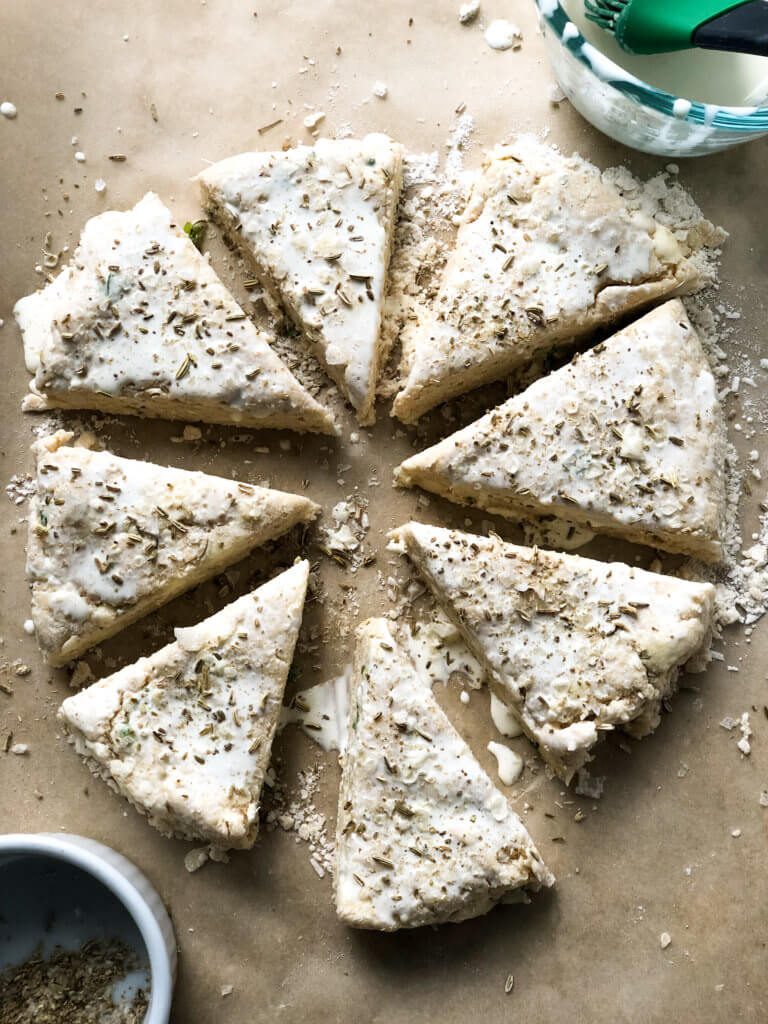 So if you need some time with dough, won't you try these Savory Parmesan Fennel Scones? They are so quick and easy, and the flavor? Way better than Play-Doh!
Enjoy!
Looking for other scone recipes? Check out my Easy Cheddar Onion Scones or these awesome Rhubarb Chevre Scones!
Ohter brunch recipes? You can't go wrong with these Apple Cinnamon Rolls with Maple Glaze or these delightful Chocolate Cherry Bread Rolls!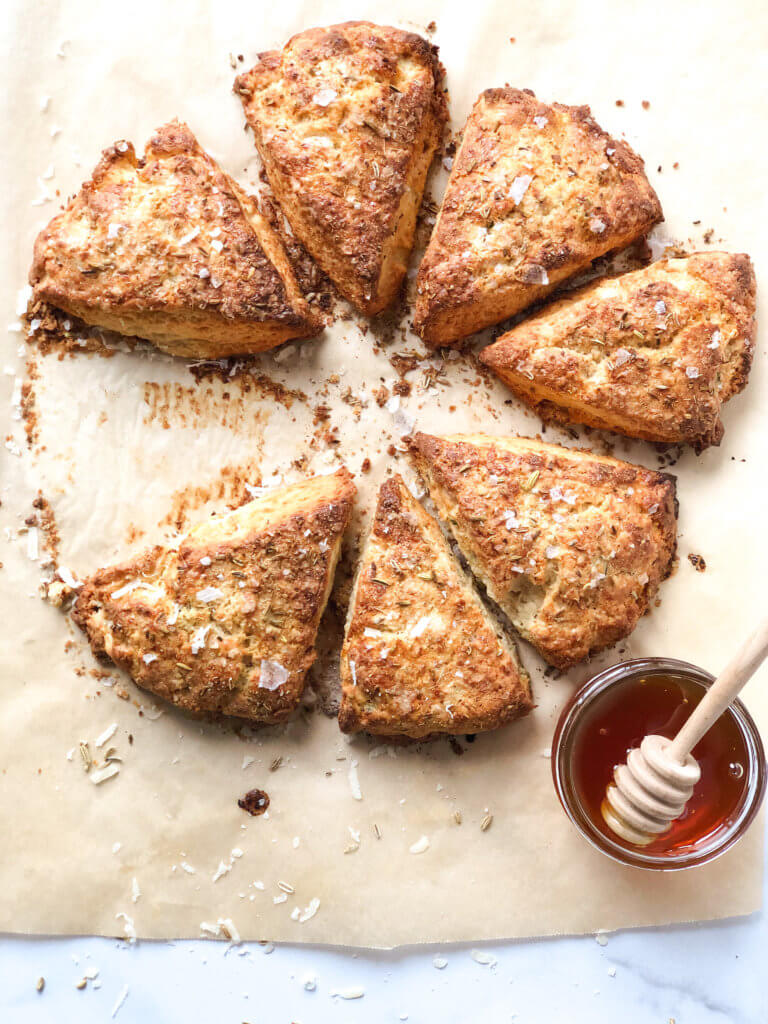 Savory Scones Recipe Details ->
I was inspired by and adapted this easy savory scone recipe from King Arthur Flour. I made several changes to the recipe, but kept their basic Savory Scone dough.
To increase the nutritional value (I live by the mantra "Make at least half your grains whole"), I used half Whole Wheat Pastry Flour, half all-purpose. You don't need to do this, you can use 2 cups of AP flour or half AP/half whole wheat pastry flour.
The recipe starts with making some "fennel salt." You can crush the Fennel Seed with a rolling pin or grind them in a spice/coffee grinder (This is the one I've used for years) as I did. Take half the ground fennel and mix it with some flaky sea salt (I like Maldon), and set it aside. This will be the topping for the scones while they bake. The remainder of the fennel gets mixed with the dry ingredients for the dough.
So the dough is a basic dough, where you will mix the dry ingredients – flour, salt, baking powder, and sugar; then cut in the butter. You can use your fingertips to do this or a pastry cutter. Add the grated cheese and crushed fennel seed. Then pour in the cream, stirring to create the dough.
Pat the dough into a circle about 3/4" thick, on a nicely floured surface. It will be around 7 inches diameter. Cut it into 8 pieces, then if you like (not totally necessary) brush some cream over them to help them brown nicely in the oven. Sprinkle the fennel salt over the tops and pop them in the oven,
At 375F in my Convection oven, these took 24 minutes. If you have a Conventional oven, you'll want to bake at 400F, for 22-24 minutes.
Can I use a different Cheese? Or different Spices?
Yes! You can, the variations are endless! How about:
Parmeggiano Reggiano with Fresh Rosemary
Grana Padano with Thyme
Romano Cheese with Fresh Basil
Grana Padano with Tarragon
You could also use softer cheeses, like cheddar, just be aware that 1 cup will likely weigh more than 60g (2 oz.). 1 cup cheddar is about 4 oz, for instance. It would be delicious with 2-3 Tablespoons chives.
The possibilities are endless!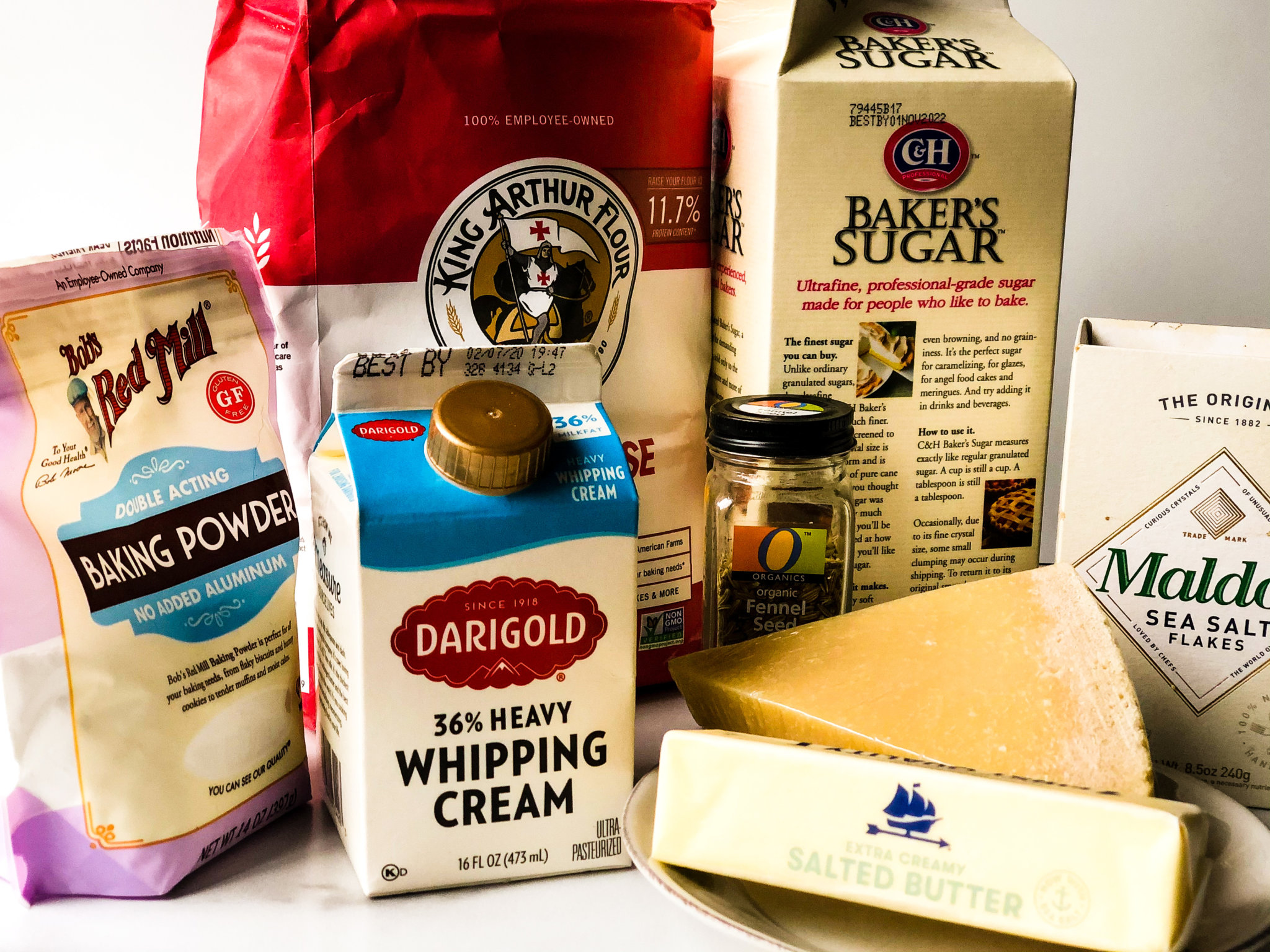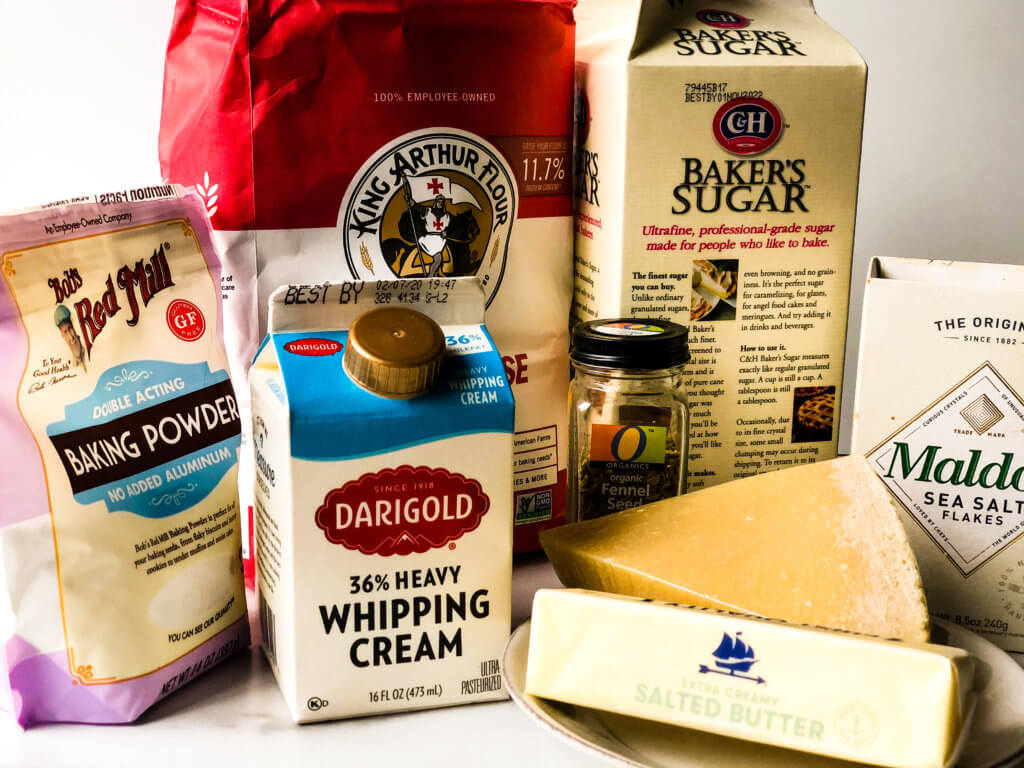 Print
Savory Scones with Parmesan and Fennel
Classic Savory Scones, so light and airy! These have a slight sweetness and flavors of Parmesan cheese (I used Grana Padano, but Romano or Parmeggiano Reggiano could substitute), and ground fennel seed. 
You can up the nutritional value by using half Whole Wheat Pastry Flour if you like. 
The dough comes together quickly and bake in under 25 minutes.
Author:
Prep Time:

20 min

Cook Time:

22-24 min

Total Time:

45 min

Yield:

8

Scones

1

x
Category:

Brunch

Method:

Baking

Cuisine:

American
Ingredients
For the Fennel Salt
1

T Fennel Seeds

1

t Maldon or other coarse salt
For the Scones
2 cups

(

241g

) All-Purpose Flour (or 1 c AP flour plus 1 c Whole Wheat Pastry Flour)

1/4

t Salt

1 Tbsp

(

14g

) Baking Powder

1/4

c (49g) Granulated Sugar

4 Tbsp

(

57g

) Cold Unsalted Butter, cut into pieces

3 Tbsp

chopped chives (optional)

1 cup

(

60g

) grated Grana Padano Cheese (can substitute Parmeggiano-Reggiano)

3/4

c + 2 Tbsp (

7/8 cup

,

7 oz

, 210 ml) Heavy Whipping Cream, plus more for brushing scones
Instructions
Preheat oven to 425F (Conventional) or 400F (Convection/Fan)
Grease or spray a sheetpan or line it with parchment.
Make the Fennel Salt:
Grind the fennel seed using a spice/coffee grinder, or placing the seeds in a plastic bag and rolling them with a rolling pin. Process the seeds but stop before it is a powder, ideally, you'd like to see some texture.
Divide the ground fennel seed in half. Mix one half with the sea salt crystals and set aside to sprinkle on scones before baking. The other half will go into the dough.
Make the Dough:
In a medium bowl, whisk together the flour, salt, baking powder, sugar, and ground fennel seed. Using your fingertips or a pastry cutter, cut in the pieces of butter until they are distributed, but may be of various sizes. Your mixture shouldn't be dough-like at this point.
Mix in the cheese and chives, if using. Be sure it is evenly distributed.
Add the cream and stir to form a shaggy dough. I started with the 3/4 cup, but needed the extra 2 Tablespoons to make the dough come together. If you still have flour at the bottom of the bowl, feel free to add even a bit more to make the dough come together.
Pour the dough out onto a flour-covered surface, and pat into a circle 3/4" thick. It should be around 7" in diameter, or a bit more. Move the disk to the prepared pan, and cut in half. Then divide each half into 4 wedges. Pull the wedges apart a bit, so there is space between each.
Brush with a bit of cream, if desired for browning, then sprinkle with the reserved fennel salt.
Bake in preheated oven 22-24 minutes. Check the scones midway through. If they are browning quickly, reduce heat by 25 degrees. Scones will be done when they are nicely golden brown and are light and airy. Cool on the pan. Serve warm or room temperature with butter, if desired, or a small touch of honey.
Nutrition
Serving Size:

1/8 recipe

Calories:

299
Keywords: Savory Scones, Parmesan Scones, Parmesan Fennel Scones
Recipe Card powered by
Click to PIN Savory Scones with Parmesan Recipe ->