We all need a showstopper occasionally! Whether celebrating a major event or just the passage of time, why not make this Chocolate Chip Cookie Dough Cake?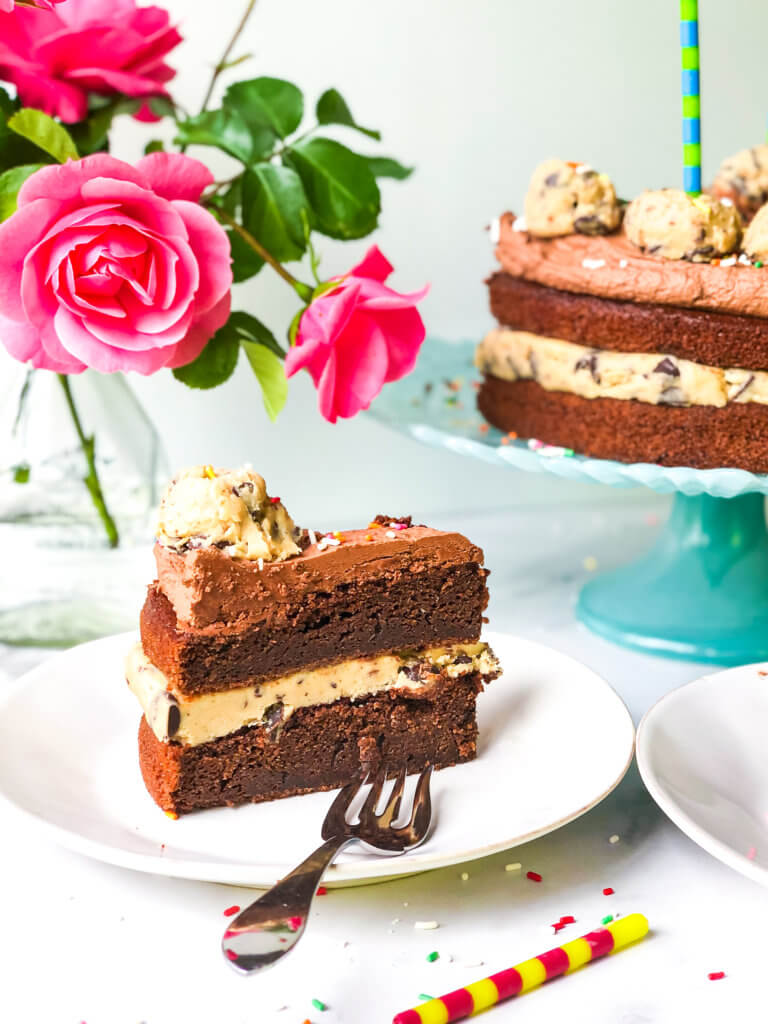 Sometimes we all need to just stop doing our usual daily routine, and do something special. Or as today's teens would say, "something EXTRA" – as in that cat's diamond collar and faux fur coat are so EXTRA! And, there's nothing more "extra" than a showstopper. I mean, the word literally means "something that stops whatever else is going on".
A showstopper goes with the big events that mark momentous occasions in our lives. It's that perfect outfit for a special occasion that makes everyone know you are the one being celebrated. Or a special activity, like a parade or a special outing, to mark a special day, like a holiday or an anniversary. Something to make us just stop. And observe. And feel all the feels that come with an occasion. And celebrating those people worth celebrating.
Coming from a big family there were showstopper events just about every month. In our family of 8, each one of us had our birthday in a different month (what are the odds of that?). So many cakes were baked and eaten. And since living in a big family necessarily requires a lot of sharing, there was no sharing of YOUR OWN special day. So each of us was made to feel special on our day.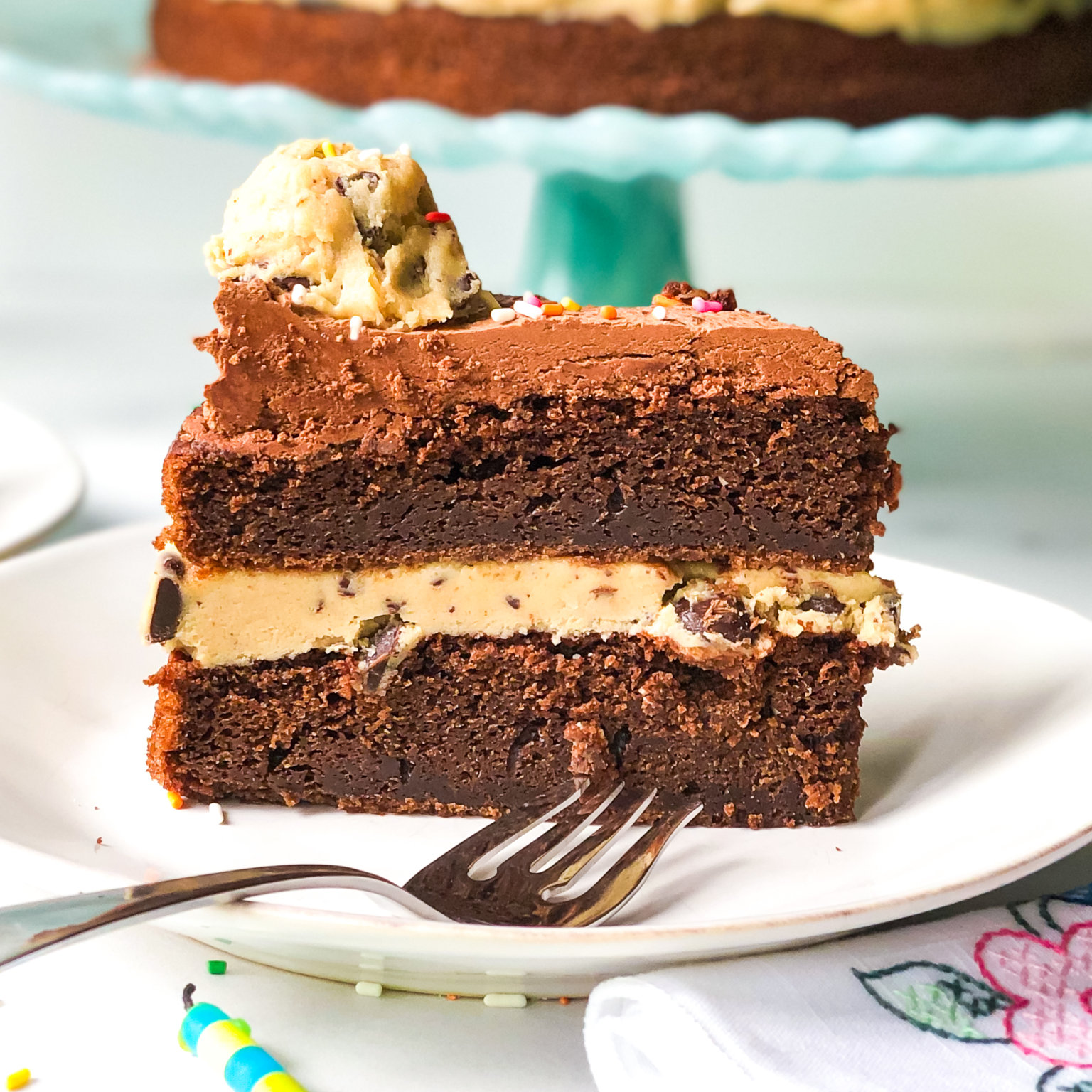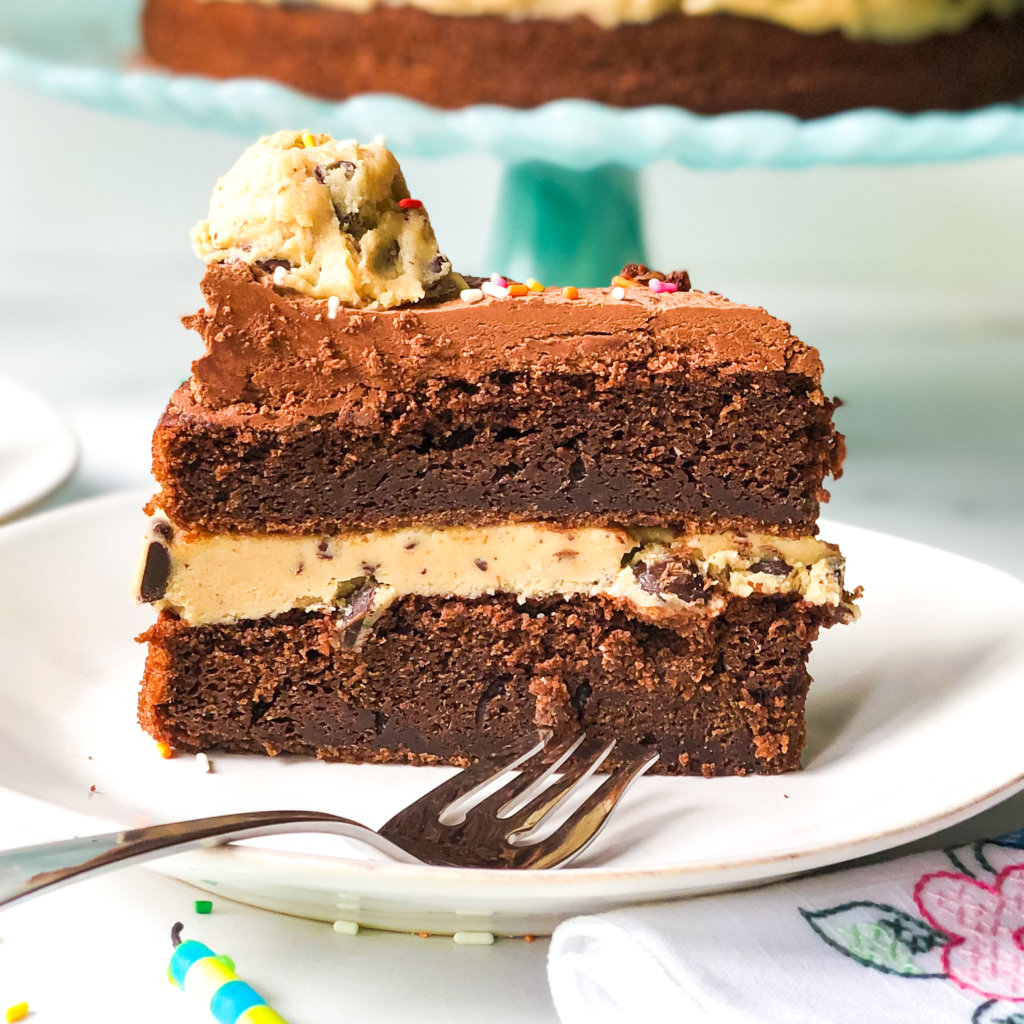 I like to continue that tradition, and show each of my kids how special they are on their birthdays, too. Because it really is a celebration. Celebrating the years as they pass is important. My late Dad, when asked how he was feeling on birthdays celebrated in his later years, would always say, "Well, it beats the alternative!" He loved celebrating the years as they passed.
So this year, my oldest deliberated over several days what type of cake she wanted for her celebration. (Because cake is important!, am I right?)Eventually, she decided she wanted something chocolate-chip cookie flavored. So we came up with this cake. A chocolate layer cake, with something of a brownie-like texture and flavor. Dense, moist, fudgey. In between the cake layers, a delicious bite of edible chocolate chip cookie dough. And on top? A fluffy blanket of chocolate frosting. Truly a showstopper. I mean, is there anything better than this combo?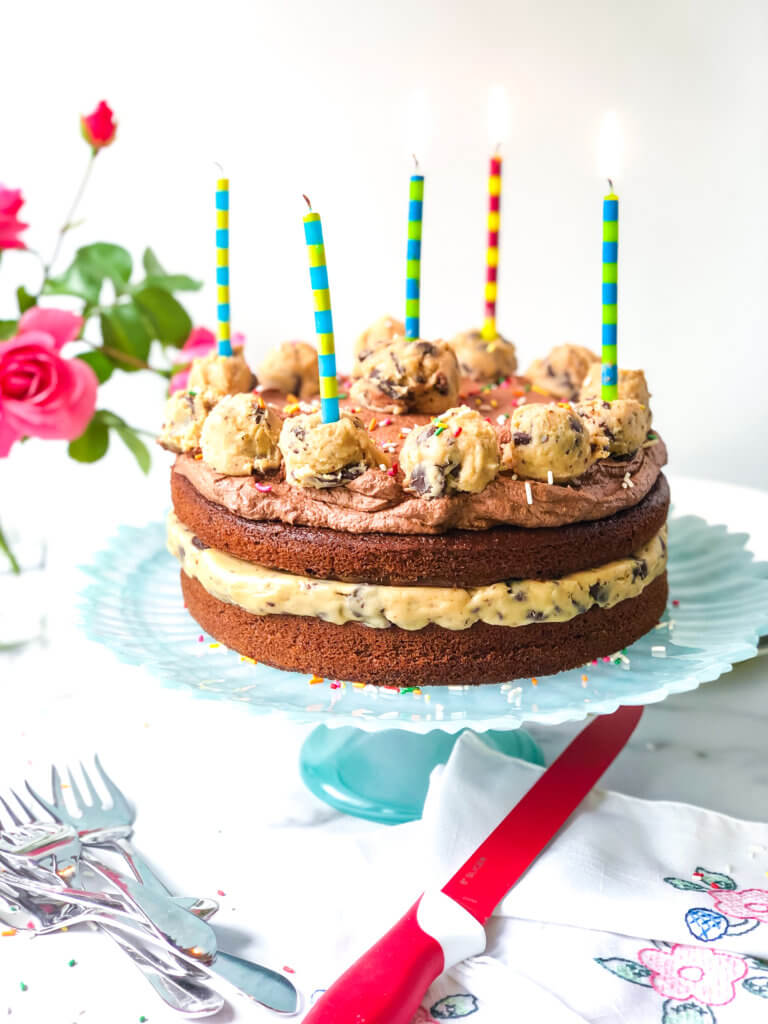 So let's all take a moment, or several moments, and just stop the show. And, make a cake full of joy, love and pride! It's awesome that it's EXTRA! Celebrate the day! We all need a bit of EXTRA every day. Enjoy!
Don't miss some of my other favorite cakes:
Strawberry Rhubarb Upside Down Cake
German Apple Cake with Caramel Sauce
Carrot Cake with White Chocolate Cream Cheese Frosting
Cold Oven Cream Cheese Pound Cake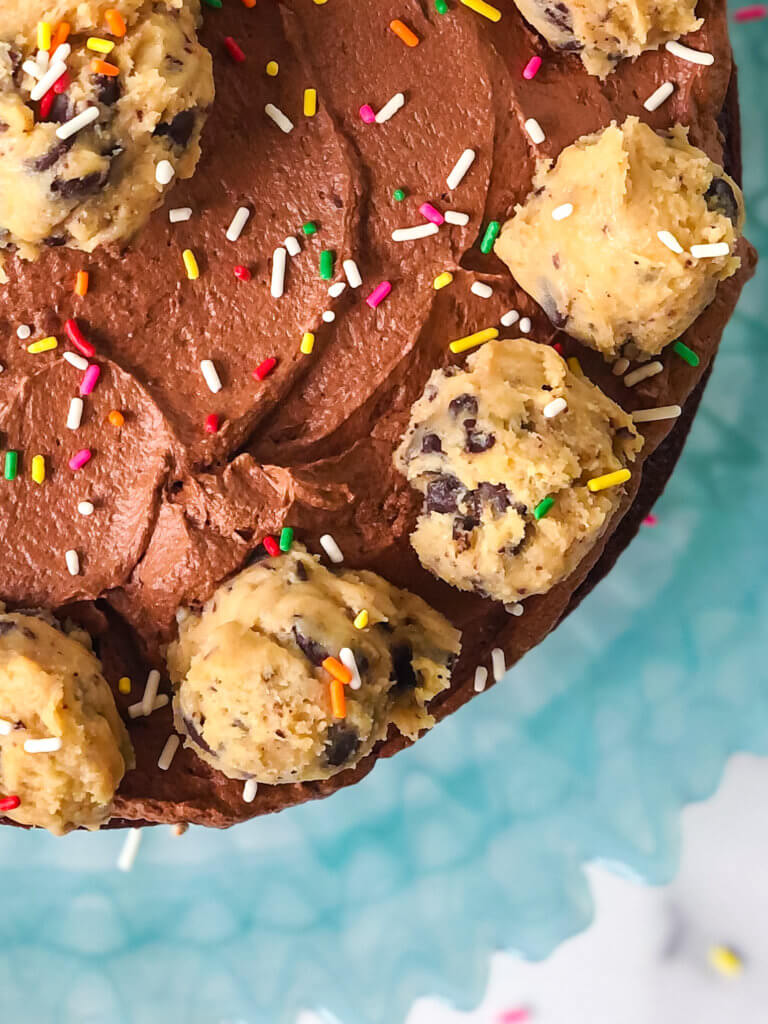 Recipe Details ->
I am an Amazon Affiliate, so please know any purchases you make through links provided on my page allow me to make a small comission, to maintain this site, but at no additional cost to you.
This layer cake may look complicated, but it's deceptively simple. The cake batter is made by first combining the dry ingredients in a mixing bowl. You really should use a stand mixer, if you have one. (I love my Kitchen Aid!) Otherwise a hand mixer will work. Or you could give it a whirl if you have a nice strong bicep. Slowly mix in the softened butter, followed by the olive oil. The mixture will look like wet sand. Then mix together the liquid ingredients, and add. This forms a pretty thin batter – nothing to be nervous about! After that, mix in the eggs, one at a time. Pour into prepared pans, bake and cool. How easy is that?
You can bake the cake in prepared 9×9 or 8×8 pans. I love my USA Pan cake pans! They are non-stick and quick-release and bake cake rounds so nice and evenly!
While the cake layers bake, it's a good time to make the frosting and the cookie dough. Both are super-easy. 
The edible Cookie Dough recipe I used was adapted slightly from Kelly Lynn's Sweets and Treats. (And, if you love Ice Cream Cakes, be sure to check out Kelly's new cookbook!). The recipe is safe to eat, since it has no raw egg and the flour is heat-treated. You'll make it the same way you make cookie dough for baking. Mix together the butter and sugar until fluffy, then add the flour, alternating with Sweetened Condensed Milk. Fold in the chocolate chips. Then shape into a disk to put between the layers.
And the frosting is the same frosting I used for my Dark Chocolate Buttermilk Cake with Dark Chocolate Buttermilk Frosting. The most difficult part of this frosting is the 6-10 minutes it takes to whip the butter and melted chocolate. Once fluffy, just mix in the confectioners' sugar and some buttermilk. It makes the frosting not overly sweet, which is perfect for this chocolate chip cookie dough cake!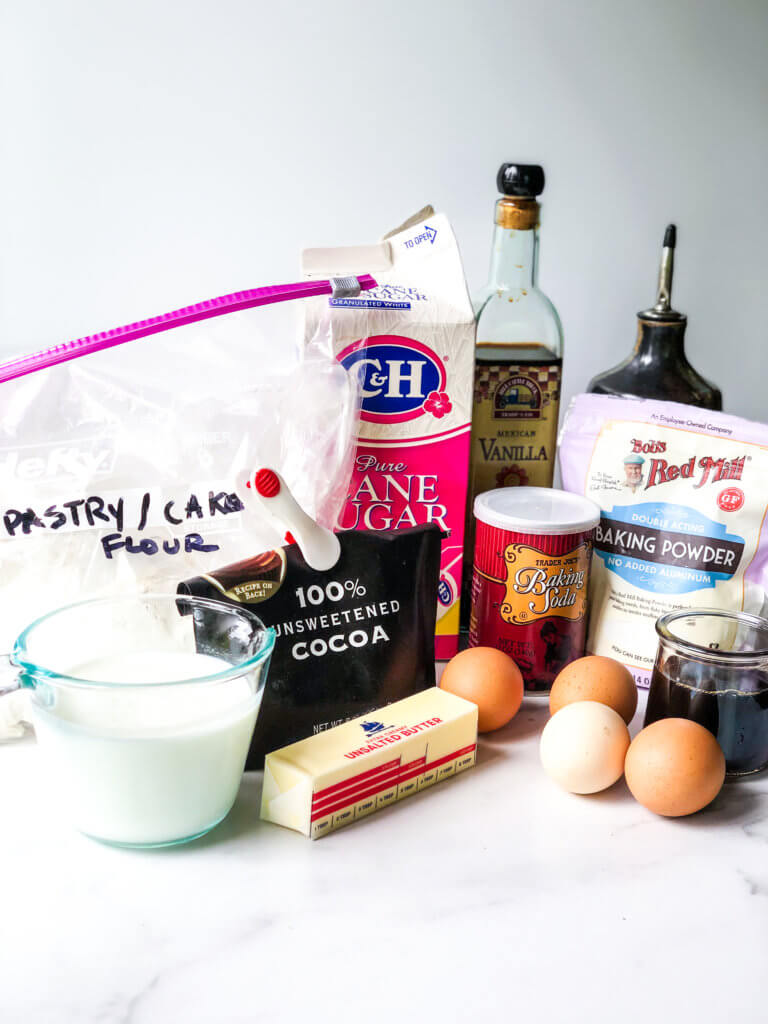 PIN Chocolate Layer Cake for later ->
Print
Chocolate Cookie Dough Cake
A super-easy moist, brownie-like cake, filled with edible cookie dough, and then topped with fluffy chocolate frosting! What could be better? 
Adapted from King Arthur Flour, this recipe makes a double-layer 9″ cake. If you'd like a triple layer cake, with two filling layers, use 8″ pans, and bake for 23-36 minutes. If you use the 8″ pans, Be sure to use the cookie dough to create 2 filling layers, each with 1/3 the dough, reserving the remainder to decorate, as desired.
Cookie Dough recipe adapted slightly from Kelly Lynn's Sweets and Treats. You'll only need half to two-thirds the cookie dough for the filling, but you can use the rest to decorate the top of the cake, if you like. Or save to eat later. It makes a relatively stiff  dough, so the cake is best served at room temperature.
Author:
Prep Time:

45 min

Cook Time:

26-30 min

Total Time:

75 min + cooling

Yield:

12

–

16

servings

1

x
Category:

Cakes

Method:

Baking
Ingredients
For the Cake Layers:
2

c (240g) Cake Flour

1 1/2

t Baking Powder

1/2

t Baking Soda

1/2

t Salt

3/4

c (64g) Unsweetened Cocoa Powder

1 3/4

c (348g) Granulated or Baking Sugar

1/2

c (114g, 8 T) Unsalted Butter, softened

1/3

c Extra-Virgin Olive Oil

1

t Natural Vanilla Extract

1

c (240 ml) Buttermilk

1/2

c (120 ml) Brewed Strong Coffee, cooled

4

Large Eggs, room temperature
For the Frosting:
5 oz

 (

150g

) Bitttersweet or Semi-Sweet Baking Chocolate

7

 T (100g) Softened Butter

1

 c (120g) Confectioners Sugar

6

–

8

Tbsp (

70-100

 ml) Buttermilk
Pinch Kosher Salt
For the Cookie Dough:
1/2

c (114 g, 1 stick) Butter, at room temperature

3/4

c (149g) Light Brown Sugar, packed

2

t (10ml) Natural Vanilla Extract

1/2

t Salt

2

c (240g) All-Purpose Flour

1

–

14

oz (.  g) can Sweetened Condensed Milk

2

c (10 oz) Mini Chocolate Chips
Instructions
Make the Cake:
Preheat oven to 350F for Standard Oven or 335F for Convection/Fan. Prepare 2-9″ baking pans by buttering/flouring, or by inserting rounds of parchment paper. (I give my parchment a quick spray!)
Into a large mixing bowl of a stand mixer, or a large bowl to use hand-mixer, sift together the flour, baking powder, baking soda, salt, cocoa and sugar.
At low speed, add the softened butter. Mix for 1 minute, then add the olive oil. Combine until the mixture has the texture of beach sand.
In a small bowl or large measuring cup, stir together the buttermilk, vanilla extract, coffee. Add to the mixing bowl altogether, then mix batter until just incorporated, at low speed. Scrape the bottom and sides of the bowl, then continue to mix for another 30 seconds. This mixture will be very thin.
Add the eggs one at a time, mixing well at Medium-High speed between each. Again, batter should be quite thin.
Pour the batter into your prepared 9″ baking pans. Place in preheated oven and bake for 26-30 minutes until a tester inserted in the center comes out clean. Cool 10 minutes, then remove cakes from pans to cool completely before filling and frosting.
Make the Frosting:
Chop the chocolate. In a heatproof bowl over a saucepan of simmering water, melt the chocolate. Stir occasionally until just melted and smooth. It should not be hot to the touch. Remove from the heat and set aside for 5 minutes or so until it has cooled slightly.
Scrape into the bowl of a stand mixer, or a bowl you can use with a hand-mixer. Add the butter and beat until fluffy. This may take awhile, but after 6-10 minutes at high speed, it should become fluffy. See my photo.
Beat in the confectioners sugar, buttermilk, and pinch of salt until smooth. Set aside. 
Make the Cookie Dough:
Heat treat the flour. Place the flour in a bowl. Microwave 30 seconds. Stir and fluff the flour. Microwave an additional 30 seconds. Stir and fluff. Set aside to cool.
In a stand mixer at Medium speed, beat together the butter and brown sugar until fluffy, about 3-4 minutes.Add the vanilla and salt, mixing until just incorporated.
At low speed, in alternating additions, add 1 cup flour, followed by half the can of Sweetened Condensed Milk, then the second cup of flour, and remainder of Condensed Milk.
Fold in the chocolate chips.
Into a parchment-lined and sprayed (or buttered) 8- or 9-inch cake pan, press in half to two-thirds of the cookie dough. The layer should be just under 1/2″ thick. Set aside to use as filling. Refrigerate the rest for later use, or save to decorate top of cake.
Compose the Cake:
Place completely cooled bottom layer of cake on serving dish. 
Remove the cookie dough layer from its pan. Place atop the bottom cake layer.
Place the second cooled cake layer on top of the cookie dough layer.
Frost and decorate as desired.
Nutrition
Serving Size:

1/12 Recipe
Keywords: Cookie dough cake, Chocolate, Cookie dough, chocolate chip cookie dough, edible cookie dough, layer cakes, birthday cake
Recipe Card powered by