Just a few simple ingredients and easy preparation produce this scrumptious Cold Oven Cream Cheese Pound Cake – the most versatile dessert.  Served plain, topped with fruit, or grilled, it's perfect every time!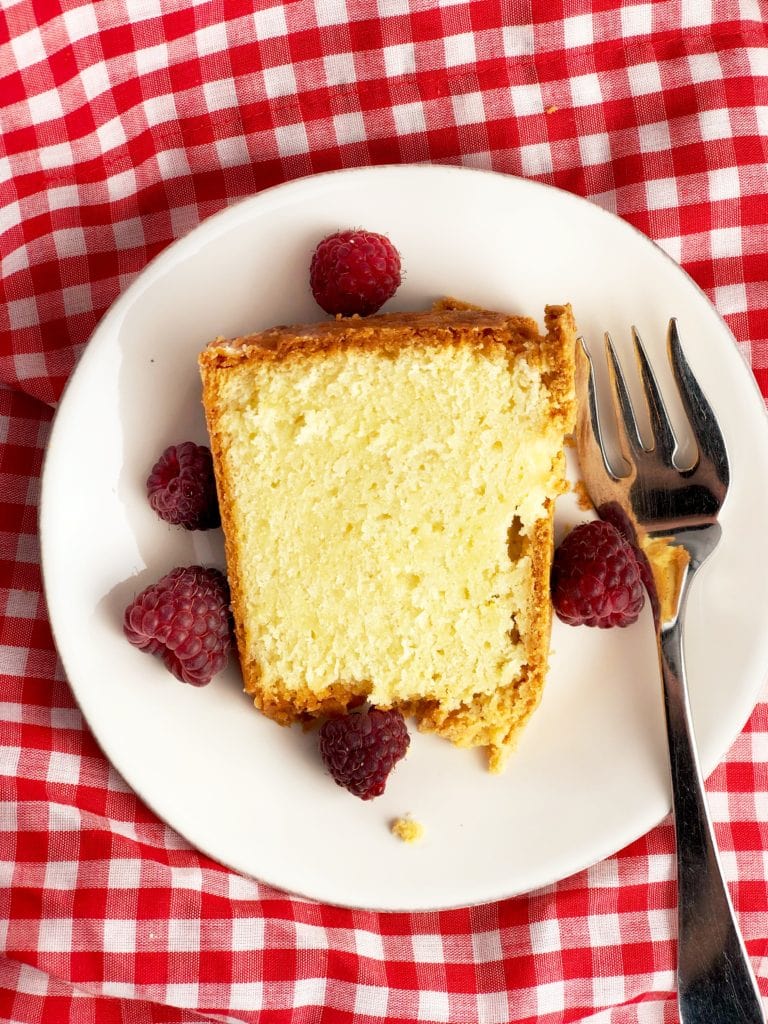 I've been thinking a lot about destiny, and how it relates to things we are passionate about, and whether we each are born with a specific purpose in life. You know, I think this is on my mind because my kids are each beginning to make decisions about their own lives' directions. So, it brings back my own longstanding worry that there was something I missed along the way.  Maybe there was some piece of information that might have told me the secret – you know, that I should – no, that I need – to be a shop owner, an astronomer, or a Chef.  And that THIS is the thing that would provide joy and fulfillment.
Needless to say, I've always admired those people who just knew from childhood what their "calling" was. But I have to admit, I thought some of them were likely faking it – really, what 7-yr-old knows he is destined to be an Entomologist? What do you think? Destiny? Or Luck? Through a series of what I attribute to good decisions and some luck, I've pretty much "stumbled into" the careers I've had. But at the same time, I always knew there was something missing for me. I think the reason I express my creativity through cooking and writing is that if an individual recipe or post doesn't work out, well, then, try another day. This feels good to me. No harm, no foul, right?  There are other recipes to create. Maybe my previous career choices didn't give me that freedom.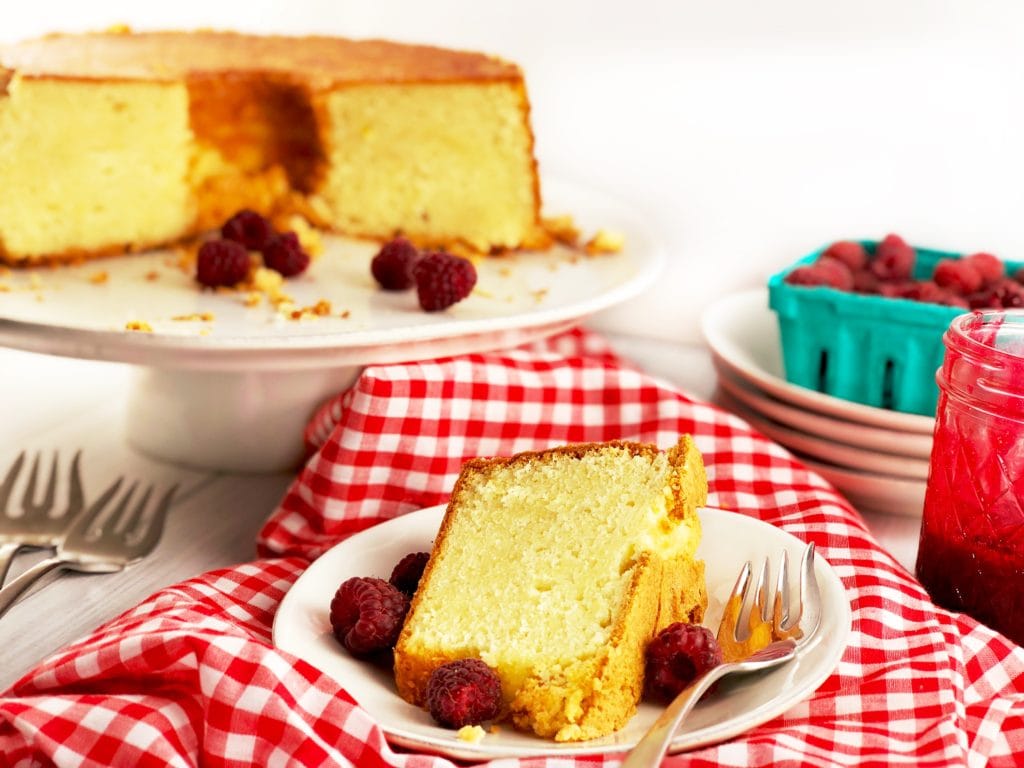 I've come to the conclusion that for many, if not most, of us, there isn't just one answer. We can be many things, at different times, and have many different careers, countless interests, various passions.
Ok! Enough of that blather – so why are there pictures of pound cake along with this stream of random babble about my philosophies of life?  It's because this Cold Oven Cream Cheese Pound Cake, like many of us, looks simple on the outside, but can be so so many different and wonderful things. It's perfect sliced and eaten plain. Equally delicious grilled in a puddle of melted butter or topped with jam or fruit. You could cut it in cubes and make croutons. Or, you could French-toast it. Maybe make a delicious PB&J with slices of pound cake. So, you could make something  new and interesting every day and enjoy them all equally.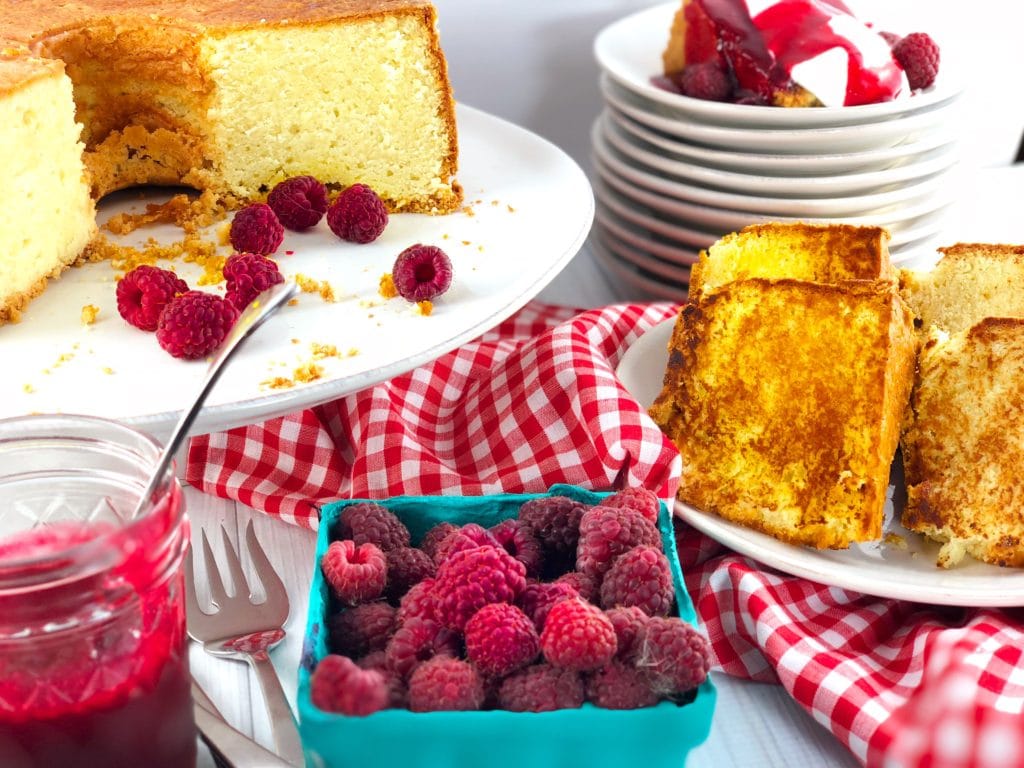 Yes, this Cream Cheese Pound Cake is indeed a simile (or is it metaphor?  Note use of the word "like" in the next sentence) for life.  Like this cake, we can each be so many different things. If the first thing isn't what we seek, we can move on to another.  But like life, each shows us something we didn't know before. Enjoy!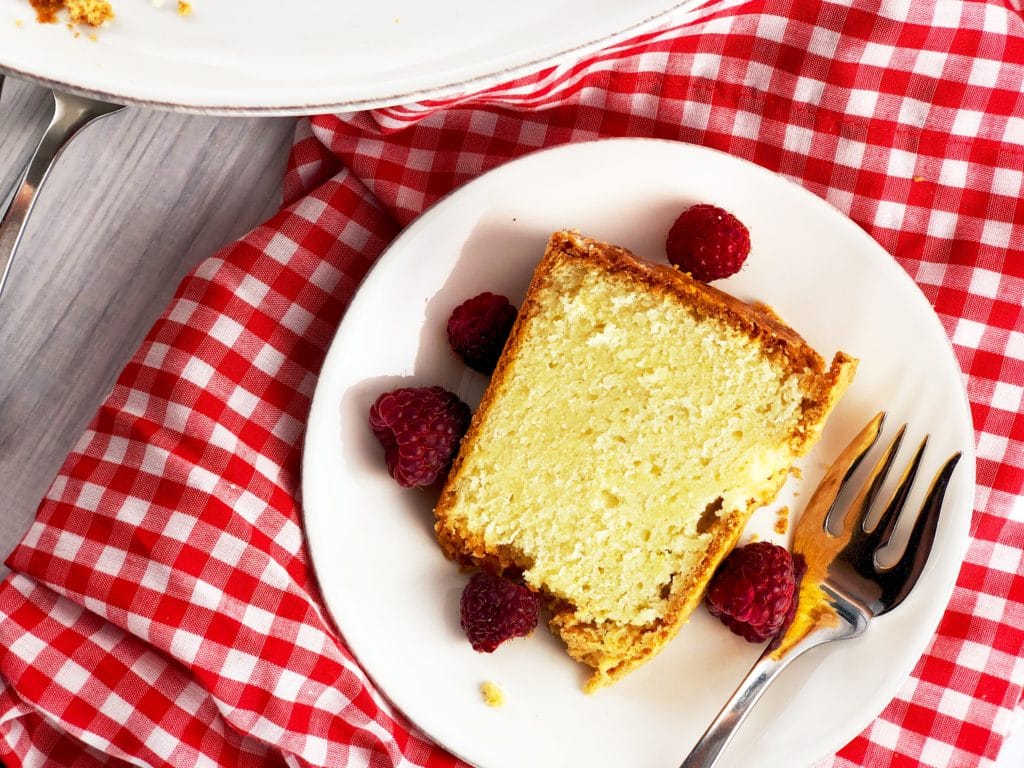 If you'd like to see more scrumptious cakes I've made, check out my Chocolate Cake with Peanut Butter Frosting, or maybe this, seriously, the BEST Angel Food Cake you've ever had. Or my Carrot Cake with Cream Cheese Frosting. Looking for a Gluten-free Cake?  Try this Lemon, Ricotta and Almond Cake.  In a Fall mood?  My Pumpkin Cake with Salted Penuche Icing – to die for! So MANY CAKES!
For tips on making the Perfect Pound cake, this article from Bon Apetit is a good list of things to remember.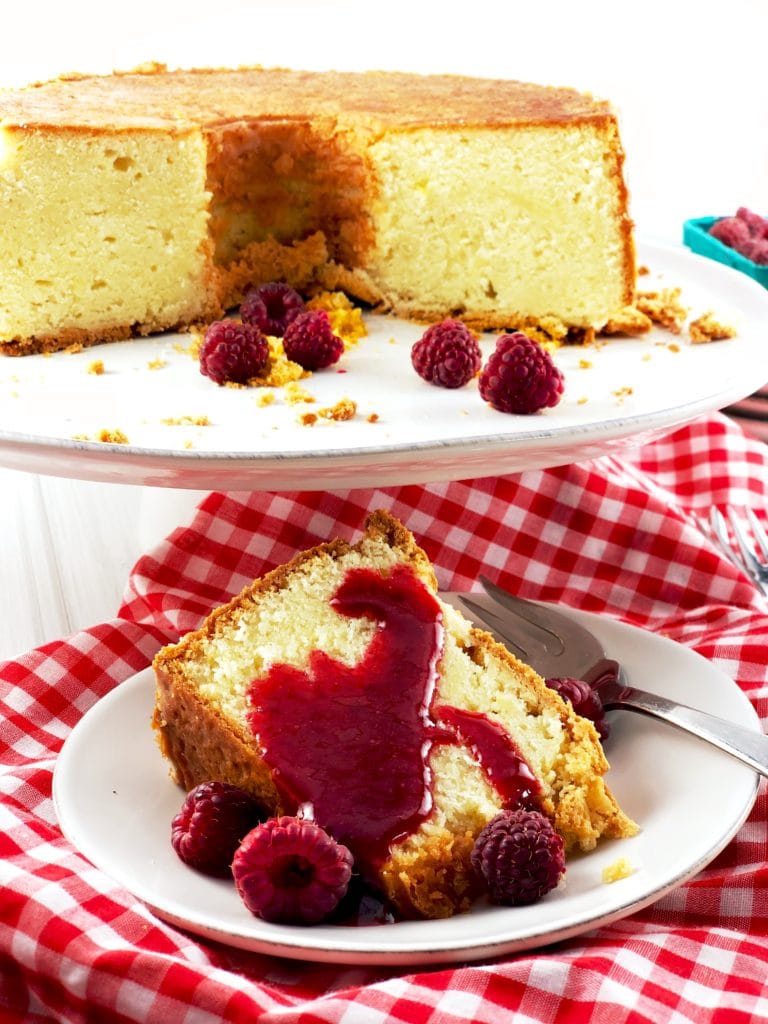 Pin Perfect Cream Cheese Pound Cake for later->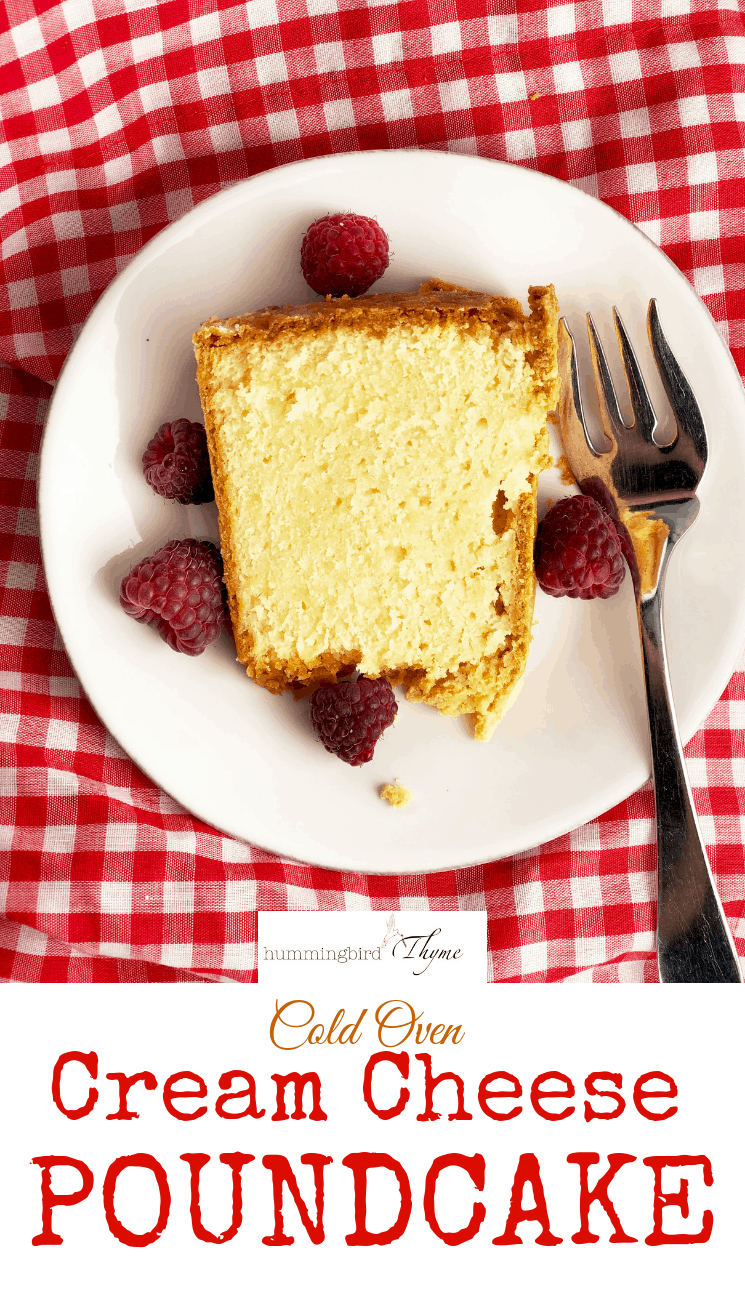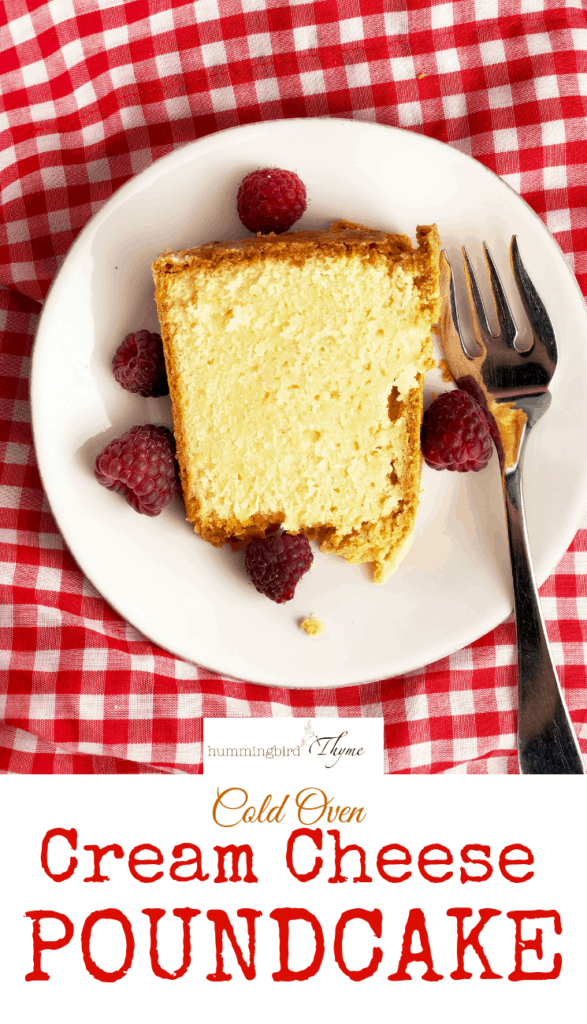 Print
Cold Oven Cream Cheese Pound Cake
This Cream Cheese Pound Cake is perfectly dense-textured, but moist and light flavored, a fairly traditional recipe with no chemical leaveners.   The tang of the cream cheese is highlighted by a bit of lemon zest.  This recipe provides 12-16 nice-sized servings, which is great because, it's poundcake, there's so many things to do with leftovers!
Perfect grilled in a puddle of butter, or served with fruit and whipped cream.
I've included a recipe for raspberry sauce that is out-of-this-world delicious, if you're so inclined.
Special equipment:  tube pan or bundt pan.
Author:
Prep Time:

20 min

Cook Time:

90 min

Total Time:

110 min + cooling time

Yield:

12

-

16

servings

1

x
Category:

Cakes

Method:

Baking
Ingredients
For the Cake:
1 1/2

c. (3 sticks, 12 oz.) Butter, room temperature

1

c (8 oz.) Cream Cheese, room temperature

3

c Granulated Sugar

6

Lg Eggs, room temperature
Zest of

1

lemon

1

T Vanilla Extract (See Note 1)

3

c AP Flour

1/2

t Salt
For the Raspberry Sauce:
1 Pint

Raspberries

1/3

c Granulated Sugar

1/3

c Water

1/4

–

1/3

c Raspberry Jam

1

t lemon juice
Instructions
Make the Cake
DO NOT PREHEAT OVEN! Prepare baking pan by generously (greasing or) buttering, then flouring, making sure excess flour is removed.
In a stand mixer or with a hand mixer, at medium-high speed, cream together the cream cheese and butter, along with the sugar, until mixture is very light in color and fluffy, a full 3-5 minutes.
Reduce speed to low.  Add eggs, incorporating one at a time.  Add in the Vanilla extract and lemon zest.
At this point, you want to be careful to not overmix, for risk of a tough cake.  So, keeping mixer at the lowest speed, add in the first 2 cups of flour and the salt, mixing until you can see only a few streaks of flour. Turn off mixer and fold in, by hand, the last cup of flour, again until just a few streaks of flour are visible. One last fold, then pour into prepared tube or bundt pan.
Place pan in the middle of oven.  Turn oven on to 300F.  Bake 1 hour, 25 minutes to 1 hour, 40 minutes, until a wooden skewer comes out clean. In my oven, this cake took 90 minutes.
Remove pan from oven.  Cool the cake IN the pan for about 20 minutes, then carefully turn out or remove from the tube pan.  Cool completely.
While cake bakes, prepare the Raspberry sauce, if you are using.
Make the Raspberry Sauce
Into a 2-qt saucepan, place the berries, sugar, and water.  Bring mixture to a boil, then turn heat to simmer and simmer 20 minutes or so, until syrupy.  Add the raspberry jam.
Strain mixture over a fine-mesh strainer to eliminate the seeds.
Add the lemon juice.  Mix thoroughly.  Cool. Refrigerate.
Notes
 Feel free to substitute 2 t almond extract, or 1-2 t lemon extract, or any other flavoring you might want!
Nutrition
Serving Size:

1/14 recipe
Keywords: Pound Cake, Cold Oven, heirloom recipe, raspberry sauce, cream cheese
Recipe Card powered by