Many of you know I have a weakness for (some might say addiction to) Chocolate and Peanut Butter – some of my all-time favorites include these yummy Homemade Peanut Butter Cups and this over-the-top Peanut Butter Pie.  So it should come as no surprise I have a new favorite cake, and guess what?  It's a Three-Layer Chocolate Cake with Peanut Butter Frosting.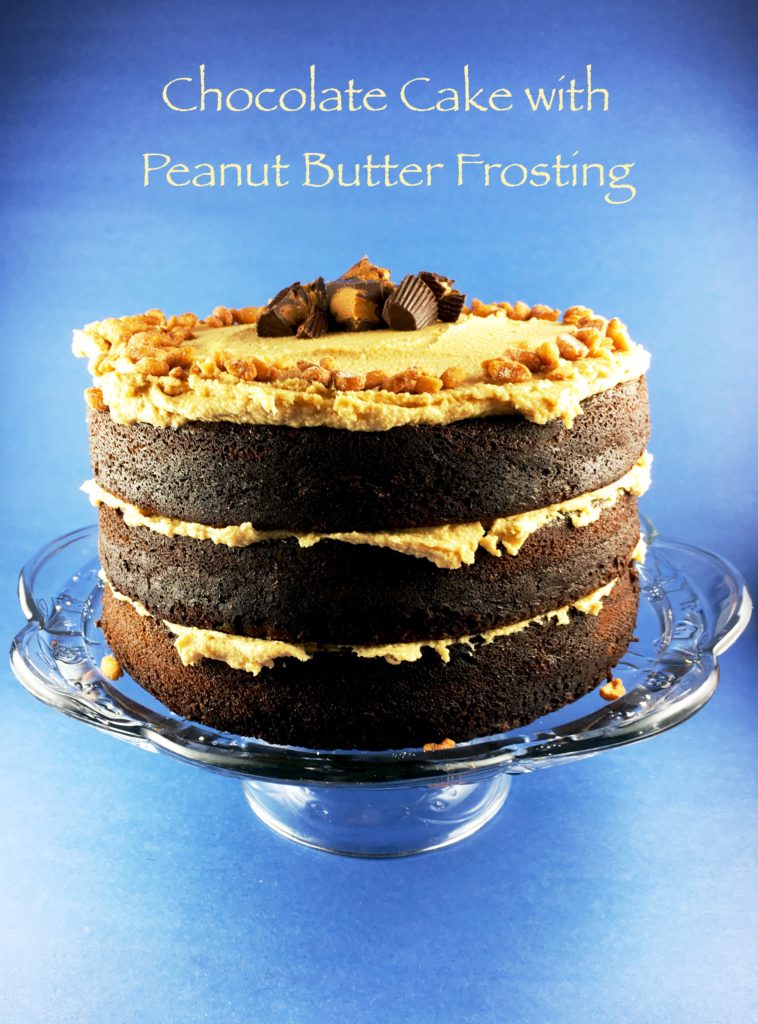 I mean, really?  Have you ever even imagined something so delicious? This cake is a grown-up version of the famous Reese's cup – it has rich, dark chocolate and creamy peanut butter, but is not too sweet.  So satisfying.  It has a tender, soft and fluffy texture and slightly salty peanut-buttery frosting that is so scrumptious you probably should just go ahead and double that recipe.  You know, in case you have an extra cake lying around. Or some crackers.  Or a spoon.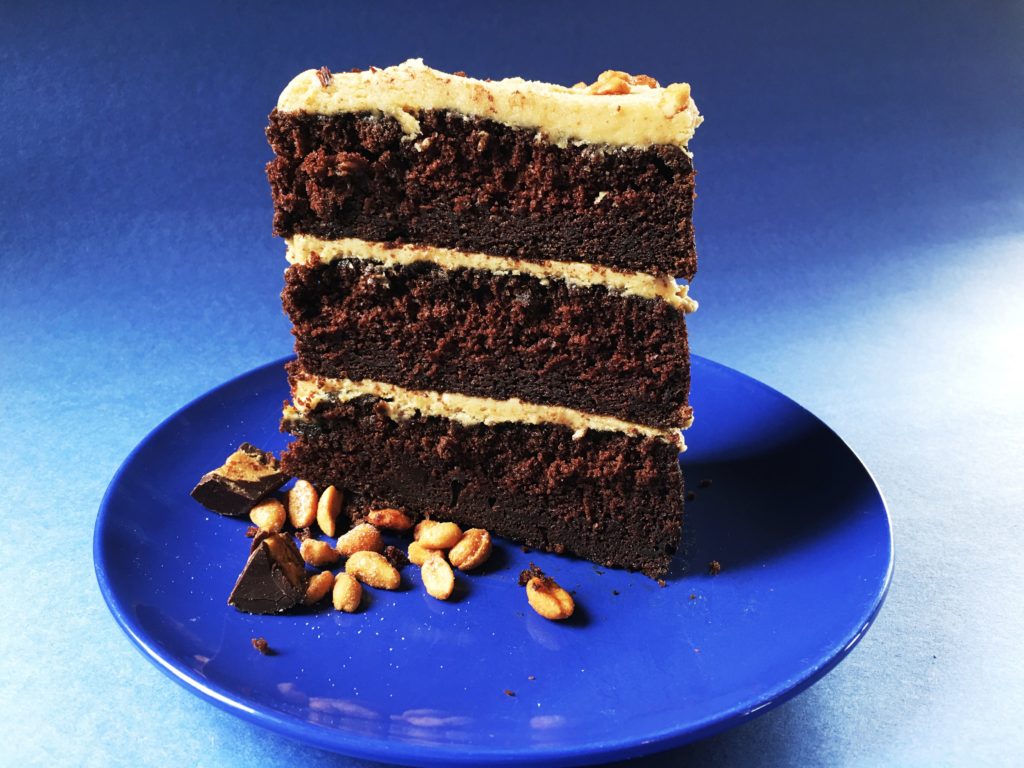 The cake recipe is adapted from a recipe for a Chocolate Blackout Cake (read:  super-chocolate-y) published in O Magazine in 2007.  I've made that cake many times, even bought a third 9″ cake pan specifically for the recipe. Everyone who's tried it has loved it so much, I had to use that recipe as the basis for this one.  I made a couple of substitutes that I think have lightened the texture a bit (buttermilk instead of sour cream) and also intensified the chocolate flavor a bit (strong coffee instead of hot water). This has been my "go-to" chocolate cake for several years now.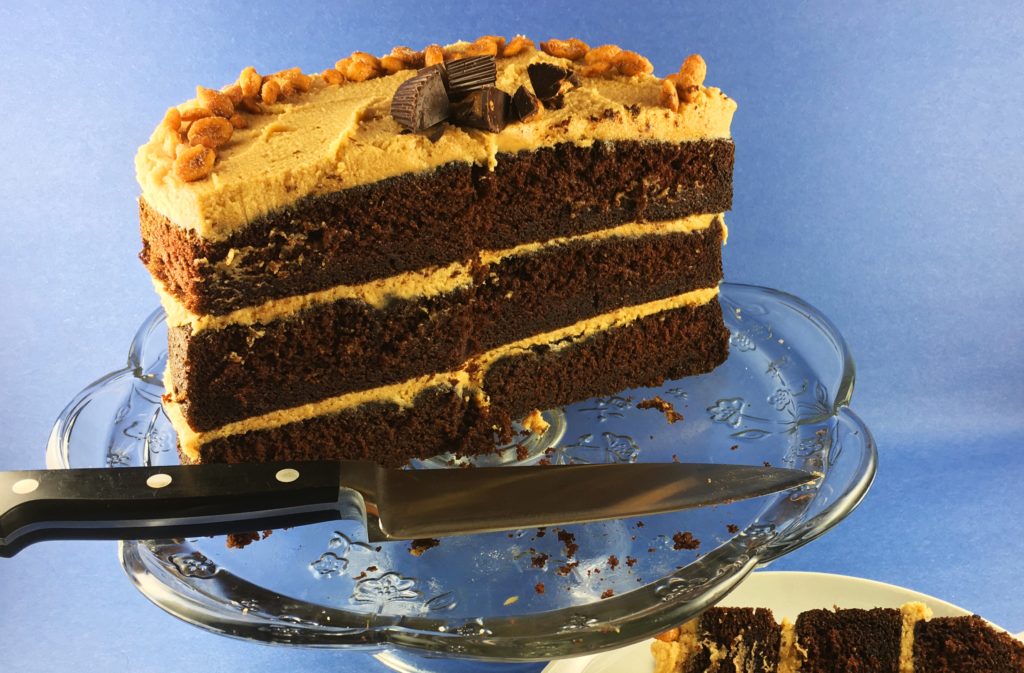 I don't know what it is about that third layer – it really just screams "festive!", now, doesn't it?  I guess it's that "go big or go home" philosophy.  It makes a perfect birthday cake or holiday (Easter anyone?) cake.  You could serve anywhere from 12 to 24 people with this cake.  Or you could just make it for yourself enjoy it over and over again, since it remains moist and delicious for days.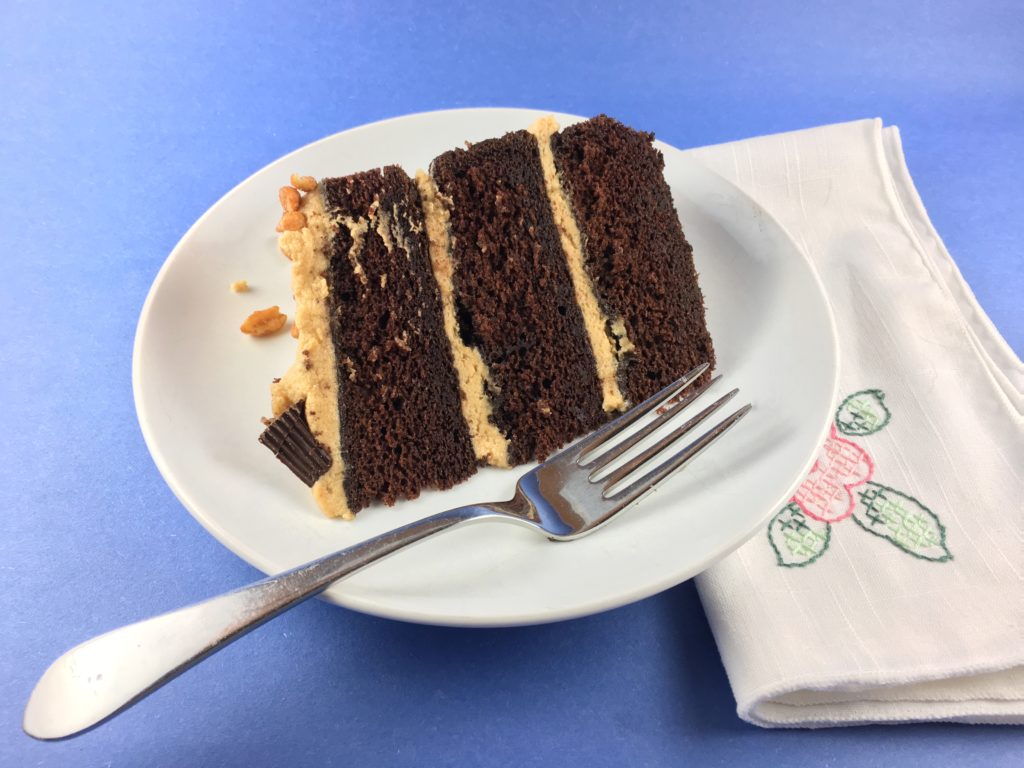 One of the best things about this chocolate cake is you could really frost it with any type of frosting – chocolate, vanilla, strawberry, or even my caramel Penuche Frosting.  Although, if you know me, you know I'll choose the peanut butter frosting!
Enjoy!