This Three Layer Chocolate Cake is the best chocolate cake I've had – light and fluffy but super-chocolatey.  So good with My Peanut Butter Frosting, or any other frosting, really – chocolate, vanilla, cream cheese, caramel, strawberry… the possibilities are endless!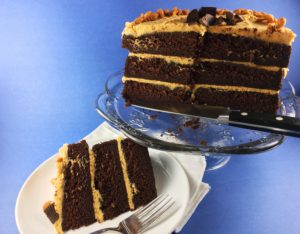 This recipe was adapted from a recipe appearing in O Magazine, February 2007.  I have changed the amount of salt and substituted buttermilk for sour cream, strong coffee for hot water.
Prep Time: 20m
Cook Time: 30m
Ingredients
1

c

Or 16 Tablespoons Unsalted Butter, softened

3

c

Firmly Packed Brown Sugar

4

Lg eggs, room temperature

2

tsp.

Natural Vanilla Extract

3/4

c

Cocoa Powder, sifted

1

tbsp.

Baking Soda

1

tsp.

Salt

3

c

Cake Flour (not self-rising)

1 1/2

c

Buttermilk

1 1/2

c

Strong Coffee, hot
Instructions
Preheat oven to 350F (or 340F for Convection). Grease three 9" Cake Pans; line with parchment paper. Butter the paper.
In a large bowl with an electric mixer, cream the butter at and sugar at medium speed until light and fluffy, about 5 minutes. In a medium bowl, combine the eggs and vanilla. Add them slowly to the brown sugar mixture until they are fully incorporated. Scrape down the bowl and beat at high speed for 1 additional minute.
In another medium bowl, sift the cocoa powder, baking soda and salt. With mixer at low speed, add this mixture to the brown sugar mixture until just combined.
Sift the flour. Add 1 cup to the batter. Beat at low speed until barely combined. Next, alternate adding 3/4 cup buttermilk, 1 cup flour, the remaining buttermilk, the remaining flour, beating at low speed until barely combined after each addition. Then with mixer still on low, very slowly add the coffee and beat until just combined.
Scrape bowl thoroughly; at low speed beat batter for 20 more seconds. Scrape bowl once more, then divide batter among the three baking pans. Bake 27-33 minutes (I baked for 30), until cake begins to. Pull away from the sides of the pans. Cool in pans for 30 minutes. Then remove from pans to cool completely on wire racks. The cakes are quite delicate and should be wrapped in plastic and refrigerated at least 2 hours prior to assembly.
If assembling the next day, wrap in plastic wrap and place in refrigerator (or freezer!) until ready to frost and assemble. You may want to level the top of the cake prior to frosting, by slicing off the domed top. I found my cakes relatively level, so did not do this.