There's a reason Green Goddess Dressing is a Classic! Tangy, herby, beautiful, and oh-so-tasty! Easy to make, too! So good on my Green Goddess Chicken Salad!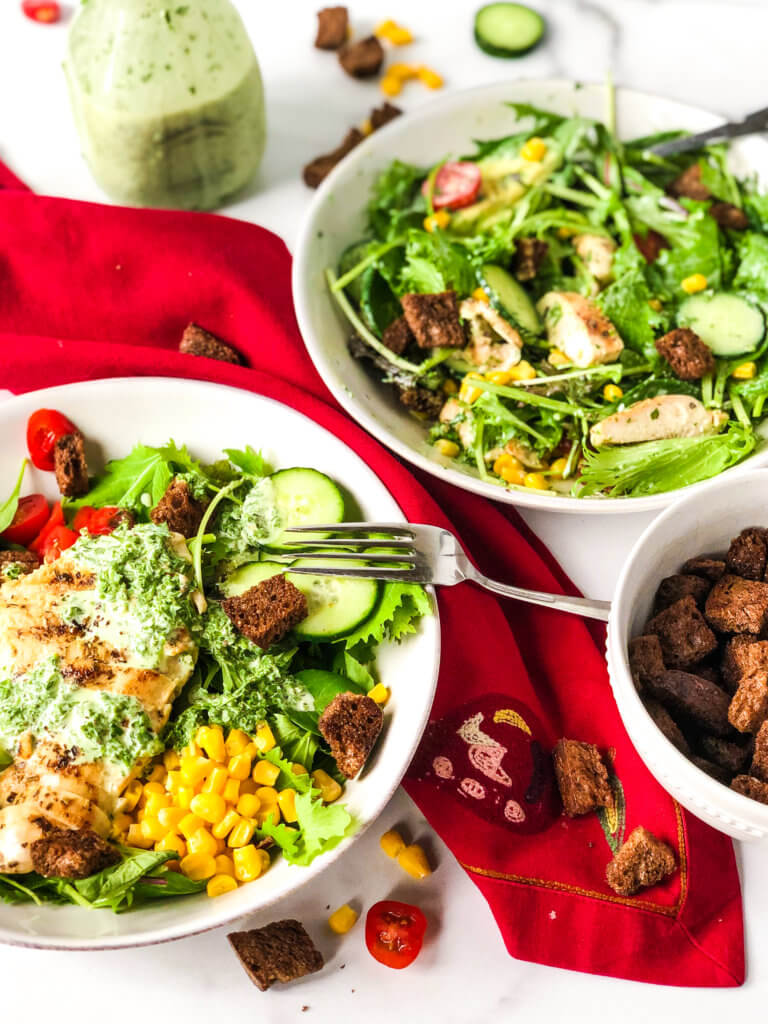 When I was quite young, I remember my parents raving about this new salad dressing they tried. Called "Green Goddess" it was all the rave. Seemed every restaurant was serving it. Although it was reportedly invented in 1923 by Chef Philip Roemer to pay tribute to actor George Arliss who starred in a hit play of the same title, it had a bit of a rebirth in the 1970s when it was mass-produced and sold in bottles. I remember the light green colored dressing in the refrigerator. And I remember my Mom asking if I wanted to try it.
Now, those were the days where I avoided green foods like the plague. Just the word "green" in the name was enough information for me. So, "No, thank you!" was the answer to that question. These days I'm a little like Elaine on the Seinfeld episode where she's all about the "Big Salad". And my current salad of choice is this Green Goddess Chicken Salad, that I've made, but putting my own spin on the classic dressing. Mine is a bit thinner in consistency, because the greens I use are more delicate than the Iceberg lettuce that was used in the 1970s.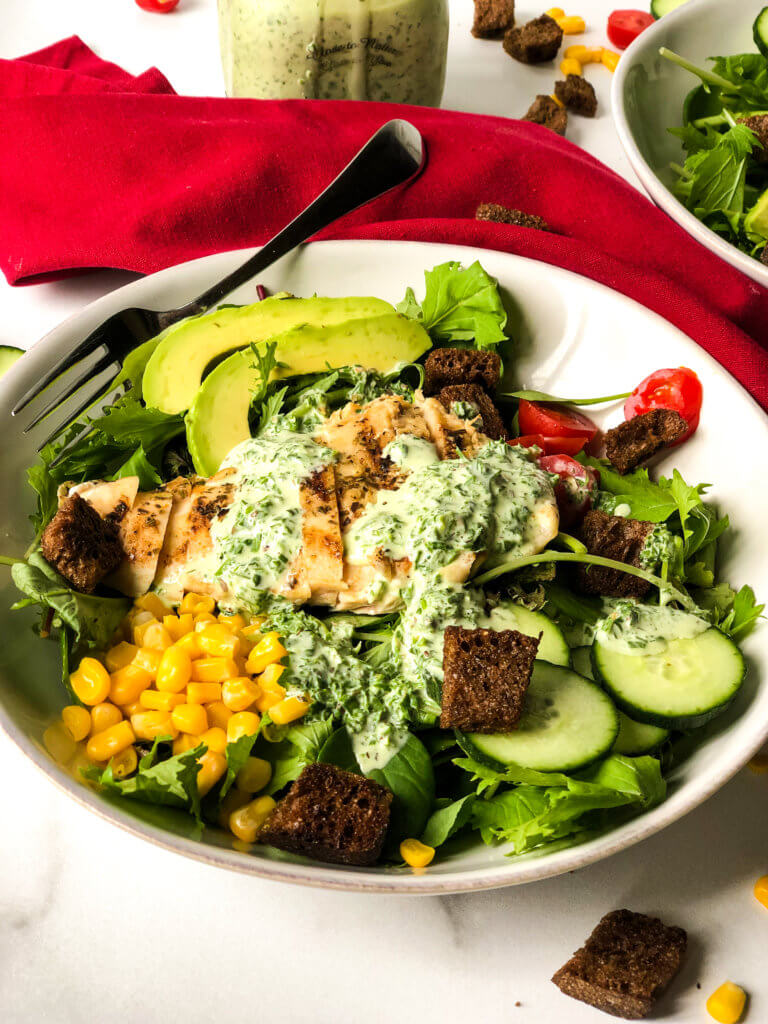 I love the tang of buttermilk in a creamy dressing, so I combined that magical ingredient with the traditional mayonnaise, anchovy and lemon to make the base. Then pulsed in a big handful of herbs to finish the dressing. (I did not have fresh tarragon, so I subbed the dried version, but recommend the fresh if you have it!). The flavor of this dressing is outstanding! Herby, tangy from the lemon and buttermilk, lovely deep flavor from the anchovy.  If you don't like anchovy, feel free to omit it, but I promise, there's no fishy flavor, just a depth you won't regret.
Herby Green Goddess Dressing is as delicious on grilled meats as it is on veggies, so feel free to use leftovers that way. Or, take a look at this beautiful herby Persillade Sauce from America's Test Kitchen, so good on grilled meats!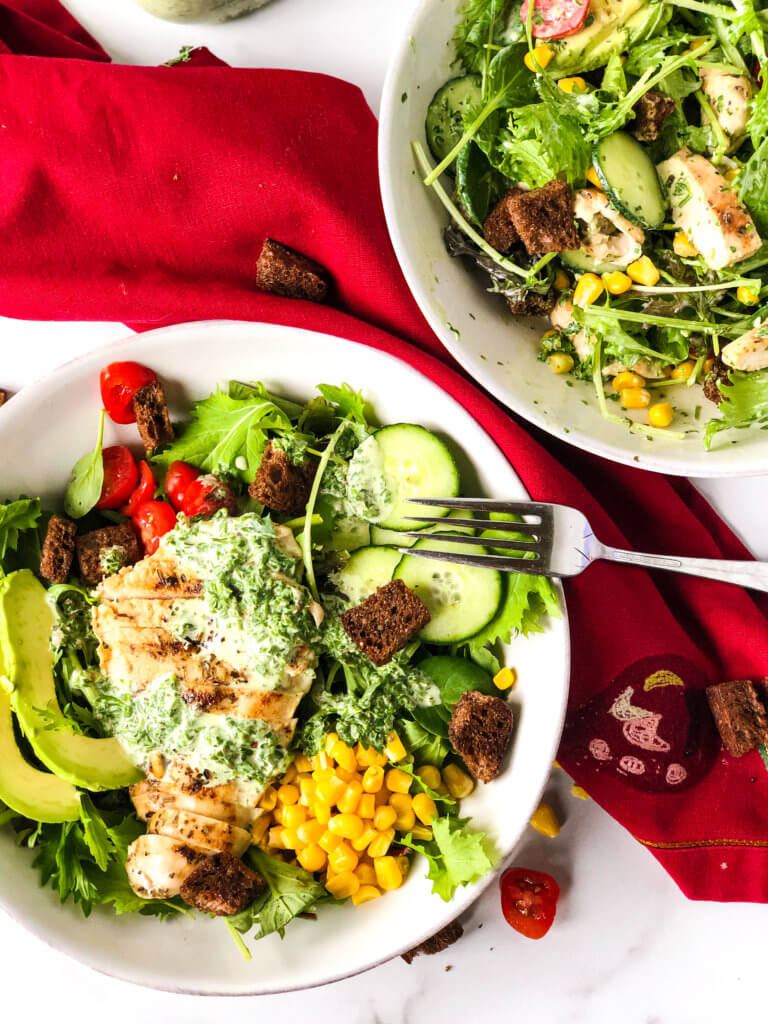 So, I'm curious, what foods were you afraid of as a child that you love now? It's amazing how everything about us changes as we grow, isn't it? There's a popular saying, "If you aren't changing, you aren't growing. And if you aren't growing, you aren't living." (Gail Sheehy)  I'm committed to living. Words to remember.  
Enjoy!
If you love a nice salad, don't miss these:
Lemony Salmon with Spiced Chickpea Salad Bowl
Vegan Buddha Bowl with Lime Tahini Dressing
Big Steak Salad from Pioneer Woman
Strawberry Gorgonzola Salad with Sweet 'n' Spicy Pecans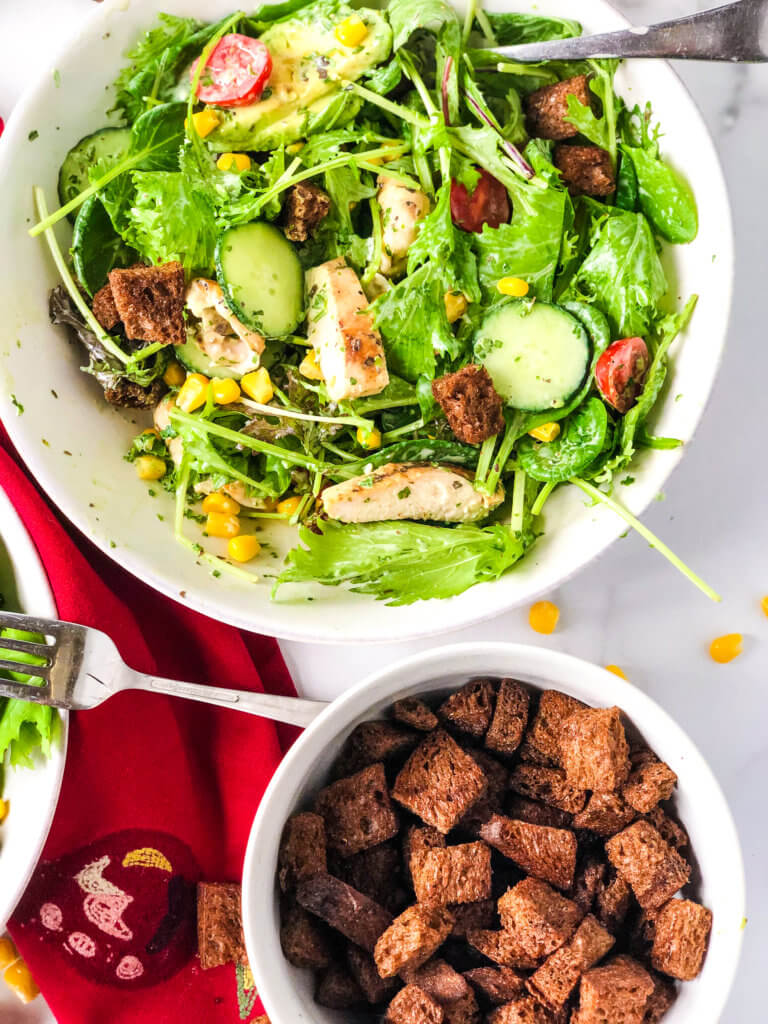 Green Goddess Chicken Salad Recipe Details ->
I am an Amazon Affiliate, so please know any purchases you make through links provided on my page allow me to make a small comission, to maintain this site, but at no additional cost to you.
Like many salads, this recipe is all about the delicious dressing. Putting a spin on the classic Green Goddess dressing, I used Buttermilk as its base. This makes the dressing a bit more tangy, and a bit thinner. If you like it thicker, or if you are using heartier greens, like kale or iceberg lettuce, feel free to use sour cream instead of the buttermilk, or replace half the buttermilk with sour cream.
What should I make first? The dressing is the first thing you'll want to make. You can make it in a blender (I love my Ninja!) or food processor, or if you don't have or don't want to use elections, just be sure to very finely mince your herbs. Once the dressing is finished, just pop it in the fridge until ready to serve.
How do I make croutons? An easy way to make them is to pan-fry cubes of bread. I used slices from a leftover loaf of pumpernickel. Just heat some oil, and drop the cubes in. Salt and pepper generously, and cook until crispy. Takes about 8-10 minutes at Medium heat. So good!
What's the best way to cook the chicken?  I used thin-sliced chicken breast pieces for quick (8 minute!) cooking. For extra flavor, I sprinkled them with some dried tarragon, in addition to a healthy amount of salt and pepper. I used my cast-iron reversible grill and griddle. I have the Lodge brand cast-iron grill and griddle, but get one to fit your own stovetop and size needs. It's perfect for when the weather isn't cooperating or you just don't want to start and clean the outdoor grill. Or just cook in a frypan or poach, whatever you prefer. I like the grill marks my indoor grill gives me.
What should go in my salad? You really can put anything you have in your fridge! Greens of course, any type. I used mixed greens ("Spring Mix"), but you could use whatever type you like. Note if you use heartier ones, like iceberg, Romaine, or kale, you may want to thicken your dressing by adding/substituting Sour Cream for at least part of the buttermilk. But feel free to add any veggies you have: corn, sliced cucumbers, avocado, tomatoes. Whatever you have is fantastic!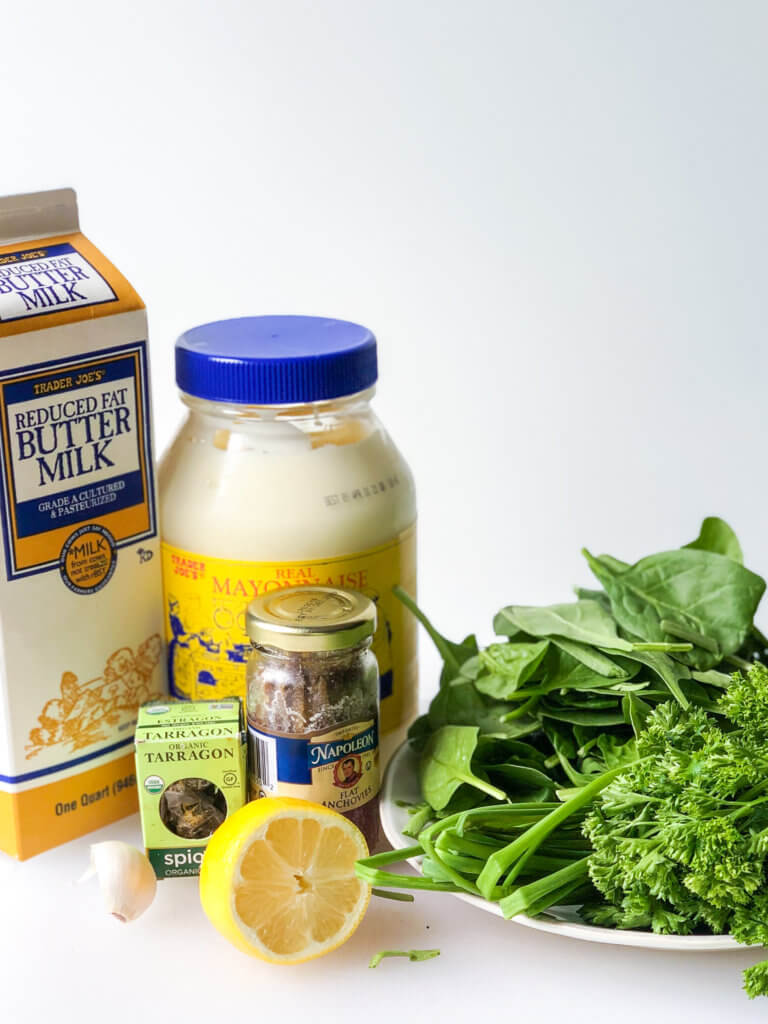 PIN this Recipe ->
Print
Chicken Salad with Buttermilk Green Goddess Dressing
The Green Goddess Dressing in this recipe is a bit thinner than most because I was using it with a delicate "Spring Mix" of lettuces. If you want it a bit thicker, feel free to substitute sour cream for half of the buttermilk.
Note: nutrition information is for the dressing only
Author:
Prep Time:

10 min

Total Time:

10 minutes

Yield:

1 pint

1

x
Category:

Sauces and Dressings

Method:

Blender or Food Processor

Cuisine:

American
Ingredients
For the Dressing:
3/4

c (180 ml) Buttermilk

1/2

c (120 ml) Mayonnaise

2

T (30 ml) Lemon Juice
Pinch of Salt, 1/4 tsp black pepper

3

anchovies (packed in oil) or

3 tsp

Anchovy Paste

1

clove garlic, minced

2

T Fresh Tarragon, chopped (or

2 tsp

Dried)

1/4

c Chopped Chives

1/2

c Chopped Fresh Parsley

1

c Spinach (or Watercress)
For the Salad:
1

lb (454g) Thin-sliced chicken breasts, boneless and skinless

4

slices day-old bread, any type (I use Pumpernickel)

2 Tbsp

Olive Oil

6 cups

Salad greens (any type)

1

c sweet corn (or corn from

1

medium cob, cooked)

1

handful cherry tomatoes

1/2

cucumber, thin-sliced
Instructions
Make the Green Goddess Dressing:
In a blender or bowl of food processor, mix together the buttermilk, mayonnaise, anchovies, garlic, and lemon juice. This should take 5 -10 seconds in a blender, or 3 pulses in a food processor.
Add the tarragon, chives, parsley and spinach to the buttermilk mixture. Mix or pulse until the green bits are tiny and the mixture is a beautiful green, about 20-30 seconds, or 10+ pulses.
Pour dressing into a serving dish or small jar or pitcher. Chill until serving time.
Make the Salad:
Season the chicken breasts with salt and pepper, and a spirinkling of dried tarragon. Cook on grill or pan for 4 minutes on each side, 8 minutes total. Check that they are 160F throughout. Remove to plate.
Cut the bread slices into 1/2-3/4 – inch cubes. Heat a frypan over Medium heat. Pour in the 2 Tbsp Olive (or other neutral) oil. When it shimmers, pour in the bread cubes. Salt and pepper generously. 
Using a silicone spatula, continue to cook and turn the bread cubes until they are dry and crispy. This should take about 8-10 minutes. Remove to a bowl.
Chop the greens, slice the tomatoes and cucumber.
Compose individual or large salad with the greens, chicken, corn, tomatoes, cucumber and croutons.
Pour a bit of dressing over the salad, passing the rest at the table.
Nutrition
Serving Size:

2 Tbsp (1 oz.)
Keywords: Green Goddess, Salad Dressing, Recipe, Green Goddess Chicken Salad
Recipe Card powered by