Bing Cherry Cheesecake Blondies! Buttery blondies, layered with cream cheese and a simple bing cherry sauce! A celebration of flavors in every bite!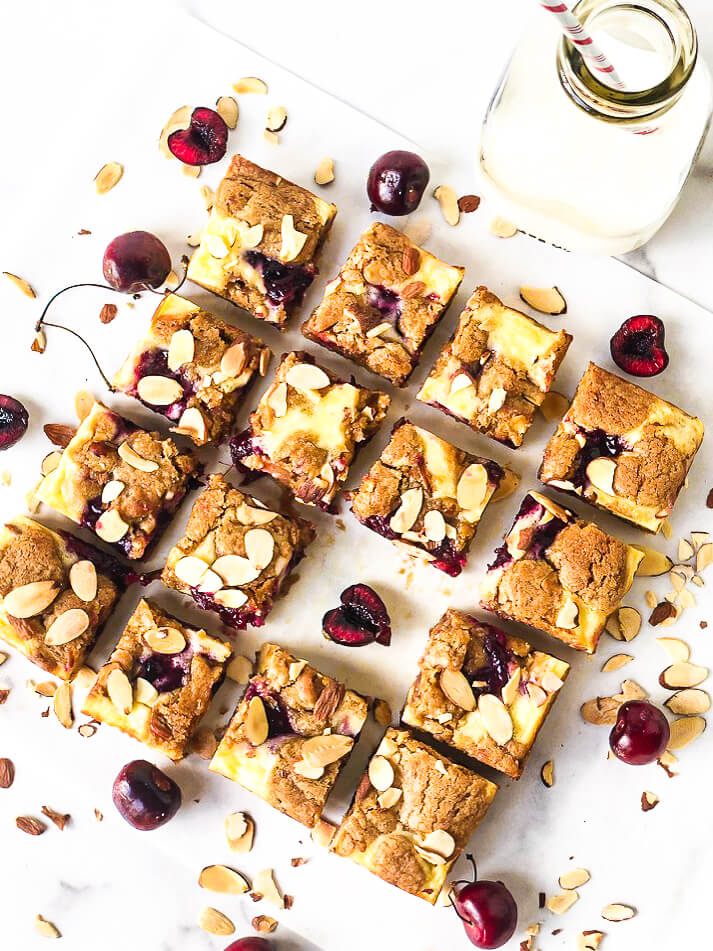 I often say simpler is better. But there are times, these times, like today, that (sing with here) I want it all.🎵 I want it all.🎶 I want it all. 🎵And I want it now.🎶 Just call me Freddie Mercury. I've no hesitation when I say he (and Queen, of course), sang the soundtrack of my young life. So that's where my mind goes. "We Will Rock You", "Another One Bites the Dust", "We are the Champions" were all nicely suited for High School and College Athletics. "Bohemian Rhapsody", well, suited for all of us thinking we could also be stars of the school play, because, don't you just feel everything in that one? And, does anyone know what it means? Because I certainly don't.
Anyway, back to regular programming – I want all the flavors: tart, tangy, sweet, nutty, buttery. I know what you're thinking. Demanding much? Why yes, I am! As we all should be, right? And darn it, these lovely Bing Cherry Cheesecake Blondies deliver it all! In every single bite.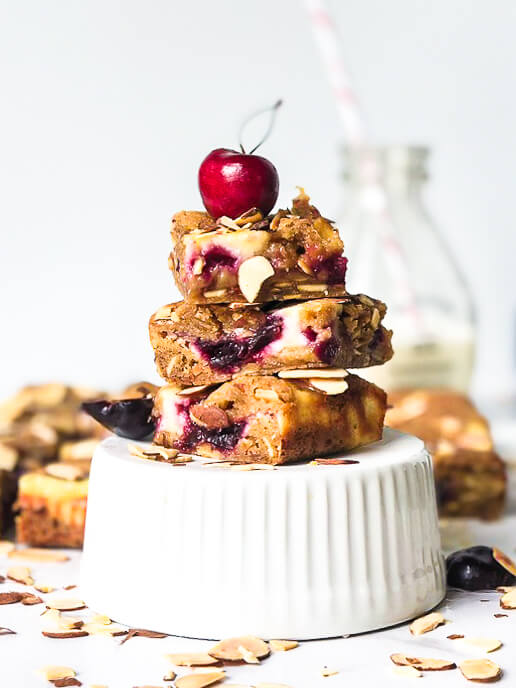 And not only the flavors, these beauties have all of the textures, too! An intensely buttery and tender blondie that is crispy on the bottom, with an ooooey gooey cheesecake layer topped with pools of bing cherry sauce and more clumps of blondie! Toss some crispy toasted almonds on the top, and these are everything!
And getting all of these flavors and textures? Simple. Maybe not one-bowl simple, but certainly easier than it looks. Just the way I love it. No electrics, everything is mixed by hand in a couple of bowls.. And then just a saucepan to make the cherry sauce.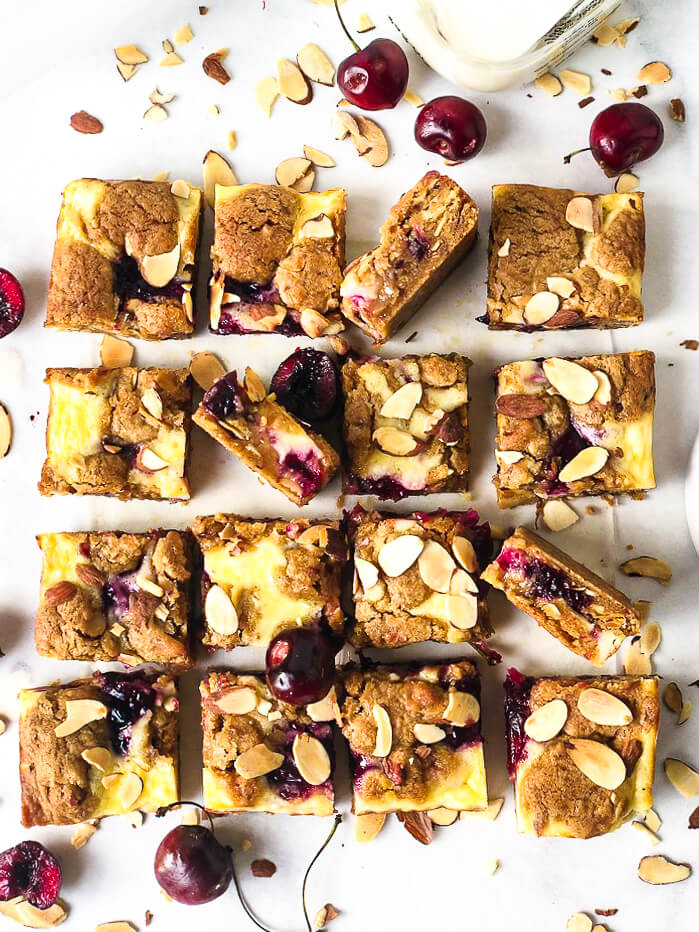 So if you want all the flavors and all the textures, it can be simpler than it looks. Give these Bing Cherry Cheesecake Blondie Bars a try! You may add them to your soundtrack.
And, I'm so curious, what music or artist is your "soundtrack"? I feel like I didn't even realize mine until just a few years ago. Strangely?
Enjoy!
Do you have some fresh or dried Bing Cherries to use? Why not try another Cherry recipe:
(Fresh) Strawberry-Rhubarb-Cherry Crisp
Cherry Bakewell tart (uses Cherry Jam)
No Knead Chocolate Dried Cherry Pecan Loaf
Chocolate Dried Cherry Bread Rolls
Or, bar cookies are your favorite, don't miss these lovely cookies:
Rhubarb White Chocolate Blondie Bars
Peanut Butter Chocolate Chip Bars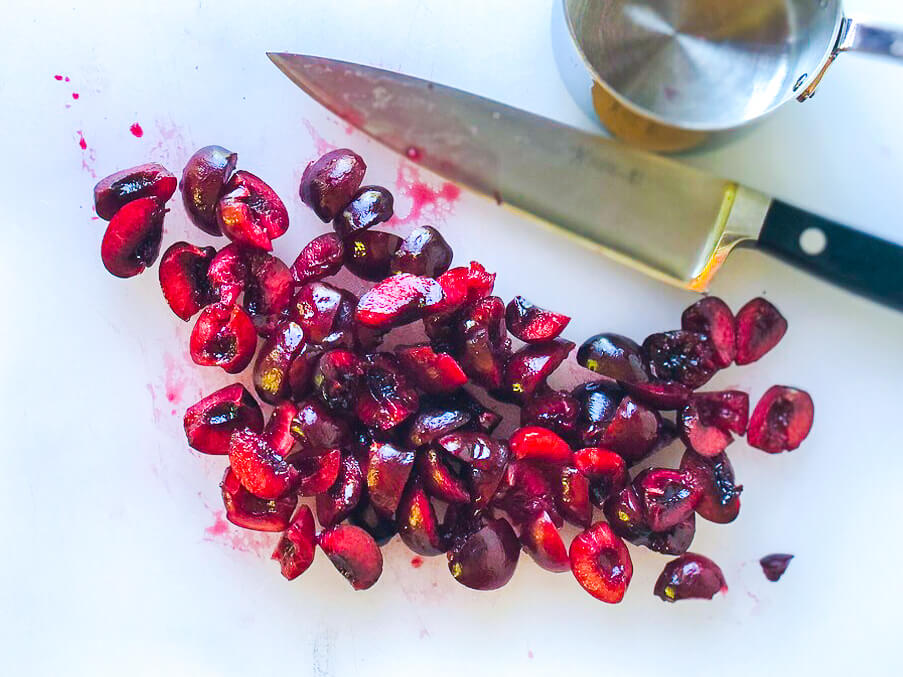 Recipe Details ->
I am an Amazon Affiliate, so please know any purchases you make through links provided on my page allow me to make a small comission, to maintain this site, but at no additional cost to you.
Some questions you may have about this recipe:
I only have Sour Cherries (pie cherries). Can I use them? You can, but you will likely need to add more sugar, maybe around 5-6 Tbsp. The recipe I used was inspired by this one from Tutti Dolci, which is for Bing Cherries. So if you are using sour cherries, just taste test as you go to be sure they are sweet enough for you.
The Cream Cheese layer is quite thin. Is the ok? Yes, it will puff up a bit in the oven. But indeed the Cream cheese layer is thin-bodied. That way, it can easily cover the whole blondie. And, if you like, you can swirl the cherry mixture. I did not, because I love the pools of cherry sauce when I bit into the blondie.
Do I need to brown the butter? Browned butter provides a lovely, nutty depth of flavor the plain melted butter does not. It isn't necessary, but I highly recommend it. The process is pretty easy, and takes 5-7 minutes. You won't regret it!
Can I use pecans or walnuts instead of almonds? You can use any nut you like! I think roasted pecans would be amazing here. But I chose almonds because of the lovely way they compliment the cherries.
How can I tell when the Blondie is done? Every oven is different. But it's important to know that it is better to under-bake than overbake blondies, just like with brownies. But you'll know it's done when the edges are firm and golden, and the middle appears just set. All ovens are different, but in my oven it took around 27-28 minutes.
How long do baked blondies remain fresh? The easy answer here is that you will likely eat them all before they get stale. But the best thing to do is store them covered, at room temperature for up to 2 days. If you need to keep them fresh beyond that, then continue to cover, but keep them in the refrigerator. The bottoms may lose a bit of crispness, but they blondies will remain fresh.
This recipe is pretty easy. It may look difficult because there are 3 distinct parts. But each part can be done without the aid of electrical mixers. The best order is to make the cherry sauce first, since it needs to cool before composing the blondie layers. Then whisk together the cream cheese layer. If you've made sure to get the cream cheese to room temperature, by setting it out at least several hours, it can be whisked together quickly.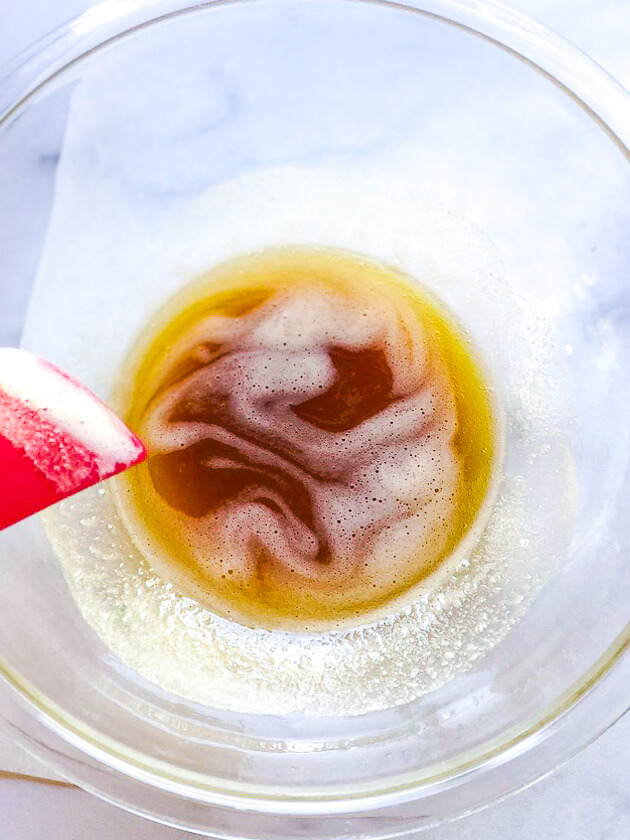 After the cherry and cream cheese layers have been made, just stir together the Blondie dough. Once you pour the hot brown butter in a mixing bowl, then measure out the other dough ingredients. By then, the butter will be cool enough to quickly get the dough formed and into the pan.
Then you'll layer the 3 parts as shown below. After pressing in 2/3 of the dough into an 8×8 Baking Pan, pour the cream cheese layer over the top, add spoonfuls of the cherry sauce. Swirl if desired, then top with pieces of the remaining dough. Bake, cool, and serve! Crisp bottom, chewy middle, gooey cherry and cream cheese layer, topped with more buttery blondie! Dreamy!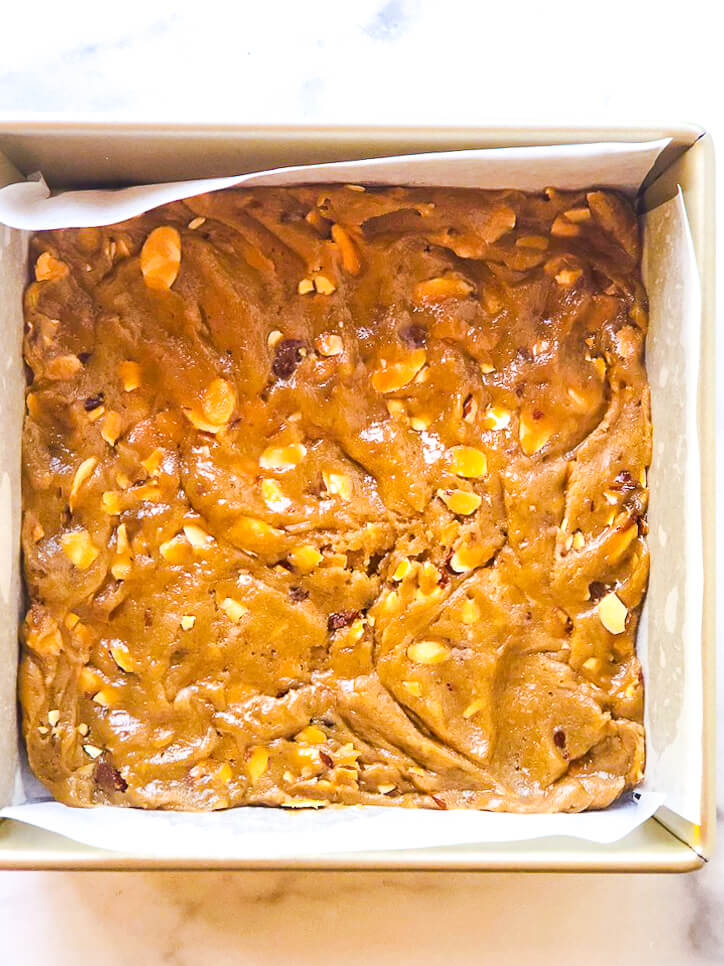 PIN Cherry Cheesecake Blondies ->
Print
Bing Cherry Cheesecake Blondies
Author:
Prep Time:

20 min

Cook Time:

24-30 min

Total Time:

50 min + cooling

Yield:

16

Bars

1

x
Category:

Bar Cookies

Method:

Baking

Cuisine:

American
Ingredients
For the Bing Cherry Sauce:
1 1/4

c (180g) Bing Cherries, pitted and quartered

2

T Granulated Sugar

1

T Cornstarch

1/2 tsp

Almond Extract
pinch salt
For the Cream Cheese Layer
4 oz

. Cream Cheese (ROOM Temp!)

2

T Granulated Sugar

1

egg
(optional)1/2 tsp Lemon Zest 
For the Blondies:
8 Tbsp

(4 0z,

114g

) Unsalted Butter

1

c (198g) Light Brown Sugar

1

Lg Egg
(optional)1 tsp Vanilla Extract 

1

c (120g) AP Flour

1/2 tsp

Baking Powder

1/2

c Almond Slices

1

t Kosher Salt
Instructions
Preheat oven:
Preheat oven to 350F (Conventional) or 335F (Convection/Fan). 
Once preheated, toast the sliced almonds by spreading them across a sheet pan, and baking for 6-7 minutes until fragrant and golden. Remove to cool.
Prepare an 8×8 (20cmx20cm) baking pan by lining it with parchment. Lightly spray (this may be overkill, but I hate when my baked goods stick!)
Make the Cherry Sauce:
Into a small saucepan, place all of the Cherry Sauce ingredients. Over medium heat, stirring occasionally, heat the sauce until it boils.
Allow to bubble several minutes until noticeably thickened. Set aside to cool while you make the cream cheese mixture and blondie dough.
Make the cream cheese mixture:
In a small bowl, whisk together all of the Cream Cheese Layer ingredients until smooth, allowing for tiny bit of lemon zest, if using. Set aside.
Make the Blondie Dough:
Into a small saucepan or skillet over medium heat, slice the butter. Allow to melt. Stirring often, cook until the butter bubbles, spatters and foams, then ultimately turns a lovely golden color. See photo. Watch and smell carefully so it doesn't burn. The bits in the bottom of the pan should still be brown, and not black. The butter should smell slightly nutty. Pour the browned butter into a medium bowl where you will make the blondie batter.
To the browned butter, add the brown sugar and mix until thoroughly incorporated. 
Whisk in the egg and vanilla. Then stir in the flour, baking powder and salt until you don't see streaks of flour.
Fold in the chopped almonds.
Divide the dough into a portion that is 2/3 of the total and another that is 1/3 of the total.
Layer the Blondie and Bake:
Into the prepared baking pan, press the larger portion of the dough. 
Spread the cream cheese mixture over the top, all the way to the edges.
Dollop heaping teaspoons of the cherry sauce. Swirl through the cream cheese if you like. (I did not, I like the "puddles")
Place pieces of the smaller (1/3) portion of the dough scattered across the cream cheese and cherry sauce.
Bake 24-30 minutes until the edges are golden and firm-looking and the middle appears just set. In my oven this took 27 minutes, but watch carefully so you don't overbake.
Cool completely in the pan before removing to cut.
Keywords: Cheesecake Blondies, Cherry Brownies, Cheesecake Blondie Recipe, Blondie Recipe, Cherry Blondies, Cherry Recipes, Fresh Cherry Recipes, Bakewell Blondies, Blondies, Bar Cookies, Cherries, Bing Cherries, Cheesecake, Cream cheese
Recipe Card powered by