This NO KNEAD Chocolate Cherry Pecan Bread has it all! A nice chewy crust, a lovely dense texture, some sweetness from the cherries and chocolate and nuttiness from pecans! If that's not enough, it also contains whole grains for extra protein and fiber!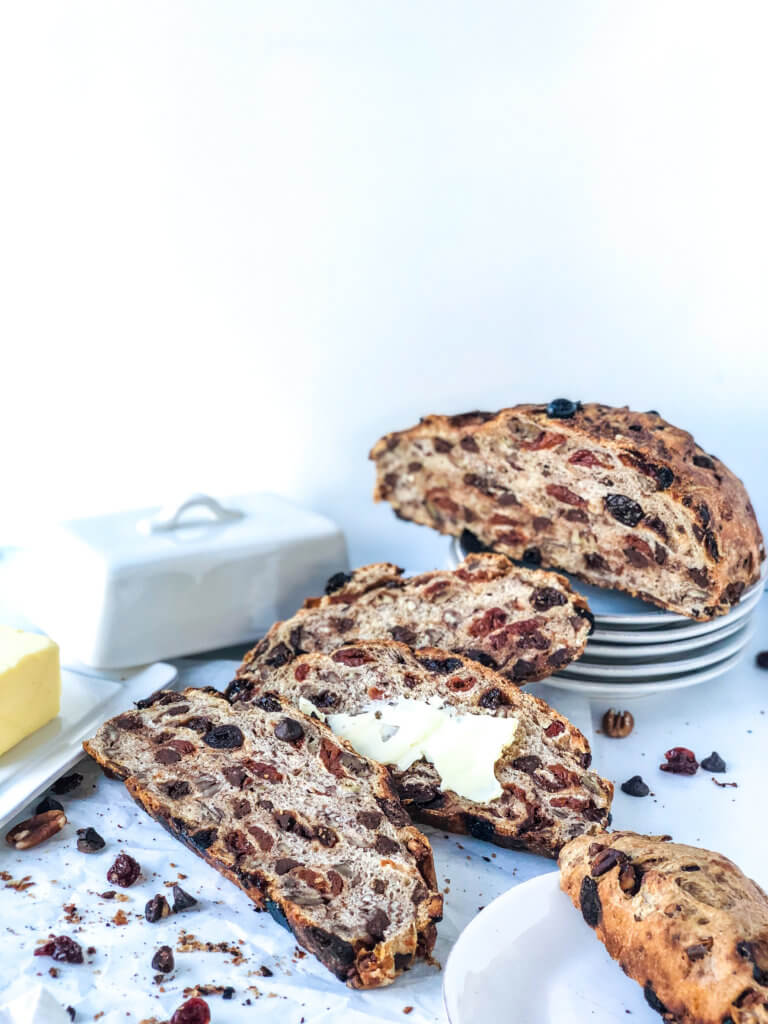 I've been thinking a lot about dough lately. If you've been following me, I discussed at length my childhood obsession love for play-doh in the post about making Savory Parmesan Fennel Scones. I love the feel of my hands in the dough, imagining what it will become. Making bread is the easiest way to get that same hands-in-the-dough creative feeling I had when I was a kid.
But this time, a yeast dough was what I wanted. And, since I'm trying to substitute whole grains when I can, I wanted a recipe that would contain some whole grain. Additionally, I'm not really a yeast-bread expert (yet!)  so I was hoping it would be pretty easy. Am I asking too much here? (The correct answer is, "You NEVER ask too much, Laura!") This No Knead Chocolate Cherry Pecan Loaf totally fits all my kneads needs! 
Even if you've NEVER baked with yeast, this bread is so easy! You'll just treat the yeast as another dough ingredient. No need to bother with water temperature, no need to wait until it bubbles and foams, just mix it right in. Just be sure to use "INSTANT" yeast.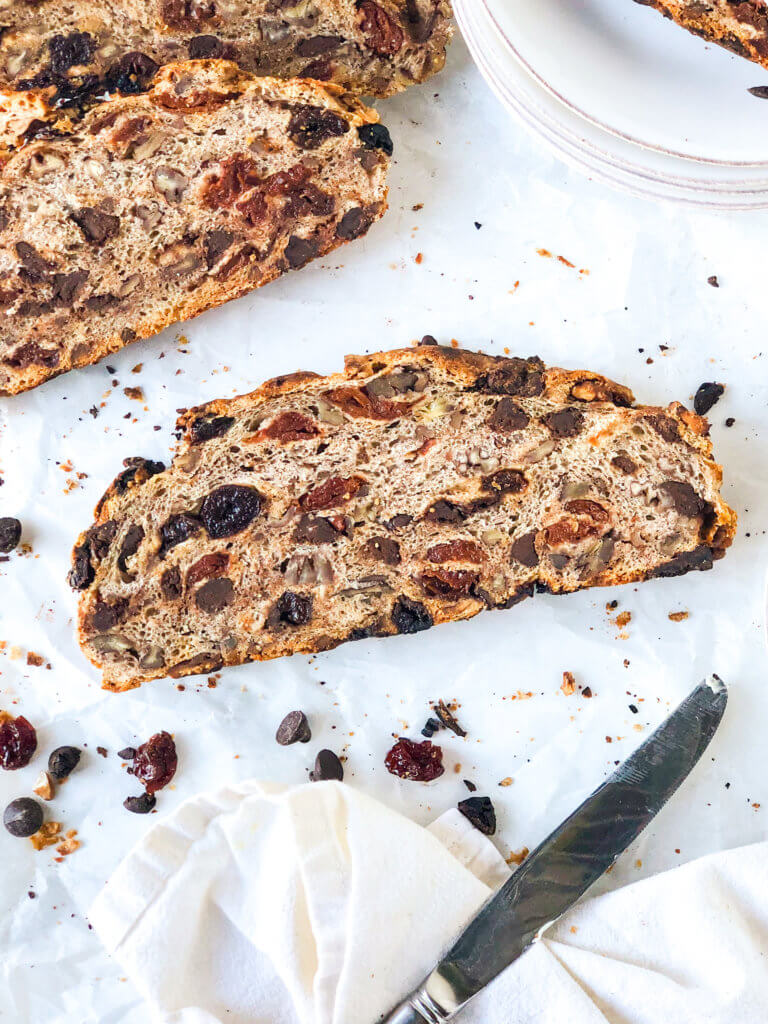 In addition to all-purpose flour, the bread has some whole wheat flour and rye flour. Rye flour added the best flavor and texture to the Chewy Ginger Molasses Cookies I made during the Holidays, so I was thrilled to use it again. The dough also contains bittersweet chocolate chips, dried tart cherries and toasty pecans, for a symphony of flavors! You can tell this is definitely a substantial loaf! The grain is dense, the crust chewy. And in addition to its magnificent texture, this loaf definitely delivers what counts the most: Flavor!
I have to say, this may be the best bread I've ever made. It's awesome naked, just sliced and enjoyed on it's own. But a pat of salted butter never hurts, either. And, toasted, it's a marvel – with its warm, crispy surface and melty chocolate chips. A shmear of cream cheese is awfully good on that toast, too! Because, sometimes gilding the lily is the thing to do. So satisfying!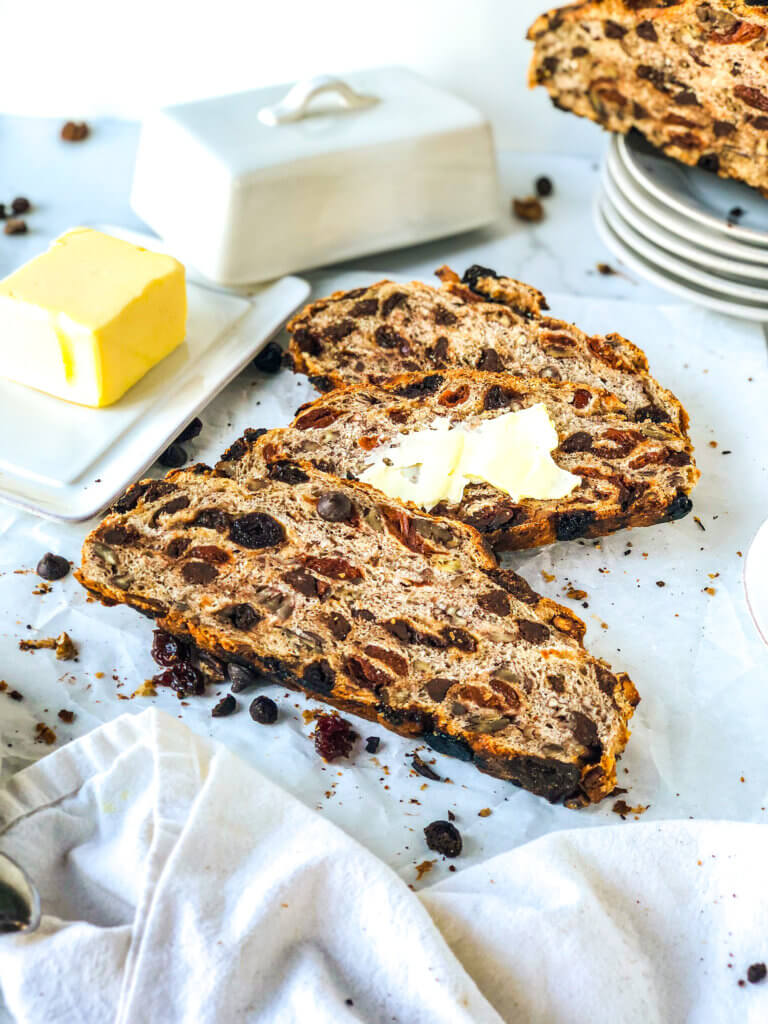 And, if you haven't made a no knead bread before, here's the real treat. If it's not perfectly clear, you don't have to knead the dough. Just mix the dough ingredients, all of them, in a bowl. Cover and let it rise overnight, at least 12 hours. It will have doubled in size. So then you'll fold it a couple times, form it into a ball. Set it in the dish in which you'll bake it, and let it spread out and rise a second time. About 2 hours. Then, bake it. After it cools, and you taste a slice, I dare you to say it's not among the best tasting breads you've had. You'll be amazed you can bake such a wonderful loaf.
So make this easy and crazy delicious No Knead Chocolate Cherry Pecan Bread Loaf. Even if you've never made a yeast bread, this one is easy, impressive and crazy good!
Enjoy!
If you're looking for other bread recipes, check out these amazing Chocolate Cherry Bread Rolls or these gorgeousApple Cinnamon Rolls with Salty Maple Glaze, or this simple Irish Soda Bread with Currants and Orange Essence.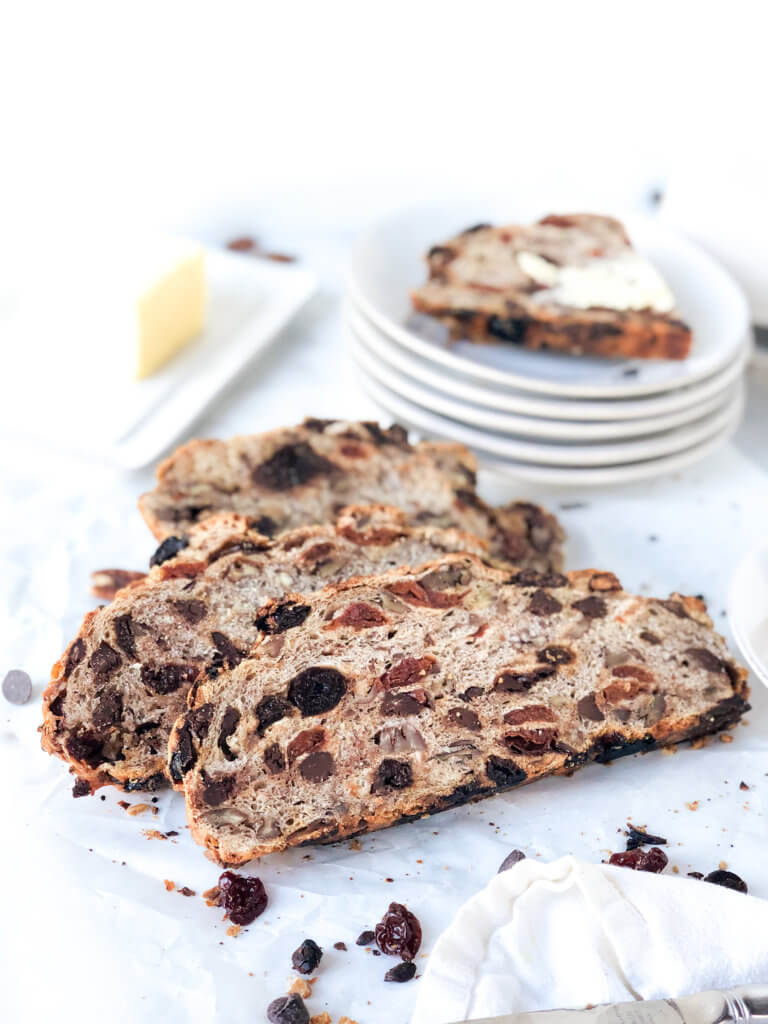 No-Knead Bread tips ->
This post has Amazon Affiliate links, by which I earn a small commission at no cost to you, if you should make a purchase. 
No-knead breads have changed the way many of us bake! There are countless recipes out there. But I was attracted to this one because it contains whole wheat flour and rye flour as well as all-purpose. More nutrition for me is a better bread. And this No-knead Chocolate Cherry Pecan Bread is from King Arthur Flour,  although I adapted it using directions from JP Hamel, which I also found on the King Arthur Website.
The process for this No-Knead Chocolate Cherry Pecan Bread is so simple, that seriously, anyone can do it! Just mix together the dry ingredients, add water and chocolate chips, pecans and dried tart cherries. This makes a soft, but dense, dough. Let it rise at least 12 hours. Fold it on itself a couple of times, and make a ball.  Put the ball in your prepared vessel and let it rise another 2 hours. Then bake. 
No knead breads use a slow rise to do the work that kneading usually does. The dough is often wetter than traditional bread dough, so you likely couldn't knead it if you wanted. I found this dough to be sticky but not necessarily soft, as it uses less water than some no-knead loaves. 
King Arthur recommends SAF Yeast for doughs that rise slowly. I used Red Star Yeast, which is from the same producer, but I'm planning to try the SAF to compare how it works.
The other thing I love about this recipe is that it includes whole grains – both whole wheat flour and rye flour. If you don't have or want to buy rye flour, you can substitute whole wheat for the rye portion, just use 1/2 cup.
The original recipe also suggested using a preheated heavy pan and something to use as a lid. But in this recipe, don't use cast-iron vessel to set the dough in. It will BURN that lovely dough, guaranteed!  I thought about using my 6-qt. Stockpot, but settled on using a room temperature 9" cake pan topped with my 10" Cast-iron skillet. You could cover your chosen bread vessel with another pot or even an oven-proof bowl. If you want, you could preheat the cover, which may result in a bit shinier, crusty-chewy top and may also encourage more rise from the bread, if you like.
It does get pretty dark brown, but this just means a nice craggy, crusty bread. It's so good, so dense, and a beautiful sweetness from the dried tart cherries and chocolate chips. If you use vegan chocolate chips, or certain bittersweet brands, it is also vegan!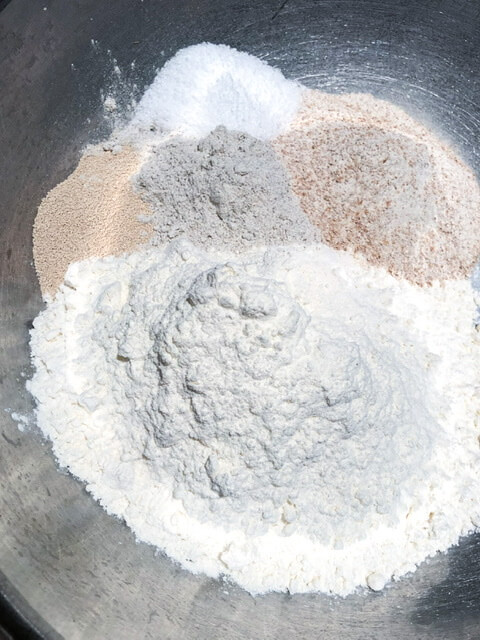 Print
No-Knead Chocolate Cherry Pecan Bread
This no-knead bread is my new favorite loaf! It's a dense loaf, with some whole-grain flour, with a touch of sweetness from the chocolate chips and dried cherries. Perfect plain, or toasted with a touch of salted butter!
Like most no-knead breads, it has a long rise time. Just mix the ingredients the night before baking (or early morning), let rise 12 hours. Then shape and let it rise a second time for 2 hours. Pop it in a hot oven, covered, for 20 minutes, then uncover until fully baked.
I used a 9" Cake pan, and covered with an inverted cast-iron skillet. It's best not to use a cast-iron pan to hold the dough. Some people have had difficulty with an enameled cast-iron as well, so I would recommend a 9" cake or pie pan, and then cover with a large skillet, pot, or an oven-proof bowl.
I found this recipe at King Arthur Flour and adapted it with suggestions from PJ Hamel. 
The baked loaf keeps fresh when wrapped tightly at room temperature. You can also wrap tightly and freeze up to 3 months.
Author:
Prep Time:

15 min

Cook Time:

50-60 min

Total Time:

15 1/2 hours (includes rising time)

Yield:

1

–

9

" round loaf

1

x
Category:

Breads

Method:

Baking

Cuisine:

American
Ingredients
3

c (361g) AP Flour (I used Unbleached)

1/2

c (53g) Rye Flour (can sub whole wheat)

1/2

c (57g) Whole Wheat Flour

1

T Kosher Salt

1

t Instant Yeast

1 1/2

c + 1 T (354ml) water (cool)

3/4

c (92g) Dried Tart Cherries

1/2

c (85g) Bittersweet Chocolate Chips (semi-sweet ok)

1 1/2

c (159g) Roasted Pecans, chopped (Note 1)
Instructions
Gather Ingredients and Make Dough
In a large bowl, whisk together the flours, salt and yeast. Add the water and stir until incorporated. Add the cherries, chocolate chips and chopped toasted pecans, stirring to incorporate. The dough will be tacky and somewhat stiff, as in the photo. Cover with plastic wrap, and let rest at room temperature for at least 12 hours. The dough should be softer and should be doubled in size and  puffy.
Pour the dough onto a lightly floured counter or board and fold it onto itself 3-4 times. Let it rest on that surface for 15 minutes. During this time, grease or parchment-line a 9" cake pan, and choose a skillet or wide pot to place over that pan once it's in the oven. Place the greased or lined cake pan on a sheetpan.
After the 15 minutes, shape the dough into a ball, and place it in the lined pan. Cover with plastic, and let rise at room temperature for 2 hours. At around 1 1/2 hours, check by poking the dough with your index finger. A slight indentation should remain. (If the slight indentation is not left, give it a bit more time, maybe an additional hour)
Preheat your oven to 450F or 425F for Convection/fan oven. [During the preheat, you can place the pan or skillet you will use as a cover into the oven to preheat. This will help the baking process. But don't do this without protecting yourself from burning! You will need to remove it from the oven while hot and place it over the dough. Once oven is preheated and the 2 hour-mark (above) is met, which should have risen and spread a bit in the pan. Cover the pan with your [potentially HOT!] skillet or pot and place the entire sheetpan in the preheated oven.
Bake the bread for 20 minutes. Remove the covering skillet or pot, and continue baking for 30-40 minutes, until loaf is a dark golden brown. If you insert a thermometer, a loaf that is done will be 200-205F. Mine was perfectly done at 30 minutes. You can check after 20 minutes if you feel your loaf is baking too quickly. If it hasn't reached 200F, you can tent it with foil to slow the browning.
Remove the loaf from the oven and turn bread out onto a cooling rack. 
IMPORTANT: Do not slice loaf until it is fully cool, or it may be "gummy". No one wants that.
Notes
1. I purchase Salted Toasted Pecans for this recipe. But you can toast your own by placing 1 1/2 cups pecan halves on a sheetpan, and baking at 350F until they are nicely toasty, about 6-8 minutes. Watch the carefully so they don't burn.  A good way to tell when they are done is when you can smell their aroma. You don't need to salt them if you don't want.
Nutrition
Serving Size:

1/16 recipe
Keywords: No knead, chocolate, whole wheat, pecan, rye flour, loaf, bread, yeast
Recipe Card powered by
PIN No-Knead Chocolate Cherry Pecan Bread