Chocolate. Bread. Pudding. 3 magical words, each with its own special place in my heart. But when you combine them, it's definitely more than the sum of its parts! Fantastic!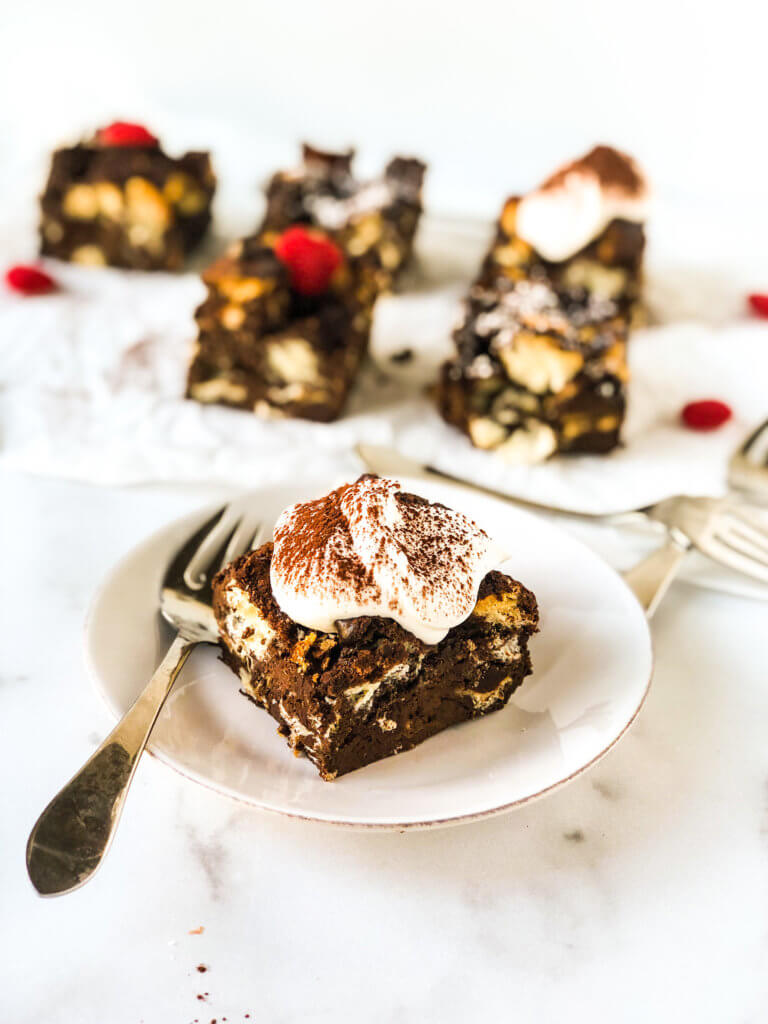 The first time I ever tasted Chocolate Bread Pudding, or any Bread Pudding for that matter, was years ago. I used to go to one of those places you would go and prepare a month worth of meals for your family over the course of a couple hours. Remember those? I really loved the food and the ease of it all. It was perfect for a family with full-time professional parents. Anyway, the owner talked me into bringing home their Chocolate Bread Pudding and I (kind of reluctantly) took it home to try.  
It sat in my freezer for a couple of weeks, but then I warmed it up. Imagine my surprise when it was – seriously! – about the best thing I had ever tasted. In fact it was so good, I wasn't sure I even wanted to share it with anyone. Where had this been all my life? But, I still kind of kept quiet about it. Didn't even mention it to my kids. Because when you are a kid, who wants something called Bread Pudding? I mean, bread is good, pudding is yummy, but together? Maybe not so good, you think. So why even try to convince them, because, to be honest, more for the grownups! And, in the time I would spend convincing them of its virtues, I could've enjoyed another slice myself.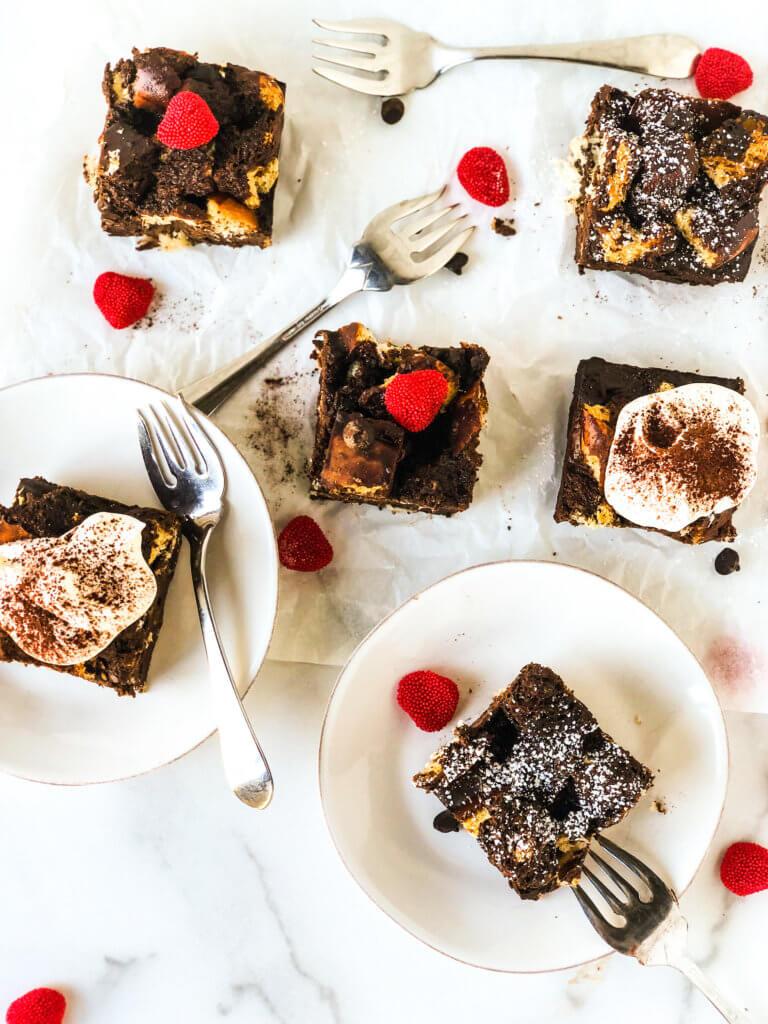 Eventually I gave it up and told them just how delicious it was, and, reluctantly, they tried it. So now, of course, Chocolate Bread Pudding is a family favorite. A side benefit of this, too, is that when I say something is delicious, they are more likely to believe me!
And, I've been trying to re-create that recipe ever since, and this recipe is as close as I've come. I use a recipe from Andrew Zimmern as the base of my recipe, but I have a few changes and a few different variations. I list these below. I sometimes add all three – cinnamon, cream cheese, espresso powder. Gilding the Lily, to be sure. But so worth it!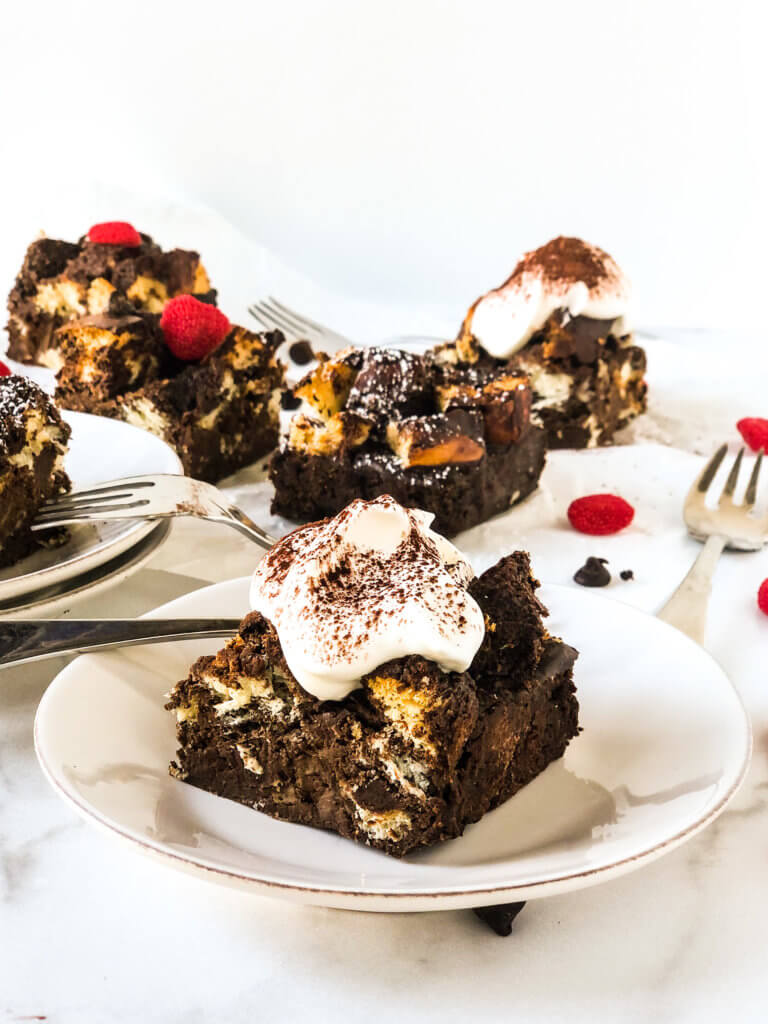 So, if you're like me, and late to the Chocolate Bread Pudding Party, come on in! It's amazing! 
And, tell me, is there anything you cringed at the name, (you know, like "pork butt" or "oxtail") but found to be exceptionally delish? Like the Chocolate Bread Pudding was for me?
Enjoy!
If, like me, you're a Bread Pudding fanatic, don't miss my Brioche Bread Pudding with Butterscotch Sauce!
If you're looking for chocolate desserts, check out this deceptively simple French Chocolate Tart with Brown Butter Crust, or these  Gluten-Free Dark Chocolate Tahini Brownies, or this drop-dead Gorgeous Chocolate Biscuit Cake!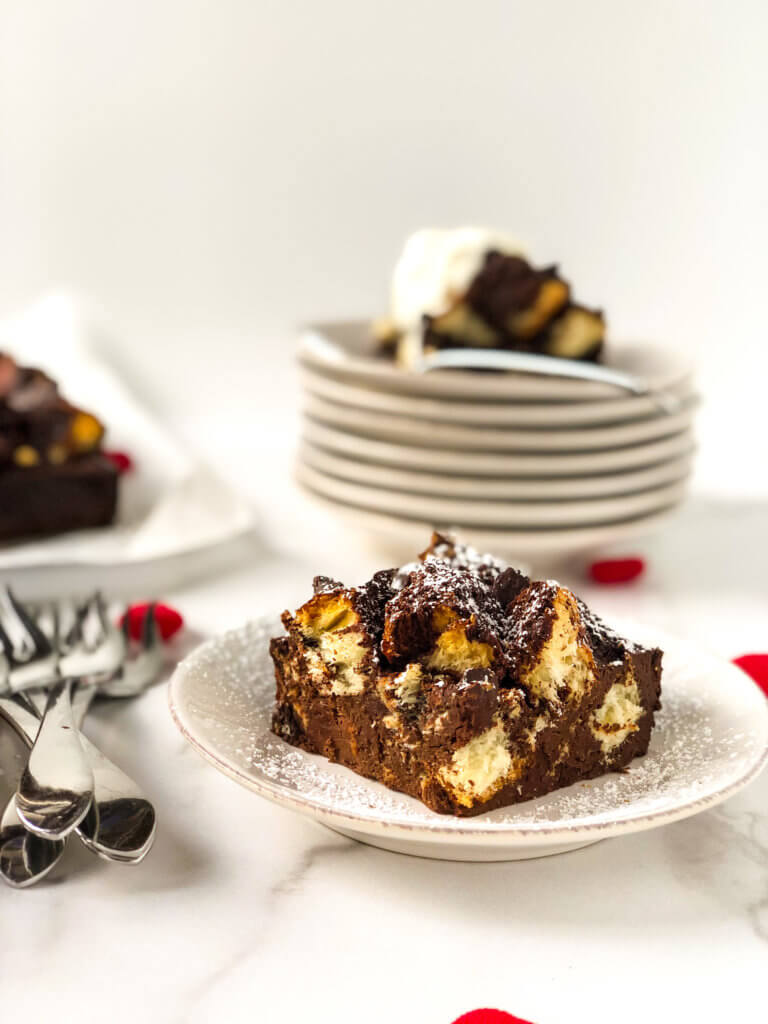 Chocolate Bread Pudding Recipe Details ->
This post may contain affiliate links. As an Amazon Affiliate, I may earn a small commission, at no cost to you, for purchases you may make of items linked from this site.
The best thing about bread pudding is that it is a dessert that is not too fussy, and not too difficult to make. If you have slightly stale bread, it's perfect for bread pudding. If your bread is fresh, it's a good idea to toast it in the oven first, because that way it will absorb the liquid custard better.
You can use any type of bread you want. If you use French or Italian bread, the bread pudding will be a bit chewier and heartier, and a Brioche pudding will be more tender, soft, and buttery. A denser bread, like Challah, may not absorb as much custard as a more open-crumb bread like Sourdough. But regardless of the bread, it makes a superb Chocolate Bread Pudding!
You can also use any pan, from casserole dish to cake pan to cast iron skillet. For this recipe, I used a 13×9 pan, but in the past, I've used a 10" springform for a more formal presentation at the end. You'll want to cut or tear your bread into small pieces – about 3/4" cubes. Then, if they aren't quite stale, it's nice to dry them in the oven. 300F for 20-30 minutes should do the trick!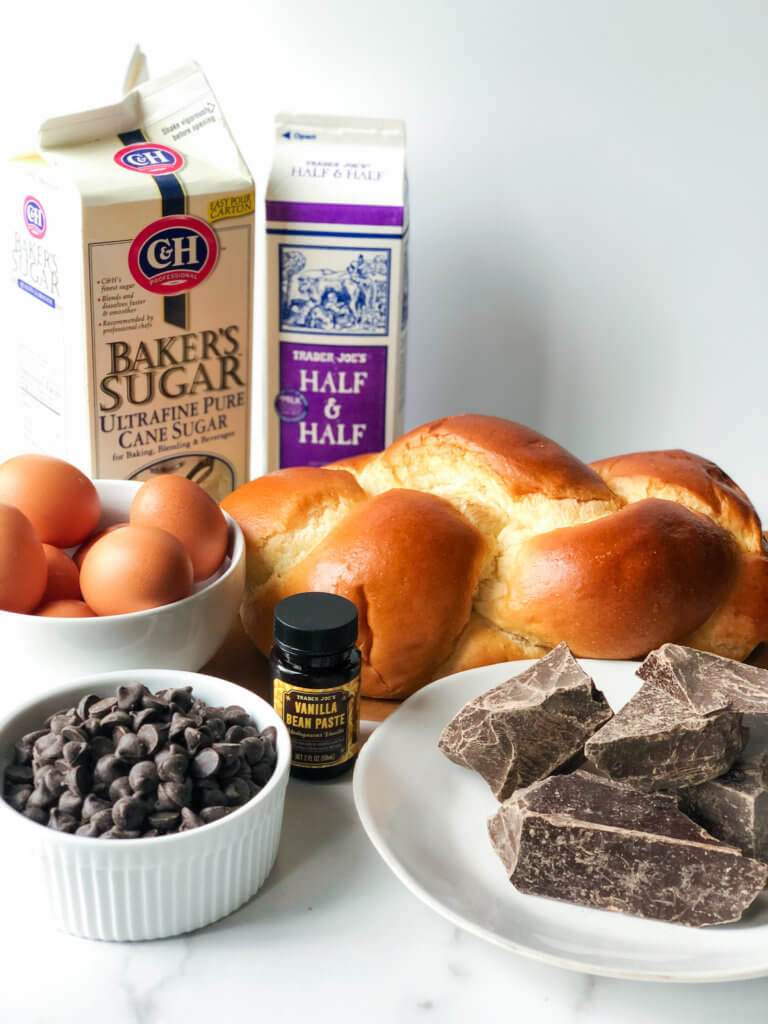 While your bread cubes are in the oven, its a good time to prepare your baking pan for the pudding. You can use a 13×9 pan, a 10-inch Springform pan, or a large cast-iron pan. This time I used a 13×9. You'll need to butter or spray it, and if you don't want to serve it from the pan, line with parchment so you can easily remove the pudding.
Then, make the custard. You can also slightly vary the amounts of cream or milk, just as long as the total liquid amount is the same. I used a quart of Half-and-Half, instead of 2 cups milk plus 2 cups cream.
Heat the Cream and milk until simmering – that's when there is a fair amount of steam coming from it, and some bubbling along the sides of the pan. Then pour the hot cream mixture over the finely chopped chocolate. (Use Good Chocolate – I like to buy it in the bulk section of the grocery, where it's cheaper, or you can purchase it online, Here) Wait 2-3 minutes for the hot cream to melt the chocolate, then whisk or stir. Add in your vanilla (I used Vanilla Bean Paste, but Vanilla Extract works just as well!)
Next, mix together eggs, yolks, sugar and salt. Do this in a large bowl. Slowly introduce the hot cream to the egg mixture, a ladle at a time. This prevents the eggs from cooking, since the cream is so hot. Once the mixtures are combined, place half the bread cubes and half the chocolate chips in your baking vessel. Pour half the custard over it. Maybe mix it around a bit. Then repeat with the second half of the bread, chocolate chips and custard. Use a spoon to press the cubes down into the custard.
The best thing to do at this point is to cover that dish with plastic wrap and put it in the fridge overnight. But if you don't want to, or can't wait, at least wait 30 minutes for the cubes to absorb as much custard as they can.
When you're ready to bake, remove the plastic wrap, and pop into a preheated 325F oven. Bake 35-40 minutes until the custard is glossy and slightly firm. Cool at least 15 minutes, then serve with lightly whipped cream. Or, go ahead and gild that gorgeous lily with a scoop of Vanilla Ice Cream! No regrets here!
Some Variations on this bread pudding include:
Add cream cheese! Cut an 8-oz. block of cream cheese into 1/2" cubes, and place the cubes in the same bowl as the chocolate chips. The cream cheese will melt, along with the chocolate. This will give your pudding extra richness! 
Add 1 1/2 – 2 tsp Cinnamon to the cream mixture and whisk in. This adds some extra warmth and flavor to the pudding. So good!
Add 1 tsp Espresso Powder to the chocolate mixture, this also adds some extra Ooomph! to the chocolate!
Or try all 3 of these extras! You can't go wrong here!
So give it a try, you might just have a new favorite dessert!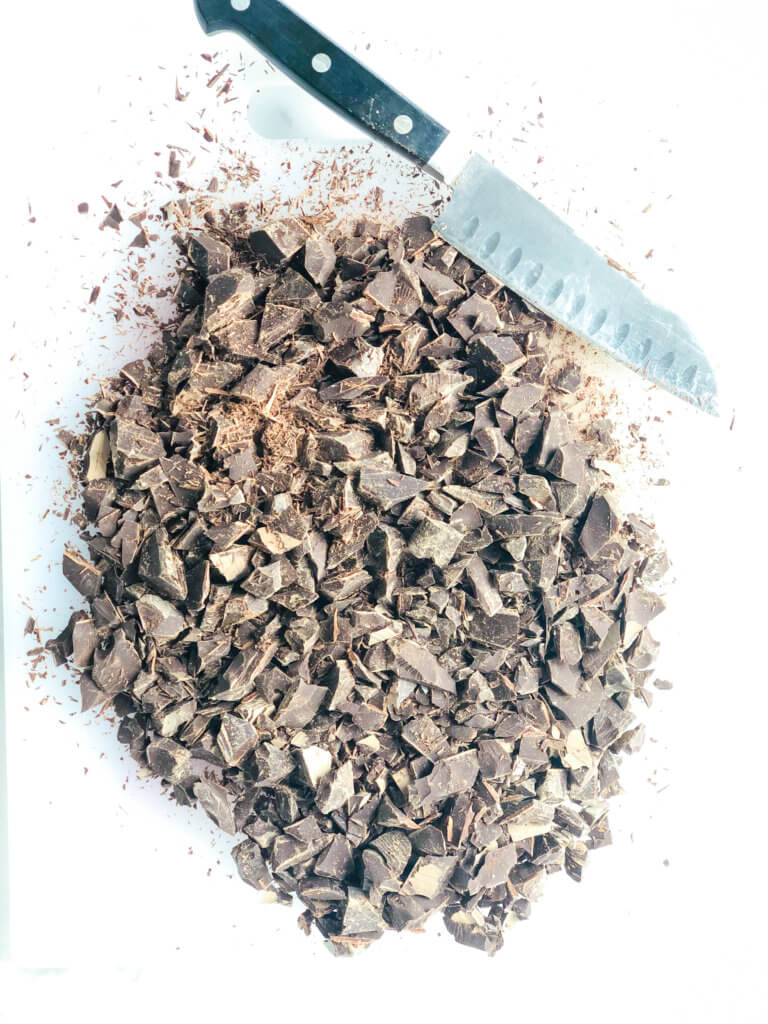 Print
Chocolate Bread Pudding
One of the most decadently delicious desserts on the planet! 
Slightly stale bread works well here. If it isn't stale-ish, you can toast the bread cubes in the oven. I used brioche bread for this recipe, but in the past have used French baguettes, or sourdough bread. You can use any bread you like, really. But a nice bakery loaf of any type really makes a great textural difference! 
I give recommendations for 3 optional ingredients – cream cheese, espresso powder, and cinnamon. You can add all, some, or none of these! They are all amazing in this dish, and are easy!
This recipe serves a crowd!
Author:
Prep Time:

45 min

Cook Time:

35-40 min

Total Time:

2 hr. 15 min (including wait time)

Yield:

16

–

20

servings

1

x
Category:

Dessert

Method:

Baking

Cuisine:

American
Ingredients
1

lb bread, cut into

3/4

– inch cubes 

2

c heavy cream

2

c milk (I had 2% in the fridge, but any will do)

2

t vanilla extract or vanilla bean paste

1

lb (16 oz) bittersweet or semi-sweet chocolate, chopped or chips

3

whole eggs

3

egg yolks

1/4

c sugar

3/4

t salt

1 1/2

c (9oz) Bittersweet or Semi-sweet chocolate chips
Optional additions: (see Notes for specifics)
8 oz

. cream cheese, cut into small cubes

2 tsp

ground cinnamon

1 tsp

Instant Espresso Powder
Instructions
(Optional) Toast your bread:
Preheat oven to 300F. Place bread cubes over a sheetpan – you may need 2. Bake in preheated oven 20-30 minutes, until toasty.
Prepare your pan:
Butter or spray 10-inch springform pan or 13×9 baking pan. If you won't be serving from the pan, then line with parchment, to facilitate removal. 
Place half the bread cubes and half the chocolate chips into your prepared pan.
Make the Custard:
Place the chopped chocolate (and cream cheese cubes, if using) in a large bowl.
In a medium saucepan, heat cream and milk (or Half-and-Half) until simmering.  You will know it is simmering when it steams. There may also be small bubbles around the side of the pan.  Remove it from the heat when you see the steam.
Pour the hot cream mixture over the finely chopped chocolate. Let sit about 3 minutes. Then stir or whisk until completely smooth. 

 Add the vanilla or vanilla bean paste. Stir again.

In a large bowl, whisk together the egg yolks, sugar, and salt. Temper the eggs by slowly spooning in a small amount (1/4 cup) of the hot cream while whisking briskly. Continue to slowly add the chocolate mixture, while whisking, until it is completely incorporated with the egg mixture. 
Compose the Bread Pudding
Pour half the custard over the bread cubes in the pan, covering all of them.  You can use a spoon to push the cubes down into the custard for coating. Then repeat with remaining bread cubes, chocolate chips and custard.

Cover the dish with plastic wrap. Let sit at room temperature for at least 30 minutes, but refrigerating overnight prior to baking is highly recommended. (It completely enhances the pudding texture and flavor! You won't be sorry!)

When you are ready to bake the pudding, preheat oven to 325F. 

Uncover dish and bake 35-40 minutes or until custard is glossy and nicely set. Let cool 15-20 minutes before serving.
Serve warm, with lightly whipped cream.
Notes
Variations include:
Add 8 oz. cream cheese, cut into 1/2" cubes, to the chopped chocolate. It will melt along with the chocolate when you pour over the hot cream/milk mixture. If using a firmer bread, such as sourdough, then reduce milk and cream to 1 1/2 c each.
To enhance the chocolate flavor, add 1 t Instant Espresso to the egg mixture.
Adding 2 t ground cinnamon will add an interesting note to the bread pudding. Whisk it into the cream/milk mixture when simmering.
Nutrition
Serving Size:

1/16 recipe
Keywords: Chocolate, Bread Pudding, Chocolate Bread Pudding, Recipe
Recipe Card powered by
PIN Chocolate Bread Pudding ->