Cherry Almond Granola – a Vegan and Gluten-Free recipe I made in honor of a special friend and extraordinary human being – a Celebration of Life!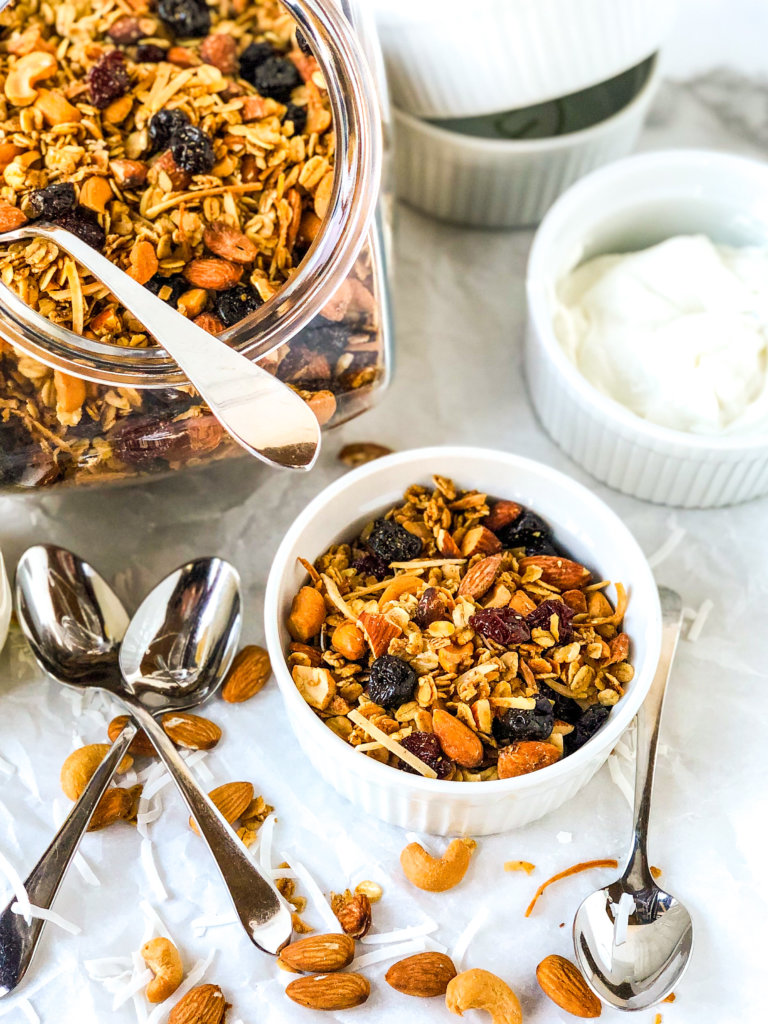 I hesitate to lead with this, because I know some readers don't want to know the stories behind recipes. And although this story is not pretty, it is filled with beauty. I hope you can stay with me here. If not, go ahead and press the "jump to Recipe" button just below the post title.
Anyway, there was a time that I truly physically felt death coming to get me. I actually told a doctor that's what I felt like. Because I literally couldn't take a full breath. I would wake up gasping. Also I had some travelling joint pain, quite severe at times. As the days passed, though, if I walked more than just a few steps, I could barely feel my legs moving, and just felt like my body was floating through space. I slept ALL.THE.TIME.
But I didn't admit it to anyone. Because this couldn't be anything serious, right? I'm healthy. I work out. I eat healthy food. And, I'd been to 2 different doctors who'd thought it was just a virus, or maybe strep. Ok, so the third doc suggested it might be more serious, and did a scan that showed something more serious was going on. But I was unable to see the specialist, a surgeon, for another 10 days. But this story is not about me. I just needed to give you the backdrop of where my deep love and devotion to my dear friends, who became my heroes, comes from. And what they did to become my heroes.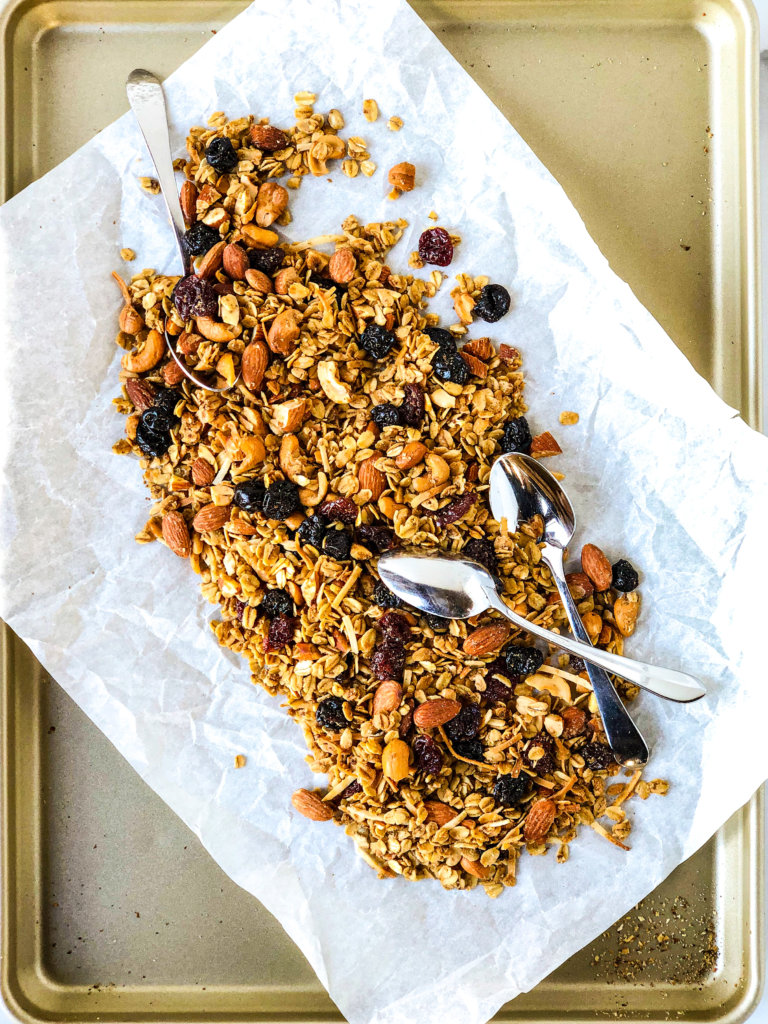 A couple years prior, Kathleen, who ran the school Scrip program with me, and her husband Phil had become dear friends. My husband called her when I didn't have the sense of urgency one should have with these quickly worsening symptoms. His call, accompanied by what Kathleen did next, truly saved my life – 100 percent. I couldn't see (or admit) how sick I was. I didn't want anyone to fuss over me. But, Kathleen, who worked at a hospital, (of course) knew exactly who to call. She knew who (she could force to) would see me immediately. She knew the doctor that could tell by the tone of my voice that this was urgent. It was Kathleen who got me to the physician that took over my care and saved me. I was in the hospital before the surgeon who biopsied my lymph nodes ever got the report back. Because Kathleen is a Warrior.
And Phil, her husband, one of the best human beings (and one of the best cooks!) I've ever known, sent homemade food to the hospital for me with Kathleen daily. Phil had a way of making everyone around him feel special. Over the course of the first 6 months I was there maybe 40 nights, many with Phil's homemade lunches the next day. If you've ever spent time in the hospital, you know how lonely it can be. And, Phil gave me that elusive quality of life so difficult to find in hospital, all those days, through the gift of homemade meals. A true gift. From a true hero. I love these people.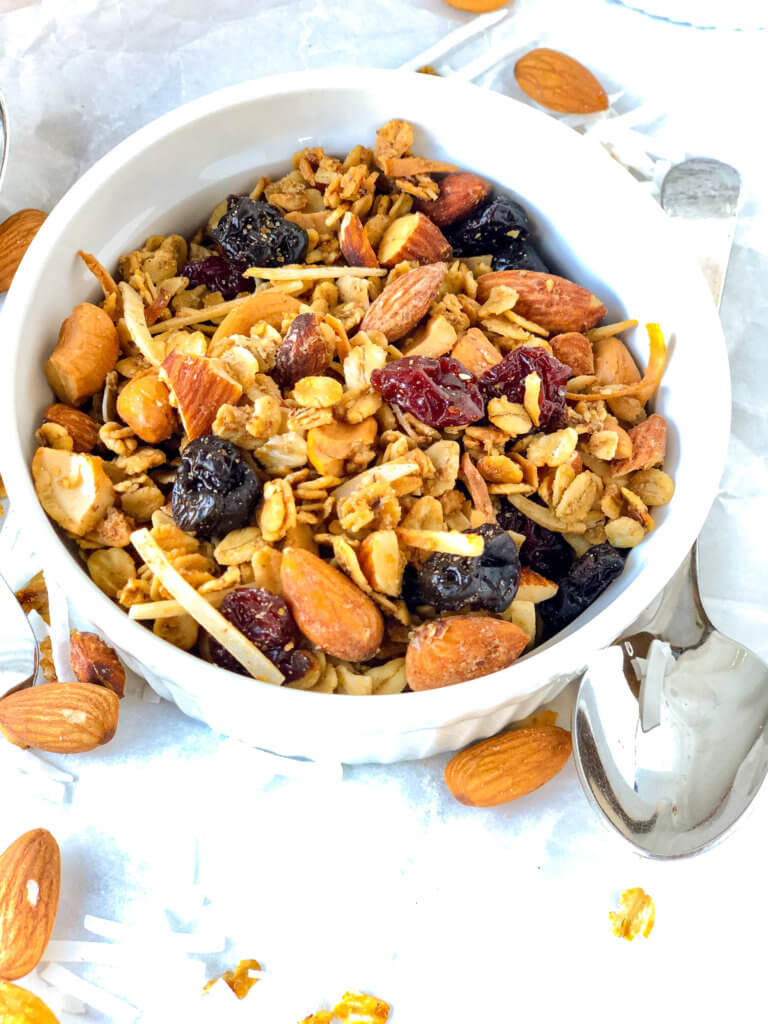 As I write this, I'm on my way home from the Celebration of Phil's Life. In addition to my sorrow for his precious Kathleen and daughter Grace, here are my thoughts: I'm feeling a bit of Survivor guilt. Why could my life be saved and not his? But, again, this is not about me.
In the words of Kathleen, Phil's was a life beautifully lived. Knowledgeable Botanist and Horticulturist, skilled Landscape Designer. Creative cook extraordinaire, it was such a treat when he cooked. Lover of all things outdoors. Loving and Dedicated Husband and ("the OG") Girl Dad. Music aficionado. Wickedly dry sense of humor. Captain of the Ship. Always smiling. His life philosophy was this: Find something you love and do it beautifully. He was an Exceptional human who absolutely did live his beautiful life to the fullest. And for this, his life was celebrated in the way he deserved – with so much beauty. His favorite food, music, friends, a Spring garden of gorgeous flowers.
So, what happens when your heroes are no longer with us? And you'd have given anything to be THEIR hero for once?
All we can do is honor them in a way that is fitting to them. For me, today, it's making a version of Phil's favorite Granola, a granola made by the (recently closed) Con Pane Bakery in San Diego. I researched
Con Pane Bakery
, formerly in San Diego, to see just what was in that wondrous stuff. The flavor highlighted was their Cherry Almond Granola, so that's what's in here. Dried tart cherries, coconut, almonds and cashews. I also added some cinnamon and almond extract, to add a little extra oomph. And I'm not even exaggerating when I say – this is the BEST Granola I've ever made! And I eat homemade granola virtually every day.
I know this isn't Phil's granola. I don't even know if my Cherry Almond Granola tastes anything like Con Pane Granola. But it will be a reminder of his beautiful life and legacy. It's all I can do at this point. And of course, do my best to live a beautiful life. It's what we all can do. So be like Phil! Find something YOU love and do it beautifully.
And, Please Enjoy!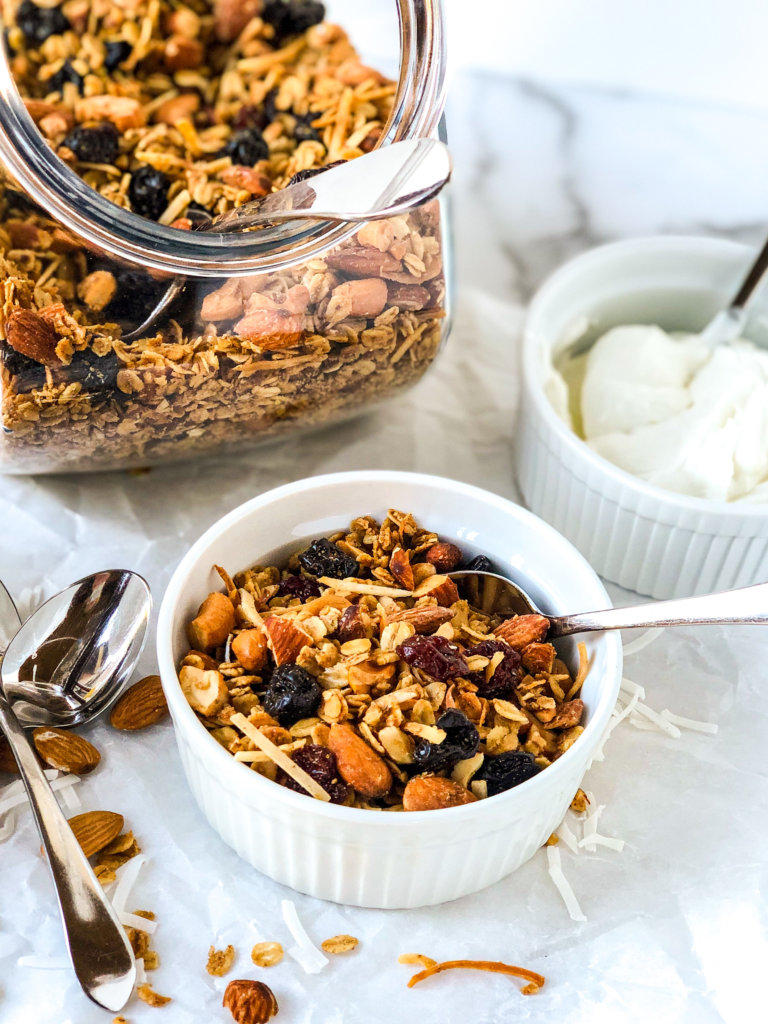 Cherry Almond Granola Recipe Tips
Granola is one of those dishes that is crazy-simple to make. Just start with the ingredients you want: oats, nuts, coconut, flavorings. Add a bit of sweetness and some oil to toast the oats and nuts. Pop in the oven and stir a couple of times. It's done when it's a beautiful golden color.
But you can make this recipe your own.
Don't want to use Olive Oil? Good substitutes include: melted butter, melted coconut oil, vegetable or canola oil, or any neutral-flavored oil.
Can you use different nuts, say pumpkin seeds? You can substitute any nuts for the almonds and cashews. Just stick to about 2 1/2 cups total. I chose almonds and cashews because they were used in the original Con Pane recipe. Pumpkin seeds (pepitas), sesame seeds, peanuts, all good here!
What if I don't have Maple Syrup? You can substitute an equal volume of honey for the maple syrup, just realize it's much thicker, so be sure to mix it up with the oil so it's  easier to incorporate into the he oat and nut mixture.
Do I need to use the Ground Flaxseed or Wheat Germ? If you don't have or don't love these items, feel free to leave them out. But they do add some additional nutritional benefits like fiber and healthy fats for the flaxseed and additional whole grains and fiber for the wheat germ. 
I don't have, or don't like, Almond Extract. That's fine, you can either omit it or substitute Vanilla Extract. But know the almond extract both complements the nutty flavors and the dried tart cherries.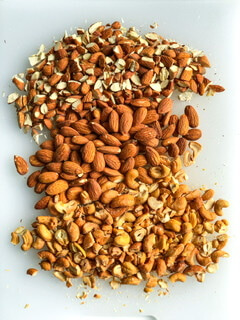 Print
Cherry Almond Granola
This Cherry Almond Granola is so tasty! It has all the flavors we love: crunchy roasted oats, almonds, cashews; toasted coconut, chewy dried cherries. A bit of cinnamon and almond extract for added depth. Perfect for eating every day, or serving for a special occasion. 
Salty and sweet, fruity and nutty, this granola offers a nice serving of healthy fats and fiber! 
And so easy to prepare! 
Equipment needed: a half-sheet pan (12×18) or 2-9×13 pans to spread the granola to bake, and a big bowl to mix all the ingredients.
Author:
Prep Time:

15 min

Cook Time:

45 min

Total Time:

1 hour

Yield:

10 cups

1

x
Category:

Granola

Method:

Bake

Cuisine:

American
Ingredients
4

c Rolled Oats

1/2

c Ground Flaxseed or Wheat Germ (I used Flaxseed Meal)

1/3

c Brown Sugar (light preferred)

1

c raw or salted cashews, roughly chopped. (See Note 1)

1 1/2

c whole or halved almonds (I used toasted, salted almonds)

1/2

c Shredded, Unsweetened Coconut


1

t cinnamon

3/4

t salt

1

t almond extract (See Note 2)


1/2

c Pure maple syrup (See Note 3)

1/3

c olive oil (See Note 4)

1 1/2

c dried tart cherries
Instructions
Preheat the Oven
Preheat oven to 325F (Conventional) – I used 300F in my Convection/Fan oven. Line a sheetpan with parchment or cooking spray.
Mix the Ingredients:
Roughly chop 3/4 cup of the almonds, and leave the remaining 3/4 cup whole or halved.
In a large bowl combine The oats, flaxseed meal (or wheat germ), brown sugar, cashews, whole almonds, chopped almonds, coconut, cinnamon and salt.
In a bowl, whisk together the maple syrup, olive oil and almond extract.
Using 1/3 to 1/2 the liquid mixture at a time, pour the liquid mixture over the oat mixture and fold in until the maple syrup mixture is evenly distributed.
Pour granola onto a large baking sheet (half-sheet size, or you can use 2-quarter sheets or 2-9×13 pans)
Bake in the oven until beautifully golden brown and crispy, stirring once or twice during baking, about 35-45 min. (I took min out at 42 min)
Cool on the pan, placed over a wire rack.
When cooled completely, fold in the dried cherries.
Serve with yogurt and fresh fruit, or with milk, or munch on a handful. Store in an airtight container. Keeps 2-3 weeks at room temp if tightly sealed.
Notes
1. You can use any type of nuts here. Extra almonds, pumpkin seeds, peanuts. I used cashews because that's what I think the original Con Pane recipe included.
2. You can omit if you like, or substitute Vanilla Extract. But I highly recommend the almond.
3. Please don't use anything but Pure Maple Syrup. Don't use the maple-flavored corn syrup varieties. You can substitute honey if you prefer, just know it is harder to stir and mix in and will be a bit sweeter than Natural Maple Syrup.
4. You can use any neutral oil, or melted butter or coconut oil if you wish.
Keywords: Cherry Almond Granola, granola, coconut, homemade granola, recipe
Recipe Card powered by
PIN Cherry Almond Granola ->