Easy Rhubarb Custard Pie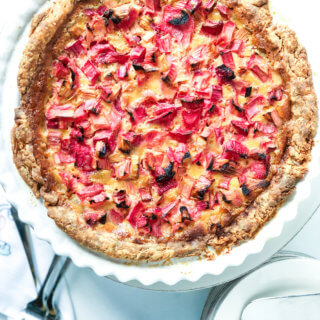 One of the most delicious heirloom recipe pies there is! Use your favorite pre-made pie crust, or make my favorite, from Food52, which you can find Here. You will just need half of that recipe, so wrap the other half tightly and freeze for future use. You will need to blind bake the crust. Instructions are included.
Ingredients
1

–

9

" Single Pie Crust (I love This one – but you'll only need half, but store-bought is fine, too!)

4 1/2

–

5

c Sliced Rhubarb (about 1/2" thick) from around 1 1/4 lb (

567g

) Rhubarb

1

c (197g) Granulated Sugar

3

Large eggs, lightly beaten

3

T (27g) AP Flour

1/2

t Kosher Salt

1

T Natural Vanilla Extract
Blind Bake the Pie Crust:
Roll out pie dough to a circle of about 11 inches in diameter. Without stretching the dough, fit into a pie plate, and flute the edges as desired. Place pie dish with crust into the freezer and chill for 15-20 minutes while you preheat your oven to 375F. 
Line the chilled crust with parchment paper or foil, and fill with dried beans or pie weights. Bake 20-25 minutes. Remove the foil or parchment with the weights at this point. The bottom of the crust should appear dry at this point. Return crust to the oven until it just begins to turn golden, about 7-10 minutes. Cool completely while you prepare the rhubarb and custard.
Prepare the Filling:
Sprinkle about 1/4 of the sugar over the chopped rhubarb and stir until pieces are coated. Spoon into the baked crust.
Whisk together the remaining sugar, eggs, flour, salt and vanilla extract.
Pour custard mixture over the rhubarb in the crust.
Cover the edges of the crust with foil. Place foil-wrapped pie onto a baking sheet and into the oven. Bake until custard is set (or nearly set – it's ok if the custard wobbles a bit in the middle), about 50-60 minutes. If the rhubarb pieces begin to blacken a bit, it's ok to place a section of foil loosely over them as well. (I did not!).
Remove pie from oven and let cool at least an hour before serving. Pie is delicious warm or completely cooled. Refrigerate any leftovers. 
Keywords: Rhubarb Custard Pie, heirloom recipe, custard pie, rhubarb, pies, baking, easy, Old-Fashioned