Sheet Pan Panzanella with crispy-skinned, juicy chicken, over crunchy Parmesan-Garlic Croutons and juicy tomatoes, melty mozzarella, and – don't be afraid – tender, delicious (I swear!) Kale! Easy to make, easier to devour!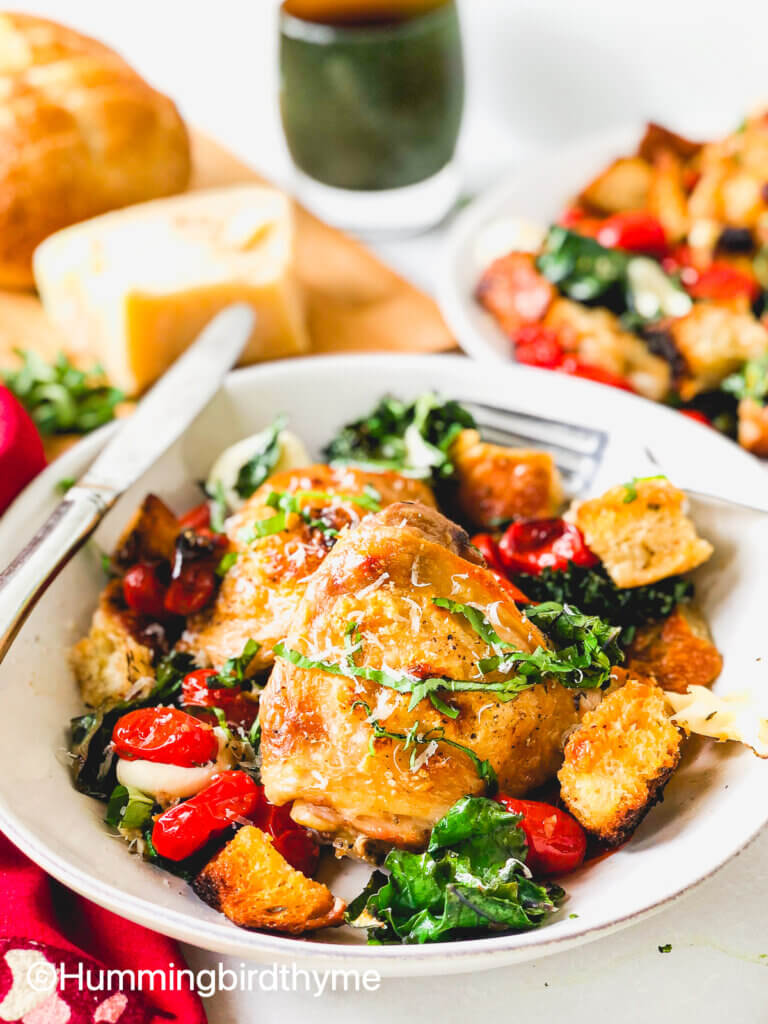 What exactly is a salad? Seems you can define it many ways. If you ask the dictionary we all carried around in our pile of books during high school, the Merriam-Webster Dictionary, you'll see several definitions for the word "salad". One states that a salad is "raw greens (such as lettuce) often combined with other vegetables and toppings and served especially with dressing." (Ok, first of all Merriam, or Webster, I'm not confident in your usage of the word "especially" here.) The second definition, decidedly more inclusive, states that a salad is "small pieces of food (such as pasta, meat, fruit, or vegetables) usually mixed with a dressing (such as mayonnaise) or set in gelatin." (Ok, um…gelatin?).
So, now that we have that figured out, meet my new favorite salad – The Sheet Pan Panzanella with Chicken! This salad, made on a Sheet Pan, doesn't specifically meet either definition, but it is a salad. It does have one raw green, so I guess that counts, since we can consider Basil a vegetable.(Maybe?) Panzanella is a Tuscan-derived salad made from olive-oil soaked or toasted bread pieces or cubes and tomatoes. Interestingly, the word "Panzanella" does not appear in the Merriam Webster Dictionary. This fact, along with the forementioned definition, makes me question that dictionary's usefulness to be honest.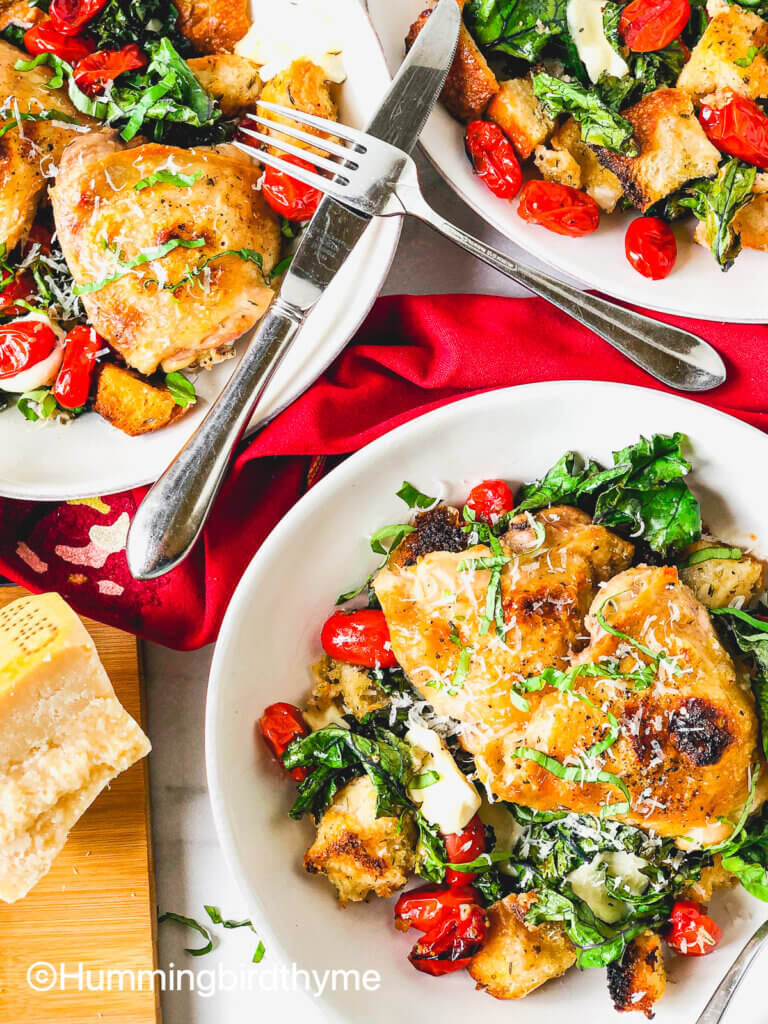 So, my Panzanella, inspired by this recipe from Martha Stewart, is made by toasting the bread cubes along with the chicken pieces, along with some Parmesan Cheese and Italian spices. Accompanying these two oven-browned items are some nice chunks of Mozzarella Cheese and kale – I know what you're thinking – so, please, don't skip the kale. This is THE WAY to cook kale for those who say they don't like kale. At the very end of the bake, when the chicken is cooked through, you'll add pieces of kale, and the ready-to-be-melty cheese and Broil it! This 2-minute quick cook method makes the kale so tender, the kale-haters at your table won't even know it's kale. I promise. And I have data, it was eaten twice at my table, no questions asked. It's tender, sweet, and did I say, tender?
The quick broil also crisps the chicken skin, so you're left with a salad of sweet, tender Kale, crispy-skinned juicy chicken, melty globs of mozzarella, and toasty, garlic-parmesan croutons. Now, THAT's a salad!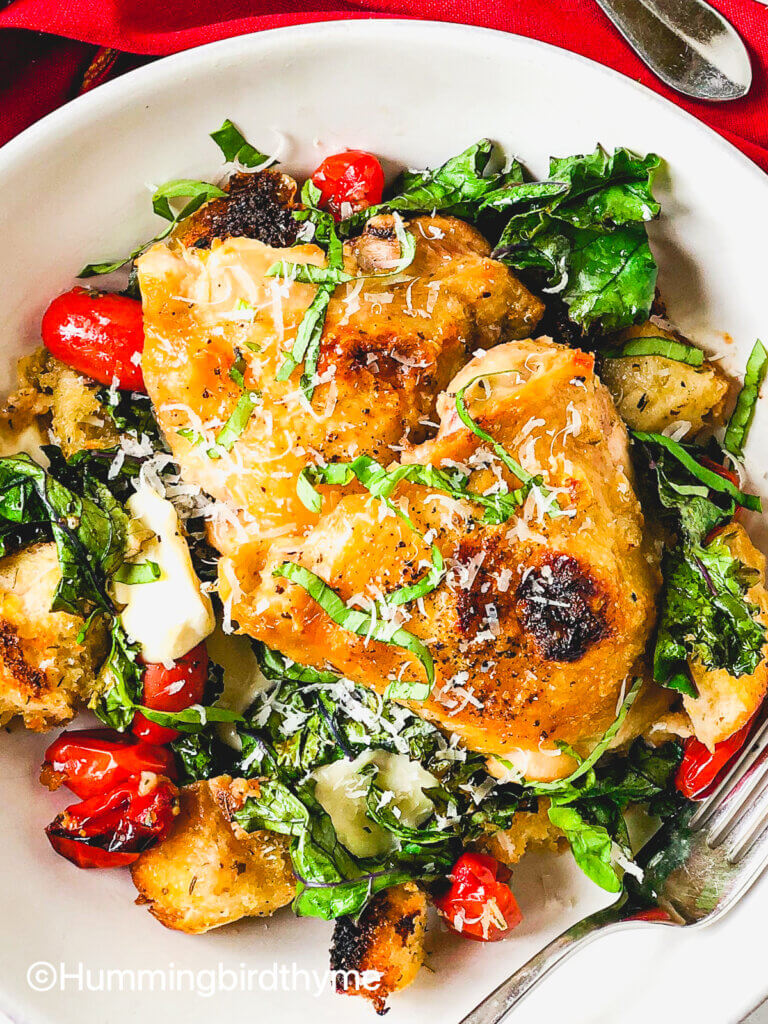 So, what do you think? Is this a salad? OR, is this a SALAD! I'm crazy about it, and I bet you will be, too!
Enjoy!
Looking for other delicious salads? How about:
Chicken and Mango Salad with Tangy Lime Poppy Seed Dressing
Farro and Tomato Salad with Fresh Basil and Mint
Chicken Salad with Herby Buttermilk Green Goddess Dressing
Pioneer Woman's Big Steak Salad
Step-by-Step Panzanella Recipe Instructions:
So, this is a super-easy sheet pan dinner "salad". What you'll do first is cube the bread. You could use day-old bread, or a fresh loaf – it's all good! A rustic loaf or a beautiful sourdough loaf, whatever you like eating as bread, you'll like as a crouton! Cut about 5-6 cups worth, combine with some tiny tomatoes, then season with spices, Parmesan cheese, salt, pepper, a drizzle of olive oil. Pour it all out onto an unlined sheet pan.
Then, prep your chicken thighs. Around 3 lbs is usually around 7-8 chicken thighs. Just trim any excess skin, salt and pepper them on their bottoms and tops, and rub them with a bit of olive oil. Place them over the bread cube-tomato mixture. Into the preheated oven. In 25 to 30 minutes, they should reach 165F and be done. You'll want to crisp up the skin and also cook your kale and melt the mozzarella. So turn on the broiler.
Remove the chicken from atop the croutons, maybe give them another stir. Place some cut and lightly oiled kale over the top. Add the mozzarella balls or pieces, and the chicken thighs. Broil 2-3 minutes or until the chicken skins look golden and crispy. Then, take it out of the oven.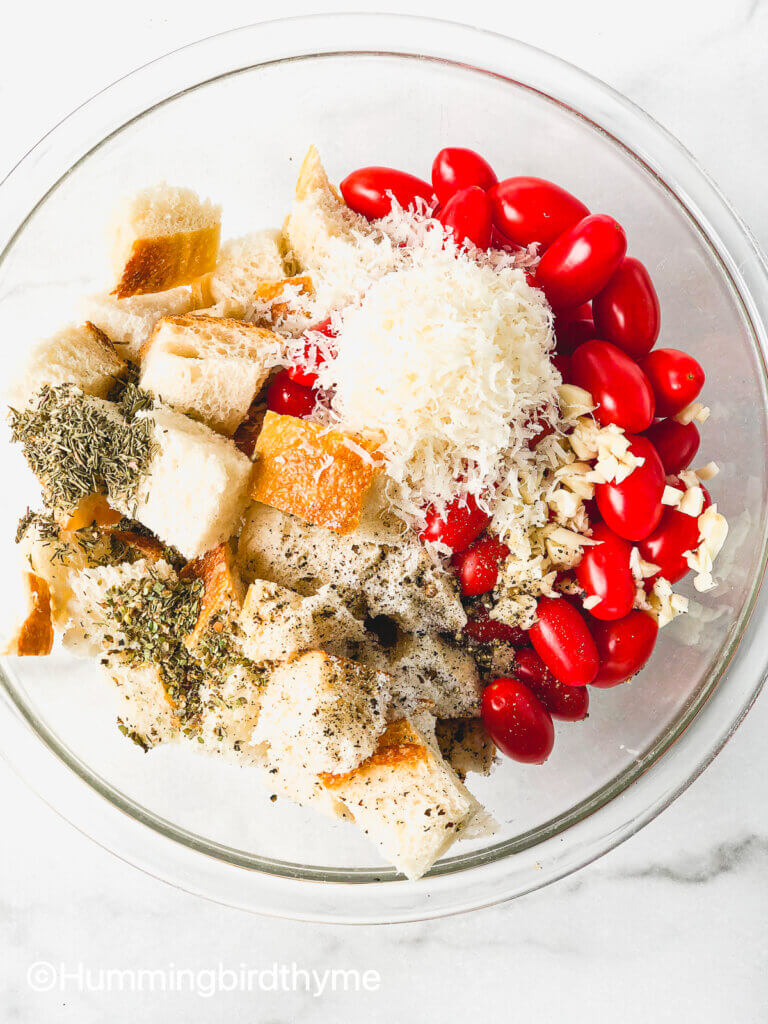 You'll want to top the salad with some fresh basil. You can tear the leaves into smaller pieces, but I feel like basil chiffonade makes a nicer presentation. To chifffonade, you'll just stack 8 or so basil leaves on top of one another, then, using a sharp knife, make very thin slices. You may need to do this to 2-3 stacks of leaves, depending on your own personal love of fresh basil. I use a lot of fresh basil on mine, because I love that flavor so much! I hope
And, since you've used the juicier chicken thighs, the leftovers are just as good as first-time around. I hope you love this salad as much as I do!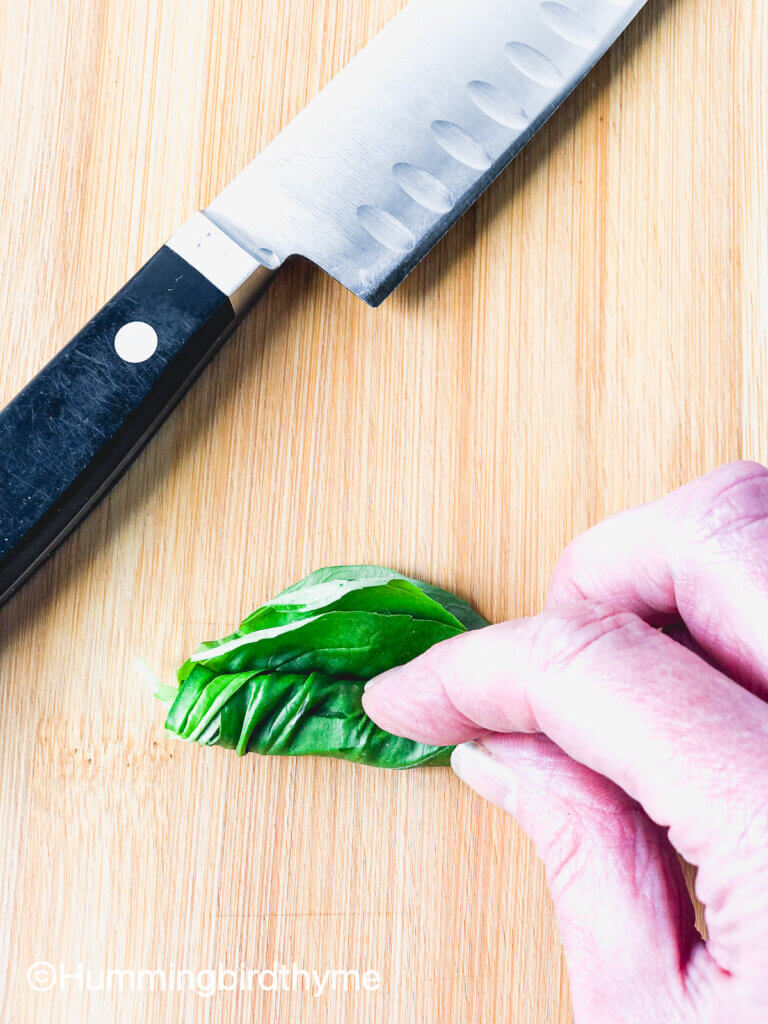 Variations on Panzanella with Chicken:
You can use a different cut of chicken, but use bone-in pieces, like half chicken breasts, or chicken legs, as baking time will be similar. As always, be sure to check temperature for doneness. And, be aware, chicken breasts will likely not be as juicy as chicken thighs or legs. So, kind of importantly, you won't get as much fat rendered from the meat and skin that creates the wonderful schmaltz which makes the croutons so dang tasty!
Make a dressing! Truly, this salad is delicious without pouring on additional dressing. The seasoned ingredients and olive oil make a delicious dressing. But, if you must, or if you want, reduced balsamic vinegar would be excellent. Just pour around a cup or a little less (about 210-240ml) Balsamic vinegar into a saucepan. Bring it to a low boil. Over several minutes, it will reduce it to a medium-body syrup. It will make about 4-6 Tbsp of deliciousness that you can drizzle over the top of this salad. Truly, I promise, a dressing is not necessary, but I'm never one to turn down a splash of reduced balsamic on just about anything!
Skip the mozzarella – It's delicious, but if you don't want it or don't have any fresh mozzarella, the salad will still be delicious. The Mozzarella balls I used are the bite-sized ones called "ciligiene". You can use these or cut bite-sized pieces of a fresh ball of mozzarella.
Use a different green. You could use another hearty green, like mustard greens or spinach, but I've made this with both Lacinato (aka "Dinosaur") Kale and Red Kale for a family that does not love kale. (They could not identify it as kale after broiling it.) If you've never tried Lacinato Kale, that's my first choice, but both varieties were delicious – tender and sweet after the broiling. The key is to remove the tough stem and cut into 2″ (5cm) pieces.
Use Cherry tomatoes instead of grape tomatoes. I feel like grape tomatoes are often a bit tangier than cherry tomatoes, which is why i chose those, but feel free to use any bite-size tomatoes.
Want to make Sheet Pan Chicken Panzanella later? Pin it!
Print
Sheet Pan Chicken Panzanella
Panzanella is a Tuscan Bread Salad. This version includes crispy-skinned roasted chicken, tender (!) kale, and grape tomatoes. No need to dress this tasty salad – the ingredients do all that work in the oven!
If you like, you can drizzle some reduced balsamic vinegar for an extra kick of flavor!
Equipment needed: A half-sheet pan
Author:
Prep Time:

25 min

Cook Time:

30 min

Total Time:

55 min

Yield:

4

servings

1

x
Category:

Main Dish

Method:

Oven Roast

Cuisine:

International
Ingredients
1/2 loaf Rustic Bread, cut into 1″ cubes, about 5-

6

cups

1 Tbsp

chopped garlic (about

2

–

3

cloves' worth)

1 tsp

Dry Thyme

1/2 tsp

Dry Oregano

1/4

cup

(4 Tbsp) Grated Parmeggiano-Reggiano or Parmesan cheese

12

oz

. (340g, 2 1/4 cup) Grape Tomatoes

3/4 tsp

Kosher salt, plus extra for chicken

1/4 tsp

Black Pepper, plus extra for chicken

5 Tbsp

(

74

ml) Extra Virgin Olive oil, divided, plus a bit extra for drizzling over the kale

8

Chicken Thighs, bone-in, skin-on (around

3

lb, or 1.4kg)

1

Bunch Red or Lacinato Kale, stemmed and chopped into

2

" pieces

4

oz

. (113g) Cilegiene (small fresh mozzarella balls) (about 16) (See Note 1)
Handful (1/2 cup or more) Fresh Basil Leaves
Instructions
Preheat oven to 425F(Conventional) or 400F (Convection/Fan).
In a large bowl, mix together the bread cubes, chopped garlic, thyme, oregano, Parmeggiano-Reggiano, tomatoes, Salt, Pepper. Drizzle 4 Tbsp (59ml) Olive oil over the mixture and stir to mix well, aiming to coat the bread as evenly as you can. Pour the bread cubes and tomatoes over the surface of a sheet pan, in a single layer.
Pat the chicken pieces dry. Trim any excess skin from the edges, you really just want to maintain the skin over the tops. Drizzle the remaining Tablespoon (15ml) oil over them and rub into the skin. Salt and pepper each of the thighs, bottom and top. Set the thighs atop the bread and tomato mixture on the sheet pan.
Roast in the preheated oven 25-30 minutes. In a conventional oven, pan should be in the bottom third of the oven, and you'll want to turn the chicken over and stir the bread and tomatoes at the 15 minute mark. For convection, place pan on the middle rack, and after 15 minutes, just stir the bread mixture, moving and bread pieces out from under the chicken to crisp. 
While chicken roasts, prepare the kale. Once rinsed and dried, remove the stems. Then cut pieces in 2″ sections. Drizzle Kale pieces with a bit of oil, and season with Kosher Salt and pepper.
When chicken reaches 160-165F, around 25-30 minutes, remove the pan from the oven. Switch oven mode to BROIL.
Remove the chicken from the pan to a plate. Scatter the kale and then the mozzarella balls over the bread and tomatoes. Place the chicken atop the kale. Return to the oven, under the broiler, for 2-4 minutes until chicken is as brown as you like (careful not to burn it!). This took just 2 minutes in my oven.
When done, remove the chicken from the pan, and toss the bread salad. Top everything with chopped fresh basil and more grated parmesan. Serve together. 
Notes
You can also use 4 oz (113g) fresh mozzarella, cut into small, bite-sized cubes
Nutrition information includes all the meat and skin in two thighs plus 1/4 of all the other ingredients per serving. Servings are large, you may find you can get another serving or two from this recipe.
Keywords: panzanella, chicken panzanella, sheet pan meal, chicken panzanella salad, sheet pan chicken panzanella, sheet pan panzanella, chicken and kale panzanella
Recipe Card powered by