Tangy, sweet, Lime Poppy Seed Dressing coats grilled chicken, fresh and juicy mangoes, and creamy avocado in a salad that is delicious, healthy and a FLAVOR BOMB! Super-easy, too!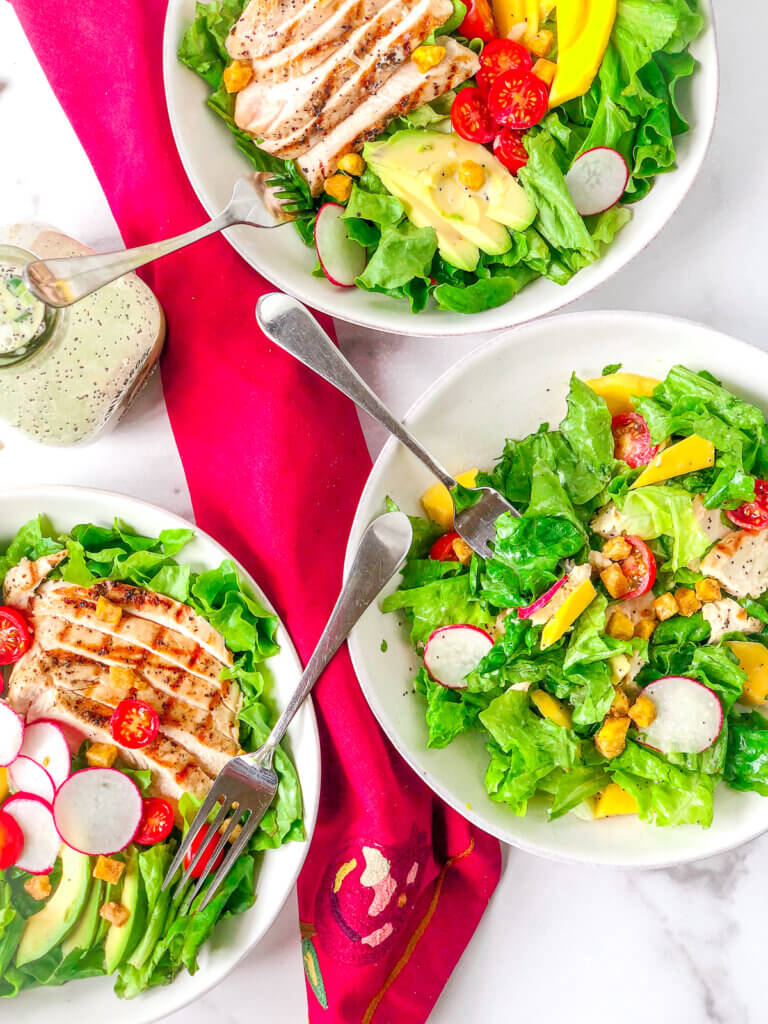 Way-back-when, I used to think of salad as "diet food". You know, kind of a joyless blob devoid of flavor and satisfaction. It wasn't until I was in my teens, at my first job, where I learned the positive joy and utter satisfaction of a well-made salad! I worked at a drive-in restaurant, as a carhop. We carhops would take the customers' orders, relay them to the cooks, package, and deliver their food to them in their waiting cars.
The restaurant also had a full-serve dining room in front, so the food was not your typical "fast-food" fare. We had a full menu of steaks, sandwiches, salads, desserts and daily specials. Also, strangely (in retrospect), while working, we could eat a full meal, gratis, during our break. This is where my friend Peggy taught me how to make an excellent salad. It was the first time I ever tried Bleu Cheese Dressing, and what became, in those days, my new favorite dressing. Poppy Seed Dressing! Tangy, sweet, creamy, it was amazing! Especially on a salad that contained fruit, like this Chicken Avocado Mango Salad with Lime Poppyseed Dressing!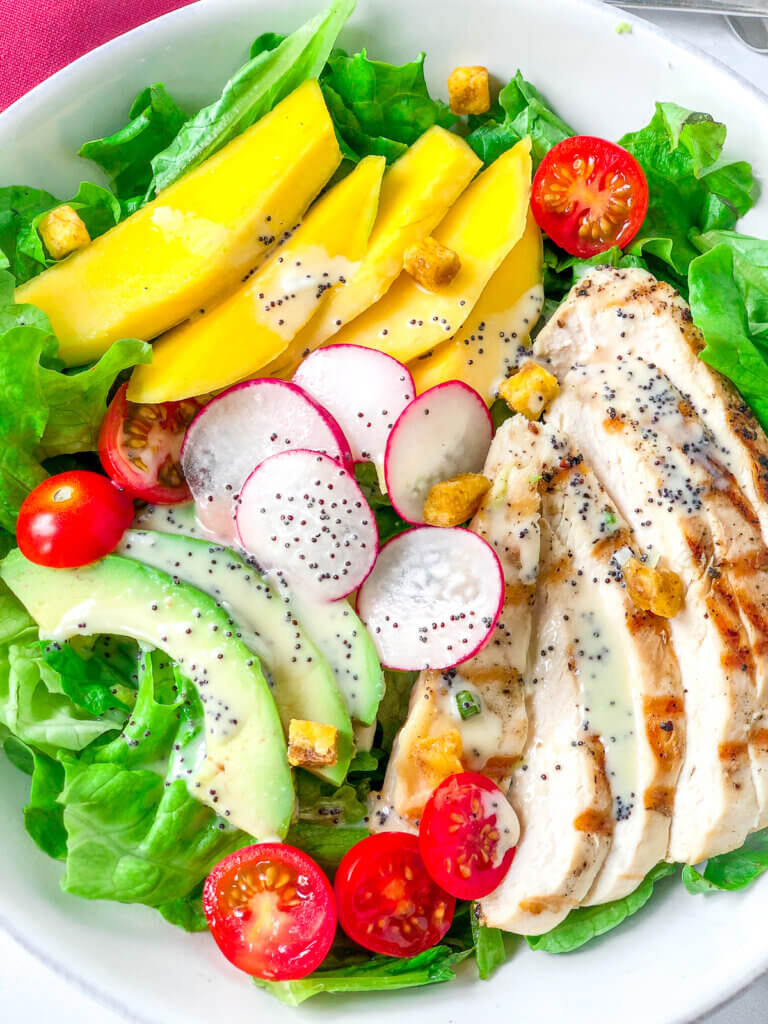 Traditional Poppy Seed Dressing is made with vinegar, often Cider Vinegar. But, you all know, I cannot leave well enough alone, so I had to mix it up a bit by substituting lime juice for the vinegar. And, I'm here to tell you, I think I like it better than the vinegar version. I even like it better than my friend Peggy's creation of half-French Dressing/half-Poppy Seed Dressing. And don't even get me started on how delicious half French/half Bleu Cheese is. That's a whole other recipe, friends!
Anyway, this super-healthy-and-fresh-tasting Chicken Mango Avocado Salad is only improved by the Tangy Lime Poppy Seed Dressing! So easy to make, you can make it in a blender or just shake all the ingredients in a jar, the way I did. I think a blender may help maintain the emulsification a bit longer, but I always feel like a dressing needs a bit of a shake before adding to my salad anyway. And atop savory grilled chicken, creamy avocado, juicy, tangy mango, this easy-to-make tangy dressing shines!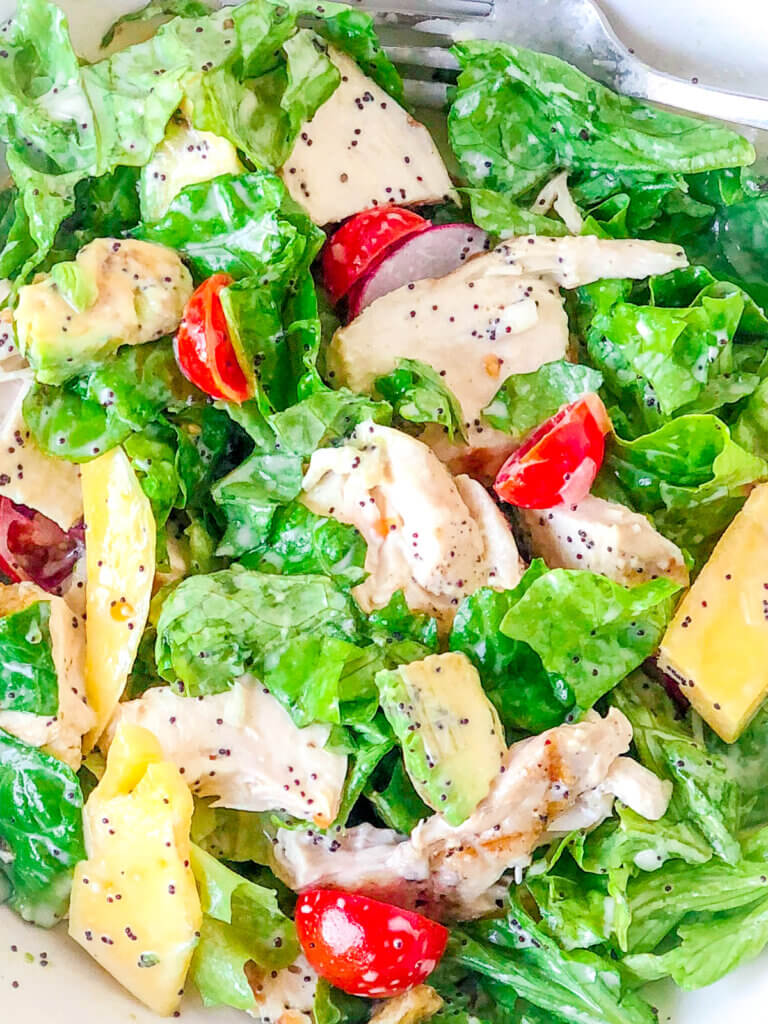 So, tell me, what is your favorite salad dressing? And, have you ever mixed two dressings on a single salad, a la Peggy's half French/half Poppy Seed? And, I hope you get the chance to make this tasty and satisfying Chicken Salad with Lime Poppy Seed Dressing! I'll totally understand if you want to also drizzle some other dressing along with it!
Enjoy!
Like a good salad? Take a look at some of my favorites:
Chicken Salad with Buttermilk Green Goddess Dressing
Farro and Sweet Potato Bowl with Lime Tahini Dressing
Spicy Mexican Street Corn (Elote) Salad
Shrimp Cobb Salad with Cilantro-Lime Dressing
Farro and Roasted Vegetables with Orange Dressing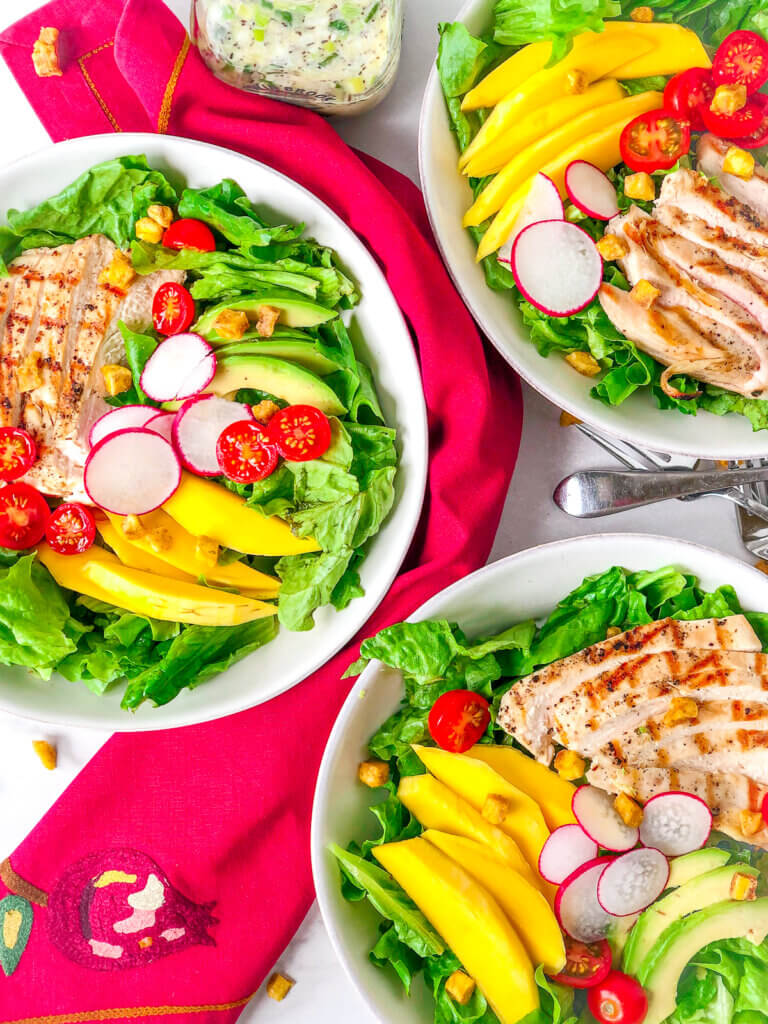 How to make Lime Poppy Seed Dressing for Chicken Mango Avocado Salad
About the Ingredients:
Substitutes you can use:
For the Chicken – instead of cooking the chicken, for roughly the same price, you can purchase pre-cooked chicken, already grilled, often already sliced. You could also use a different protein, from beef to shrimp to tofu or tempeh.
Lime juice – For this recipe, since you'll need a half cup (120ml), it's best to use bottled, because individual limes often don't yield a lot of juice. I use Nellie and Joe's Famous Key West Lime Juice (#notanaffiliate). If you like you could use orange juice or lemon juice. If you do use Orange juice, be sure the orange is super-flavorful, and reduce the amount of added sugar by half.
If you'd like your dressing on the thicker side, or if you prefer a less tangy dressing, you'll want to reduce the amount of lime juice you use by up to 2 Tbsp, but realize it will not be quite as tangy as the full 1/2 cup (120ml) lime juice version, but still super-delicious!
Green Onion – Feel free to substitute scallions or about 3/4 tsp of Onion Powder.
Mayonnaise and Olive Oil – you can use all Extra-Virgin Olive oil or another neutral oil, such as Grapeseed Oil. Or you could use 1/2 cup of Mayo and no oil, for a creamier dressing. Really any proportion of the two should work, but the creaminess and thickness of the dressing will vary.
Mango – Feel free to use pineapple, strawberries, or orange segments, or any fruit you like.
Things you could add: Feel free to top the salad with croutons or nuts. I used some tiny (and super-delicious!) plantain croutons I found at Trader Joe's. Also good would be chopped macadamia nuts or almonds.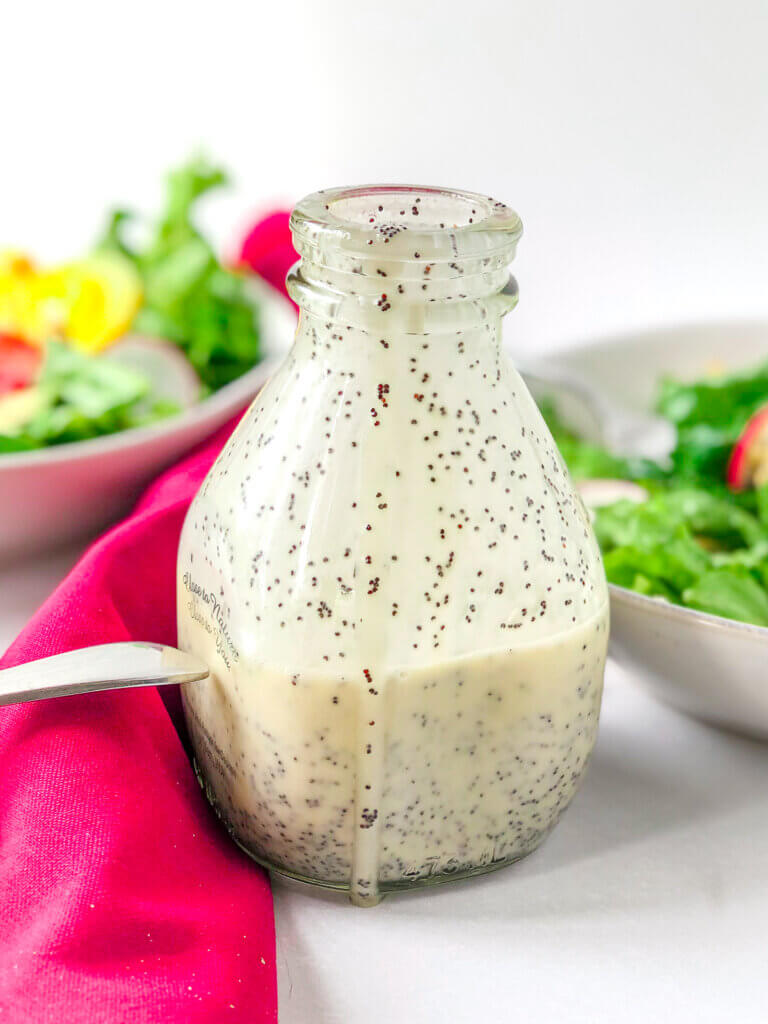 Easy Steps to make Lime Poppy Seed Dressing Recipe:
Salad Dressing is one of those things that, if you've never made it homemade, is surprisingly easier to make than you think. You can make the dressing in a blender if you like – it will likely emulsify better and be a bit thicker, than the "shake-it-all-in-a-jar" method I use. If you use a jar, just be sure the lid fits well and reliably. Otherwise the shaking may result in some loss of ingredients…and mess.
To make the dressing, you'll just add the lime juice, dijon mustard, sugar, and salt to a pint-sized jar. Shake it vigorously until the sugar all the ingredients are nicely incorporated. (if you need gluten-free mustard, check out this link!) Then, you'll add the remaining dressing ingredients and shake vigorously again, until it all gets smooth and emulsifies. This all happens quicker in a blender, but the jar method works dependably, too.
Place your dressing in the fridge and then, when ready to serve, prepare the chicken and compose your salad. You can cook your own chicken breasts, just buy the boneless, skinless chicken. Salt and pepper and saute in a pan or on a griddle – 10-12 minutes total time should do it. Just be sure to use a thermometer to check that it's done, meaning it needs to be 160-165F.
Then chop (or tear) your lettuce, cut the avocado, mango and tomatoes. Compose your salads. Dress and serve.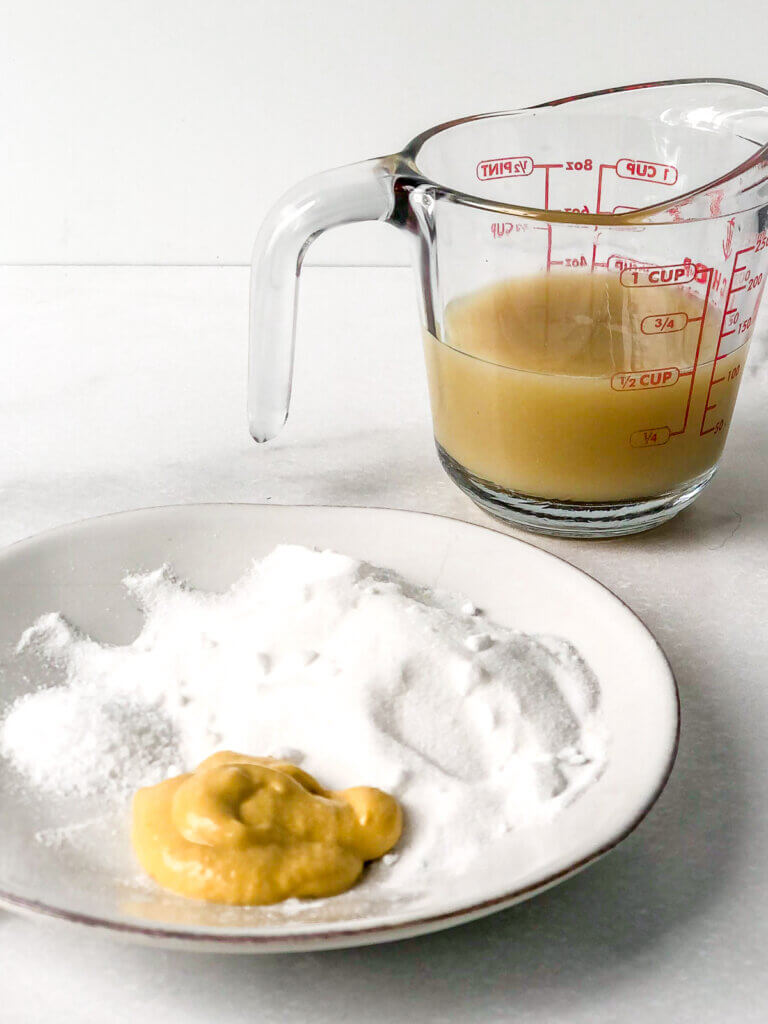 Want to make this later? Pin it!
Print
Chicken Mango Salad with Lime Poppy Seed Dressing
This salad is a total flavor BOMB! The Lime Poppy Seed Dressing compliments each of the ingredients, you won't want to stop eating it! This recipe will make 4-6 dinner or lunch-sized salads! Feel free to use pre-cooked/pre-grilled or leftover chicken for your salads if you prefer.
You will likely have dressing left over if you make 4 salads, note that nutrition information assumes 1/4 of dressing for each salad. (You may not need, or use, that amount of dressing.)
The dressing is on the thin side, for sure. Best to make with all mayo or use the recipe blow with part mayo, part oil. Be sure to use a neutral-flavored oil, such as Extra-Virgin Olive Oil or Grapeseed oil.
Equipment needed: Electric blender, or a pint-sized jar with a tight-fitting lid.
Author:
Prep Time:

15 min

Cook Time:

12 min

Total Time:

30 min

Yield:

4

–

6

Meal-sized salads

1

x
Category:

Salad Dressing

Cuisine:

American
Ingredients
For the Dressing:
1/2 cup

Lime juice – fresh or bottled (I use Nellie and Joe's)

2 tsp

Dijon Mustard

4 Tbsp

Granulated Sugar

1 tsp

Kosher salt (or

1/2 tsp

Table Salt)

3 Tbsp

finely chopped scallions or green onion

2 Tbsp

Poppy Seeds

6 Tbsp

Mayonnaise 

2 Tbsp

Extra Virgin Olive Oil
For the Salad:
1

lb – 1 1/2 lb Chicken Breast, boneless and skinless (See Note)

1

head Green Leaf Lettuce, chopped

1

small Mango, peeled, cored and sliced

1

small Avocado, peeled, cored, sliced

3

Radishes, thin-sliced
Handful of Cherry Tomatoes, sliced
Instructions
Make the Dressing:
In a pint-sized jar (or the jar of an electric blender), add the lime juice, dijon, sugar and salt. Cover tightly and shake vigorously (or process 15 seconds) until the sugar is dissolved. 
Open the jar and add the remaining ingredients. Cover tightly again, and shake vigorously (or process 1 minute) until all ingredients are nicely incorporated – mayonnaise may take a bit of shaking to become smooth. 
Refrigerate until ready to use.
Cook the Chicken:
Blot any excess liquid from surface of the chicken breasts. If they are uneven thickness, pound with a mallet to flatten the surface so they are uniform. Generously salt and pepper the chicken breasts on both sides.
Preheat a saute pan or griddle pan. Oil lightly. Cook the seasoned breasts on both sides, until they reach 165F to be sure they are cooked through. This should take 10-12 minutes total. Set aside while you prepare the salad.
Prepare the Salad:
In a large bowl, or individual salad plates or bowls, place the chopped leaf lettuce. Then distribute the remaining ingredients across the top. 
Thinly slice the chicken and divide among the salads.
Dress the salads and serve.
Notes
Feel free to substitute pre-cooked, pre-grilled, or leftover cooked chicken, or any other protein in order to not cook the chicken! You can get 4-6 servings from 1-1.5 lb.
Keywords: Lime Poppy Seed Dressing, recipe, Poppy Seed dressing, Homemade poppy seed dressing, salads, salad dressing, chicken avocado mango salad, chicken avocado salad, chicken avocado poppy seed dressing, mango salad with chicken, how to make homemade salad dressing,
Recipe Card powered by