Salted Brown Butter. Oatmeal. Chocolate Chip. Cookies. Yes! I know it's a mouthful! But I promise it's one of the best mouthfuls you'll ever have! A salted brown butter and butterscotchy-flavored oat cookie, full of bits of dark chocolate. You know you need this, right?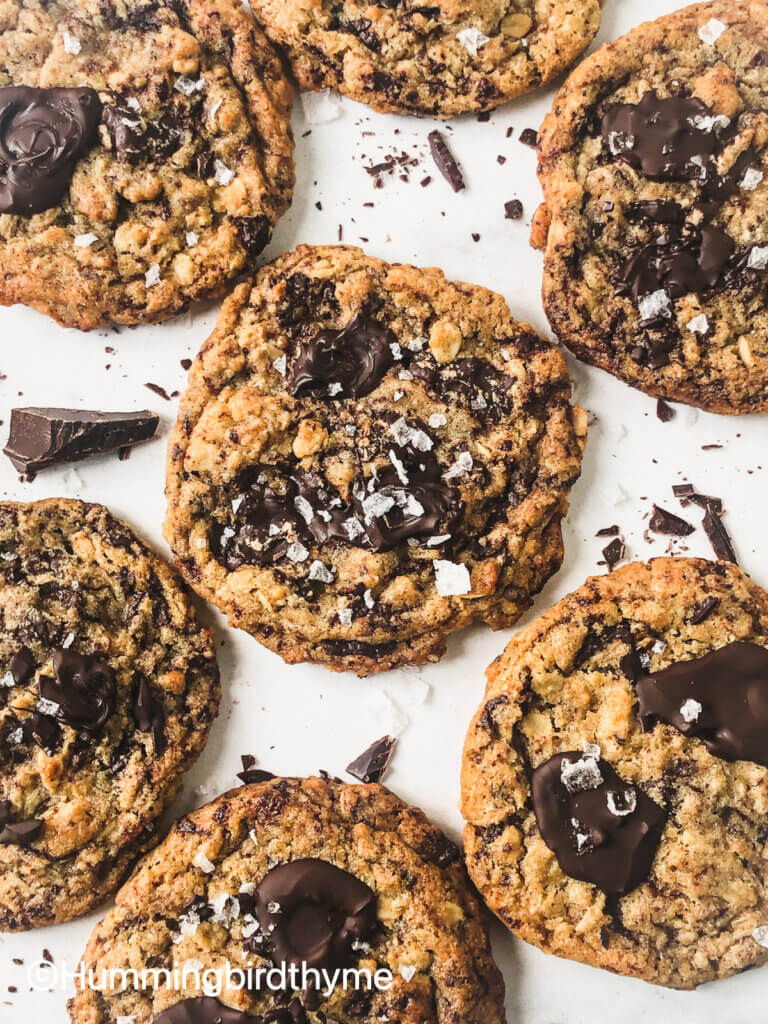 This Salted Brown Butter Oatmeal Chocolate Chip Cookie. Ok, you can tell by the name that it's not your typical chocolate chip cookie, nor is it your typical oatmeal cookie. It's a mouthful…of WOW! A crisp edge, chewy middle, and so much flavor! My first impression was these tasted a bit like Oatmeal Scotchies, you know, the Oatmeal Cookie with butterscotch chips, except there are no butterscotch chips in this cookie. And, rather than chocolate chips, there are plenty of chocolate "bits" – I finely chopped a bar of 72% Cacao chocolate. Everything is topped with a little salt, for that sweet/salty vibe we all love. This is a heckuva good cookie. It has a lot going on, indeed, but each ingredient has its part to play.
This recipe, adapted from one from Epicurious's Emily Johnson, starts with an Oatmeal Chocolate Chip Cookie, which is her family's favorite cookie. Then, it adds a bit of white whole wheat flour and some chocolate bits for flavor. I amped things up even more by adding some dry milk powder and browning the butter, two powerhouse ingredients in a baker's kitchen!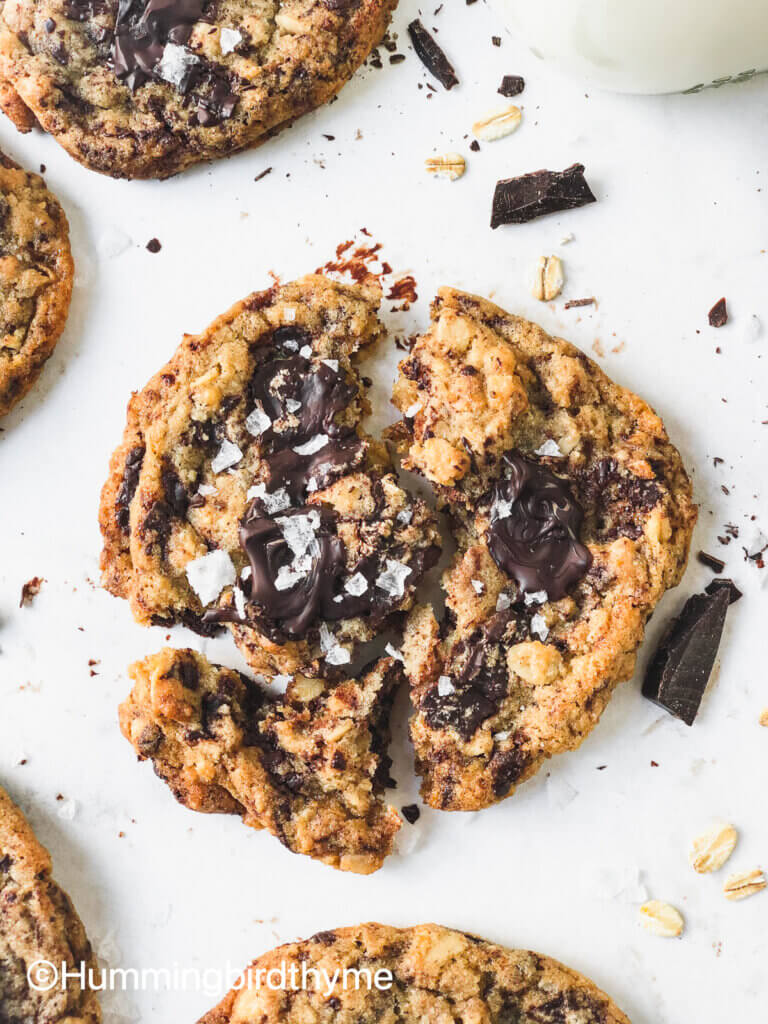 The magic ingredients in Brown Butter Oatmeal Chocolate Chip Cookies that makes them great are:
Dry Milk powder – this is one of those secret ingredients used in professional baking. According to MilkBar's Christina Tosi, and others, when added to recipes, it can make cookies chewier, ice creams denser and silkier, as well as making the other ingredients, like chocolate, truly stand out. Find out more by clicking HERE. You can usually find this ingredient in the baking section of your local grocery.
Brown butter

– Another magic ingredient! Browning butter creates a true depth of rich, caramel-y flavor in any recipe in which it's used. In this particular cookie, it imparts a definite BUTTERSCOTCH or caramel flavor! It takes just a few minutes and a watchful eye, but you'll be rewarded with flavors you will desire again and again. However, browning the butter does cause some liquid to be lost, so you'll need to add some additonal water, milk, or fat to the recipe. To this recipe, I added a bit of extra non-browned butter, to help cream the butter-sugar mixture.
Shaved/chopped Bittersweet (70-72%) Chocolate

– Shaving or finely chopping the chocolate distributes the flavor throughout the cookie. You could use baking chocolate like I did, or chocolate chips, but they are more labor intensive to cut into smaller pieces. Even though this recipe uses about half the chocolate of other cookies, the flavor is still in every bite. I also added small chunks of chocolate to the tops of my baked cookies to melt into those chocolate puddles we all love on our cookies! I recommend Bittersweet, but if you prefer Semi-Sweet Chocolate, go for it!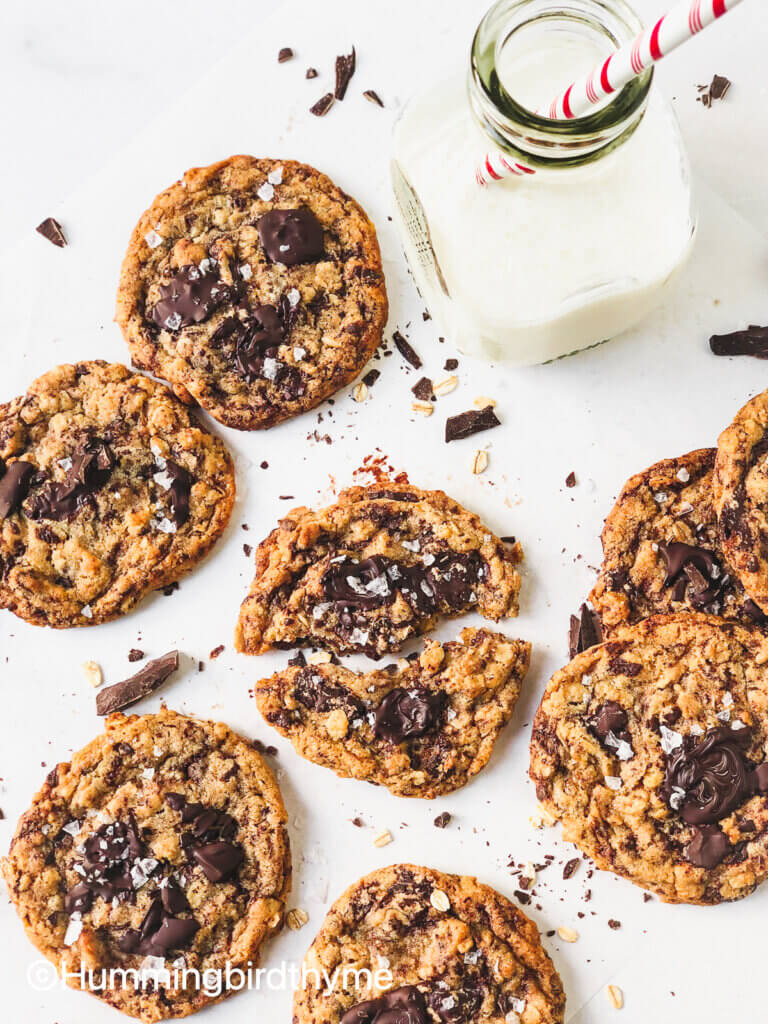 So, will this be your new favorite cookie? If my testers (my family tbh) were the judges of this, then, yes, it most definitely could!
Enjoy!
Some other crazy-good cookies that will forever be your faves include:
Chocolate Oat Bars with Orange Marmalade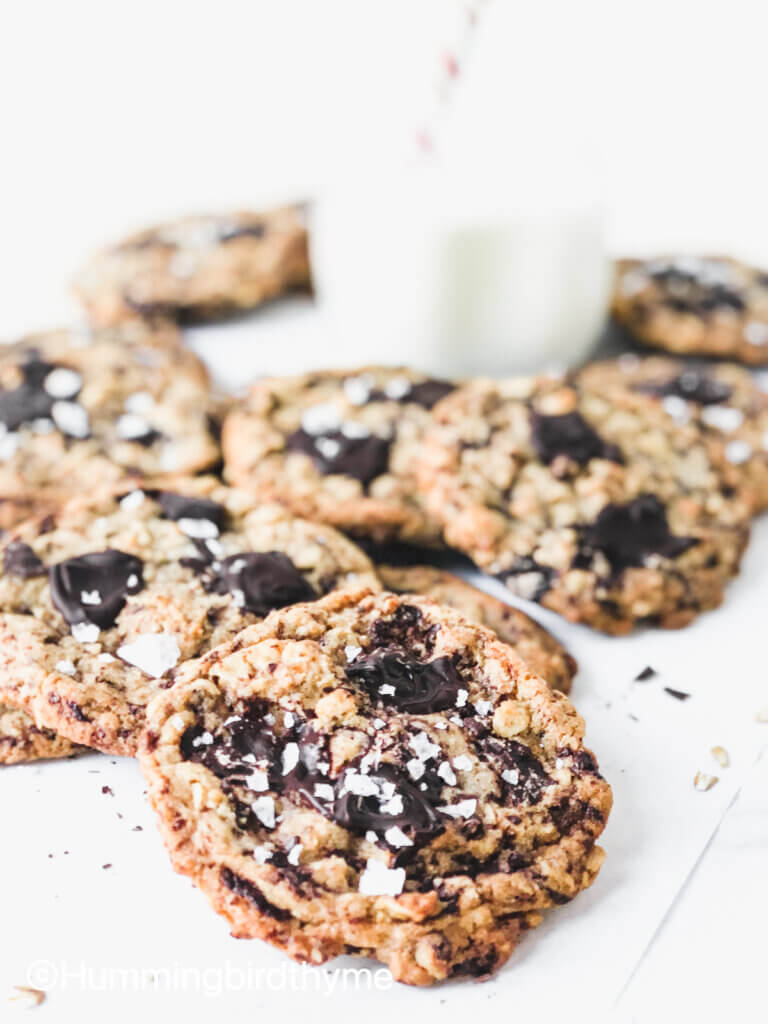 Step-by-Step Recipe Instructions:
These Brown Butter Oatmeal Chocolate Chip Cookies are not the simplest cookies to make, but I think you'll find the awesome flavors totally worth the couple extra steps you'll need to take!
Some things you may need to make Brown Butter Oatmeal Chocolate Chip Cookies:
Stand Mixer – I love my Kitchen Aid! Lasts forever!
Baking Sheets – these from USA Pan, are my favorites – nonstick, easy cleanup!
Large Cookie Scoop – this one, from OXO, holds 3 tbsp dough. This is the size I used.
Parchment Paper – I like to buy a year's worth at a time! Totally worth it!
Mixing Bowls – I love these!
Brown the Butter:
First, make the brown butter. You'll want to use a pan with a light-colored bottom, so you can tell when the solids from the butter begin to brown. It could be a saucepan or a saute pan, whichever you have with a light-colored bottom. Over medium heat, melt the sliced butter, whisking or stirring often. Keep cooking, and watch as it begins to spatter a bit, then foam a bit, then foam quite a bit. Be sure to keep stirring. After a couple minutes of foaming, as you stir, you will see the milk solids separate. They will be light colored, but will soon turn brown. At this point, the butter will start having a pleasant, nutty aroma.
Once you see the melted butter turn golden, (see photo) as the foaming begins to subside a bit, it's time to take it off the heat and pour it into another container to stop the cooking. If it burns – and you'll know because it smells burnt – you'll need to toss it and start over. But, with a careful eye, and some stirring, you'll definitely see each of these stages and be rewarded with some gorgeous brown butter.
Just let it come to room temperature. You can make it the night before and keep it in the fridge. Just let it come to room temperature before creaming it with the sugar and the bit of unbrowned butter in the recipe. I added the unbrowned butter to adjust for lost liquid during the browning process, in order that the cookies would not be made dry by losing the moisture. You can see by the photo that it comes up short of 8 oz.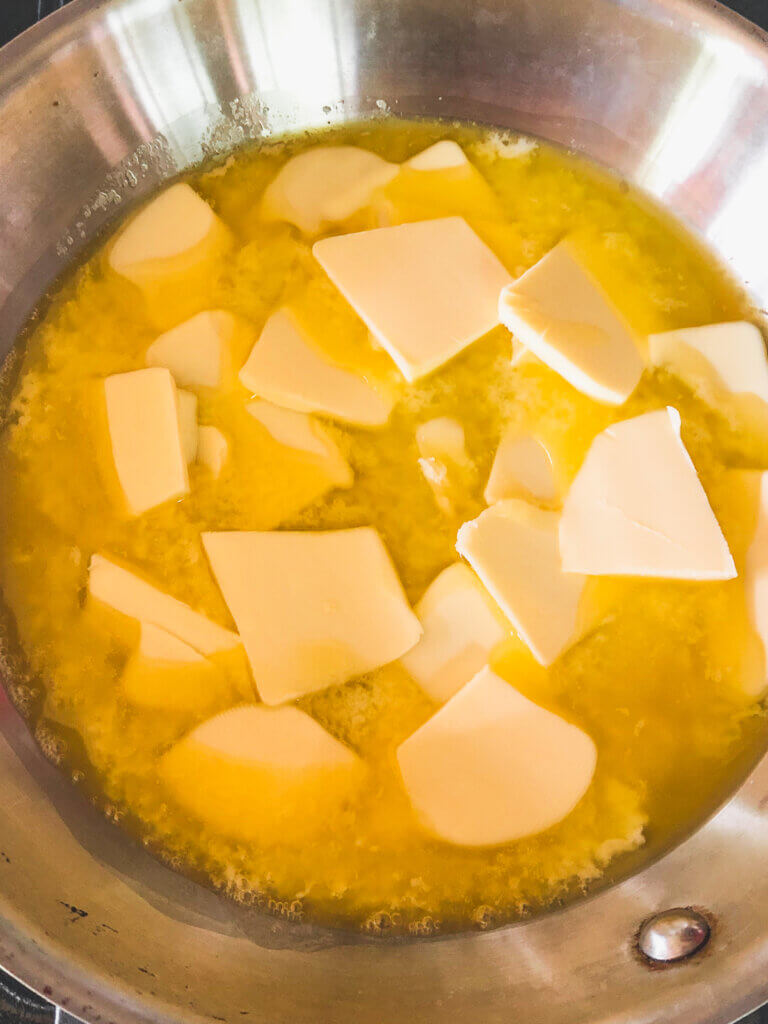 Making the dough:
To make the dough, you'll want to use a stand mixer (hand-mixer will also work). Cream the room temperature brown butter and regular butter for about a minute, then add the sugar and beat several minutes until it is light and fluffy. You'll know this by inserting a spoon or spatula into the mixture and it will feel light and look fluffy.
Then, add the eggs, one at a time, letting each fully incorporate. Mix in the vanilla. Then, with the mixer at lowest speed, spoon in the dry ingredients that you've whisked together. Once they are incorporated, stir or fold in the chopped chocolate. At this point, you'll want to scoop the dough into portions, using a Large Cookie Scoop, which holds 3 Tbsp (45 ml). You could also use a Medium (2 Tbsp) scoop, just make it somewhat "heaping". It should make 28-30 cookies – mine made 29. Cover with plastic and refrigerate before baking. I let mine refrigerate overnight, but let it chill at least 3 hours so it's chilled all the way through. This will prevent the cookies from spreading too much.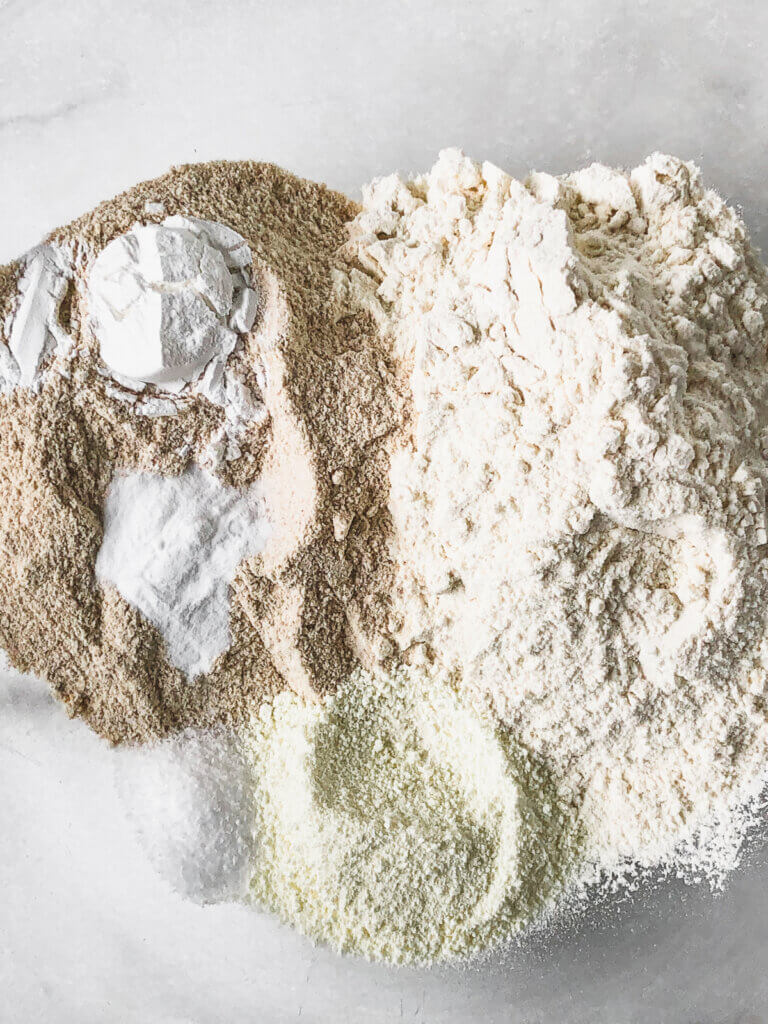 Chilling and Baking:
When ready to bake, preheat your oven to 350F, or if you have a Convection (Fan) oven, set it to 335F. Move the scooped cookie dough onto parchment-lined or buttered sheet pans, leaving 3-4 inches between dough portions. Bake until the edges have just started to turn light golden. In my oven this took 12 to 12 1/2 minutes. Your oven could be different, so I suggest keeping an eye on them beginning at 10 minutes. When done, feel free to add some bits and pieces of chocolate, to form "puddles", or a touch of flaky sea salt to amplify the sweet/salty vibe of this Brown Butter Oatmeal Chocolate Cookie. Serve warm or at room temperature.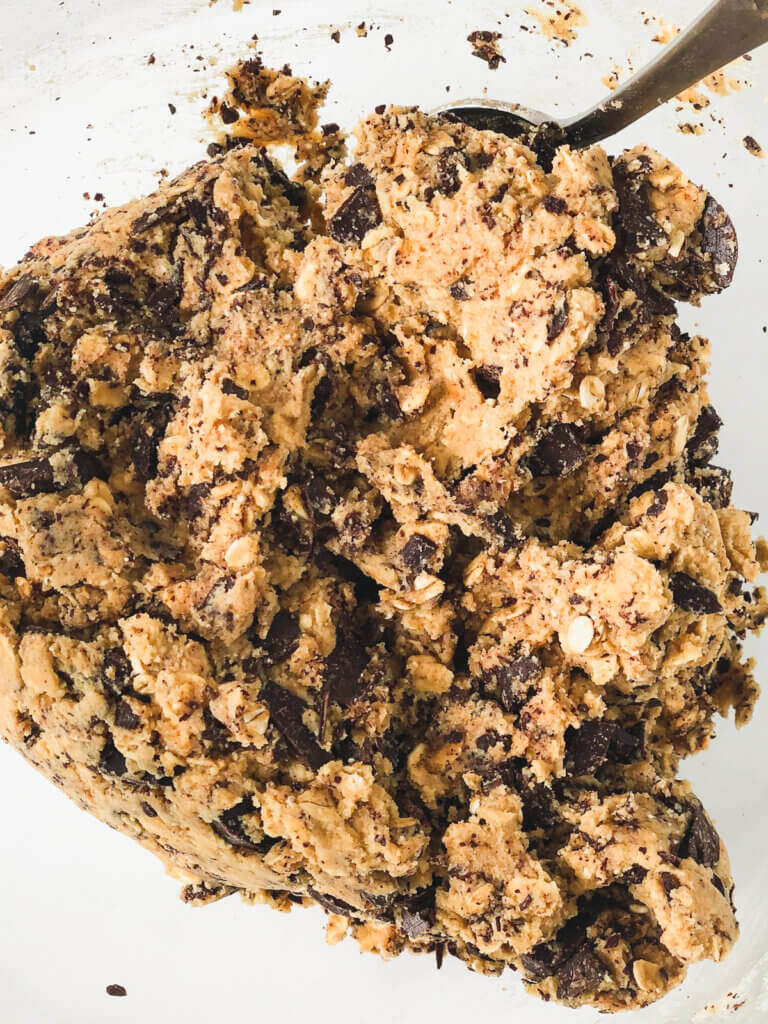 Want to Save this Recipe for Later? Pin it!
Print
Brown Butter Oatmeal Chocolate Chip Cookies
Thanks to brown butter, these oatmeal cookies have a rich, butterscotch-y flavor that is only highlighted by the dark chocolate and slightly salty dough. You can't go wrong with these chewy cookies! Inspired by and adapted from Emily Johnson's recipe (Epicurious). You'll need to let the brown butter come to room temperature, before creaming it with the sugar. So it's a good idea to make it well ahead of time (the night before?). You'll also need to allow time to refrigerate the dough before baking, preferably 24 hours, but if you can only wait 3, I totally feel you!
Cookies keep at room temperature, in an airtight container, for 5-7 days, or wrapped and frozen up to a month. You can also freeze scooped dough, wrapped tightly in plastic, for up to 2 months. Bake, from frozen, per the directions given, adding a minute (or two) to the bake time.
Equipment needed: a hand- or stand-mixer, a baking sheet, or two and a Large (3 Tbsp [45ml]) Cookie dough scoop.
Author:
Prep Time:

40 min Active Time

Cook Time:

11-15 minutes

Total Time:

55 min + Chilling time

Yield:

29

Cookies

1

x
Category:

Cookies

Method:

Baking

Cuisine:

American
Ingredients
Ingredients:
1 cup

+ 2 Tbsp Butter. divided (

256g

, 2 1/4 sticks) (I used salted butter, if you use unsalted, add 1/2 extra teaspoon Kosher Salt to the dry ingredients)

1 1/2 cups

(

190g

) All-Purpose Flour

1/2 cup

(

62g

) Whole Wheat Flour or White Whole Wheat Flour

1 Tbsp

, heaping (

10g

) Dry Nonfat Milk Powder

1 tsp

Baking Powder

1/2 tsp

Baking Soda

1 tsp

Kosher Salt (or

1 1/2 tsp

if using Unsalted Butter)

1 1/2 cups

(

300g

) Light Brown Sugar, packed

1/2 cup

(

100g

) Granulated Sugar

2

Large Eggs

2 cups

(

180g

) Old Fashioned (rolled) Oats

1 Tbsp

(15ml) Vanilla Extract

6 oz

. (

170g

) Semisweet or Bittersweet Chocolate, chopped
Optional toppings:
2

–

3

oz. (

70g

) Semisweet chocolate, chopped
Flaky Sea Salt
Instructions
Brown the Butter:
Using 1 cup of butter (237g/2 sticks), slice the each stick of butter into 8 thin slices. Save the remaining 2 Tbsp (about 30g), at room temperature, for the mixer.
In a light-bottomed saute pan or saucepan, placed over Medium-Low heat, place the sliced butter. Stir or whisk the butter while it melts and continue slowly stirring/whisking as it cooks. It will begin to spatter, then after a bit it will foam. After several minutes of foaming, the milk solids will separate and move to the bottom of the pan. Ultimately (after a total of 4-9 minutes after the butter hit the hot pan) the solids will begin to brown and the liquid part will turn golden. Watch closely to make sure it does not burn. Once the milk solids turn brown, remove the brown butter from the heat. It will continue cooking until you pour it into a heat-proof container to cool to room temperature. If making the day before you make the cookies, once it comes to room temperature, cover and place in the refrigerator, removing at least 30 minutes before you make the cookie dough.
Make the Cookie Dough:
In a medium bowl, whisk together the AP flour, wheat flour, milk powder, baking powder, baking soda and salt. Set aside.
Make sure the brown butter is slightly soft, (not melted) – you may need to microwave it on the defrost setting for 15 or 30 seconds. Add it (include all of the browned bits!) to the bowl of a stand mixer, or a bowl in which you can use a hand mixer, along with the remaining 2 Tbsp (30g) ROOM TEMPERATURE OR SLIGHTLY SOFTENED unbrowned butter. Mix on low, moving up to medium as you are able, for about a minute.
Add the brown sugar and white sugar, and beat at Medium speed for 4-5 minutes until the mixture is light and fluffy. One at a time, add the eggs, making sure the first is fully incorporated before adding the second.
Turn the speed down to low (1-2), and gradually add the flour mixture, mixing until it is just incorporated. Add the vanilla and the oats, and mix just to combine. 
Using a stiff spatula or large spoon, mix in the shaved/chopped chocolate until evenly distributed.
Scoop and Refigerate the Dough:
Onto a parchment-or-buttered sheetpan, using a level large (3 Tbsp) medium (2 Tbsp) heaping Scoop, add scoops of dough to the pan, using all of the dough. You should be able to make 29 scoops. Cover with plastic wrap and store the scoops in the refrigerator for 18-24 hours (or longer if you're patient enough – up to 72 hours).
Bake
Preheat oven to 350F (Conventional) or 335F (Convection/Fan).
Transfer refrigerated scoops to a parchment or butter-coated sheetpan, leaving 3 inches between scoops. You should be able to place 7-8 scoops per pan.
Bake 2 sheets at a time, rotating halfway through baking to ensure uniform baking. Once the edges are light golden brown, (likely between 11 and 13 minutes – mine took 12 minutes) remove and cool on sheet pans for 5 minutes before removing to cooling rack. If you want, add some pieces of chocolate or chocolate chips to the warm tops to create a "puddle" effect. Sprinkle, if desired, with just a bit of flaky sea salt.
Nutrition
Serving Size:

1 cookie

Calories:

208
Keywords: salted brown butter oatmeal chocolate chip cookies, brown butter, salted chocolate chip cookies, oatmeal scotchies, oatmeal chocolate chip cookies, shaved chocolate in cookies, family favorite cookies, milk powder, how to brown butter,
Recipe Card powered by