Chocolate Oat Bars with Orange Marmalade! Definitely a dressed up Oat Jam Bar, with that sophisticated orange and dark chocolate filling! The aroma is amazing, the taste – addictive!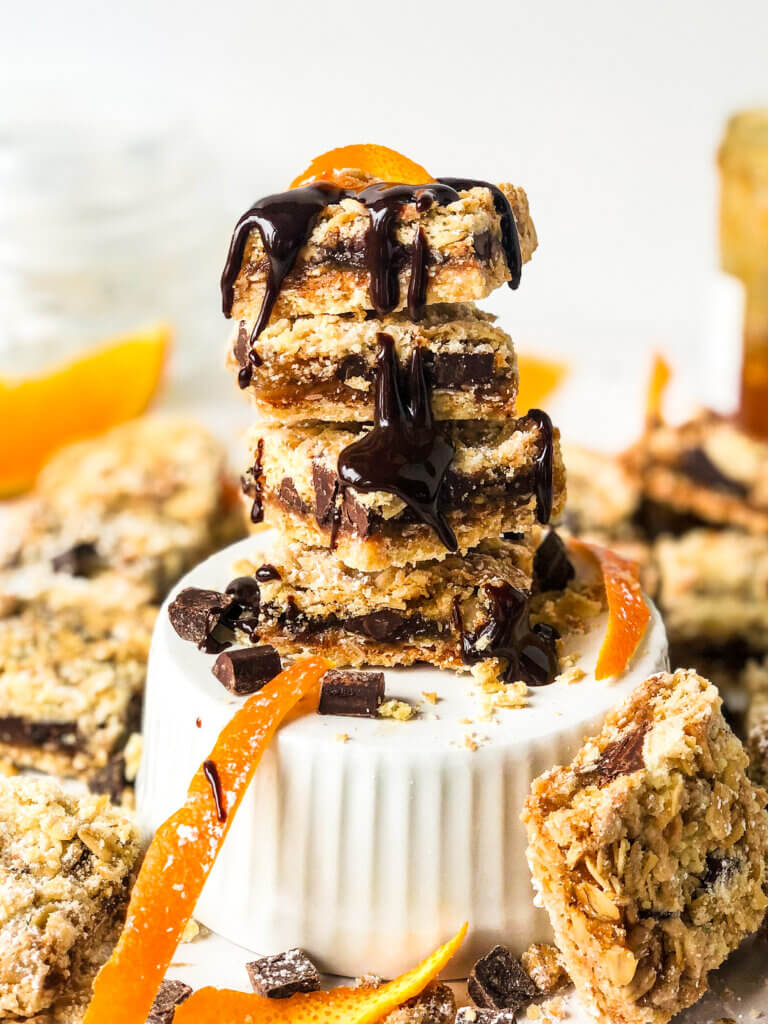 This recipe evolved from a cooking mistake, or, possibly…sort of disaster. I was making some homemade marmalade that, as I was cooking, a certain family member asked, "What are you making?" "Oh, I'm making Kumquat Marmalade from these gorgeous kumquats I have." "Hmmmm, it smells like a candle!" (said with utmost love and respect, of course) Me, slightly (!) defensive: "A candle?! No, it doesn't!" Fast-forward to the next day, after I had lovingly poured that gorgeous marmalade into the jar and taken some photos, I gave it the sniff test. Candle. Actually, more like candle store (!). What the heck? I imagine I might've put in a little(!) too much cinnamon and cardamom. Oh well, back to Square 1.
And so I present to you Square 1 (Actually Squares 1-16!): These gorgeous, sublimely tasty Bittersweet Chocolate Oat Bars with Orange Marmalade! They're kind of a "High-low" treat, you know, that most elegant bittersweet chocolate and orange combination, all layered in a super-simple, delicious, almost-nutritious, Oat Bar! Kind of evening dress (or tux) with sneakers, or maybe a Mercedes-Hyundai collaboration.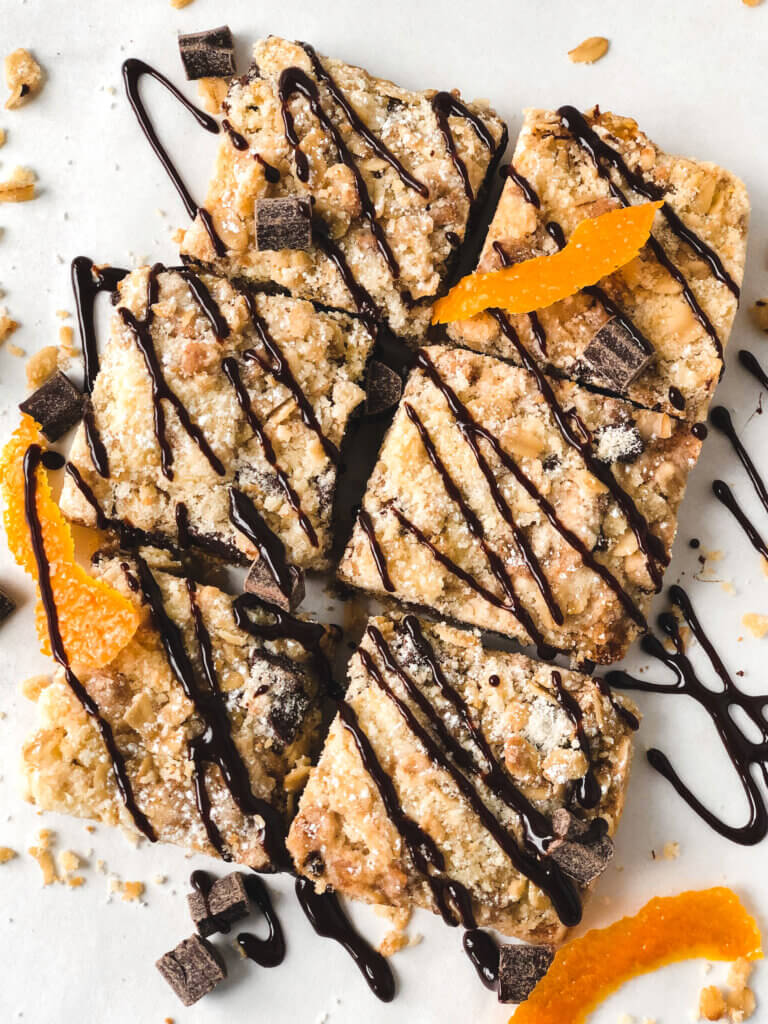 And, I have to say, they are positively addictive. I mean, who doesn't love Orange + Dark Chocolate? I don't know why Chocolate plus Orange tastes so sophisticated, say, compared to Chocolate plus Banana or even Strawberry, maybe it's just me? And, layered between a buttery, crispy/crunchy crust and crumble, this bar is difficult to stop eating.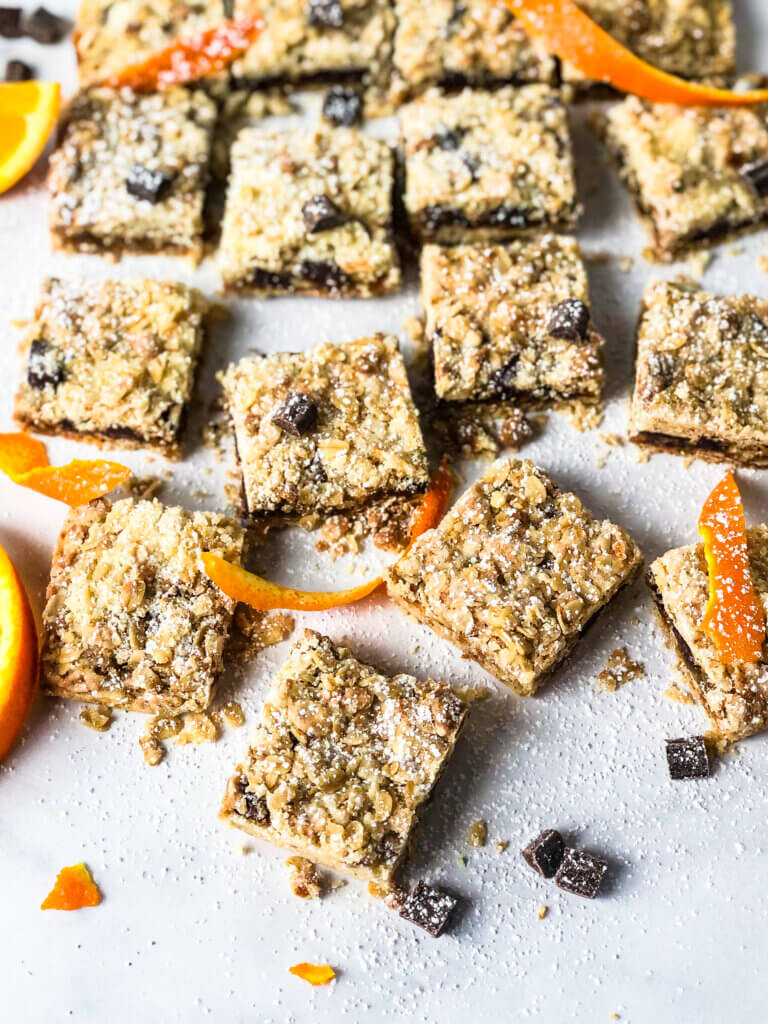 So, all you cooks and bakers out there – What was the most "interesting" thing anyone said about one of your recipes, as constructive as it might have been? Can you beat the "smells like a candle" comment? Please let me know!
Enjoy!
Love Bar cookies? Why not try these:
Easy Peanut Butter Chocolate Chip Blondies
Rhubarb White Chocolate Blondies
Cherry Cheesecake Blondie Bars
PIN Chocolate Orange Oat Squares ->
How to make these Easy Chocolate Orange Bars ->
This post may contain affiliate links. As an Amazon Affiliate, I may earn a small commission, at absolutely no cost to you, for purchases you may make of items linked from this site.
Things you might need to make this recipe:
Kitchen Scale– I don't bake without it, because it's often much easier to use instead of measuring cups and spoons, because I can weigh ingredients to the gram, tare, and then weigh the next ingredients. I think it's best to choose one that will accommodate whatever bowl you use most often.
Mixing Bowl – since this recipe doesn't require an electric mixer, you can use a bowl similar to these awesome OXO Bowls.
8×8 Pan – I love all of my USA Pan baking pans. They're non-stick and so easy to keep clean!
Pastry Cutter– or just use your hands!
Orange Marmalade – I always buy Bonne Mamman jams and preserves – they are the BEST! The link will let you buy a 2-pack!
Bittersweet Baking Chocolate Pieces – Brands like Scharffen-Berger and Guittard have these
Offset Spatula – From spreading jam over the bottom crust, to frosting a cake, this is a small purchase you'll never regret!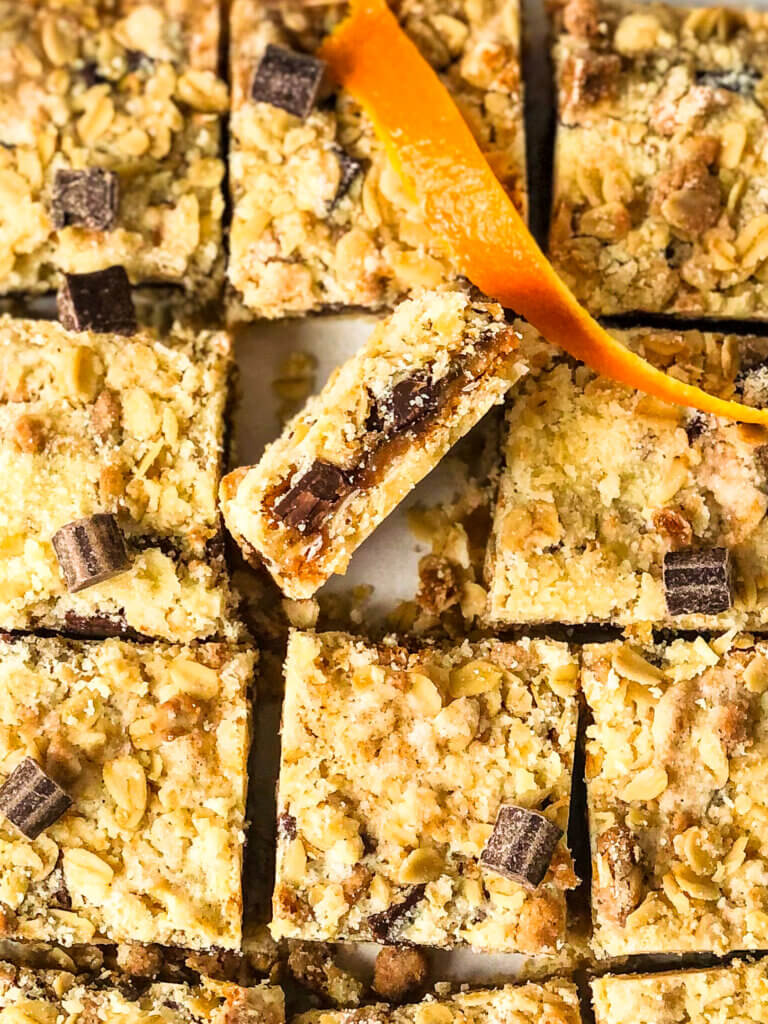 Chocolate Orange Oat Square Recipe Overview
These bars are easy! So easy! You'll just mix together the crust with your hands, smiling because you know that crust doubles as the crumble topping! Press the crust into the baking pan, and par-bake for 10 mins. And, to be honest, you don't HAVE to par-bake, but I highly(!) recommend, because I love a bit of a firm, crispy/crunchy base below the rest of the bar. So, if you must, you can skip the par-bake, but you'll need to be sure your total bake time is around 30-35 minutes, and bake until light golden, but you may not have that nice, firm base.
So, once the bottom is par-baked, you'll spread the marmalade over the entire surface, sprinkle on some baking chocolate, or chocolate chips, then sprinkle the rest of the crust/crumble. Back into the oven until the top is just beginning to turn light golden. In my Convection oven, this took about 23 minutes.
Let the bars cool. Then cut and serve. But – realize! Almost every baked good tastes even better the second day. And this one is no exception! Day 1 they are delicious. Day 2: Extraordinary. Day 3: Sublime. You don't have to do the math.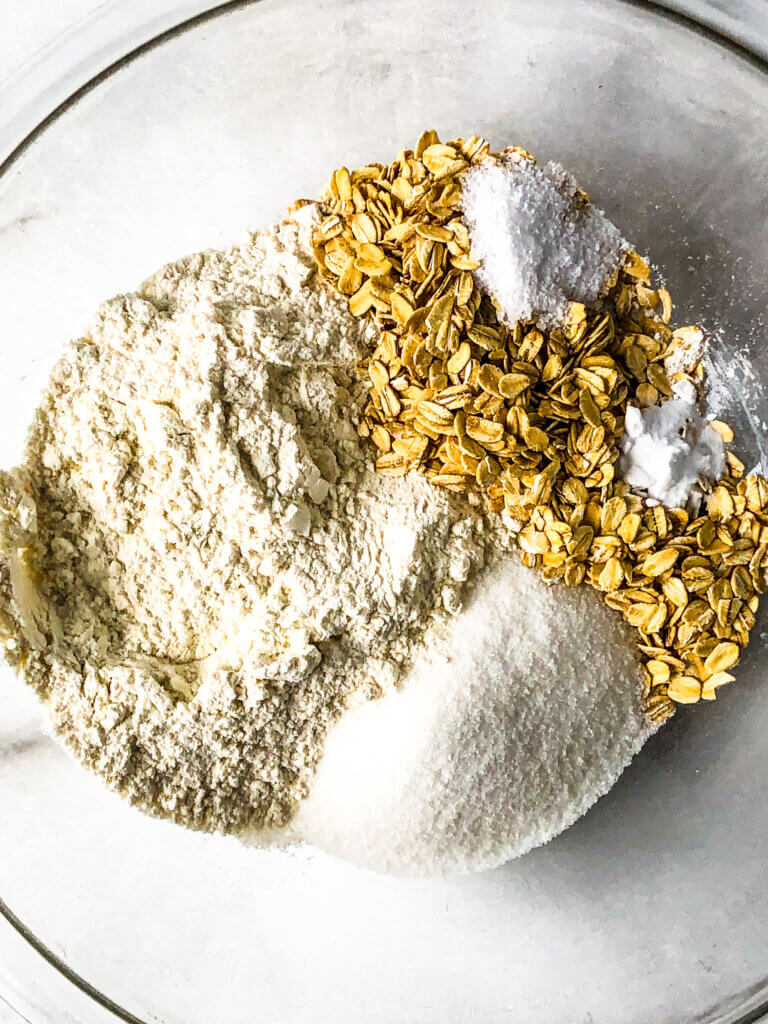 Substitutions or Additions you Can Make:
An extraordinarily flexible recipe, you can make several different versions of the oat bar. For instance:
Amp up the Orange – If you want more orange, you could add a Tablespoon of freshly-grated orange zest stirred into marmalade before you coat the bottom crust. 
Try a different jam flavor – If you have apricot jam or preserves, cherry, raspberry, these would all be delicious.
Chocolate chips – Baking chocolate is better in this recipe than chocolate chips, but feel free to use chips if that's what you have. Chips have a stabilizer in them that helps them retain their shape instead of melting fully. But definitely (definitely!) use the darkest (Bittersweet) you can find, because I feel like it will compliment the orange marmalade best. If you're using baking chocolate, look for greater than 70% cacao, up to 85%. If you're using chocolate chips, most of the bittersweet varieties are about 62% Cacao.
Skip the chocolate altogether – Just omit the chocolate for a lovely Jam Crumble Bar! 
Skip the jam – Add a full cup of chocolate chips or baking chocolate for Oat Chocolate Crumble Bars!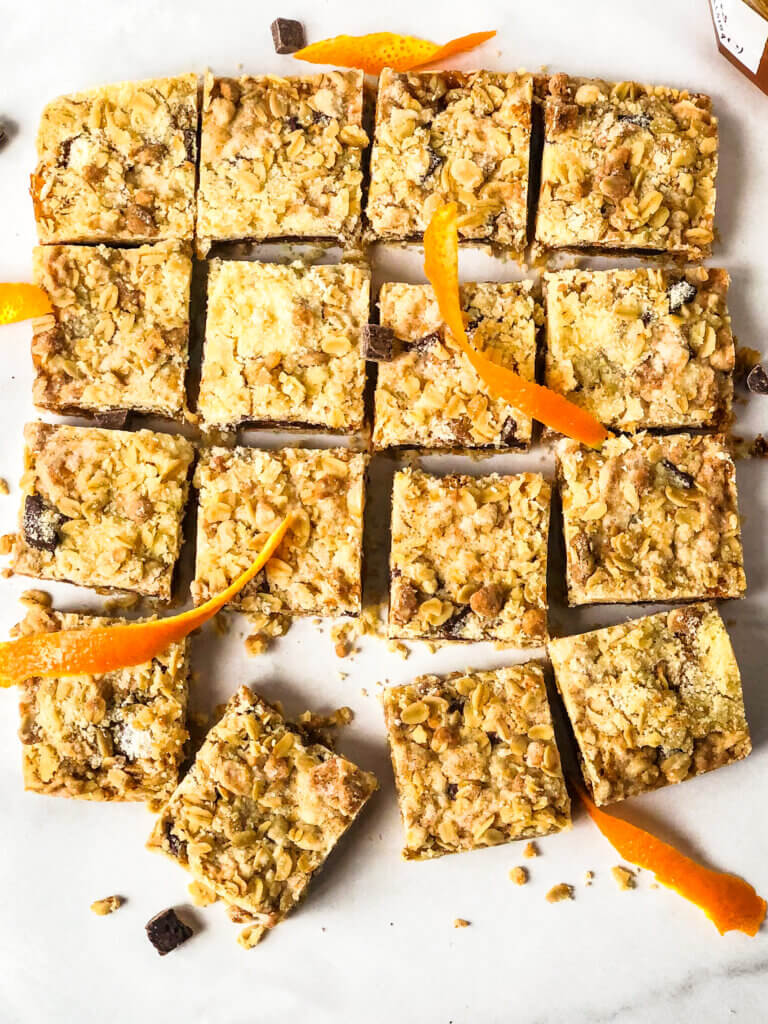 Print
Chocolate and Orange Marmalade Bars
Oat Crumble Bars filled with Bittersweet Chocolate and Orange Marmalade! A fantastically crave-able treat! 
So easy to make, just one bowl, one pan and a spoon is all you need!
Equipment Needed: 8×8 Baking Pan, and a Medium Bowl to mix
Author:
Prep Time:

10 min

Cook Time:

35 min

Total Time:

45 min plus cooling

Yield:

16

Bars

1

x
Category:

Bar Cookies

Method:

Bakin

Cuisine:

International
Ingredients
1 cup

(

90g

) Rolled Oats

1 cup

(

120g

) All-Purpose Flour

1/2 cup

(

98g

) Granulated Sugar

3/4 tsp

Kosher Salt

1/2 tsp

Baking Soda

1

stick (1/2 cup, 114g) Unsalted Butter, at room temperature (See Note 1)
(optional) 1 tsp (5 ml) Natural Vanilla Extract

8

–

10

oz. (240-2

70g

) Orange Marmalade

1/2 cup

(

120g

) Chopped Bittersweet (>70% Cacao) Baking Chocolate or Bittersweet Chips (usually 60-62%) (See Note 2)
Instructions
Preheat oven to 350F or 335F for Convection/Fan Oven. Prepare the Baking Pan: Line an 8×8 Baking Pan with parchment (preferred) or baking spray. 
Into a medium bowl, place the rolled oats, flour, sugar, Kosher Salt, and baking soda. Stir to mix. Cut the butter into small cubes (about 1/2″ or 1.1cm), and place the cubes on top of the dry ingredients.
Using a pastry cutter, or your hands, cut in the butter, or press the butter pieces with your fingers, into the dry ingredients until the butter pieces are evenly distributed and the largest piece is maybe the size of a pea.  Add the vanilla extract and give the mix another stir.
Using between half and two-thirds of the mix, press it firmly into the bottom of the prepared baking pan, distributing it as evenly as you can. Bake in the preheated oven for 10 minutes.
Remove the par-baked crust, and spoon on the Marmalade, spreading either with a spoon or offset spatula so it goes to the edges of the crust.
Sprinkle chopped chocolate over the marmalade, followed by the remainder of the crust/crumble mixture.
Return the pan to the oven and bake until the top is just turning light golden brown. This should take 20-25 minutes more.
Remove and cool to room temperature. Remove bars from pan using the edges of the parchment or a spatula.
Bars keep at room temperature for at least 4 days when kept in an airtight container.
Notes
You can use salted butter, just decrease the Kosher Salt you add to somewhere between 1/4 and 1/2 tsp. All Salted Butters contain slightly different amounts of salt.
Baking Chocolate is preferred over Chocolate Chips, as it is more bittersweet and has higher Cacao content. I feel like along with orange marmalade is a more pleasing flavor. But if you don't have baking chocolate, bittersweet chocolate chips would work as well. You could use semisweet, but the chocolate flavor would be less pronounced.
Keywords: chocolate orange bars, chocolate oat bars, chocolate orange oat bars, recipe, Oat crumble bars, jam, orange and chocolate desserts, marmalade, how to make oat crumble bars, oat jam crumble bars, chocolate oat bars recipe, chocolate oat squares recipe, how to make oat bars, how to make chocolate chip oat bars, chocolate orange oat squares, oatmeal bars recipe, chocolate chip oatmeal bars recipe,
Recipe Card powered by