Golden, crispy, Roasted Sunchokes are a fantastic alternative to potatoes! This recipe for crispy-edged, creamy-middled, mild and nutty tubers will let you know what you've been missing!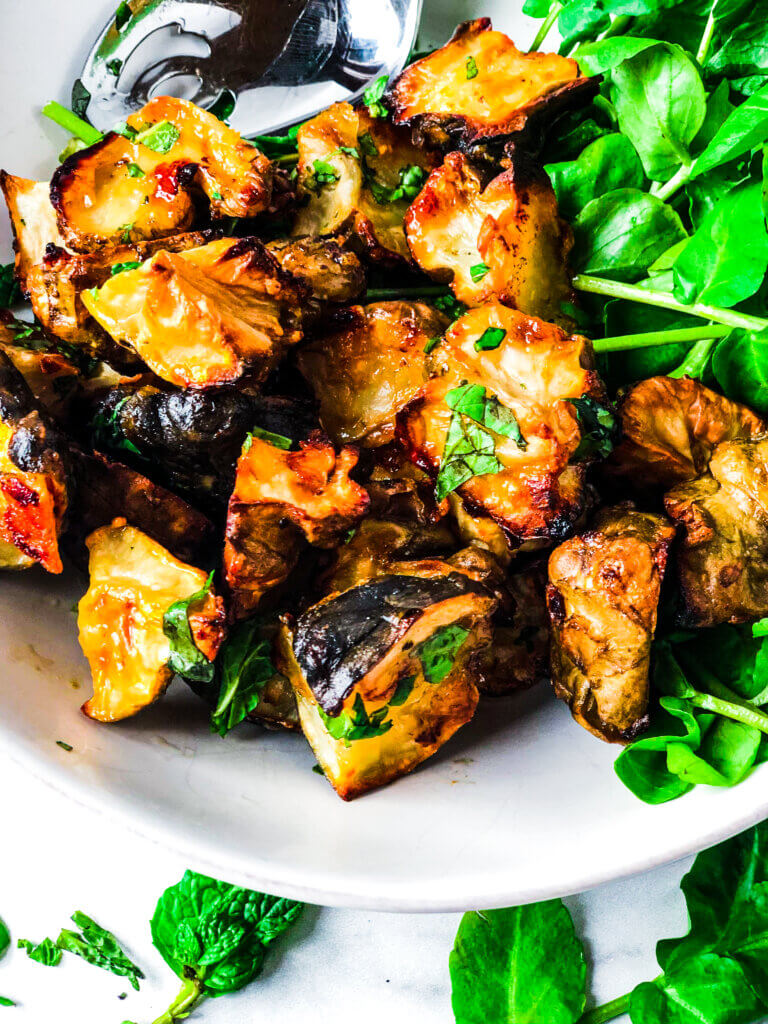 I'm always looking for a side dish other than roasted potatoes, baked potatoes, red-skinned potatoes or any other potato for that matter. Much as I love these dishes, in all their incarnations, they sometimes need a substitute.
This is where that great sea of "the veggies I just have no idea how to cook" (or how they taste!) in the grocery store, can actually be helpful. You know the ones I mean – those less colorful, vaguely orb-shaped roots like turnips, rutabaga, celery root, and Sunchokes. The ones (if you're anything like me) you wonder how they sell enough to keep stocking them? Yes, those. Well, I can tell you how they sell enough – they are delicious, nutritious, and actually easy to cook. You just need to start with a single Sunchokes recipe!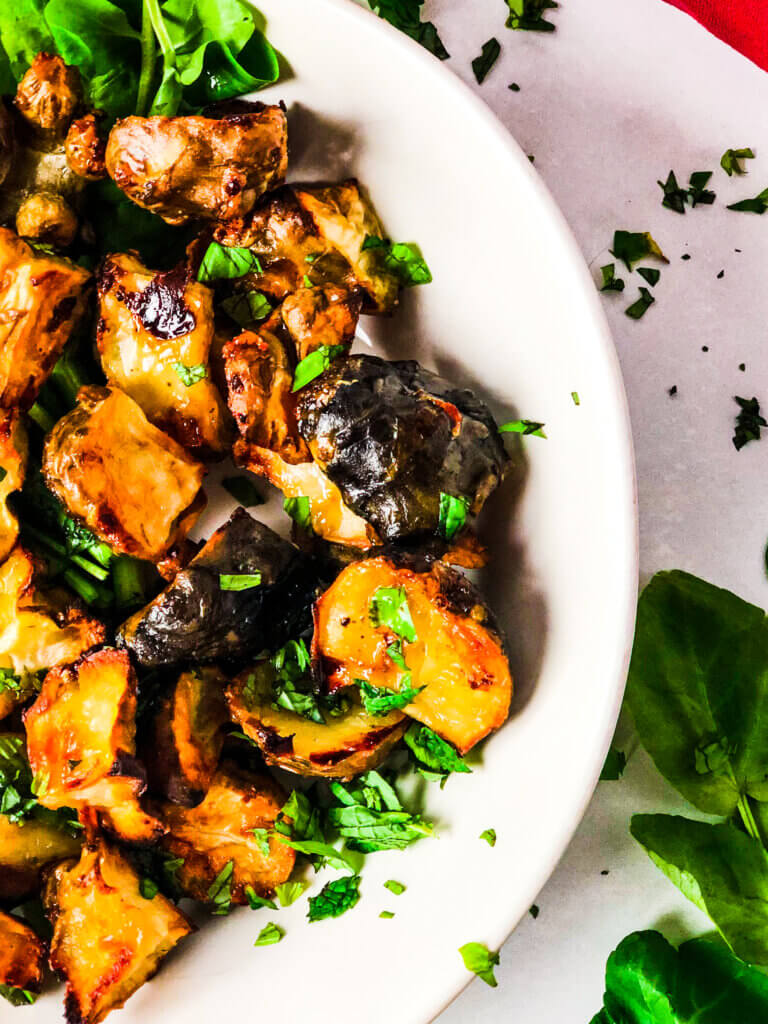 The Sunchoke has many other names – Jerusalem Artichoke, Topinambours, Sunroot, Earth Apple. No matter what name you give it, this root has health benefits the potato doesn't. The low-carb tubers are high in potassium and iron, have some protein and Vitamin C, as well as non-digestible fiber called inulin, which unfortunately leads to another nickname – "Fartichoke", but eaten in moderation, this nickname can also be moderated.😉
I call them Sunchokes (although the name "Sunroot" is probably the most descriptive name for them) because, unfortunately, the oft-used name "Jerusalem Artichoke" is quite the misnomer. Because it has absolutely nothing to do with Jerusalem and is definitely not an artichoke, or even artichoke-like. It is thought that the word "Jerusalem" is an English-speaker corruption of the Italian word "girasole" (jeer-uh-SOLE-ay), meaning Sunflower, the family of plants to which the Sunchoke belongs. And whether it is similar to an artichoke in flavor, is up for debate, but it doesn't really taste anything like an artichoke to me, at least.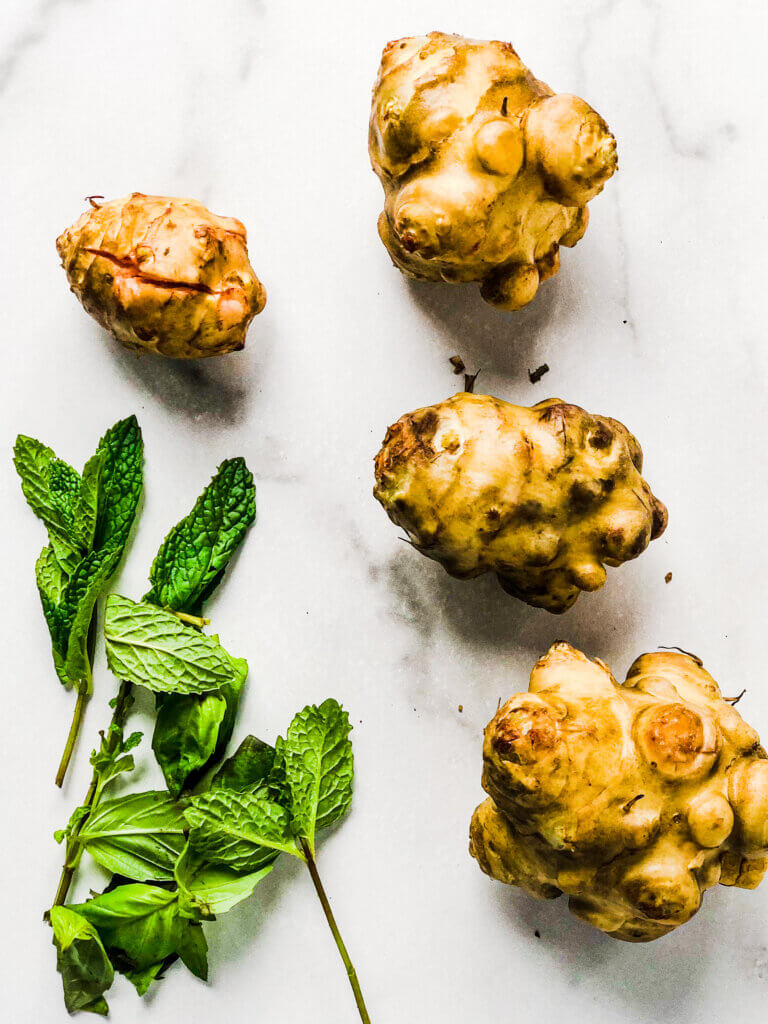 A Roasted Sunchoke has a mild, slightly sweet, and a bit nutty flavor, and texture similar to that of a starchy vegetable, like a potato, when cooked. In this recipe, the texture is quite similar to a roasted red-skinned potato, creamy on the inside, crispy on the outside. A bit thicker skin, which you may or may not like – but I love the added texture!
And, when topped with some fresh, tangy Seasoned Rice Vinegar and sprinkled with bits of fresh basil and mint leaves, Roasted Sunchokes are so delicious, you may be buying them, on repeat! So, this could be your base recipe for the lovely Sunchoke!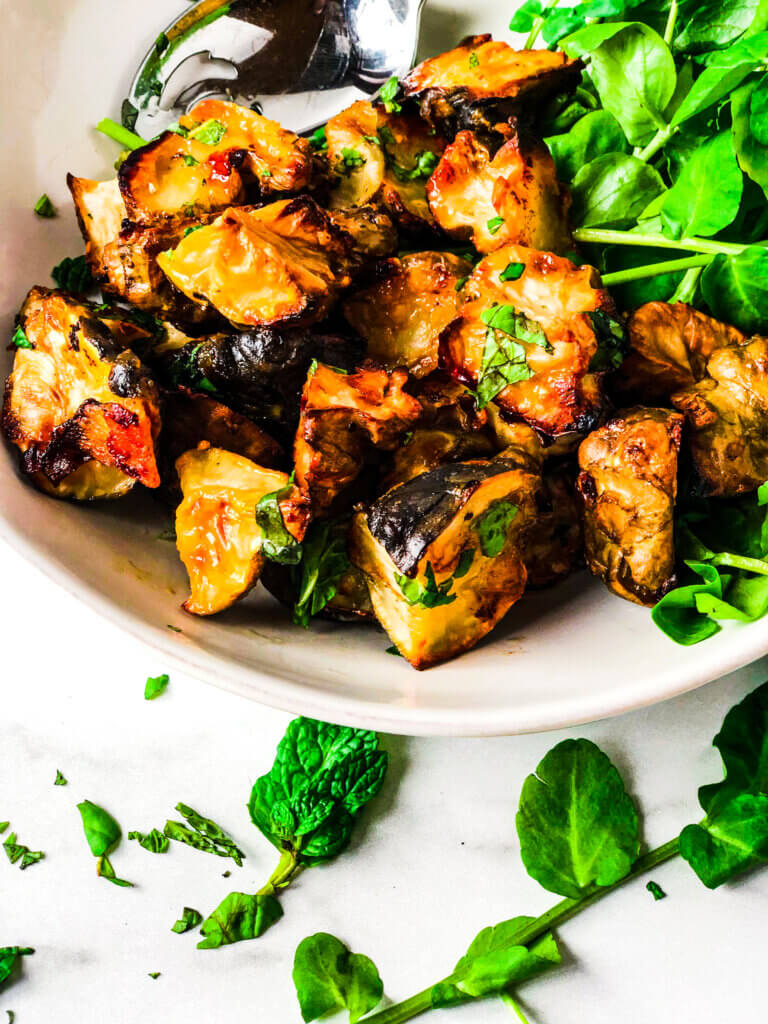 So, I'm curious, is there a vegetable or root in your grocery store you always see but haven't the slightest idea what you would do with it? Leave a comment and let me know! I'd love to give it a try!
Enjoy!
Other great side dishes to try:
Farro-Tomato Salad with Basil and Mint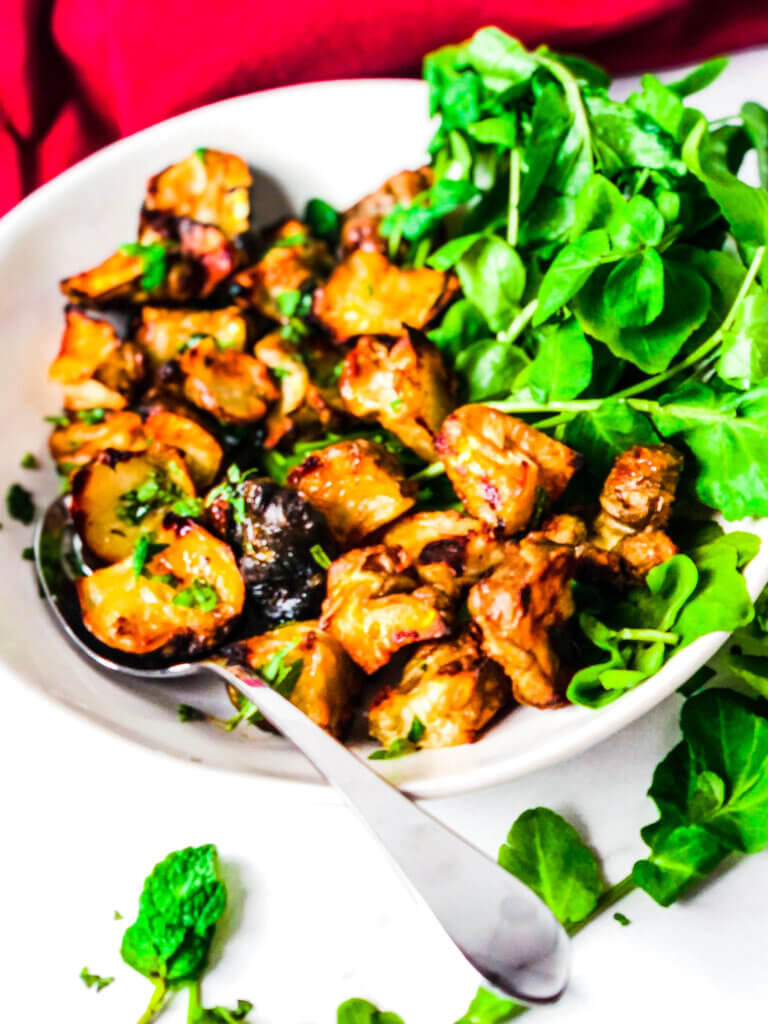 PIN this Sunchokes Recipe->
How to Cook Sunchokes ->
This post may contain affiliate links. As an Amazon Affiliate, I may earn a small commission, at absolutely no cost to you, for purchases you may make of items linked from this site.
Things you may need to make this recipe:
Sheet Pan – I love my USA Pan Sheets! (#notanaffiliate)
Parchment Paper – You will definitely save by buying a year's worth or pre-cut sheets!
Mixing bowl – OXO is one of my favorites!
Seasoned Rice vinegar – many choices, but this one seems to be in virtually every grocery!
Just a few steps!
This is a super-simple recipe! There are just a few steps to follow here. Preheat your oven to 400F (or 375F for Convection/Fan oven). You'll first want to scrub your Sunchokes clean, or peel them. For my family, I like to keep the skin on, because it does get nice and super crispy, and we're all about that texture. So I scrub them as clean as I can. You'll need to cut them into smaller pieces, about 1 1/2″ (4 cm) cube-like pieces. Then, you'll coat them in a bit of canola oil (or some type of vegetable oil), then sprinkle with a bit of Kosher salt, or you could also use table salt.
Then pour them over an oiled or parchment-covered sheet, and into the oven for 45 minutes. You'll want to turn them once or twice during the bake, just to be sure all the sides get nice and golden.
When they're done, toss them with a tablespoon or two (25ml) Rice vinegar, mixed with a bit of olive or vegetable oil, then top with freshly chopped basil and mint. I like to use about a quarter cup of each, but you could use less to suit your own tastes.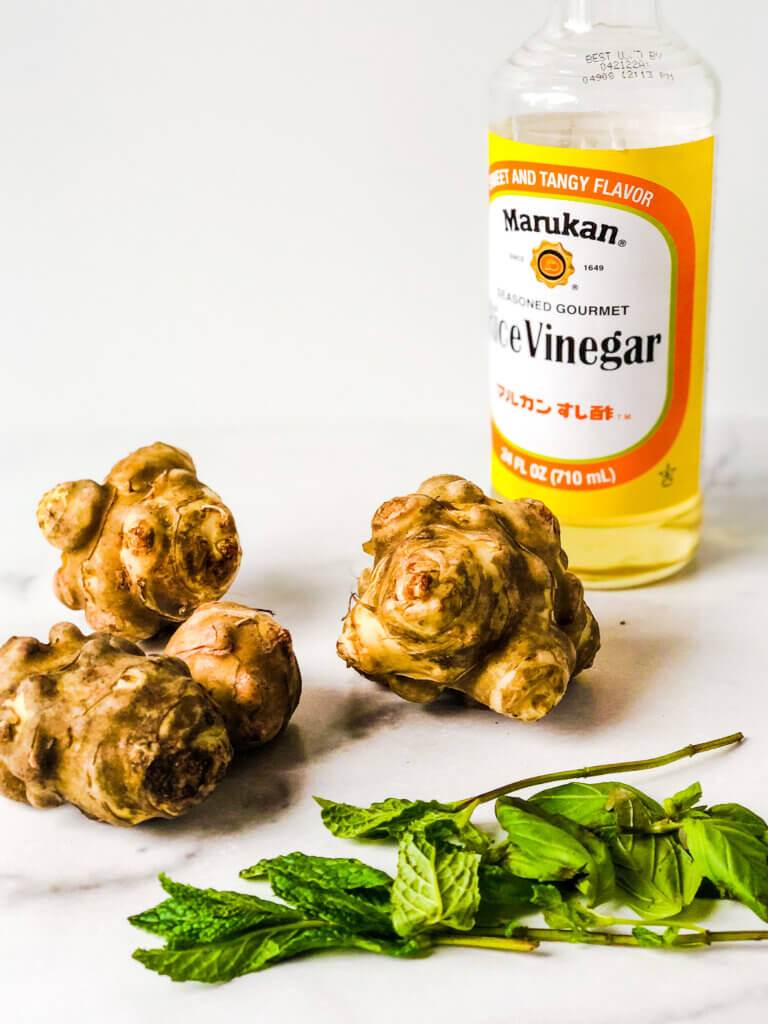 What other seasonings could I use on Jerusalem Artichokes (Sunchokes)?
The possibilities are endless, truly! You could season them with :
A favorite spice mix:
Tajin, a Mexican-style Chile-Lime Seasoning
Za'atar, a tangy sumac and sesame seed spice mix
Old Bay Seasoning
Other fresh herbs:
Rosemary
Thyme
Chives
Sage
Tarragon
Other dressings:
Balsamic Vinegar
Red or White Wine Vinegar
Soy Sauce
Sweet Chili Sauce
Sriracha
Honey Mustard
Italian Dressing and Parmeggiano-Reggiano
If you like, you could roast Sunchokes along with other root vegetables, like parsnips, turnips, carrots, sweet potatoes. You'll just want to increase the amount of oil, enough to coat all of the vegetables, and salt, to season before and after roasting.
Print
Oven Roasted Sunchokes or Jerusalem Artichokes
Author:
Prep Time:

5 min

Cook Time:

40-50 min

Total Time:

45-55 min

Yield:

4

servings

1

x
Category:

Side dish

Method:

Oven Roast

Cuisine:

International
Ingredients
1

lb (454g) Sunchokes, (a.k.a. Jerusalem Artichokes, Topinambours), well-scrubbed or peeled if you prefer

1 1/2

–

2

Tbsp (45-60ml) Canola or Vegetable Oil

1 tsp

Kosher Salt, plus more to sprinkle after roasting

2 Tbsp

(

25

–

30

ml) Seasoned Rice Vinegar (See Note)

1 Tbsp

(

15

ml) Olive Oil or Vegetable Oil
Freshly ground black pepper
A handful of fresh Basil leaves 
Several Springs Fresh Mint
Instructions
Preheat oven to 400F (200C), or 375F (190C) for Convection/Fan. Spray or line with parchment a baking sheet.
Scrub Jerusalem Artichokes as clean as you can, or peel them if you prefer. Cut each into bite-sized pieces, roughly 1 1/2 in or 4 cm cubes. Place the cubes into a bowl. Drizzle the oil over the cubes and sprinkle with salt.
Place in preheated oven, and roast until golden and crispy, 40-50 minutes. I turned my cubes twice during the bake to make sure all the surfaces browned, and removed them after 45 mins.
Sprinkle a bit more salt over the cubes, and grind some pepper over them. In a small jar or dish, mix together the Olive Oil and Rice Vinegar, and drizzle over the roasted Sunchokes, then sprinkle with the finely chopped herbs. Add a bit more salt, stir and serve.
Notes
It's fine to substitute with Balsamic vinegar or white/red wine vinegar.
Keywords: sunchokes, jerusalem artichokes, how to roast sunchokes, topinambours, fartichokes, how to cook jerusalem artichokes, roasted veggies, oven roasted root vegetables, foods with inulin, roasted sunchokes, basil, mint, rice vinegar
Recipe Card powered by