A light-as-air and simply stunning dessert, the Pavlova with Mascarpone Cream will delight and impress everyone at your table with its crispy shell, pillow-y marshmallow center and smooth, creamy cloud of Mascarpone Whipped Cream! Add some lemon curd and blueberries, this dessert is perfect for any Sunday dinner or celebration!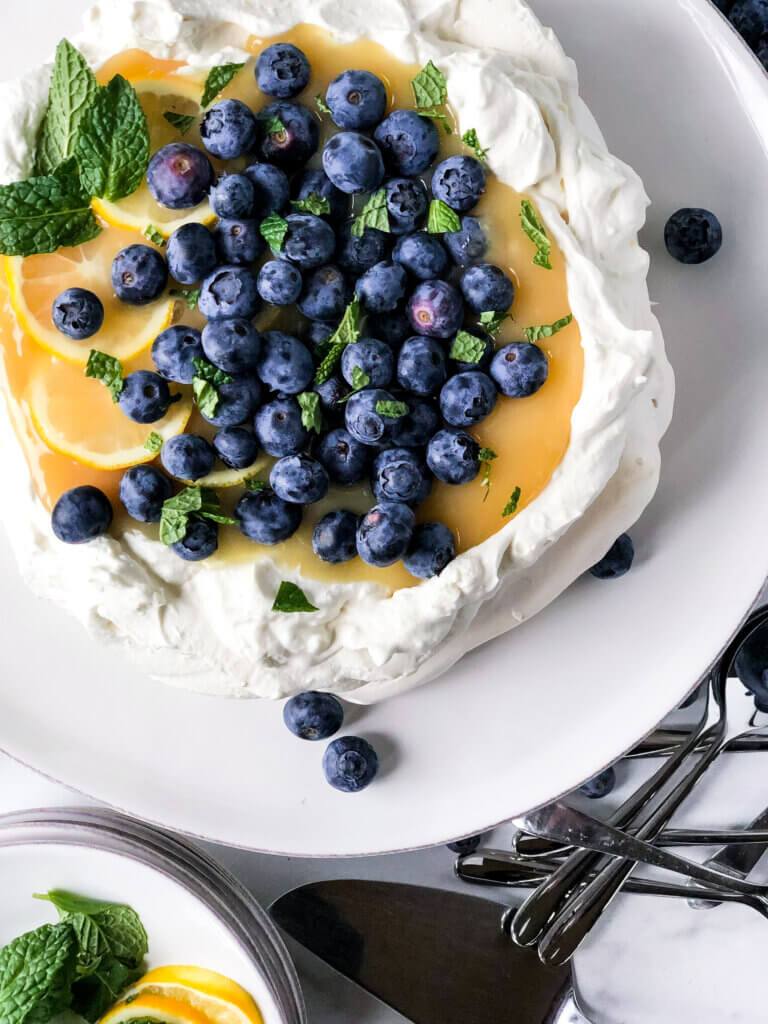 "If at first you don't succeed, try, try again." These words, attributed and popularized in the 19th century, I first heard from my late Dad, the first (and best) philosopher of my life ❤️. I don't know how old I was, or what exactly I had had difficulty with, but I would hear these words from him over and over during my life. There were many opportunities – learning to play piano or how to drive, taking difficult college classes (Biochemistry, anyone?) or my first job. And there was no one prouder when I succeeded.
I have to admit, it was frustrating to hear these words sometimes, because, when we do something new, we all want to succeed and really don't want to do all the work again, if our first attempt was not successful. But trying again (and again, if necessary) is how we all learn that hard work and practice are the key to success. Here's what I've learned with the Pavlova: it's not hard work, but just the simple tricks and timing that make this recipe work out – every.single.time!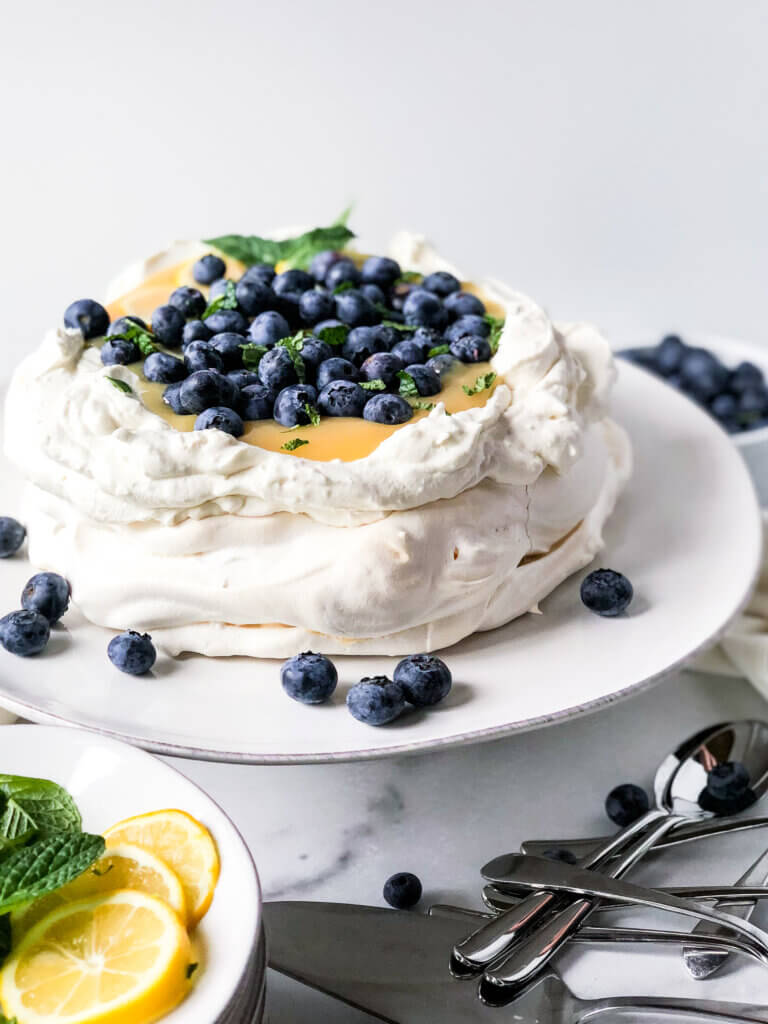 Named for the Russian ballerina, Anna Pavlova, this dessert is light and airy, impressive and beautiful. Not only that it is a symphony of textures – crispy on the outside, marshmallow-y and sweet on the inside, and topped with a pillowy, slightly tangy mascarpone whipped cream and your choice of toppings.
When I first saw a stunningly gorgeous Pavlova, I knew I wanted to make one. I looked at various recipes – it seemed easy enough – and then got to work. I don't know what happened, but it was an epic failure. Totally collapsed, flat as a pancake. It tasted good, but was chewy all the way through. A couple months later, I tried again. Same thing happened – it was flat. Crispy outside, chewy inside. No marshmallow.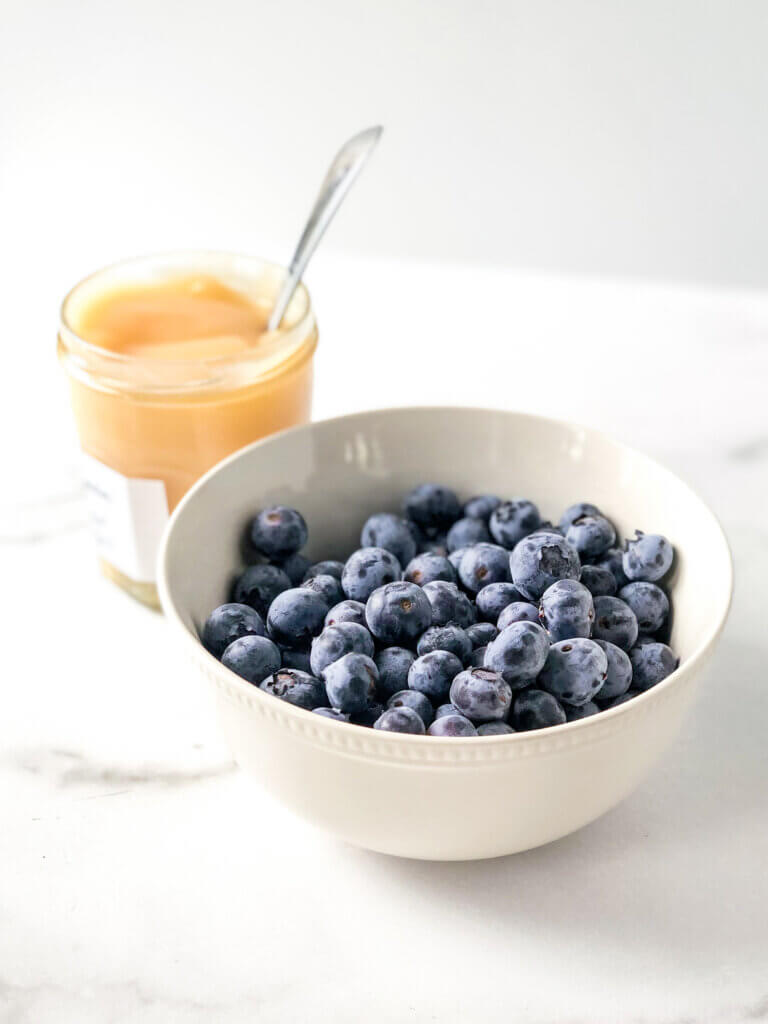 Then, several months later, I stumbled across the recipe and instruction on exactly how to make a Pavlova from Recipe Tin Eats, and it changed my Pav-making life! So many useful tips and tricks that I've incorporated in my adapted recipe. My Pavlova became perfect! Light as a feather! Marshmallow interior! Crispy exterior! I couldn't wait to make another one! I followed her instructions for this recipe, and Voila! Perfect again! I had totally and successfully "tried, tried and tried again!"
The traditional Australian or New Zealand Pavlova is topped with fresh fruit – whatever is in season. Newer versions, like this Pavlova with Mascarpone Whipped Cream, can be topped with absolutely anything. In addition to the lemon curd and blueberries I used here, I've also used peanut butter and chocolate sauces and some of my favorite Homemade Peanut Butter Cups.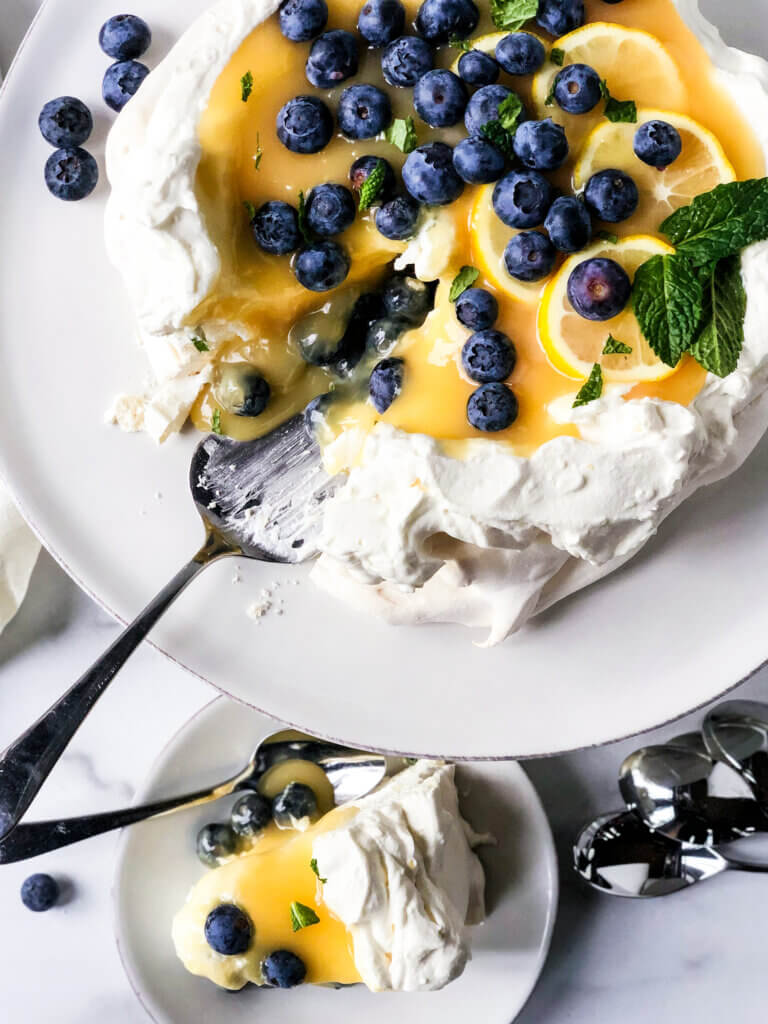 So here's to hoping you get it down the first try – I incorporated what I learned along the way – Pavlova with Mascarpone Whipped Cream is an impressive, but in the end, deceptively easy, recipe! And, I'm curious, is there a recipe that you've struggled with, tried over and over (and over) but just couldn't get to work? Or a trick you've found to make it work?
Enjoy!
If you like Show-stopping desserts like this Pavlova, don't miss these:
Gorgeous, 3-INGREDIENT! Chocolate Oblivion Truffle Cake
Chocolate Biscuit Cake (is it The Queen's fave?)
German Apple Cake with Caramel Sauce
Over-the-Top Awesome Peanut Butter Banoffee Pie
PIN this Pavlova with Mascarpone Whipped Cream ->
Tips to Make a Pavlova ->
This post may contain affiliate links. As an Amazon Affiliate, I may earn a small commission, at absolutely no cost to you, for purchases you may make of items linked from this site.
Here are some things you will need to make Pavlova:
Recipe Steps
Gather your ingredients – It's best to gather all your ingredients before starting. You'll want to separate your eggs when they are cold, if you can, just because you'll be less likely to end up with bits of yolk in the whites, which could impact your ability to whip them up. Then, let the whites come to room temperature, as they will whip up so much fluffier than cold whites. (A lesson I learned the sad way.😉)
Prepare your baking sheet with parchment – Draw an 8″ (20cm) circle on a sheet of parchment (trace an 8″ cake pan). Place the sheet, pencil-side down, on a baking sheet. This will serve as the outline for your pavlova. Preheat the oven to 340F or 300F for Convection/Fan.
Whip the Pavlova shell – This should take fewer than 10 minutes. Starting with a clean mixing bowl, beginning at Medium Speed, then quickly increasing to Medium-High (about level 8 of 10), whip the whites until you see soft peaks. This stage usually happens a minute or two after they lose their foaminess. Then, a Tablespoon at a time, add in the sugar, and beat until the mixture is thick and glossy, 3-5 minutes. Add in the lemon juice and cornstarch, and mix again 10-15 seconds until incorporated.
Bake the Pavlova – Dollop about 1/4-1/3 of your egg whites over the circle on the baking sheet, then, using an offset spatula or knife, spread it out to cover the circle. It should be 3/4-1″ high. Then scoop the remaining whites over that circle, and shape into a flat-topped dome, similar to the photo below. You'll want it flat to place the toppings nicely. Pop it into the oven and immediately reduce the oven temperature to 240F (or 210F for Convection oven). Leave in 90 minutes, then turn off oven, and wait for Pav to cool completely, at least 3 hours, or preferably, overnight.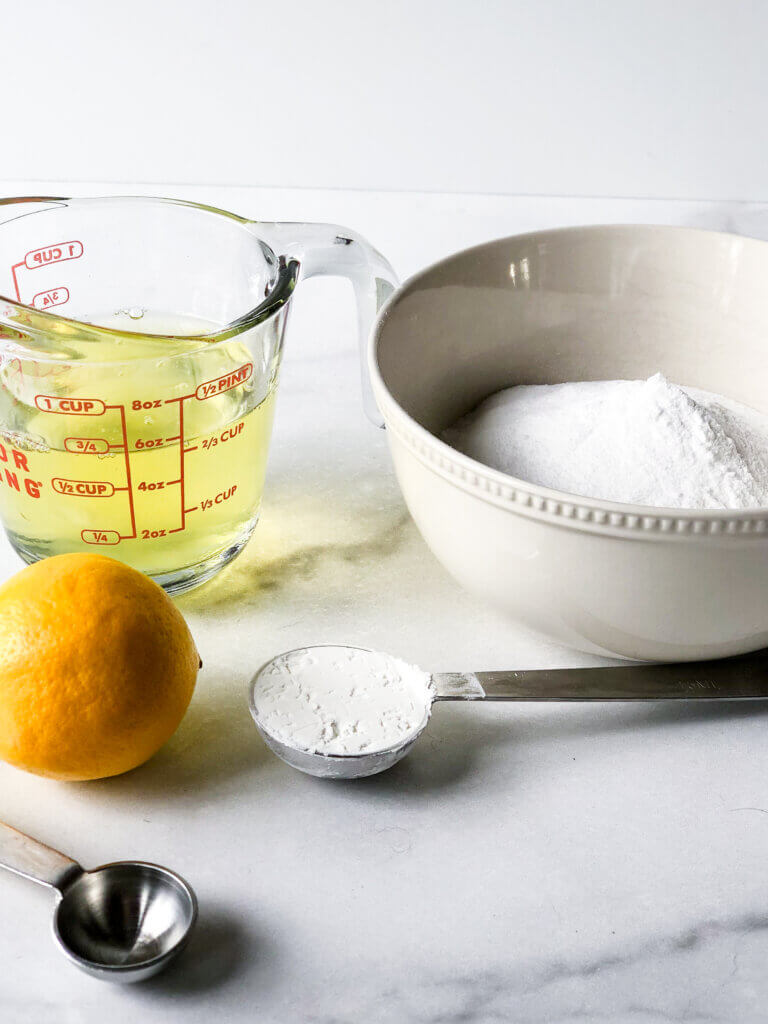 Make the Mascarpone Whipped Cream – No more than an hour before serving, whip up the Mascarpone whipped cream, by combining all the ingredients until smooth. A hand- or stand-mixer is definitely preferable to a whisk here, because you'll want to be sure the mixture is smooth as can be. Dollop it on the pav shell, then smooth the top, leaving a rim to hold the curd, sauce or fruit. 
It's important to note that the addition of the Mascarpone is important to stabilize the whipped cream. It will keep it from going flat, and if you end up refrigerating the leftovers, the cream will stay whipped nicely until the next day (or even two!).
Top with fruits, candies, nuts, or coconut. Truly, anything you love will be good here. I've included photos of two other Pavlovas I've made using this recipe. One is topped with Amarena Cherries from a jar, along with a bit of their juice. The other has chocolate sauce, peanut butter, and pieces of my Homemade Peanut Butter Cups, along with some roasted peanuts.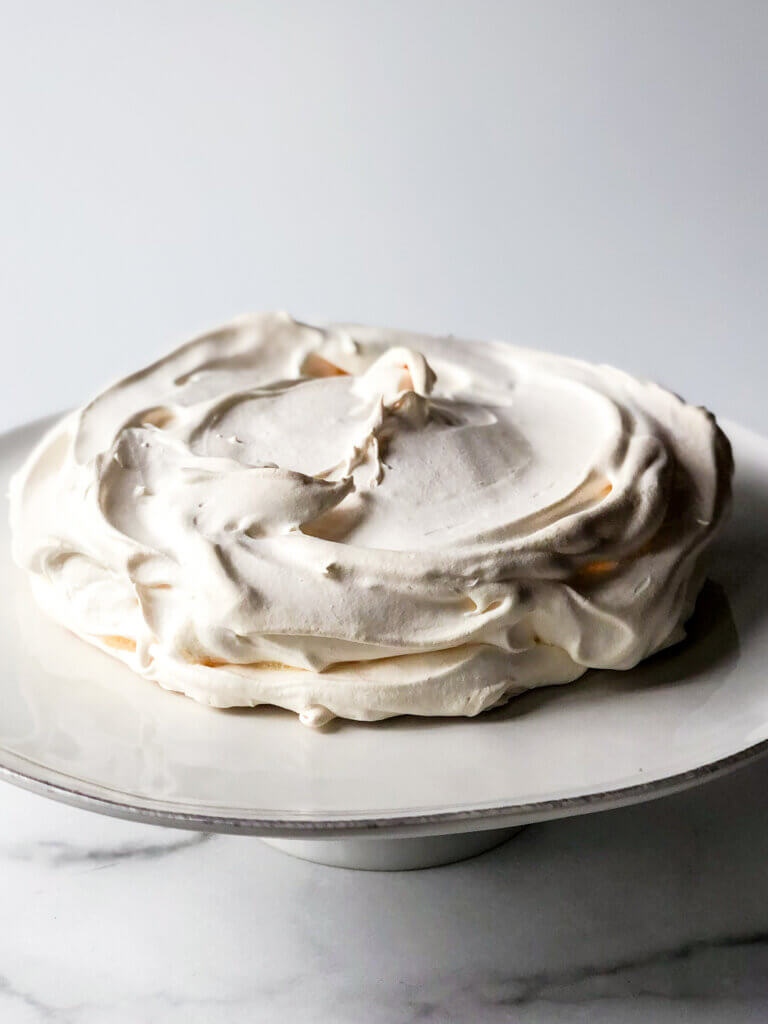 Other Pavlovas I've Made Using this Recipe: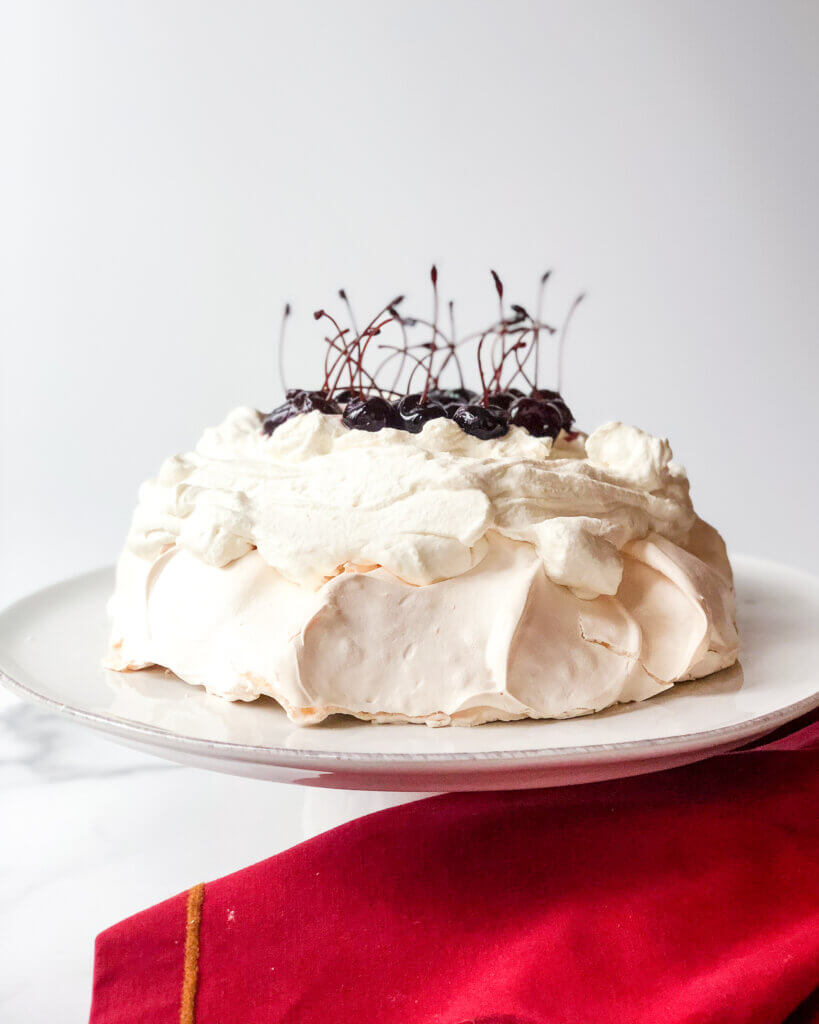 Print
Pavlova with Mascarpone Cream
Pavlova is an impressive and sweet dessert made from egg whites – with a soft Marshmallowy interior and a crispy meringue exterior. Topped with a mascarpone whipped cream and your choice of other toppings.  I used lemon curd and fresh blueberries and garnished with some chopped mint leaves. But I've also topped it with peanut butter sauce and chocolate sauce along with some of my homemade peanut butter cups.  So so good! Your pav, your choice!
Recipe Tin Eats offers many good tips and tricks that I incorporated into the directions, The Boy Who Bakes gave me trick of using lemon juice instead of vinegar, which I incorporated here. 
Be sure to top the shell no more than an hour before serving. It's best eaten the same day, because you'll need to cover and refrigerate any leftovers. Once refrigerated, the shell loses its crispiness. It's no less tasty, though!
Nutrition information is for the pavlova shell and mascarpone whipped cream only.
Author:
Prep Time:

15 min

Cook Time:

90 min + cooling

Total Time:

1 hr, 45 min

Yield:

10

servings

1

x
Category:

Desserts

Method:

Baking

Cuisine:

International
Ingredients
For the Pavlova:
5 oz

. (

150

ml) egg whites – 4-5 lg egg whites – See Note 1

1 cup

(

225g

) superfine sugar (caster sugar) – Regular granulated sugar (

198g

) is optional, but not preferred (See Note 2)

1 Tbsp

(

8g

) cornstarch, sifted
Pinch of salt

1 tsp

(5ml) lemon juice (white vinegar is good substitute)
For the Mascarpone Whipped Cream:
1 cup

  (237ml) Heavy Whipping Cream (any whipping cream will do)

2 Tbsp

(

25g

) granulated sugar (superfine works well here, too)

5 oz

(

150g

) Mascarpone Cheese, removed from fridge 15 mins ahead

1 tsp

(5ml) Natural Vanilla Extract
(optional) 1/2 tsp lemon zest
For Toppings:
Lemon Blueberry Pavlova:
8

–

10

oz. Lemon Curd

1/2 cup

Fresh Blueberries
a few mint leaves, chopped
Other choices:
fresh fruit
jam
candies
nuts
chocolate sauce
caramel sauce
peanut butter sauce
toasted coconut
anything you love!
Instructions
Prepare a Pan to Bake Pavlova:
Onto a sheet of parchment paper, trace the bottom of an 8" (20cm) cake pan, or draw an 8" circle. Turn the sheet upside down (pencil marks down) on a sheet pan.  The pavlova will bake to be larger than the circle by up to 1 1/2 – 2 inches in width.
Make the Pavlova:
With cold eggs, separate the whites from the yolks. Measure 5 oz (150ml) of whites, or 4-5 large eggs' worth of whites. Let warm to room temperature – this will take about 30 mins.
Preheat oven to 300F/150C if convection, 340F/170C for standard.
In a large bowl of a stand mixer or a large bowl with a hand mixer, place the room temperature egg whites. Beat at Medium-High (stand mixer) or High (hand mixer) until soft peaks form.  This typically takes a minute or two after eggs no longer appear foamy during beating.
Add the superfine sugar, 1 T at a time, beating as you go.  Toss in the pinch of salt. After all of the sugar and the salt is incorporated, continue beating an additional 3-5 mins, until the mixture has stiff peaks, is quite thick, and glossy.
Add the cornstarch and the lemon juice and beat an additional 10-15 seconds, it doesn't need to be fully incorporated.
Carefully scoop half of the egg white mixture onto the circle and using an offset spatula or large spoon, gently coax it into the circle shape, being careful not to "smash" it.  Then pile the rest of the egg white mixture on top, making it vaguely (at least) dome-shaped. Flatten the top a bit.  You just don't want the sides to be straight up, because this will increase the possibility of collapse. The "dome" should be around 2- 2 1/2" (5cm) high. 
Carefully place the baking tray into the oven, and GENTLY close the door. Do your best to keep the kitchen activity low during cooking, or you could risk the dreaded collapse of the pavlova. Immediately reduce oven heat to 210F/100C for convection, or 240F/115C for standard. Let the pavlova bake 90 minutes.  DO NOT open the oven to peek, it will be fine. DO NOT decide to jump or dance in front of your oven – again, for fear of collapse. 
After 90 minutes, turn the oven OFF, still keeping the door closed. Leave the pavlova in the oven at least 3 hours and up to overnight. It's best if it cools slowly. This should avoid any major cracks in the shell. 
Gently coax it off of the paper and onto a serving plate.  Top with Whipped Mascarpone Cream and any other toppings you wish!
Make the Mascarpone Whipped Cream:
Place the cream, sugar and vanilla into a bowl.  Beat at Medium-high speed until it has soft peaks. It should be thick and smooth with no stiff peaks.
Add the mascarpone cheese and lemon zest (if using) and continue to beat until incorporated, but still just thick and smooth, without soft peaks only.  If it gets too thick, just smooth it out with a little extra cream.
Top the Pavlova with the whipped mascarpone cream and any fruit, sauces or candies, and serve right away! (See Note 3)
Notes
1. Best to separate egg yolks from the whites when cold – they are more likely to separate easily and fully. Then let the whites get to room temperature to get the best ability to whip them up.
2. To make caster, or superfine, sugar from regular, granulated sugar, whiz it up in a spice grinder or blender for 5-8 seconds, a half cup at a time. 1 cup caster sugar weighs 220-225g.
3. Serve your Pavlova immediately after topping, to avoid any collapse.  It will last picture-perfect for 20-30 mins, if you are lucky!
Nutrition
Serving Size:

1/10 recipe
Keywords: Pavlova, how to make pavlova, pavlova recipe, classic pavlova, pavlova recipe, easy pavlova recipe, meringue pavlova, pavlova lemon curd, pavlova mascarpone, recipe, best pavlova recipe, pavlova with chocolate, mascarpone whipped cream, Lemon Curd Pavlova
Recipe Card powered by