Sweet peaches with a buttery crisp and pillowy whipped cream! This Easy Peach Crisp Trifle is the perfect make-ahead recipe for a summer get-together. Keeps well in the fridge for several days!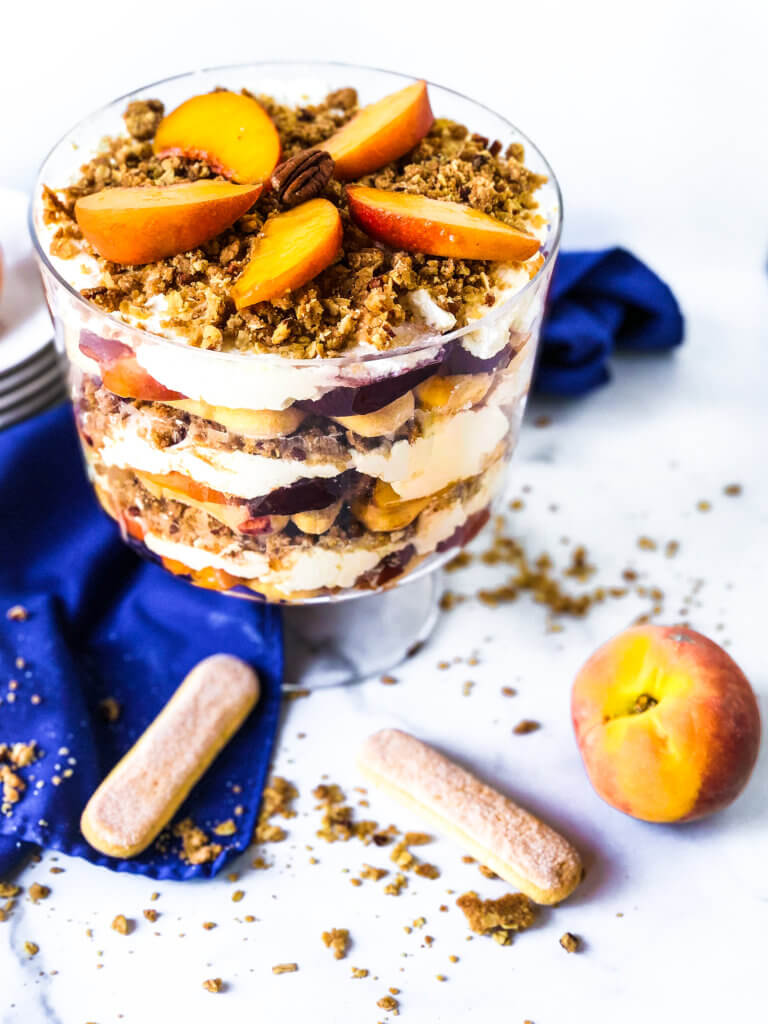 Waiting. We all do it. We all have to do it. All the time. It takes patience. Sometimes we wait a short time, other times, it seems interminable. Whether it's the addition of a new family member, beginning a new career, or an upcoming vacation, it can be tough to wait. But it's exciting too, because we know something good is coming. Something worth the wait.
Whether waiting for big events, or just for a pizza to be delivered, it's part of our everyday, too. Waiting is such a part of our life, songs have been written about it. Do you remember years ago, (this certainly ages me😳), there was a Carly Simon song about waiting used for a ketchup commercial. "🎶An-ti-ci-pa-a-tion🎵 is making me wait, it's keeping me wa-ai-ai-ai-ai-ting." And Tom Petty said it best when he sang, "The waiting is the hardest part." So true, Tom, so true. But like Leslie Odom, as Aaron Burr in Hamilton, we all have things for which we can say "I'm willing to wait for it!" ("Wait for it, Wait for it!")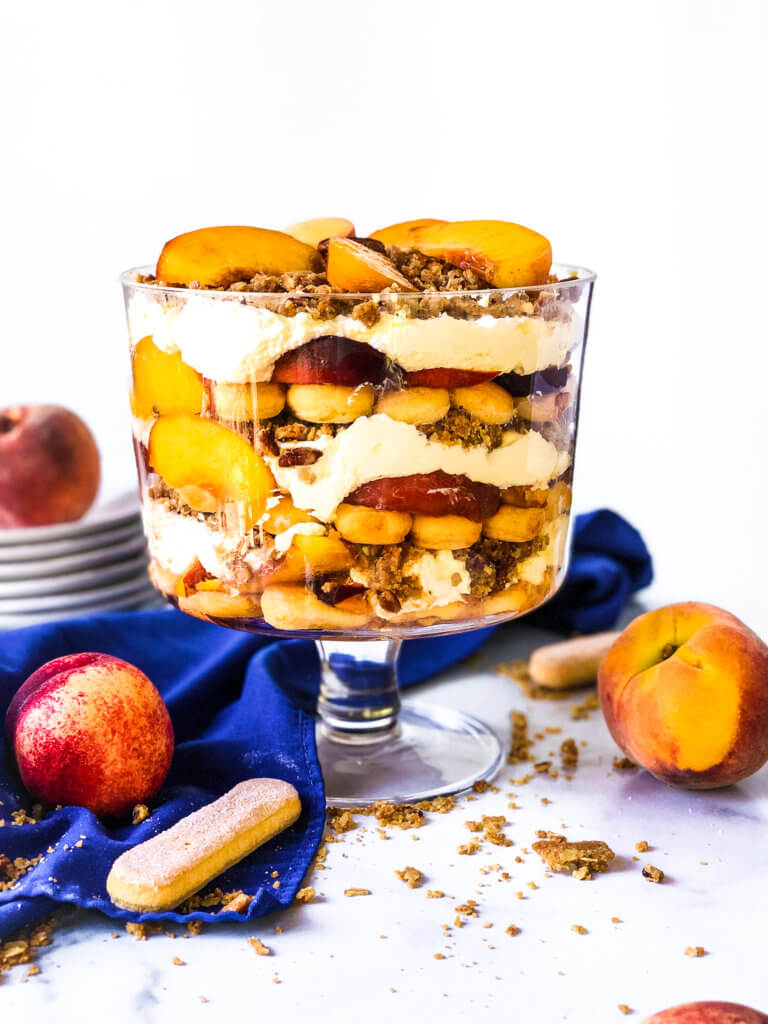 And, this Easy Peach Crisp Trifle should be one of the things you're willing to wait for! So worth the wait! Fresh peaches macerated in brown sugar, cinnamon and nutmeg exude a sweet peachy juice. That juice turns crunchy ladyfingers into shortcake as it coats them. This is all topped with a slightly tangy Mascarpone whipped cream and some buttery crisp topping. And I'm going to apologize right now for making a little extra of that topping. You can thank me (or berate me!) later. So Sorry (not sorry).
You'll really want to make this and tuck it away in the fridge for all those flavors to just sink into one another. Literally. At least several hours. Maybe a full 24. Because you need to know, as good as this Peach Crisp Trifle is on day 1, it's Crazily, Addictively, Awesome by day 2. Don't even get me started on day 3. To quote Leslie Odom in Hamilton, "I'm willing to wait for it!" But don't wait until day 2, just try to save some. I mean, we only have so much patience, right?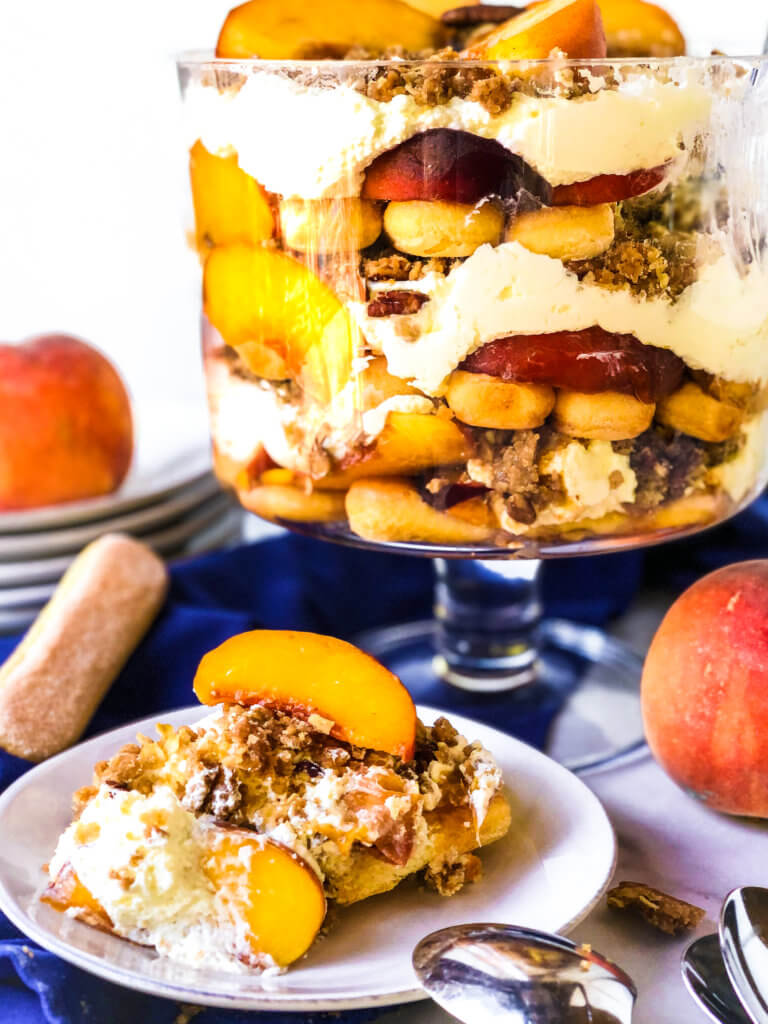 So, put your Patient Pants on and make this lush Easy Peach Crisp Trifle Recipe! And, I'm curious, do you know any other songs about waiting. Because it is the hardest part, and I need a few more for my Patience Playlist.
And, be sure and head down to the bottom of this post to see who snuck into the photo shoot.😉
Enjoy!
And, if you're looking for other easy summer fruit recipes, don't miss these:
Brown Butter Blackberry Buckle
Strawberry Rhubarb Cherry Crisp ("Leftover Fruit Crisp"!)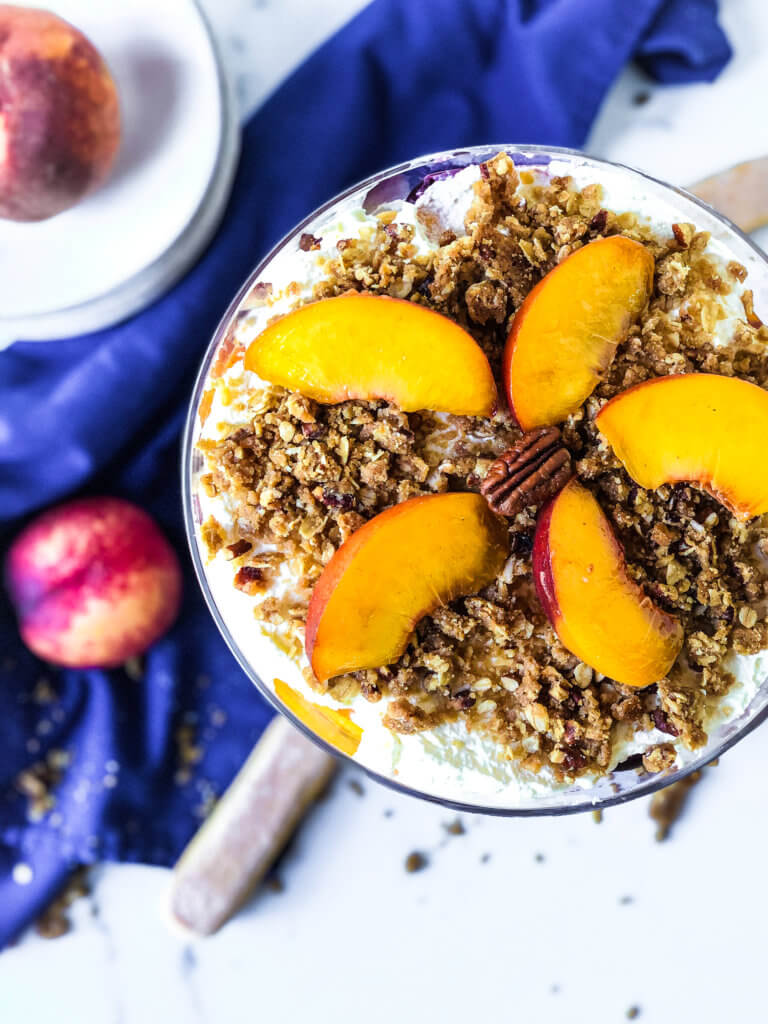 Pin Easy Peach Crisp Trifle Recipe for later ->
Recipe Details and Tips ->
This post may contain affiliate links. As an Amazon Affiliate, I may earn a small commission, at no cost to you, for purchases you may make of items linked from this site.
This easy dessert will have everyone screaming for more. I know it looks like a lot, but you won't believe how quickly it disappears.
I had wanted to make a no-bake kind of dessert, but peach crisp was calling me. And I knew I had to bake the crisp part, because, well, it has to be crispy. I suppose you could substitute granola for the crisp, but what wins the day here is the buttery flavor of that crisp! The recipe makes a bit more than I used in my crisp, but I'm not sorry. You can add more crisp to your layers, but I liked the ratio of crisp when I added 1 cup to each layer. That leftover will be great on ice cream!
The crisp is simple to make. Just pout all the dry ingredients (everything but the butter) into a bowl, and using a pastry cutter, 2 knives, or your fingers, cut in the butter until the pieces are the size of peas, or thereabout. Spread that mixture over a Sheetpan and bake 15-20 minutes, stirring once after about 8 minutes. Once the edges begin to brown (18-20 mins), take it out of the oven, stir a bit, and let it finish cooling to a nice crisp.
What if I don't have a trifle dish?
If you don't have a trifle dish, you can make this as an "icebox cake" in a 13×9 pan – you know I'm a big fan (not an affiliate) of USA Pan. The volume of a 13×9 is the same as a standard trifle dish, and you'll be able to fit each of the 4 layers in it just one each. So it won't be the 12-layers you see in a trifle dish, but 4. Since I really like the layers to show, I used my trifle dish. My dish was a gift, (so I'm not sure where it was from), but it is much like this one. You could also use a clear bowl. Just be sure it will hold 12-14 cups total.
What can I use instead of Lady Fingers?
You really can use any type of cookie that is mildly flavored: vanilla wafers, graham crackers, digestive biscuits. These cookies might be perceived as "dry", but they absorb the liquid from the peaches well, and turn into cake. You could also use a poundcake, homemade or storebought, just cut it into 1″ cubes and use those as the layers. But if you haven't used Lady Fingers, give it a try, they're awesome for a trifle!
Can I use fruits other than peaches?
You can use nectarines, and keep everything else in the recipe the same. Peaches and nectarines are good, because you will get a good amount of lovely juice as they macerate in the sugars and lemon juice. If you want to use berries, like sliced strawberries or raspberries, you'll possibly want to omit the cinnamon and nutmeg from the fruit mixture but you could then keep the rest of the recipe as is. Or just check out my Summer Berry Trifle.
I can't find Mascarpone cheese in my grocery.
A good substitute is Cream cheese. Just substitute 1 8-oz. block of cream cheese. You may want to soften it a bit before whisking with the sugar, as it is a little firmer cheese than mascarpone.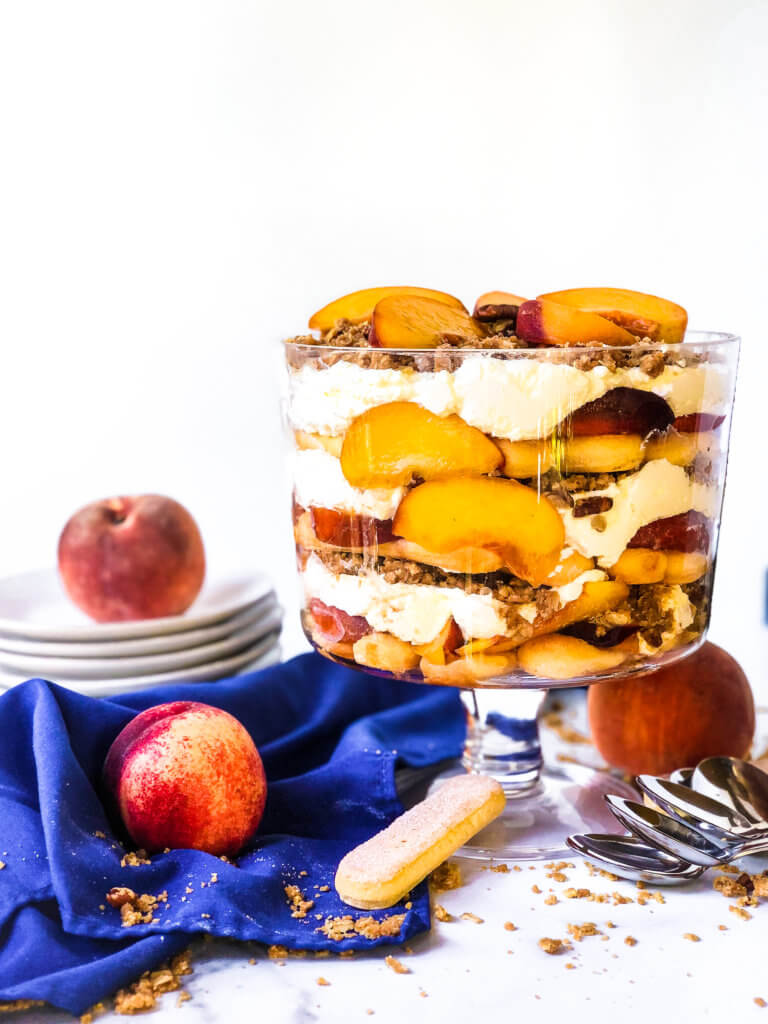 Print
Easy Peach Crisp Trifle
Peach Crisp Trifle is a completely make-ahead dessert with heavenly layers of lady fingers that turn into utterly delicious cake when soaked in the cinnamon and nutmeg spiced peaches, Mascarpone whipped cream and buttery crisp mixture! This one's a keeper!
Author:
Prep Time:

30

Cook Time:

20

Total Time:

30 min active, 20 baking, 15-20 cooling

Yield:

14 cups

1

x
Category:

Desserts
Ingredients
For the Crumble Layer:
1 1/4

c (100g) Rolled Oats or Quick Oats

3/4

c (90g) AP Flour

3/4

c (148g) Brown Sugar

1/4 tsp

salt, or

1/2 tsp

Kosher Salt

1/2

c (47g) chopped pecans (I use toasted, salted)

10

T (1 1/4 stick, 137g) Butter
For the Peach Layer
2

lb Peaches (

4

large, or

6

medium), pitted and sliced into 1/2″ thick wedges

2 Tbsp

(

30

ml) Lemon Juice

1/4

c (49g) Brown Sugar (light or dark)

1/4

c (49g) Granulated Sugar

1/2 tsp

Cinnamon

1/4 tsp

Nutmeg (freshly grated is best!)
Whipped Cream Layer
8 oz

. Mascarpone Cheese, room temperature

16 oz

. Heavy Cream

3/4

c (75g) Confectioner's Sugar, sifted
(optional) 1/2 tsp Natural Vanilla 
For the Cake Layer
1

pkg (7oz.)Lady Fingers (Savoiardi)
(Optional) For Garnish:
One fresh peach, pitted and sliced
Roasted Pecan halves or pieces
Mint leaves
Instructions
Make the Crisp:
Preheat oven to 350F (Conventional) or 325F (Convection/Fan). Line a Sheetpan with parchment or cooking spray.
Whisk together oats, flour, brown sugar, salt and chopped pecans. Dice the cold butter into small cubes (1/2″) and cut in with a pastry cutter, 2 knives or your fingers, until butter pieces are pea-sized but can still be seen. 
Spread over a parchment-lined Sheetpan and bake until golden brown, about 15-20 minutes, stirring once after 8 minutes. Once it is almost done, it will begin to emit a wonderful toasty sweet aroma. This will let you know it's almost done. I took mine out after 19 minutes, stirred it around a bit to break up the bigger bits. As it cooled, it crisped up nicely.
Make the Peach layer:
Make sure your peach slices are thin, no more than 1/2″ thick. Stir all ingredients together.  Set aside at least 30 min. while crisp cools and you make the whipped cream topping.
Make the Mascarpone Whipped Cream
Whisk together the Mascarpone and sifted Confectioners Sugar. Set aside.
Into the bowl of a stand mixer, or a large bowl and using a hand mixer, beat the cream until it is at the "soft peak" stage. Add in the mascarpone-sugar mixture and whip until peaks are firmer. The cheese and the sugar help to stabilize the cream so it doesn't need to be a completely stiff cream.
Layer the Trifle:
Cover the bottom of your trifle dish with lady fingers, fitting them tightly together, and breaking up an individual cookie to fill in the gaps.
Spoon 1/3 of the Peach Mixture over the top, making sure to add some of the exuded liquid as well.
Spoon and spread 1/3 of the Whipped Cream mixture over the peaches.
Sprinkle 1 cup of the crisp topping over the whipped cream.
Repeat the layers 2 more times. Garnish as desired.
Refrigerate several hours or overnight. This dessert gets better and better as time goes by. It's best the second day!
Keywords: Peach Crisp Trifle, Recipe, Easy, How to make a trifle,
Recipe Card powered by