The Best Pumpkin Scone recipe has warm autumn spices, chocolate chips, toasted pecans & (don't EVEN get me started on the) Salted Brown Sugar Glaze! So scrumptious, they make an awesome breakfast, brunch, or snack!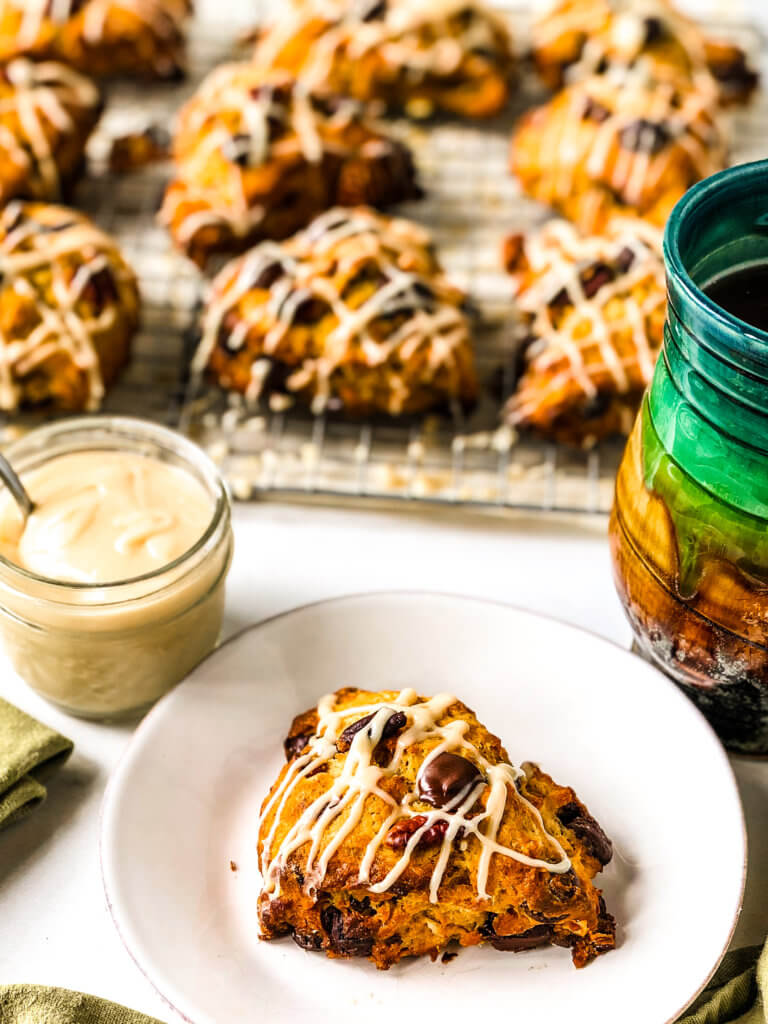 I do love a good scone, don't you? Sweet, savory, fruity, plain. I love them all. But, I have to say, though, when I was a kid, I don't think I ever even heard the word "scone." Not a word used at all in my MidWestern upbringing. It wasn't until I came to Seattle for a job interview I saw stands selling things called "latte" and "scone" – I wasn't even completely sure how to pronounce "latte." But, I knew I had to order one. Because it was everywhere. So I walked up to the barista (another word I didn't even know), asked for a latte and a scone, only to be asked "Hot or iced?", and "Whole milk? 2%? Nonfat?" Goodness, that's a lot of questions. Um, no idea. "What do you recommend?"
Anyway, the latte, Iced Almond 2%, was a game-changer for me. Wow! Where had this been all my life? And the scone? Let's say, a bit, um… heavy, dry, bland. So, scones weren't really a favorite until I tried a proper one. Denser than a biscuit, but soft, buttery, slightly sweet, studded with currants and a hint of lemon. It was amazing! Now, THAT was a scone.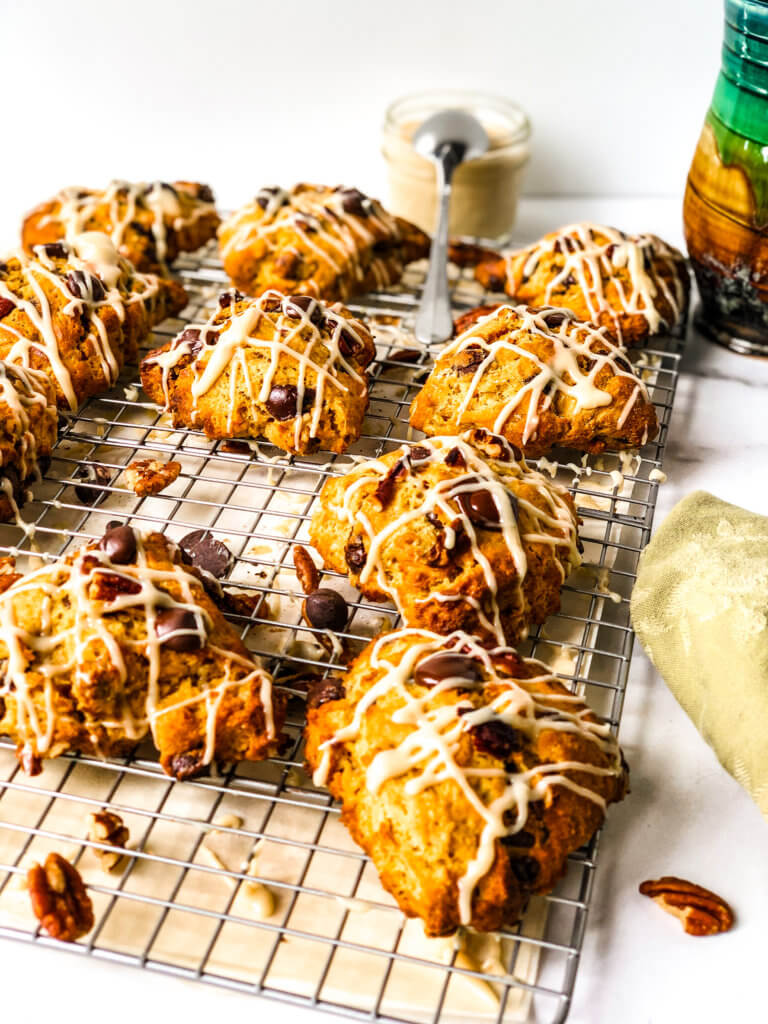 And, there's a lot of debate over the difference between scones and biscuits. Classic Cornish Hampers explains that Scottish scones traditionally are denser than the flakier American biscuits, contain more fat and sugar, and are richer in taste with a crumblier texture. Martha Stewart mentions that British scones are sweeter, and use cream while American Biscuits generally use buttermilk as the liquid ingredient of choice.
I can't even pretend these Pumpkin Chocolate Chip Scones with their Salted Brown Sugar Glaze are anything like a "proper" British Scone, but I hope they honor some traditions of scone-making. Their golden baked exterior yields to a light and fluffy interior that's not too sweet, is studded with bittersweet chocolate chips and toasted pecans. Some whole wheat flour brings a bit of virtue to the party, so you could could call it practically a healthy breakfast or snack.
And the GLAZE! Don't miss it! I know I've gone on and on about scones and biscuits, but this GLAZE! Brown Sugar, Cream Cheese, a touch salty. You might want to just drink it, it's that yummy, but please, leave enough for the other scone-lovers. A nice (heavy) drizzle of the brown sugar glaze over the top. Or, maybe just pour some on. No judgment here.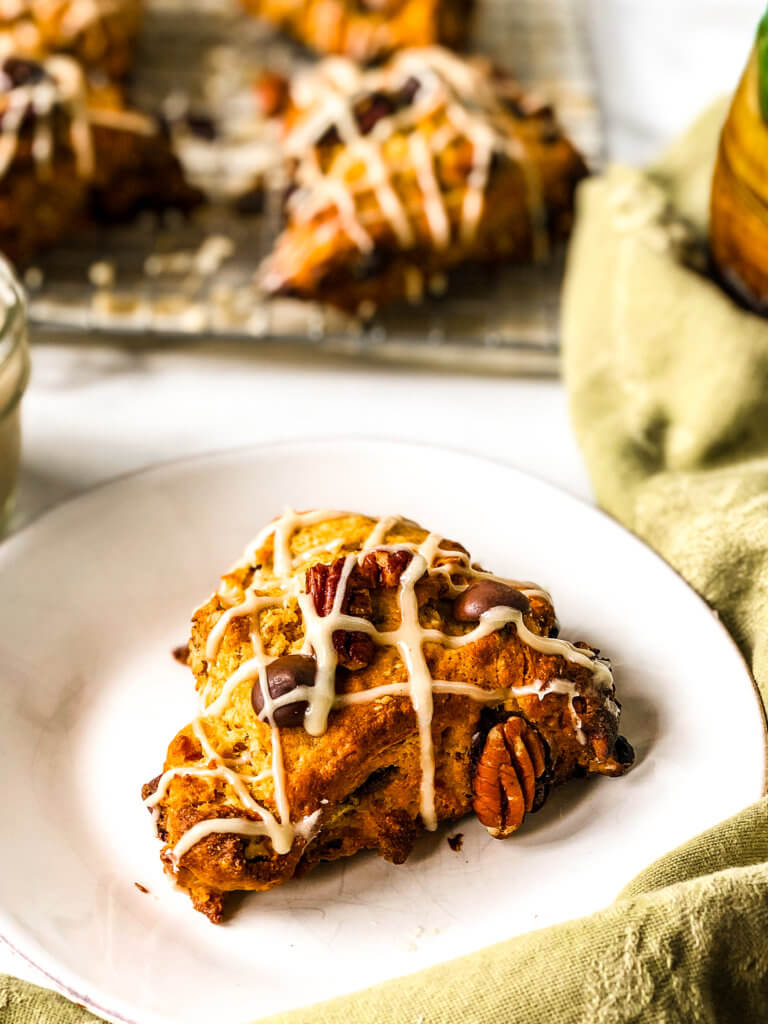 So, whether you are a Scone fan, or think that Scones are just fancy biscuits, I'm betting you'll love the Best Pumpkin Scones with chocolate chips and Salted Brown Sugar Glaze!
Enjoy!
If you love pumpkin recipes, take a look at thes:
Pumpkin White Chocolate Blondies
Quick and Easy Maple Pumpkin Pudding Cake
Pumpkin Bundt Cake with Salted Caramel Frosting
Pumpkin Penne with Sausage and Spinach
Or if you're interested in other scone recipes:
Savory Scones with Parmesan and Fennel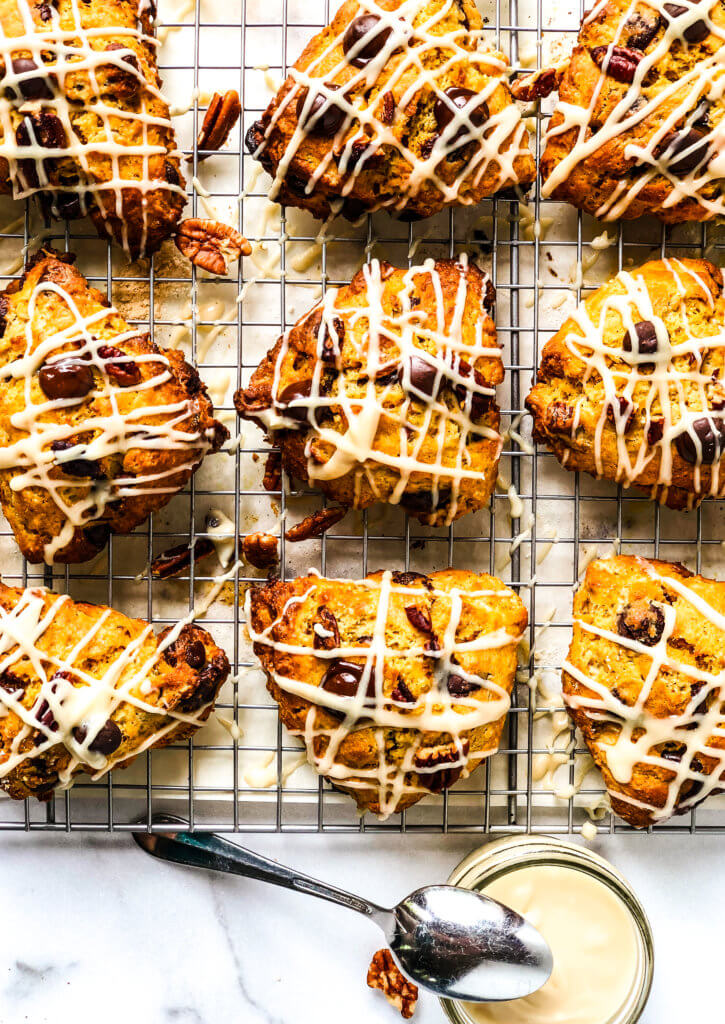 PIN the Best Pumpkin Scone Recipe for later ->
Pumpkin Scone Recipe Details ->
This post may contain affiliate links. As an Amazon Affiliate, I may earn a small commission, at no cost to you, for purchases you may make of items linked from this site.
These Chocolate Chip Pumpkin Scones are so easy and so scrumptious, they may end up on your table all-year round, not just during official "Pumpkin Season"! They're easy to make, no electrics needed, just a couple bowls, a whisk, and a pastry cutter.
I always rely on King Arthur Flour (not an affiliate) for baking recipes, like this recipe for Harvest Pumpkin Scones, but I usually change it up a bit. For about half of the flour, I substituted White Whole Wheat Flour. I had expected I might need a bit more liquid because of that. And, indeed, in my hands, I felt like the dough was a little too stiff, so I added some buttermilk.
I love using Buttermilk in baking. It makes the baked goods light and airy, and tenderizes the gluten in flour, and adds a bit of tang, welcome in a sweet. It works especially well when baking soda is used as a leavener. If used with baking powder, it can result in excess tanginess. Since this recipe calls for Baking Powder, I was a bit wary, but I didn't use that much buttermilk here, and I didn't notice any excess tanginess, so I didn't feel the need to switch to baking soda.
I also added some of my favorite ingredients, chocolate chips and chopped roasted and salted pecans. You could stick with KA's original recipe and add in some candied ginger and/or cinnamon chips instead.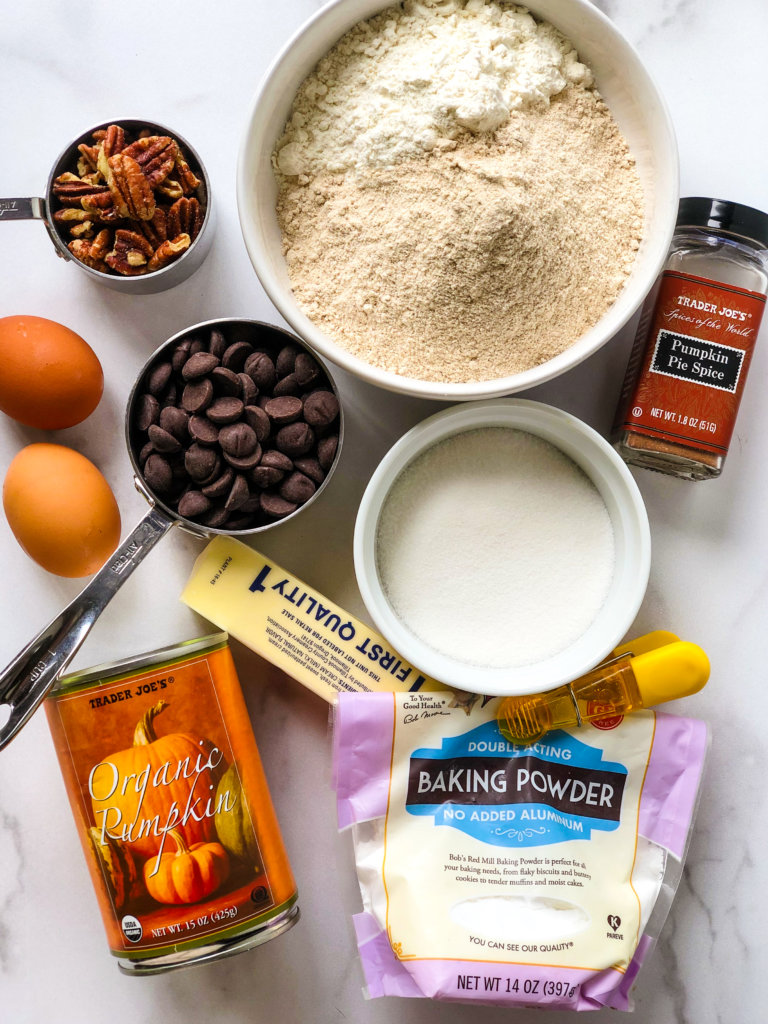 So the recipe is pretty straightforward. First, whisk together the dry ingredients. Cut in the butter. For this, I always use my trusty pastry cutter, but if you don't have one, feel free to use 2 knives, or your fingertips to rub the butter pieces and break them up. Next, mix in the chocolate chips and pecans. In a separate bowl, whisk together the pumpkin puree, buttermilk and eggs. Add the wet ingredients to the dry, stir until the dough is formed.
If it seems to stiff or there are still big streaks of flour, add another tablespoon or 2 of buttermilk. Then form the dough into 2-6-inch disks right on the parchment-lined baking sheet, (like my favorite USA Pan Baking Sheets), just under 1-inch height. Brush the disks with milk or cream, and cut into 6 scones. Separate the scones a bit from each other and pop into a preheated oven. 
My oven has a "Convection" setting, so I use the lower temperature, and goods tend to bake on the lower end of the time interval. My scones were nice and golden and my toothpick inserted came out clean at 19 minutes. Yours may take up to 25 minutes, so it's best to keep an eye on them anytime after 18 minutes in the oven. A good rule to remember is once you smell the delicious aromas of whatever is baking, it's almost done. This is the time to keep your eye on the prize here, and check every minute or two for doneness!
You'll be rewarded with fluffy, tender, moist and flavorful Pumpkin Scones, studded with melty chocolate chips and salty pecan pieces. And don't forget the Brown Sugar Glaze! Just a few simple ingredients whisked together with a bit of salt creates a glaze you might just want to put on everything!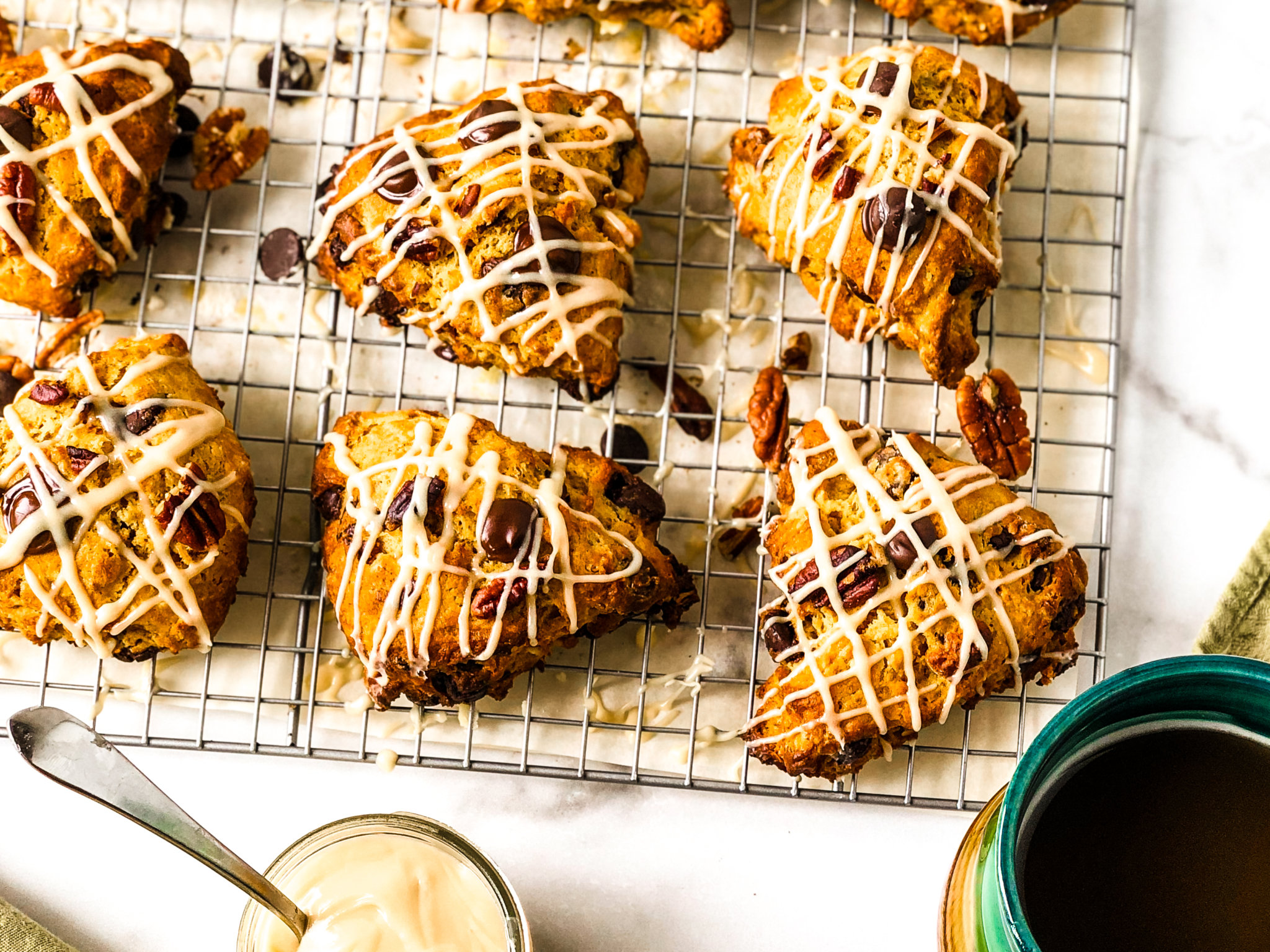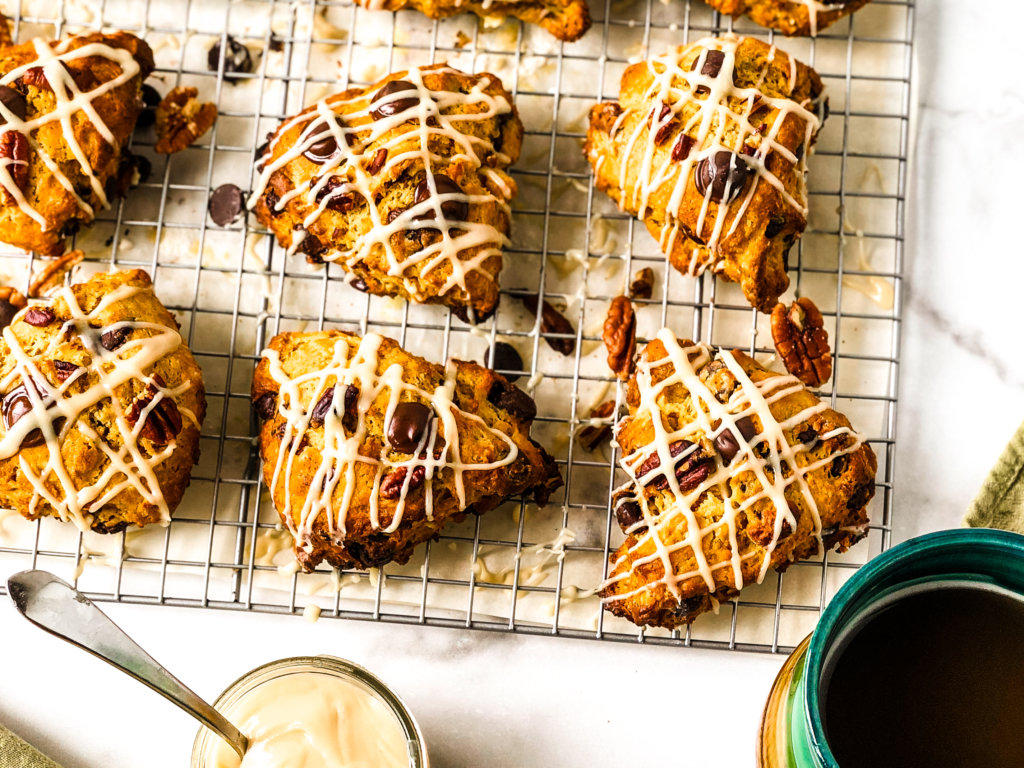 Print
Best Pumpkin Chocolate Chip Scones Brown Sugar Glaze
Filled with warm spices and pumpkin, these yummy Pumpkin Scones with Chocolate Chips and Brown Sugar Glaze make the perfect breakfast, brunch, or snack! 
My recipe was inspired and adapted from King Arthur Flour's Harvest Pumpkin Scone recipe. I've added whole wheat flour, chocolate chips, pecans and a bit of buttermilk. The glaze recipe is my own.
This recipe makes 12. If you don't want to bake them right away, feel free to freeze part of the dough or some of the cut scones to bake later. You can bake them from frozen – let them begin to thaw while you heat the oven, and they may need an extra 1-2 minutes to be fully done. Just be sure to use the tester to be sure they are fully baked.
Author:
Prep Time:

15 min

Cook Time:

19-25 min

Total Time:

39-40 min + 30 min freeze time

Yield:

12

Scones with Glaze

1

x
Category:

Breakfast, Brunch, Snack, Bread

Method:

Baking

Cuisine:

Global
Ingredients
For the Scones:
2 3/4 c (326g) All-Purpose Flour, or (See Note 1)

1 1/2

c (180g) All-Purpose Flour, plus

1 1/4

c (146g) White Whole Wheat Flour

1/3

c (76g) Granulated Sugar

1 Tbsp

Baking Powder

1 1/2 tsp

Pumpkin Pie Spice (See Note 2)

8 Tbsp

(

1/2 cup

, 1 stick,

113g

) Unsalted Butter

1

c (5 oz, 142g) Chocolate Chips (Bittersweet or Semi-sweet)
(optional) 1/2 c Pecans, chopped (I used roasted, salted)

2/3

c (152g) Pumpkin Puree (NOT Pumpkin Pie Filling)

1/4

c (60ml) Buttermilk

2

Large Eggs
For the Brown Sugar Glaze:
6

T (37g) Confectioners Sugar, sifted

1 1/2 Tbsp

(

18g

) Brown Sugar (I used Dark)

1/8

t Salt

2 oz

. (4 T,

67g

) Cream Cheese, softened

3

T (45ml) Buttermilk or Heavy Cream
Instructions
Make the Scones:
Preheat oven to 425F (Conventional) or 400F (Convection/Fan). In a large bowl, whisk together the flour (or flours if using AP + Whole Wheat), Granulated Sugar, Pumpkin Pie Spice, and Baking Powder.
Cut the butter into 1/2″ cubes, and, using a pastry cutter, 2 knives or your fingers, cut it in until the butter bits are nicely incorporated and of small, but varying sizes (See Photo). 
Stir in chocolate chips, and nuts, if using.
In a separate bowl, whisk together the pumpkin puree, buttermilk and eggs.
Pour the liquid ingredients into the dry ingredients, and mix until the dough is thick, slightly sticky and there are no large streaks of flour left. If the dough feels too thick, or you still see large streaks of flour, you could add another tablespoon or two of Buttermilk to it.
Divide the dough into two equal parts – and place each half on top of floured, parchment-covered baking sheet – you could use two separate baking sheets but you can likely fit them on 1. Shape and flatten each into an approximately 6-inch disc about 3/4″-1″ thick. Brush each disc with milk or cream (not totally necessary, but it adds some nice sheen). Then, using a large sharp knife or a bench scraper, dipped into cold water, cut each circle into 6 relatively equal sections.
Gently and carefully pull the sections apart, maintaining a disc shape, on the pan. You can keep them in the circle shape, with about 1/2 – 3/4″ space between the sections, or further apart, just know mine baked faster when pulled further apart. Place prepared pan, with scones, in the freezer for 30 minutes. This will allow the scones to rise more during the bake!
Bake in preheated oven until dark golden around the edges, and an inserted tester is clean. This should take 19-25 minutes. If they were closer, (1/2″), 22-25 minutes. In my oven, where scones were about 1-inch apart, this took 19 minutes. Once you start smelling their wonderful aroma, just check them every minute or two. Once they look nicely golden, start testing with your tester -( I used a toothpick). They should feel very light if you pick one up. Let cool a few minutes on the pan, then remove to a cooling rack.
After 10-15 minutes, while still warm, drizzle with Salted Brown Sugar Glaze, if desired.
Make the Glaze:
Whisk all ingredients together. If Cream cheese is not nicely softened, just a 10-30 seconds at "Defrost" in the microwave will get it there. If it seems too thin, add a bit more confectioners sugar. If it seems too thick, add a bit more buttermilk or cream. 
Drizzle or spoon over scones 10 minutes after they come out of the oven, or it's fine to wait until fully cooled, too. You may have extra glaze. 
Scones are best the same day they are baked. To keep leftover scones fresh, store in airtight container, or freeze and defrost for longer-term keeping.
Notes
I used the All-Purpose plus Whole Wheat Version. The scones turned out perfectly light, fluffy and tasty.
If you don't have Pumpkin Pie spice, per King Arthur Flour, feel free to substitute 3/4 tsp Cinnamon and 1/4 tsp each: Ginger, Nutmeg, Allspice. 
Nutrition
Serving Size:

1 Scone with 2 tsp Glaze
Keywords: Best Pumpkin Scone Recipe, Quick Breads, Easy
Recipe Card powered by