Farro Tomato Salad with Basil and Mint is a Flavor BOMB of a salad! Chewy, nutty farro with roasted cherry tomatoes, shredded basil and mint all topped with feta and a tangy dressing! Oh, so good! Lunch, dinner or side!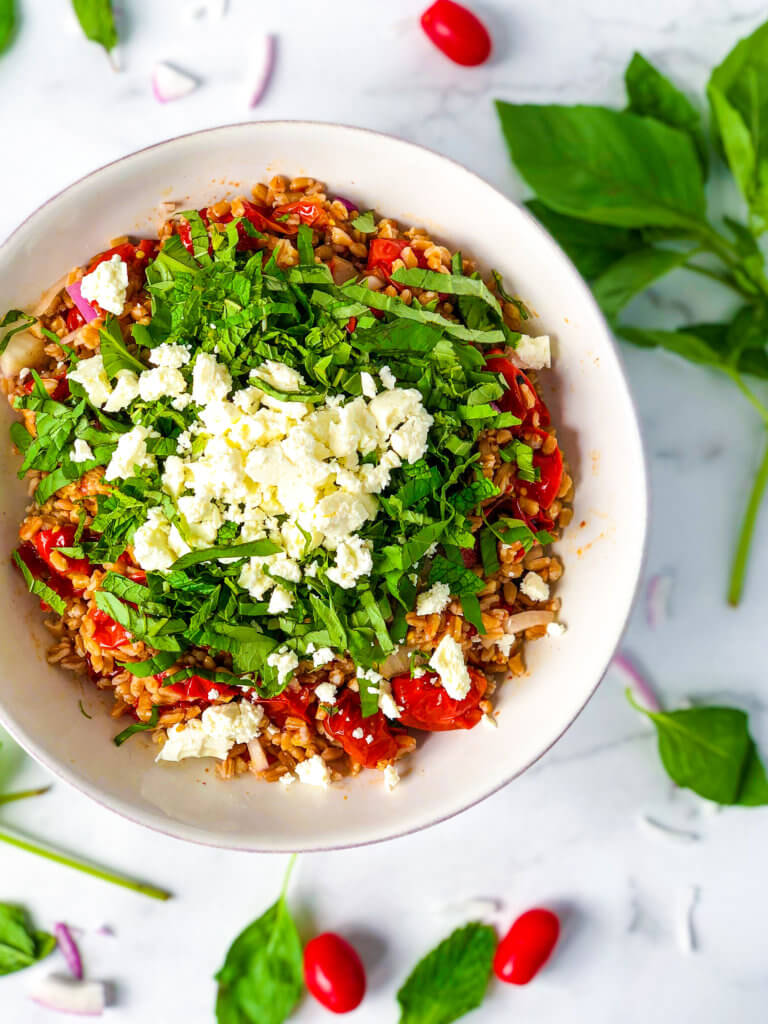 I love healthy foods, don't you? … Healthy foods? …. Yes? No? Does that phrase make you think of bland-tasting, texture-free, unsatisfying foods? Because I'm here to say there are so many healthy foods that, when prepared well, have flavor that rivals (or exceeds!?!) some of the foods of lesser health value. I know that may sound like blah, blah-blah, blah-bla. But, let me explain… 
These are the types of foods I love – ones that are so full of flavor they make you stop in your tracks. Those with unexpected ingredients or combinations that are MORE than the simple sum of their flavors. I used to sell pharmaceuticals and there was this one combination of medicines that was more than the sum of its parts. What I mean by this is that if medicine A resulted in 30% of people responding and B resulted in 40% responding, when you combined A+B, you might expect 50-60% responding (overlap happens). But, in our case, maybe 80% of people responded. We called A+B a "synergistic" combination, because it was more than the sum of its parts. I love synergy, don't you?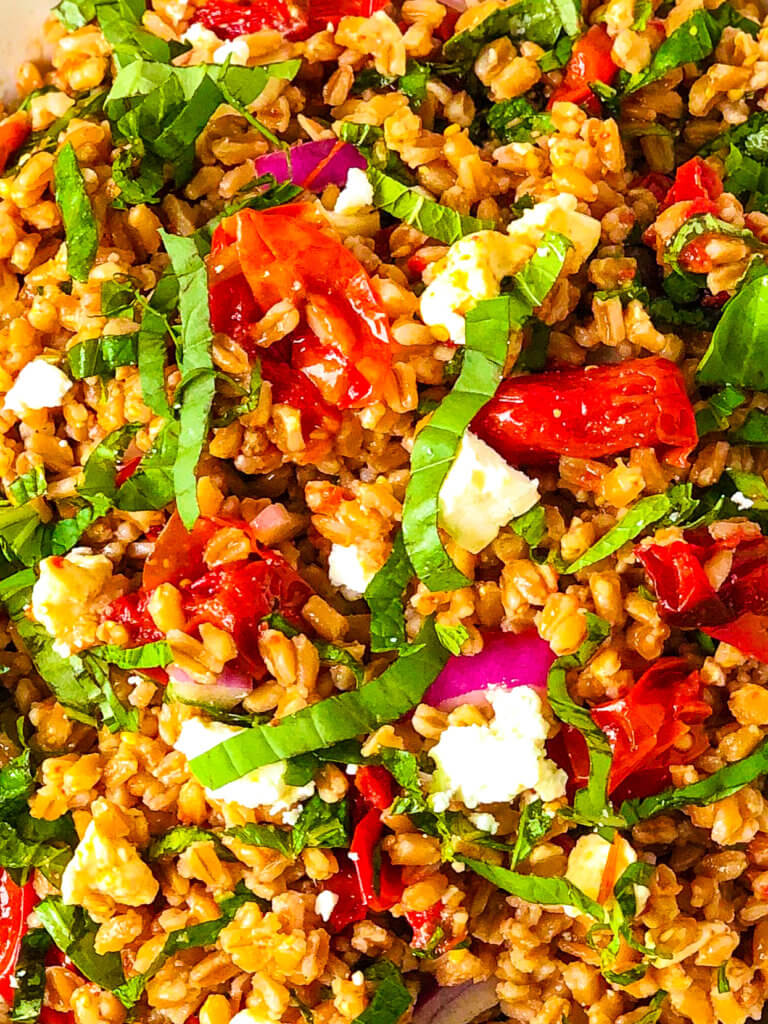 And that's where this Farro Tomato Salad comes in! It's totally MORE than the sum of its parts. In every way. Flavor, nutrition, satisfaction – all right here!
Farro, also known as Emmer – is high in protein – 10 g per cooked cup, and high in fiber as well. Nutty, chewy, satisfying. In this salad, the farro is toasted, for extra nuttiness. Slightly charred cherry tomatoes create a tantalizing and gorgeous sweet flavor for the fluffy farro. Add some sharp, crisp red onions and a tangy vinaigrette. Top it all off with a chiffonade (see this How to Chiffonade video – it will change your how you cut herbs!) of fresh earthy, sweet, basil and mint. Add some chunks of salty, creamy feta, and you've got a FLAVOR BOMB!
This salad makes a satisfying lunch or dinner, or a great side dish for any meal! Definitely more than the sum of its parts. One-fifth of the recipe, which is a nice-size lunch portion, has only 350 calories, 10 grams protein, lots of fiber an healthy fats! Synergy!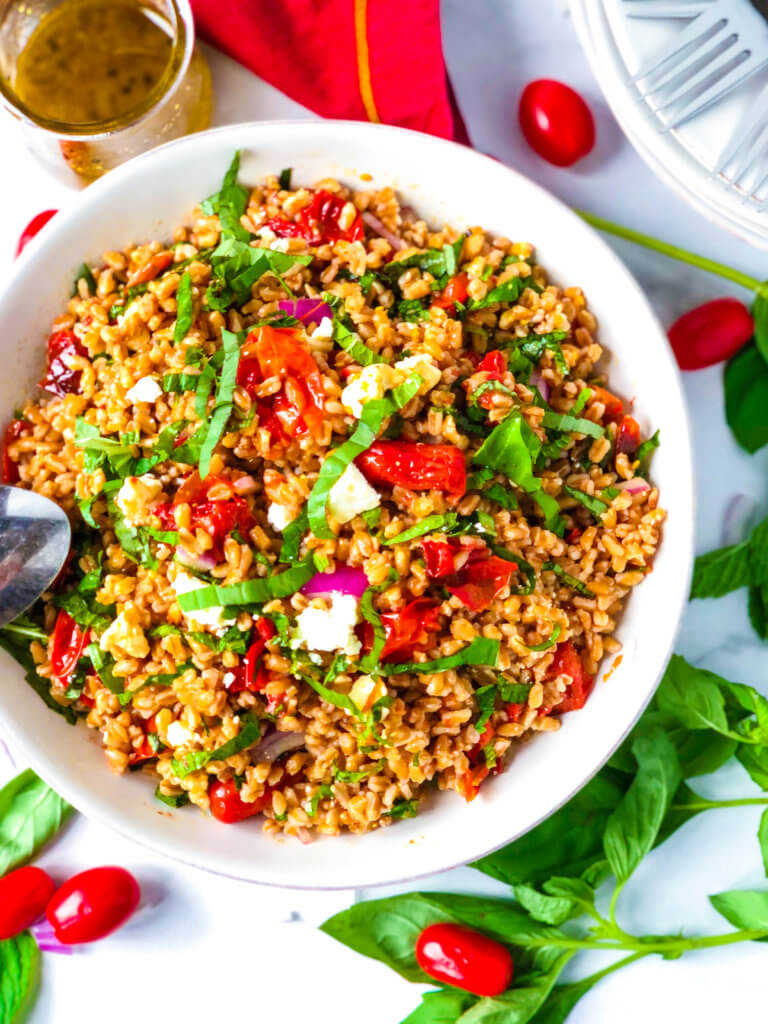 So, create some synergy in YOUR life! Make this awesome Farro Roasted Tomato Salad! It makes a lovely lunch, dinner, or side dish. You can thank me later.
Enjoy!
Looking for other farro recipes?
Healthy Bowl with Lime-Tahini Dressing
Vegan-Adaptable Sweet Potato Farro Salad
Red Lentil Farro Sweet Potato Soup
Autumn Bowl with Honey Balsamic Dressing
How about some other salads?
Chicken Salad with Buttermilk Green Goddess Dressing
Couscous Bowl with Sumac Onions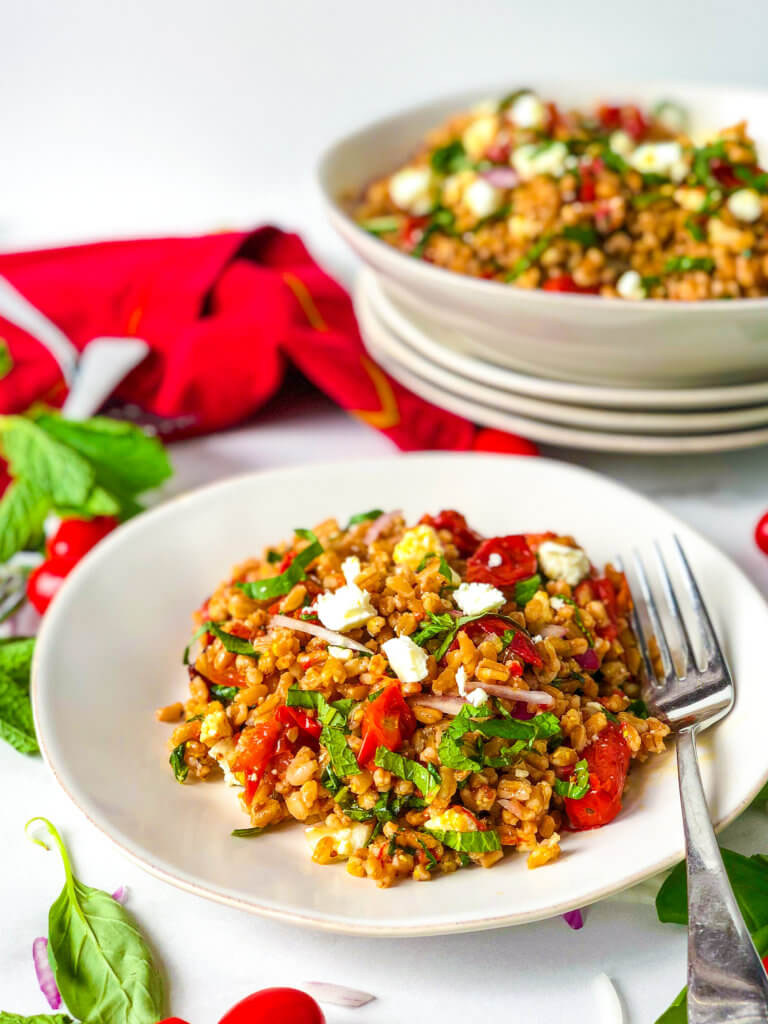 Recipe Tips ->
This Farro Roasted Tomato Salad is so versatile. You can add additional veggies if you want, or make the dressing using some optional variations, described below. But it all starts with making the best farro!
How to make the best Farro: You can go by the directions on the package, or get the quick-cooking variety that just takes 10 minutes. But for the longer-cook variety (30 minute), I recommend following some of the tips from the BA Test Kitchen, mentioned in Tips for Cooking Grains. The best recommendations are to: 
Toast the grain first.  I just heated a saute pan over Medium Heat, while my water was coming to a boil, and toasted the farro for about 5-6 minutes. You'll need to stir it often until it is a bit darker in color, and smells nice and nutty. Just be careful not to burn it! But a nice toast – so worth it!
Cook in ample water. You can cook the farro the way you cook pasta, in that you don't need to measure the water, and get the right proportion of grain-to-water. This is because you want to cook the farro until it is nice and chewy and let is absorb all the water it can until it's done. Then remove it from the water so it doesn't become "gummy" or "sticky". I used farro that said to cook for 30 minutes, so I set it at a low boil for 30 minutes and then drained it well.
Once the farro is cooked, drain it well. When the farro is drier, it will absorb sauces well, and will also be fluffier. Both are nice in a salad. If you're making it in advance, be sure to chill the dried farro, as this also helps it dry and be fluffy. 
While the farro cooks, go ahead and roast your tomatoes. Just drizzle them with about a tablespoon of olive oil, spread them out on a Sheetpan, add a bit of salt and pepper, and into a 400F oven for 20-25 minutes. When you see the tops charring a bit, its time to take them out of the oven!
Then mix those fabulous toasty and a bit saucy cherry tomatoes with the farro, add some sliced red onion and a quick vinaigrette and top with fresh basil and mint and some feta cheese! And you've got the most fabulous Farro Tomato Salad!
Want a Vegan salad?  Just omit the feta cheese or substitute your favorite crumbly vegan cheese.
Need extra protein? Feel free to add strips of chicken breast, tofu, or steak for an additional boost of protein.
Don't have White Balsamic Vinegar? Feel free to substitute White Wine Vinegar, or for a bit of extra Zing, substitute Seasoned Rice Vinegar!
Serve warm? Serve cold? Room temperature? Yes, Yes, Yes! Always delicious!
Lunch? Dinner? Side dish? This recipe will make 4-6 hearty servings or 8-10 side servings.
So, make the wildly flavorful salad! So many ways to make it your own!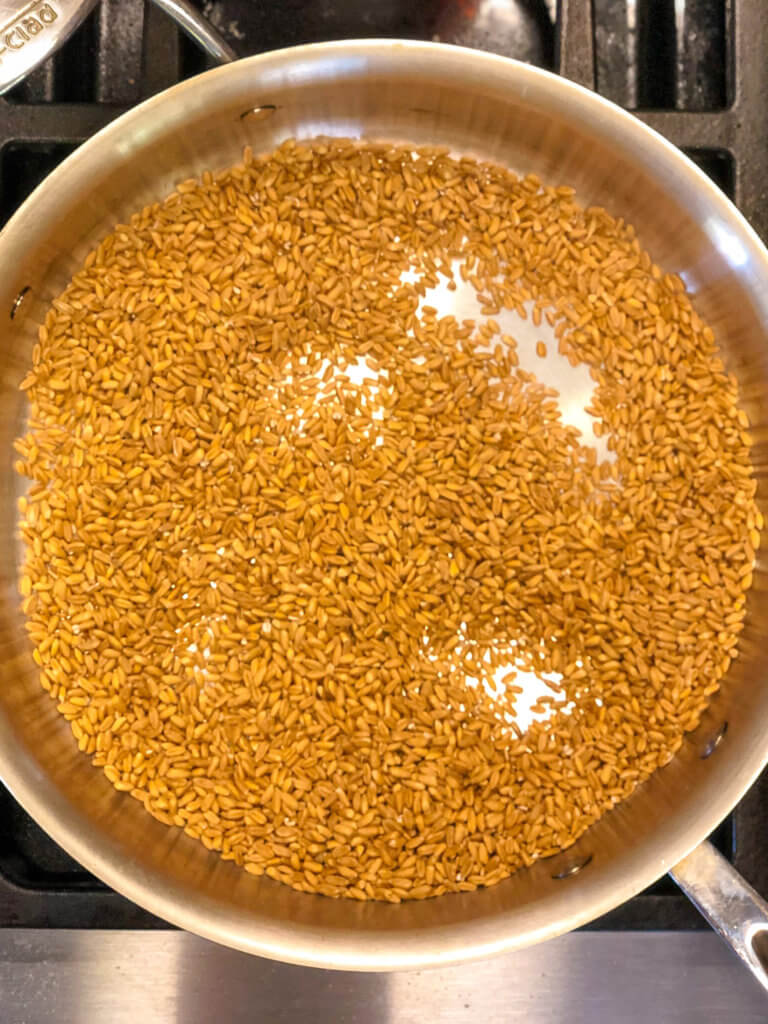 PIN Farro Roasted Tomato Salad for Later ->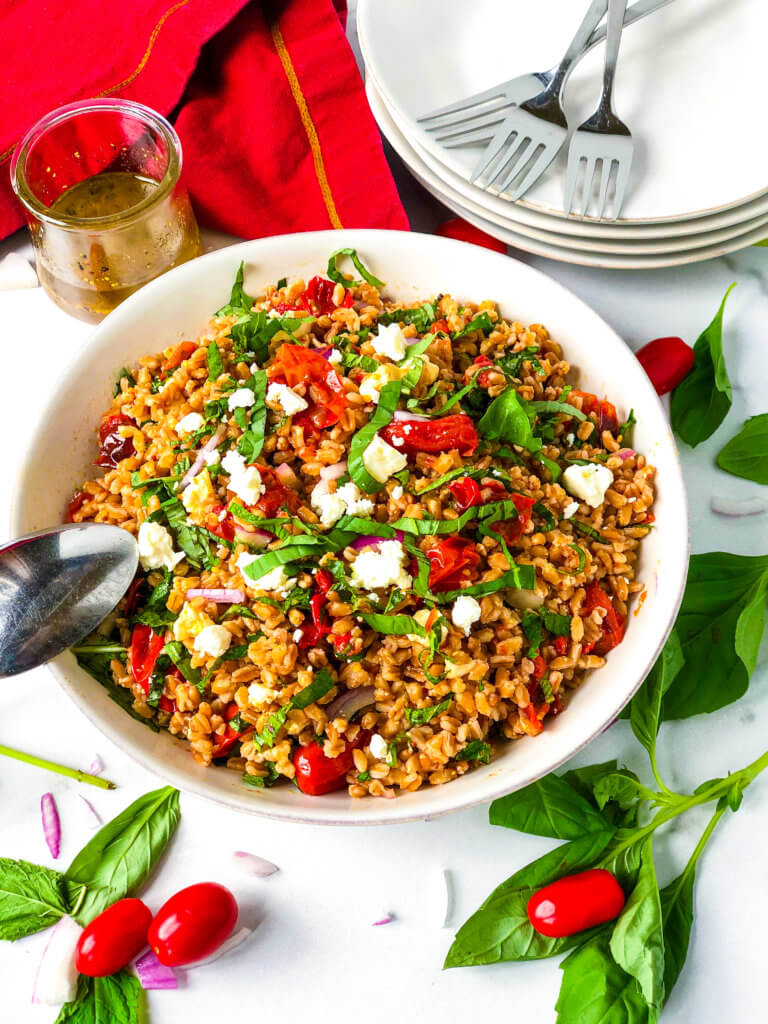 Print
Farro Tomato Salad with Basil and Mint
The most flavorful salad to celebrate the flavors of tomatoes and fresh herbs! Starts with protein- and fiber-filled Farro, roasted tomatoes! Add in some fresh herbs and feta cheese and a super-tasty dressing and I can't get enough! So tasty, so healthy!
Nutrition information is for 1/5 of recipe, a large serving.
Author:
Prep Time:

15 min

Cook Time:

30 min

Total Time:

45 min

Yield:

4

–

6

large servings, or

10

side-dish servings

1

x
Category:

Salad

Method:

Stovetop, Oven

Cuisine:

International
Ingredients
1 1/2

c (270g) Farro (Emmer) 

1

lb (454 g, 3 cups) Fresh Cherry Tomatoes

1

T (15ml) Olive Oil (any type)

1/4

Medium Red Onion, super-thin-sliced

1/2

c Chopped Fresh Basil

1/3

c Chopped Fresh Mint

1/2

c Crumbled Feta Cheese

1/4

c White Balsamic (or White Wine) Vinegar

1 tsp

Dijon Mustard

1 tsp

sugar

1/4

c Extra-Virgin Olive Oil
Salt and Pepper
Instructions
Preheat oven to 400F.
Cook the Farro
Fill a large (4-5 qt/litre) saucepan about 2/3 full with water. Sprinkle 1 tsp salt into the water. Turn the heat on to heat the water to boil. 
(optional but recommended) While water is heating, toast the farro, if desired. Heat a large frypan or saute pan over medium heat. Once hot, toast the farro, stirring often, until fragrant and nutty-smelling, about 4-5 minutes.
Pour the toasted farro into the boiling water and maintain a low boil for about 30 minutes until farro is fully cooked but still chewy. Drain well.
While the farro boils, place the tomatoes on a baking sheet. Cut the larger ones in half. Coat with 1 Tbsp olive oil, and salt and pepper. Place the sheet pan in the preheated oven until tomatoes begin to char, about 20-25 minutes. Let cool slightly.
Mix the charred tomatoes, onion slices with the farro.
Make the dressing. In a small (8 oz) jar, add the mustard and sugar. Sprinkle with salt and pepper.  Add the vinegar and Extra-Virgin Olive oil. Cover with lid, and shake vigorously. Add more salt and pepper, if desired.
Pour half he dressing over the farro mixture. Mix in the feta cheese, chopped basil and mint. Add salt and pepper to taste. Drizzle remaining dressing over the salad and mix well. Serve warm, room temperature or cold.
Keywords: Farro Tomato Salad, Roasted Tomato salad, Tomato salad with Basil and Mint, Farro, Tomatoes, Roasted Tomatoes, warm Farro tomato salad, How to cook farro, how to roast tomatoes
Recipe Card powered by