This Peach Lime Pound Cake is a dream come true! So moist and peach-flavored, studded with bits of juicy peach, and topped with a tangy peach-lime glaze! My favorite dessert of Peach Season!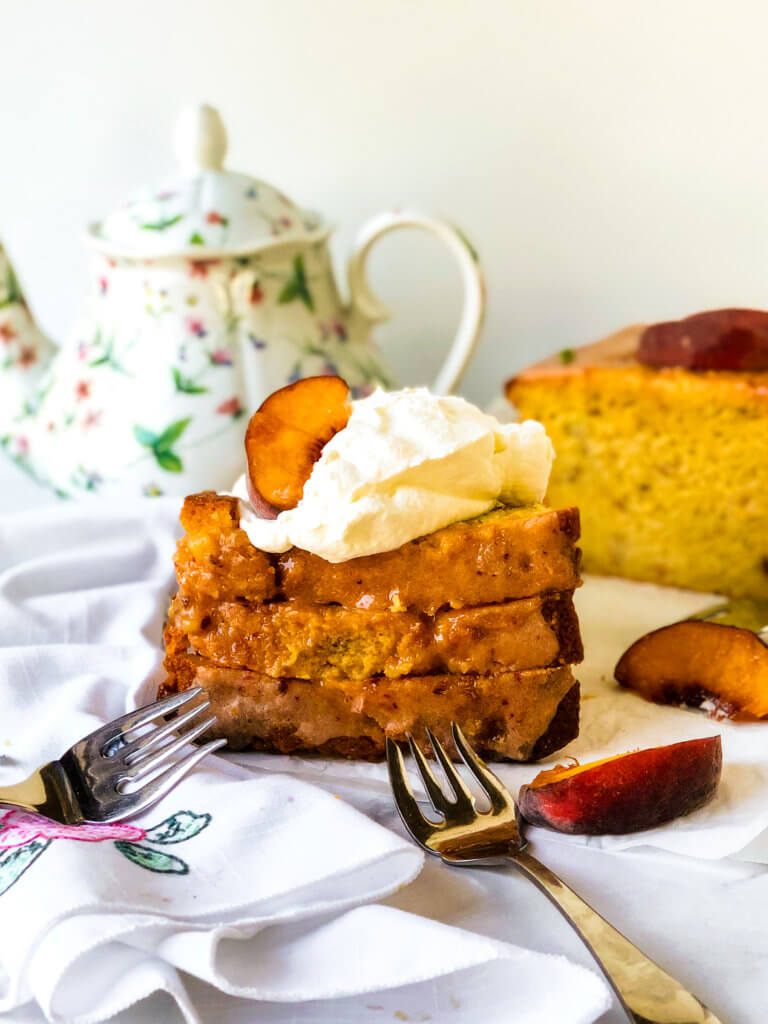 Peaches. Beautiful, fresh, ripe, juicy, sweet, a little tangy. I LOVE a good peach. Who doesn't? Whenever I eat a fresh peach, I think of the freshest peach I ever ate, because it was THAT memorable. When I was maybe 10 or 12, I went peach-picking early one morning with my aunt and cousins. The orchard smelled like peach heaven and the branches of the trees were heavy with beautiful, red-hued, vibrant, juicy peaches. And the flavor of those juicy ripe peaches, right off the tree? Ohmygoodness, AMAZING!
And by "amazing", I mean, I barely remember that gigantic pig roaming the orchard. A suburban girl like me had never seen such a gigantic, (and mean!) pig. But I'm pretty sure it was there for the peaches, too.
And, coming from a family of home cooks – well, you can imagine – there's peach pie, peach ice cream, peach preserves, peach shortcake, peach crisp, crumble and cobbler. But Peach Pound Cake? Never heard of it. Never even thought about it. Then recently I saw a peach cake recipe. And then another. And another. I kind of had it on my "B-list" to make – meaning to figure out a way to improve. And, that's because I couldn't imagine the cake tasted peachy. I imagined a vanilla cake with some peach pieces in it. But then, …, I saw THIS recipe. Peach Pound Cake flavored with peach puree, both for flavor and for moisture. I knew that recipe would be my inspiration.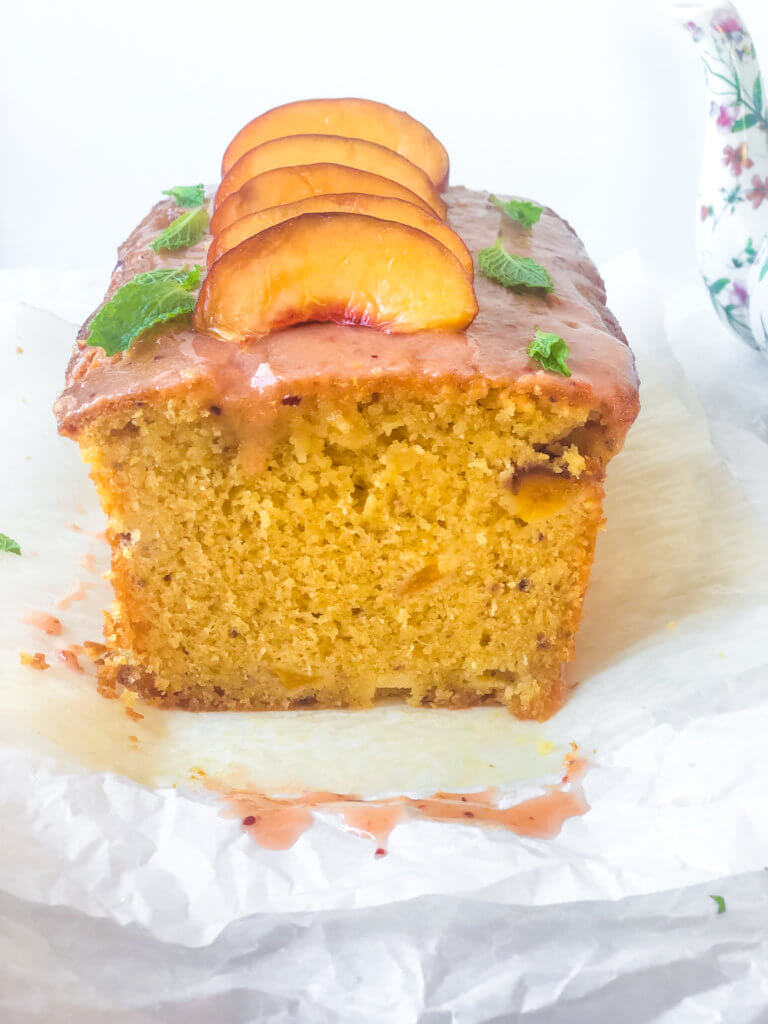 The original recipe was from Jerrelle Guy, the genius and James Beard Award Nominee and co-founder of Chocolate For Basil. I love everything about her gorgeous blog. I feel like her views on cooking and baking are so similar to mine. So, when I saw this recipe, I knew I had to make it. But being me, I also had to put my own spin on it, just a bit.
I used lime juice instead of lemon juice to balance the sweetness of the cake batter. I also added some lime zest and included lime juice in the peach glaze that just oozes over the crunchy top of cake and down the sides. I also substituted a bit of brown sugar for part of the granulated sugar, just because brown sugar is where I always want to go when using peaches.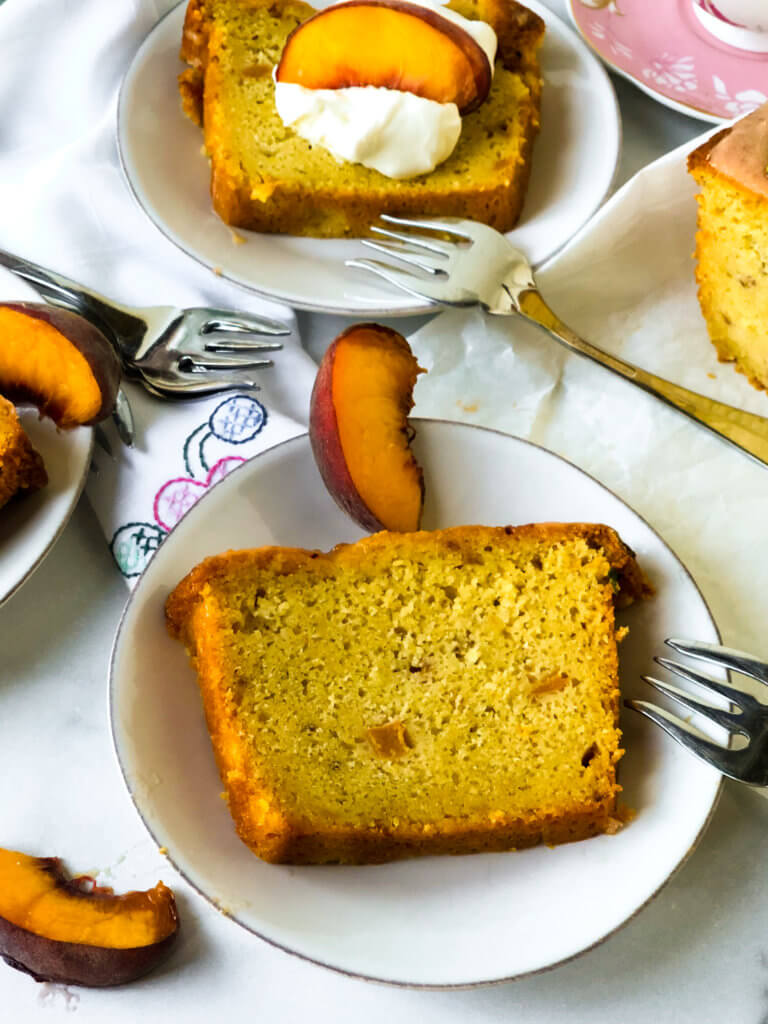 And I'm here to say, this Peach Lime Pound Cake is THE cake to make. So peachy. Impossibly moist. Impeccably soft, but dense, fine-crumb texture. Topped with a tangy Peach Lime Glaze that you'll want to spoon right into your mouth. (But don't. It belongs on the cake.) It is one of the best cakes I've ever had. And that's saying something. You won't even have to run from a cranky pig. (Even though, for this cake, you definitely would.😉)
Enjoy!
While you're here, why not check out these other great cake recipes?
Cold Oven Cream Cheese Pound Cake
German Apple Cake with Caramel Sauce
Carrot Cake with White Chocolate Cream Cheese Frosting
Chocolate Cake with Chocolate Chip Cookie Dough Filling
Or, other peach recipes like these: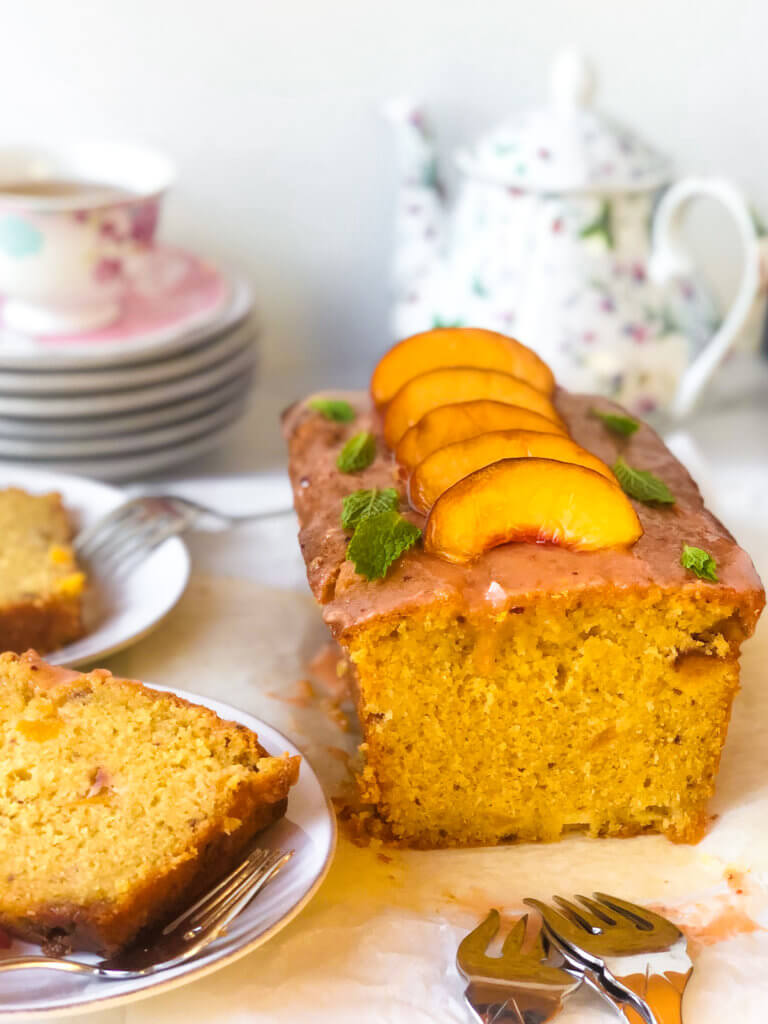 Pound Cake Recipe Details ->
This post may contain affiliate links. As an Amazon Affiliate, I may earn a small commission, at no cost to you, for purchases you may make of items linked from this site.
Inspired by and adapted just a bit from New York Times recipe by Jerrelle Guy this has to be one of my favorite cakes ever! So moist and peachy, its like eating peaches and cream in cake form! It's a simple recipe, truly, you'll just need to begin by making a puree of 2/3 of your peaches.
I diced all three of my peaches because they were of varying sizes. (And, actually one was a nectarine!) For me, this was a good way to use 2/3 of the peaches for the puree. You can use a food processor or a blender for making the puree. This is the food processor I own, and love because it has a smaller bowl that is useful for some things as well as a 12-cup bowl. If you use a blender, you'll just need to puree at high speed. This blender is one I bought at the Amazon Prime sale last year – we love it!
Anyway, after you make the puree, the cake is made from a stir and mix batter. The puree is just over 1 cup. You'll use 1 full cup of it, and save the rest for making the glaze. Mix the rest of the wet ingredients into that 1 cup puree. Then whisk together the dry ingredients. Stir the wet into the dry, then gently fold in the remaining peach, dice into tiny bits. This will create nice bits of fresh peach in the cake – so good!
Pop that batter into a prepared pan (I love the USA Pans!) and into the oven. It takes 75-80 minutes to bake. Then you'll want to cool it in the pan for 20 minutes. I tried to take it out of the pan after 10 minutes, but it began to fall apart, so I left it in an additional 10 and it turned out just fine.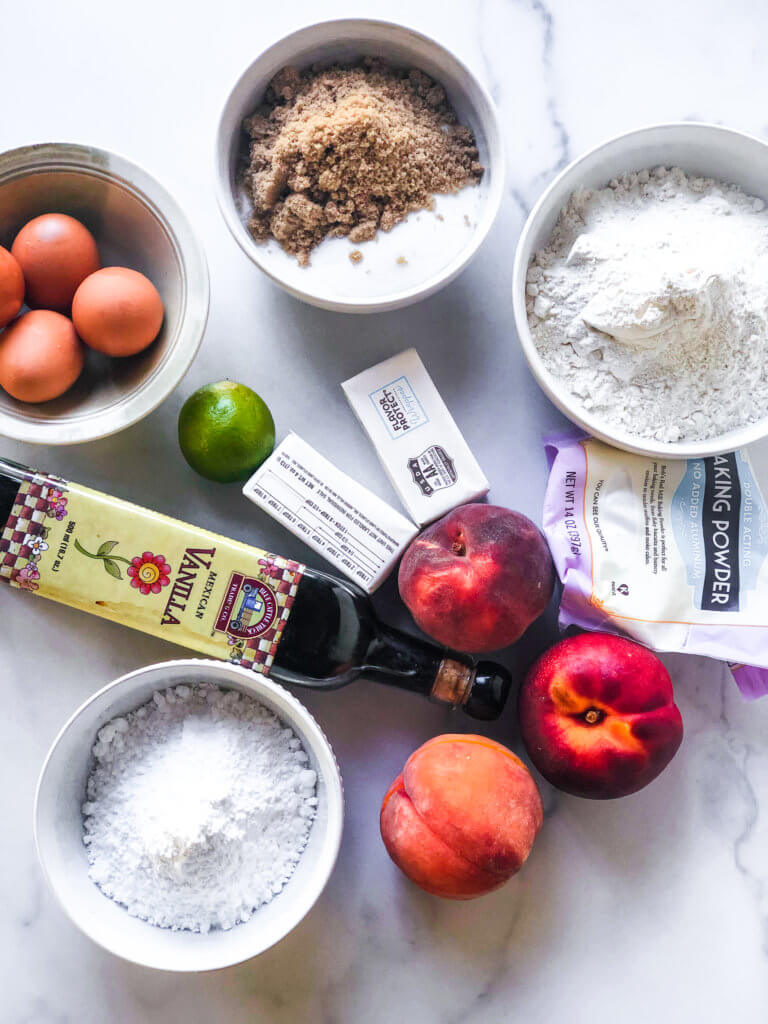 While the cake is baking, make the glaze. Just pour the confectioners sugar and a couple teaspoons of lime juice into the food processor or blender cup that has the remaining puree. (after you removed the 1 cup that you used in the wet ingredients). Just give it a good 10 seconds at high power and you have a lovely pink glaze. Just pour it all over the top of the cake, while it's still warm, after you remove it from the pan.
Wait for the cake to cool completely before slicing and serving. It's delicious alone or with some lightly whipped cream! And, like so many baked goods, EVEN BETTER the second (and third) day!
Some questions you might have:
Can I skin the peaches? You definitely don't need to skin them, but if you want to, it's fine. Just carve a very shallow "X" into the top of the peaches, then plunge into boiling water for 1 minute. Cool them slightly, and at this point the skin should be easy to pull off the fruit.
Can I use a 9×5 Loaf Pan? I used an 8 1/2 x 4 1/2-inch loaf pan. But there's quite a bit of batter and it will fit nicely into a 9×5-inch pan. Baking time will be around the same. Just watch and make sure your tester comes out clean once the cake top is golden and crisp-looking.
Can I use frozen Peaches? You can. You'll need about 1 lb. Put 2/3 into the puree, and then dice the other third into tiny pieces for the cake.
Pin Lime Peach Pound Cake for later ->
Print
Peach Lime Pound Cake
Inspired by and adapted just a bit from New York Times recipe by Jerrelle Guy this has to be one of my favorite cakes ever! 
Pureed peaches ensure a moist crumb and all the peach flavor we love so much! I've added some lime flavor to the glaze and the cake to balance out all the sweet from the peaches. But this cake is not to be missed!
Author:
Prep Time:

45 min

Cook Time:

80 min

Total Time:

2 hours

Yield:

1

loaf cake

1

x
Category:

Cakes

Method:

Baking

Cuisine:

American
Ingredients
For the Cake:
1 cup

(

227g

, 2 sticks) Unsalted Butter

1

lb (454g, or about

3

Medium) Peaches, ripe, pitted

1

T (15ml) Fresh lime juice

3

large eggs plus 1 egg yolk

1 1/2 tsp

(8ml) Natural Vanilla extract

1

c (198g)Granulated sugar

1/2

c (99g) light Brown sugar, packed
Zest of

1

lime (about

1

–

2

tsp)

2 1/2

c (300g) AP Flour

2 1/2 tsp

Baking Powder

1 tsp

Kosher Salt
For the Glaze:
Remainder of peach puree from Cake batter (leave it in the processor)

1

c (120g) Confectioners Sugar

2 tsp

Fresh lime juice
Instructions
Melt the Butter and Preheat the Oven:
In a small saucepan (or in microwave), melt the butter and set aside to cool to room temperature.
Preheat oven to 325F (Conventional) or 300F (Convection/Fan).
Prepare 8 1/2 x 4 1/2 x 2 3/4 High Loaf Pan. (9×5 is fine if that's what you have) Grease with cooking spray or butter, and line with parchment to aid in cake removal.
Make the Cake Batter:
Quarter (or dice) 2 of the pitted peaches. In a Food processor or blender, place the peach pieces or segments and the Tablespoon of lime juice. Puree on high until mixture is smooth. Leave in container for the time being.
Dice the remaining peach into small cubes, about 1/3″ cube. Pat dry if needed. Set aside.
In a Medium bowl, whisk together the following: 1 cup of the peach puree (it should be almost all of the puree, but keep the rest in the container to make the glaze), 1 Tbsp Lime juice,  melted and cooled butter, eggs, yolk, lime zest and vanilla. Set aside.
In a large bowl, whisk the flour, baking soda and salt. Pour the peach mixture into the dry ingredients and stir or whisk until the no streaks of flour are visible.
Gently fold in the cubes of the third peach. Pour the batter into the prepared pan, smooth out the top and bake in preheated oven until the top is dark golden and crispy and a tester inserted into the middle comes out clean, about 75-80 minutes. (Mine took 77 minutes in my Convection Oven). Allow cake to cool, in pan for about 20 minutes.
While the cake is in the oven, make the glaze. Into the Food Processor bowl or blender cup that has the remaining peach puree, add the confectioners sugar and 2 tsp lime juice. Blend on high until thoroughly combined. Add more sugar or lime juice to make the glaze thicker or thinner. It should be slightly thick, but still pourable.
Finish the Cake:
After 20 minutes of cooling, gently remove the cake from the pan. It will still be quite warm. Pour the glaze over the top of the cake, letting the excess drip down the sides. Cool cake to room temperature before serving.
Serve with whipped cream and extra peach slices if desired. Extra cake should be wrapped tightly and stored at room temperature for up to 3 days. After that, place in refrigerator.
Nutrition
Serving Size:

1/12 recipe
Keywords: Peach Lime, Peach Lime Pound cake, Peach Pound Cake, Poundcake, Moist poundcake, Peach Loaf Cake, Best Peach Cake
Recipe Card powered by