With its beautifully burnished skin, this Smoky Maple Chicken and Sweet Potatoes is a dish best served ANYTIME! Savory, Sweet, Smoky, Salty, Tangy! It's all there! Marinate first, then an hour is more than you need, fridge to table!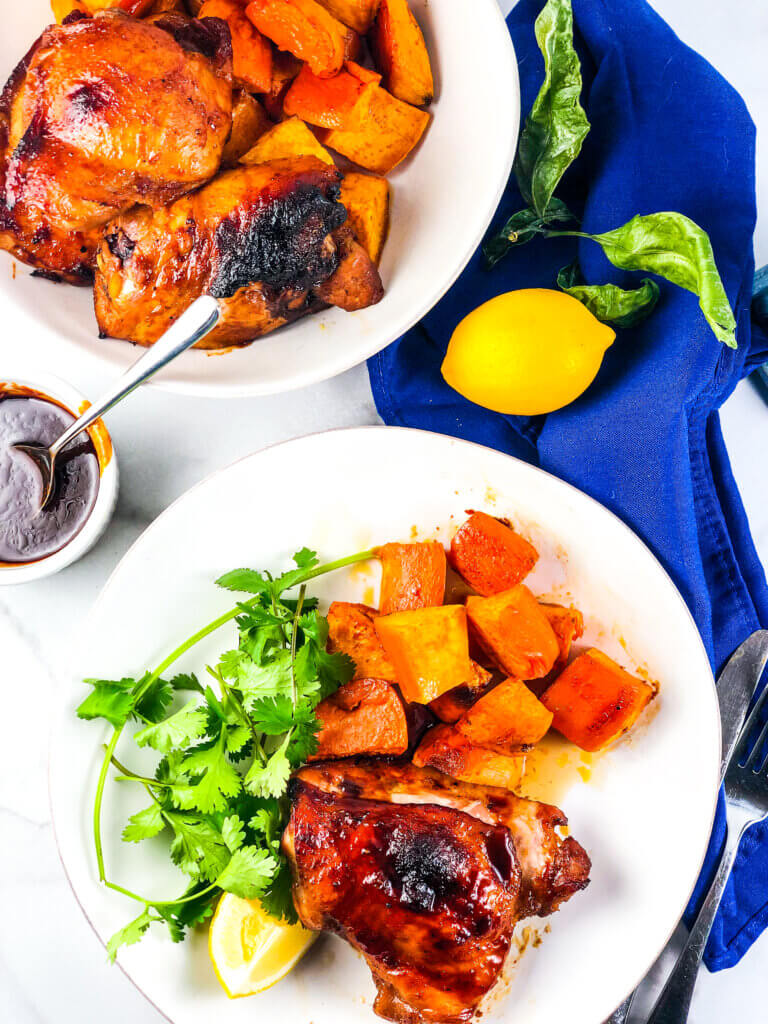 I love a quick and flavorful Sheet Pan meal, don't you? And when it's good enough to serve to company? And has everything I love? All the better! Smoky Maple Chicken and Sweet Potatoes is my new favorite sheet pan dinner. It has everything I crave these days: it's smoky, sweet, tangy with hint of spicy flavor; an array of textures from the tender, juicy chicken, to the slight crisp of the skin; and lovely pillowy sweet potatoes, then sauce drizzled over everything. And, seriously – listen up – just spritz a healthy squeeze of fresh lemon over it all, and, I swear: Magic. Happens. Here! That lemon adds so much YUM! to the party! It's THAT GOOD!
Did I mention that this all happens in under an hour?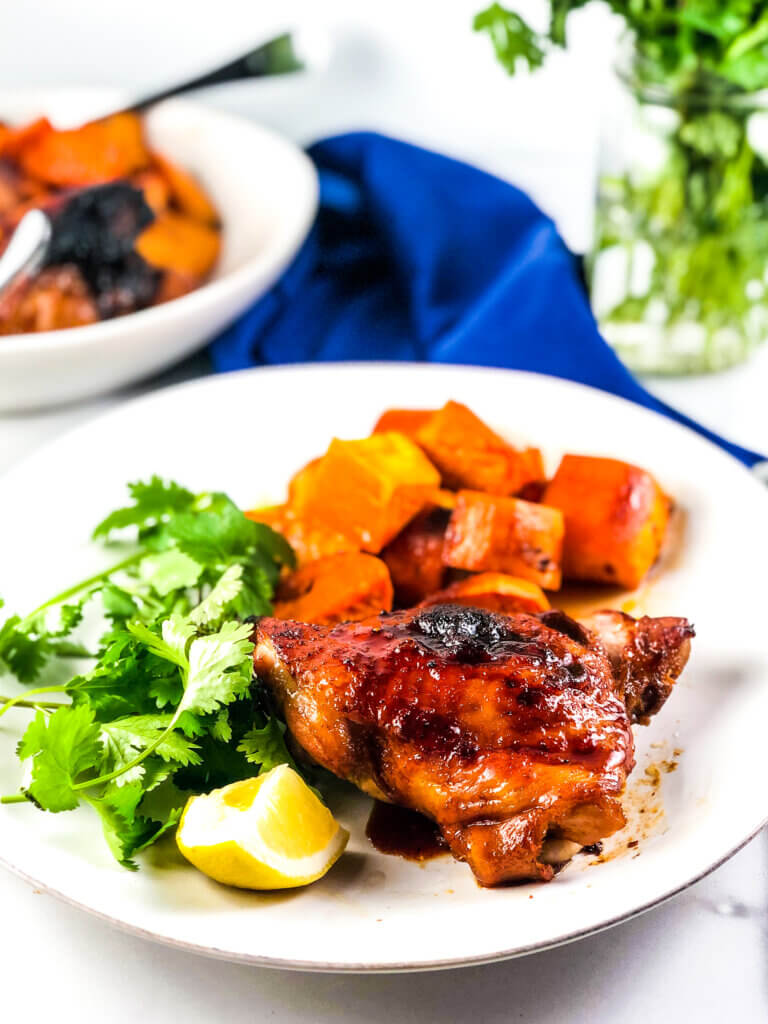 Of course, you'll need to marinade the chicken beforehand. 2 hours, 4 hours, 12 hours. Whatever time you have. I marinated mine in the morning, so maybe 8 hours. Just mix and shake up a few ingredients and marinate the chicken thighs in a zip-top bag or shallow dish.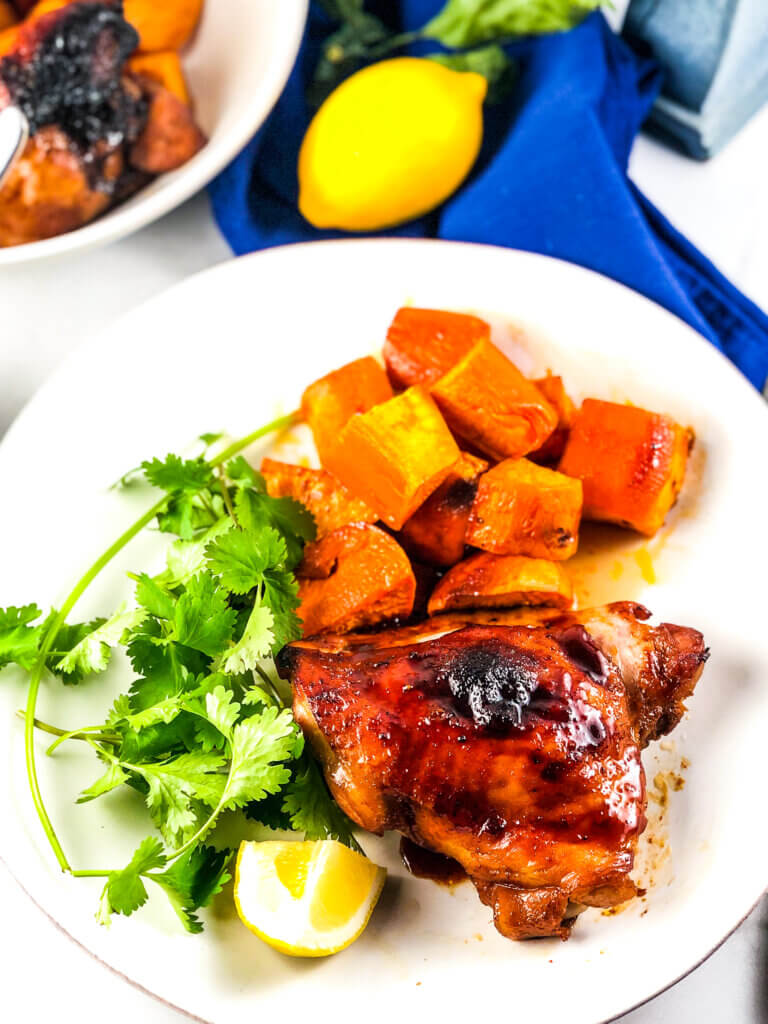 So, make this Maple Chicken Thighs and Sweet Potatoes Sheet Pan dinner! And, let me know if you love it like we did! And, are there any dinners you cook on a sheet pan you especially love?
Enjoy! 
Looking for other Chicken Recipes? Don't miss these:
Oh-so good, Comforting Creamy Tuscan Skillet Chicken
Chicken Salad Bowl with Creamy Buttermilk Green Goddess Dressing
Super-Simple Soy-Honey Glazed Chicken Thighs
Sweet and Spicy Sheet Pan Hot Honey Chicken
Super-Quick Skillet Chicken Puttanesca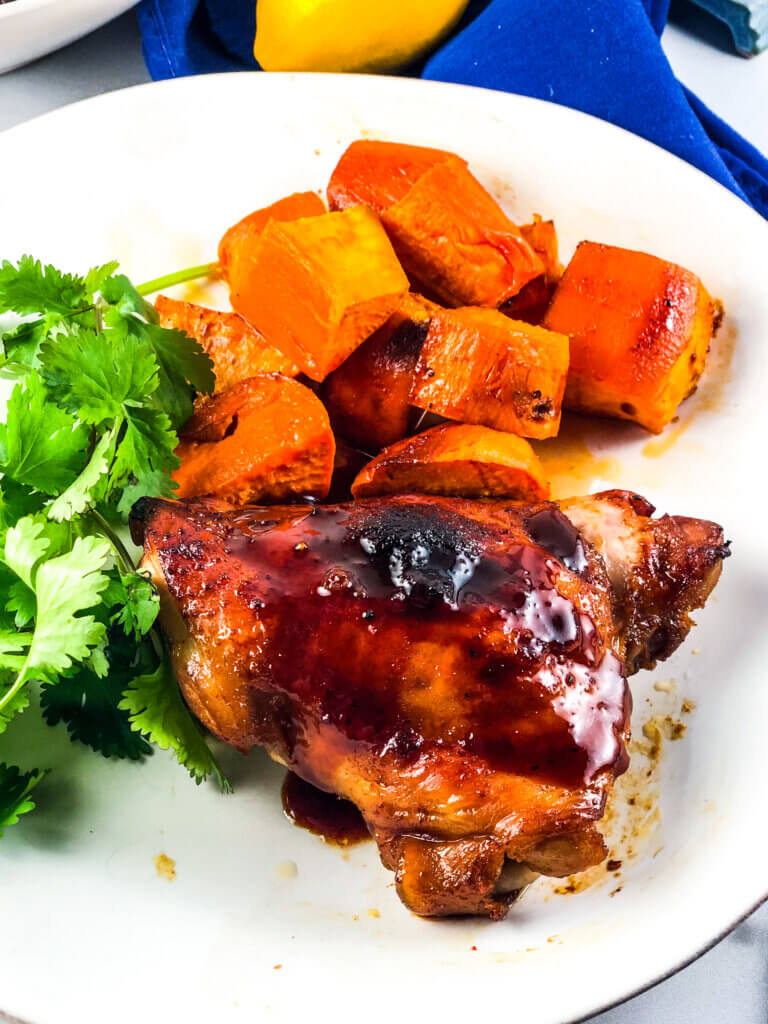 PIN Smoky Maple Chicken ->
How to Make Sheet Pan Chicken and Sweet Potatoes ->
This post may contain affiliate links. As an Amazon Affiliate, I may earn a small commission, at absolutely no cost to you, for purchases you may make of items linked from this site.
Here are some things you will need to make this recipe:
Sheet Pan- like my favorite USAPan Half-Sheet Pan
Mixing Bowl – this OXO Bowl is a favorite!
Small Saucepan – a 2-Qt. size is perfect for many sauces
Kitchen thermometer – To test doneness of anything, I love love love my Instant-Read Thermapen (#notanaffiliate)
Easy Maple Chicken Thighs and Sweet Potatoes!
This recipe is so easy. I often like to cook with Chicken Thighs, for so many reasons. Among them:
The dark meat stays juicy in the oven. 
They have more flavor than the chicken breast.
The skin is a bit thicker, so it's less prone to burning. In this recipe, it can get slightly crispy, which is also nice, and
They are often less expensive than chicken breasts.
So you'll start by mixing up the easy marinade in a jar, shake it up, and pour it over the thighs in a zip-top bag. Let it marinate, anywhere from one hour to overnight — of course, overnight is more flavorful than 1 hour, but whatever time you have will work!
Then, when you're ready to cook, just remove the thighs from the marinade and pour all the marinade into a small saucepan. Preheat the oven 400F/200C for Conventional or 375F/190C for Convection. Place the thighs on a sheetpan. Using paper towels, dry the tops of the thighs as well as you can. This will help them crisp a bit.
Then peel and chop sweet potatoes into 1.5-2″ (4-5cm) cubes. Drizzle them with a little olive oil, sprinkle with salt and pepper and pour them onto the sheetpan, along with the chicken. Into the oven for a good 35 minutes. During the bake, you'll want to reduce the marinade into a nice sauce, to drizzle over the chicken and the potatoes. I brushed a little on my potatoes when I rotated my pan half-way through the baking.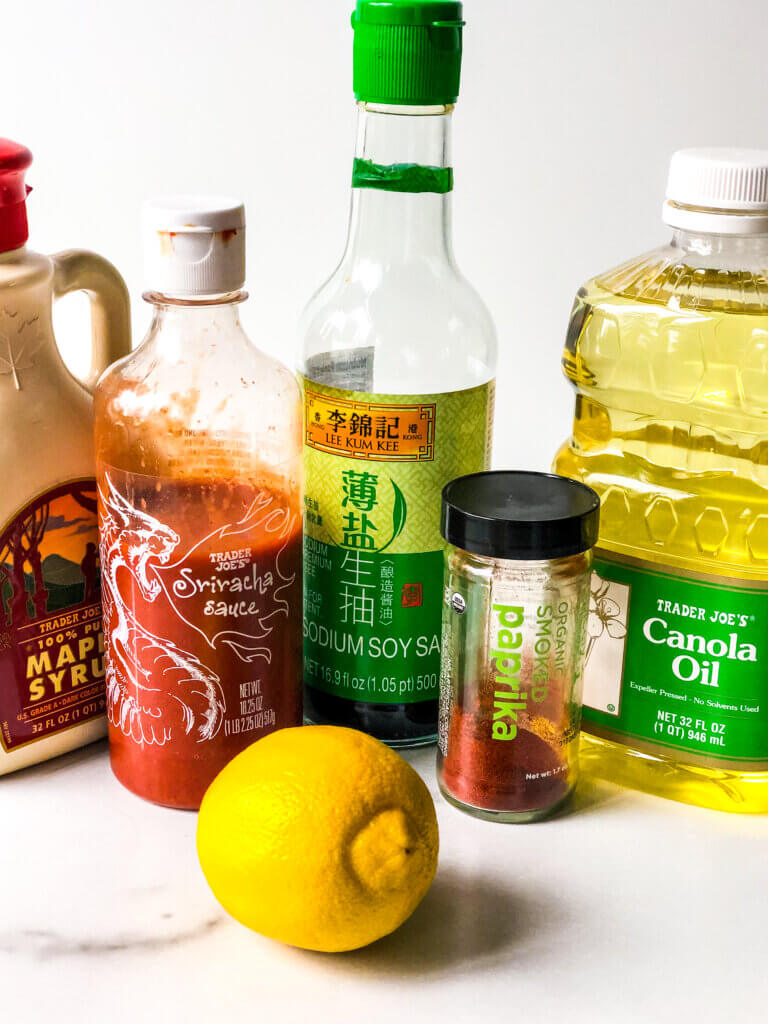 Once the chicken and potatoes are done, this is where the magic happens: Spoon some of the sauce over the chicken thighs and potatoes at the table, and squeeze some fresh lemon juice over everything! So so good. Taste with a little lemon, you may want more. Because that's where the magic is.
What to Serve with Maple Chicken and Sweet Potatoes?
Something green, like braised greens. I served Braised Broccoli Greens with mine. They were awesome, but, alas, they weren't too pretty (hence the lovely cilantro on the plate😉). Another good idea would be my Super-Tasty Easy Smoky Kale.
Steamed Green Veggies, like broccoli or green beans.
A simple, Cool and Crisp Green Salad.
Can I use Boneless, Skinless Chicken Breasts or Thighs?
I like to use the skin-on thighs because I love the contrast of the slightly crispy skin with the juicy, tender meat. If you wish to use boneless and skinless chicken thighs or breasts instead, you can, but the cooking time would be closer to 18-20 minutes. They would be lacking some significant flavor and texture that comes from the skin. 
If you are using boneless and skinless chicken and will be adding potatoes, you'd also need to start the potatoes by themselves and then add the chicken to the sheet pan after 15-20 minutes.
Print
Sheet Pan Maple Chicken and Sweet Potatoes
Beautifully burnished skin and luscious sweet/smoky and tangy sauce are the highlights of this dish! Sweet potatoes are the perfect accompaniment to the juicy, tender chicken thighs. 
Drizzle the sauce and Squeeze fresh lemon over everything! It's so good!
Author:
Prep Time:

15-20 min

Cook Time:

30-40 min

Total Time:

45-60 min

Yield:

4

servings

1

x
Category:

Chicken

Method:

Oven Roast

Cuisine:

International
Ingredients
2.5

–

3

lb (1.2-1.4kg) Bone-in, Skin-on Chicken Thighs (

4

–

6

Thighs), trimmed of excess skin

2

lb (.9kg) (

2

large or

3

medium) Sweet Potatoes

2 Tbsp

(59ml) Vegetable or Canola Oil (for chicken)

1 Tbsp

Vegetable or olive oil (for potatoes)

1/3

c (78ml) Maple Syrup

1/3

c (78ml) Low-Sodium Soy Sauce

2 tsp

(20ml) Sriracha Sauce

2 tsp

Smoked Paprika
Zest of

1

Lemon

2 Tbsp

(29ml) Lemon Juice

1/4 tsp

salt

1/4 tsp

Black Pepper
For serving: 1 lemon, cut into wedges – 1 for each serving
Instructions
In a jar with a lid, mix together 2 Tbsp Vegetable or Canola oil, the maple syrup, soy sauce, Sriracha, Smoked Paprika, lemon zest, lemon juice, salt and black pepper. Shake vigorously until emulsified.
Pour the marinade into a zip-top bag and add the chicken thighs. Refrigerate 2 hours – 12 hours, turning occasionally and removing approximately 1 hour prior to cooking.
When ready to cook, preheat oven to 400F/200C for Conventional oven or 375F/190C for Convection Oven.
Peel the sweet potatoes and chop into 1/5-2-inch  (4-5cm) cubes. Drizzle 1 Tbsp (or a bit more if needed to coat) vegetable or olive oil over them, so they are lightly coated. Sprinkle them moderately with salt and pepper. Set aside.
Remove the marinated chicken thighs from the bag and place them on a sheetpan, but save the marinade, by pouring it into a small saucepan. Arrange the oiled sweet potatoes on the other half of the sheetpan or fit them between the thighs, just so all of the chicken and all of the potatoes fit on the pan. Pat as dry as you can the tops of the chicken thighs, so they can crisp in the oven. 
Place the pan in the oven and roast until the chicken is 165F/74C, about 30-40 minutes. In a conventional oven, place the chicken in the top third of the oven. While you wait for the chicken to cook, reduce the marinade mixture in the saucepan over medium heat, until volume is cut by half. It should thicken a bit. Rotate the pan half-way through the cooking time, and, if you wish, baste the sweet potatoes with some of the reduced marinade. If you would like the chicken skin a bit crispier at the end of the bake time, just remove the sweet potatoes and turn the broiler on for a few minutes to crisp it up a bit more. But watch carefully so as not to burn it.
Serve chicken and potatoes with the sauce, and lemon wedges to squeeze over (Magic happens here!). Alternatively, you cold squeeze about half a fresh lemon into the sauce, but we preferred to squeeze our own at the table.
Keywords: Smoky Maple chicken Thighs and Sweet Potatoes, Maple Chicken, Maple chicken and Sweet potatoes easy, chicken and sweet potato recipeMaple Sweet Potatoes, Smoky Sweet Potatoes, Chicken and Sweet Potatoes, Maple syrup,
Recipe Card powered by