Adventure Bread is a famous loaf served by Josey Baker, owner of The Mill bakery in San Francisco. It's a bit of a granola bread, to be honest. So, in my version, I add my two favorite ingredients in my granola – dried cherries and crystallized ginger! So easy to make, too!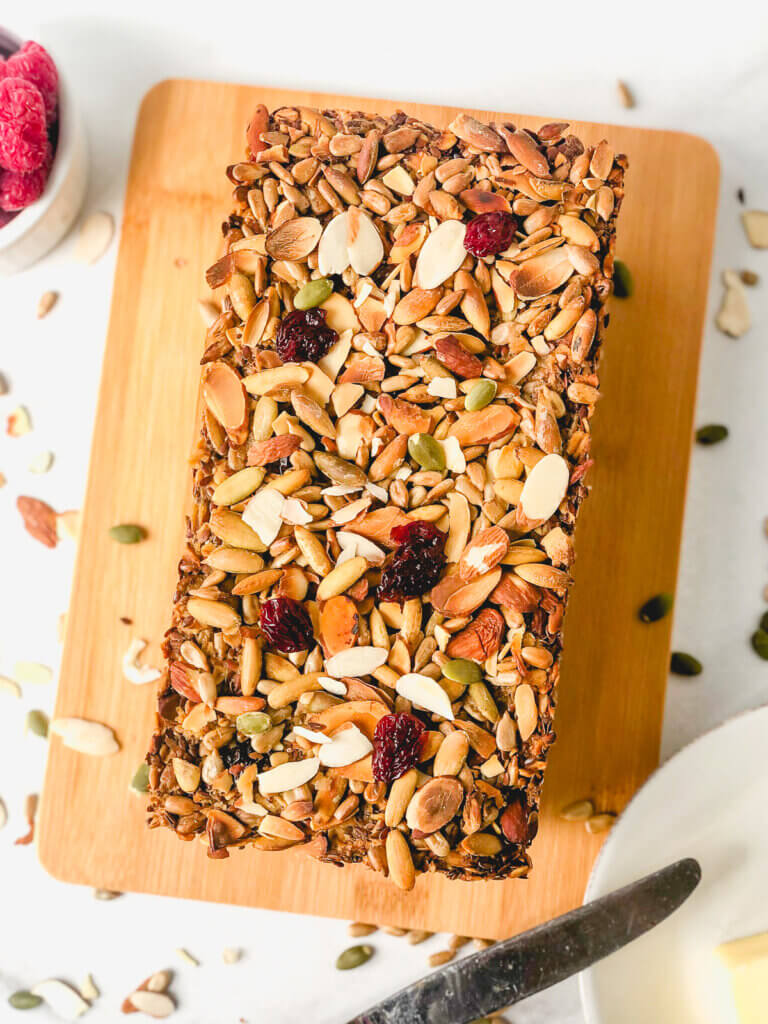 Some things just sound too good to be true. But I'm here to say: they do exist. Take for instance, this Adventure Bread. Originally a recipe from Josey Baker's Book, Josey Baker Bread, it is a popular bread at Josey's The Mill Bakery in San Francisco. I read about it on Dave Lebovitz's website, and thought that it wasn't really my cup of tea – often when a bread is lower carb, contains protein and high fiber, the taste disintigrates pretty quickly, sorry to say. And the list of ingredients in this recipe, although I love each and every one of them, made me think it is one of those superhealthy things that tasted, well, kind of "blah".
But he convinced me I needed to try this, as he does. (I find everything Dave Lebovitz cooks or bakes to be utter perfection, and, if he likes it, well, then, it's bound to be wonderful.) It did contain many of the ingredients I already eat and love so much in my favorite homemade granola every.single.day. But it didn't have the tangy cherries and lovely tiny bits of ginger I've grown to need in my morning meal. So I decided I would add them to the loaf. They provide little bits of tangy, fruity flavor amongst the nuts and oats.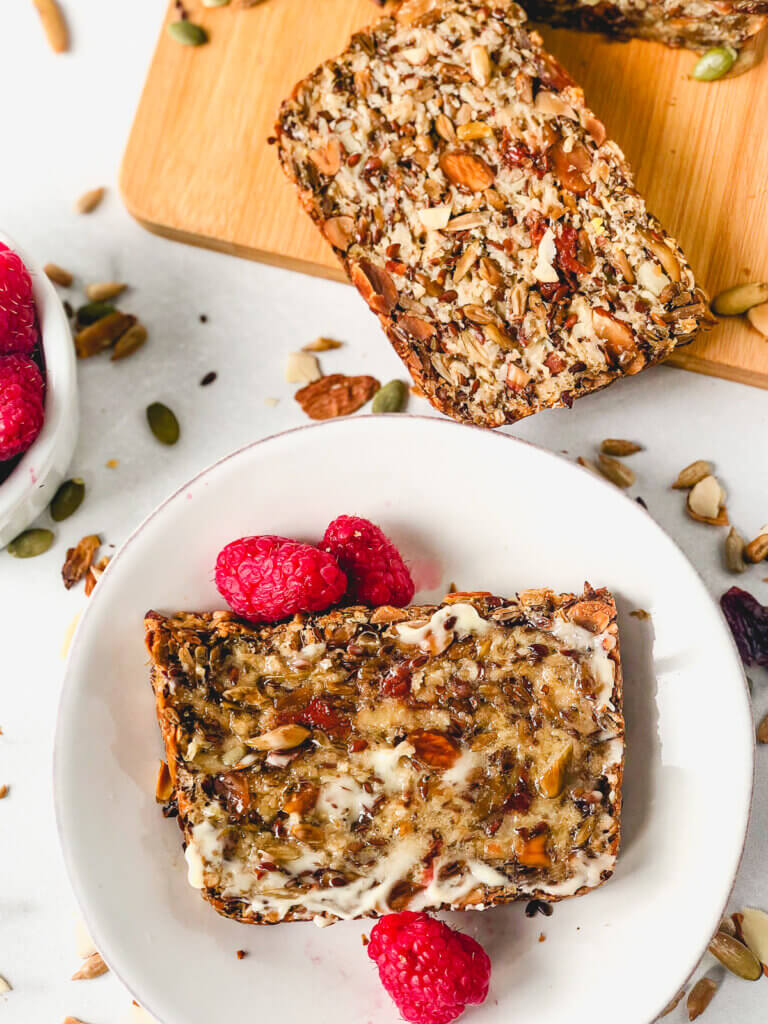 It's also very similar to My New Roots' Life-Changing Bread. And, truly, I wanted to find out what was so life-changing about it. And really, don't you think anything labeled "life-changing" is worth at least a look? So I looked. So similar to Josey's Adventure Bread. Again, it's not the type of bread i'm usually drawn to. It's super-dense, filled with nuts, which made the siren portion in my brain (thanks early '90s!) that used to count every calorie that went into my body start to object – too many calories, maybe too bland tasting, run away! Please don't run. It is none of those things I just mentioned, rather, a potentially Life-Changing Adventure, this bread. The small slice completely belies the satisfaction you receive from its nutty chew. Did I mention this bread is DENSE? Positively toothsome, full of texture. Oddly filling.
Truly the easiest bread around, there's no kneading, just some waiting. You'll really just toss all of the dry ingredients in a big bowl (or right in the prepared pan, if you want). Then add the liquids. Mix it all up. Then wait 2-24 hours, totally up to you. Bake. Wait some more, until fully cool. This wait is so you can cut some nice slices. Then if you wish (yes, do!), toast them, and put anything you want on top! Butter? Go for it! Nut Butter? Delicious – more nuts is better! Avocado? The best Avocado toast of your life! The flavor is definitely that of "healthy" but truly, in the best possible way!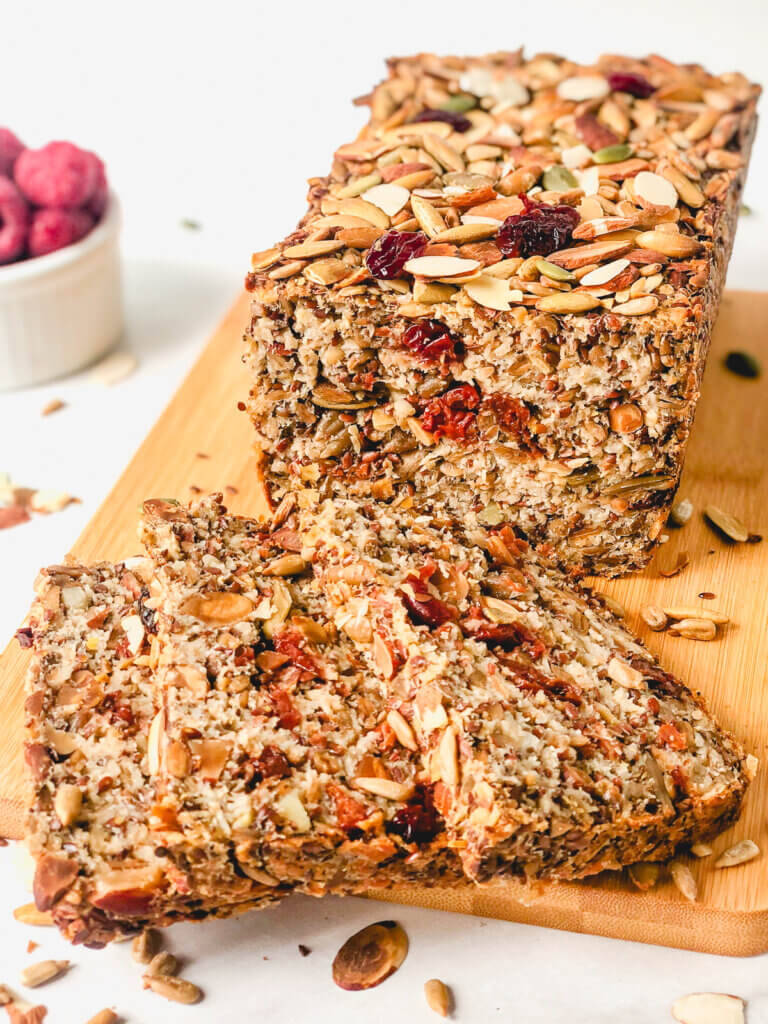 So, how is my has my life changed since making this Adventure Bread? Well, now I sometimes eat a lovely slice of Adventure Bread toast, slathered with peanut butter, or salted butter, for breakfast, instead of my usual granola. And, I know that it's both healthier and easier to make than many other breakfast foods, including quick breads, or homemade "no-knead" breads, both of which I love, BTW. The flavors and textures will have you hooked, and the health benefits may just keep you hooked. Everything about this bread truly does make you actually feel good!
So, are you ready for some Adventure? Try this Adventure Bread recipe, and let me know what you think? Is it life changing? Or are the flavors and textures enough to keep you on the adventure?
Enjoy!
Other Breakfast Treats you may like include:
Any of these Granola Recipes I make!
Apple Cinnamon Rolls with Salted Maple Glaze
No-Knead Chocolate Cherry Pecan Bread
Savory Parmesan Scones with Fennel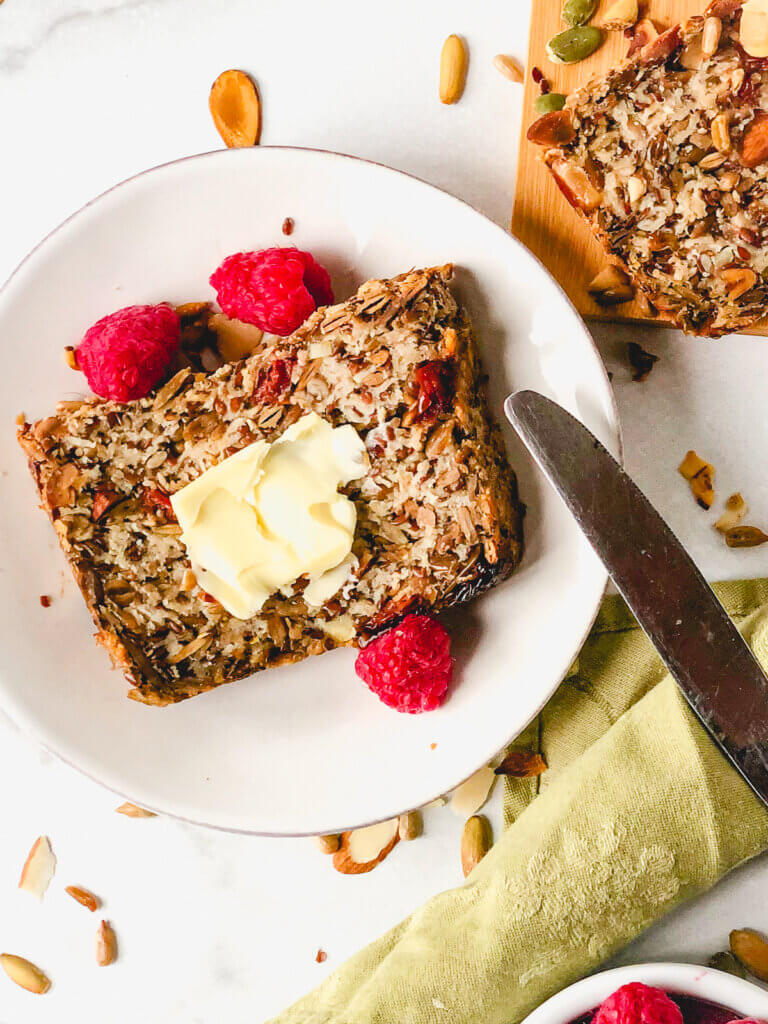 How to make this Life Changing Bread:
Step-by-Step Instructions:
First you'll just gather your ingredients. That's truly the hardest part. I promise. And, these ingredients are positively magical, healthwise.
Nuts – terrific for overall heart health and cardiovascular system support, full of good fats, Omega-3 fatty acids, and fiber! You can use any nuts, but substitute by weight or volume, whichever you prefer. But if you do substitute, use nuts of similar size to the ones you're replacing. For example, if you don't have or don't want almonds, maybe use hazelnuts, macadamia nuts, or pecans in their place.
Psyllium Husks – often found in the health and nutrition section (vitamins, supplements) of the grocery, Psyllium promotes overall digestive regularity and health. A good source of pre-biotics, it encourages growth of probiotics in the digestive system. Also, the psyllium husk operates as a binder in this recipe, so it's an important ingredient – don't omit or substitute for this one!
Chia Seed – full of antioxidants, fiber, omega-3s and protein!
Flaxseed – contains lignans, thought to lower cancer risk, Omega-3 fatty acids and protein!
Oats – Gluten-free whole grain oats provide vitamins, minerals, fiber in an easy-to-cook, satisfying package!
Second, Mix the dry ingredients. Pour in the wet ingredients – just water, oil, and Maple Syrup. Mix it all up. Pour it into the prepared loaf pan. And, if you don't have Maple Syrup, feel free to use the liquid sweeter of your choice: honey, brown rice syrup, golden syrup.
Third, wait. Keep it on your counter, lightly covered, if you like. If you're going to bake it the next day, you could put it in the fridge, if you want. But it's not necessary as there's nothing that will spoil. In deciding, just realize that this dense bread dough needs to be at room temperature prior to baking, because you want it to fully bake. Once you bake it, it also needs to be fully at room temperature before you slice it.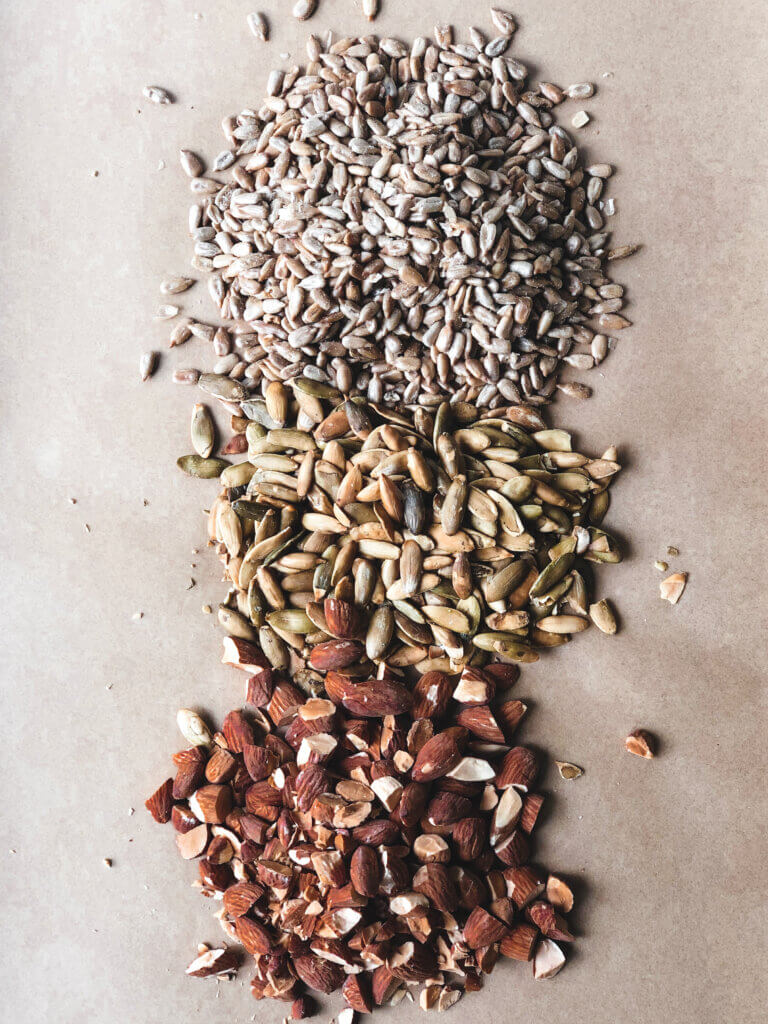 What to do with Adventure Bread with Nuts and Fruits:
Toast it! (Always toast it!)
Slather with Butter, any type you like, salted prefered
Add some jam – I suggest Cherry!
Add nice layer of your favorite Nut Butter
Coat with cream cheese
Avocado (maybe a bit of Sriracha on top?)
A fried egg
Want to make this Adventure Bread recipe later? Pin it!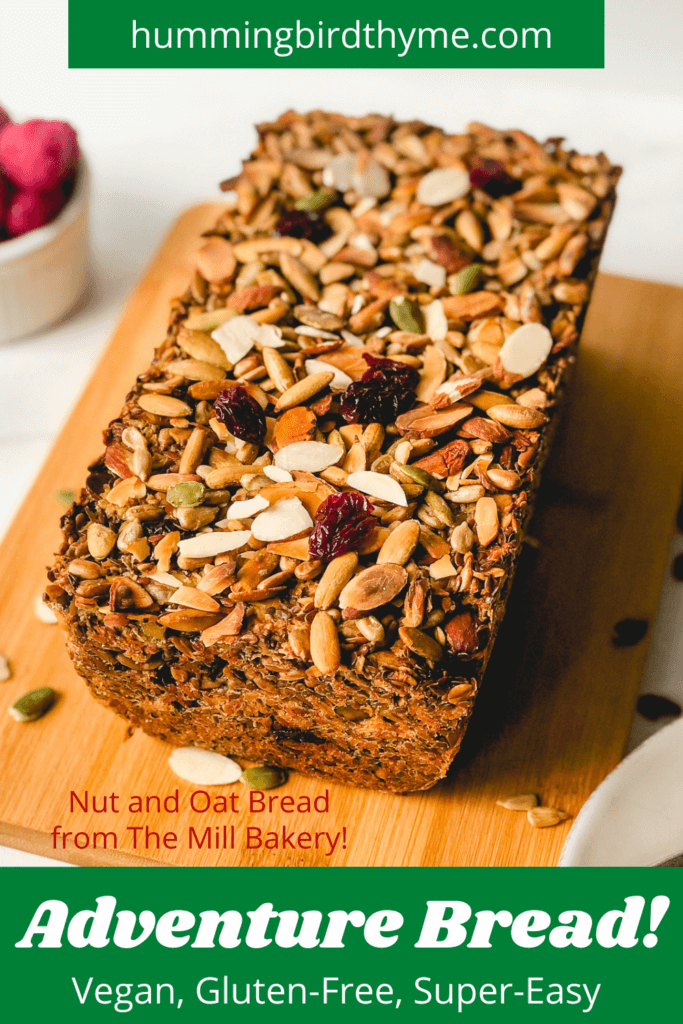 Print
Adventure Bread with Nuts and Fruit
This recipe is adapted slightly from Josie Baker, as seen on Dave Lebovitz Website. I also used some hints from The New Roots Life-Changing Bread, which is quite similar. It is a No-knead, super-dense, nut bread, to which I've added some dried fruits to make it taste similar to the granola I make at home, and also a bit more salt. It's super-easy to make and is Gluten- and Animal-product free.
You'll want to slice this bread very thinly, about 1/2″ slices.
Equipment needed: Big Mixing bowl and an 8×4 (20cmx10cm) loaf pan 
Author:
Prep Time:

15 min

Cook Time:

60 min

Total Time:

15 min active, 4+ hrs inactive

Yield:

1

8×4″ loaf

1

x
Category:

Breads

Method:

Baking

Cuisine:

International
Ingredients
Dry Ingredients:
2 1/4

cups

(203g) Rolled Oats

1

cup

(160g) Roasted and Salted Sunflower Seeds

1/2

cup

(65g) Roasted Pumpkin Seeds

3/4

cup

(90g) Roasted, lightly salted Almonds, chopped coarsely

3/4

cup

(120g) Flaxseeds

1/3

cup

+

1

tbsp

(25g) Psyllium Husks

3 Tbsp

(

25g

) Chia Seeds

1/3

cup

dried tart (Montmorency) cherries, chopped a bit if large

2 Tbsp

finely chopped candied ginger

2 1/2 tsp

(

15g

) Fine Sea Salt
Wet Ingredients:
2 Tbsp

(30ml,

40g

) Maple Syrup (or Honey [not vegan])

1/4

cup

(2 oz, 60ml, 55g) Olive Oil

2 1/2

cups

(600ml/g) Water
Instructions
Gather all of your ingredients. If your almonds, pumpkin seeds (pepitas) or sunflower seeds are not toasted, preheat your oven to 350F or 335F for a Convection oven, and add the nuts to a sheetpan. Once the oven is hot, toast the nuts for 10-15 minutes, watching carefully around 10 minutes to make sure they don't burn. Mine took 12 minutes. Otherwise, measure and place all of your dry ingredients in a Large Mixing Bowl. Stir to mix.
In a medium bowl or a 4-cup measure, add the wet ingredients.
Pour the wet ingredients into the bowl of dry ingredients. Mix well. This will take a few minutes. As it sits, all of the water will be absorbed. 
Oil or spray your loaf pan, and (optional) add a half-sheet of parchment for easy removal of the baked loaf. Scoop all of your mixed ingredients into the loaf pan and smooth the top. Place the filled pan, covered loosely with plastic wrap or a towel, and let set for at least 3-4 hours or up to overnight. If you feel you need it to be refrigerated, go ahead, but it may take some time to return to room temperature before baking. 
When ready to bake, if it's in the fridge, remove it and let it come to room temperature. This could take up to 2 hours. Preheat oven to 400F or 375F for Convection/Fan. Bake for 60 minutes. The top should be dark brown and your kitchen should smell amazing. The loaf should be at least beginning to separate from the sides of the pan. Remove loaf from the oven, and after a few (5) minutes, gently remove the loaf from its pan, setting it atop a cooling rack.  It will need to fully cool for a FULL 2 HOURS, no shortcut here, in order to slice it neatly.
When fully cool, very thinly slice, about 1/2 inch (1.2cm) slices. Toast and top as desired.
Notes
Well-wrapped, this bread will keep in your fridge about a week. But if you slice it up, individual slices keep in the freezer for up to a month.
Keywords: Josey Baker Adventure Bread, Adventure Bread Recipe, Life Changing Bread, nut and seed bread, no yeast bread, easy bread recipe, healthy bread recipe, gluten free bread, vegan bread recipe, low carb, high fiber, protein
Recipe Card powered by