Accidentally Vegan, this Farro and Roasted Vegetables Salad is complimented by its brightly flavored and super-simple Orange Dressing, so good I'll be pouring it over everything this season!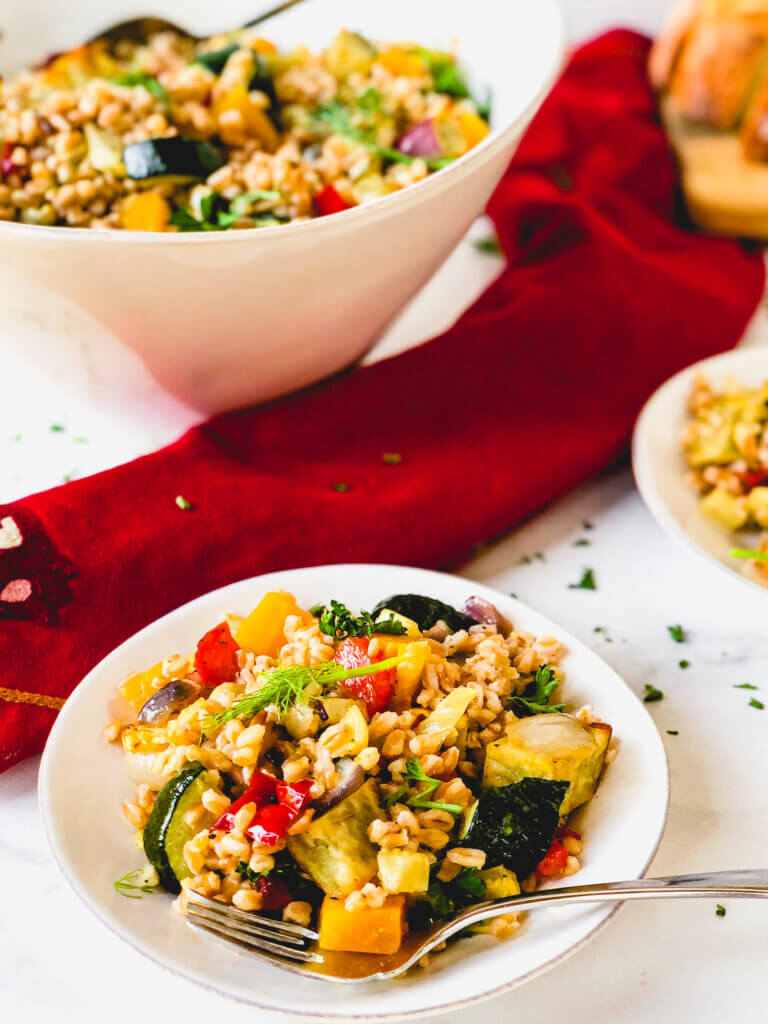 I don't know about you, but I love learning about and incorporating new foods into my diet. I know there are people who don't ever try foods they weren't served as a child. I just feel like that's missing out on so much! So much flavor, so much nutrition, so much joy!
And, I'm aware that this Farro with Roasted Vegetables Salad is full of foods that may be new to some. Farro, first of all, is an "ancient grain", which just means it remains unprocessed and not genetically altered for flavor or profit. So hearty, full of nutty flavor, chewy texture and fiber, that if you've never tried it, you just might be tempted to replace all your grains with it. And, if you've been following me for awhile, you know how much I love a dish that has Farro in it.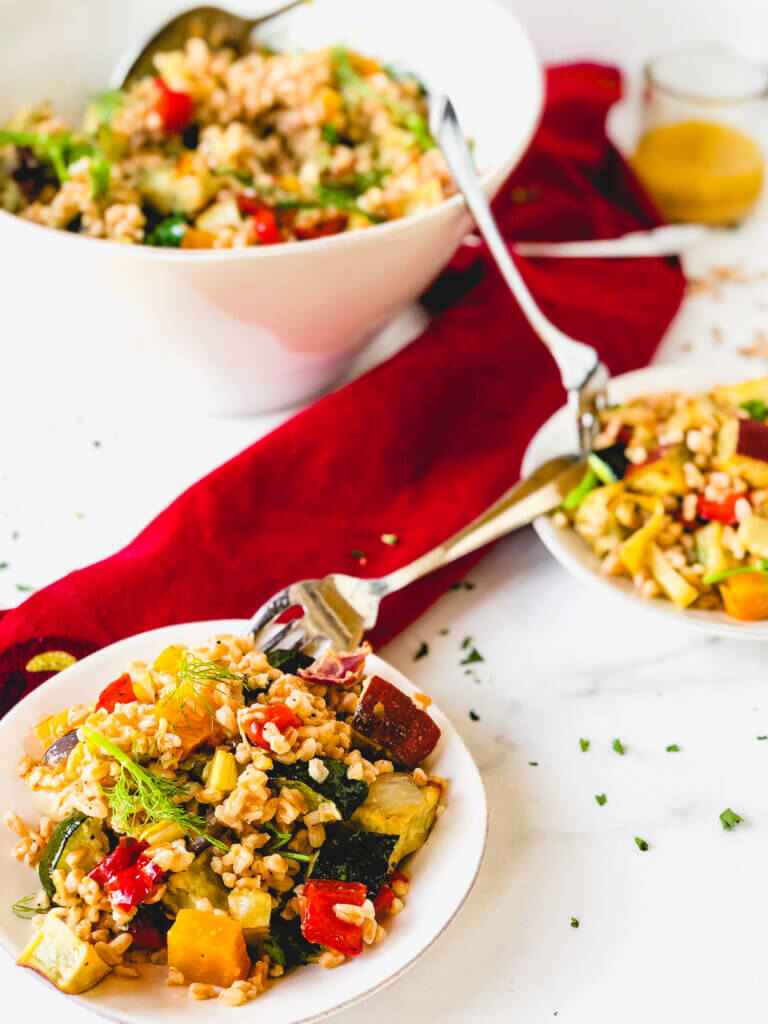 When making this salad, I also included a big helping of roasted vegetables. Roasting brings out the natural sweetness in so many vegetables. I used sweet potato, red pepper, fennel, beet, onion, and zucchini, but when you make this, you can leave out any of those you don't like. (Although, you know, if you try it enough times, in enough ways, you may learn to like it! – Sorry, I had to say it – it's Science!)
And, don't get me started on this super-simple and brightly flavored Orange Rice Vinegar Dressing! Just a few ingredients – OJ, rice vinegar, dijon, olive oil – shaken in a jar, but once you taste it, you'll want to pour it over everything! Pinky-swear!
Lastly, I tried this plant-based salad with the addition of Nutritional Yeast, (a.k.a. "Nooch") which, if you've never tried, you might want to give it a go. Just one Tablespoon of this nutty, (almost) cheesy-tasting yeast product (not to be confused with baker's yeast), supplies just 25 calories, with 4 grams protein, 2 g fiber, a good hit of B1, B2, B6, B9 and B12! A tasty multi-vitamin indeed! (Note: it's not for those on certain medications or sensitive to yeast!) Or you could add some chicken strips and/or crumbles of goat or feta cheese! It's all good!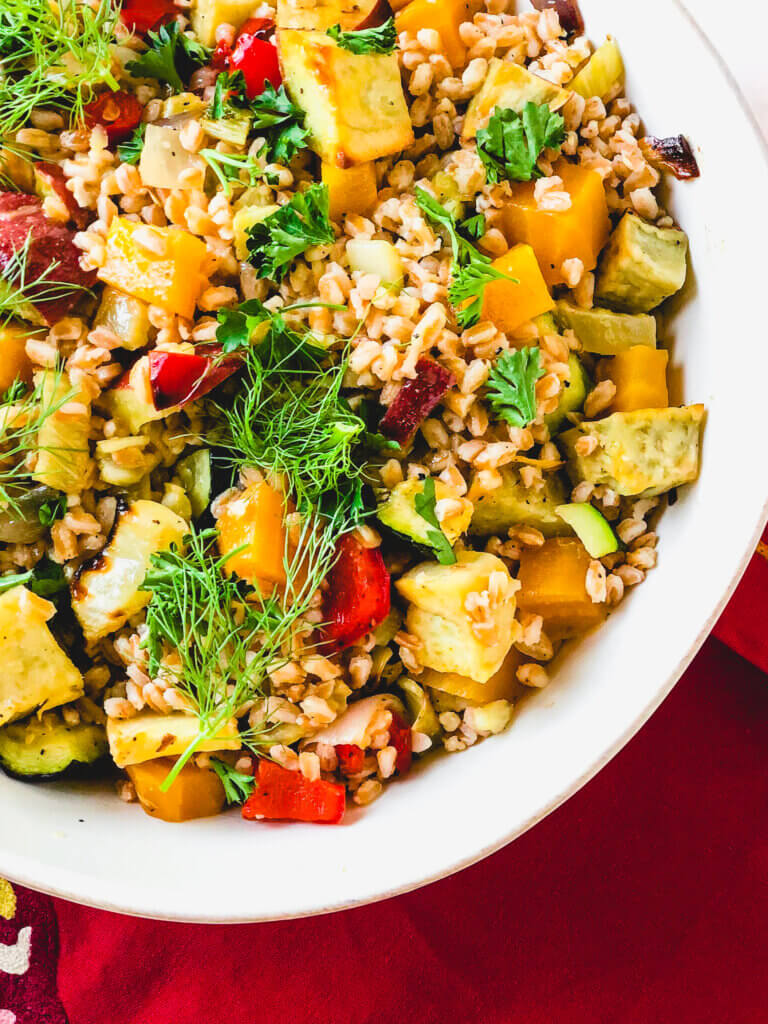 So, I'm curious  – have you ever tried Nooch? Have you ever heard of Nooch? Will you try Nooch? Whether you answered yes to any of these, I recommend trying it sprinkled over or mixed into my Farro and Roasted Root Vegetable salad with the most addictive Orange Dressing! 
Enjoy!
Other ways to try Farro include:
Super tasty Farro Tomato Salad with Basil and Mint
Red Lentil Farro Sweet Potato Soup
Like this Vegan Farro Salad recipe? Pin it!
How to make Farro with Roasted Vegetables Salad Recipe
This post may contain affiliate links. As an Amazon Affiliate, I may earn a small commission, at absolutely no cost to you, for purchases you may make of items linked from this site.
Things you may need:
Sheet Pans – I love my USA Pans!
Parchment Paper – Why not just get a year's supply?
Measuring Cups and Spoons – These are the ones I want!
Farro and Vegetables Recipe Summary and Tips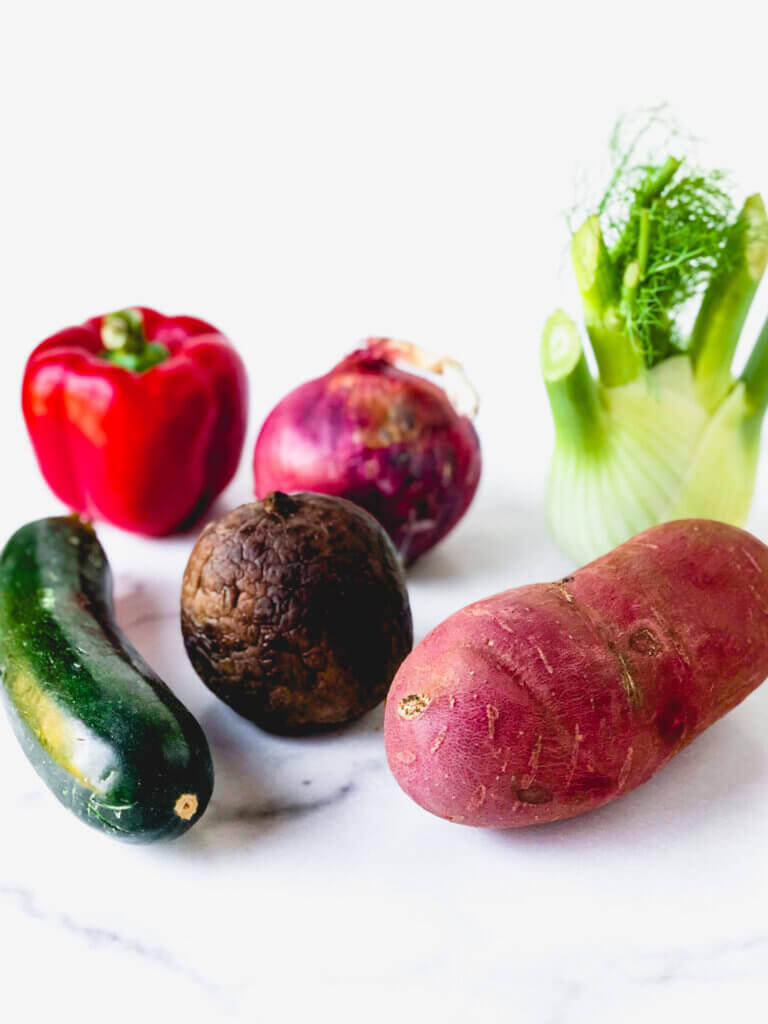 Just a few easy steps to this delicious salad! Basically, you'll just:
Cut and roast the vegetables
You really can choose any vegetables you want. In general, with these vegetables, 2 lb (.9kg), more or less, is the amount that works. If you have a little more or a little less, it will still turn out delicious. Here are some tips:
Cut them all in similar size and shape. This way they roast in a similar time. Some veggies, like onions and fennel, are more difficult to cut into cubes, but just don't overthink it. Aim for a piece you will pick up with a fork.
About the Beets – I roasted the beet whole, because, in my experience, the beet is juicier and tastier when roasted in foil, then peeled and choppped. I did mine the day before, but you can do it along with the chopped vegetables, it will just need to roast 45-60 minutes.
Put all the chopped veg in a bowl, drizzle with olive oil, add some salt and pepper and stir until all the vegetable pieces are coated. Pour them over 2 baking sheets, and pop into the oven. Stir them at about 15 minutes, then remove when they are just beginning to brown at the edges. In my oven it was about 25 minutes. Take them out and let them cool.
Cook the farro 
Similar to other grains, you'll just cover the grain with water – 2 inches above the grain, roughly. Boil. Then lower to a simmer for 25 minutes. You don't need to cover the pot. Test the farro – it should be plump, tender, but chewy. Then drain and pour it into your serving bowl.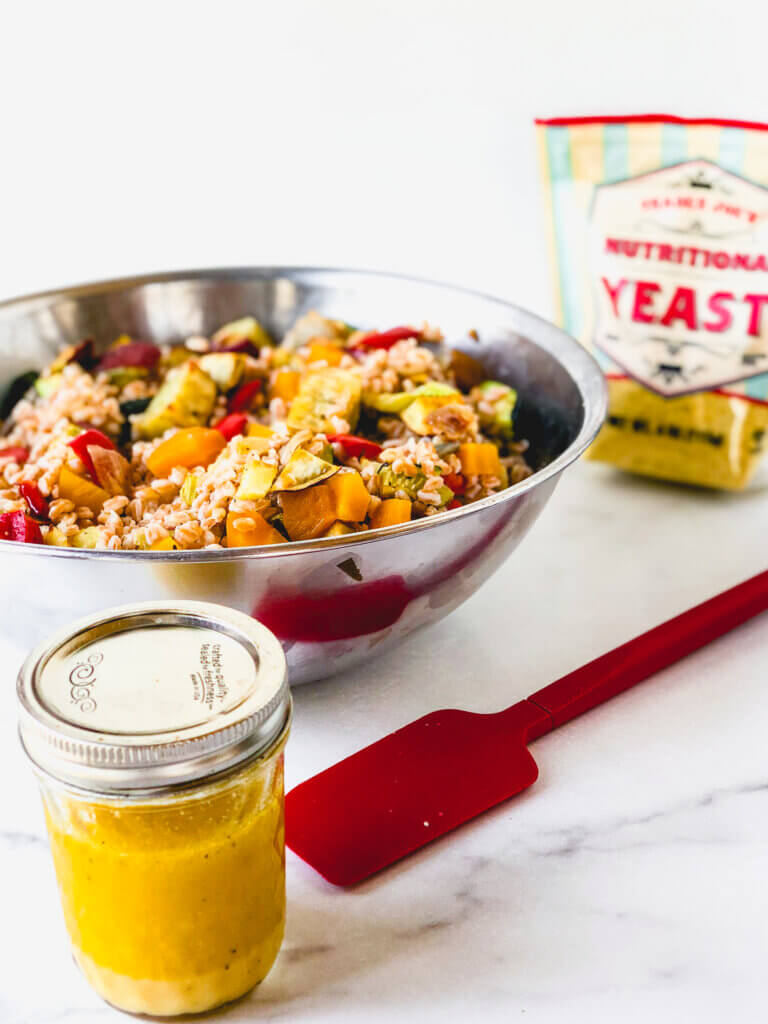 Make the Dressing and Combine everything! 
This easy dressing starts with orange juice. You can use any orange, a nice juicy one is best. Cut it open and squeeze until you have 1/3 cup of juice. A nice-sized juicy mandarin does the trick, just pick a type that tastes great, a bit of tartness helps. Add some mustard and rice vinegar – I used a "seasoned" variety. Then pour in 1/2 cup Extra-Virgin Olive Oil, some salt and pepper. Cover the container and shake until it emulsifies. 
Pour over the salad when warm! If you pour the dressing over the salad when it's warm, the farro will absorb all the flavors from the dressing – A little orange, that bright rice vinegar and the smooth, earthy, fruity Olive oil. So good!
Top the Salad – If you like, top your salad with some cheese crumbles or chicken slices for a full meal. Or, if you want to keep it vegan, try some Nutritional Yeast (a.k.a. "Nooch"). A Tablespoon of Nooch adds some umami, almost "cheesy" flavor. And, 3 grams protein, 1 g Fiber and ample doses of an array of B-Vitamins! Click Here to learn more about the benefits of this amazing food!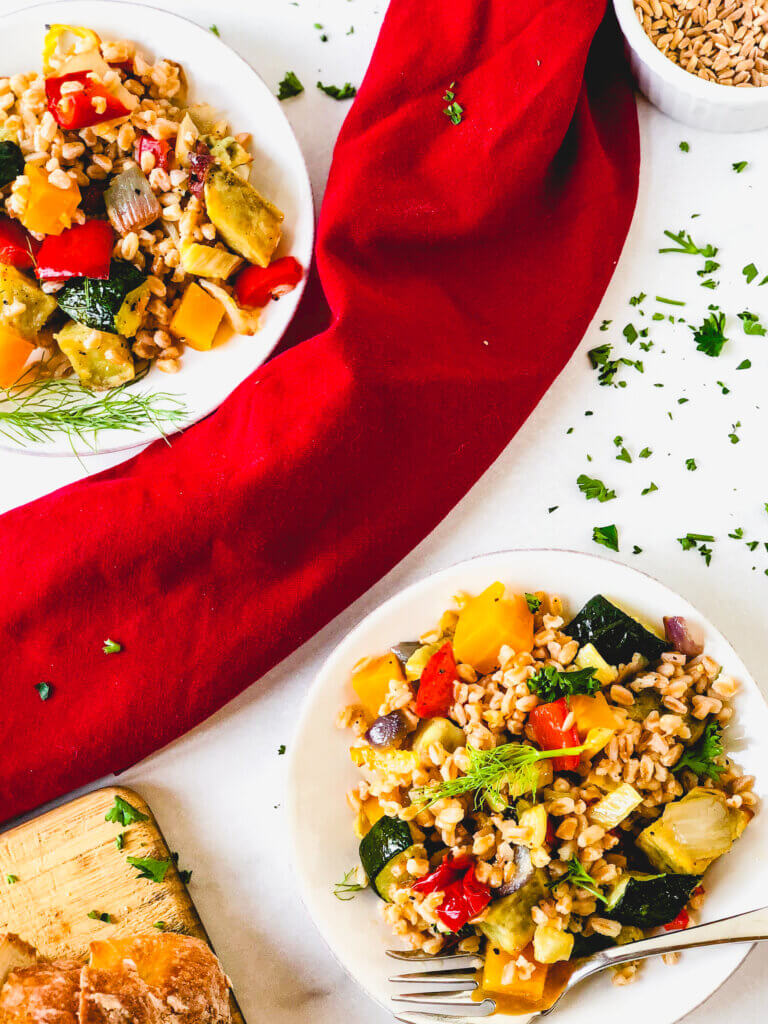 Print
Farro and Roasted Vegetable Salad with Orange Dressing
A tasty and super-healthy salad – good source of complex carbohydrates, fiber, protein and vitamins! Add cheese or chicken, or if you are vegan, a bit of Nutritional Yeast adds a nice hit of umami flavor, along with ample B-vitamins, protein and fiber!
Tastes great served warm, room temperature, or cold!
Author:
Prep Time:

15-20 min

Cook Time:

30 – 45 min

Total Time:

45-60 min

Yield:

6

–

8

main dish, or

12

side-dish servings

1

x
Category:

Salad

Method:

Oven Roast, Stovetop

Cuisine:

International
Ingredients
For the Salad:
1 1/2 cup

(

300g

) Farro

1

Medium Beet, any color, scrubbed and wrapped tightly in foil.

1

Medium Red Pepper, seeded and chopped into

3/4

" pieces.

1

Medium Sweet Potato, peeled if desired, any type or color (I used Japanese), chopped into 1/2-3/4″ cubes.

1

Red Onion, peeled and chopped into small pieces

1

Fennel Bulb, sliced into thin slices around 1″ long

1

Zucchini, cut into

3/4

" cubes

4 tsp

Kosher salt

2 tsp

Black pepper

2

–

3

Tbsp Olive Oil
For the Dressing:
1

heaping tsp Dijon Mustard

1/3

c Fresh-Squeezed Orange Juice

3 Tbsp

Seasoned Rice Vinegar

1/2

c Olive Oil

1/2 tsp

Kosher Salt

1/4 tsp

Black Pepper
Add-ins: 
optional: 1/4 cup, (or to taste) Nutritional Yeast
optional: 1/2 cup Feta cheese or chevre crumbles
optional: 1/2 – 1 lb (227-454g) chicken strips
Instructions
Prepare the Salad Ingredients:
Preheat oven to 400F/200C. (lower to 375F if Convection). Place the wrapped beet on a small pan in the oven (See Note 1), while you prepare the rest of the veg. Line 2 sheet pans with parchment or a bit of cooking oil, any type.
Using a mesh strainer, rinse the farro well. Then place it in a Medium-sized (3 qt, 3L) saucepan. Cover by 2 inches (5cm) with water, and toss in a nice pinch of salt. Bring to boil, then lower to a simmer. Simmer 25 minutes, until tender and chewy. Drain and set aside. 
While the Farro is simmering, and beet in the oven, prepare the rest of the veggies. Place all cut up veg into a large bowl. Drizzle with 2-3 Tbsp olive oil, and sprinkle with salt and pepper. Mix until all vegetables are coated.
Pour seasoned vegetables over 2 sheet pans, with all vegetables in a single layer on each.
Place in preheated oven for 25-30 minutes, stirring after 15 minutes, roasting until tender, and just beginning to brown around the edges. (I took mine out at 28 min.) Test the beet using a metal tester or thin knife. If tender, remove it from the oven, unwrap, let cool a bit and then peel, and cut into 1/2″ cubes.
Make the Dressing and Compose the Salad:
In a jar or container with a lid, mix together the mustard, orange juice, rice vinegar, salt and pepper. Add the olive oil and place the lid on container. Shake vigorously until the dressing emulsifies. Taste and add additional salt and pepper, if desired.
In a large bowl, place the cooked farro. Mix in the roasted vegetables. Pour the dressing over the salad. Stir to distribute. Add nutritional yeast, cheese and/or chicken, if desired. Serve warm, or at room temperature, or refrigerate, and serve cold. You could also pour over just half the dressing and pass remaining dressing at the table.
Notes
The beet may take longer (45-60 mins, depending on size) than the rest of the vegetables to roast. You can cut it raw and roast with the rest of the vegetables, but generally, beets lose much of their nice moisture when roasted. 
Keywords: Farro and Roasted Vegetable Salad, Ancient grain recipes, how to cook farro, nooch, nutritional yeast recipes, Vegan Farro Recipes, Pan Roasted Vegetables, Orange Dressing, Farro Roasted Vegetable Salad, Recipes for roasted vegetables, Pan Roasted Vegetables, Roasted Farro Salad, Vegan Farro Recipes
Recipe Card powered by