Easy, Salty, No Bake Peanut Butter Caramel Cheesecake! It's totally ALL those things, in a super-simple make-it-in 30 minutes form! Tempting? Of course!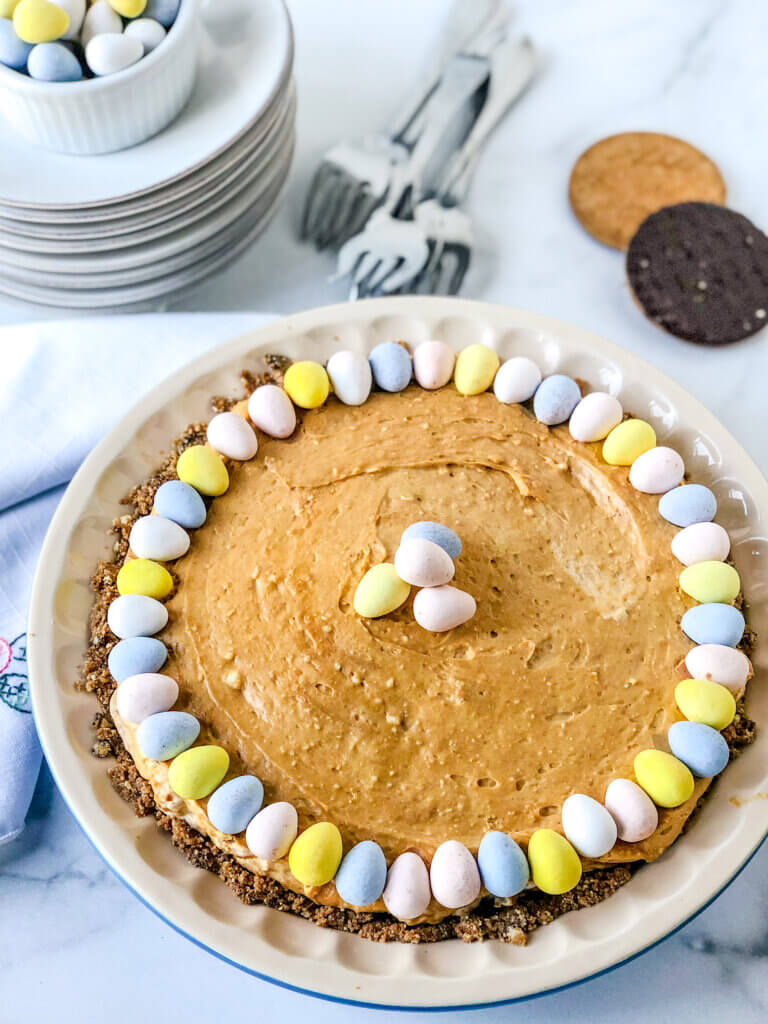 "Stay in your lane!" Has anyone ever said this to you? And, we all know what it means. For instance, "I'm not a doctor, but play one on TV!" That was from a strange commercial from long ago, where the handsome actor helped a company sell loads of product. I would say he was clearly out of his lane. But as a Food Blogger, I have to admit there are also times I'm not really quite sure what my lane is.
I describe my blog as "Easy Recipes. Real Ingredients. Tasty Food." because I enjoy easy-to-make recipes that are an updated spin on classic comfort foods. Super flavorful and good for the soul. Yeah, I know, that's a pretty crowded lane. Or, maybe it's one no one is looking for. I really don't know in the grand scheme of things. But, it's who I am.
Anyway, for this recipe, I felt like I was leaving that lane maybe a bit. This recipe for Salty Peanut Butter Caramel Cheesecake is definitely a spin on classic cheesecake, in so many ways. But it's just so, so easy, a kind of a "dump and mix" sort or recipe. That's good, right?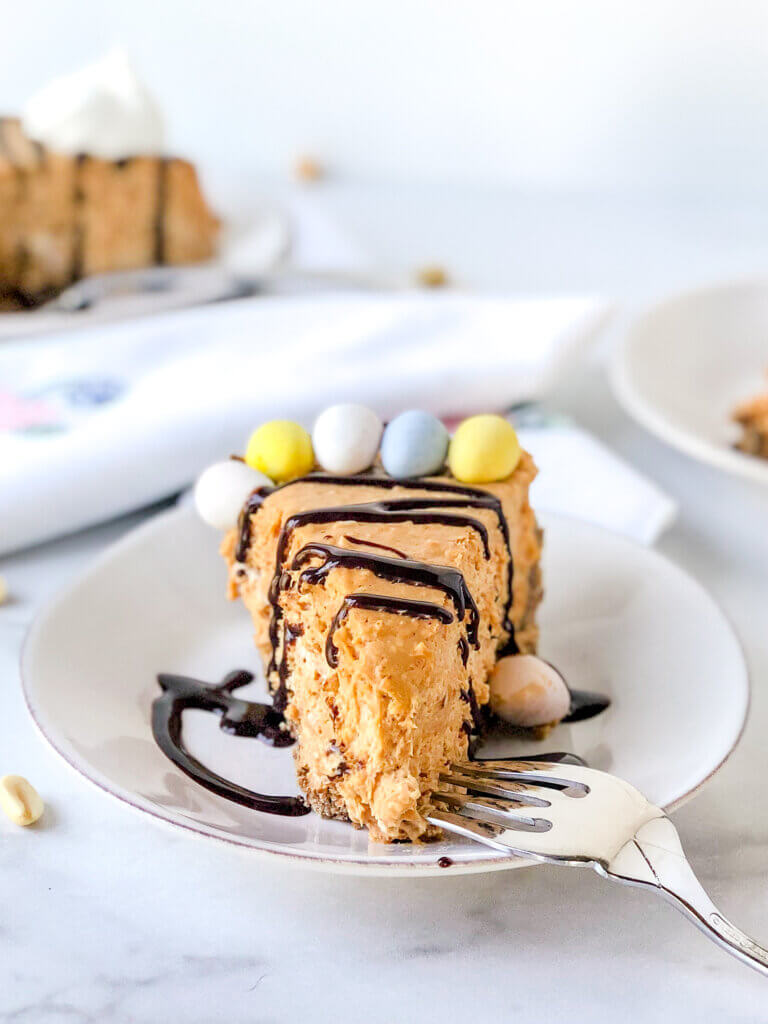 First, it's a no-bake – not that there isn't a time and place for a full baked Classic Cheesecake. Second, the crust is made with just 2 ingredients: chocolate coated (and British, no less) cookies biscuits, and butter. And third, salty peanut butter and dulce de leche flavor the cream cheese. Lastly – this one's truly a bonus – it's equally (or perhaps even more!) delicious frozen. Like an ice cream pie. Kind of a dizzying spin on the 4 most fantastic flavors for a sweet: chocolate, caramel, peanut butter, cream cheese. All with some salty! Because who doesn't love that Salty/Sweet vibe? Those are definitely all in my lane.
This No Bake Cheesecake is truly everything – Decadently rich. Sweet. Salty. Creamy. Nutty. Flavor more decadent than the ease of making would lead you to believe. You can make it in a pie plate, like I did. But next time, I'll be using a Springform pan – it will be easier to get 10 or 12 full servings out of that one. I can at least tell myself that.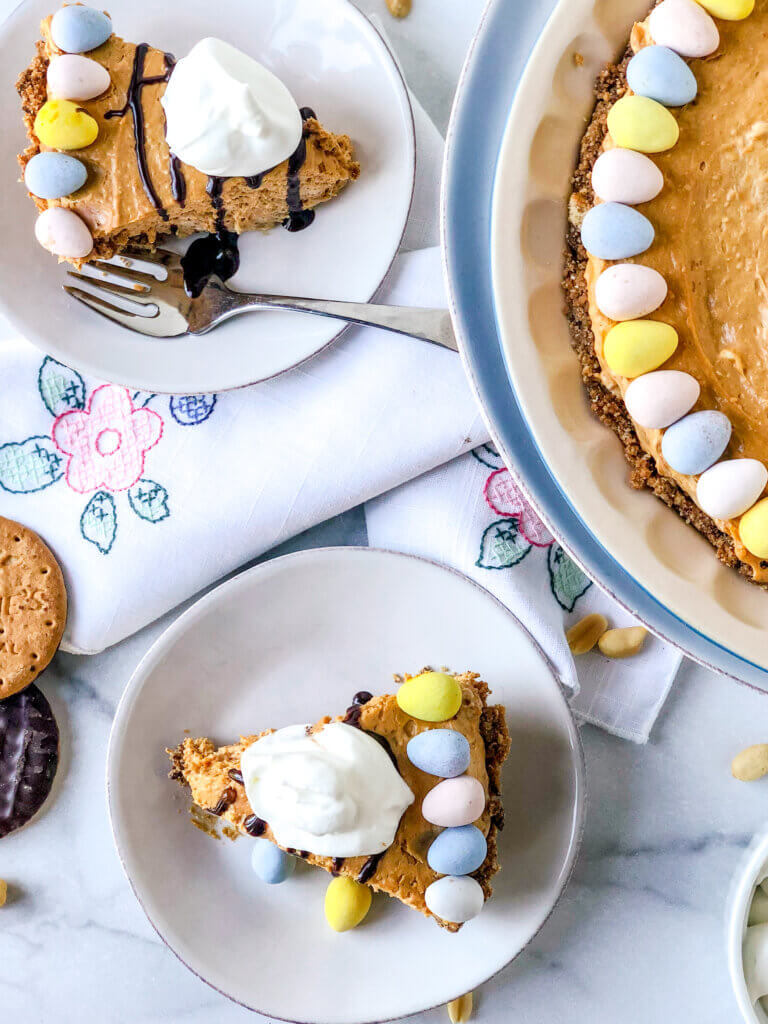 So, I guess I am who I am. I can't really leave my lane if I try. How about you? Are you with me in my lane? Have you ever changed lanes? Or, do you just need a Salty Peanut Butter Caramel No Bake Cheesecake? Tell me about it…
Enjoy!
Other recipes with these awesome flavors:
Peanut Butter Chocolate Ice Cream Sandos
No Bake Peanut Butter Chocolate Cheesecake
Peanut Butter Swirled Brownies
No Churn Salted Caramel Ice Cream
Like this Easy Peanut Butter Cheesecake? Pin it!
How to make this No Bake Salty Peanut Butter Cheesecake Recipe
This post may contain affiliate links. As an Amazon Affiliate, I may earn a small commission, at absolutely no cost to you, for purchases you may make of items linked from this site.
Some things you may need:
Springform Pan – this one form NordicWare is top-rated, leakproof and sturdy!
Pie Plate – Simple or fancy, you choose!
Rolling Pin – I have a very basic one, like this one, and it works for every purpose!
Food Processor – this one, from Cuisinart, is the one I use – I love having the option of using a small bowl for smaller jobs!
Whisk – this one, from OXO, is the one I reach for fist, every time!
Canned Dulce de Leche – You can make your own, using an Instant Pot or boiling water, but buying the can? So much easier!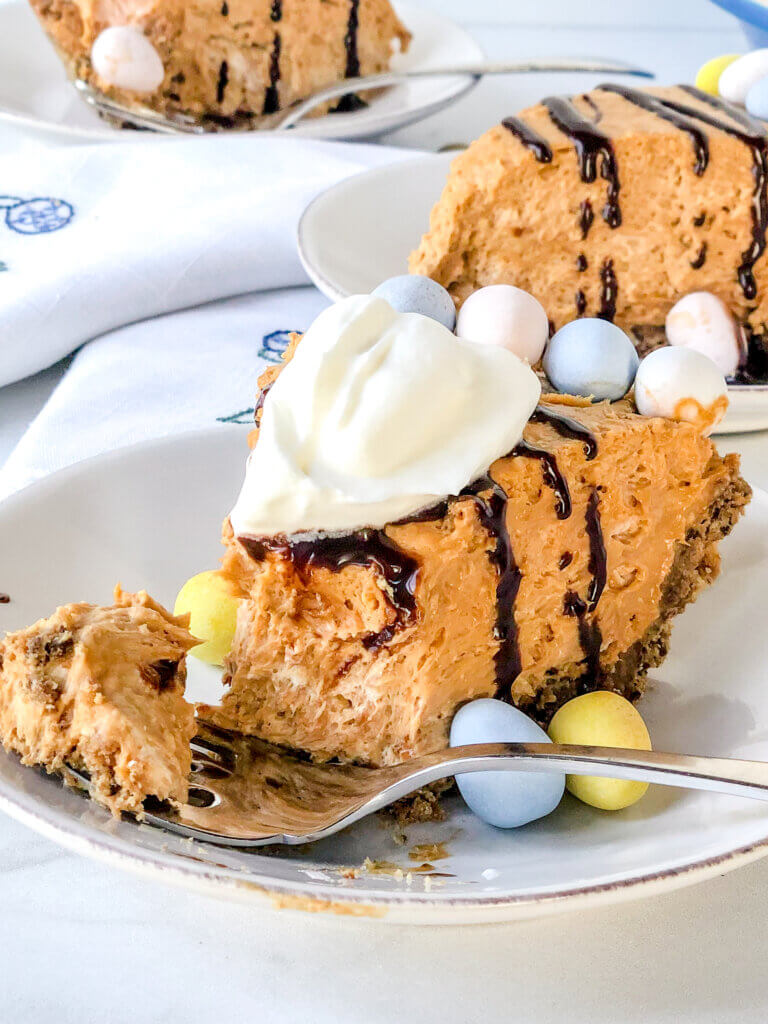 No Bake Peanut Butter Cheesecake Pie Recipe Steps:
Making the Crust: This is the simplest, tastiest no-bake crust! The secret? "Digestive" Biscuits. These are whole-wheat cookies, sometimes coated with chocolate, that, when ground then coated with a butter, make a tender, chocolatey-toasty crust. You can find them in the cookie section of your grocery, or sometimes in the section with imported British foods (if you live in the US) No need to bake it, either!
If you purchase the 10.5 oz (300g) package of McVittie's Digestives, you'll need all but 2 of the cookies – I'm pretty sure you could find something to do with those 2 cookies – perhaps crush them on the top of the pie, if they haven't been taste-tested yet. Anyway, you can crush the cookies either with a few pulses in a food processor, or by putting them into a zipper-topped bag and rolling over them with a rolling pin.
Add the melted butter until the cookies begin to form a few "clumps", then press into a 9″ Springform pan or a pie plate. Refrigerate that crust while you make the filling.
Substitutions:
For the Digestives – Crushed Graham Crackers, Vanilla Wafers, Oreo Cookies – you'll need about 1 1/2 cups of crushed crumbs.
For the Butter – Feel free to use melted margarine, vegan butter, or coconut oil
Making the Filling: The filling is a simple, 4-ingredient, whisk-to-mix filling. The caramel comes from canned Dulce de Leche, which you should be able to find in your grocery either near the Sweetened Condensed Milk, or (equally likely) in the Mexican/Tex-Mex canned goods section. If not, you can make it using a can of Sweetened Condensed Milk, via the method I used in my recipe for Salted Caramel Ice Cream.
When you're ready to make your filling, you'll want to whip the cream first. Whip until it holds its shape for at least a few seconds after your turn off the mixer, kind of just after it's "billowy". And then, into a large bowl, put the well-stirred Dulce de Leche, peanut butter, room temperature (!) cream cheese, and 1/3 of the whipped cream.
If your peanut butter does not taste salty, you will want to add the 1/4-1/2 teaspoon of salt. Trust me on this. 
Using a whisk or a metal spoon, mix until smooth, or almost smooth. You can see by the photos, mine was not perfectly smooth, just well-mixed. Then, using a silicone spatula, gently fold in the next third of the whipped cream. Once it is folded in, then fold in the last third of the whipped cream. Give the filling a taste, just to see if you need a bit of salt. Then pour it into the cold crust, return to the refrigerator for at least 4 hours. (Or – do what I do sometimes – put it in the freezer – it makes a wonderful Ice Cream Pie!) If you don't want a bit of a skin to form, cover it lightly with plastic wrap. Decorate, if desired, and serve!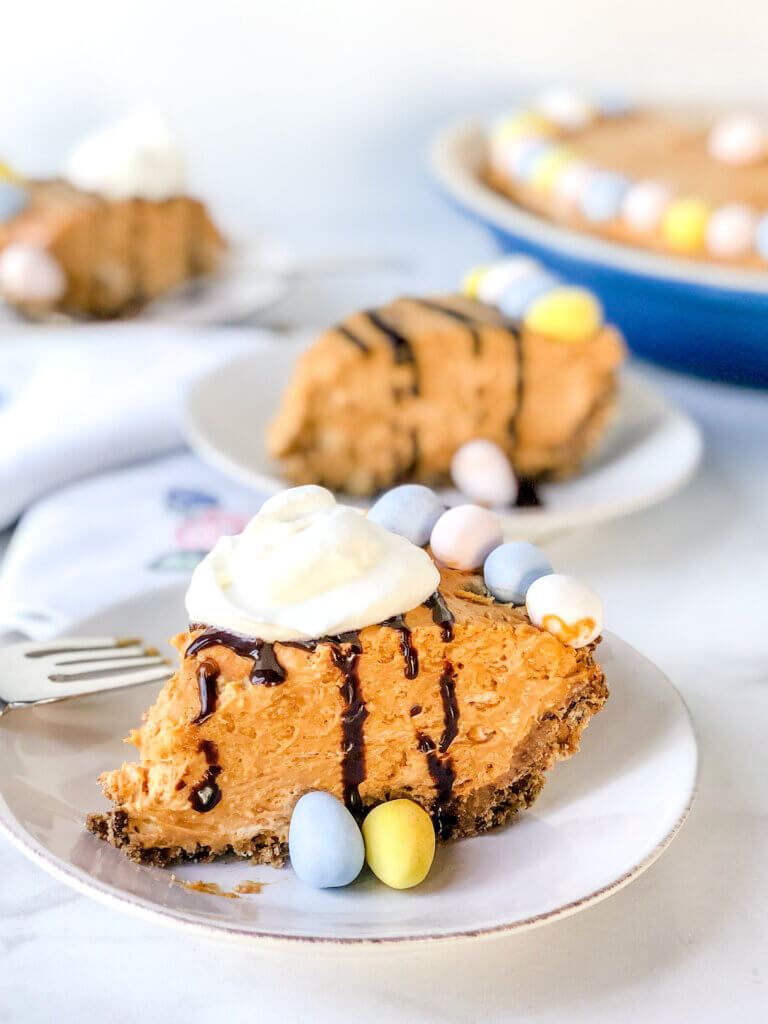 Print
NO BAKE Peanut Butter Caramel Cheesecake Pie
This rich, creamy, sweet and salty Peanut butter caramel cheesecake recipe is NO BAKE! So easy! You can serve it refrigerated or Frozen, like an ice cream pie! Top with seasonal candies and it's a perfect Holiday dessert, but easy enough for any day!
Special Equipment Needed: 9″ – 10″ Springform Pan or 9″ Pie plate. The Springform pan will be easier to cut smaller slices, and get 10-12 portions. 
Author:
Prep Time:

15-20 min

Total Time:

30 minutes

Yield:

10

–

12

Servings

1

x
Category:

Pies

Method:

No Bake

Cuisine:

American
Ingredients
For the Crust:
9 oz

. Chocolate-coated Digestive Biscuits or Hobnob Cookies (I used McVittie's Brand)

6 Tbsp

(

84g

) Unsalted Butter, Melted
For the Filling:
1 1/2 cups

Heavy Cream

1

can (13.4 oz, 380g) Dulce de Leche, stirred  See Note 1

3/4 cup

(

6 oz

,

192g

) Smooth Peanut Butter See Note 2

8 oz

. (

226g

) Cream Cheese, Room temperature

1/4

–

1/2

tsp Kosher Salt (to taste)
(optional) Toppings:
Small candies, such as chocolate eggs
Chocolate Sauce
Peanuts
Whipped Cream
Cookie Crumbs
Instructions
Make the Crust:
Food Processor Method: Break the cookies a bit into the processor bowl, and then pulse around 15 times. Add the melted butter, pulse a few  (2-3) times more until small clumps start to form. 
Rolling Pin Method: Place cookies in a large zip-top bag, seal, and using a rolling pin, crush the cookies finely. Pour the crumbs into a bowl. Add the melted butter and stir to distribute.
Press into the bottom and sides of a 9″ pie pan or over just the bottom of a 9 or 10″ Springform pan whose sides are buttered or sprayed. Refrigerate crust while making the filling.
Make the filling:
Using a hand- or stand-mixer, whip the cream until it begins to hold its shape when the mixer is turned off. Set aside. 
Into a different large bowl, place the well-stirred Dulce de Leche, Peanut Butter, Cream Cheese, a pinch to 1/2 tsp of Kosher salt (to taste). Stir together a bit – it might be pretty firm –  then add 1/3 of the whipped cream. Whisk until smooth, or nearly so. 
Using a silicon spatula, gently fold in half the remaining whipped cream, followed by the remainder of the whipped cream, until no (or very few) streaks remain.
Spoon filling into the refrigerated crust, lightly cover with plastic wrap, and return to the refrigerator or the freezer (for an ice-cream pie!) for at least 4 hours before serving.
Just before serving, top with any toppings you desire. 
Notes
You can purchase pre-made Dulce de Leche. It may be right next to the Sweetened Condensed Milk, since that is what it is made from. Or, like in my local grocery, it may be in the Mexican/Tex-Mex section, as it is used in many Mexican-style recipes. Or make your own like I did in this recipe.
You can use any smooth peanut butter here. I use the All-natural style, made from just Peanuts and Salt. Since all peanut butters have different amounts of salt, it's a good idea to taste both before and after you add salt to the mix.
Keywords: No bake peanut butter cheesecake, no bake cheesecake recipe, peanut butter caramel cheesecake, no bake, sweet and salty peanut butter cheesecake, easy peanut butter cheesecake recipe, caramel and peanut butter, caramel peanut butter, no churn peanut butter ice cream, no churn caramel peanut butter ice cream, sweet and salty, frozen cheesecake pie, peanut butter ice cream pie, no bake crust,
Recipe Card powered by