Crispy-edged, creamy-middled, Roasted Carrots and Parsnips are so flavorful, seasoned with a zesty, slightly spicy and slightly citrusy mix. Easy enough for a weeknight, flavorful enough for a Holiday Side Dish!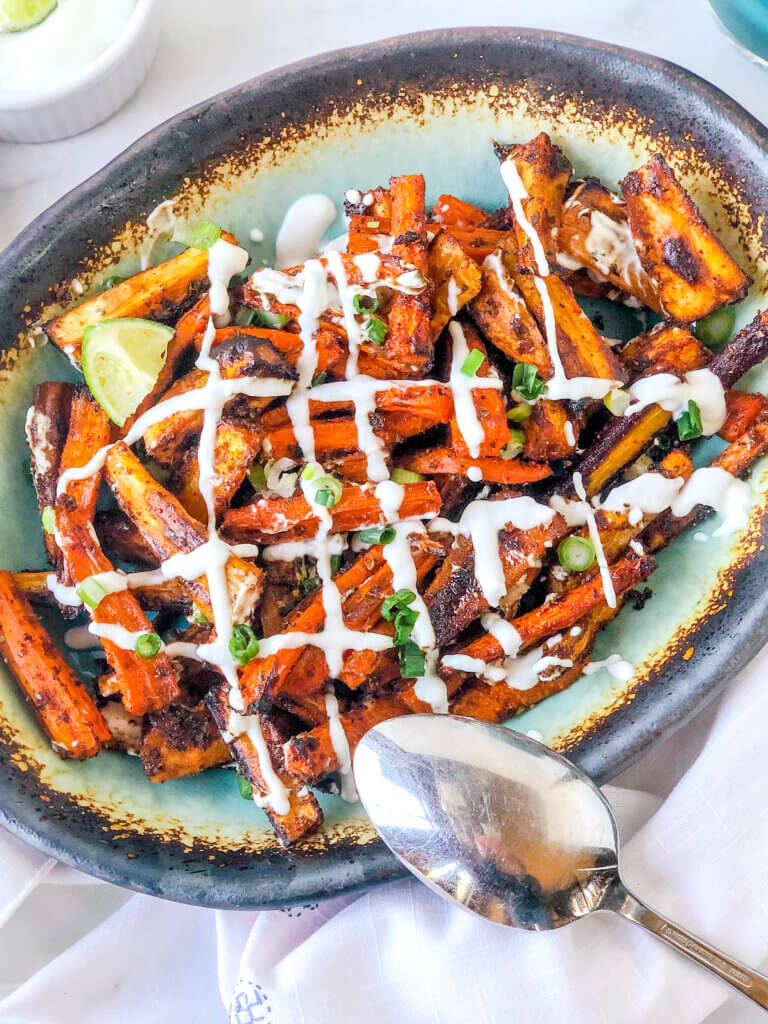 I don't know about you, but when I was a kid, I had ZERO appreciation for vegetables. They were the thing on my plate we would try to avoid (to no avail, of course) by slipping them into a napkin and "needing to go to the bathroom." (Talking about my siblings here, because I would NEVER! – honestly, I'm such a rule-follower!) As if our parents didn't know our evil plan. Not many vegetables were flushed, to be sure. But they were canned vegetables, purchased by the case and stored in a coat closet. So…they kind of deserved it. Agree?
One thing I wanted to do for my own kids was to make vegetables more interesting by making them more prominent in a meal, rather than something you just have to get through. Tasty salads, like my Elote (Mexican Street Corn) Salad results in second helpings of vegetables for sure! And, consistently, I've found that roasting root vegetables, like these roasted carrots and parsnips, is the best way to show them inexpensive, (and unattractive!) hearty vegetables can be both easy and delicious.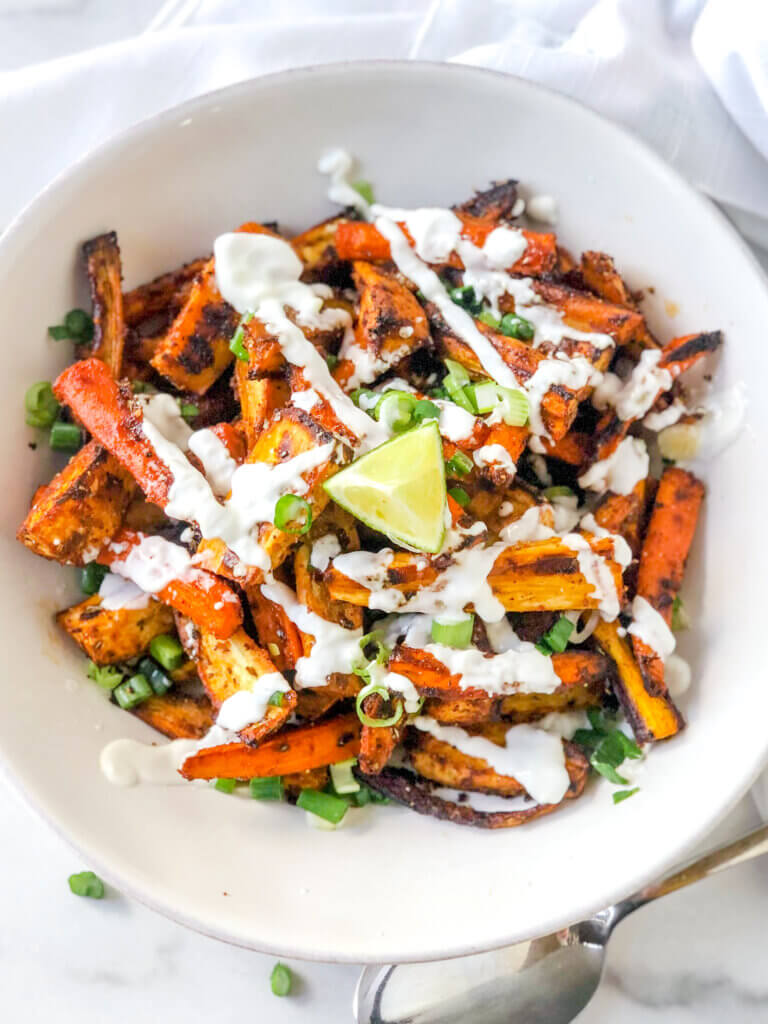 This particular recipe for Roasted Spring Vegetables in a zesty spice mix is a wonderful way to roast root vegetables. These carrots and parsnips are so flavorful! Each ingredient adds something special: A little maple syrup compliments their natural sweetness. Smoked paprika adds some zing and a nice smokiness. Sumac brings some spice and a bit of citrus-like flavor. A little earthy flavor from Oregano. Drizzle with a bit of lime yogurt dressing, and eat them right from the oven, or even cold the next day (!).
And, the texture, so nice! Crispy-edged, tender-middled, these vegetables have it all going on! Drizzle with the lime yogurts sauce and they're practically a meal on their own. Flavor, texture, nutrition! And so easy to make! See below for detailed instructions, photos and tips!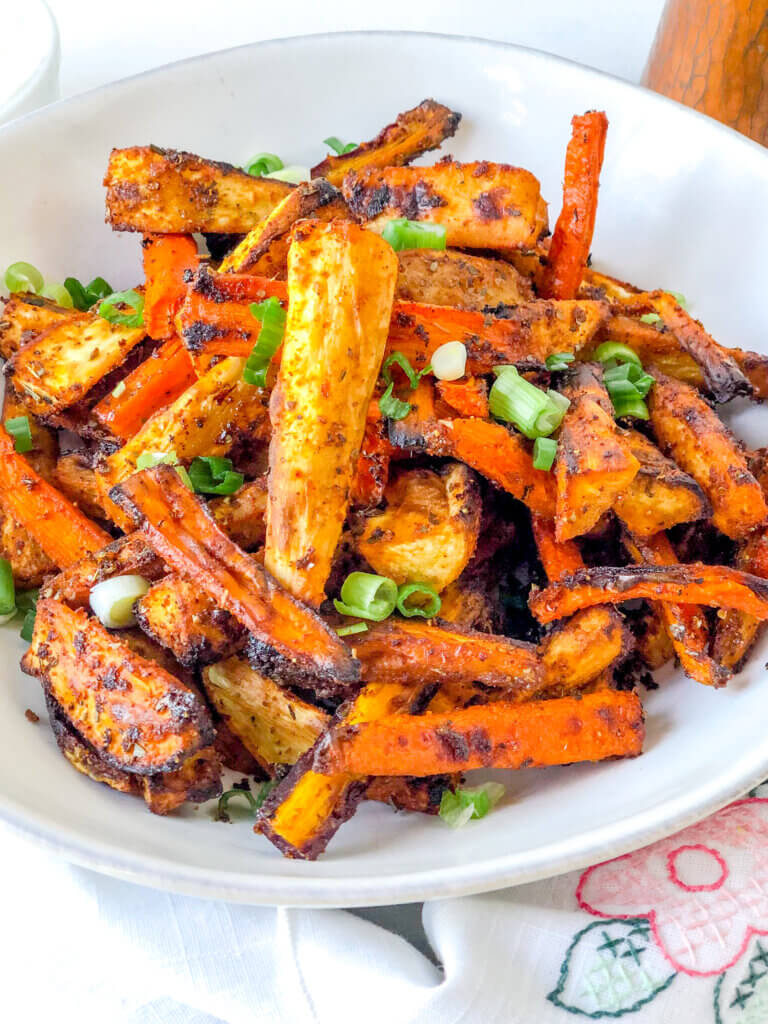 So, are you like me? Did you grow up eating canned vegetables? Or, were you more vegetable-savvy, eating roasted vegetables and interesting salads? Let me know! And, try these Carrots and Parsnips – quick prep, easy, tasty!
Enjoy!
Need some other vegetable recipes? Try these:
Green Beans Mediterranean Style
The tastiest! Easy Smoky Kale
Roasted Sunchokes with Basil and Mint
Spicy Mexican Street Corn Salad
Like Roasted Root Vegetables? Pin it!
How to make these Roasted Root Vegetables
This post may contain affiliate links. As an Amazon Affiliate, I may earn a small commission, at absolutely no cost to you, for purchases you may make of items linked from this site.
Some things you may need:
A Baking Sheet or 2, like these awesome ones from USAPAN! Nonstick, so easy to clean, and ridged for the best baking!
Vegetable Peeler – from OXO, this is the one I use!
Mixing Bowl – This set is easy to use, and lasts forever!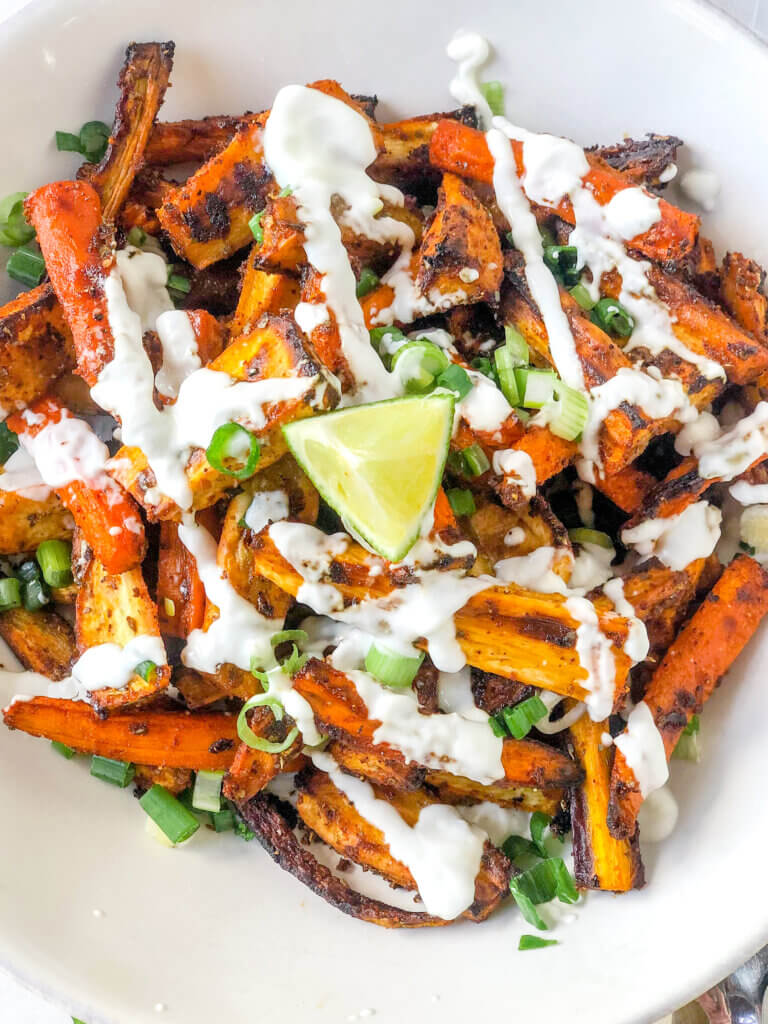 Recipe Steps:
Roasting Vegetables is super-easy. The basic rules are: Cut. Season. Roast.
1. Cut all the vegetables roughly the same size and shape. This allows them all to cook evenly so one type doesn't get overcooked while others are undercooked.
2. Season well! Pour the olive oil and maple syrup over the cut vegetables. Stir to distribute. Then mix together the rest of the spices, including salt and pepper. Be sure to add the prescribed amount of salt and pepper. These will make your vegetables flavorful! Then pour them over the oiled vegetables, mix well to distribute. Pour over parchment-lined or oiled baking sheet(s).
3. Don't overfill your baking sheet! If your vegetables are touching, or stacked on top of one another, go ahead and spread them over 2 baking sheets instead of one. This way, they will roast instead of steam. This will maintain their flavor, allow the outsides to crisp a bit, and make the insides soft, creamy and delicious!
4. Turn halfway through baking time. This will make both sides nice and toasty! Check every few minutes after the veg have been in for 30 minutes. Once they look toasty, they are done. If you like them a bit darker (I do!) let them go until the edges are as dark as you like.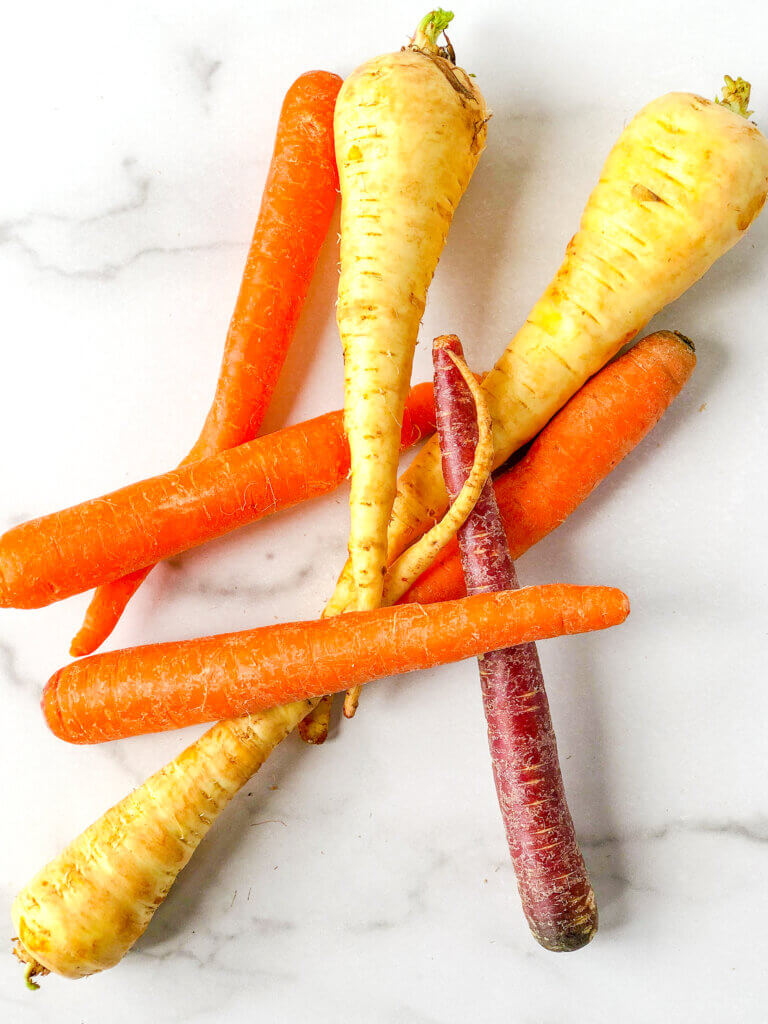 Some Questions you may have about Roasting Vegetables:
Can I use other Vegetables?
Yes, definitely! You can use other types of root vegetables, like Sunchokes, beets, turnips, or even sweet onions. You just want to make sure all the pieces on the tray are roughly the same size, and the total weight comes to about 2 lb.
What if I have only 1 lb of Vegetables?
Just cut the amounts of everything in half! If you have more than 2 lb, you'll want to use 2 baking sheets.  You could even use 2 sheets for the 2 lb. You don't want any of the vegetables to touch one another or be stacked on top of another, because you want the vegetables to roast, as opposed to steam.
I don't have Sumac. Can I just omit it?
You can omit it. But it's a wonderful spice that adds a lovely zesty flavor, kind of tart and citrusy. So if you omit it, I'd be sure to make the lime-yogurt dressing and maybe add a bit of extra lime.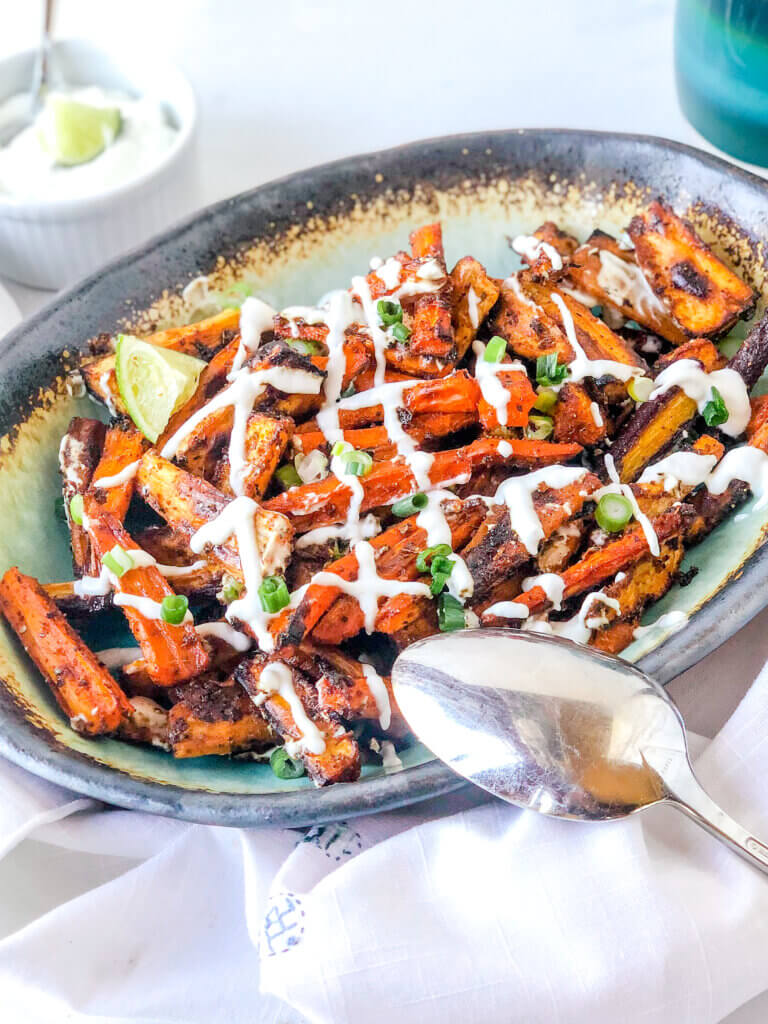 Print
Roasted Carrots and Parsnips
Crispy-edged, creamy-middled roasted Carrots and Parsnips are so flavorful, seasoned with a zesty, slightly spicy and slightly citrusy mix. If you need even more flavor, feel free to dip them in your favorite salad dressing, sour cream, or citrusy-spritzed plain yogurt, like I did!
Author:
Prep Time:

15 min

Cook Time:

30-38 min

Total Time:

50 min

Yield:

8

servings

1

x
Category:

Vegetable

Method:

Oven Roast

Cuisine:

International
Ingredients
For the Carrots and Parsnips:
1 3/4

–

2

lb Carrots and Parsnips, (about

5

medium carrots and

3

medium parsnips) peeled or scrubbed, sliced into 2-3″ wedges

2 Tbsp

Olive Oil

1 Tbsp

Maple Syrup

1 tsp

Kosher Salt

1/2 tsp

Fresh Ground Black Pepper

1 tsp

Smoked Paprika

1 tsp

Oregano

1 tsp

Garlic Powder

1/2 tsp

Onion Powder

3/4 tsp

Sumac
For the Yogurt Sauce:
1/2 cup

(114ml) Lowfat Plain Greek Yogurt (See Note)

1

–

2

tsp (to taste) Lime Juice
Instructions
Preheat oven to 425F (Conventional) or 400F (Convection/Fan). 
Cut parsnips and carrots into (thumb-length) 2-3 inch sections, then each section into 1/2″ thick wedges. Place all in a large bowl.
Drizzle with the olive oil and Maple Syrup, and stir to distribute. Make a spice mix out of the rest of the ingredients. Sprinkle over oil-covered vegetables, stir again.
Pour coated vegetables over parchment-lined or oiled sheet pan. IMPORTANT: If they are touching, put them on 2 sheet pans instead of 1, and rotate midway through roasting time.
Place in preheated oven for 30-38 minutes, turning once after 20 minutes. I took mine out after 38 minutes, because I like them to have a bit of a char. Vegetables should be nicely crisped and dark golden, and creamy in the middle. 
Make the yogurt sauce for drizzling or dipping: Stir together the yogurt and lime juice. Serve with hot vegetables!
Notes
You can use any type of yogurt, vegan or dairy, as long as it's plain.  Or, sour cream or mayonnaise will work as well.
Keywords: carrots and parsnips, roast carrots and parsnips, roasted root vegetables, easy roasted root vegetables, glazed root vegetables, best spring vegetables, easter vegetable recipe, maple carrots and parsnips, Easter vegetables, Easter side dish, roasted carrots and parsnips with maple syrup, spring vegetables, roasted, roasted spring vegetables, spring root vegetables, carrot fries, parsnip fries recipe, how to roast root vegetables, how to cook parsnips
Recipe Card powered by