Inspired by my Grandma Clara's famous and oh-so good Sour Cream Raisin Pie, these Sour Cream Raisin Bars have all that lovely sour cream custard filling flavor in a crisp press-in buttery crust and crumb-topped bar cookie! Absolutely Scrumptious!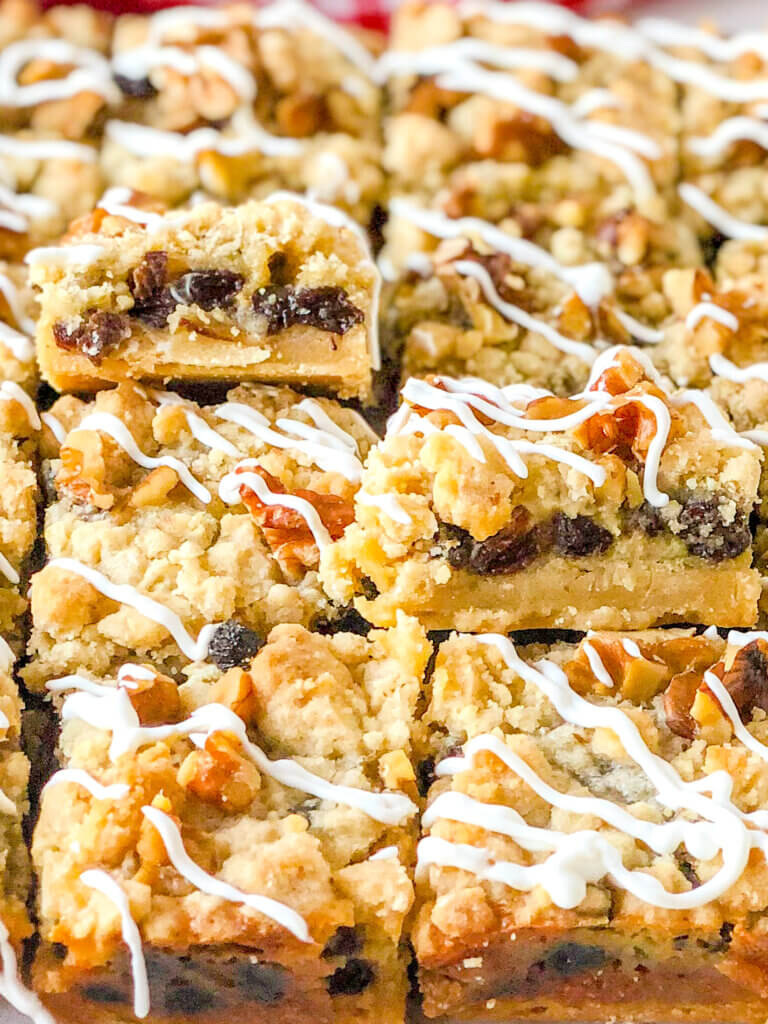 Who doesn't love a bar cookie? And when it has the filling of one of your favorite pies, it can't be beat! Even though my Grandma's Sour Cream Raisin Pie is already one of the simplest pies ever to make, these bars are great for families that love easy-to-make bar cookies, or those of us that want smaller portions for smaller hands that just don't appreciate a slice of pie. Or, you know, for the "cake people", who don't know what they're missing😉.
And, who doesn't love an Heirloom Recipe, one made with the simplest of ingredients, prepared with equal simplicity, that create such amazing flavors? These are comfort treats at their finest.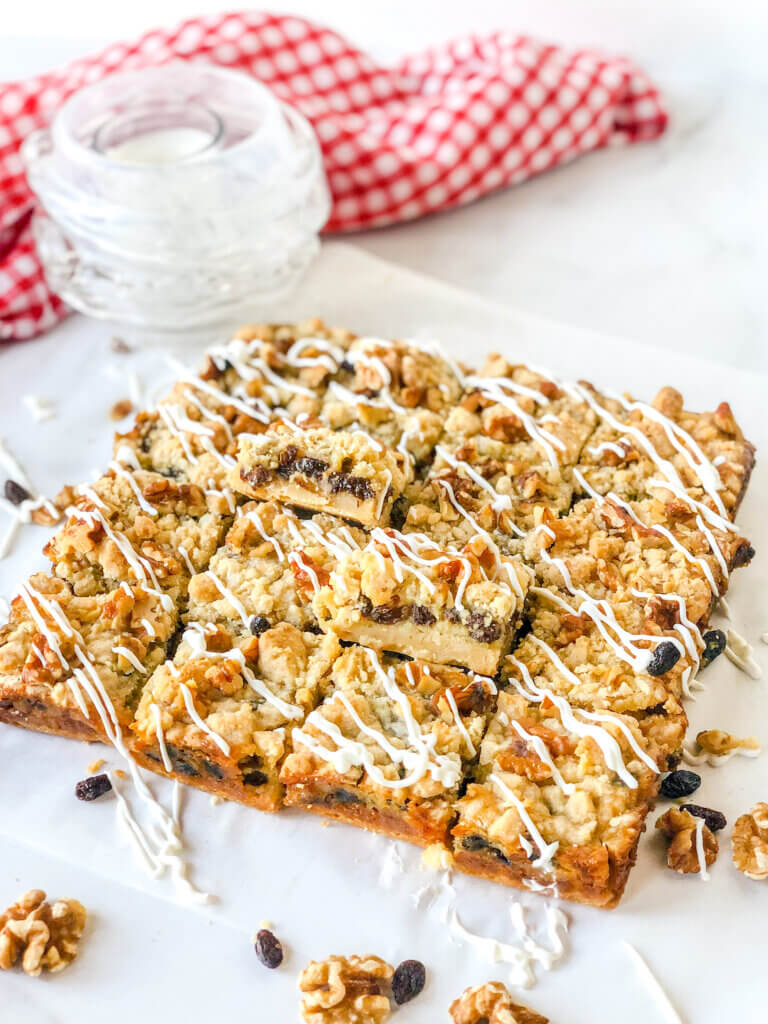 If you've ever tried my Grandma's Sour Cream Raisin Pie, then you know why these bars are so delicious, but if not, they may encourage you to try it! (Or check out my post and learn more about my history with this pie!)
These Sour Cream Bar Cookies start with a shortbread-like crust mix that doubles as the crumble over the top. You'll par-bake the bottom crust to ensure it is crispy, and serves as a nice bed for the creamy custard filling. Then stir together that sour cream and raisin custard mixture and pour it all over the warm crust. Finally, top with the tender crumb topping. And, toss some walnut pieces over the top for some crunch, and bake!
Once completely cooled, you can serve or refrigerate – they do taste even better when chilled! They will keep in the fridge for 3-4 days, assuming they last that long.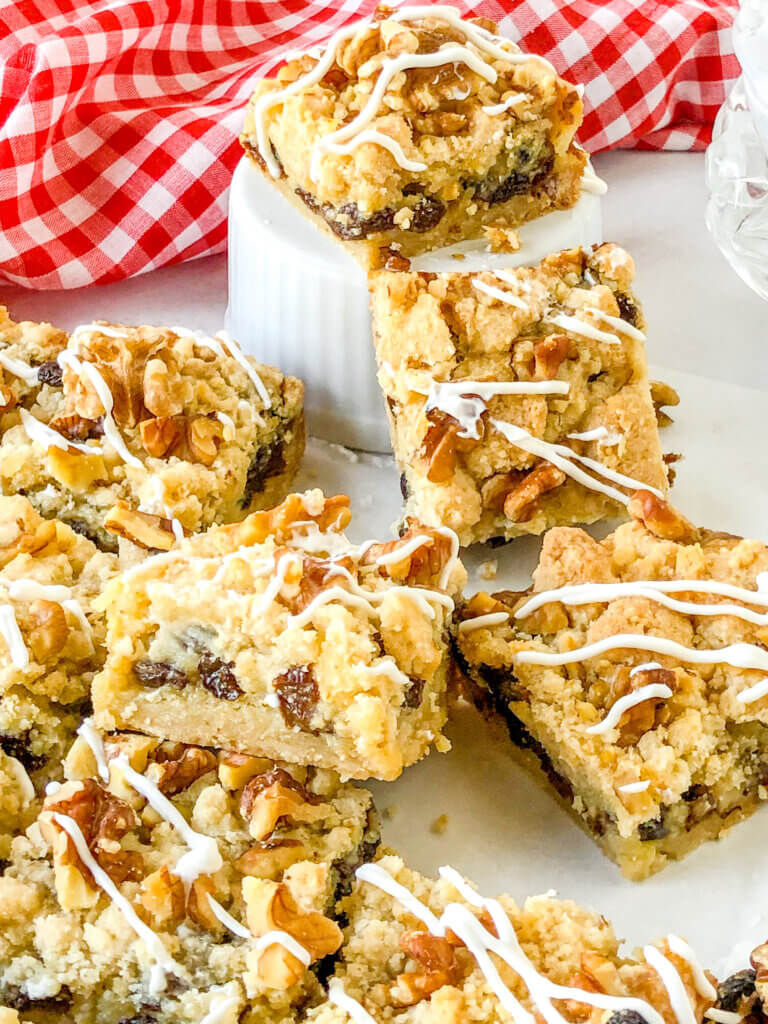 So, I'm curious, do you have any favorite heirloom recipes that you've updated or maybe presented to your family in a form they hadn't seen before? Let me know!
Enjoy!
Looking for other bar cookie recipes? Don't miss these:
Awesome Tart Cherry Cheesecake Crumb Bars
Dark Chocolate and Orange Marmalade Oat Bars
Sweet'n'Salty Chocolate Peanut Pie Bars
Want to Save Sour Cream Bars Recipe for later? Pin it!
How to make Sour Cream Raisin Pie Bars
This post may contain affiliate links. As an Amazon Affiliate, I may earn a small commission, at absolutely no cost to you, for purchases you may make of items linked from this site.
Some things you may need:
8×8 Baking Pan – you know I love a USA Pan! Non-stick, easy clean, super-sturdy!
Kitchen Scale – I always use a kitchen scale when baking because it's so easy to measure the ingredients precisely without measuring cups! I've had This Scale for years and love it!
Mixing Bowls – You can't beat these OXO Bowls!
Sour Cream Raisin Pie Bars Recipe steps:
Such a simple recipe!
Start by pouring some boiling water over your raisins. Let them set in the water for 10 minutes or so, and then drain. Also melt your butter. Then, you'll make the dough for the crust and crumble. Just whisk together your flour, sugar, baking powder and salt. Pour in the melted butter and mix to form a dough.
Pat 2/3 of that dough into the prepared baking pan and par-bake for 7-8 minutes, until it's just set and light golden. Save the remaining dough for the crumble on top.
Once the bottom crust is par-baked, mix together all of the filling ingredients at once – sour cream, raisins, sugar, egg yolks, a Tablespoon of flour, salt and vanilla. Pour that mixture over the still warm par-baked crust. Then top with the remaining crust/crumble dough. Finish by sprinkling some chopped walnuts over – they will get nice and toasty!
Lower your oven temperature a bit and bake until crumb topping is lightly golden. The walnuts will be a little darker than when you sprinkled them on, but should not be burned. One of the best signals that baked goods are close to being done is by the marvelous aroma! When you first smell bar cookies, it's likely to be fully baked in the next 5 or so minutes. Also, the edges of the bar will look like they are just getting ready to separat from the sides of the pan. Remove from the oven. Cool completely, then slice.
It's best to store uneaten Sour Cream Bars in the fridge. They taste best when cold, too! I hope you enjoy this recipe like I do!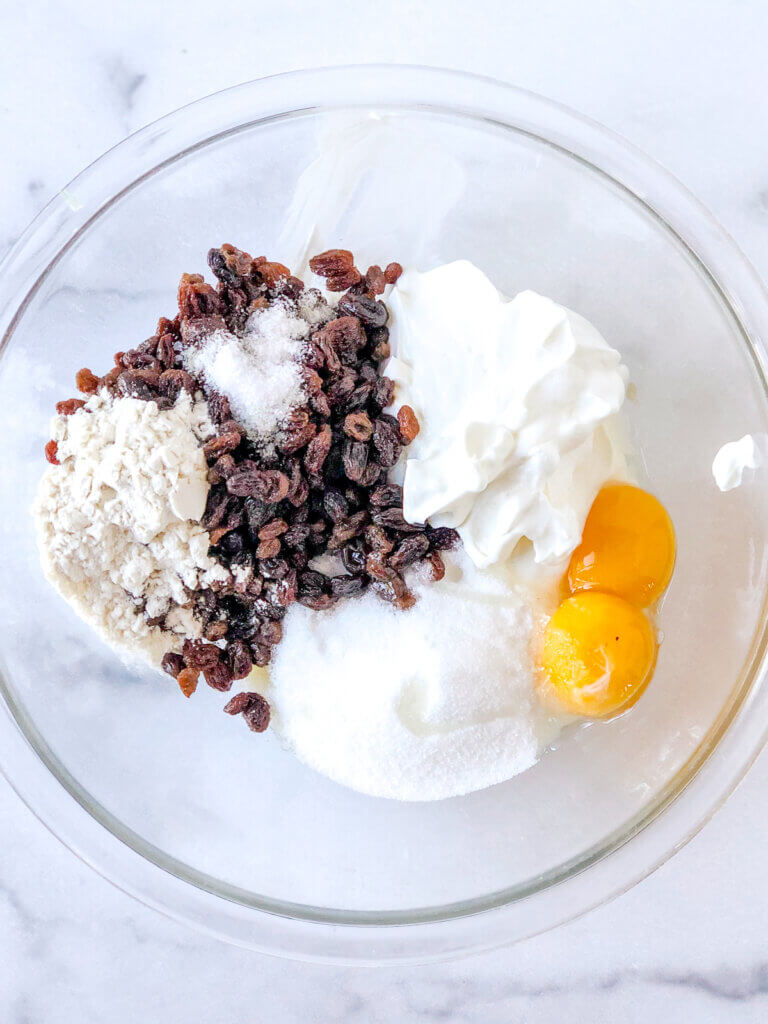 Some substitutions you can try:
For All-Purpose Flour: I like to bake with whole grains when I can. In this type of recipe I often substitute Whole Wheat Pastry Flour for half of the All Purpose flour, since they have the same weight 120g/cup.
For the Raisins: Any dried fruit will work. You could substitute dried Bing Cherries, tart cherries, or cranberries. Just be sure to stew them in boiling water beforehand. This will help them retain their plumpness during the bake.
For the Walnuts: Feel free to omit walnuts, or substitute pecans or almonds. Just be sure to watch to prevent burning in the oven. It's nice to have that toasty crunch on top!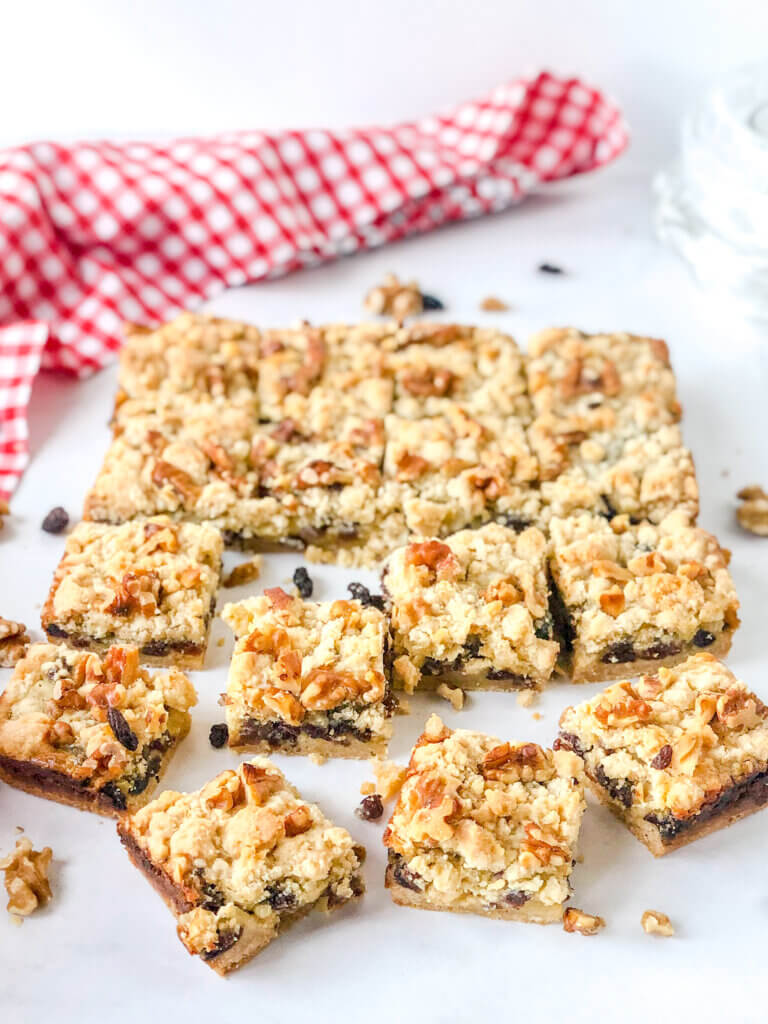 Print
Sour Cream Raisin Bars
Based on my Grandma's Sour Cream Raisin Pie recipe, these bars are a hand-held, on the go version! Delightfully crumbly butter crust with toasted walnuts holds a gorgeous sour cream custard with plump juicy raisins! An heirloom recipe never tasted so delicious!
Ingredients
For the Crust:
1/2 cup

(

114g

) Unsalted Butter, melted

1 1/2 cups

(

180g

) All-Purpose or Whole Wheat Pastry Flour (I used half of each)

1/2 cup

(

99g

) Granulated Sugar

1/2 tsp

Baking Powder

1/2 tsp

Kosher Salt

1/3 cup

Walnut Halves, chopped, or Walnut pieces
For the Filling:
1 cup

(

160g

) Raisins, stewed 10 minutes in boiling water, then drained

1 cup

(

240g

) Sour Cream (I used full-fat)

3/4 cup

(

150g

) Granulated Sugar

2

Lg Egg Yolks

1 Tbsp

(

8g

) All Purpose Flour

1/2 tsp

, heaping, Kosher Salt

1 tsp

Natural Vanilla Extract
Instructions
Make the Crust:
Preheat oven to 375F (Conventional Oven) or 350F for Convection/Fan. Spray and/or parchment-line an 8×8 Baking Pan. 
Pour boiling water over the raisins, leaving them to stew for about 10 minutes while you make the crust.
In a Medium Bowl, whisk together the Flour, Sugar, Baking Powder, and Salt. Add the melted butter and stir to form a firm-ish dough.
Using about 2/3 of the dough, press into the prepared pan in a single layer. Reserve the rest of the dough to use as a crumble for the top.
Place pan with bottom crust in preheated oven for 7-8 minutes. Remove to cool slightly while you prepare the filling.
After removing the crust from the oven, reduce oven heat to 350F (Conventional) or 335F (Convection/Fan).
Make the Filling and Compose the Bars:
In a separate bowl, stir together the sour cream, DRAINED stewed raisins, sugar, egg yolks, flour, salt, and vanilla.
Pour sour cream-raisin mixture over the warm crust, trying to evenly distribute the raisins.
Scatter pieces of the remaining 1/3 of the dough for the crust over the filling. Top with the chopped walnuts.
Bake bars for 35-40 minutes until the crust pieces are light golden brown.
Remove from oven and cool completely before slicing and serving.
Store cooled bars, and leftover bars, completely covered, in the refrigerator. They should stay fresh for 3-5 days.
Nutrition
Serving Size:

1/16 Recipe
Keywords: Sour Cream Raisin Bars, Sour Cream Bar Recipe, Raisin Sour Cream Bars, Raisin Sour Cream Pie Bars Recipe, Sour Cream Cookies, Raisin Pie Bar, Raisin Custard Bars, Recipe, Old Fashioned Sour Cream Raisin Bars, Old fashioned sour cream bars, Heirloom recipe, Sour Cream Custard
Recipe Card powered by