A simple Mole Sauce and an easy Crisp Corn Crust from Ottolenghi make this Chicken in Mole Sauce Casserole a hit! Super-flavorful, cooked and baked in its serving dish!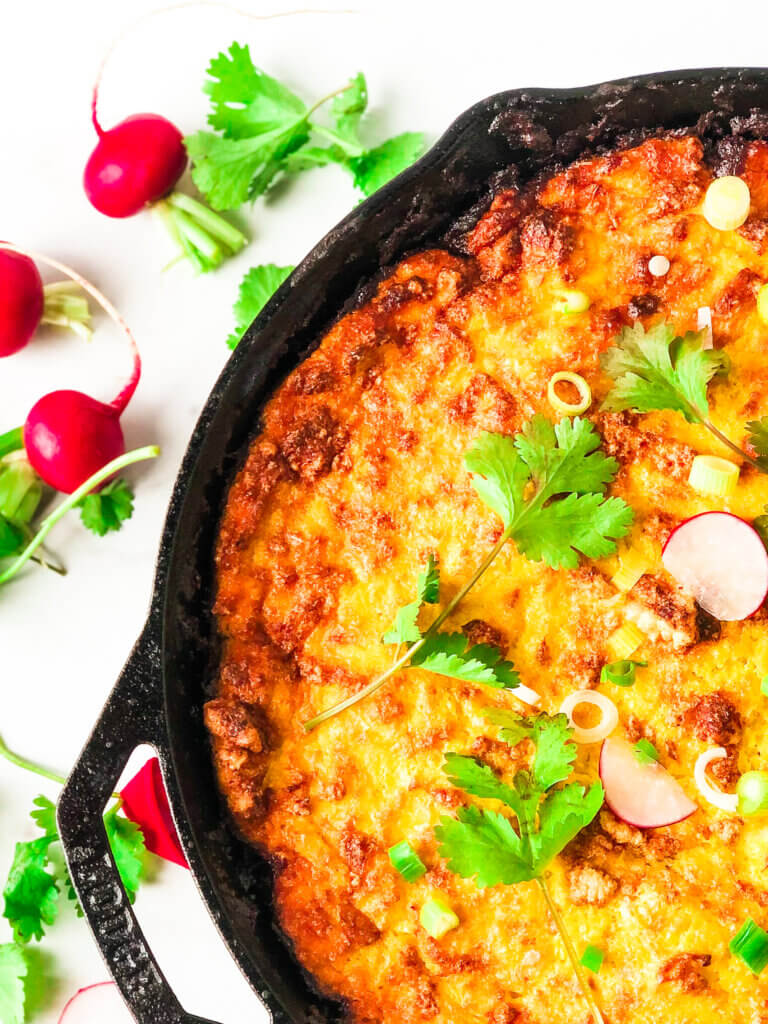 Inspiration. We all need it. But where does it come from? Truly, it can come from anywhere. A song. A book. A speech. A poem. A beautiful sunset. A compliment. A complaint. Truly, anywhere. I think once we understand that, we learn to find it everywhere. For example, years ago, when restoring/renovating our Kitchen, Living, and Dining Rooms, (which are all adjoined) in our hundred-year-old house, it was a cocktail napkin. Yep. All the colors on a lovely paper (!) napkin led to our wall, furniture, and accent colors.
For this Chicken in Mole Sauce with Crispy Corn Crust, inspiration was a recipe from Ottolenghi, published in his fantastic book, Simple. He made a tomato, red pepper and harissa chicken with the Crisp Corn Crust on top! It sounded amazing, but it occurred to me that that his Crispy Corn Crust would be awesome atop a Baked Chicken in Mole Sauce! Not as thick or heavy as a cornbread crust, because it has no flour, this crust is a 3-ingredient, light and fluffy, corn crust with a nicely crisp top.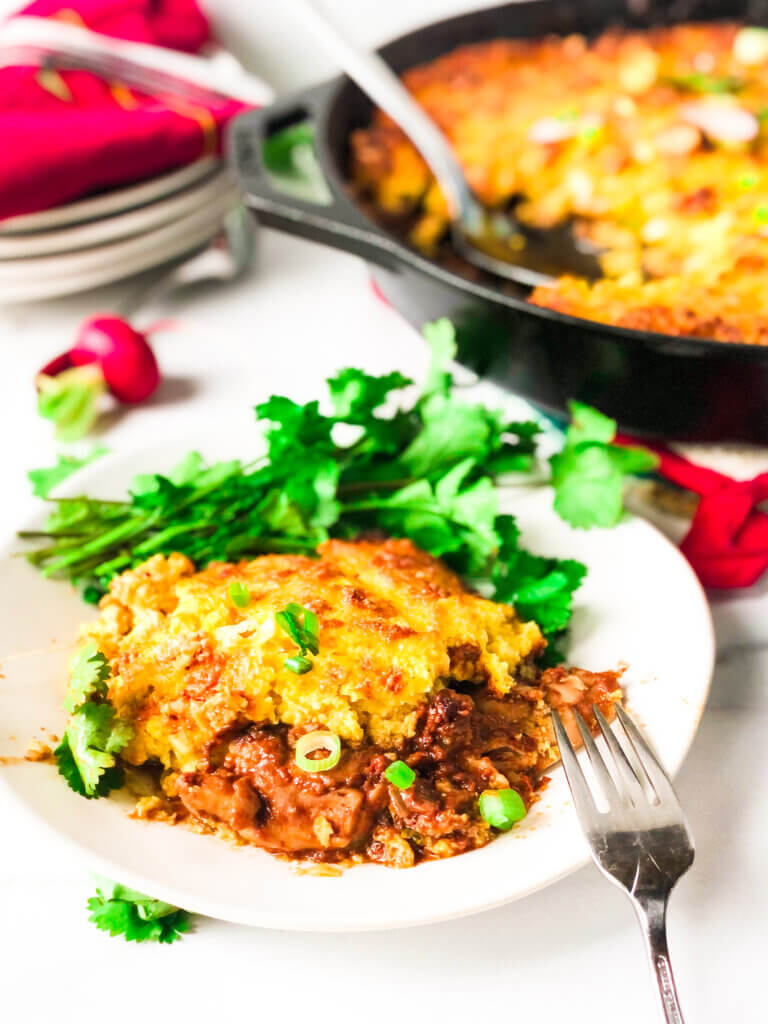 Mole is a sauce traditional to celebrations in Mexico. There are many types from all the different regions of Mexico, each with its list of up to 30 (or more!) ingredients. You can learn all about traditional Mole HERE. Or, if you'd like to make an authentic Mole, this Mole Poblano looks amazing! And, just to avoid any arguments, please know, this mole does not fit cleanly into any traditional regional mole recipe. It's maybe even be better referred to as a Faux Mole, or Faux-le 😉.
My Mole Sauce is a much simplified version in terms of ingredients and process. But, after you make it, and slow-cook the chicken thighs until they are just ready to fall apart at the touch of a fork, in the rich, dark, flavorful sauce, and top it with the sweet corn crust, you might have a new tradition all your own.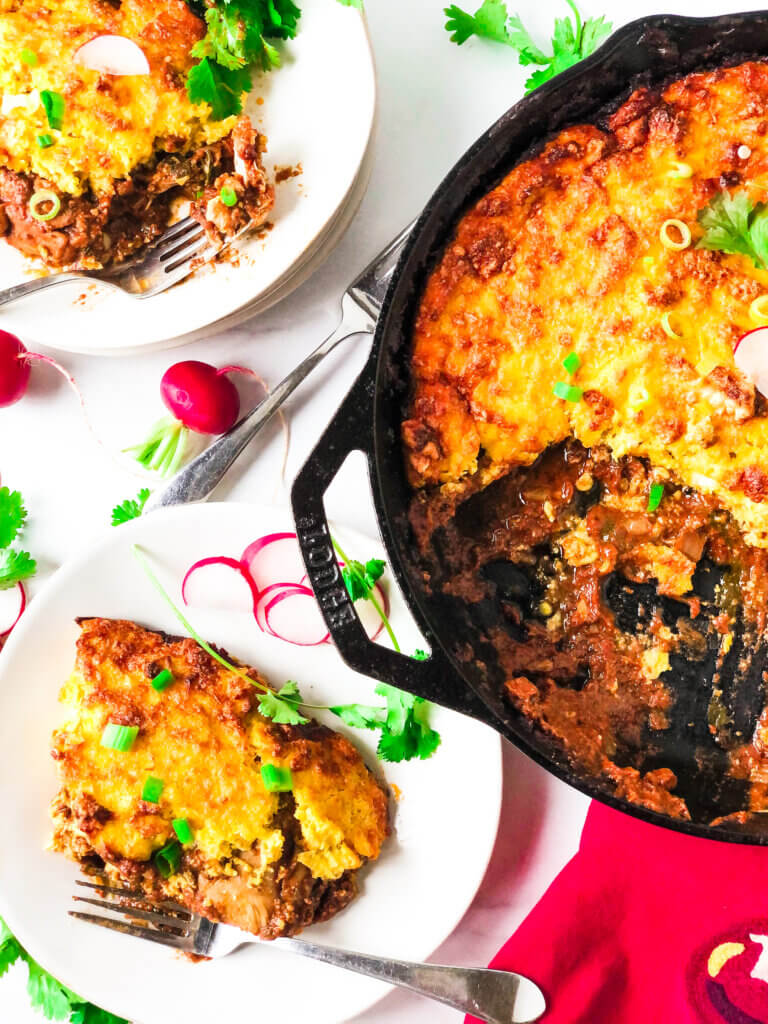 I hope you've been inspired to add some unique flavor to Taco Tuesday, or Casserole Thursday! Make a simple Chicken Mole Casserole!
And, let me know – where does your best inspiration come from? Small things? Big ideas? I'm endlessly curious….
Enjoy!
Don't miss some of my other favorite chicken recipes:
Mediterranean-flavored Creamy Skillet Chicken – super-simple!
Sheet Pan Maple Chicken and Sweet Potatoes
Soy and Honey-Glazed Chicken Thighs
Chicken Salad with Buttermilk Green Goddess Dressing
Like Chicken Mole Casserole? Pin it!
How to Make Chicken in Mole Sauce Casserole:
This post may contain affiliate links. As an Amazon Affiliate, I may earn a small commission, at absolutely no cost to you, for purchases you may make of items linked from this site.
Things you may need to make Chicken Mole Casserole:
Cast-iron Skillet: I use this one, from Lodge. You could also use an enameled version, like this one, from Cuisinart.
Blender: We use a Ninja, and love it because it's super-simple to clean!
Mixing Bowls – I love this type, from OXO, for so many reasons – easy to handle, easy to clean, great sizes!
Kitchen Scale – I've had my Escali Scale for years – love it!
Cooking Process:
Making the Mole:
A straightforward recipe, made in the large skillet or casserole dish in which you'll bake the casserole.
You'll first saute the onions until they are soft, translucent and beginning to darken just the slightest bit. Then, add the garlic, stirring until fragrant. Stir in the spices, salt and pepper. Add chiles, adobo, peanut butter and tomatoes. Melt the chocolate in and stir. Add the broth. Add the chicken. Then simmer 45 minutes. Easy-Peasy!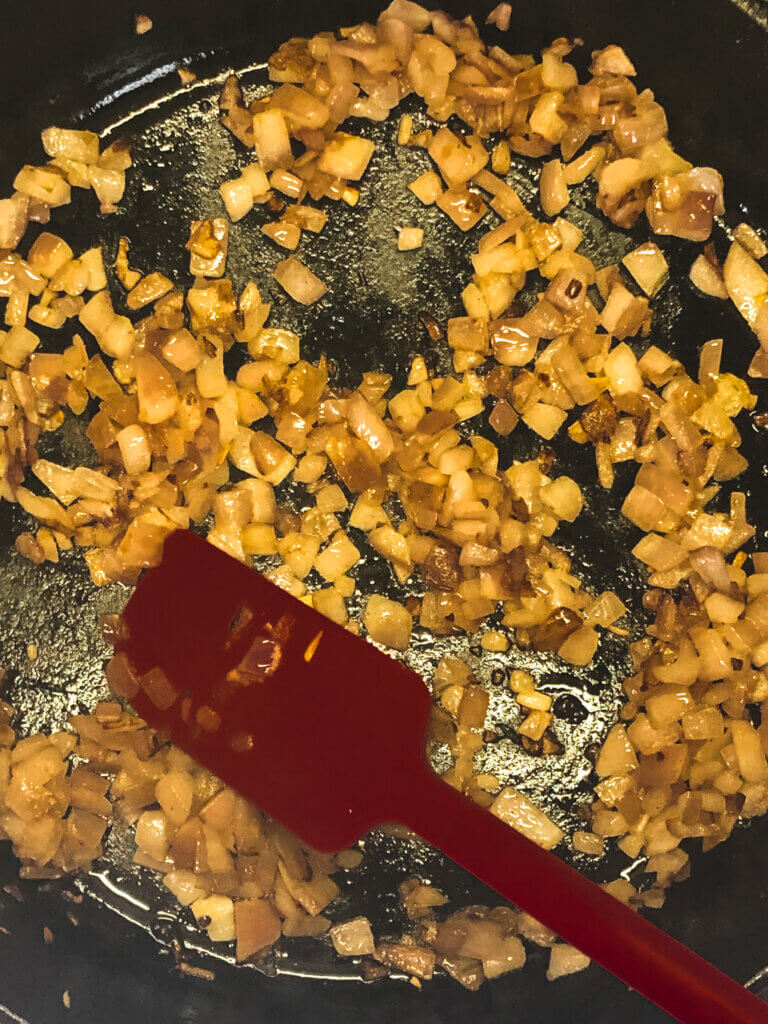 Making the Crust:
For the corn crust, you'll need a blender or food processor to chop the corn and mix it with the melted butter, milk, egg whites, and salt. Just place each in the blender and process about 45 seconds until it looks like a paste.
Then use a mixer of some sort to beat the egg whites until they are stiff. You could use a whisk, but it will take awhile and take a good bicep. A hand-mixer would be perfect. Once the whites are stiff, just fold them into the corn paste. (Be sure to stir the cilantro into the chicken-mole mix before you) Spread the batter over the chicken in mole, and bake until golden!
The important ingredients in this Easy Chicken in Mole Sauce Recipe: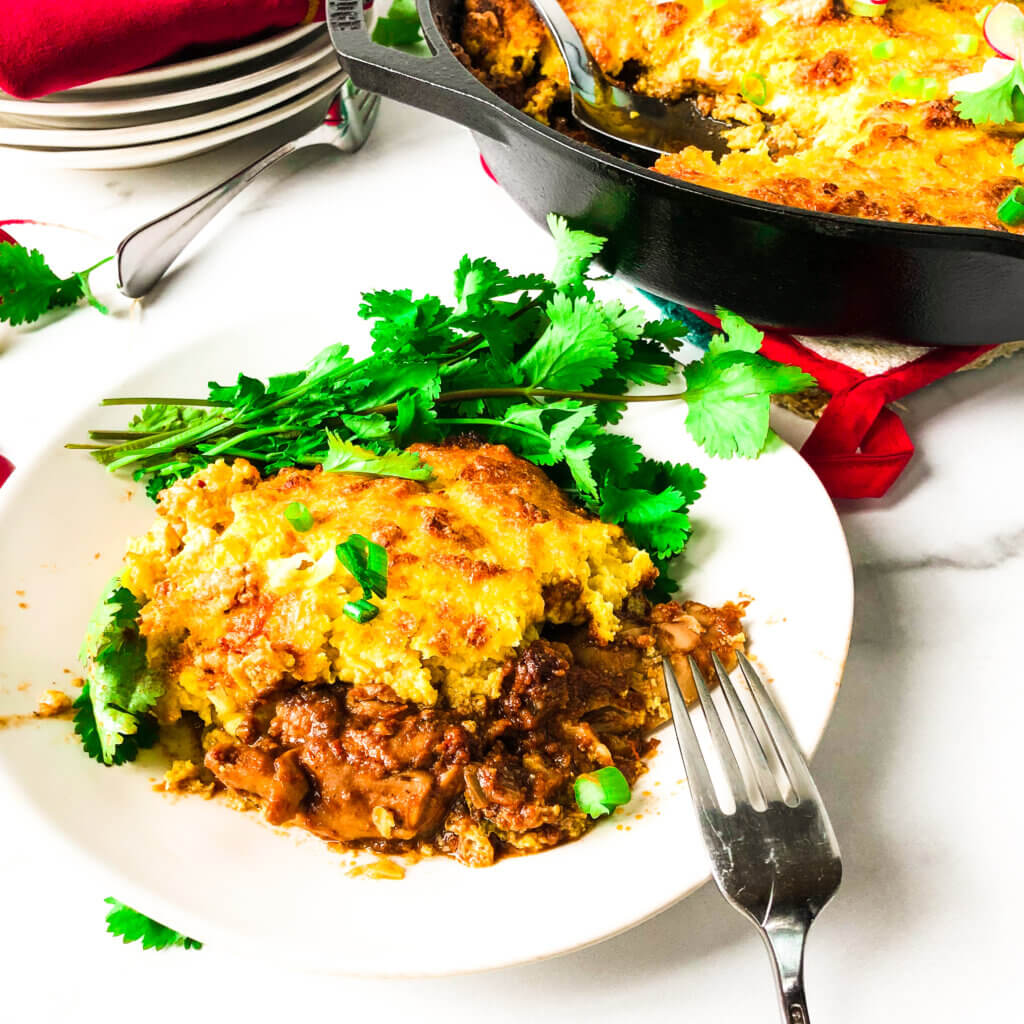 This simple recipe for Mole sauce contains a lot of ingredients, but each one serves a purpose. There are mole recipes with four times as many ingredients, including nuts, fruits, chiles, spices, sauces. They are wonderful – the flavor is indescribably delicious! They take much more time. This Mole Sauce is certainly not authentic, but I promise, it hits all the earthy, spicy, sweet, and savory notes of a nice Mole Sauce. It's definitely easier, but still super-flavorful and includes the most important ingredients. Ingredients include:
Chocolate – The little bit of chocolate used here does not make the sauce "chocolatey." Rather it adds a richness, a touch of sweetness,  and dark color to the sauce. Definitely use dark chocolate, bittersweet is preferred. If you go by cacao percentage, look for something in the 70% or higher range. 
Chiles – Most recipes call for using fresh or dried and reconstituted chiles. For simplicity, I used canned chile in adobo. It can be easily found in the Mexican section of most grocery stores. I recommend starting with 1 chopped chile and 1 Tbsp of the adobo sauce. You can use more – maybe another chile and another Tbsp sauce – if you think it's not spicy enough when you test it just before adding the chicken. 
Fresh Cilantro – I used Fresh cilantro in my recipe to add some a nice hit of freshness at the end. I added it and stirred it in just before I topped it with the corn crust batter. It definitely brightened the flavor. If you don't like cilantro, maybe try some fresh parsley or maybe add a squeeze of lime juice.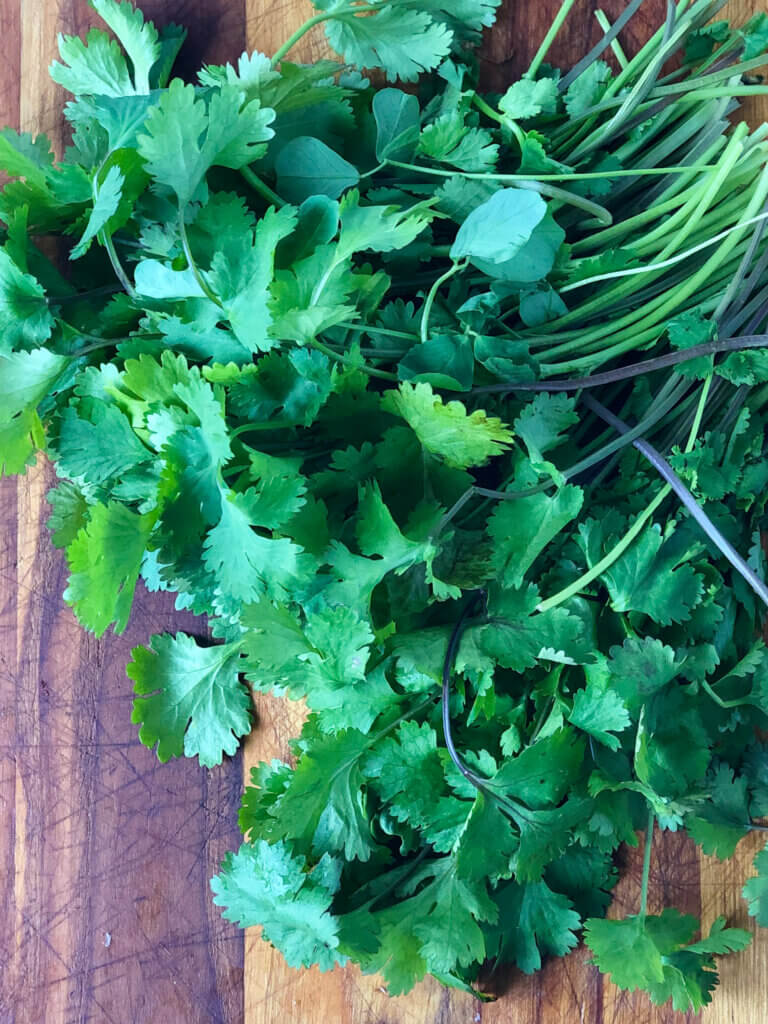 Print
Chicken in Mole Sauce with Crispy Corn Crust
This Chicken in Mole Sauce Casserole takes a bit of time, because you'll be slow-cooking the chicken thighs, but the time makes for the most flavorful, delicious, thick, Mole Sauce! So good!
Crisp corn Crust from Ottolenghi Simple, p 236.
Author:
Prep Time:

20-30 min.

Cook Time:

60 min cook + 35 min. bake

Total Time:

2 hours

Yield:

6

servings

1

x
Category:

Chicken

Method:

Stove and Oven

Cuisine:

Mexican
Ingredients
For the Chicken in Mole
1 Tbsp

(15ml) Olive or Vegetable Oil

1

Medium Onion (any color), diced small

2

cloves garlic, minced

2 tsp

Dried Oregano

2 tsp

Ground Cumin

1 tsp

Ground Cinnamon

1/2 tsp

Allspice

1 tsp

Kosher Salt, plus more, to taste

1/2 tsp

Black Pepper, plus more, to taste

1

–

2

canned Chipotle Chiles (from canned Chile in Adobo)

1

–

2

Tbsp Adobo sauce (from canned chile in Adobo)

2 Tbsp

Smooth Peanut Butter (all-natural or regular)

1

–

14.5

oz (

411g

) Tomato Puree or Crushed Tomatoes

1 oz

. (

30g

) Dark Chocolate (70% + Cacao preferred)

1 1/2 cup

(

350

ml) Chicken or Vegetable Stock
About

1 3/4

lb. (.

80

kg) Boneless, Skinless Chicken Thighs, around 8-9 thighs
Handful of chopped Cilantro Leaves
For the Crust:
4 cups

(

18 oz

,

500g

) Fresh or Defrosted Frozen sweet corn kernels

5 Tbsp

(

70g

) Unsalted Butter, melted

3

Lg Eggs, Yolks and Whites separated

3 Tbsp

(43ml) Milk (Whole prefered, 2% ok)

1 tsp

Kosher salt
Instructions
Make the Mole Sauce with Chicken:
Gather all of your ingredients. Dice the onion, mince the garlic. Measure and mix together spices. Dice the chile and measure the adobo sauce. Measure the chicken/veg stock.
In a large (10″) heavy skillet over Medium heat, add the oil. When it shimmers, add the diced onion, and cook, stirring occasionally, until they are translucent and nicely soft, about 8-10 minutes. If the edges begin to brown or burn, add an additional Tbsp (15ml) oil.
Add the minced garlic, stir until fragrant, about 1 minute.
Add the oregano, cumin, cinnamon, allspice, salt and pepper. Stir until onions are coated. Then add the diced chipotle chile (or 2 if you prefer it spicy), adobo sauce (2 Tbsp if you like it spicy!), and peanut butter. 
Pour in the tomato puree, stir to incorporate, then add the chopped chocolate, and stir until melted. Pour in the stock and stir until combined. Heat a minute or two, to a low boil, then taste, and add extra salt (I added 1/2 tsp more) and pepper if desired. 
Add the chicken thighs into the liquid, making sure they are covered. Lower heat to Medium-Low or whatever temperature on your stove maintains a simmer, where it is gently bubbling but not splattering. For my stove this was somewhere between "Simmer" and  "Low". Continue to cook for 45 minutes, turning chicken every 10 minutes or so. The sauce should reduce nicely and thicken. After 30 minutes, preheat the oven to 360F/180C (Convection/Fan) or 375F/190C (Conventional), and make the Corn Crust. Just before removing from the stove heat, add in the chopped cilantro leaves, stirring to combine.
Make the Corn Crust and Bake:
Into a blender or food processor, place the corn kernels, melted butter, milk, and egg yolks. Process just until it turns into a paste, maybe 45-60 seconds. Pour the paste into a large bowl. 
In another bowl, and using a whisk, or a hand- or stand-mixer, whip the egg whites just until firm. Gently fold into the corn mixture, then spread over the fully cooked Chicken Mole skillet. 
Place in preheated oven and bake 35 minutes until mostly browned, rotating after 20 minutes, and covering lightly with foil if it begins to get too brown. 
Remove from oven and serve!
Keywords: mole sauce, chicken mole, chicken mole poblano, cornbread crust, chicken in mole sauce, chicken mole casserole, easy Mexican chicken mole recipe, easy chicken mole, baked chicken mole, easy mole sauce, mole with peanut butter, easy mole sauce, crispy corn crust, Ottolenghi corn crust, cornbread crust, chile in adobo,
Recipe Card powered by