All the sweet-tart goodness of Key Lime Pie but in a Cake! With its graham cracker swirl and lime glaze, this cake is a flavor and texture party!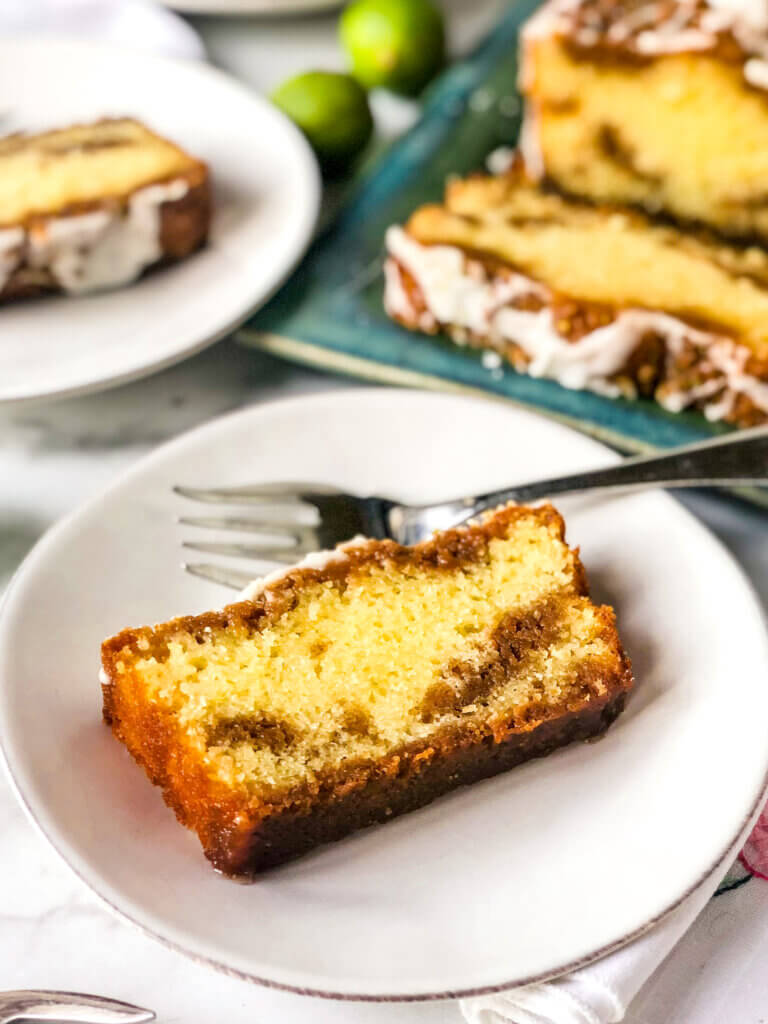 Sometimes, you (or maybe it's just me?) NEED cake! Much as I love a cookie, or a slice of pie, sometimes, it just takes a cake. You know those days – birthdays, special holidays, any random Tuesday when you're not sure what to do with yourself. A cake makes any day special, doesn't it? And when it has that joyful citrus-y sweet-and-tart flavor and a crunchy-topped and soft-middled texture with a graham cracker swirl – oh, my, it's an extra-good day!
You all know how much I love Key Lime Pie. I even discussed the first time I ever tried it, albeit reluctantly – in this post from the way-back archives. The recipe I use is the best I've ever had – believe me, I've tried them all – it's perfection! Because I love that pie so much, I almost didn't want a key lime cake. But, I'm here to say, for a "cake day", this one rates right up there with that Key Lime Pie!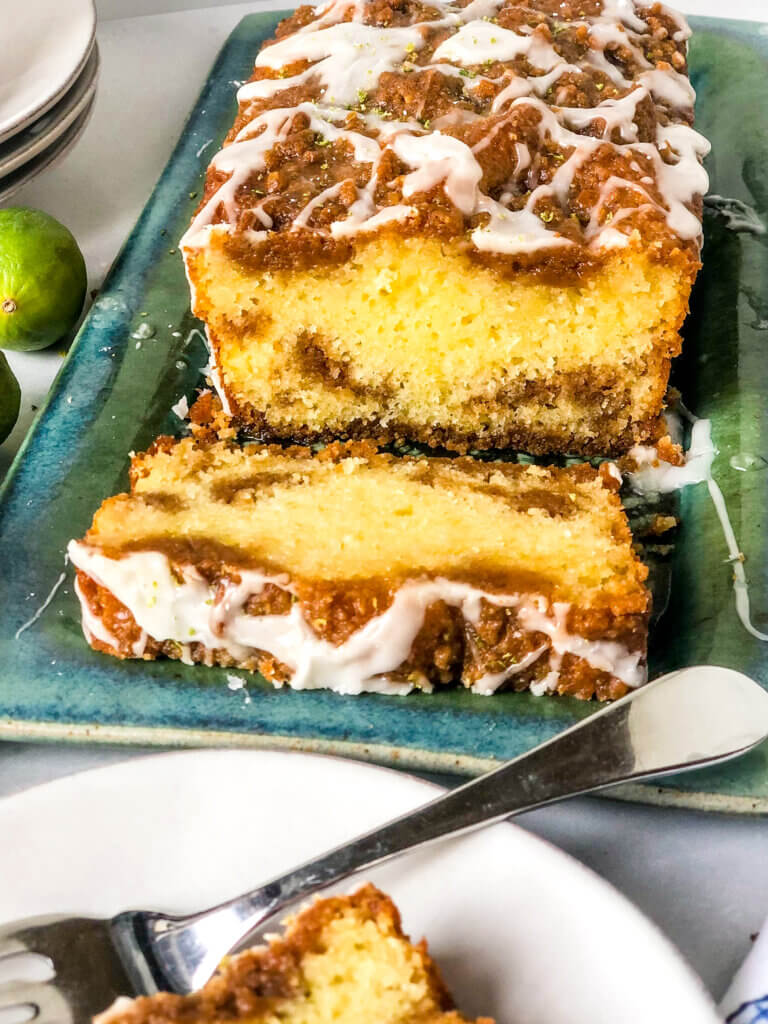 Now, compared to that super-simple pie filling, this cake does have a few more ingredients. But the flavor? It can't be beat – such intense lime flavor all in a dense buttery pound cake. The infused key lime syrup is the magic ingredient here. Just 2 ingredients, made in your microwave – this syrup infuses the cake with the most heavenly flavor. I can't get enough! But wait, there's more – a glaze – again, just 2 ingredients, tops the cake, dripping down the sides, because, well, you really can't have enough flavor, right?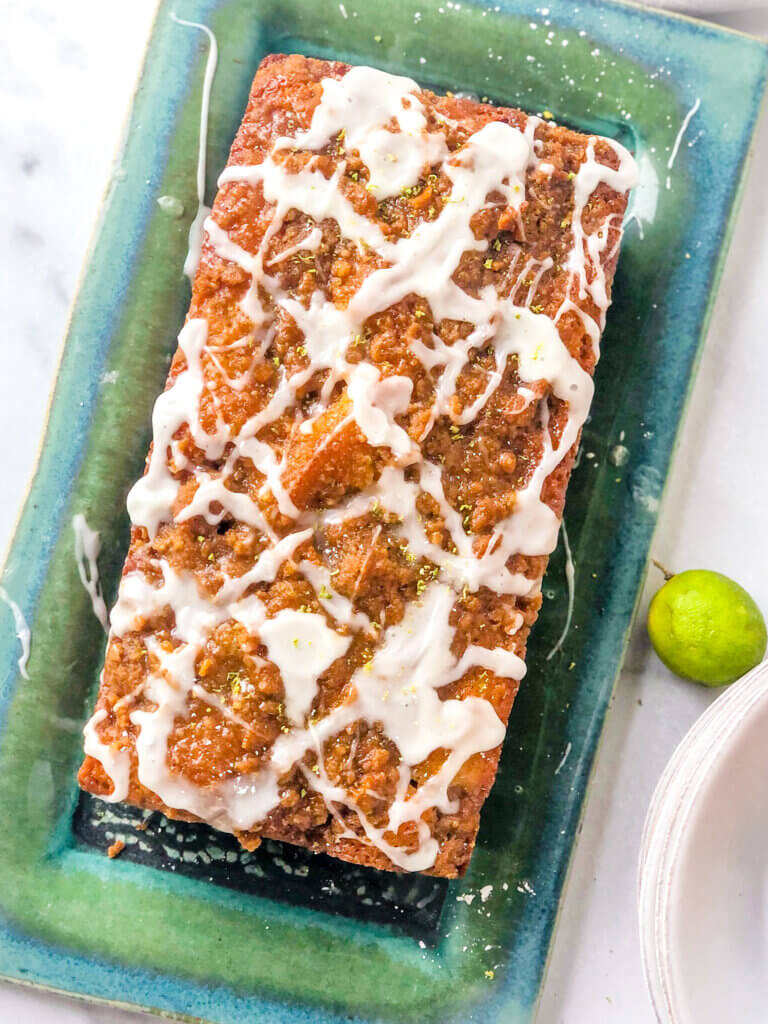 So, make this day a cake day! Make yourself (or your family, if you're the sharing sort), this Awesome Key Lime Pound Cake!
Enjoy!
And, don't miss these other citrus-centered recipes:
Key Lime Tart with Fluffiest Meringue
http://Key Lime Cheesecake (NO CHURN) Ice Cream
Buddha Bowl with Lime-Tahini Dressing
Easy Blood Orange Olive Oil Loa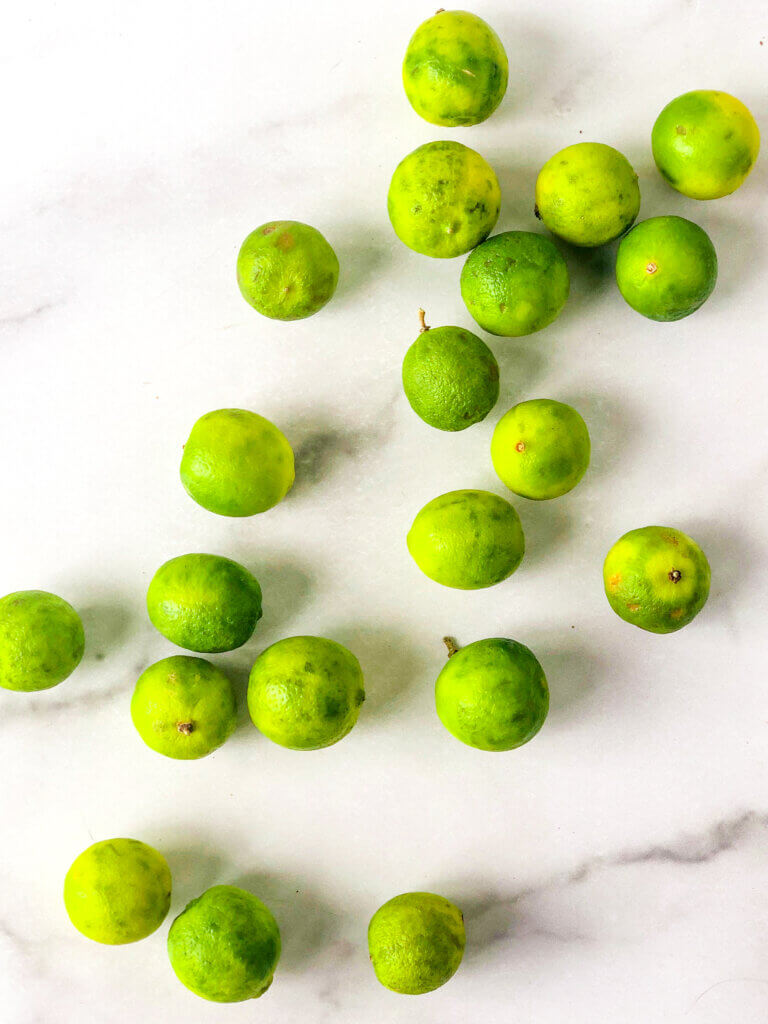 Like this Key Lime Cake Recipe? PIN it!
How to make Key Lime Pound Cake
This post may contain affiliate links. As an Amazon Affiliate, I may earn a small commission, at absolutely no cost to you, for purchases you may make of items linked from this site.
Some things you may need to make Key Lime Pound Cake Recipe:
8 1/2 x 4 1/2 Loaf Pan – This one, from USA Pan, is non-stick, easy-to-clean!
Food Scale – My number 1 recommendation for baking is to always use a food scale for measuring dry ingredients. It truly makes the process easier! You'll just measure dry ingredients, by weight, in the mixing bowl, "tare" the scale, and measure the next. So easy! Here's a nice selection!
Mixing Bowls – I love this easy-to-handle set from OXO!
Offset Spatula – Perfect to spread the batter! This one, from Wilton, is highly rated and only $5!
Pastry Brush – I love the type made of silicone – easy to use, easy to clean!
Sheet Pan – can't tell you how much I love my USA Pan Half-Sheets!
Glass Measuring Cup– one of most often-used items I have!
Hand Mixer – This one is highly rated!
Some Recipe Tips:
So the recipe looks like it has a lot of ingredients. But many are repeated in the 4 different mixtures you'll need to make – 3 of the 4, for example contain lime juice, and 3 of the 4 contain granulated sugar.
The process isn't complicated either, you'll just mix up the streusel, mix up the cake batter, layer and bake.
What takes time here is zesting and juicing of the limes. You can squeeze and zest Key Limes, or regular limes, or you can use pre-squeezed Lime juice, which saves some time (I zested enough key limes to get the needed lime zest, then I squeezed those limes, and supplemented the juice with Nellie and Joe's brand lime juice, which is the only brand I use!)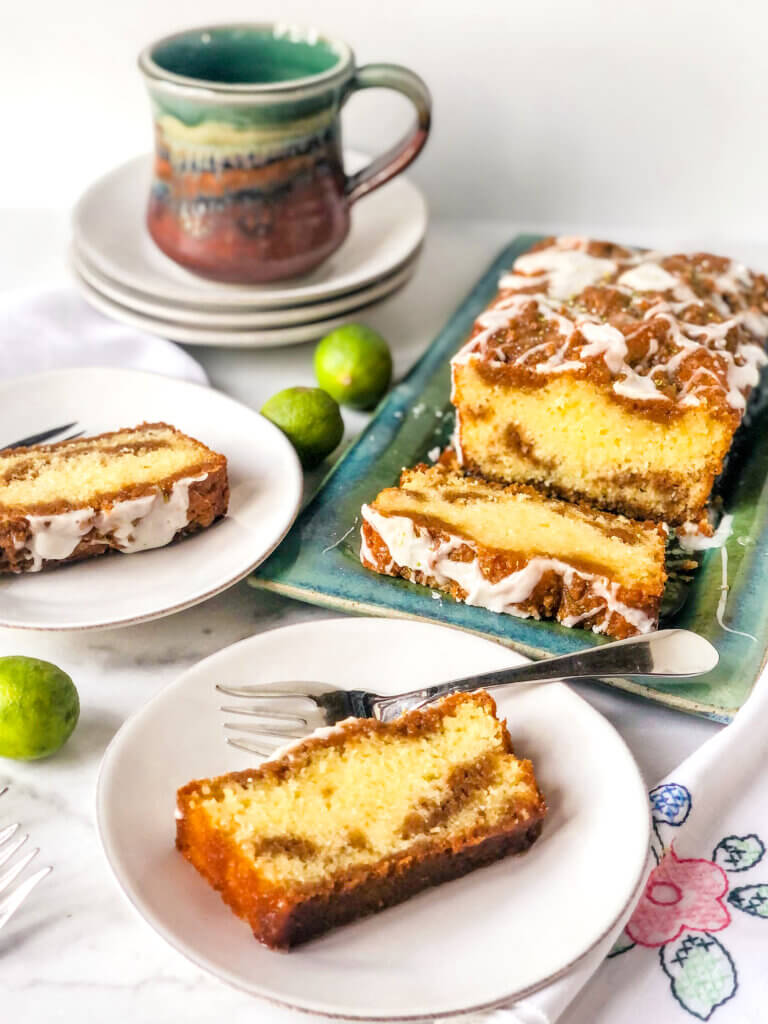 Make the Streusel:
The streusel is simple. You'll just whisk together the dry ingredients, and using your hands, distribute the butter until it's nicely worked in, to where it clumps if you squeeze bits of it together in your hand. Set the streusel aside while you make the cake batter.
Make the Cake Batter:
When making the cake batter, be sure to beat the butter, lime zest, and sugar until it is light colored and feels fluffy and light in weight, about 3 minutes at Medium-High speed. Then, add the eggs, one at a time, until they are incorporated. Then, mix together the dry ingredients. And then, with hand mixer on medium-low, alternate adding dry ingredients in 3 separate additions, with adding the milk and the lime juice. So, you'll add 1/3 of the flour mixture, milk, half the remaining flour mixture, the lime juice, and finally the rest of the flour mixture.
Then layer your prepared cake pan with a half cup streusel, batter, another half cup streusel, more batter, and then the rest of the streusel. Bake until dark golden brown. When done, a tester should come out clean, and the edges of the cake should be just beginning to separate from the edges of the pan.
Make the Syrup and the Glaze:
Once you've baked your Key Lime Loaf Cake, you'll make two 2-ingredient magic toppings: a syrup that you'll slowly pour over the hot cake. It might take a few minutes for the cake to absorb all of the syrup, and you might have to do it in a couple pours, but it's totally worth the wait, I promise! If it starts to 'pool' on the surface, just wait a minute or so until it's absorbed and continue to pour the rest of the syrup. Then let it sit, in the pan, for 10-20 minutes. When you remove it, mix up the 2-ingredient glaze, and pour it all over the warm cake.
The hardest part is waiting for the cake to be completely cool, so you can dig in!
Print
Key Lime Pound Cake
A loaf cake with all the flavors of a tangy-sweet Key Lime Pie! This recipe is inspired by and adapted from a bundt cake recipe by Martha Stewart. 
Special Equipment needed: 8 1/2″ x 4 1/2″ Loaf Pan
Author:
Prep Time:

40 mins

Cook Time:

45 mins

Total Time:

85 mins + cooling time

Yield:

1

Loaf Cake

1

x
Category:

Cakes

Method:

Baking

Cuisine:

International
Ingredients
For the Streusel:
9

squares (65g) graham crackers

1/3

c (40g) AP flour

1/4 tsp

Kosher Salt
Heaping

1/4 tsp

  (or scant

1/2 tsp

) Ground Cinnamon

1/3

c (67g) Brown Sugar (I used Dark)

4 Tbsp

(1/2 stick,

57g

) Unsalted Butter at room temp, cut into 1/2″ cubes
For the Cake:
8

T (1 stick, 1/2 cup, 113g) Unsalted butter at room temp

2/3

c (134g) Granulated Sugar

2 tsp

Lime Zest or Key Lime Zest

1 1/4 cup

(

150g

) AP Flour, sifted or whisked

3/4 tsp

Baking Powder

3/4 tsp

Kosher Salt

1/4 tsp

Baking Soda

2

Large eggs, room temp

2 Tbsp

(30ml) Fresh lime or Key Lime Juice

1/4 cup

(60ml) room temp Whole or 2% milk
For the Lime Syrup:
4 Tbsp

(60ml) Lime or Key Lime Juice

4 Tbsp

(

50g

) Granulated Sugar
For the Glaze:
6 Tbsp

(

45g

) Confectioners Sugar, Sifted

1 Tbsp

(

15

ml) Fresh Key Lime or Lime Juice
Instructions
Prepare the Loaf Pan:
Spray insides of loaf pan with baking spray or spread with melted butter. Place a half-sheet of parchment paper into the pan, leaving an extra inch or two of parchment to serve as 'handles',  and secure overhanging sides, if you wish. Spray the parchment.
Preheat oven to 325F.
Make the Streusel:
Place the graham crackers in a Zip-top bag. Roll over them with a rolling pin until they are fine crumbs. (Or use a spice grinder or food processor.) Place in large bowl. Add the flour, salt, cinnamon and brown sugar. Whisk or Mix well with a spoon. Add the cubes of room temperature butter. Use hands to work the butter in until it is evenly distributed and squeezing a bit with your hand results in a clump of streusel.
Measure 1/2 cup streusel into the bottom of prepared loaf pan, spread to cover the bottom evenly.
Make the Cake Batter:
In a Medium-to-Large bowl, using a hand-mixer, beat the butter, lime zest, and granulated sugar until light-colored and fluffy, about 3 minutes at Medium-High. Lower speed to Medium-Low, and add the eggs, one at a time, until incorporated.
In a small bowl, mix together the flour, baking powder, salt, baking soda.
At low speed, add the flour in three additions, alternating first with the milk, and then with the lime juice, ending with flour.
Spoon half the batter over the layer of streusel in the pan, spreading batter with an offset spatula or knife to edges of the pan. Then add another half-cup of the remaining streusel, followed by the rest of the batter, again spreading each layer to the edges. Using your hands, make small clumps of the remaining streusel and place atop the top of the batter. Pour remaining crumbs over so streusel is evenly distributed over the top.
Bake in preheated oven 42-48 minutes until a wooden skewer inserted in the middle comes out clean. 
Make and apply the Syrup:
Once the loaf is out of the oven, mix together the lime juice and sugar in a microwave-proof dish. Heat on high in the microwave for 45 seconds. Stir for 15 seconds to dissolve the sugar fully. Heat another 45 seconds. 
Stir to release some steam from the mix, then slowly pour over the loaf while it is in the pan. It might take a few minutes, but continue to pour the syrup over the entire surface of the cake, until it is all absorbed into the cake. Leave in the pan at least 10 more minutes, up to 20 mins. Using the "handles" from the parchment, carefully lift the loaf out of the pan and onto a serving plate. 
Make the Glaze:
In a small bowl, whisk together the confectioners sugar and lime juice. Pour over warm cake. Cool completely. Slice to serve. Wrap leftovers tightly in plastic wrap or cover with cake cover. Should keep at room temperature 3-4 days.
Nutrition
Serving Size:

1/10 Recipe
Keywords: Key Lime Pound Cake, Key Lime Cake Recipe, Key Lime Cake, Lime Pound Cake, Recipe for Lime Pound Cake, Lime Cake Recipe, Key lime Quick Bread, Recipe for Lime Quick Bread, Key Lime Desserts
Recipe Card powered by