This Zucchini Bread definitely puts the "Lime in the Coconut"! A shiny, tangy-sweet-and-a-little-bit-crunchy lime glaze completely seals the deal! So so tasty!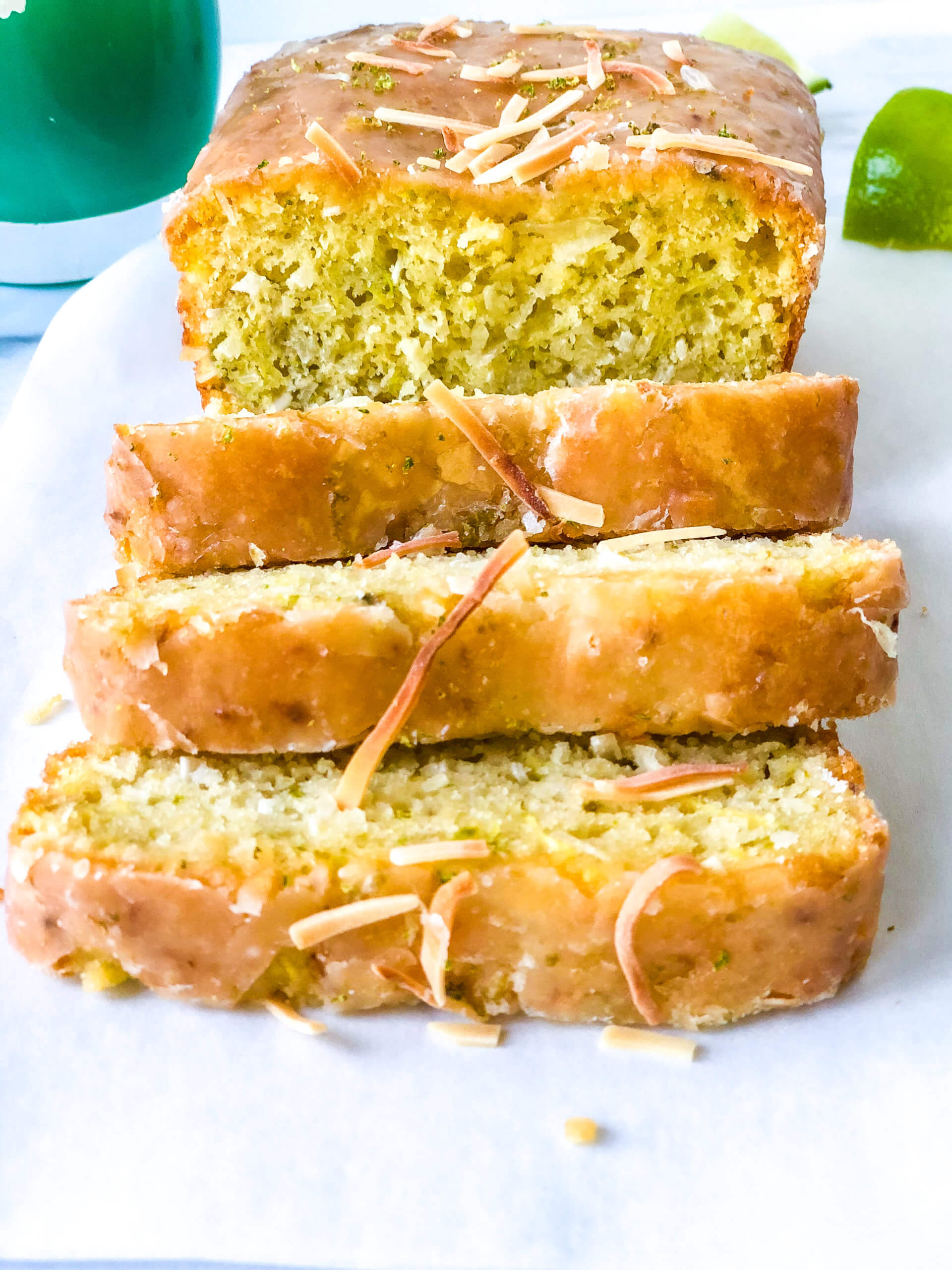 For me, at least, too many choices can lead to poor decisions. Does it work like this for you? For instance, choosing a paint color? Fun? Exciting? Nope, absolutely terrifying. I mean, considering there are over 100 shades of white paint at the Sherwin-Williams store alone, – well, you can be sure I'll likely never paint a room white. Because – eek! – what if I choose the wrong one? Going to dinner at the Cheesecake Factory, home of the 20-page menu? No, thank you. It's the place that if I do eventually decide on a meal, don't even ask me to choose a dessert. I'm exhausted from all the choices by then.
Conversely, I'm a great test-taker. Multiple choice? Bring it on! With just a few choices, I can figure it all out. But, ultimately, there are times I usually make a choice that isn't the best, and sometimes it's pretty terrible. So, why is it that when there are more choices, making a good decision is more difficult? Is it fear that I won't make the right choice? Or is it that I dread making the WRONG choice? Because face it, there's also a bunch of choices in between those two things! Maybe it's just statistical – with 4 choices my odds are infinitely better than if there are 100 choices.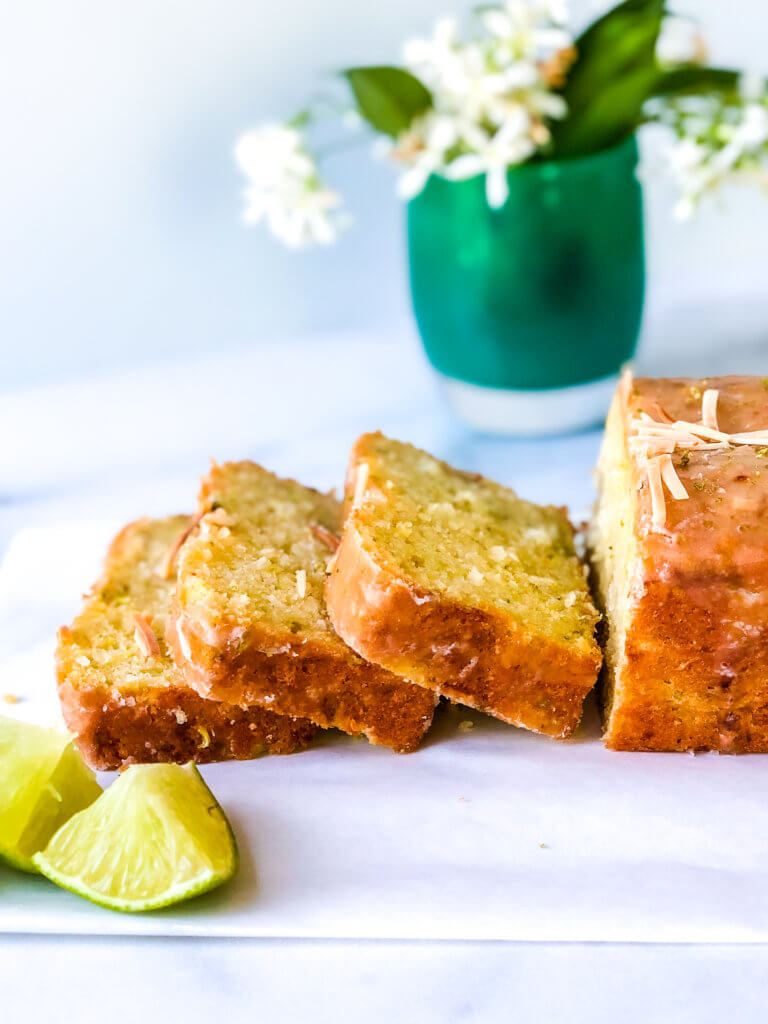 This lovely Coconut Lime Zucchini Bread all started with a choice puzzle. I had this one lonely zucchini sitting in my vegetable drawer. I had received them in a Farmer's Market produce box I purchased. But zucchini is one of those vegetables I'm never quite sure what to do with. There are many choices! Not to mention sweet vs. savory recipes.
What to do with it? I decided I felt like baking so I would make something sweet with the versatile vegetable. Fortunately the sweet choices are far fewer than savory with a zucchini. A quick Zucchini bread sounded perfect, but of course, I needed to put a spin on it. Maybe some citrus. My lemons were a bit questionable so I moved on to the limes. For some reason, limes made me think of coconut. So, this Coconut Lime Zucchini Bread was born!
And WOW! Is it tasty! The very fist taste you'll get is the totally swoon-worthy glaze that has set to a kind of shiny, crunchy thin coat over the bread. So tangy and sweet! Then the bread. With its soft texture and distinct moistness from the olive oil and the zucchini, the lovely essence and bite from the lime and texture and flavor of coconut – I'm positively smitten! And, all made by hand? I'm all in! I'm so glad I could narrow down the choices. I think you will be, too!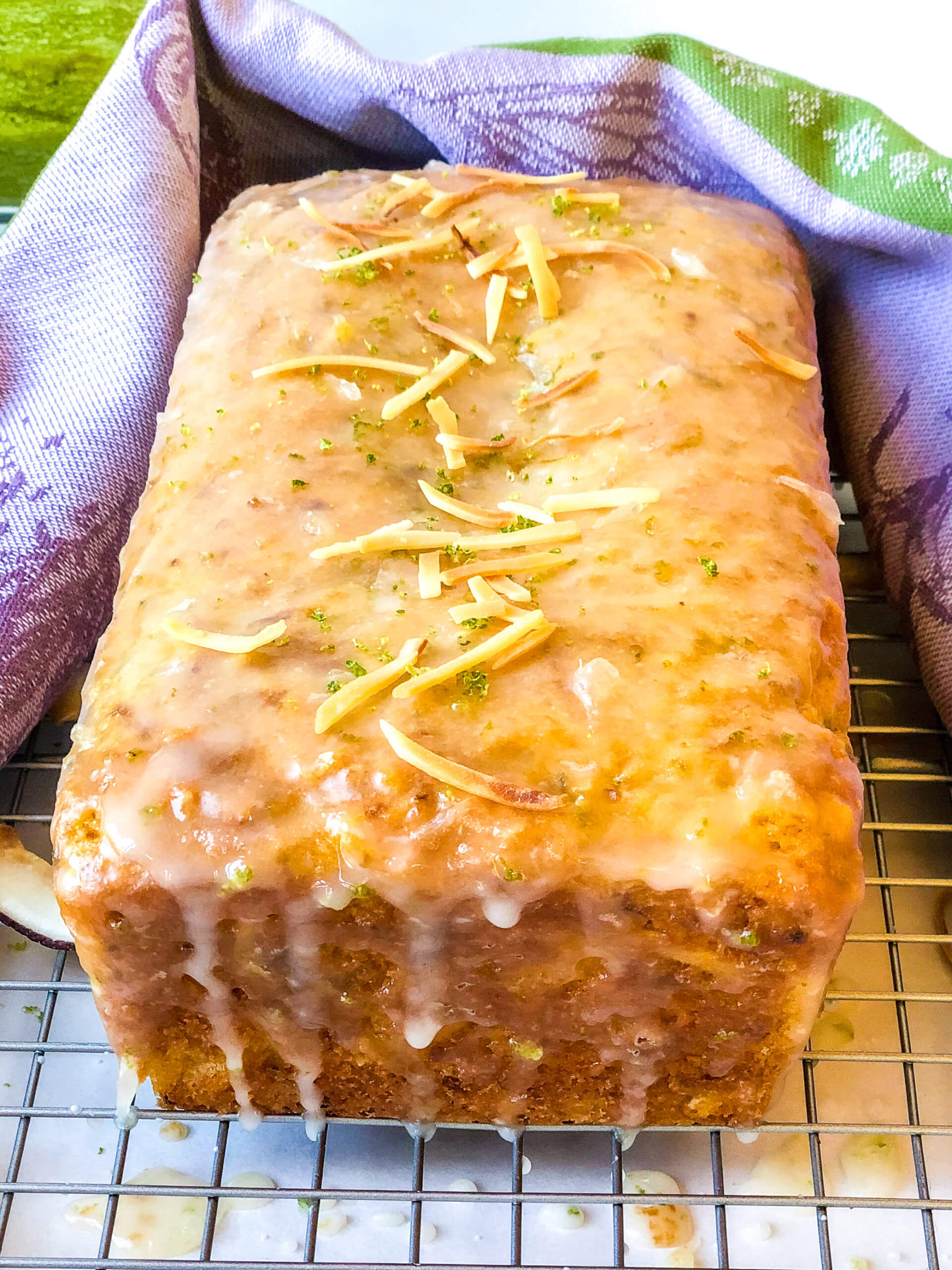 So, does the number of choices for you affect your decision quality? Do you think it's a fear of making the wrong choice? Or is it that we think there's only 1 right choice? Because here's the truth – life isn't a Multiple Choice test – there are so many good choices. Starting with this Lime Coconut Zucchini Loaf.
Enjoy!
Looking for other quick-breads? How about:
Easy Blood Orange Olive Oil Loaf
Simple Irish Soda Bread with Currants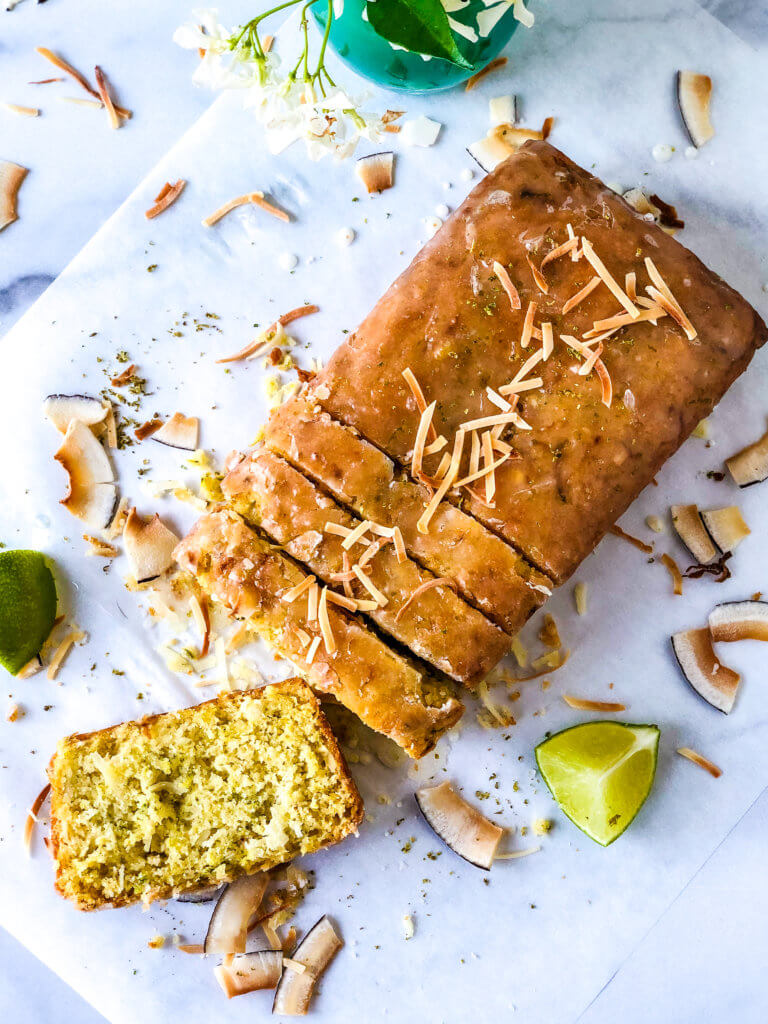 Recipe Details ->
This post may contain affiliate links. As an Amazon Affiliate, I may earn a small commission, at no cost to you, for purchases you may make of items linked from this site.
This simple recipe for Zucchini Loaf can be made all by hand. You'll just need a couple of bowls, one for wet ingredients, one for dry. Then, combine the two, fold in the zucchini, coconut and lime zest, and you're ready to pour it into the loaf pan. If you'd like to serve this as a bundt cake, just double the recipe, and make it in a 12-cup Bundt pan. You'll likely need to increase baking time a bit, to 50-60 mins.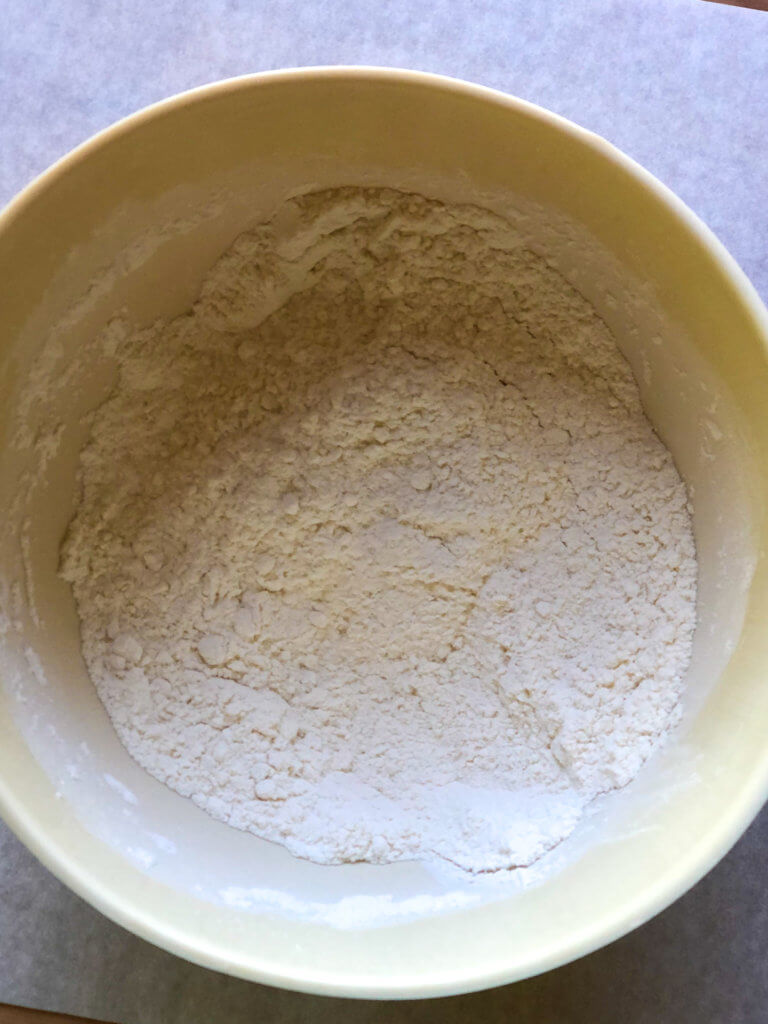 Can you use sweetened coconut? You can. Either sweetened or unsweetened coconut will give nice coconut flavor, especially if you use coconut extract in the recipe. Sweetened will add more sugar, for a sweeter bread.
The best way to shred your zucchini is with a Box grater. We all know a box grater has 4 sides – there's the slicing side with maybe 2 slicing blades, the tiny grating side (say for Parmeggiano Reggiano cheese), and then the 2 shredding sides. You likely use the bigger shredding size for cheddar or jack cheese, to use for tacos or quesadillas. But the smaller of the shredding sides is the one to use for zucchini bread. It will give the better texture to the bread, and exude more liquid, due to the smaller shred size. It's a surface area thing. Just go with it.
You'll need a nice loaf pan for this recipe. If you're looking for a loaf pan, I really love the USA Pan loaf pan. It's non-stick and bakes beatifully and evenly. It costs a bit more, but it's worth the extra! (I'm not a USA Pan affiliate, I just love the product.)
As for the glaze, it's not your typical thinned, frosting-style glaze. Rather it's just that – a shiny glaze you'll want to paint onto your still-hot-from-the-oven loaf. (I adapted it from a glaze I found on Dave Lebovitz's site where he made a lemon zucchini cake from the late Gina DePalma.) You can use a regular brush, but I find a silicone brush works great for this, and it's so much easier to clean.
There's so much in this bread, a good, clean, cut is difficult to get if you can't wait until it's completely cool. So know that using a Serrated Bread Knife will ensure a nice clean cut. Learn from me, I've made some pretty terrible cuts using a straight-edged knife on hot bread.
So, give this bread a try! It's so moist, tasty and so easy to make! It might just become your new favorite quick bread!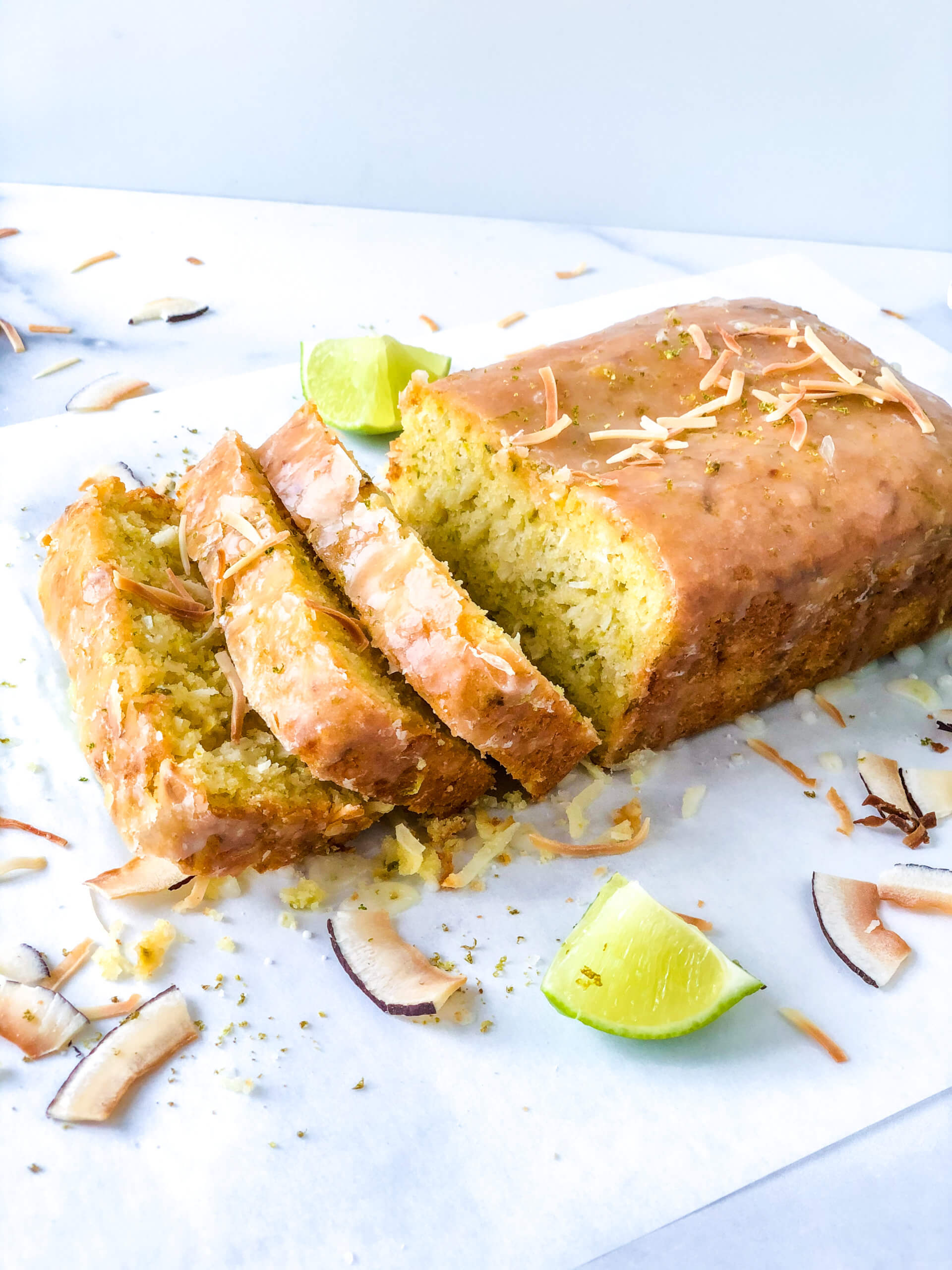 PIN this Coconut Lime Zucchini Loaf Recipe for later ->
Print
Coconut Lime Zucchini Bread
Not your ordinary quick bread! This Coconut Lime Zucchini Bread is moist, flavorful,  not-too-sweet, with a crisp, shiny, tangy lime glaze that will leave you wanting more!
Quick prep and bake! 
Special Equipment needed: A box grater and a 9×5 Loaf Pan
Author:
Prep Time:

15 min

Cook Time:

38-46 min

Total Time:

1 hour

Yield:

1

9×5 loaf

1

x
Category:

Quick Breads

Method:

Baking

Cuisine:

International
Ingredients
For the Bread:
1 1/2

c (180g) All-Purpose Flour

1/2 tsp

Baking Soda

1/2 tsp

Baking Powder

3/4 tsp

Salt (or

1 1/2 tsp

Diamond Crystal Brand Kosher Salt)

3/4

c (148g) Granulated Sugar

6

T (90ml) Extra-Virgin Olive Oil

1 tsp

Coconut or Natural Vanilla Extract

4

T (60ml) Fresh-squeezed lime juice

2

large eggs

1

c Grated Fresh Zucchini, from a 6-7 oz. Zucchini

1

c flaked or shredded, Unsweetened Coconut (see Note 1)

1 tsp

Grated lime zest
For the Glaze:
1 1/2 Tbsp

Granulated Sugar

1/2

c (50g) Confectioners' Sugar

2

T (30ml) Lime juice

1/2 tsp

Lime Zest
Instructions
Prepare the baking pan. Spray the bottom and sides of a 9×5 loaf pan. If desired, fit a half-sheet of parchment in the pan and spray the parchment. Set aside while you prepare the batter.
Shred and Drain the Zucchini. Using the "Small Shred" side of the box grater, grate 1 cup of zucchini and place in a strainer, set atop a bowl. Sprinkle with salt and stir it around a bit to encourage it to exude excess liquid. Leave for 10 minutes, while you prepare the the batter.
Preheat oven to 350F, or 325F for Convection/Fan oven.
In a large bowl, whisk together the flour, baking soda, baking powder, and salt. Set aside.
Into a separate, medium bowl, whisk the sugar, olive oil, coconut extract, lime juice and eggs, until all ingredients are incorporated.
Stir the wet ingredients into the dry ingredients, until no flour bits are visible. Then, discard the drained liquid and fold in the drained zucchini, coconut and lime zest.
Pour the batter into prepared loaf pan and bake on middle oven rack for 40-48 minutes, or until top is golden and a tester comes out clean. Mine took 44 minutes. Best to test when the top is lightly golden then every 5 minutes thereafter.
Once the loaf is out of the oven, let cool 15 minutes in the pan. Stir together the glaze ingredients.
After 15 minutes, turn the loaf out of the pan, onto a plate or board. Cover the still warm top and sides of the loaf by brushing with about half of glaze. Once the glaze hardens into a shiny surface, cover again with remaining glaze. 
Cool loaf completely before slicing with a serrated knife.
Notes
If you have only SWEETENED, flaked coconut, feel free to use that. Your bread will be sweeter than when using unsweetened, but it will still work!
Nutrition
Serving Size:

1 – 3/4 Inch slice
Keywords: coconut lime zucchini bread, quick breads, zucchini bread, citrus
Recipe Card powered by