If you're the type of person who would love a nutty, sweet and salty treat with smooth ganache, sweet caramel, and roasty peanuts all on top a cookie crust, read on… If not, then…well, I don't believe you even exist!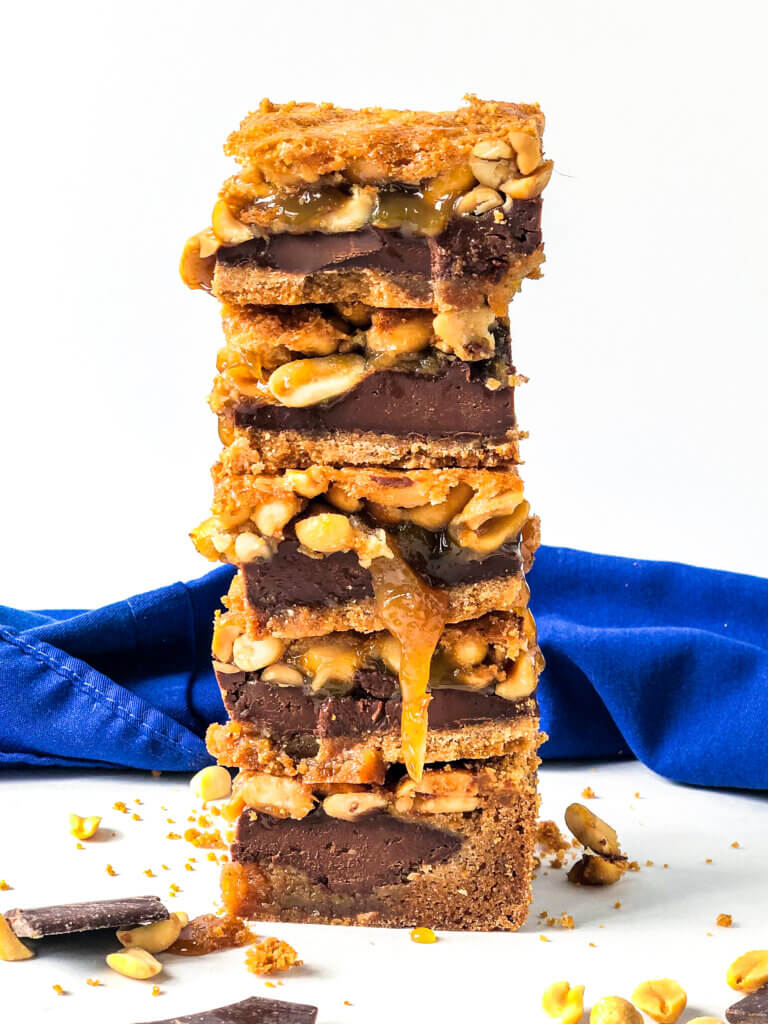 What inspires you? A good movie? Beautiful art? A brave friend? Of course those things. But sometimes it's the small things, just fleeting moments – a beautiful sunset, a paint color on a home you drive by, that can change something in your life. For me, so many things inspire. I find so much joy and inspiration in the smaller things. While great art can make me emotional, thoughtful, or introspective, it's smaller moments that inspire me to action or creativity. Stories from regular people about overcoming problems, a conversation with friends over a good meal.
And, these days, we all need to take inspiration wherever we can find it. As a food blogger, interesting recipes I'm unfamiliar with can spark creativity. That's how these awesome Chocolate Peanut Pie Bars have come to you.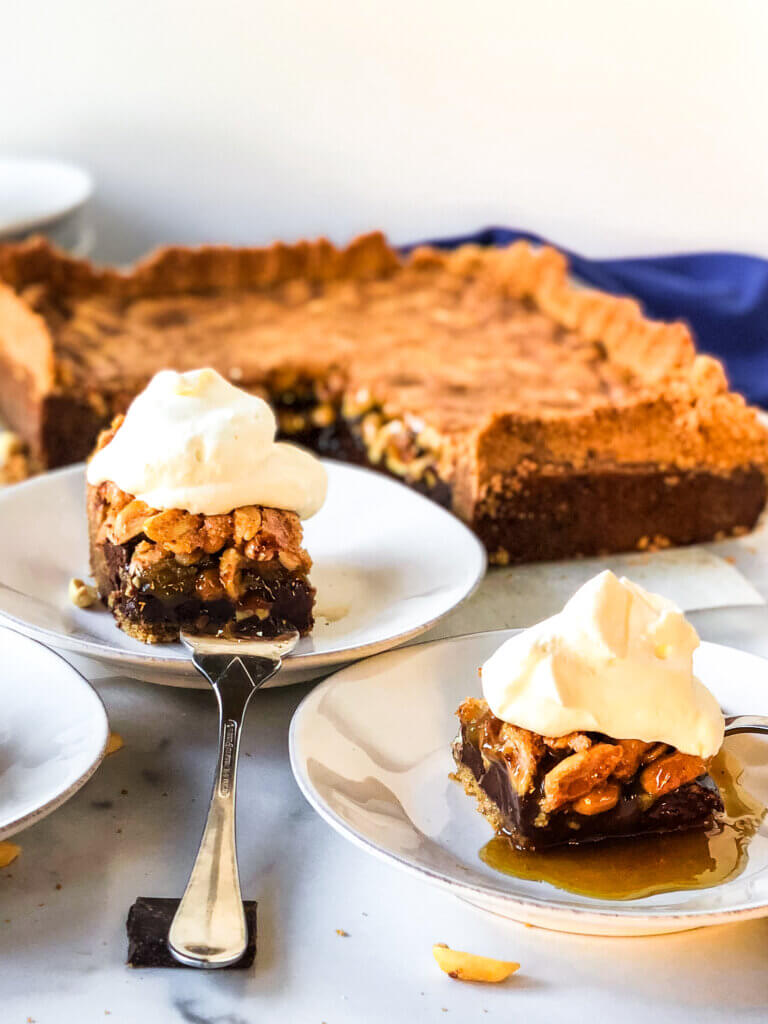 I seriously stopped in my tracks by this AWESOME Virginia Peanut Pie over at my friend David's Spiced Blog. I mean, if that isn't a plateful of yum! Kind of a pecan pie, but made with peanuts! Why didn't I know of this? (Apparently I would've needed to grow up in Virginia.) But it got me thinking. What other Peanut pies are out there? Turns out, not all that many. But one that drew my attention was this Black-Bottom Peanut Pie Recipe from Marcus Samuellson. It has a press-in crust and a "Black Bottom", which just means a gorgeous chocolate layer, and it's topped with peanut pie filling.
So, you know me, I had to make a change or two, because I just can't leave well enough alone (as we established in this post for Apple Cinnamon Rolls as well as this post for Creamy Skillet Chicken.) Anyway, in my recipe, instead of vanilla wafers, I used a less sweet alternative, a digestive-type biscuit, similar to Tea Biscuits (which you could also use!), but the ones I used were called Leibniz Butter cookies. They made a delighfully easy-to-press crust that turned nicely crispy and didn't get soggy even after sitting in the fridge several days after baking. I also added a bit of salty flavor using Roasted and Salted peanuts for that added salty-sweet flavor I love so much!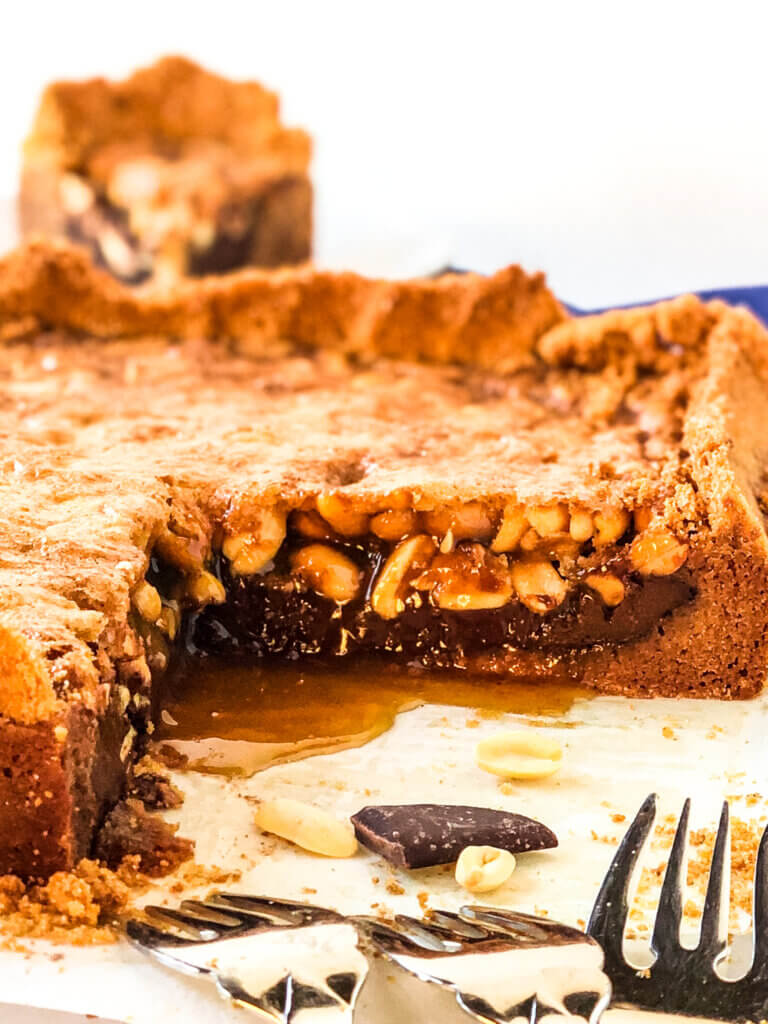 These rich, gooey, peanuty bars were so delicious I couldn't wait to get the recipe on the blog. They're not like Peanut Butter cups, more like a Snickers bar, maybe a "grownup Snickers Bar". So, I beg you, make these Chocolate Peanut Pie Bars! They are perfect for a holiday dinner, buffet, or any random Tuesday!
Enjoy!
If you're looking for similar recipes, why not try one of these:
Chocolate Coconut Pecan Tart, which, to avoid a family mutiny, I make every Thanksgiving. Or, if you're a fan of Digestive biscuits, don't miss the next idea!
Chocolate Biscuit Cake, it's the Queen's favorite and it's said she even travels with it, she loves it so much. I think you will, too!
Salted Caramel Apple Pie Bars are a lovely mouthful of Autumn and that salted caramel, let's just say – ADDICTIVE!
Tart Cherry Cheesecake Bars are one of my all-time favorites, and you can use frozen cherries if it's not Cherry season!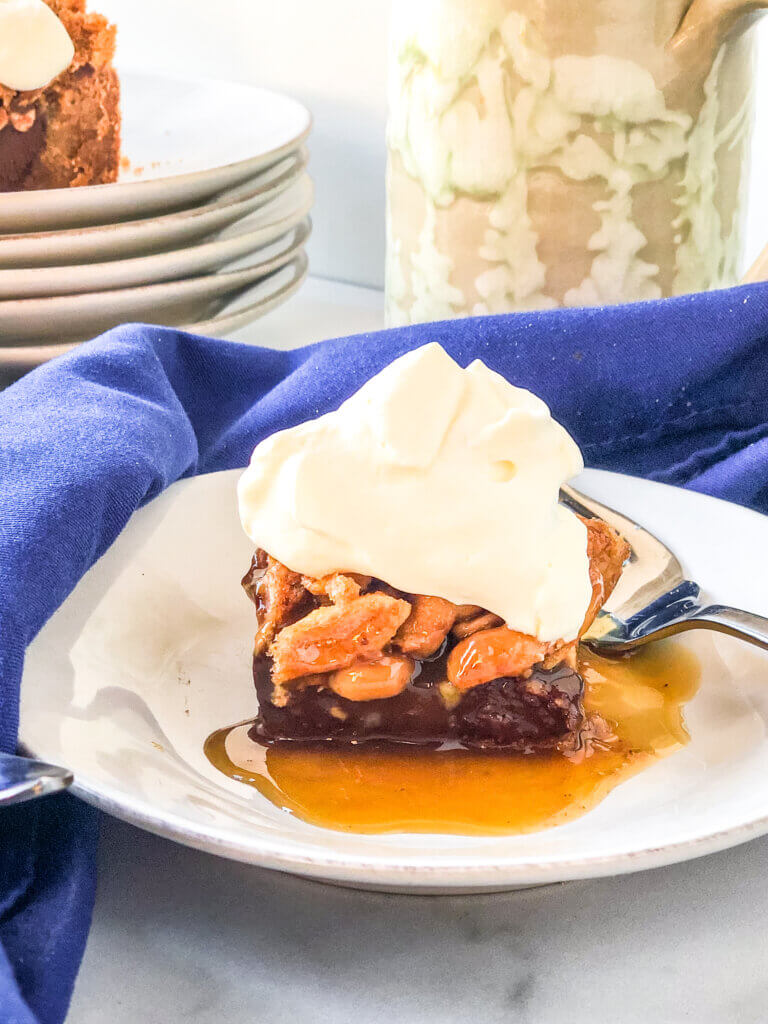 PIN Chocolate Peanut Pie Bars ->
Recipe Tips ->
This post may contain affiliate links. As an Amazon Affiliate, I may earn a small commission, at absolutely no cost to you, for purchases you may make of items linked from this site.
While there seems to be a lot of ingredients for these bars, most are ones you likely have on hand. A little organization will go a long way to making the process of baking easy. so you'll want to gather all the tools you will need.
What you'll need:
Food processor (this one, from Cuisinart, is the one I have)
Mixing bowls – I love this style
9×9 baking pan or 9″ SpringForm Pan
There are really only 3 steps to making this pie. First you'll make the crust by grinding up the cookies (biscuits) into a fine crumbs, adding some sugar, brown butter, vanilla and salt to the mix. Press that mix into your baking pan and bake for 10 minutes until set.
While it's baking, you'll want to put your chopped chocolate into a bowl. Heat up your cream until it's nearly boiling, and pour it over the chocolate. Let that sit a few minutes to melt the chocolate, then whisk up into a lovely thick ganache. Pour the ganache over the crust, which will be mostly cool.
Next, in a medium-sized bowl, whisk the corn syrup (You can substitute Brown Rice Syrup or Golden Syrup), sugar, melted butter, molasses, Kosher salt and eggs. Then, once those ingredients are all well-incorporated, stir in the roasted and salted peanuts and pour that whole mixture on top of the ganache. Return it to the oven (Note: you should've turned your temp up to 375F when you took the crust out). Bake it 10 minutes, lower the oven temperature to 325F, then continue baking until the filling is mostly set, about 45-50 more minutes.
Be sure to cool the pie at least 4 hours before serving. That way it will be fully set. Top with whipped cream! It is rich, sweet, chocolatey, peanut and so delicious!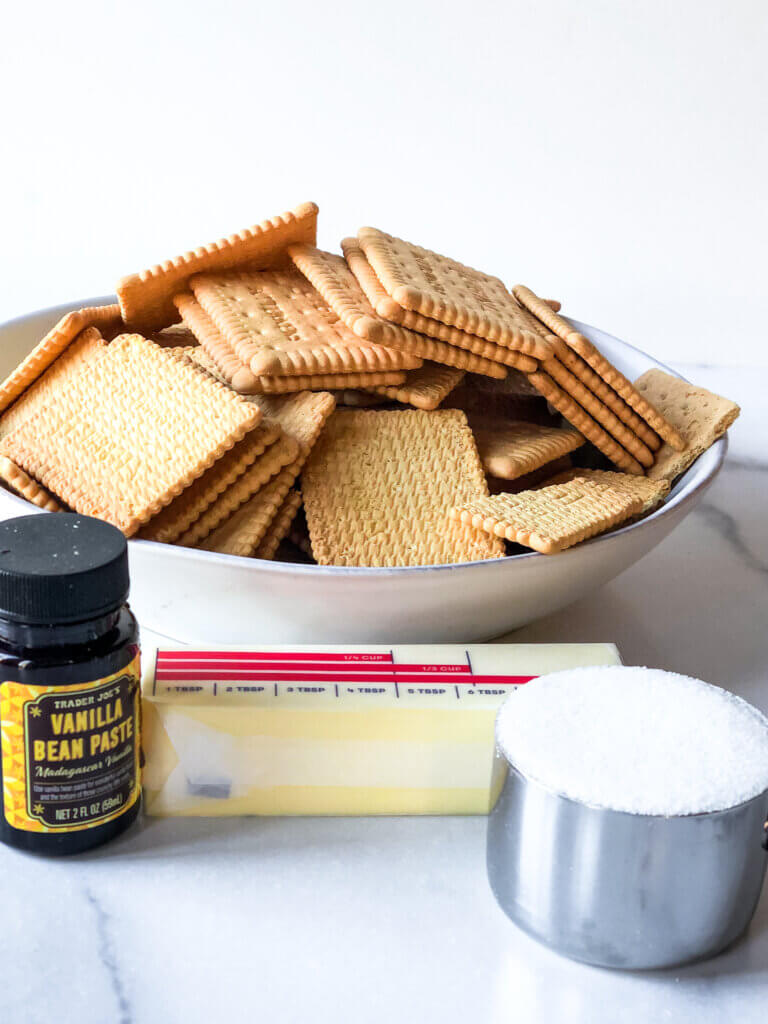 Questions you may have:
Do I have to 
brown
 the butter?
Browning butter takes some time, and you need to watch it pretty much constantly, but the depth of nutty flavor you get from it is so good, I'd be hard pressed to just use melted butter. But, you can use simply melted butter (or even margarine) if you'd like!
Can I 
use
 chocolate chips instead of baking chocolate?
You can, but since chocolate chips contain stabilizers that prevent them from fully melting, you may end up with a firmer, and possibly gritty ganache layer. You don't want it to be a "hard" layer. I did not use chocolate chips for this reason. You can get large baking bars at Trader Joe's that are quite reasonably priced, or stock up when baking chocolate is on sale – I tend to purchase the bittersweet varieties. You can buy them as bars or feves (little discs), often in the bulk section of the grocery.
How do I measure all those sticky ingredients?
The best trick I've found for using a measuring cup for syrups like Corn Syrup or Molasses is to spray the cup (or measuring spoon) with cooking spray, then pour in the syrup. It should slide right out. You may need to spray it again if you're repeatedly filling the cup or spoon.
Can 
I make in 8×8? 13×9?
You can use either a 9x9x2-inch (23x23x6cm) Square Baking Pan, or 9×2.5-inch (23x5cm) Springform Pan. You could possibly use a larger pan, but you'll have thinner crust and shallower filling, and will need to keep a closer eye on it to judge its doneness. Take a look at this chart of Baking Pans, by volume. You'll want a pan with between 9 and 11 cups volume.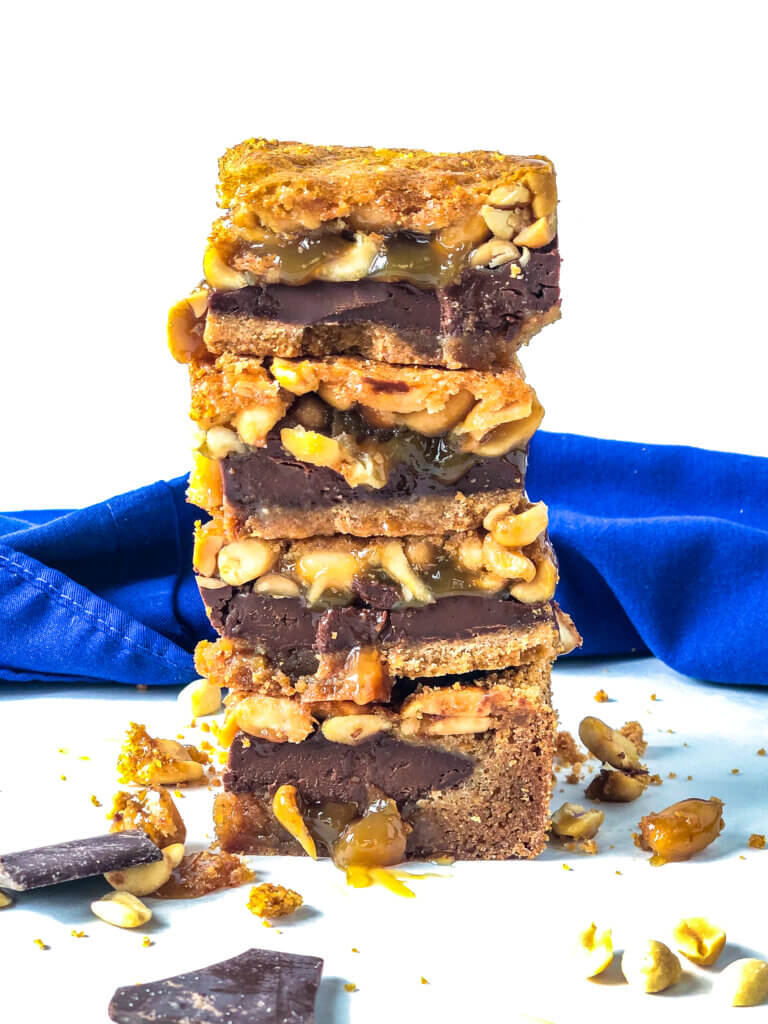 Print
Chocolate Peanut Pie Bars
Adapted from Marcus Samuelsson's Black Bottom Peanut Pie, published in Food and Wine , these Chocolate Peanut Pie Bars are crunchy, nutty, salty, sweet with a smooth bittersweet ganache, caramel sauce and a butter biscuit crust! Just a few steps to make!
These bars are quite rich. Feel free to slice smaller bars if you like. You can use a 9x9x2 (23x23x5cm) baking pan or 9×2.5 (23x6cm) Springform Pan.
Author:
Prep Time:

45 min

Cook Time:

60 min

Total Time:

1 hr, 45. min

Yield:

16

bars

1

x
Category:

Desserts, bar cookies, pie

Method:

Baking

Cuisine:

International
Ingredients
For the Crust:
1

stick (127g, 4 oz) Unsalted Butter

9 oz

. (

255g

) Tea biscuits or Wafer cookies, such as Liebniz, Digestive biscuits, or Animal Crackers, ground (about

2 1/3 cups

)

1/2

c (99g) Granulated Sugar

1/4 tsp

Salt

2

t (10ml) Vanilla or Vanilla Bean Paste
For the Chocolate Layer:
8 oz

. (

237g

) Bittersweet Baking Chocolate, 65-72% Cacao (not chips), chopped

1

c (237ml) Heavy Cream
For the Peanut Layer:
1/2

c (119 ml) Light Corn Syrup or Brown Rice Syrup

1

c (198g) Granulated Sugar

6

T (93g) Unsalted Butter, melted and cooled

4 tsp

(20ml) Light Molasses

3/4 tsp

Kosher Salt

3

lg Eggs

2

c (240g) Roasted, Salted Peanuts
Instructions
Make the Crust:
Preheat oven to 350F for Conventional oven or 325F for Convection/Fan.
Brown the Butter: In a small (2-qt) saucepan, over Medium-Low heat, swirling the pan regularly, melt the butter and let brown. This will take 6-7 minutes. First, it will spatter and foam, then you'll see the color change from bright yellow to a yellow-ish tan, and finally, a golden brown. This is the time to remove it from the heat, or it will burn. So pour it into a bowl and let it cool. If there are brown bits in the bottom, be sure to include those, too. They add flavor!
While the butter cools a bit, grind the tea biscuits with the sugar and salt in a blender or food processor until powdery. Then add the vanilla, and pour in the butter. Mix again until just combined and butter is distributed.
Pour the crumbs into baking pan, and using the bottom of a measuring cup, press into the bottom, corners and sides of the pan.
Bake 10 minutes until set. Remove to cool. Increase oven heat to 375F (or 350 for convection).
Make the Filling:
Place the chopped chocolate in a small bowl. Heat the cream in a small saucepan to a heavy simmer (or low boil). Pour the cream over the chocolate. Wait 5 minutes, then stir until well combined and a ganache is fromed.
Pour the ganache into the crust, spread to the edges. 
Make the caramel-peanut filling: In a bowl, whisk together the corn syrup, sugar, melted butter, molasses, kosher salt and eggs until everything is incorporated. Stir in the peanuts and pour over the chocolate.
Place in 375F (350F for Convection) oven for 10 minutes. Then reduce heat to 325F (300F if Convection) for an additional 45-50 minutes, until filling is nearly set. It should jiggle in the middle slightly when done.
Let cool for at least 4 hours before serving. Serving suggestion: top with slightly sweetened whipped cream.
Nutrition
Serving Size:

1/16 Recipe
Keywords: peanut pie, chocolate peanut pie recipe, chocolate peanut pie bars, peanut pie bars,
Recipe Card powered by