Imagine having gingerbread for breakfast! Traditional, warm spices, in a slightly sweet and nicely crunchy Homemade Gingerbread Granola Recipe will make your holiday season special every morning!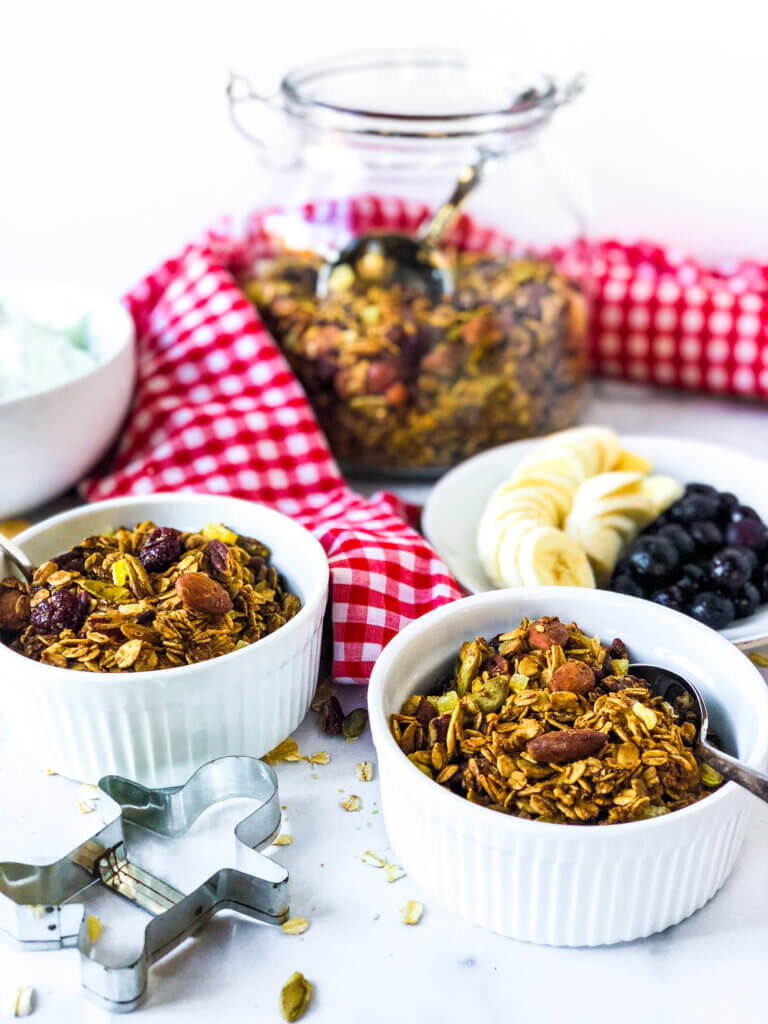 Let's face it – we all have a lot on our plates these days. Between work, school, holidays, absorbing the daily news, we all are a little…out-of-sorts?angsty? stressed?  I have to say, and I know it may not be the popular opinion, but our collective mothers and grandmothers were right (actually about everything, but there's not enough room on this page to discuss that topic). Start your day with a good breakfast, and not only will it help you feel great, you may be healthier. Sounds like they were trying to give us a head start. But there are no head starts to health and nutrition, are there? 
But, to many of us, the question remains: what exactly is a good breakfast? Well, start with what you want. First and foremost, I want it to get me through several hours, clear-headed, not feeling sluggish, or wanting a snack. And, you all know I have a sweet tooth (actually, I have 32 of them 😉), so I can tend to gravitate toward a super-sweet breakfast. But that doesn't get me to lunch without needing a snack, or maybe a nap.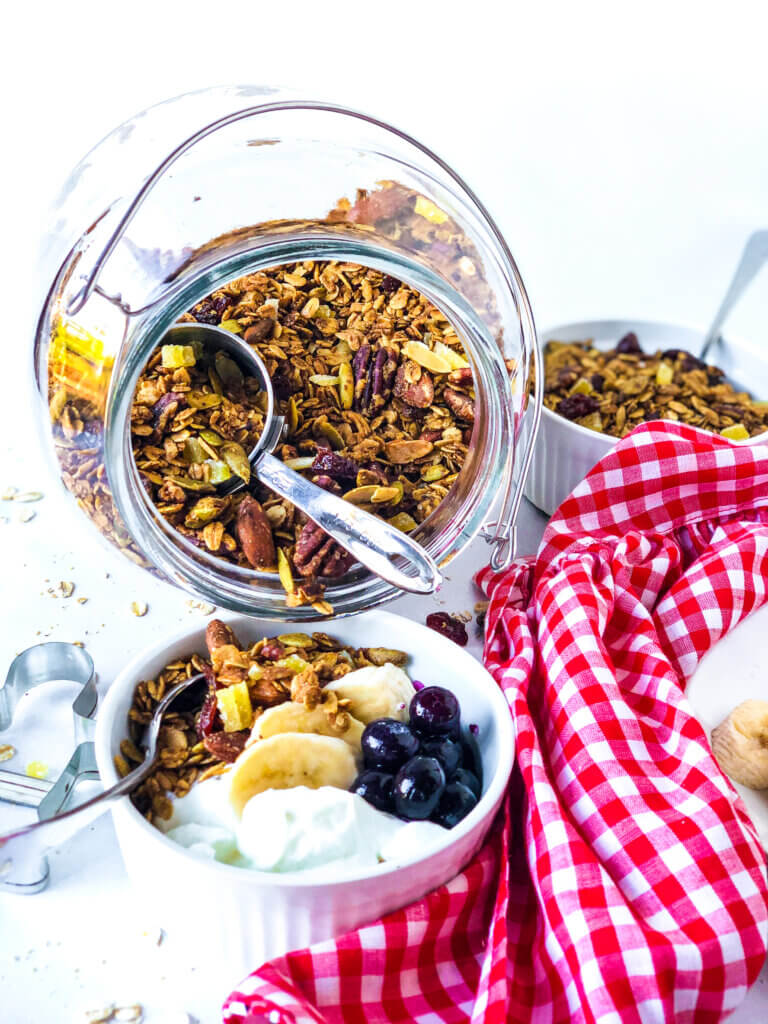 Since many of us eat the same breakfast every day, it's nice to have something easy. I imagine that's why boxed cereal is so popular. So why not make something that can be as simple as boxed cereal, but way healthier? This is where my homemade gingerbread granola comes in. I'm totally honest about this – I eat granola every.single.day. And, if you make your own, you can include all the delicious and healthy things you want. Like toasty, salty pecans, some almonds, and rolled oats, (super-food ALERT!) flaxseeds. And, I like to sweeten it with Maple Syrup, for a natural, but lightly sweet flavor.
Protein, fiber, healthy fats – these are the nutrients that help us get through the morning. And let's be honest. Starting the day with something so delicious that's also healthy kind of makes you feel like you're cheating, doesn't it? That makes that less-than-healthy sweet treat that we all need later on feel extra decadent!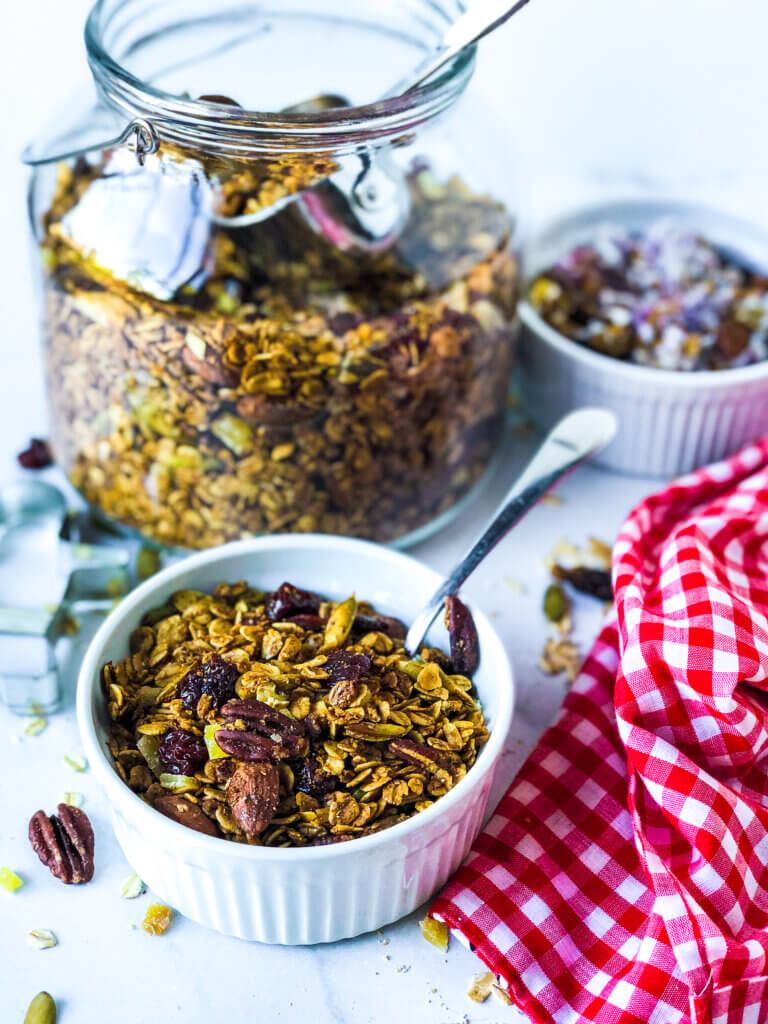 So, fill your plate (or bowl) with some Gingerbread Granola! You'll start your day with a delicious head-start toward healthy! And, I promise, it'll get you through the morning and you'll look forward to breakfast tomorrow!
Enjoy!
Looking for other granola recipes? Don't miss:
Phil's Granola  – super-tasty Cherry Almond Granola and one of my absolute favorites!
Peanut Butter Granola – If you're a peanut butter lover like me, you know this is for you!
Healthy Homemade Nutty Granola – all the flavors and textures you want every day!
Pumpkin Spice Granola – are YOU a pumpkin lover?
Or, if you like your granola in bar form, don't miss these White Chocolate Apricot Granola Bars, or these super-yummy Chocolate-Cherry Pecan Granola Bars, an oldie-but-goodie for sure!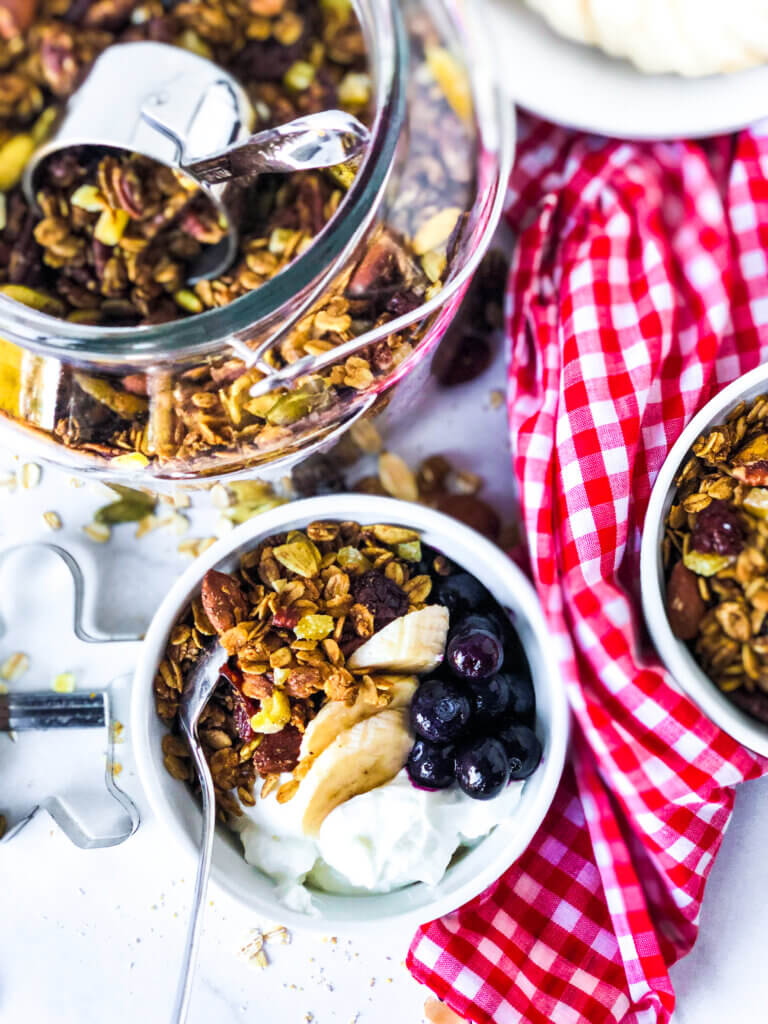 PIN Gingerbread Granola Recipe ->
Making Gingerbread Granola ->
This post may contain affiliate links. As an Amazon Affiliate, I may earn a small commission, at absolutely no cost to you, for purchases you may make of items linked from this site.
What you'll Need:
Kitchen Scale – I use as often as I can for measuring! or,
Measuring Cups and Measuring Spoons
Sheet Pan – these nonstick USA Pan half-sheet pans are my Favorites
Silicone spatula  my total favorite spatula (#notanaffiliate)
About the Granola Ingredients
Spices – I used a mix of spices that are traditionally baked into Gingerbread cookies or cake. If you don't have all of these spices, you can use just the first 3 (Cinnamon, Ginger, Cloves) OR you could substitute 2-3 tsp Pumpkin Pie Spice. The black pepper is also optional, but it does give a nice (very) slight "kick" to the party!
Flaxseed – I love flaxseed. It's a kind of super-food. (if you're not familiar with flaxseeds, just click here to learn all the benefits, starting with protein, fiber, healthy fats, control of blood pressure, blood sugar, and appetite. They are also one of the best non-seafood sources of anti-inflammatory Omega-3 fatty acids, and antioxidant-rich lignans. Superfood indeed! 
Rolled Oats – You can use any rolled oats here, but I use rolled oats labeled "thick". I buy these oats in the bulk section of the grocery, as they are much less expensive than pre-packaged oats. And since I eat granola almost every morning, I'm thrilled to save the cash. But you can use the oats that come pre-packaged, although, unless labeled they are "thick", you may want to measure by volume instead of weight. Because if you do measure by weight, you'll likely end up with a bit more than 4 cups, but it will still work out, as the recipe isn't that picky. Just don't use oats labeled "Quick" or "1-minute".
Nuts – You really could use any nuts you like. Nuts provide a nice dose of healthy fats and some protein. I love roasted, salted pecans and always like to include them in my granola for a sweet and salty vibe. They are also so healthy, as they are said to interact with ghrelin, a hormone important for weight maintenance. I also added some almonds, full of Vitamin E and Antioxidants, and some pepitas (or pumpkin seeds) as they are helpful for skin and bone health as well as sleep and mood. I love them in autumn- and winter-leaning dishes.
Sweetener – I love maple syrup because it doesn't add a ton of sweetness. Previously, I have used honey or brown rice syrup in granola recipes, and they work just as well. The liquid portion that you mix in might be a bit thicker, requiring a bit more mixing to get it distributed, but the resulting granola will be a little sweeter and perhaps a bit more crispy.
Molasses – Molasses is a traditional addition to gingerbread, adding a deep, rich, but not overly sweet flavor. You can use "Light" or "Dark" Molasses (I used dark, as that's what I had in my pantry) as they are slightly sweet, rich, and thick. Molasses labeled "Blackstrap" has a pronounced bitter flavor, which I would not recommend in this recipe. If you don't like molasses, you could add a 3 Tbsp (45ml) more maple syrup or honey to the mix. 
Dried fruit – I use about 3/4 cup of dried fruits in this granola. You can really use your choice of fruits. But I think it's amazing with dried cranberries and crystallized ginger – I mean, it is gingerbread. But you could use chopped dried apricots, or some dried sour cherries.
Baking the Granola
 I like my granola to be nicely crunchy, so while baking I watch to be sure the oats are browning but the nuts are not burning, and leave it in 34-36 mins. But it could take as few as 26-28 minutes if you are using the thinner variety or oats (generally 80g/cup), or if you want it to be more tender and less crispy/crunchy.
Storing and Serving Granola
Granola keeps well at room temperature when stored in an airtight container or zippered bag for several weeks. Just be sure to re-seal your container after using it.
I serve granola alongside Greek Yogurt and with some fresh fruit – berries, bananas or melon are all good choices. You could also eat it as you would any other cereal, with any milk you like over it. I also like to grab a handful if I'm feeling hungry between meals. The nuts are great for curbing my appetite! 
So, celebrate the season, make some Gingerbread Granola!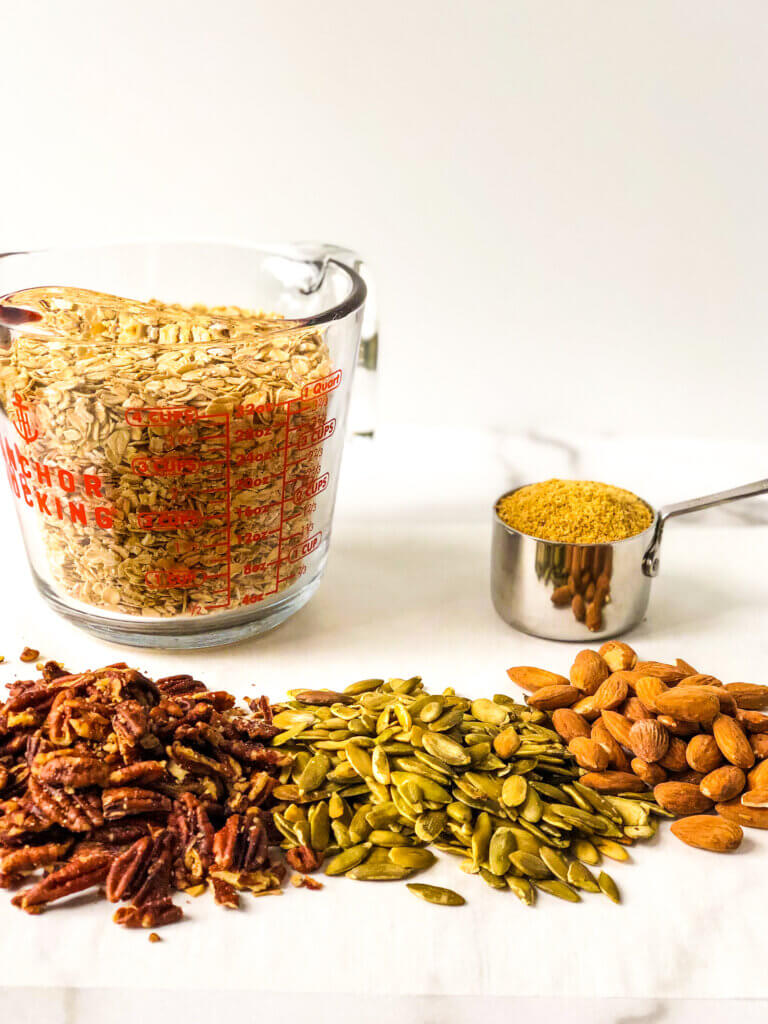 Print
Homemade Gingerbread Granola
This festive Gingerbread Granola is healthier than most: it has a nice supply of protein, fiber and healthy fats from the nuts and olive oil. It is also less sweet than most. If you prefer a sweeter granola, feel free to decrease the molasses by 1 Tbsp (15ml) and increase the Maple Syrup by the same amount. 
Serving suggestions: this granola is delicious with yogurt and fresh fruit, or as a cereal with milk of your choice!
Author:
Prep Time:

20 min

Cook Time:

26-36 mins

Total Time:

46-56 mins

Yield:

8 cups

Granola

1

x
Category:

Breakfast and Brunch

Method:

Baking

Cuisine:

Global
Ingredients
4

c (360g) Rolled Oats (I use the "thick" variety)

3/4

c (90g) Pecan Halves or pieces (mine were salted)

1/2

c (60g) Sliced or Whole Almonds

1/2

c (60g) Pepitas or Pumpkin Seeds

1/2

c (53g) Ground Flaxseed or Ground Chia Seeds

1 tsp

Salt

1 tsp

Ground Cinnamon

1 tsp

Ground Dried Ginger

1/2 tsp

Ground Cloves

1/2 tsp

Ground Nutmeg

1/2 tsp

allspice

1/4 tsp

Black Pepper

6 Tbsp

(90ml) Extra Virgin Olive Oil

7 Tbsp

(

105

ml) Maple Syrup, Honey or Brown Rice Syrup

3 Tbsp

(45ml) Molasses
(optional)
1/2

c (60g) Dried Cranberries

1/3

c (60g) Crystalized Ginger, chopped fine
Instructions
Preheat oven to 325F
In a large bowl, measure the rolled oats and the nuts.
In a small bowl, whisk together the following: ground flaxseed, salt, cinnamon, dried ginger, cloves, nutmeg, allspice, and black pepper. Then, whisk this mixture with the oats to evenly distribute.
In a bowl or measuring cup, combine the olive oil, maple syrup or honey, and molasses. 
Add 1/3 of the liquid mixture to the oat mixture. Stir to coat the dry mix. Then add half the remaining liquid, stir. Then add the rest of the liquid and stir.
Pour the granola over the sheet pan. Place in preheated oven. 
Bake, stirring after 12-15 minutes, until granola is golden and smells like gingerbread, between 26 and 36 minutes. The total time will depend on your oven. In my convection oven, the takes about 30 minutes.  But in ovens that run hotter, it could take as few as 26 minutes. Remove from oven and let cool on the pan set over a cooling rack.
Once cool, mix in dried fruit.
Store in a sealed container at room temperature.
Keywords: Homemade Granola, Gingerbread Granola Recipe, Homemade Granola Recipe, Gingerbread, Thanksgiving recipes, brunch recipes, breakfast recipes, Christmas recipes
Recipe Card powered by