Was there ever something you absolutely needed to be forced to do (or eat?) that afterward you actually thought: Where has this been all my life? Meet the Honey Badger Pizza with Easy Homemade Crust! Where, indeed, has this been all your life!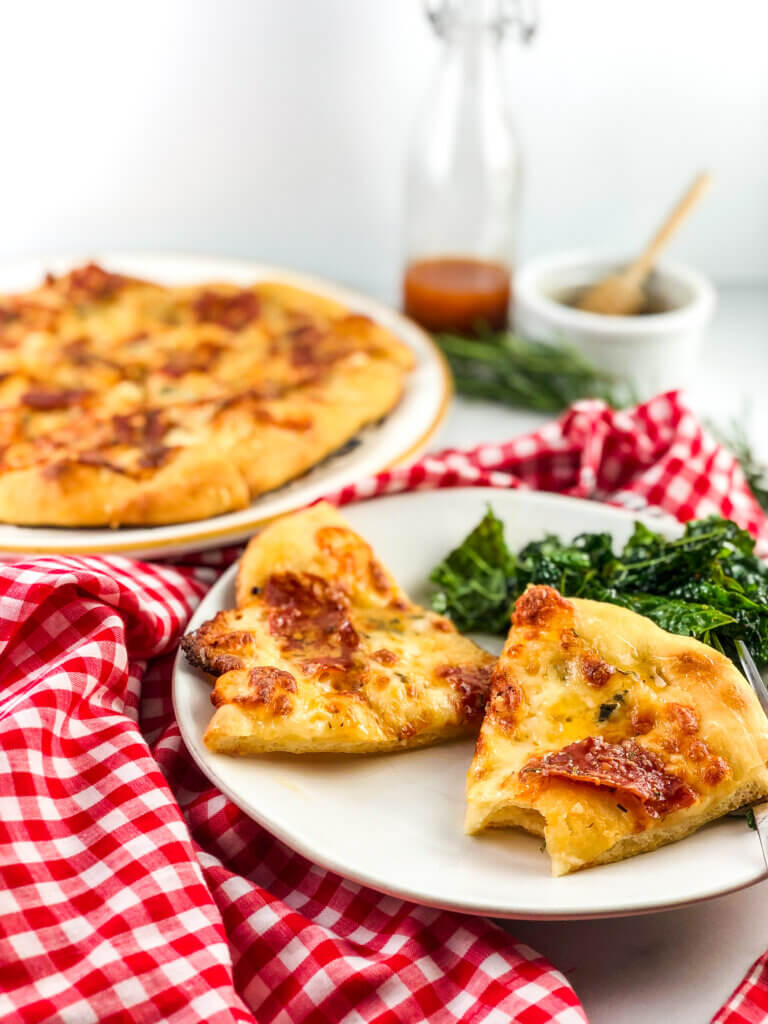 Several years ago, I visited a friend on the other side of the state. We ended up going to a pizza place in Coeur d'Alene called Fire Artisan Pizza. When we asked what the pizza of the day was, the waiter mentioned the "Honey Badger Pizza", that actually included honey to drizzle over the top. Um…No, thank you, was my first response, (ok, my second and third response, too) but my friend insisted that yes ("YES! YES! YES!"), this was the pizza to get. So we did.
Before I go any further, do you know what exactly a Honey Badger is? It is an actual animal, compact and strong, intelligent and fierce. One of the few animals that actually uses tools (rocks and sticks) to accomplish its many goals and pretty much rules the roost where it lives. And, contrary to popular belief, is not after the honey in a beehive but, rather the bee larvae. Find out more here. But then there's "Honey Badger", the popular slang. Many many meanings according to UrbanDictionary.com. [None of which I care to expand on here.]
But this pizza! It has your usual mozzarella and some provolone. Necessary but maybe not that notable. But are you ready for this? It has…a bit. Just a bit of…Gorgonzola. Just a bit of "the funk". Enough so you'll note that funk, but not think, "Wow, that's bleu cheese right there". Add some zesty Calabrese salami and a hint of woodsy rosemary (another ingredient you'd've never guessed would be awesome on pizza!). Bake until crispy-crusted and melty. Then, drizzle some sweet, sticky honey all over it. I'm serious. This pizza is the pizza you've been waiting for! Savory, salty, spicy, cheesy, and a bit of sweet. I mean…you won't believe how tasty!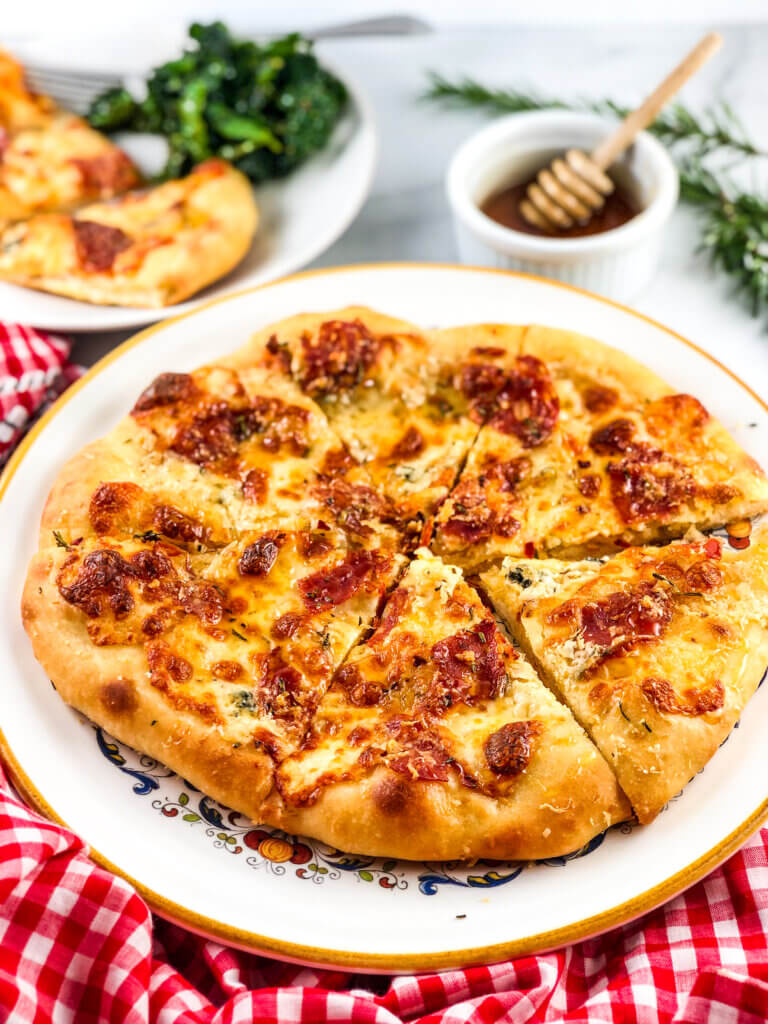 I've been doubting for many years that I could ever make a facsimile of the Honey Badger Pizza at home. Mostly it's because I've never been able to make a thin-crusted pizza that in any way rivals a professional pizza crust. I don't have a pizza peel, nor do I use a pizza stone, just some (preheated) sheet pans. But, thanks to Brandon Petit, of the always-a-line-out-the-door Delancey, and now Dino's Tomato Pie we can all have a great easy homemade pizza crust recipe! One of Brandon's crust recipes was published in our local newspaper several months ago, and I tucked it away, eventually diving wading in and trying it.
WOW! I. Was. Amazed! Seriously, 5 minutes to make the dough. Just stir a few basics. Then comes the "hard" (actual physical difficulty level = 0) part. Waiting for the dough to age (for some seriously awesome sour flavor) and to rise. Sixteen to twenty hours at room temperature. So just make it the night before. By morning or mid-day the next day, it'll be ready to chill, separate into 4 dough balls, let it come to room temperature, then make your pies! You can put any toppings on it, but I highly (HIGHLY!) recommend the Honey Badger Pizza ingredients.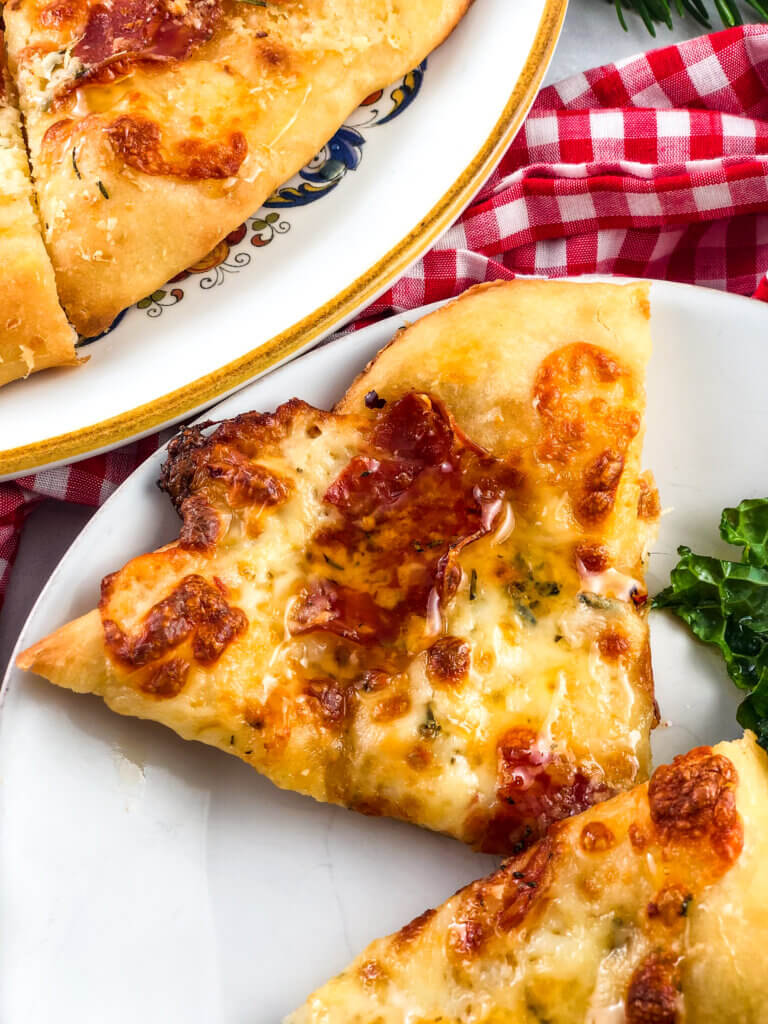 Seriously, try this pizza! And, let me know, was there anything you had to be convinced to try, only to discover it's your new favorite? Like this pizza?
Enjoy!
If you love homemade pizza recipes, be sure to check out my Detroit-Style Pizza, a deep-dish delight!
Or these other Italian-inspired dishes:
Chrissy Teigen's Cacio e Pepe, one of the most flavorful pasta dishes you'll ever taste, I promise!
Quick Chicken Puttanesca, a super quick and easy dinner!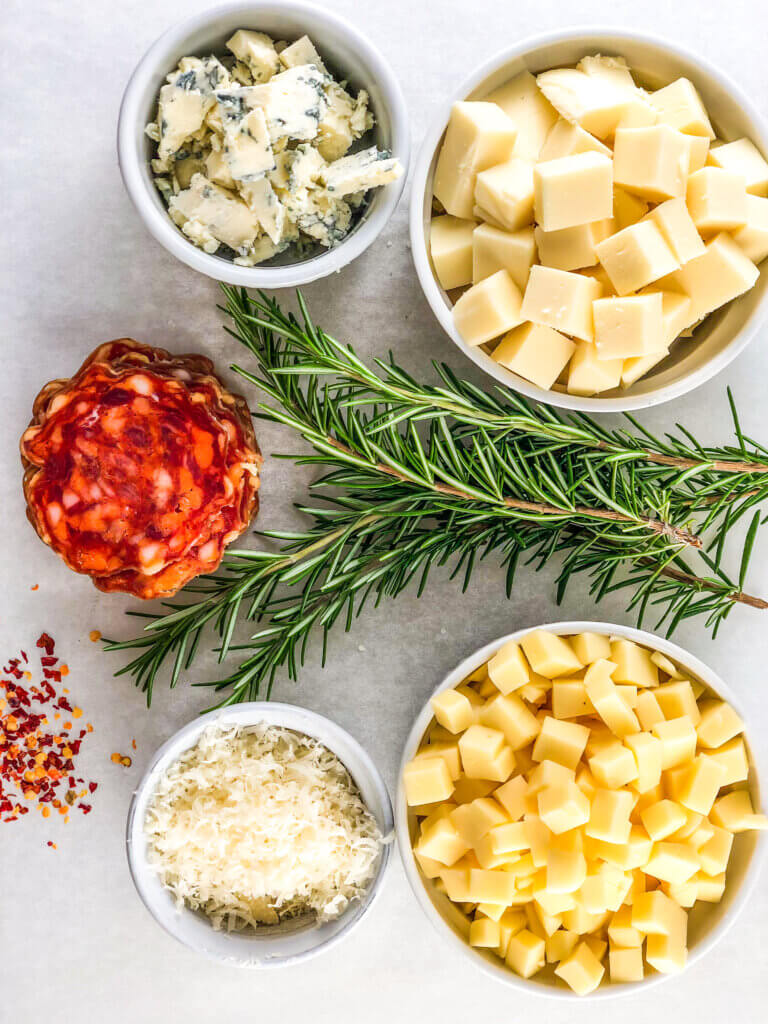 PIN Honey Badger Pizza ->
How to make Easy Homemade Pizza Crust ->
This post may contain affiliate links. As an Amazon Affiliate, I may earn a small commission, at absolutely no cost to you, for purchases you may make of items linked from this site.
What you'll Need:
8-cup Pyrex Measuring cup, and/or
Scale – This is the one I've had for years!
Sheet pans, like my favorite USA Pan Sheet Pans
So, this pizza dough is truly the easiest you could ever make! It takes literally 5 minutes to measure and mix up the dough ingredients. But then, it's the wait. Not easy, but if you plan ahead, you'll know to make it the night before you want to cook your pizzas. You'll need 16-20 hours to let the dough rise, and hour to chill the dough, then separate it into 4 dough balls, and then another 45-60 minutes for the dough to be ready to shape and make pizza! Low effort, awesome results!
I keep my house cool, so mine dough took the full 20 hours to rise. Your results may (probably will) differ!
Some tips I have are:
Stir and mix the dough. Don't knead. For this dough, gluten development is not the goal, because what we want a crispy and slightly chewy crust. So stir the flour into the liquid until you need to handle the dough to mix in the remaining dry flour.
Flour your hands! When handling the dough, always flour your hands and the surfaces it touches. It is quite sticky and a little flour on your hands makes everything easier!
Heat your baking sheets. Unless you have a pizza stone which you preheat in the oven, be sure to preheat the sheet pan on which you will bake your pizza. I put mine in the oven for about 10 minutes while I shaped my dough and put the toppings on. I shaped my pizza dough on a flour-dusted parchment sheet, applied toppings then carefully carried over the parchment sheet with pizza to the oven, pulled the shelf with the hot sheet pan on it out, then set my parchment with pizza on it.
You can bake 2 at time if they are on well-spaced shelves. If you're baking a single pizza, place it on the bottom shelf of your oven, or one up from the bottom if you have a convection oven. If you're baking 2 in a conventional oven then place one on the bottom and one closer to the top, then rotate them between the two shelves halfway through. One pizza should take a total of 8-11 minutes, two should take 11-14 minutes. Your results may vary depending upon your oven. In my convection oven, shelves #2 and #4, a single pizza took 9 minutes, and two took 12 minutes.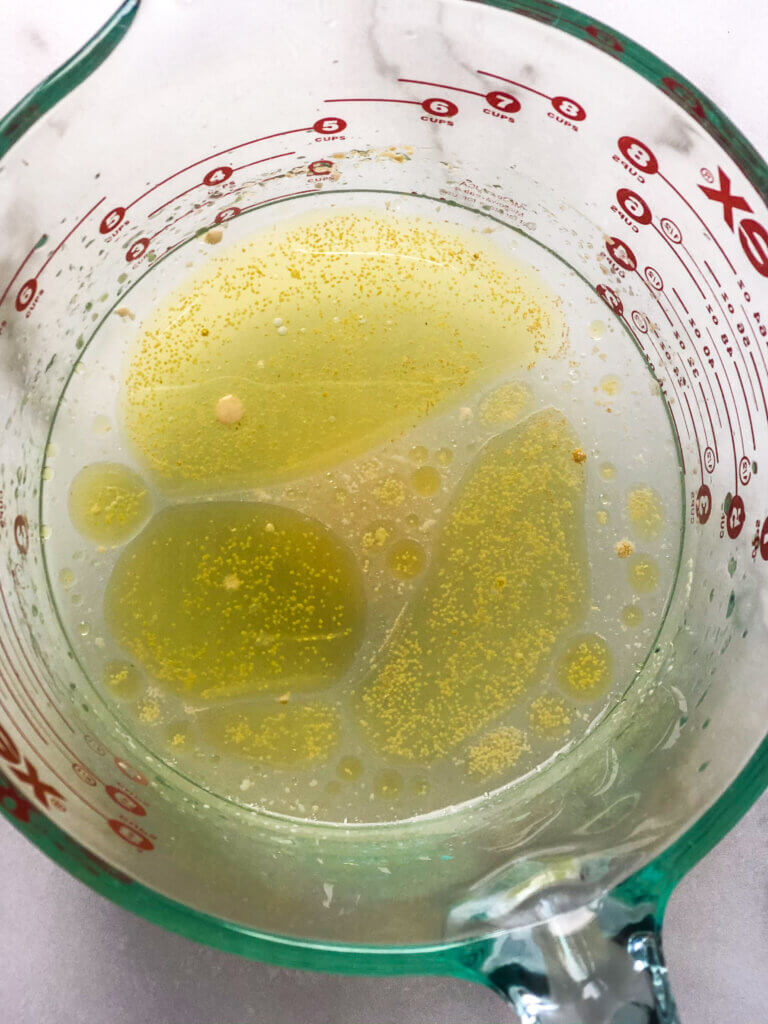 Honey Badger Pizza Topping Details ->
Of course, you can top this homemade thin pizza crust with any toppings you like. Remember, though, according to pizza experts, thin crust pizza needs minimal toppings. We wouldn't want it to get soggy. But since I started this recipe wanting to recreate the Honey Badger Pizza I had at Fire Artisan Pizza, I made white pizzas.
I used a mixture of fresh Mozzarella cheese and Provolone cheese. Cutting each into cubes, rather than shredding them, makes them take a minute or two longer to melt. In a super-hot oven this will prevent them from burning in the time it takes to finish the crust. 
Then you'll scatter small bits of gorgonzola cheese, just half an ounce per pizza. Even my family members (some of whom don't like gorgonzola!) don't even recognize the flavor. One melted, along with the other cheeses, and topped with honey, it becomes a bit of funky flavor that is so, so outrageously enjoyable!
Now, scatter some Italian Salami, the kind with some spice. I used Calabrese Salami. You don't need much, but get the thin-sliced variety, and then cut the pieces if they are large. Scatter them across the pizza, drizzle some olive oil, scatter a bit of chopped fresh rosemary, some red pepper flake, and then a nice coating of Parmeggiano-Reggiano. 
Into the oven until there are lovely golden patches of cheese and crust. Remove, slice, eat! Seriously, isn't that a great pizza?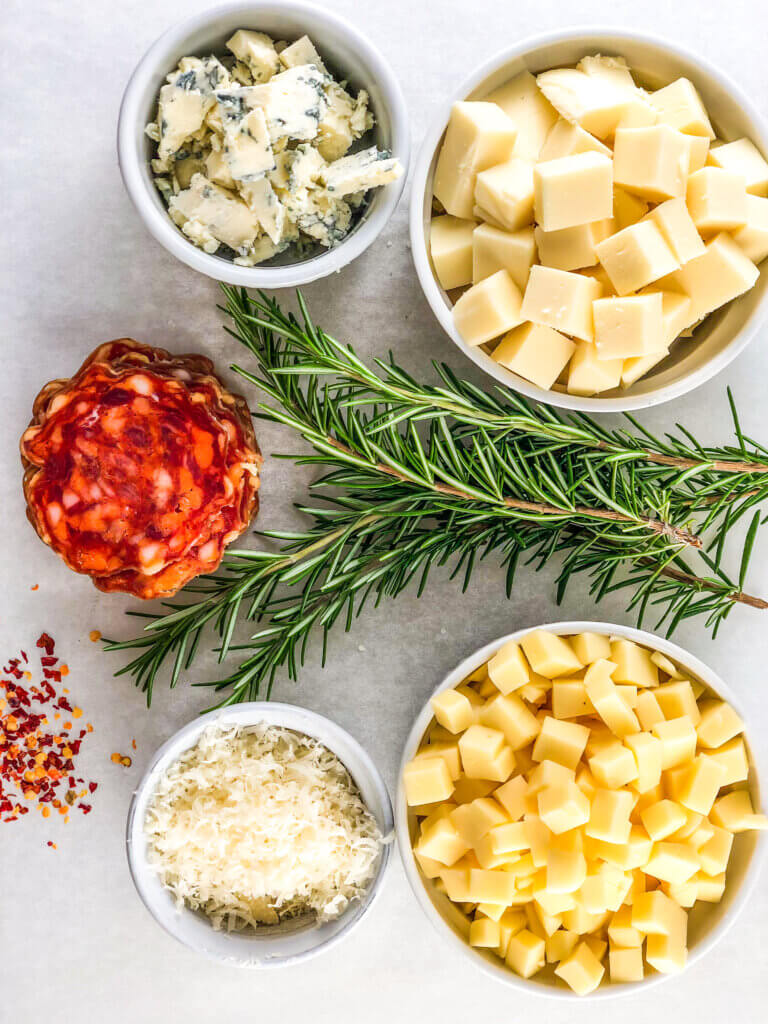 Print
Honey Badger Pizza with Easy Homemade Crust
This pizza is based on the phenomenal Honey Badger pizza served at Fire Artisan Pizza in Spokane, WA and Couer d'Alene Idaho. The crust recipe comes from Brandon Petit, of Delancey Pizza, as published in The Seattle Times.
A note on Serving size: This recipe will make 4 restaurant-sized pizzas. It's large serving, so you may be able to feed between 4-8 adults, depending on how hungry they are or if you are serving side dishes with your pizza.
Author:
Prep Time:

10 min

Cook Time:

9-12 min

Total Time:

10 min + 22 hrs wait time

Yield:

4

personal pizzas

1

x
Category:

Pizza

Method:

Bake

Cuisine:

italian, American
Ingredients
For the Crust:
1/4 tsp

Active Dry Yeast

2

c (467ml) Cold Water

2 Tbsp

(60ml) Olive Oil

5 1/2

c (681g) All-Purpose Flour

3 1/2 tsp

(

19g

) Kosher Salt
Toppings:
7 oz

. (

200g

) Mozarella Cheese, cut into 1/2″ cubes

7 oz

. (

200g

) Provolone Cheese, cut into 1/3″ cubes

2 oz

. Gorgonzola Cheese

2 oz

. (

60g

) Calabrese Salami

2 tsp

Extra Virgin Olive Oil

1 tsp

Finely Chopped Fresh Rosemary (or

2

–

3

tsp dry)

1 tsp

Red Chili Flakes, or more to taste

1/2

c Grated Parmeggiano-Reggiano Cheese
Honey to pass at the table
Instructions
Make the Crust
In a large bowl (I used an 8-cup Pyrex measuring cup), place the water, oil, and yeast. Stir until yeast is dissolved. Set aside.
In another bowl, mix together the flour and salt. Add this flour mixture to the yeast mixture, stirring with a wooden spoon, in 3-4 additions. By the last addition, it will be difficult to stir so you may need to get your hands into it and combine it. You just want to make sure all the dry ingredients are incorporated. Do not knead the dough, just get the flour mixed in. It may look a little ragged, but don't worry, it'll be fine.
Place the dough into a large bowl, and cover it with a towel. Let it set at room temperature until it has increased in size to 2-3 times the volume it started. This will take 16-20 hours. (Mine took the full 20, as I keep my house on the cool side). It should smell yeasty and a little sour at this point. Move the dough to the refrigerator until it is fully chilled, about 45-75 minutes.
Once the dough is chilled, divide it into 4 roughly equal parts. Using floured hands, form each into a ball shape and place on a floured pan or sheet pan. Cover tightly with plastic wrap and let rest for 60 minutes. This is to make sure the gluten is relaxed. (If you won't be using them immediately, put them in the refrigerator, and let the gluten relax for 45-60 minutes at room temperature prior to baking your pies. You can leave them in the refrigerator at this point up to 24 hours, or package tightly and keep in the freezer up to a month. Just remember to let them relax, once thawed, for the 45-60 minutes. The dough will need to be at least 65 degrees F for it to stretch nicely.
Make the Pizza
If you refrigerated the dough after dividing, remove dough balls from the refrigerator and let them come to room temperature (65F or warmer), about 45 minutes.
Preheat oven to 450F (Conventional) or 425F (Fan/Convection). Once preheated, place 1-2 sheet pans, spaced apart, in the oven to preheat.  I used shelf #2 and #4 of my 5 shelves.
On individual sheets of parchment, or a pizza peel if you have one, using lightly floured hands, press (or toss) each quarter of the dough into a 9-10″ diameter pizza. I just press outward from the center with both hands, beginning in the middle and gently working my way to the sides. Any shape you choose is awesome!
Top the pizza with cubes of mozzarella and provolone, and little bits of gorgonzola, then pieces of salami, a swirl of olive oil, sprinkle of rosemary and chili flake, then top each pizza with 2 Tbsp Parmeggiano Reggiano.
Open the hot, preheated oven and carefully place one pizza-covered sheet of parchment on each preheated sheet pan. In your oven you may be able to have one or two sheet pans.
Watch carefully every few minutes while baking! Bake for 9-12 minutes until there are dark golden patches on your pizzas, or to your desired level of doneness. You may need to rotate pizzas to other shelves if they cook unevenly, halfway through baking time. Mine took 9 minutes for a single pizza, 12 minutes for 2. Carefully slide each pizza to its serving plate. Then continue baking pizzas.
Swirl a big spoonful of honey on your pizza at the table, and maybe a bit more for dipping!
Keywords: Honey Badger pizza, homemade pizza crust, Easy pizza Crust, Easy homemade pizza crust, Fire pizza
Recipe Card powered by