Sweet Potato Butternut Squash Soup is super-flavorful with its sweet potatoes, butternut squash, lovely spices and smoky notes! A thick, creamy soup even without the addition of milk or cream!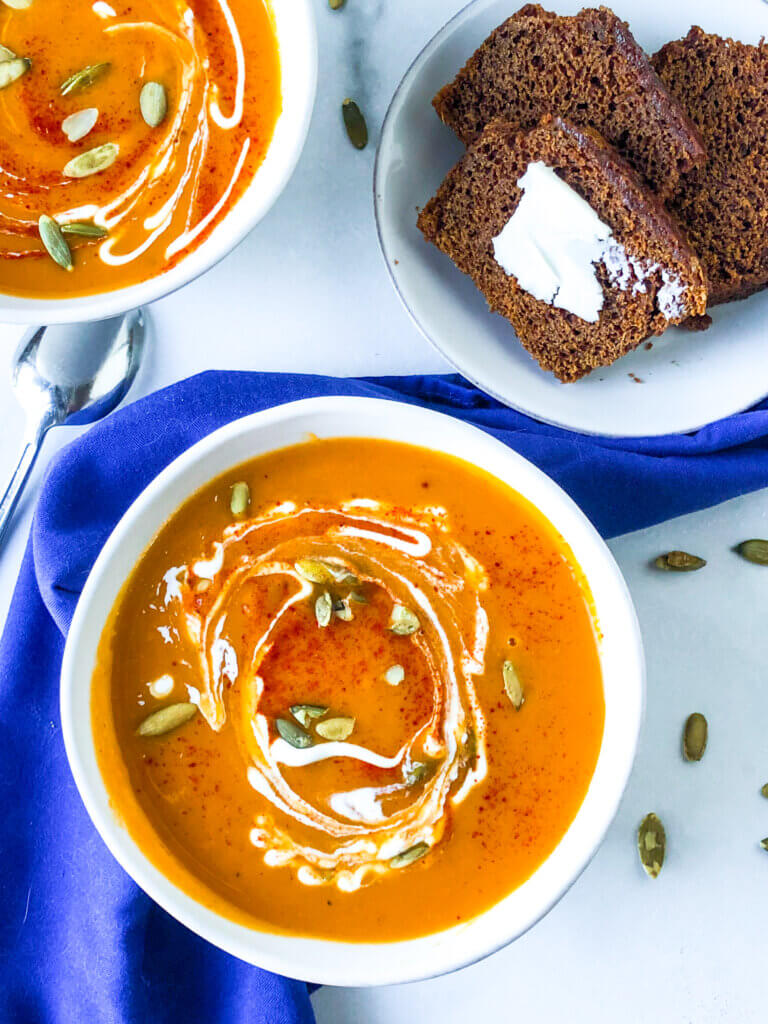 Some days – you know the ones – when it's cold and wet outside, or things just seem to be a little out of control and exhausting (or is it just me?), or all of those things. Anyway, on those days, if you're anything like me, there's nothing better than a steaming bowl of soup. Especially one that's smooth as silk, and hits all the flavor notes – savory, sweet, spicy, smoky. Love it! So warm and comforting. If it's healthy on top of all that goodness, well, that's just a welcome bonus! And, blessed with the most gorgeous sweet potatoes and butternut squashes I've seen in awhile, I decided to combine them into a big pot of steaming Smoky Sweet Potato Butternut Soup.
Best of all, this soup recipe is so easy to make. It makes a big batch, so it's perfect for a soup-and-salad (or sandwich!) dinner, and then for a few lunches afterward. And healthy? Yes, indeed! Smoky Sweet Potato Butternut Soup has just 155 kcal per serving, is loaded with vitamins A &C, fiber, and has a bit of protein! You can up the protein by topping with pepitas, or adding a bit of your favorite dairy or nut cream!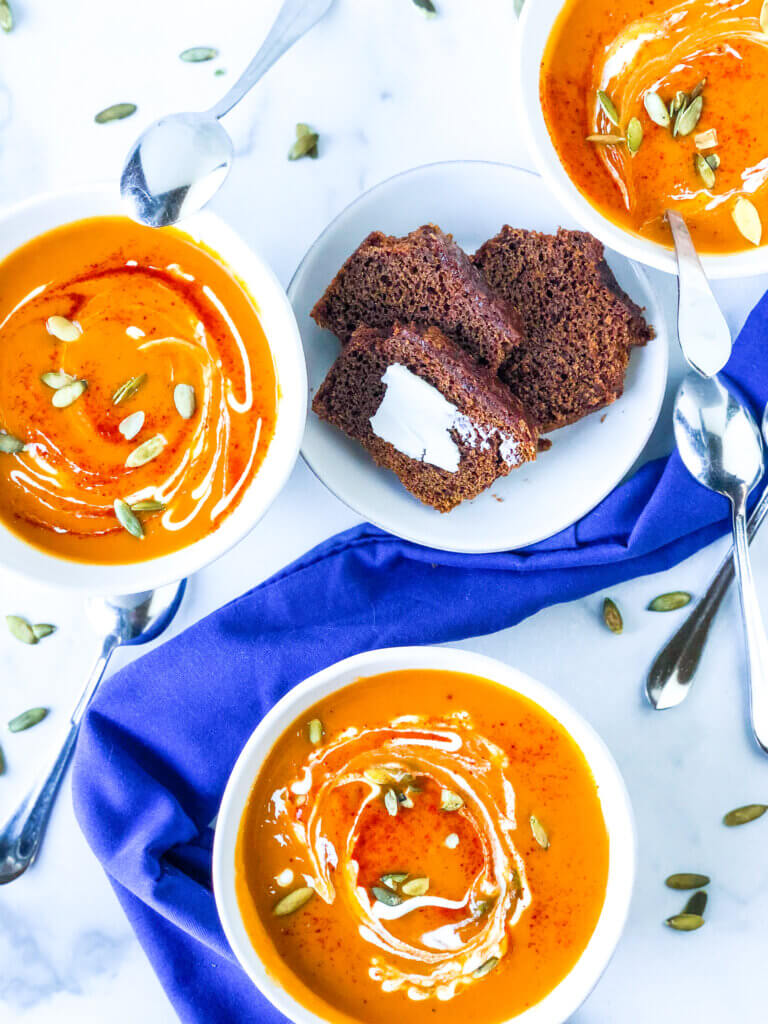 We loved this soup so much, especially sprinkled with an extra bit of smoked paprika and some roasted pepitas. A swirl of our favorite sour cream or yogurt makes it extra tasty! If you need a fully vegan soup, just use your favorite non-dairy creamer or yogurt.
The soup has the mouthfeel of a cream soup – smooth as silk, but it is lighter than a cream soup. You may add cream if you like, by adding it after you blend all the cooked vegetables, just us a cup or two less stock in the recipe.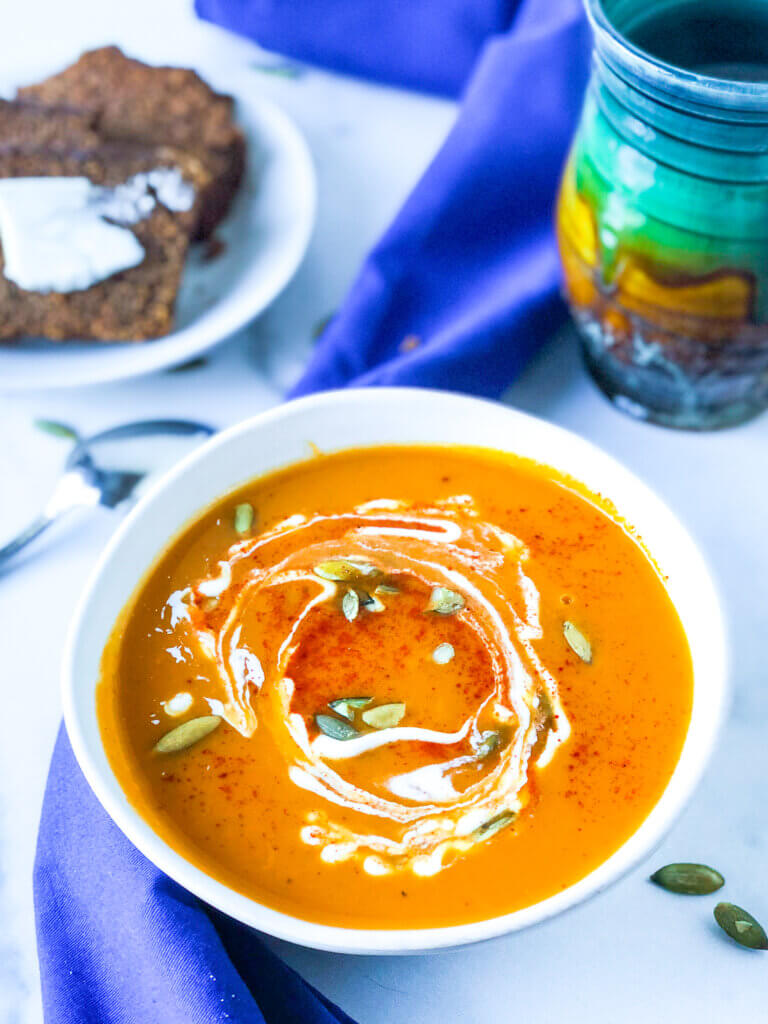 So, if, like me, you're in need for some tasty comfort, why not make some cozy, warm, smoky, Sweet Potato and Butternut Squash Soup? It's so easy, comforting, and healthy!
Enjoy!
If you're looking for other Soup recipes, try my:
Super healthy Vegan White Bean Tomato Soup
This super-popular North Carolina Fish Stew
Super-Flavorful Moroccan Vegetable Soup
Instant Pot Ham and Bean Soup
Smoky Lentil soup with Sausage and Vegetables
Do you have some ham hocks? Try this simple White Bean and Ham Soup
PIN Sweet Potato Soup Recipe for later ->
Smoky Sweet Potato Butternut Soup Details ->
This post may contain affiliate links. As an Amazon Affiliate, I may earn a small commission, at absolutely no cost to you, for purchases you may make of items linked from this site.
Blender – I love my Immersion Blender, which I used for this recipe, but could also have used my standing blender
A good, sharp vegetable peeler, like this OXO that I use
A large 6 qt Saucepot or Stockpot
Silicon Spatula (not an affiliate) – I love these all-silicon spatulas from Williams-Sonoma – I use them constantly!
So, for this Smoky Sweet Potato Butternut Squash Soup, the recipe is super-easy and straightforward. There are basically 3 steps: 1) Cut and chop the fresh ingredients, 2) Cook them all in the pot, and 3) Blend them. It can be done in an hour or so, and you can let it simmer as long as you wish after it's blended. Or serve. Up to you. The recipe makes enough for 8-10 servings, so enough for dinner and then a few lunches!
I mentioned the soup is thick, but feels light-bodied. That's because it contains no milk or cream. If you want to add milk or cream, then just add 6 cups of stock instead of 7, then add a cup (or 2, to taste) of half and half or cream at the end. The other thing to do at the end of cooking soup – and this is key to soup-making – is to test the salt level at the end, too. Salt sparingly during the cook time, and add more to taste at the end, if desired. I added an additional 1/2 tsp at the end, as well as a bit more paprika to suit my taste.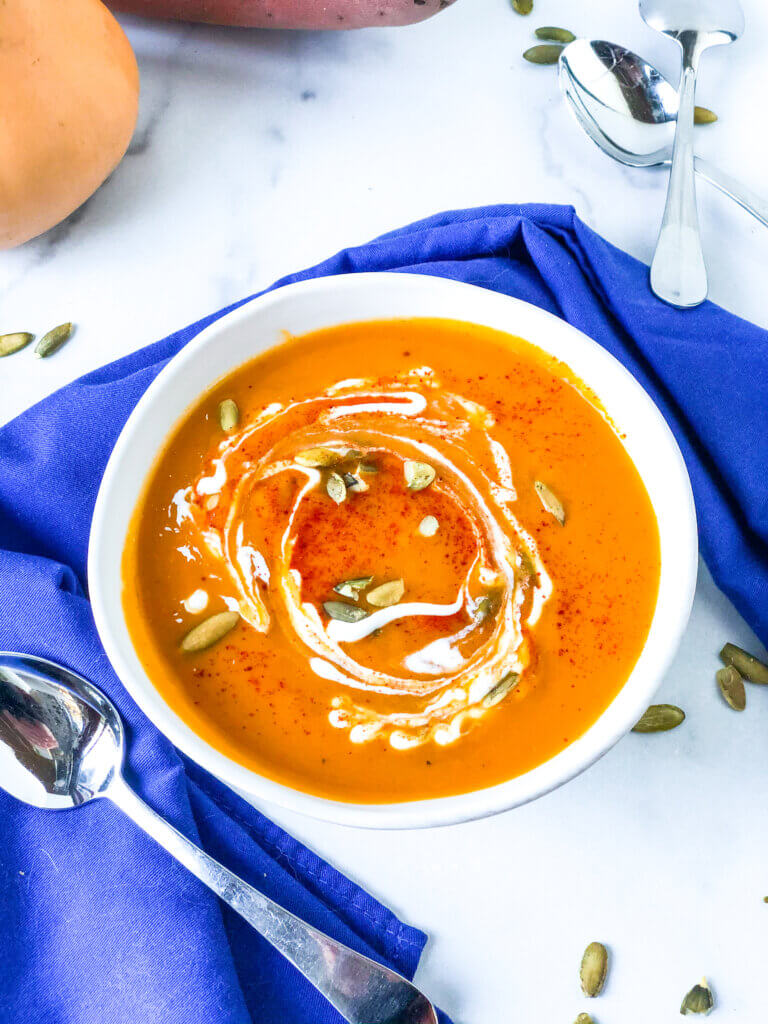 So, first, you'll want to cut the vegetables. All pretty straightforward. The most difficult will be the squash. It's a bit trickier to peel. And you'll need to halve it and seed it before chopping into cubes. So make sure you have a sharp peeler. Cut the bottom off of the squash so it sits flat on your cutting board, then using a sharp vegetable peeler or knife, peel in downward motion. Cut in half. Seed, then cube.
After the veg are all cut, heat the oil in a stockpot or large saucepan. Add the onions, shallot, carrots, and celery. Cook, stirring occasionally, until the onions and shallots are translucent. Then add in the spices. Stir them up with the veg. Add the stock and other liquid flavorings, like low-sodium soy sauce and liquid smoke. Then place the squash and sweet potatoes in the pot. Turn the heat up to boil the soup, then lower to "Low" or "simmer" so it is at a high simmer to cook the squash and potatoes.
Once they are fork tender, just whiz it all up with an Immersion blender or countertop blender (in batches! – avoid burns 🥵).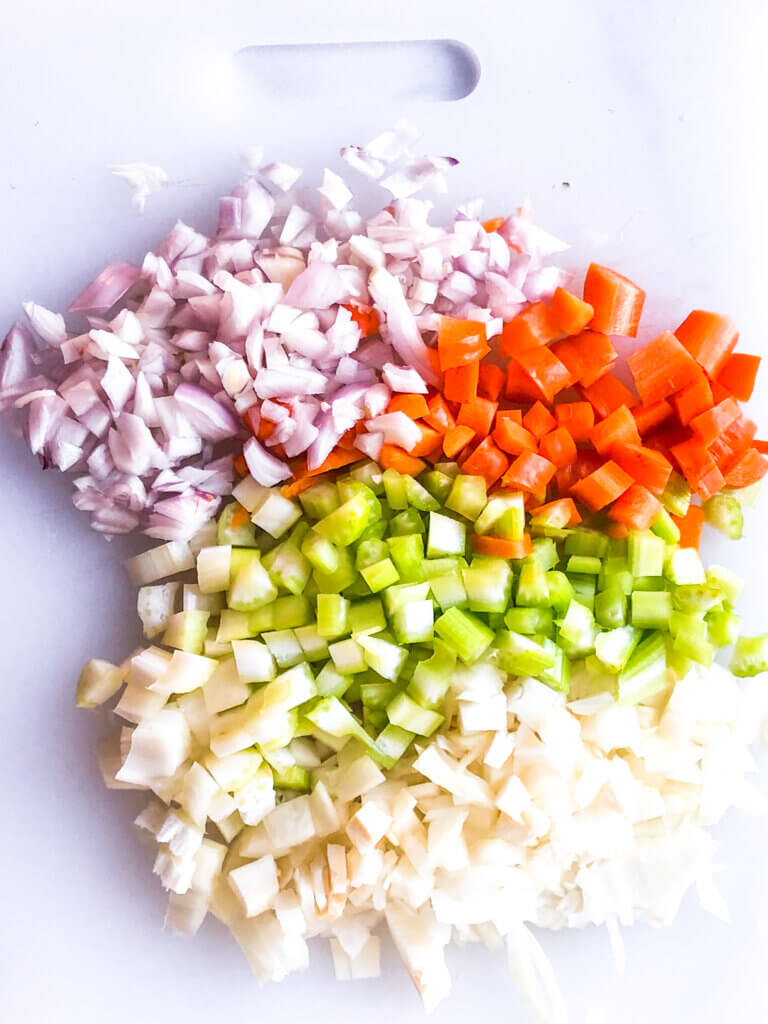 Some alternatives:
Use a different squash
You really could use any squash. Just make sure it's roughly 1 1/2 – 2 lb. Delicata, Kuri, or pumpkin would all be nice here. 
Make it creamy:
For a more substantial soup, you may want to add cream or half-and-half. You could use dairy cream or non-dairy, whatever is your cream of choice. Just add the cream after processing the soup, and omit the same volume from the stock – somewhere between a cup and 2 cups.
Change the spice profile:
If you aren't a fan of a smoky soup, feel free to use unsmoked sweet paprika, and omit the liquid smoke. You may want to add an additional teaspoon of cumin to the soup then. It will make a lovely flavor profile! 
Make it roasty:
You could add some additional depth of flavor by roasting the squash and sweet potatoes instead of boiling them. In this case you should place the cubes of sweet potato and squash on a lined sheet pan, coat with a tablespoon or two of olive oil, and roast 30-40 mins 400F. Just keep an eye on them and remove when they are fork-tender. Then transfer the roasted cubes to the pot of mirepoix, stock and seasonings.
You will also want to reduce the amount of stock to 4 cups, with extra to add if you need it.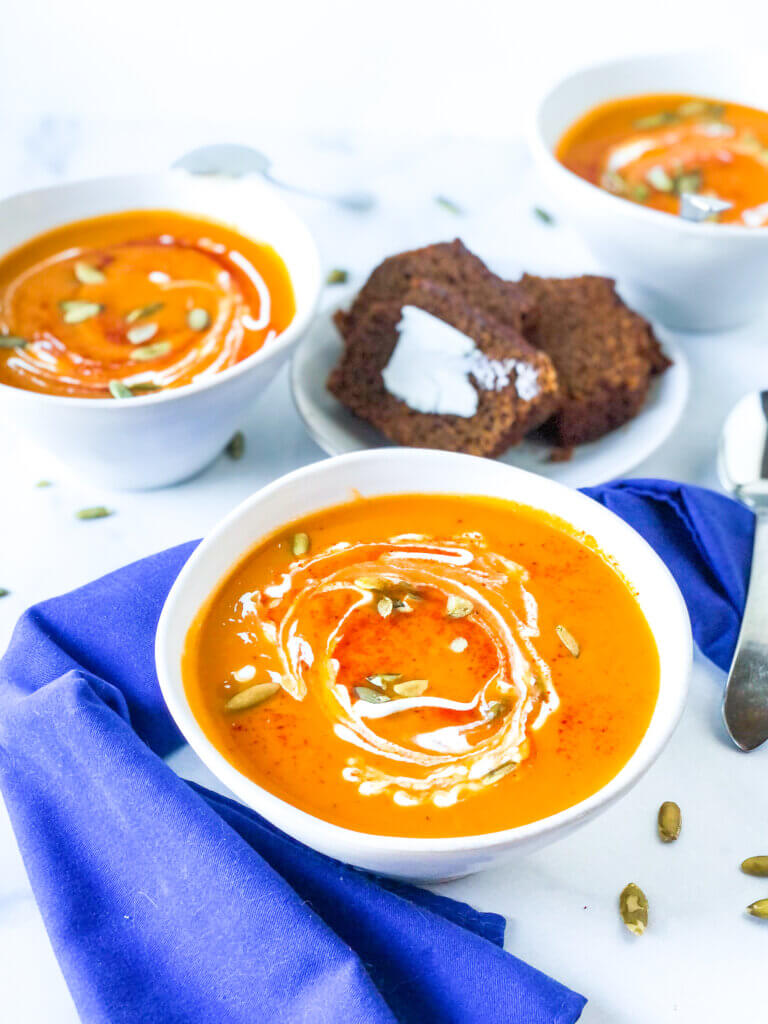 Print
Smoky Sweet Potato Butternut Soup (Vegan!)
This light-bodied, but thick soup is both tasty and satisfying! Seasoned with smoked paprika, soy sauce and a bit of liquid smoke, it provides a new spin on the Sweet Potato-Butternut Soup! If you'd like a creamier soup, feel free to substitute your favorite milk or cream for a cup or two of the stock!
Easy stovetop prep!
Author:
Prep Time:

15 mins

Cook Time:

30-50 min

Total Time:

45-65 mins

Yield:

11 cups

soup, 9 servings

1

x
Category:

Soups, Vegan

Method:

Stovetop

Cuisine:

Global
Ingredients
2 Tbsp

(30ml) Olive Oil

1

–

1.5

-2lb (700-900g) Medium-Large Butternut Squash 

2

large (1.5 lb, 700g) Sweet Potatoes

1

Medium shallot, chopped

1

Small Onion, chopped

1

c (150g) chopped Celery

2

small (75-100g) Carrots, cleaned and chopped

2 tsp

Salt, plus more, to taste

1/2 tsp

Ground Black Pepper

1 Tbsp

Smoked Paprika

1 tsp

Dry Sage

1 tsp

Cumin

2 Tbsp

(

30

ml) Low-Sodium Soy Sauce

2 Tbsp

(30ml) Cider Vinegar or Rice Vinegar

1/2

–

1

tsp Liquid Smoke (optional)

7

c (1650ml) Unsalted Vegetable Stock (or water)
(optional) 1-2 c (240-480 ml) favorite half&half or creamer to substitute for part of the stock
Instructions
Peel the sweet potatoes and chop into 2″ chunks. Then, carefully peel, halve, and seed the squash. Cut into 2″ chunks. Set aside.
In 5-6 qt stockpot or saucepan, over medium heat, heat the Olive Oil. Once hot, add the chopped shallot, onion, celery and carrots. Stir occasionally, and cook until onions and shallots are translucent, about 6-8 minutes.
Once vegetables are cooked, add the salt, pepper, paprika, sage, and cumin. Stir until nicely mixed. Add the soy sauce, vinegar, 1/2 teaspoon liquid smoke, and stock.
Add the cubed sweet potato and squash. Bring to boil. Reduce heat to high simmer. Cook until the cubes are fork tender, meaning soft all the way through, feeling like they will break apart when you push the fork in. This should take between 20-40 minutes, depending on your heat level, and size of the cubes. So check regularly.
Using an immersion blender, blend until soup is completely silky smooth. (Alternatively, place small batches (2-3 cups in a large blender at a time, making sure the lid is tight, and blend until smooth) Taste and adjust any seasoning, adding extra smoked paprika, liquid smoke, salt, pepper, as you like. Add a cup or two of milk or cream if you like. Blend again to combine. Serve.
Keywords: Sweet Potato Butternut Squash Soup, Sweet Potato, Butternut Squash, Vegan, soups, easy recipe, How to make sweet potato soup, smoky foods, low calorie foods
Recipe Card powered by