This Ham and White Bean Soup is not only warm and comforting, but it elicits memories of times past. Simple ingredients and flavor to remember!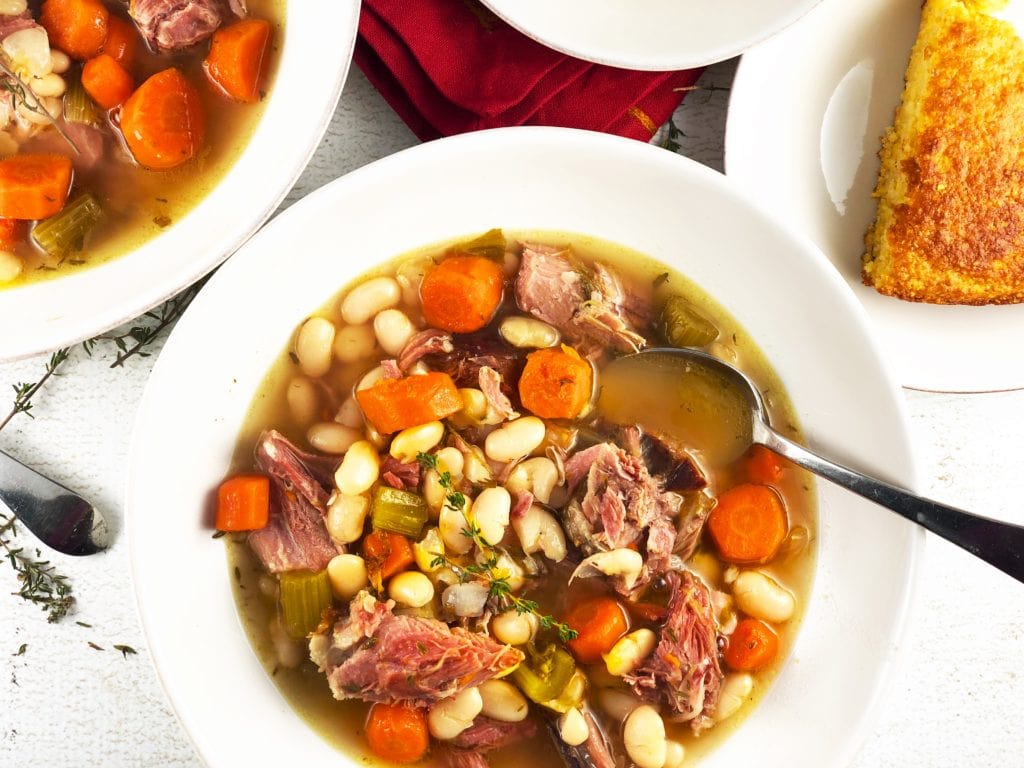 Years ago, there were certain dishes my Mom cooked after the holidays, and they were as memorable for me as the holidays themselves. You remember those post-holiday meals, right? These days, in my house, I call it "Leftover Surprise", which has come to mean a casserole filled with everything from that large family meal – a nice Shepherd's Pie or Thanksgiving Casserole, for example. Growing up, our holiday meals often featured ham. As a grownup, though, I've actually pretty rarely made ham for any sort of meal.  I don't know why exactly. I do like it, but it isn't among my favorites. However, there's a certain soup Mom would make a couple times a year, that is among my all-time favorites. She would take the leftover bone from the ham along with any leftover pieces and make this wonderful Ham and White Bean Soup. Hers was more stew-like than this one. And if I'm being honest here, as kids, we really didn't care for it much.




I'm really not sure why we didn't like it. Maybe just because we were kids and we resisted anything different from our  Midwestern meat-and-potatoes regimen. (I'm going with the resistance story here, because I think we actually did like it, it was just a feeling we needed to resist.) Maybe it was bland-looking, a stew of beige with tiny niblets of ham. Strangely, to make it better-tasting, you won't believe it, but we actually put ketchup on it! I know! Crazy. Because in reality, on its own, it really was tasty. Over time, I actually looked forward to it, and admitted I loved it! But, as you can see, this Ham and White Bean Soup is not bland in any way.  It is full of color, chock-full of texture, and the F-L-A-V-O-R is amazing!  A silky, smoky broth; meaty chunks of ham; tender, savory beans and nice, sweet chunks of carrots and celery. So comforting! (Hold the ketchup!)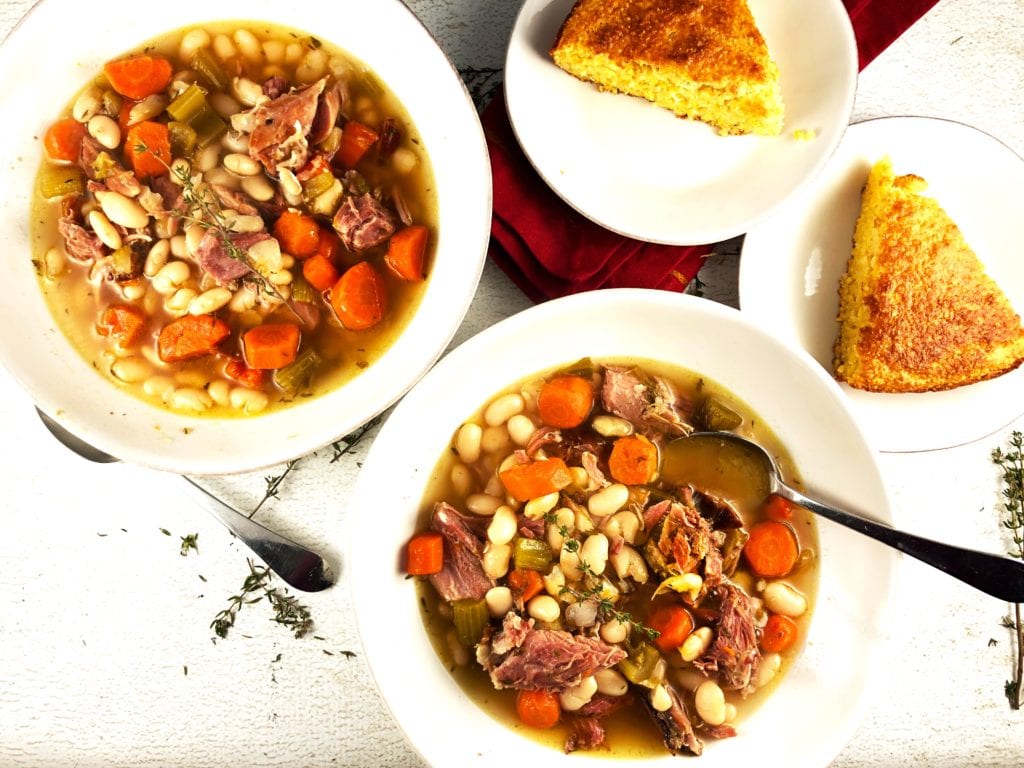 What's even better is all of the ingredients are simple, no need to search your grocery for a certain spice or vegetable.  You can cook it on the weekend or toss all of the ingredients in a (large) slow-cooker if you want. I cooked it in my favorite piece of cookware, a large enameled cast-Iron pot on the stovetop on a Sunday, just letting it simmer, and tossed the pre-soaked beans in 2 hours before serving. If you want to substitute canned beans, just add them 30-45 minutes before serving. And the recipe makes enough for a crowd, or dinner for a hungry family with a week of lunches for you! So please, don't be the kid I was – don't resist all this flavor! And please, no ketchup in soup or stew! And let me know, did you have any strange ways to disguise foods you didn't like as a young person? I have to say, ketchup was our favorite for those few foods we didn't like.  Enjoy!



Don't forget to check out these other Soups and Stews I've made.
My quick and easy Cheddar Onion Scones or Easiest Buttermilk Biscuits would be great to go with any soup!
PIN Smoky Ham and Bean Soup for Later ->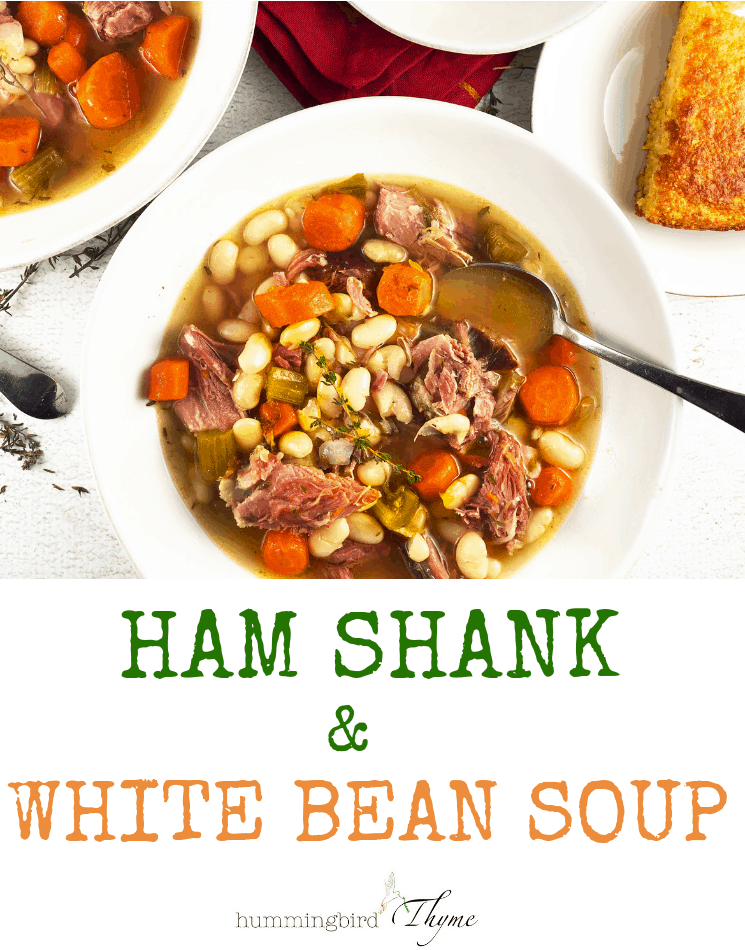 Print
Ham and Bean Soup
A simple, adaptable and very forgiving recipe, inspired by October 2018 Bon Appetit, this soup satisfies!  This hearty, delicious, smoky soup recipe can be adapted by using any type of bean you want (I used Great Northern beans), or ham hocks instead of shanks, or include any vegetables you might like.  I stuck to the traditional carrots, celery, onions). You can make this in a single pot, but the ham hocks or shanks take up quite a bit of space, so it may not be feasible to use a slow-cooker or Instant Pot.
Author:
Prep Time:

15 mins

Cook Time:

2 1/2 hours

Total Time:

2 hours, 45 min

Yield:

4 qt

.

1

x
Category:

Soups and Stews

Method:

Stovetop
Ingredients
1

lb White Beans (Gigante, Great Northern, Cannelini), soaked overnight in water, drained, and rinsed

3

T neutral oil (olive, grapeseed, canola)

2

large yellow onions, halved horizontally

2

heads garlic, halved horizontally

2

c chopped celery, 3/4" segments

3

Medium carrots, peeled, sliced in 1/2" thick coins or half-moons

1/2

c Dry white wine

1

bunch fresh thyme, tied together with kitchen twine

10 cups

liquid (I used

1 qt

. Chicken stock and 6 c water, but all of one or the other is perfectly fine, just adjust your salt accordingly)

2 1/2

–

3

lbs. Ham Hocks (4-ish) or Shanks (

2

medium-sized)
Instructions
Saute the Vegetables
In a large, heavy (6 qt) pot, heat the olive oil over Medium-High heat. Place the onion and garlic halves in the hot oil and let turn dark golden brown, about 4 minutes.  Either remove them from the oil to make room for the chopped vegetables, or move too one side of the pot.  Add in the chopped celery and carrots, sautéing 4 additional minutes.
Deglaze the pot with the wine, scraping any brown bits off of the bottom. Let wine evaporate until the volume is down by 2/3.
Simmer the Ham Hocks or Shanks
Add Hocks or Shanks, the soaked and rinsed beans, the thyme, the broth and/or water, a couple generous pinches of salt and pepper.  Simmer 2-2 1/2 hours.
Prior to serving remove the onion, garlic, and thyme, and discard.  Remove the hocks and shanks, cool 15-20 minutes until you can easily cut the meat off and return bite-size pieces to the pot.
Adjust the salt and pepper to taste.
Keywords: Soups, stews, ham, beans, ham hocks
Recipe Card powered by