Super Quick and Easy and Ultra-Tasty Green Beans Mediterranean Style! Fresh tomatoes, Feta Cheese, Kalamata Olives and Croutons – yay! – elevate plain Green Beans! Delish straight from Sheet Pan (!) or cold!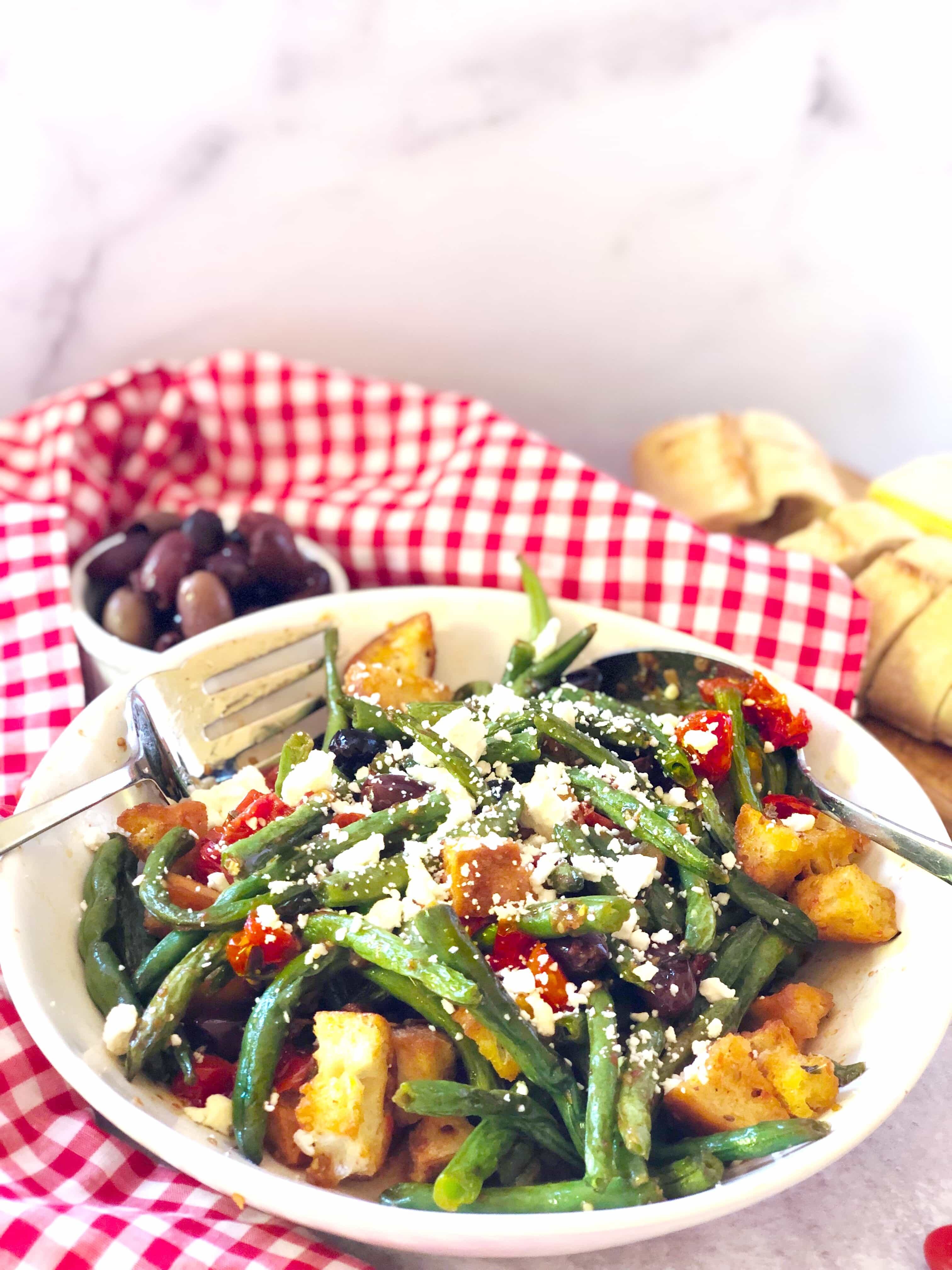 When we were kids, we were NOT a vegetable-loving family. I've tried to make my family vegetable-lovers, but it's been an uphill battle, I have to admit. Anyway, at some point, out of needing to save some cash or get more vitamins into us, my parents started buying canned corn, peas, and green beans by the case. They would stack the cases of cans in this coat closet that was in our Family Room. If you don't know about a "Family Room" it is the room invented in the '50s .  That Family Room would allow parents to preserve a pristine Living Room for guests, never to be sullied by the presence of children who weren't bathed and coifed. So the Living Room was where we took photos of special occasions, and Mom and Dad would entertain guests.
Nightly, our mom would send one of us to the Family Room to grab 2 cans of the vegetable of our choice. We ate Sweet corn from the can for as many days as we could, then moved on to the peas, and finally, there was no other choice but green beans. At this point, one of the 6 of us kids frequently tried to send a scoop of beans wrapped in a paper napkin down the toilet in a mid-meal bathroom trip.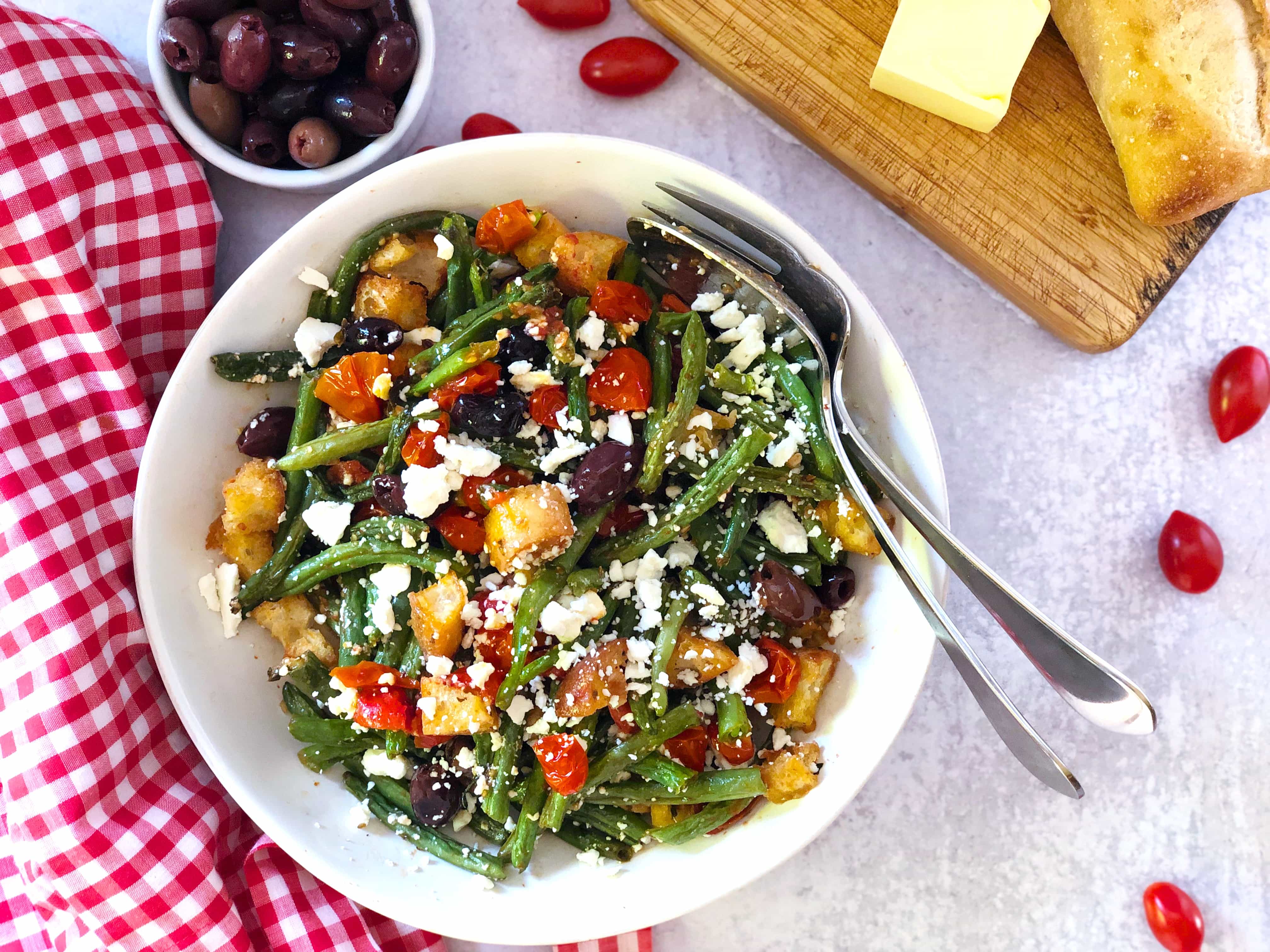 While that activity resulted in several of us, on occasion, sitting in front of our green beans "until they were ALL gone", it also resulted in Mom looking for Green Beans we would eat. I don't know if she found it in the Sunday paper or Good Housekeeping, but one day these "Green Beans Mediterranean" showed up on our table. Mom's version included canned green beans, some canned tomatoes, and oregano. And the best part was the CROUTONS, which were basically 2 pieces of toast, cubed, then thrown into the mix.  And it worked out for Mom, because we all loved Green Beans Mediterranean!
My updated version of Green Beans Mediterranean Style uses French Green beans, fresh grape tomatoes and also includes Kalamata olives, as well as croutons. Then I top it with feta cheese. And, to make it all easy as can be, I cook it on a Sheet Pan. Takes less than 20 minutes! (I realize I'm in kind of a Sheet Pan frenzy here, but it works for me!) All the goodness, less mess and I don't have to stir and watch everything constantly. 
My Green Beans Mediterranean were inspired by This recipe from Dawn at Girl Heart Food, because it got me thinking about Green Beans, and she completely made the case for French Green Beans for me.  I usually don't like to pay the extra they cost, but in this dish – so worth it!  You'll notice I repeat many of the points she makes about them.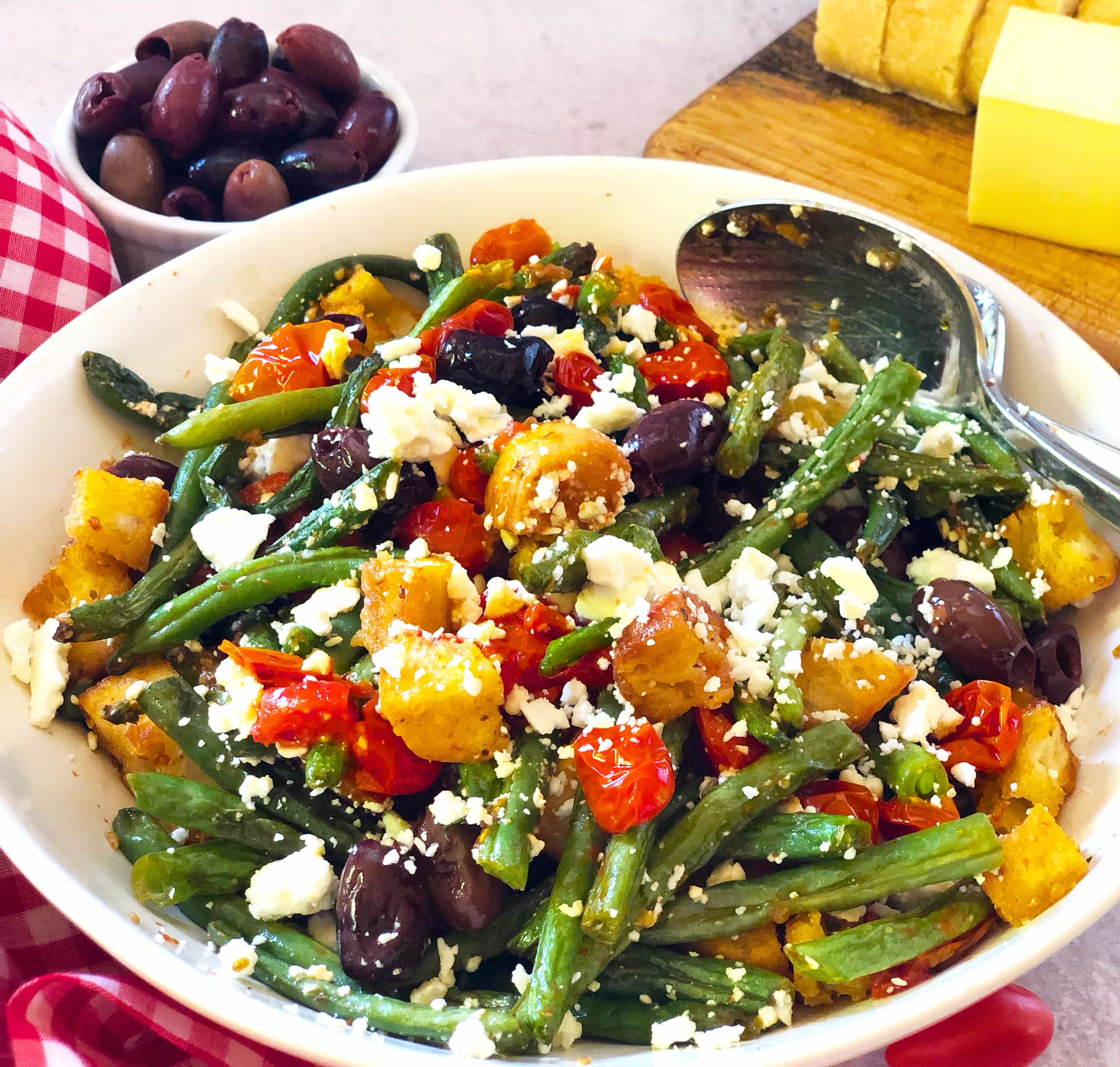 Recipe Details
Such an easy side, or add a protein and take it for lunch tomorrow – it's as good cold as hot!  
I used French Green Beans (haricot verts) because I'm basically lazy and don't like to peel the strings off of the beans.  They're a bit smaller, too, compared to regular green beans. Therefore, they cook quickly, and you don't have to trim the ends, either. But you can use string-type beans, you'll just need to remove the string, and do some end-trimming.
To make the recipe, you'll need to put the main ingredients: beans, olives (be sure they're pitted), cherry or grape tomatoes, and your cubed bread, all into a bowl.  Drizzle with olive oil, add some oregano and salt, then pop into the oven for a bake.  15-20 minutes should do it! Then, I like to add a little vinaigrette made with white balsamic vinegar – substitute any type you like, really – a little oil and some dijon.  But feel free to leave it off if you're so inclined, still a delicious dish! Then crumble some feta, add a pinch of red pepper flake, and serve!
Green Beans Mediterranean also makes a great potluck dish or you could add some protein and it becomes several days of lunch!
Main Ingredients

Drizzle with Olive Oil and spices and into the oven!
So if you have a nice supply of Green Beans, whether in the family room closet or not, won't you try my Green Beans Mediterranean Style?  They are so quick, easy, and delicious! I'm pretty sure my Mom would love them as well ❤️!
Enjoy!
If you're looking for other side dishes, be sure to check out my Za'atar Sweet Potatoes and Garlicky Kale.  Or maybe some Roasted Root Vegetables?
If you're Sheet Pan Crazy, take a look at my Curried Sheet Pan Chicken with Cauliflower and Roasted Grapes or Sheet Pan Rhubarb Chicken or even these tasty Sheet Pan Chicken Fajitas
PIN Green Beans Mediterranean Style for later ->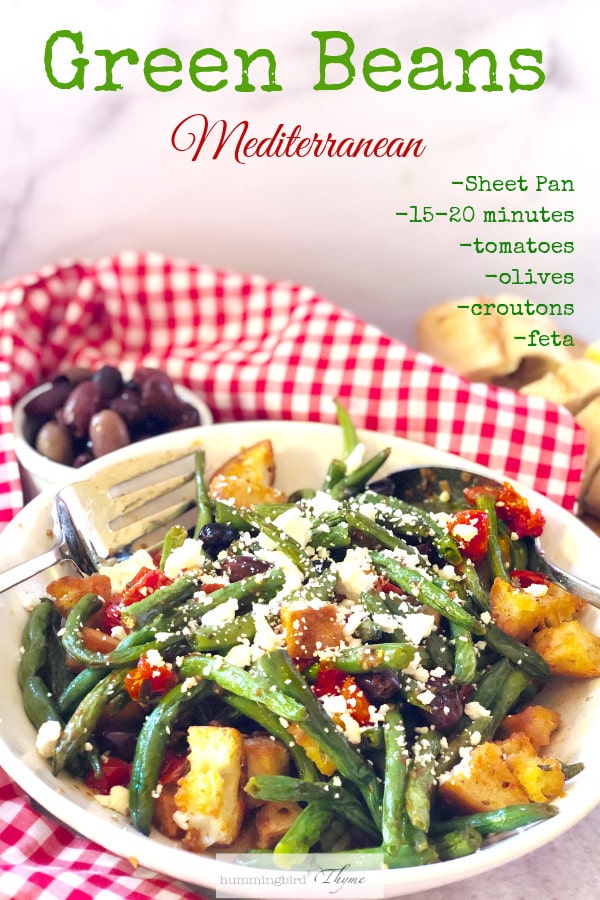 Print
Green Beans Mediterranean Style
A super-flavorful green bean dish! I use fresh French green beans, since you don't need to de-string them and they are also a bit smaller than the regular Green Beans, so they cook faster, and therefore, become tender faster.
Add all your favorite Mediterranean flavors: grape tomatoes, Kalamata Olives, croutons, feta cheese and you have a tasty side dish!  Good warm or cold!
Author:
Prep Time:

10 min

Cook Time:

15-20 min

Total Time:

25-30 min

Yield:

6

Servings

1

x
Category:

Vegetables

Method:

Baking
Ingredients
12 oz

. Fresh Haricot Verts (French Green Beans) (See Note 1)

1 1/2

c Cherry or Grape Tomatoes

1/3

c  Small, Pitted Kalamata Olives

2

c 1/2" bread cubes (See Note 2)

1/2 tsp

. Oregano

1/2 tsp

. Salt

4

Tbls. Extra-Virgin Olive Oil, divided

1/4 tsp

. Dijon Mustard

1

Tbls. White Balsamic or White Wine Vinegar

1 oz

. Feta Cheese
(optional) pinch of red pepper flake
Instructions
Preheat oven to 375F (Conventional), or 350F for Convection (fan). 
In a large bowl, place the green beans, tomatoes, Olives and Bread cubes. Drizzle with 3 T olive oil, the oregano, and 1/2 t salt. Mix until all pieces are coated.
Spread onto large Sheet Pan.
Place in oven 15-20 minutes, until croutons are crispy, and beans are tender.  In my oven, this took about 18 minutes.
Make the dressing.  In a small container with a lid, mix together the dijon mustard, Balsamic Vinegar, and remaining Tablespoon of olive oil. Add a pinch of salt and a couple turns freshly ground pepper. Drizzle over the green beans. Place in a serving bowl.
Crumble and Sprinkle the Feta Cheese and a pinch of red pepper flake (if desired) over the top and serve while warm. 
Notes
Haricot Vert, or French Green Beans, are preferable for this recipe because the do not have the "string" that is on other types of green beans. They are tender and usually don't need their ends trimmed either. 
You can use any type of bread to make these croutons. They are cut relatively small for the short time they will be in the oven, so pre-sliced bread works as well as a Country Loaf. I used leftovers from a sourdough baguette.
Keywords: Green beans, Mediterranean, Greek, sheet pan, feta cheese, side dish, vegetables
Recipe Card powered by