Rhubarb Almond Frangipane Tart – A dense, not overly sweet, orange-hinting, almond filling, studded with slices of tart rhubarb, and topped with toasty almonds, all tucked into an easy shortbread crust!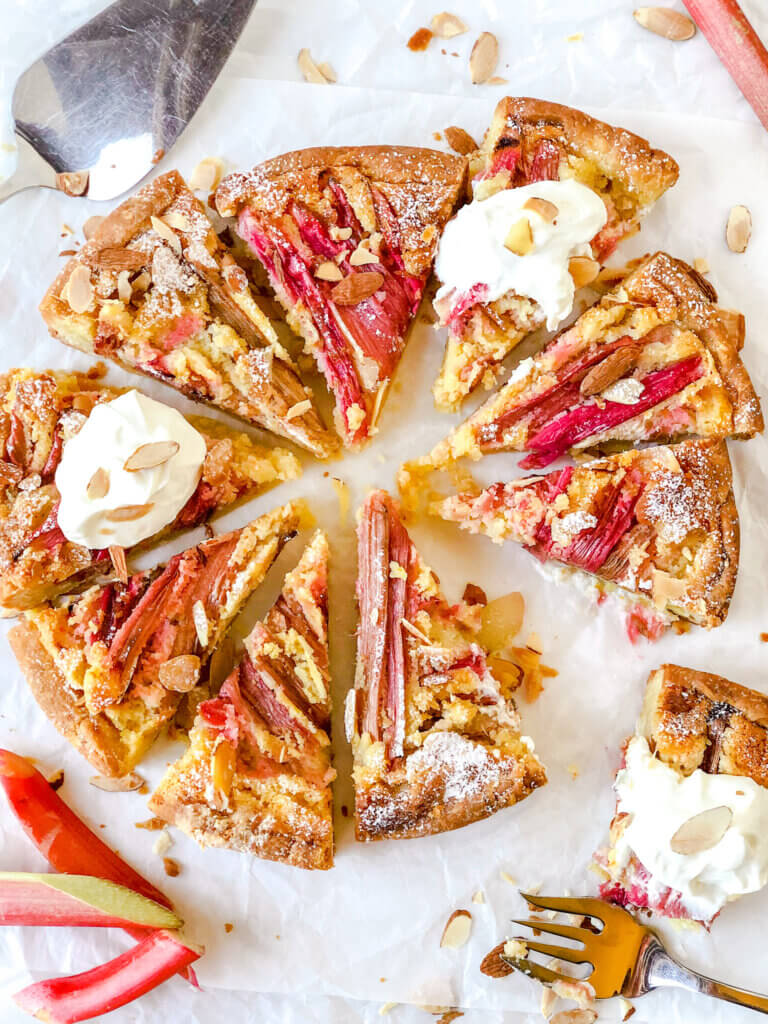 I came up with the idea for this Rhubarb Almond Frangipane Tart because I was craving a Bakewell tart, a scrumptious, traditional British tart, based on the Bakewell Pudding, and often made with raspberry jam and almond frangipane. Frangipane (pronounced, roughly, FROHN-zhih-pahn) is a thick, classic French, almond flour-based paste made with eggs and sugar.
If you aren't familiar with Bakewell Tart, you might think, like I naively did, that it got its name because it was at one time, baked well enough to be so good that everyone wanted to make it. However, it is the namesake of the English town of Bakewell. And, truly, one of the best desserts in the world! If you've never made a Bakewell or frangipane, it's time!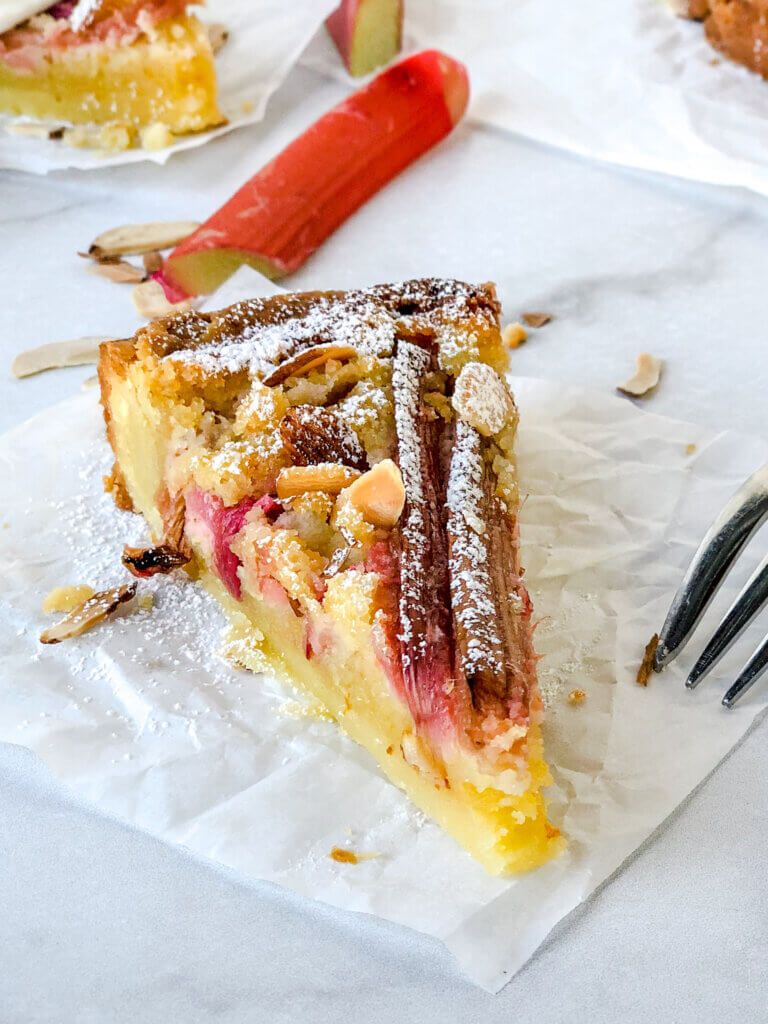 And, really, the only difference between my Rhubarb Almond Frangipane Tart and this Bakewell Tart I made, (adapted from THE Mary Berry), is the addition of a bit of orange zest. That little bit of zest complements the rhubarb and adds a bit of punch (a tiny punch), to the rich, sweet, almond paste. If you look at that post, you will see one of my very favorite stories of my children's uniquely British heritage. (😉Ahem.)
However, if just the idea of this recipe inspires you, then get right to rhubarb hunting – Springtime is the season, or frozen and thawed rhubarb is pretty easy to find!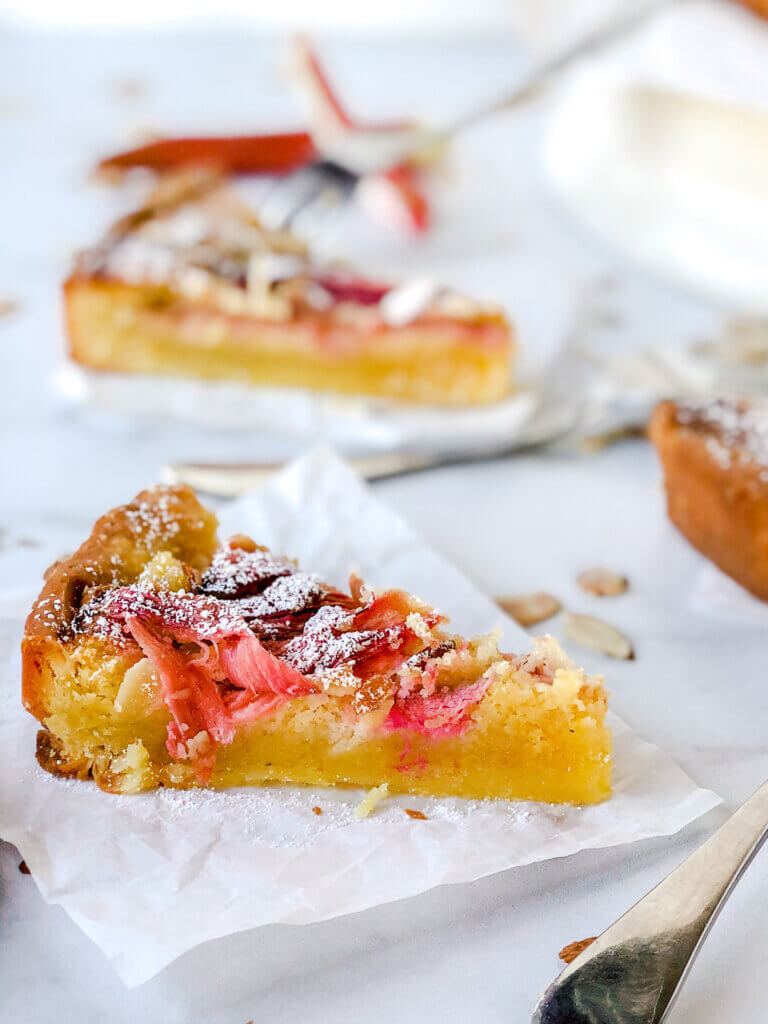 So, how about you? Have you ever made a Bakewell? Or frangipane? And, if you're not British, did you know Bakewell was a town? (Or, am I the only one who didn't?)
Enjoy!
Looking for other Rhubarb recipes? Try these:
Truly Easy Rhubarb Custard Pie
Strawberry Rhubarb Cherry Crisp
Rhubarb Crumble Cheesecake Bars
Like This Rhubarb Tart? Pin it!
Step-by-Step Instructions:
Note: As I am an Amazon affiliate, this post may contain Affiliate links. These are links to items, which, if you were to purchase, I would receive a small commission, at no cost to you.
Some things you might need to make this Rhubarb Almond Frangipane Tart:
Kitchen Scale – I've had this Escali Scale for years, and love it! So simple to use!
Food Processor – This one, from Cuisinart, is the one I have, and love!
Stand Mixer – Love my KitchenAid!
Recipe tips:
You'll want to start by making the crust. Just a few simple ingredients make a beautifully soft, shortbread-style crust. I've found the food processor is the quick and easy way to make this, but you can do it by hand, with a pastry cutter, or using just your fingertips to cut in the butter.
Once the dough is formed, you'll roll it out, then refrigerate for 30 minutes (or longer is ok, too!). Scrunch up a sheet of parchment, and add your pie weights or beans to par-bake the crust.
During the crust refrigeration or the par-bake, you can make the filling, you'll just want to cool the crust a bit before putting the filling and the rhubarb in! What makes this filling extra special is the addition of a bit of orange zest. It doesn't necessarily make an orange-flavored filling, but it gives just a hint of citrus to balance out the sweet, rich, almond filling! You can use 2-3 teaspoons worth, which I got from 1 medium orange!
You can slice or chop the rhubarb. Make some thin strips for a decoration like I made, or chop them smaller for a top similar to the one I made for my Rhubarb Custard Pie! 
You can top with sliced almonds before baking or after, your preference. It's a long bake, so I prefer to add the almonds afterward. I just toast them 5-6 minutes on a sheet pan then add them afterward.
Be sure to lower the oven temp after removing the par-baked crust, by about 25 degrees F. Then add your rhubarb-topped Frangipane, and bake until a tester comes out clean, about 50 minutes.
This tart is especially tasty with a dollop of a mixture of 1/4 cup sour cream and 1/2 cup Greek yogurt. You can add a tablespoon of Confectioner's sugar if you like, but I love the tang of the mixture along with the sweet almond frangipane.
Print
Rhubarb Almond Frangipane Tart
A version of the Classic Bakewell tart, with its shortcrust pastry and Frangipane filling, this tart also has fresh rhubarb on top of the filling and a bit of orange zest in the frangipane. Finished with some toasted almonds and a bit or confectioner's sugar, this tart is tender, buttery with tangy and sweet notes from the rhubarb and the orange zest!
Recipe is inspired by and adapted from one from Mary Berry, as seen on BBC . Tastes best the day after it's baked.
Special equipment needed: hand- or stand-mixer, tart pan or Springform pan. For the crust, you could use a Food processor, like I did, or mix with a pastry cutter or by hand.
Author:
Prep Time:

30 min

Cook Time:

75 min

Total Time:

1 hr, 45 min

Yield:

1

9″ Tart

1

x
Category:

Desserts

Method:

Baking

Cuisine:

British, International
Ingredients
For the Crust
1 3/4 cup

(

225g

) All-Purpose Flour

11 Tbsp

(

150g

/

5.5oz

) Unsalted Butter, cold

1/4 cup

(

30g

/

1 oz

) Confectioners Sugar

1

Large Egg, beaten

1/2 tsp

Kosher Salt
For the Filling
3/4 cup

(

150g

) Super-fine (preferred but not necessary) or Caster Sugar 

11 Tbsp

(

150g

/

5.5 oz

.) Butter

1 1/2 cup

(

150g

) Almond Flour

1

Large Egg
(optional)2 tsp Grated Orange Zest

1 tsp

(5ml) Almond Extract

1/2 tsp

Kosher Salt (or

1/4 tsp

if using salted butter)

10

–

12

oz. (

300g

) Rhubarb, 3-4 stalks
(optional) 1/3 cup Shaved Almonds
Toppings
(optional) 1-2 Tbsp Confectioners Sugar (15g)
(optional) Whipped Cream, or Vanilla or plain Greek Yogurt
Instructions
Make the Crust:
Into the bowl of a food processor (you could also do this using a pastry cutter or your fingers), pulse together the butter and flour, until the largest chunks of butter are the size of peas or large breadcrumbs. Ad the Confectioner's sugar, beaten egg, and salt. Pulse again. Slowly add enough water that, while still pulsing, a soft dough begins to form.
Place the soft dough on a well-covered flour surface and roll into a 12-inch circle. Transfer the dough circle onto a 9″ tart pan or into a Springform pan, allowing the dough to cover both the sides and bottom of the pan. If your dough extends beyond the sides, or higher than about an inch over the bottom, just fold it inward. This will fortify the sides. Place the crust into the refrigerator for at least 30 minutes. During this time, preheat oven to 400F (205C) or 375F/190C for Convection. You can use this 30 minutes to prepare the Frangipane and rhubarb for the filling.
After 30 minutes in the fridge, Crush a piece of parchment, and then fit it directly over the surface and sides of the dough. Fill the paper shell with pie weights or dry beans, pressing them into the corners.
Place the Crust into the oven and bake for 15 minutes. Remove from the oven and carefully take the pie weights and parchment off of the dough. Return the dough to the oven and continue to bake until the surface appears dry, about 5-6 minutes. Cool on a rack for 10 minutes. Lower the oven temperature to 375F (190C) or 350F (176C) for Convection.
Make the Filling:
Using either a hand- or a stand-mixer, cream together the butter and sugar until pale and fluffy, about 5 minutes at Medium-High. It should feel lighter when you move it with a spatula or spoon. Add the Almond Flour (or finely ground almonds), egg, orange zest, almond extract, and salt, and mix until incorporated. the filling should be fairly thick, sort of like thick oatmeal.
Spoon the filling into the slightly cooled crust. Smooth with an offset spatula or knife.
Cut the rhubarb into small, thin strips, or small pieces, whatever you like, and press them into the frangipane. Sprinkle some shaved almonds over the top, if desired. (Alternatively, spread them across a sheet pan and roast 6 mins at 350F/76C) and add after baking the tart.
Place the tart in the oven and bake 45-55 minutes, until the top is slightly puffy and golden, and almonds, if using, are toasted. A skewer inserted into the tart should come out clean. Cool completely before serving. Even better, bake the day before serving – it's even better the second day!
Top with roasted almonds, confectioner's sugar, or whipped topping.
This tart keeps well in the refrigerator up to 5 days. (See Note)
Notes
Cover lightly with foil or plastic wrap and store refrigerated for up to 5 days.
Nutrition
Serving Size:

1/10 Recipe
Keywords: Rhubarb, Almond, Rhubarb Almond Frangipane Tart, Rhubarb Bakewell Tart, Bakewell Pie, How to make Frangipane, How to make a Bakewell Tart, Bakewell cake, Bakewell Pie, Bakewell recipe, Frangipane recipe, Mary Berry Bakewell recipe, Rhubarb Almond Frangipane Galette, Bakewell recipe, Rhubarb Bakewell Tart
Recipe Card powered by