Tinga de Pollo, or Chicken Tinga, is one of the simplest and tastiest traditional Mexican dishes of all! My version, using a Rotisserie Chicken and making Chicken Tinga Tacos, simplifies it even further! Definitely a "Make it on repeat!" kind of meal!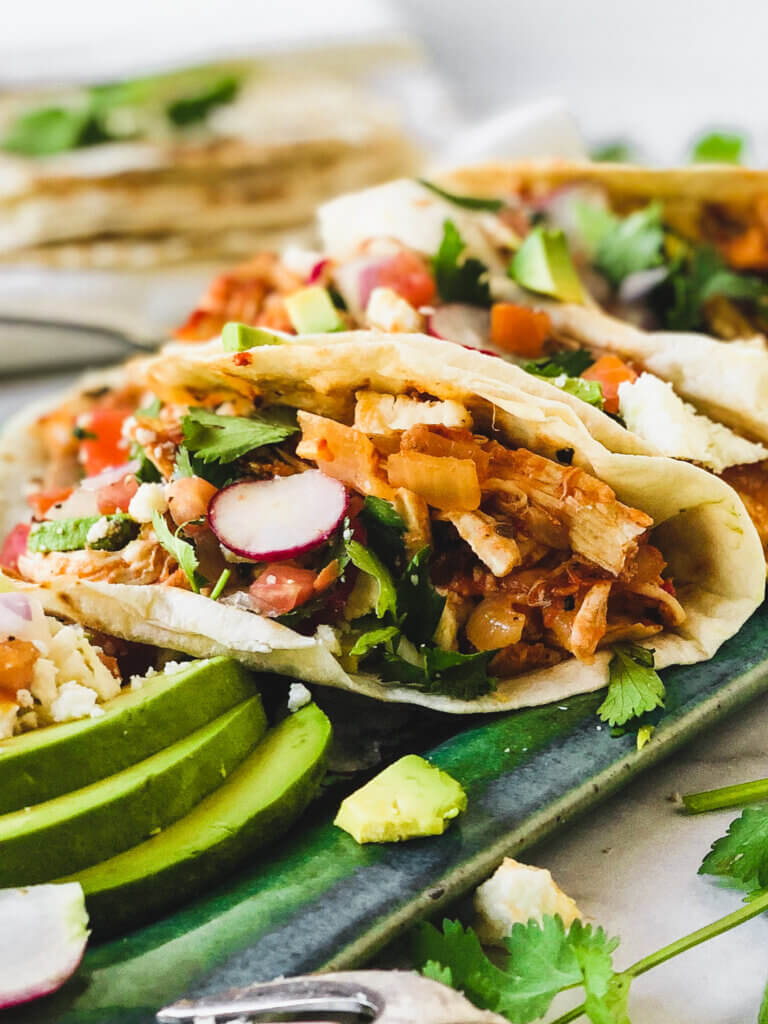 Taco Tuesday! Does it follow Meatless Monday in your house? Are you a creature of habit in that way? I have to admit, sometimes I am. Totally. The same way I cook pasta once a week, and seafood at least once a week, I also make a Tex-Mex or Mexican dish once a week. Sometimes it's Taco Salad, or my Sheet Pan Fajitas, and other times it's Chicken Enchiladas. But more often lately, it's Rotisserie Chicken Tinga Tacos!
Another habit of mine, one maybe not so savory, is that I am often, shall we say, … a bit stubborn? How about "set in my ways?" Better yet, let's go with "resistant." Yes, I'm inexplicably and strangely resistant to the brilliant shortcuts my neighborhood grocery offers me. Like Rotisserie Chicken! I mean, there's nothing bad there, right? It's seasoned, fully roasted, tender, juicy, delicious, and I don't know about where you live, but it's actually cheaper than a whole, uncooked chicken, most of the time. To be fair, it's often a bit smaller chicken, but, when time is in the equation – a chicken is a chicken, are you with me on that?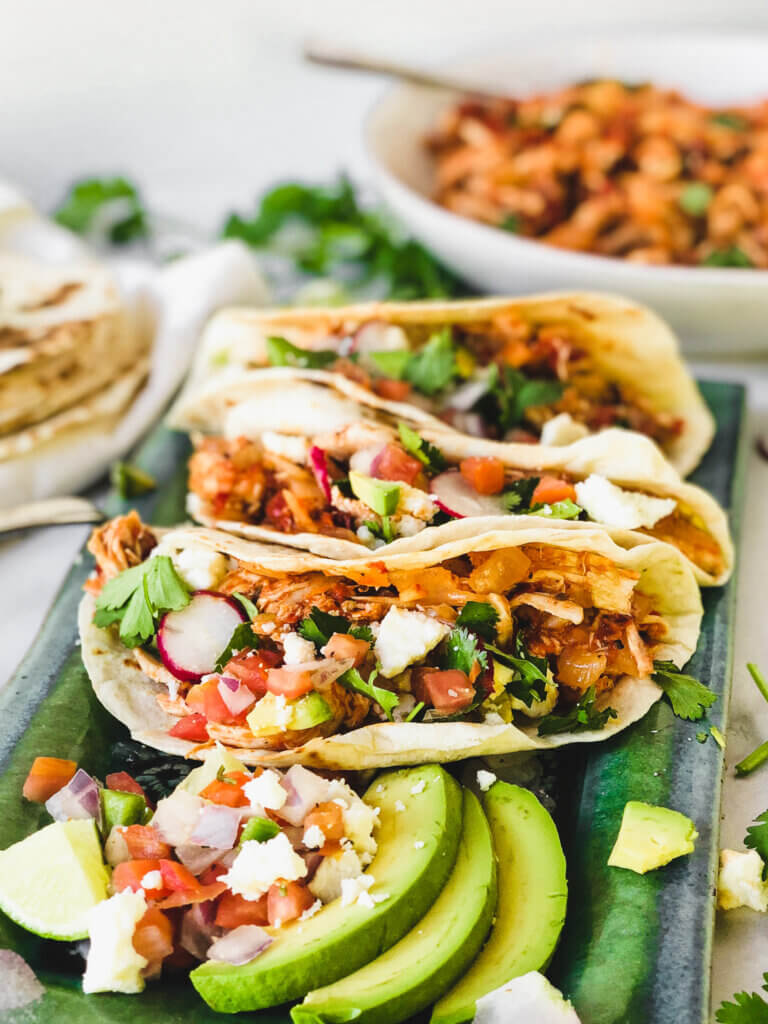 I once was resistant enough to make a Rotisserie Chicken in my Instant Pot. Yes, it was delicious. Yes, it tasted like the ones you buy from the grocery, (except the skin was not as nicely crisped). But, you know what? It cost more, and took more time than warming a store-bought rotisserie chicken. It was delicious and I might do it again if I was going to serve it as a whole Roasted Chicken. But, for this recipe, where I was just going to shred it and not enjoy the tasty skin, I bought the chicken one day to use the next. Once home, I let it come to room temperature and then put it in the fridge. And the next day, I shredded it for this recipe. (You can shred it when you bring it home or just before you use it, your choice.)
And, so happy I did! These Rotisserie Chicken Tinga tacos are beautifully tomato-y, nicely spicy, easy to scoop into a taco and top with salty Queso Fresco, a bit of Pico de Gallo, an avocado slice, and a nice squeeze of lime! Really, after just one bite of that tender, tasty chicken – I'm not sure why I haven't made these for years. Heavenly! Someone pass me a Margarita!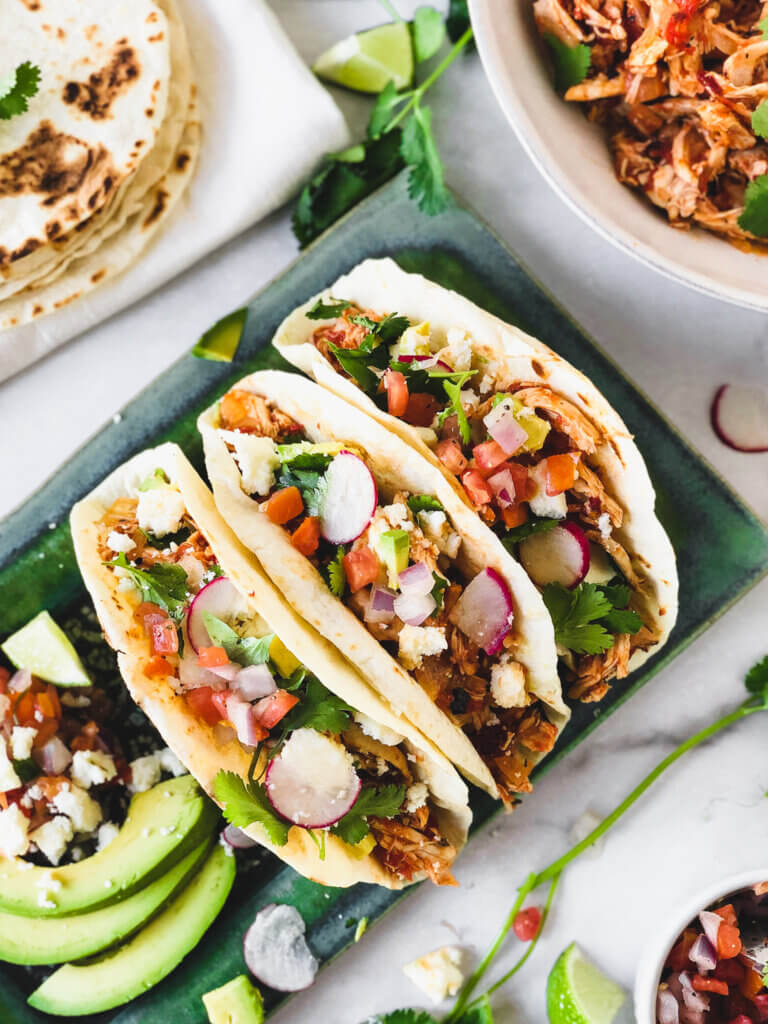 How about you? Have you changed your cooking ways with convenience foods, like Rotisserie Chicken? Let me know! Because now that I'm less resistant, I'm looking for other easy ways to save some time in the kitchen. That might give me more time to, I don't know…make more Margaritas? Enjoy!
Looking for other Tex-Mex or Mexican style dishes? Try these
Chicken in Simple Mole Sauce with Crispy Corn Crust
Like this recipe? Pin it!
Step-by-Step Recipe Instructions
This post may contain affiliate links. As an Amazon Affiliate, I may earn a small commission, at absolutely no cost to you, for purchases you may make of items linked from this site.
Some things you may need to make this recipe: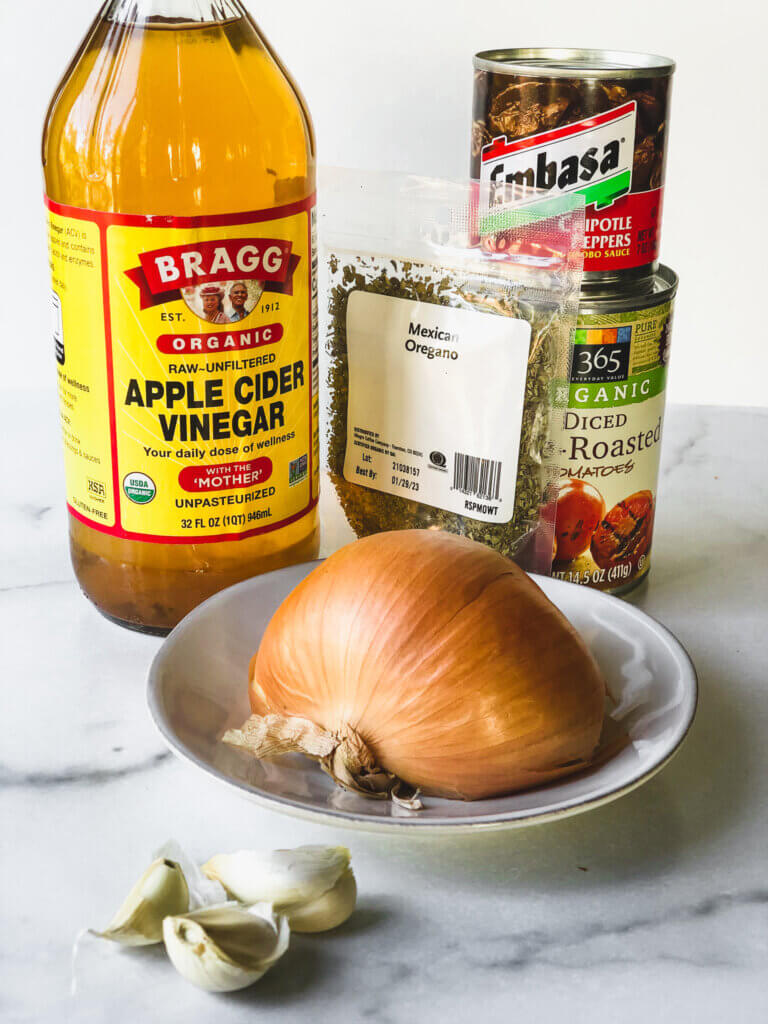 This easy recipe has very simple steps: First, shred your rotisserie chicken, leaving behind all the skin and bones. Slice or chop the onion, and measure out 3 Chipotle Chiles and a teaspoon of adobo sauce.
Next, you'll saute the onion and garlic in oil. Add the tomatoes and chipotle plus adobo, and the oregano. Season it with vinegar and salt, cook it down a bit and then add the shredded chicken. Once the chicken is fully warmed, your Chicken Tinga is ready! Couldn't be simpler!
Questions you may have about making Chicken Tinga
Can I use raw or cooked chicken breasts or thighs instead of a Rotisserie Chicken? You can, but realize the ease of this particular method is the chicken is already seasoned and cooked. But, if you want to cook it in the same pan as the rest of the ingredients, you'll want to chop 1.5 lb of boneless, skinless chicken breast into really small cubes, say, 1/2-3/4″ (1-1.5cm) cubes. You'll need an extra Tablespoon or two of oil, as well. Just add that extra oil after the onion has cooked a few minutes, and then drop the chicken pieces in to cook along with the onion. Saute for 7-10 minutes, then add the garlic, and continue the recipe as directed. You'll add about 10 minutes to the total cooking time and you'll want to be extra careful to make sure the chicken pieces are fully cooked before serving.
Can I use other types of canned tomatoes? Yes, you can use a 15oz. (411g) can of Chopped Tomatoes, Diced Tomatoes, Crushed Tomatoes, or Tomato Puree instead. The finer the cut, like the Puree, will tend to make the final product a bit more "saucy". I like the diced or chopped tomatoes, because you can often find the "Fire-Roasted" variety, which adds some extra flavor and a hint of smoke.
How spicy are Chipotle Chiles in Adobo? I've seen many recipes that call for an entire can of Chile in Adobo. For my family, 3 good-sized chiles, chopped finely, and 1-2 tsp Adobo sauce is plenty spicy. I'd start there, taste, and if you want more spice, go ahead and add more. 
Is Mexican Oregano the same as Mediterranean Oregano? Even though they are both called "oregano", the two come from two completely different plants, grown under decidedly different conditions. Mexican Oregano is a bit earthier, has some different notes to it – a bit of anise, and citrus. You could substitute dried Marjoram, or leave out the oregano altogether.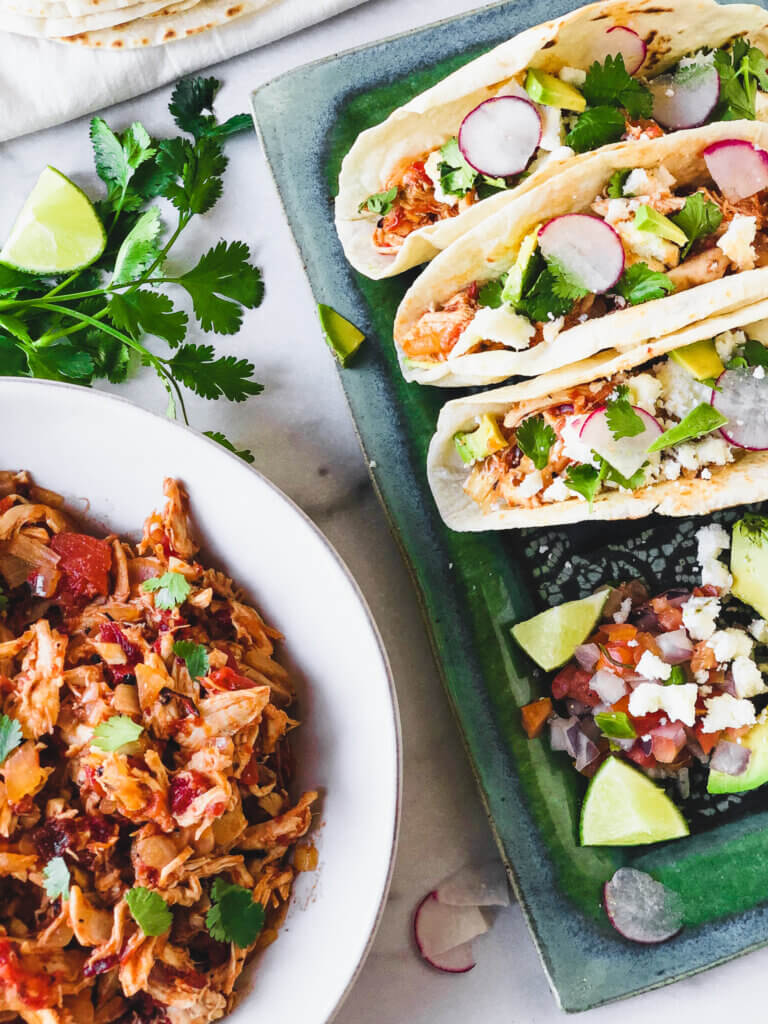 Print
Easy Rotisserie Chicken Tinga Tacos
A traditional Mexican dish, Chicken Tinga (Tinga de Pollo) is so simple, colorful and delicious. Made with onion, tomatoes and Chipotle en Adobo, this is one of the easiest dishes. Tinga de Pollo can be used for tacos, tostadas, salads, or served over rice!
Author:
Prep Time:

15-20 min

Cook Time:

15-20 min

Total Time:

30-40 min

Yield:

6

Servings

1

x
Category:

Chicken

Method:

Stovetop

Cuisine:

Mexican
Ingredients
1

Rotisserie Chicken, shredded, discard skin and bones. (yields approx.

4 cups

chicken)

2 Tbsp

(30ml)  Oil (olive, vegetable, canola)

1

Medium Onion, chopped

2

–

3

cloves garlic, crushed, chopped

15

-oz. (411g) can Diced Tomatoes, fire-roasted prefered

1/4

of a 7oz. can (

1.75oz

,

51g

) Chipotle Peppers in Adobo Sauce (around 3 chiles and

1 tsp

Adobo)

1 tsp

Mexican Oregano (See Note 1)

1

–

2

Tbsp Vinegar (Apple Cider, or white or red wine vinegar)

2

–

3

Tbsp (30-45ml) water, as needed and desired

1 1/2 tsp

Kosher Salt

12

–

16

Taco shells (any taco-sized shell, crunchy or soft), or rice, for serving.
Toppings, as you wish:
Queso Fresco or Cotija Cheese
Pico de Gallo or Salsa
Chopped Scallions or red onion
Guacamole
Sliced Avocado
Limes to squeeze
Chopped Cilantro
Sour Cream
Guacamole
Instructions
In a large saute pan over medium heat, pour in the oil. Once it shimmers, add the chopped onion, and cook, stirring occasionally for about 4 minutes. Add the chopped garlic, and stir until fragrant, about 1 minute.
Pour in the undrained diced tomatoes, the chopped chipotle chiles, adobo, and oregano. Add vinegar and salt to taste. (I used 1 1/2 tsp Kosher salt and 2 Tbsp Apple Cider vinegar. You may prefer more or less of each.)
 Simmer the sauce over medium-low heat for 7-8 minutes. If it gets too dry, add a bit of water, 2-4 Tbsp, as desired. Taste and add salt and vinegar to taste. Stir in the shredded chicken, and cook an additional 5 minutes, or until heated through. 
Serve over rice, or in taco shells along with desired toppings.
Notes
1. Unlike Italian Oregano, Mexican Oregano is earthier, a bit grassy, a bit of a citrus note. If you don't have Mexican Oregano, you could possibly substitute Marjoram. Or feel free to just omit it.
Keywords: Pollo de Tinga, Chicken Tinga, Rotisserie Chicken Tacos, How to make Chicken Tinga, Easy Chicken Tinga, Chicken Tinga , Easy Chicken Tinga Tacos, Tacos,
Recipe Card powered by