Sour Cherry Pie is a classic! The perfect sweet and tart cherry filling, encased in a tender, flaky, lattice top crust! Who wouldn't love this?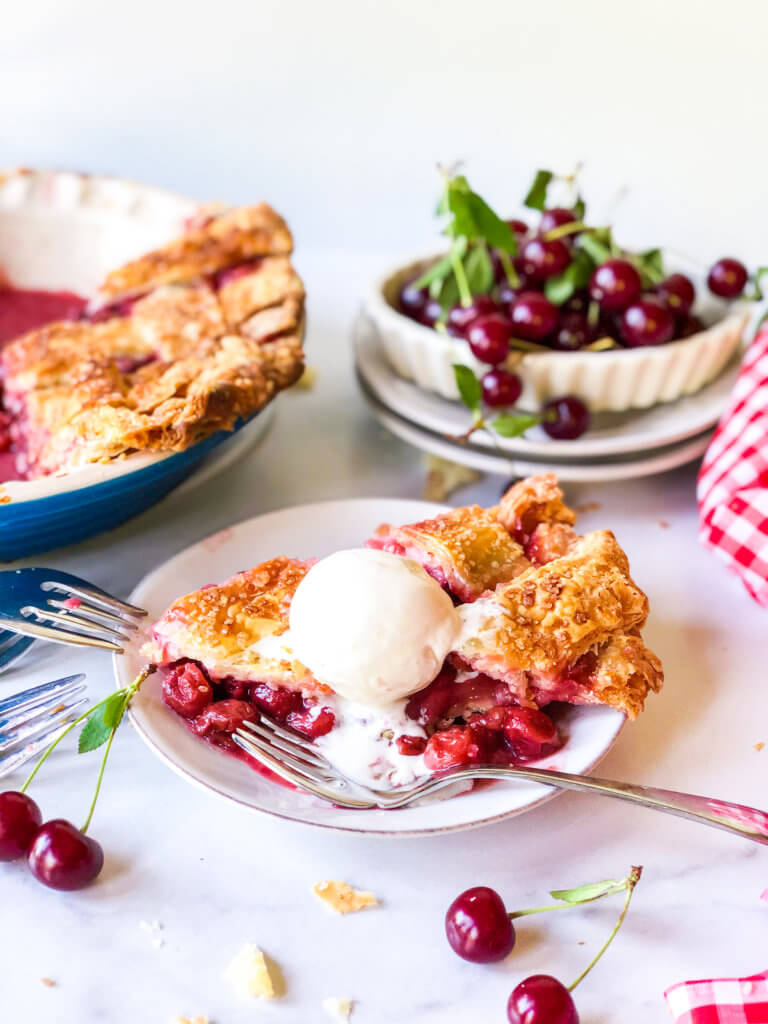 I'm expecting that as I grow older, I'll be eating a lot of pie. And, I mean, a lot of GOOD pie. Why, you ask? Well, stick with me here. I believe in genetics. I truly believe that our most formative experiences are imprinted on our genetic material and that there's something about these experiences we pass on to our children. Does that make me nervous? Uh, … hmm … let's call that a rhetorical question.
So, I think that my kids have the pie-making gene. This is partly because both my Grandmothers were excellent, avid pie-makers. My Mom once told me that Grandma Alice, her mother, would make 2 pies a day during harvest. My Aunt Mary tells stories of climbing the cherry tree to pick the cherries (the horror!), so I imagine cherry pie was a family favorite. And, my Dad's mom, Grandma Clara, was famous for her Sour Cream Raisin Pie, which, if you haven't tried, I don't know what you're waiting for, it's a simple pie chock-full of LOVE! I know she made others as well, but when we were in town, it was Dad's favorite, many days in a row.
Then, when I got older, I learned my husband's Grandmother was a pie-maker at a rail stop, where she worked – they were a railroading family. Later, Grandma Roxy would make pies for each of her grandchildren on the regular. And, like most Grandmothers, she never used a recipe. So, really, if my kids don't have the pie-making gene, I have no explanation. It's in them. I know it. It may be a generation-skipping gene, though. This could be a problem. Read on…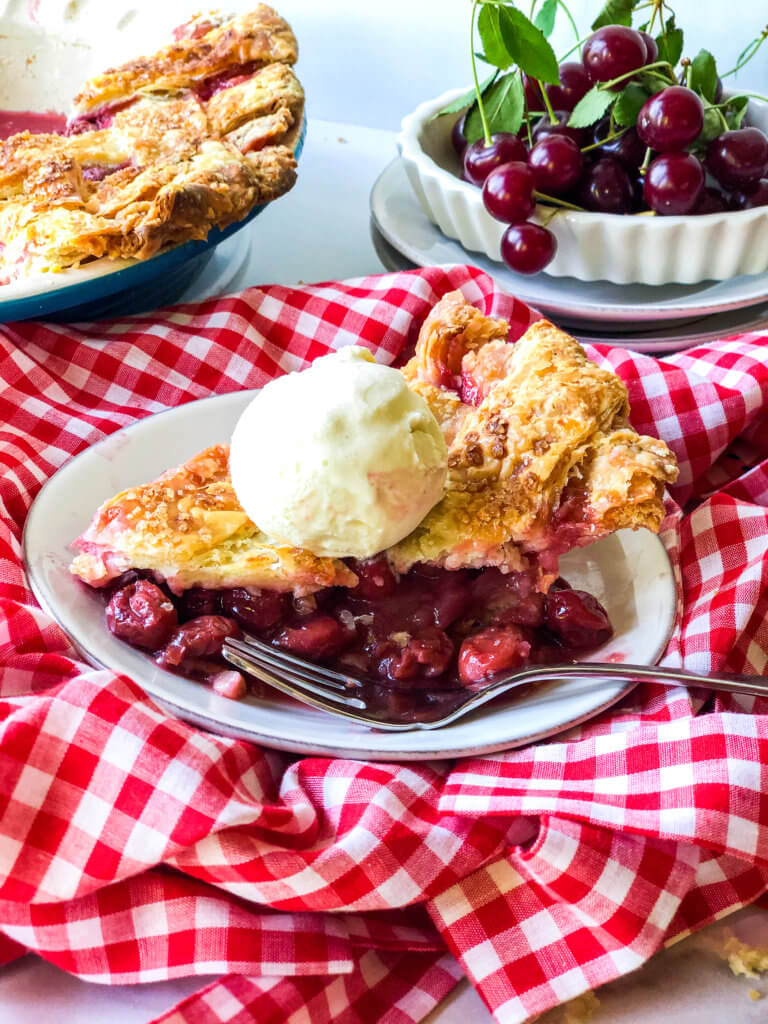 As for me, I always got tripped up on the crust. I tried every pie crust recipe I could find, but couldn't find one that, in my hands, came out both tender AND flaky. And, often, sadly, it was neither. I really feel like I had tried them all. Tried every secret ingredient – vodka, buttermilk, you name it. Until I tried Stand Mixer Pie Dough from Food52. It's magical!
Yes, you make it in a stand mixer – hence, the name. So, there's no cutting in the butter. No chopping it up too much in a food processor. No need to squish it with your fingers, so minimal hands-on-the dough time, which is the secret to the flaky part of the equation. It literally takes just a couple minutes total in your stand mixer – truly. And, if you double it, you easily have enough crust for a lattice-topped pie. The link has ample photos of the super-easy process, too. This recipe changed my will to make pies.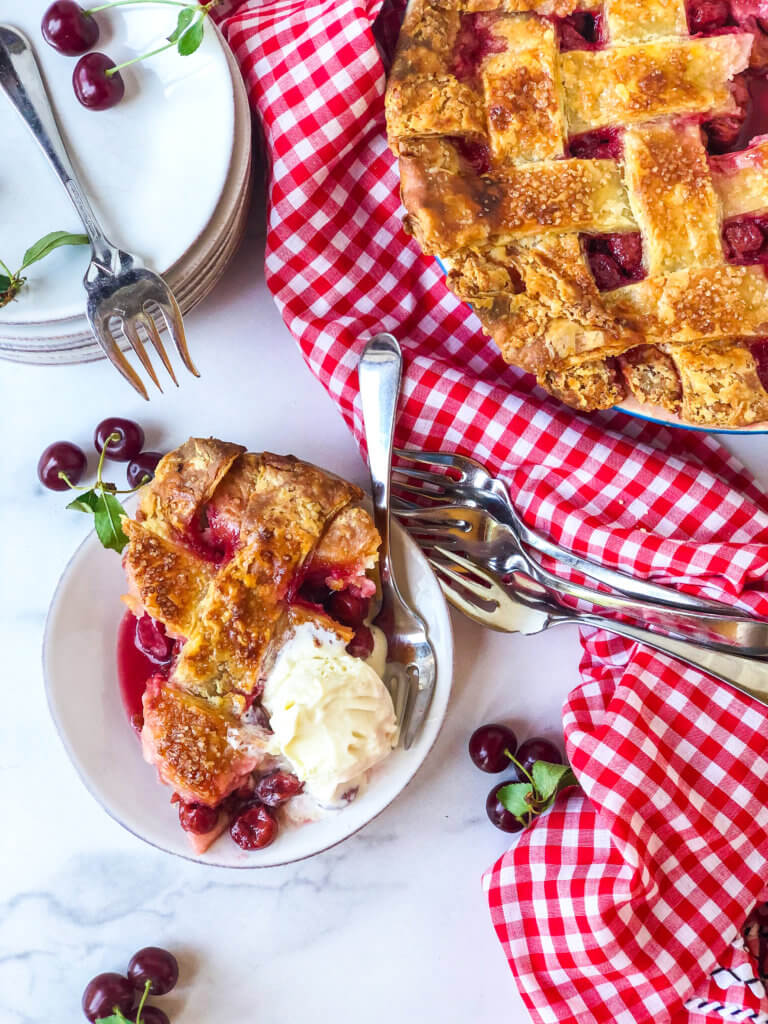 So, I know this is the unanswerable question, but do you believe that it's more than just our physical traits (hair color/height, etc) that we inherit? Is it "nurture" or is it "nature"? Is there a pie-making gene? Or, do we all find our own interests independent of our genes? I think it's some of each, but I feel like nature just might dominate here.
Enjoy!
Do you want MORE PIE IDEAS?
Tom Douglas' Outrageously Good Triple Coconut Cream Pie
My Grandma's Sour Cream Raisin Pie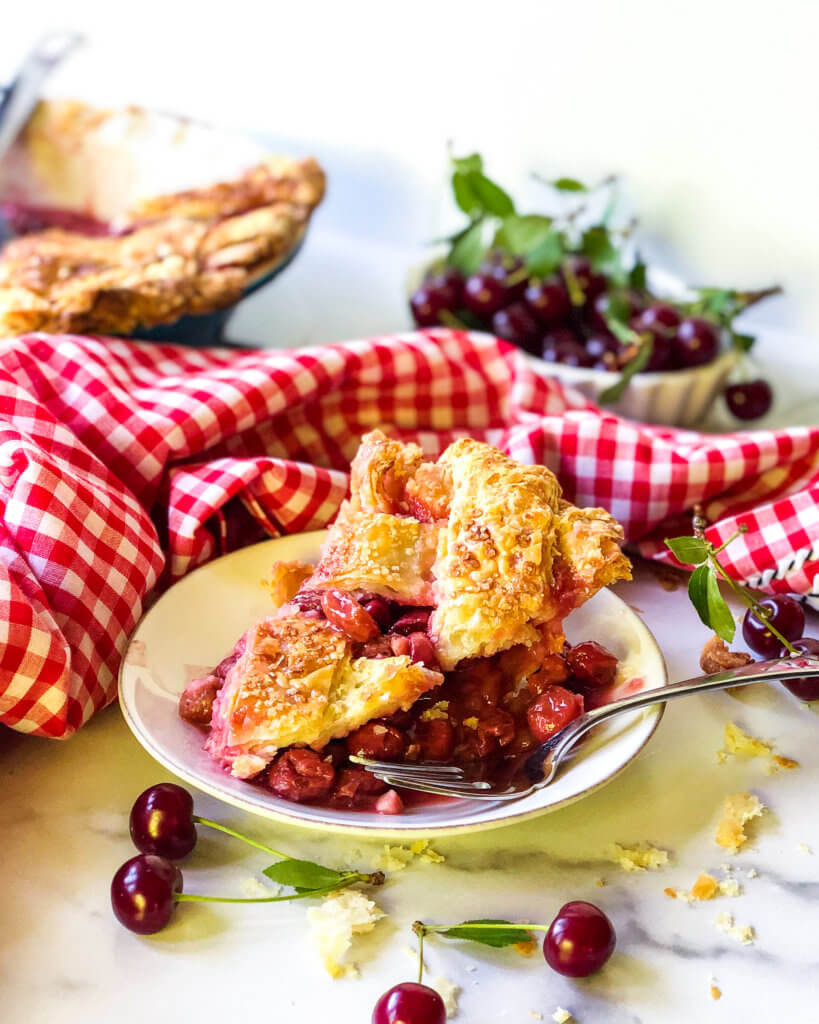 Recipe Details ->
This post may contain affiliate links. As an Amazon Affiliate, I may earn a small commission, at no cost to you, for purchases you may make of items linked from this site.
My favorite recipe for making pie dough is this Stand Mixer Pie Dough from Emma Lappereque at Food52. No cutting-in of the butter, and seriously, ALWAYS tender AND flaky. What more could you want? I made this sunk pie crust recipe for this Easy Rhubarb Custard Pie. It takes just a few minutes in a stand mixer, where you'll first mix the dry ingredients for maybe 5 seconds, then add the slices of cold butter. Mix just until they are still in substantial pieces, but coated in flour. Then slowly add super-cold water until the dough just begins to come together. Form into 2 balls, flatten into discs, wrap and chill at least an hour. You should be able to see the big pieces of butter, like in the photo below.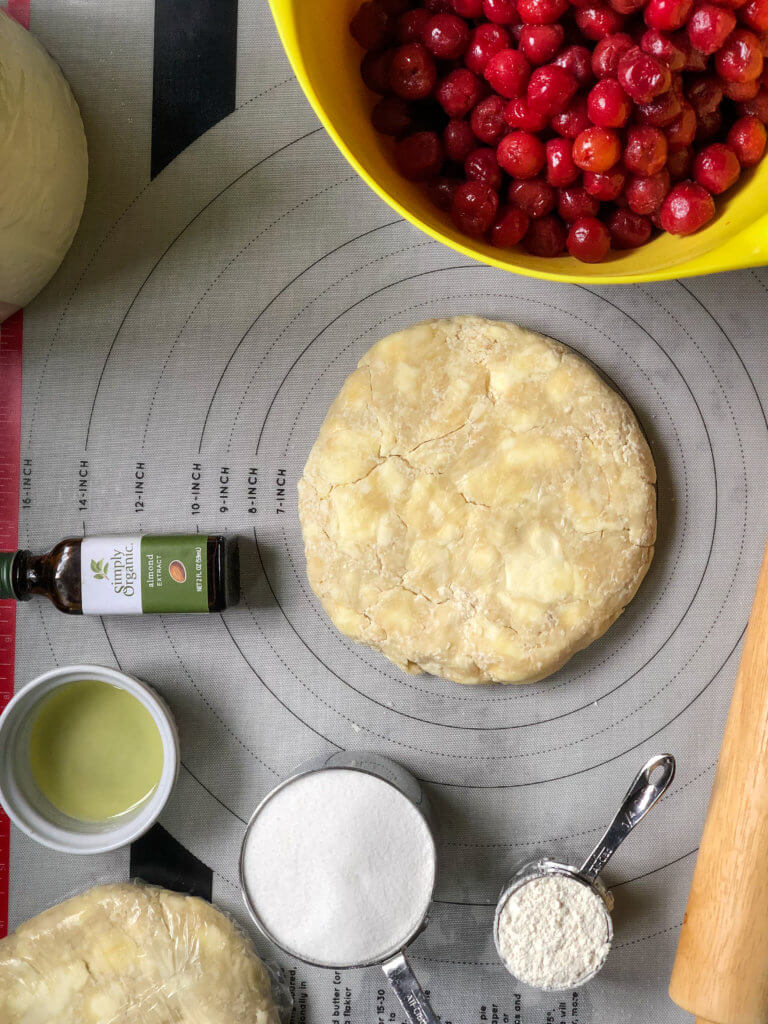 Once chilled, you can roll out the bottom crust and place it in your pie plate (here's my favorite!) Add your coated cherries. Then either top with the top crust, and vent it, or make a lattice. A lattice crust is much simpler than it looks. I usually choose to make about 1-inch wide ribbons, using the ruler as a guide. Just slice the width of the ruler. 
Then place half in one direction over the pie. Roll back every other strip. Place a perpendicular strip over them, and roll the pulled back strips over the perpendicular strip. 
Next, roll back the other strips – the ones you didn't roll back the first time. Repeat until the lattice is finished. Press into the edges. There it is, a lattice crust!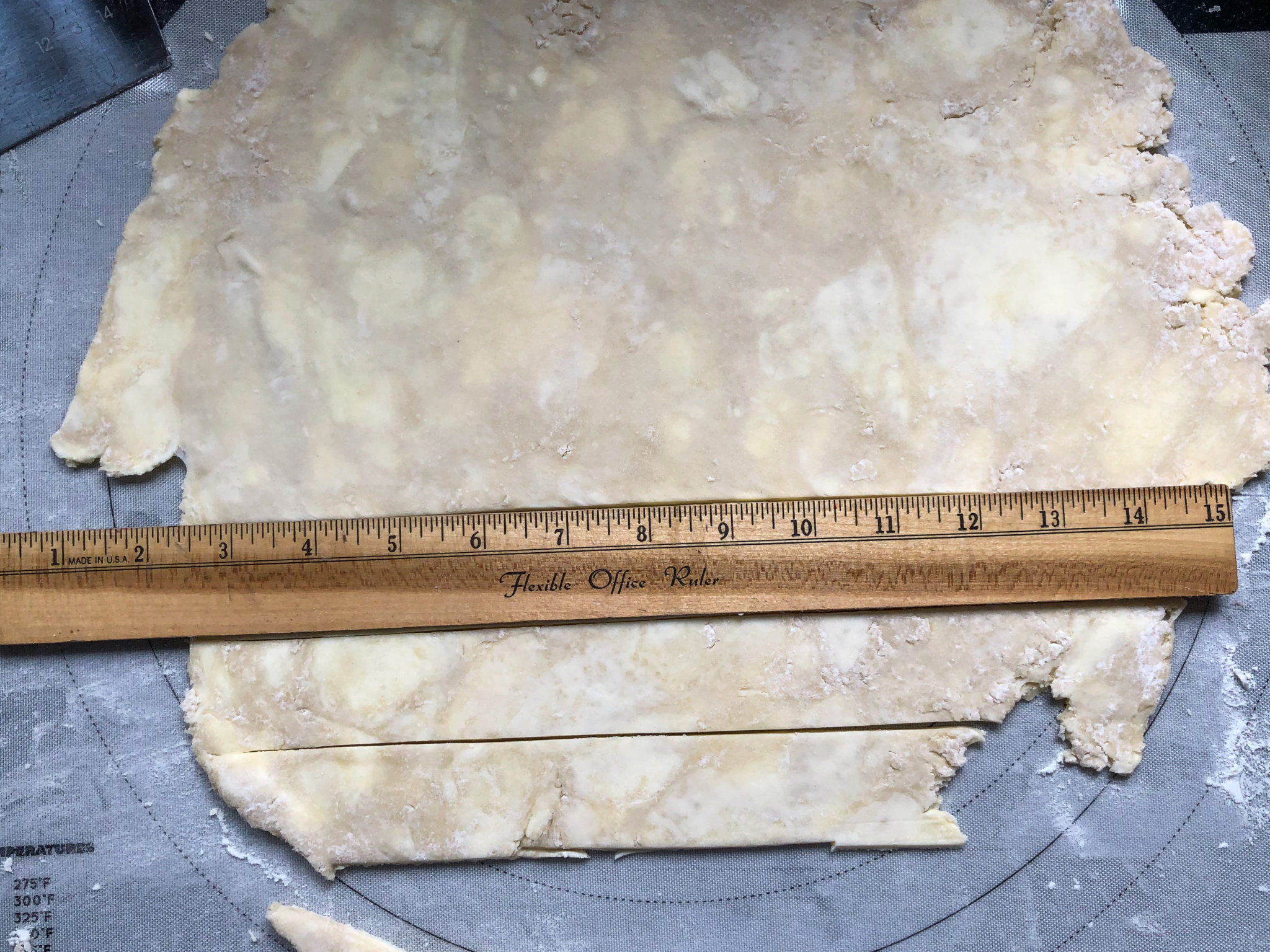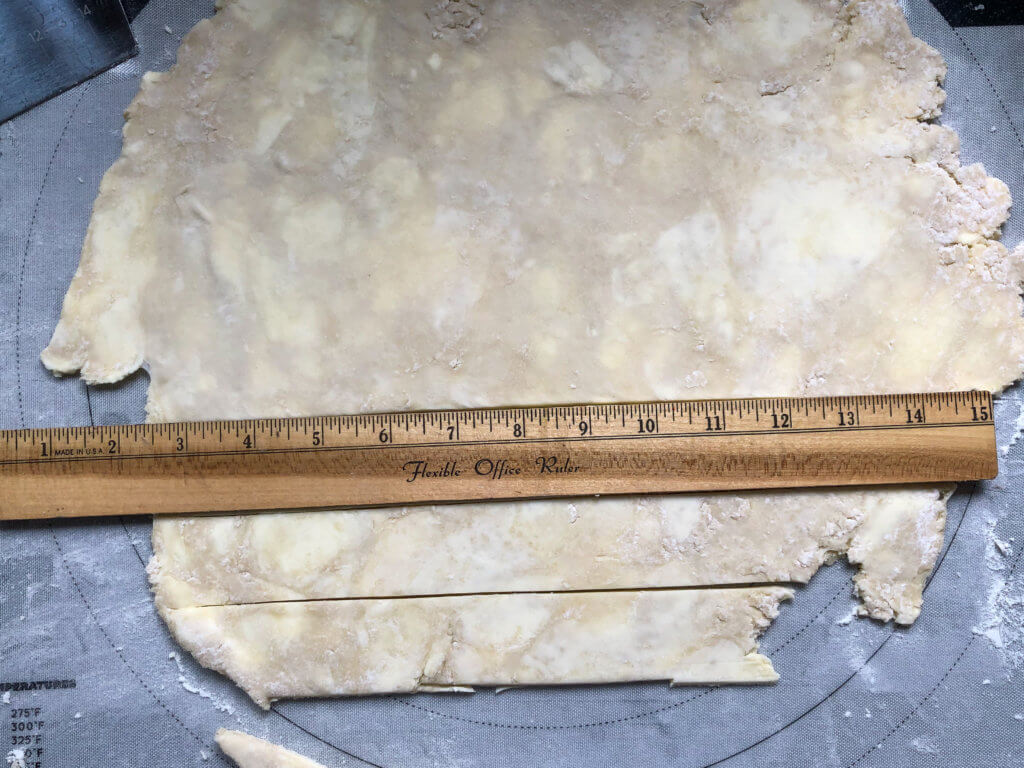 For baking, the best thing to do is a tip I learned from Jennifer, the Foodess. Bake a fruit pie on or in a preheated surface. I used my large cast-iron skillet, but you can use a sheet pan if you don't have a Castiron pan. It will keep the bottom crust from getting soggy. And we all know, no one likes a soggy bottom!
How do I know my pie is done? The simplest answer is when you see the filling bubbling up between the lattice, or through the vent holes you cut. It should take a minimum of 1 hour, but maybe up to 90 minutes, total time, depending on your oven. The crust should be golden brown.
Could you use fresh cherries in this recipe? Most certainly! In my area, fresh sour cherries are notoriously difficult to find, so I end up using frozen. But fresh? All the better!
What about sweet cherries, like Bing Cherries? You can, if you like. If you want a sweet cherry pie, I would increase the lemon juice to 2 Tbsp, and then decrease the sugar to 3/4 cup. Another great use for Bing Cherries would be these scrumptious Cherry Clafoutis Bars.
Cool the baked pie at least an hour, and preferably longer, before cutting into the pie. This time gives the filling time to set up and be a bit thicker.
Pin Cherry Pie Recipe ->
Print
Sour Cherry Pie
You can use any double pie crust here, your favorite pre-made, or try my favorite – this Stand-Mixer Crust from Food52, which is everything you want in an all-butter crust: quick, easy AND both tender and flaky. Totally worth getting out your stand mixer, I promise! 
Author:
Prep Time:

20 min

Cook Time:

60-75 min

Total Time:

80-95 min, plus cooling

Yield:

1

–

9

"pie, 8 servings

1

x
Category:

Pies

Method:

Baking

Cuisine:

American
Ingredients
Crust:
9

" double pie crust, homemade or storebought is fine, too. (see link above for my favorite homemade crust)
Filling:
6

c sour cherries, pitted, completely thawed if frozen(about

2

lb.)

1

c Granulated Sugar

4

T Cornstarch
Pinch Salt (1/4-1/3 tsp)

2

t lemon juice

1/4

t Almond Extract
(optional) 1 t Natural Vanilla Extract
(Optional finish)
1

egg, beaten

1

T half-and-half, cream, or milk

1 tsp

Turbinado or Demarara sugar
Instructions
Preheat Oven:
Preheat oven to 425F. Place a sheet pan or large cast-iron skillet in the oven to preheat as well.
Make Cherry Filling:
Place the cherries in a large bowl. Into a smaller bowl, whisk together the sugar, cornstarch, and salt. Set aside. Pour the lemon juice, almond and vanilla (if using) extracts over the cherries and mix well. 
Stir in the sugar mixture until evenly incorporated. 
Pour coated cherries into the bottom crust. 
Top with vented top crust or build a lattice (see photos and instructions.) Brush the top with a wash made from the beaten egg and milk/cream/half-and-half. Sprinkle with Turbinado sugar.
Place in preheated oven, on top of the preheated pan. After 15 minutes, reduce temperature to 375F (or 350F for convection/fan oven). Check occasionally to see if edges of crust are beginning to brown too much. If so, place a wrapping of foil over them.
Bake until the cherry juice is thickened and bubbling up in the middle, about 45-65 more minutes. 
Cool pie at least an hour before serving.
Keywords: Sour Cherry Pie, pie cherries, sour cherries, pie, recipe, lattice crust
Recipe Card powered by