Nigella Lawson's Mirin Glazed Salmon is a true restaurant-quality meal you can make in half the time it takes to cook the rice that goes with it! Crispy-seared salmon with a dark salty sweet sauce! Addictively tasty!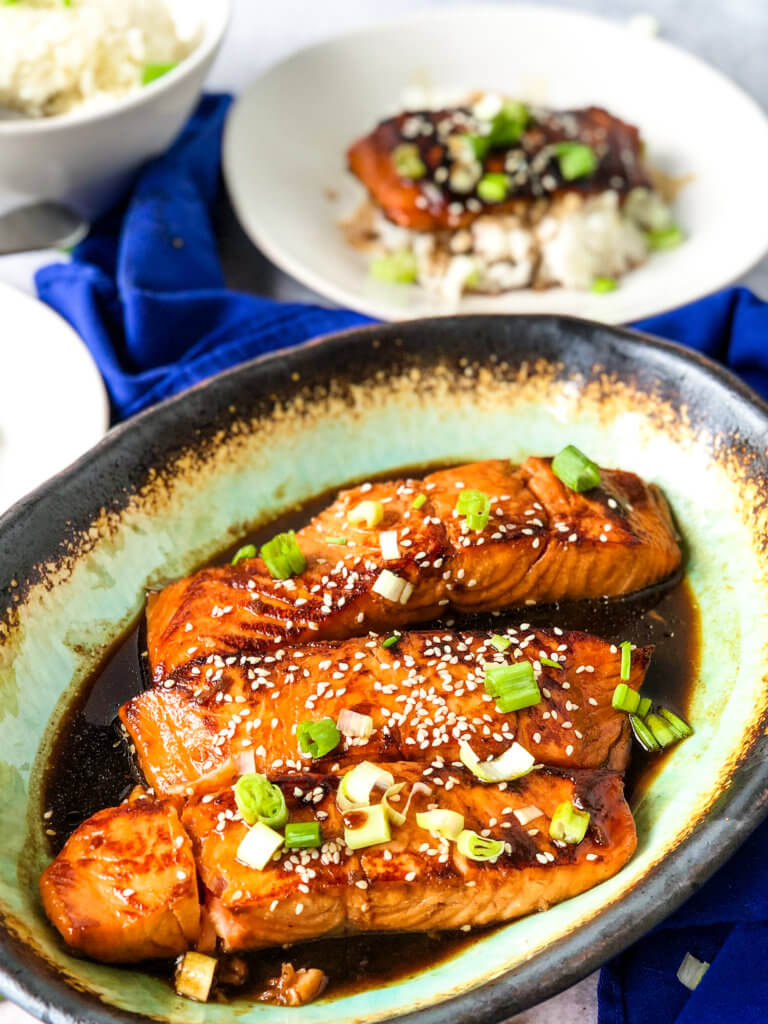 When I was a kid, my Mom used to watch cooking shows. She would watch a bit of Julia Child, and after that, a show called "The Galloping Gourmet" with this handsome and charismatic guy named Graham Kerr. Galloping would always enter the stage by leaping over a chair. Most of the time with grace, and usually with a glass of wine in hand. And he was the friendliest, most informative host, with an obvious joy for food and cooking. He would always invite an audience member to join him for the meal he prepared, and it was always fun to watch their own joy at the first taste. I imagine this show was one of my initial exposures to how positively joyful and entertaining cooking could be.
Now, to let you know how absorbing this show was for me, at the tender age of 6, I do not remember a single one of my 5 sisters ever being there to watch with us. It was just me and my Mom, while she was sewing or ironing or something, watching this cooking show. I realize I was "The Quiet One" of the family, but where were the others? They couldn't all have been somewhere else. I've no idea. Strange, how memory works. Although maybe my memory is from the 21 days (!) of first grade I was so bored in school that I pretended to be sick.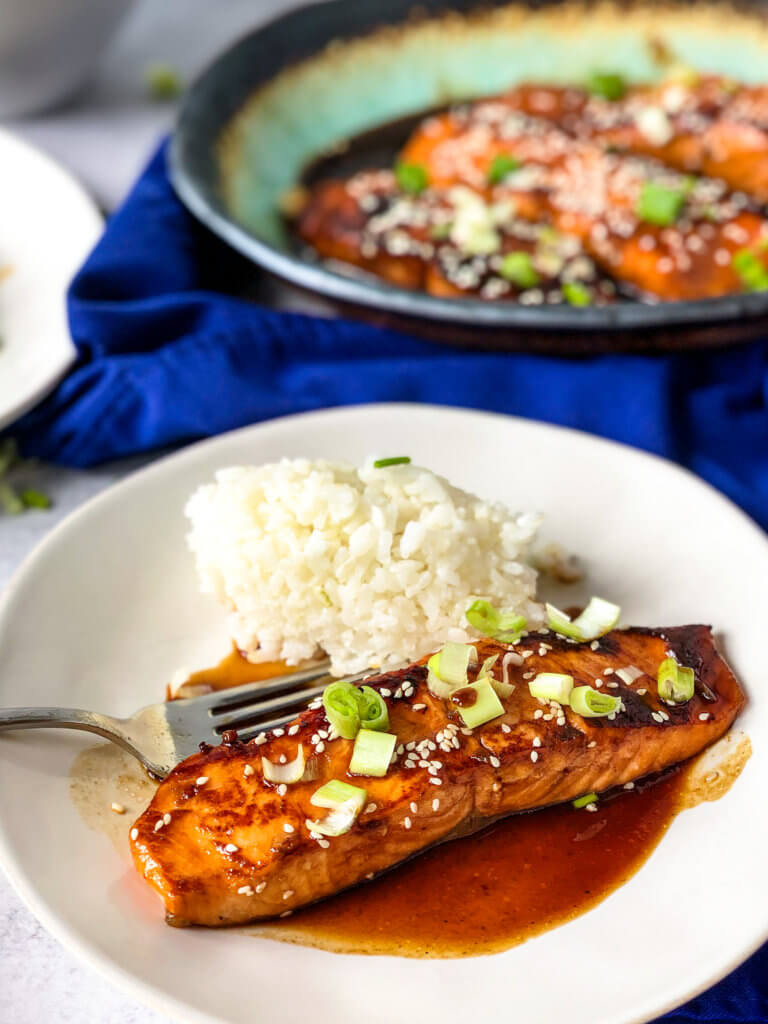 Anyway Galloping Gourmet was only on for a couple of years, and by the time he sadly went off the air, I was in school, and really never gave it a second thought. But, by then, between television cooking and my Mom's cooking, the joy and pleasure of cooking was indelibly imprinted on my genes.
Many years later, I stumbled onto Nigella Lawson's Nigella Bites. Again, it was her passion for cooking and for life that attracted me and kept me tuned in. Clever, creative, sensuous, I was always charmed to see the end of her show, where she would sneak to the fridge, late at night, and indulge in some leftover from whatever it was she had cooked. She was who I wanted to be. But, being "the quiet one", a Midwestern girl who had studied Biology and Business, "Television chef" was just not in the cards. Instead I bought her cookbooks. Anyway, this is my long introduction to one of my most-loved cookbook recipes, ever-so-slightly adapted from Nigella Express, Nigella's Mirin Glazed Salmon recipe.
And, oh, this dish! I can't rave about it enough! The flavor of the marinade which turns into a dark, sweet, salty, sticky sauce is so addictively delicious, you'll want it again and again. And such quick preparation – a 3-ingredient marinade, 5 minutes to marinate, 4 minutes to cook. I'm serious. So good. The only tough part is if you want rice or noodles with it, they each take longer than the salmon. Truly a small price to pay for this deliciously tasty dish. And, trust me, go for the rice with this sauce.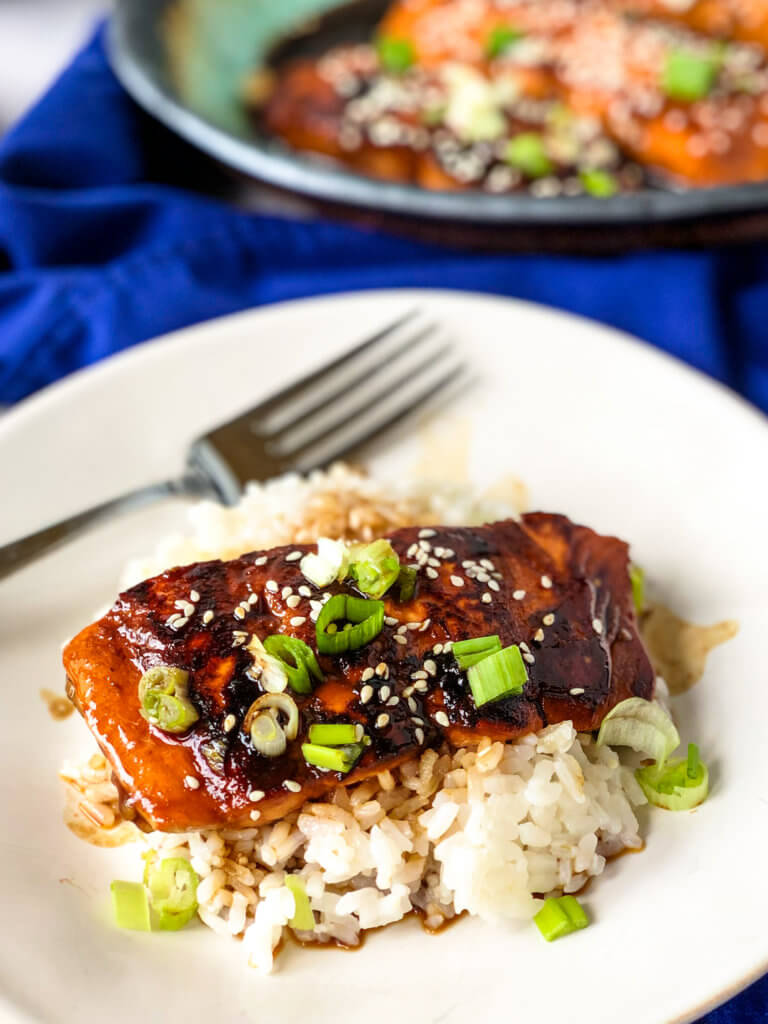 So if you have a passion for easy, tasty, flavorful dishes, this Mirin Glazed Salmon has your name all over it! Try it, won't you? And let me know if you love it like I do!
And, let me know, have you ever heard of Graham Kerr, The Galloping Gourmet? I understand he lives in my neck of the woods now, interestingly.
Enjoy!
Looking for other salmon recipes? Why not try one of these:
My Simply Delicious Honey-Sriracha Salmon
Super-flavorful Orange-Za'atar Salmon
Lemony Salmon with Za'atar-spiced Crispy Chickpeas Bowl
Grilled Vegetable Nicoise with Salmon
Salmon with Pineapple and Crispy Bacon Salsa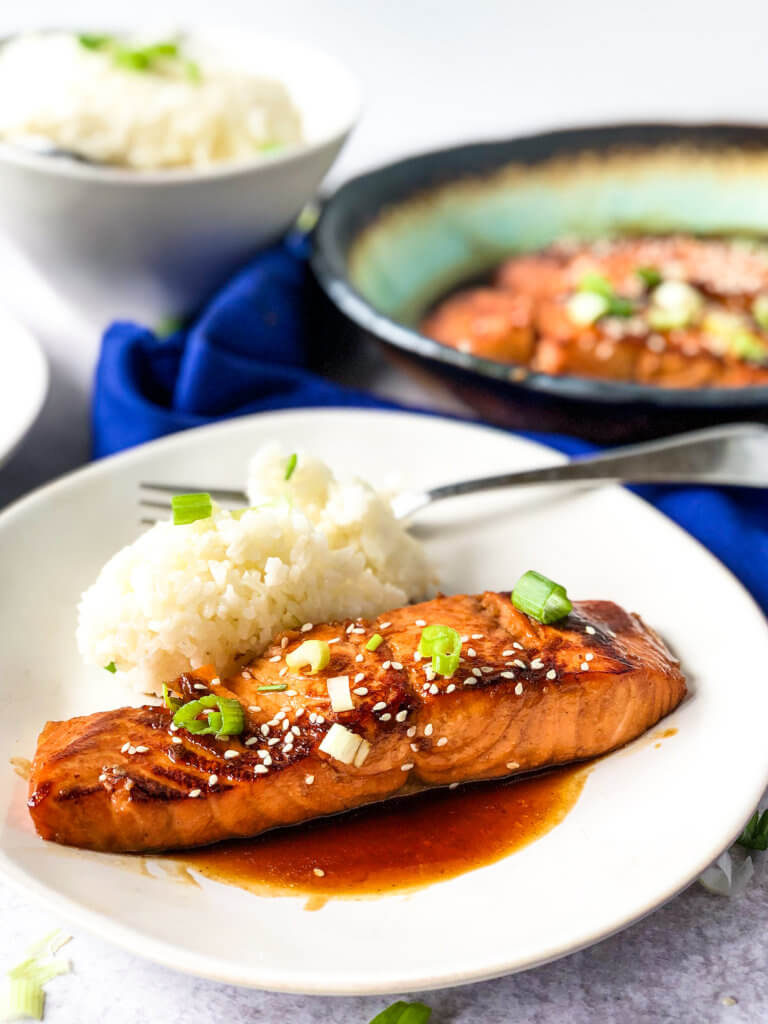 Mirin-Glazed Salmon Details ->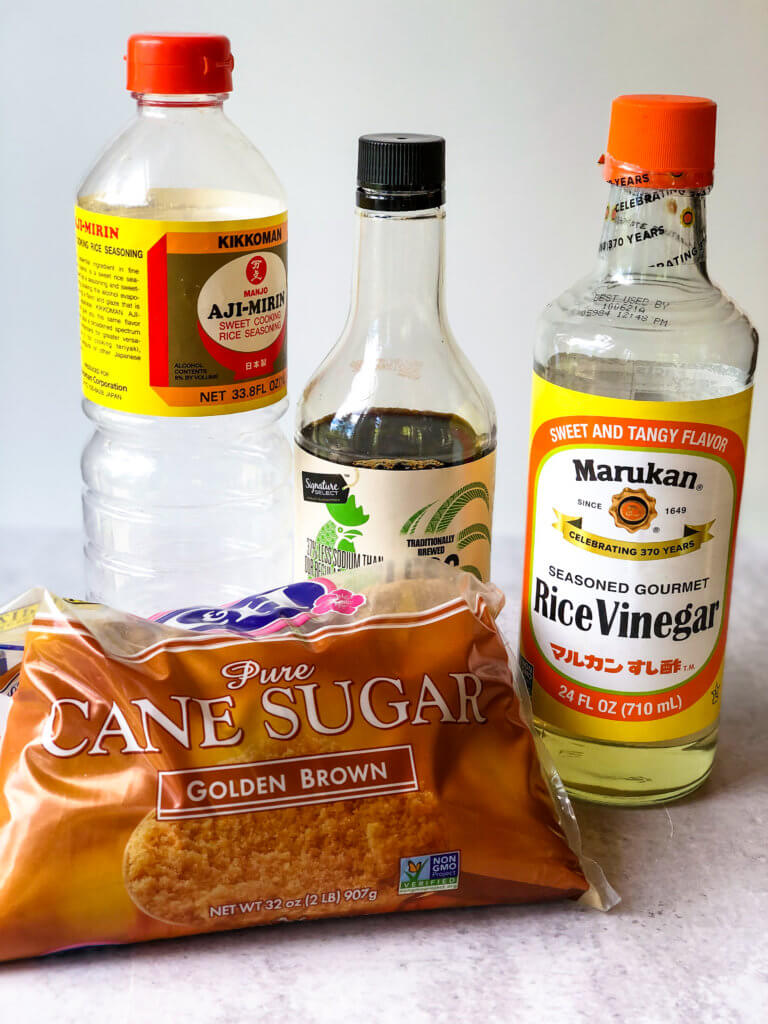 I am an Amazon Affiliate, so please know any purchases you make through links provided on my page allow me to make a small comission, to maintain this site, but at no additional cost to you.
I'm totally serious when I say this salmon is one of the easiest and tastiest I've ever made! The sauce, with it's 4 ingredients, really leaves you wanting more. And truly, in just a few minutes this can be on your plate an in your belly.
You'll  just need to mix the first 3 marinade ingredients in a shallow dish – I often add some fresh ginger to the soy sauce, brown sugar, ginger (if using), and mirin –  while you heat your saute pan to Medium-High, you don't want it smoking, but you do want it nice and hot, to get that toasty sear. Marinate 3 minutes on one side, flip with spatula, 2 minutes on the second side. Then, sear the salmon in the hot pan – top side down first – 2 minutes. Turn it, pour in the remaining marinade for the last 2 minutes of cook time. Watch it bubble up. Not to worry, this helps cook the salmon to perfection.
Remove the salmon to a serving plate. Then – now this is where the sauce shines – add the rice vinegar, swirl a couple seconds, and then pour a bit over the salmon. Reserve the rest to spoon on at the table. So good over rice (or noodles). 
What are the keys to success for this recipe?
The two most important things are: 1) Be sure to get your rice started first, if you're making it. It takes longer to cook than the salmon, and 2) Make sure your dry pan is hot – a Medium-High heat will be perfect. Not smoking hot, but on the hotter side. If it's not hot enough, you won't get that lovely, crispy sear.
Do I need to use fresh salmon?
After making this many times over, I can say fresh salmon is best. But sometimes it's just not practical. I've used frozen (and thawed) salmon. And, if you do need to use frozen salmon, just be sure the pieces are not too thin, because you don't want to overcook them. They should be 3/4 – 1 inch at the thickest point. 
Also, be sure to pat them dry before placing them in the marinade, so they will soak up a nice amount of the marinade flavor. Frozen and thawed pieces sometimes don't get that beautiful sear you see with fresh salmon pieces.
What to do with leftovers? (if you happen to have them)
This flavorful salmon is awesome at room temperature or chilled. It makes a phenomenal addition to a salad! Again, the sauce would be wonderful along with the salmon over some vegetables or greens.
Or, like Nigella knows, a great late-night snack.
Pin Recipe for later ->
Print
Nigella's Mirin Glazed Salmon
I adapted this recipe ever so slightly from Nigella Lawson's Nigella Express, one of my favorites for quick meals and treats. For 4 adults, we like salmon portions about 5-6 oz, so I used about 1.25 lb Salmon.  The best way to cut the salmon fillet is into strips about 1-2″ wide where they are thicker toward the middle and thinner at the ends.
Be sure to pick the bones out of your salmon filets.
Author:
Prep Time:

6 minutes

Cook Time:

4 minutes

Total Time:

10 minutes

Yield:

4

servings

1

x
Category:

Fish, Seafood

Method:

Stovetop

Cuisine:

Asian-inspired
Ingredients
1/4

c (60ml) Mirin (Japanese sweet rice wine)

1/4

c (49g) Light brown sugar, packed
(optional) 1 tsp minced fresh ginger 

1/4

c (60ml) Soy Sauce

1 1/4

lb (.57kg) skinless Salmon, or

4

–

5

oz. fillets or steaks, about

1

" thick at the thickest point

2

T (30ml) Rice Vinegar
For garnish:
1

–

2

Scallions, halved and shredded or chopped
Toasted sesame seeds for sprinkling
Slices of sushi ginger
(optional) Rice or noodles for serving
Instructions
If making rice or noodles, boil the water, and prepare according to package directions.In a shallow, flat-bottomed dish, mix together the mirin, sugar, soy sauce, and ginger (if using). Marinate the salmon 3 minutes on the first side, and 2 minutes on the second side. While marinating, heat a large skillet on the stove over Medium-High heat.
When pan is hot and marination is finished, cook the salmon fillets in the hot, dry pan for 2 minutes on the first side. Then turn them over, add the marinade, and cook another 2 minutes.
Place the salmon pieces on a serving plate. Add the rice vinegar to the marinade in the hot skillet.  Swirl until mixed, then pour the glaze over the salmon and top with the scallions and/or toasted sesame seeds.
Serve over rice or noodles.
Nutrition
Serving Size:

1 fillet with 1/4 of the sauce
Keywords: Mirin Glazed Salmon, recipe, Nigella Lawson, quick, easy
Recipe Card powered by