Remember trying something new? Of course you do – trying new things is what life is all about – new jobs, new boyfriend, new city, new foods, etc, etc.  So why do we, as adults, sometimes feel nervous about trying new things? It all has to do with risk, of course! I think, overall, I am probably a more risk-averse than average person.  (At least that's what friends tell me.) I have no interest in sky diving or climbing tall, icy mountains, and other such "risky" ventures. So why in the world was I, of all people, totally and completely fearless of…are you ready?…Zip-lining!  Not just regular Zip-lining, but running full speed off a 1500-foot cliff and Ziplining across the valley for nearly 1/3 of a mile? And, why does this recipe for Grilled Vegetable Nicoise Salad with Salmon remind me of Zip-lining?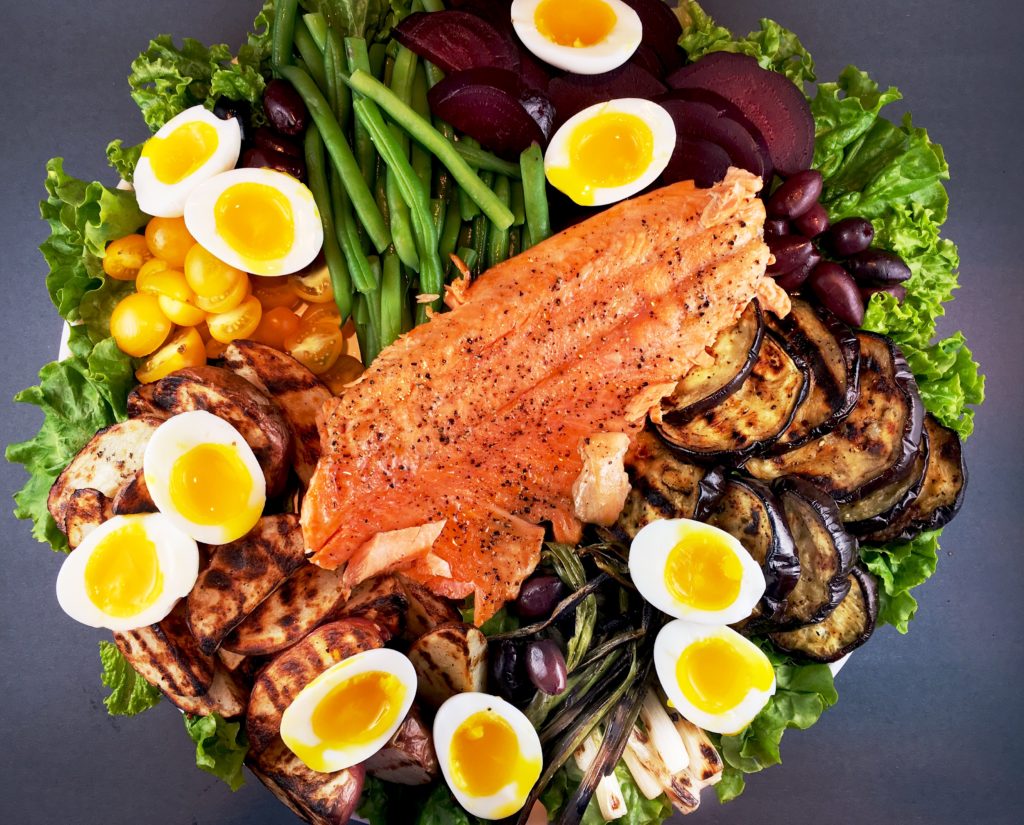 So, when I was thinking about this magnificent (and healthy!) grilled salad, I realized some of the steps involved are things some of us may not have done in the past – blanching green beans, roasting beets, making your own salad dressing.  But rest assured, these are easy things.  Boil the beans a couple of minutes, wrap the beet in foil and toss it in the oven.  Truly,  don't be afraid of these things, they are as simple as they sound. There truly are bigger battles to be won, but not in this recipe. Once you do these small things, you will see how easy (and not risky at all!) it is and come out of it with a beautiful and tasty salad.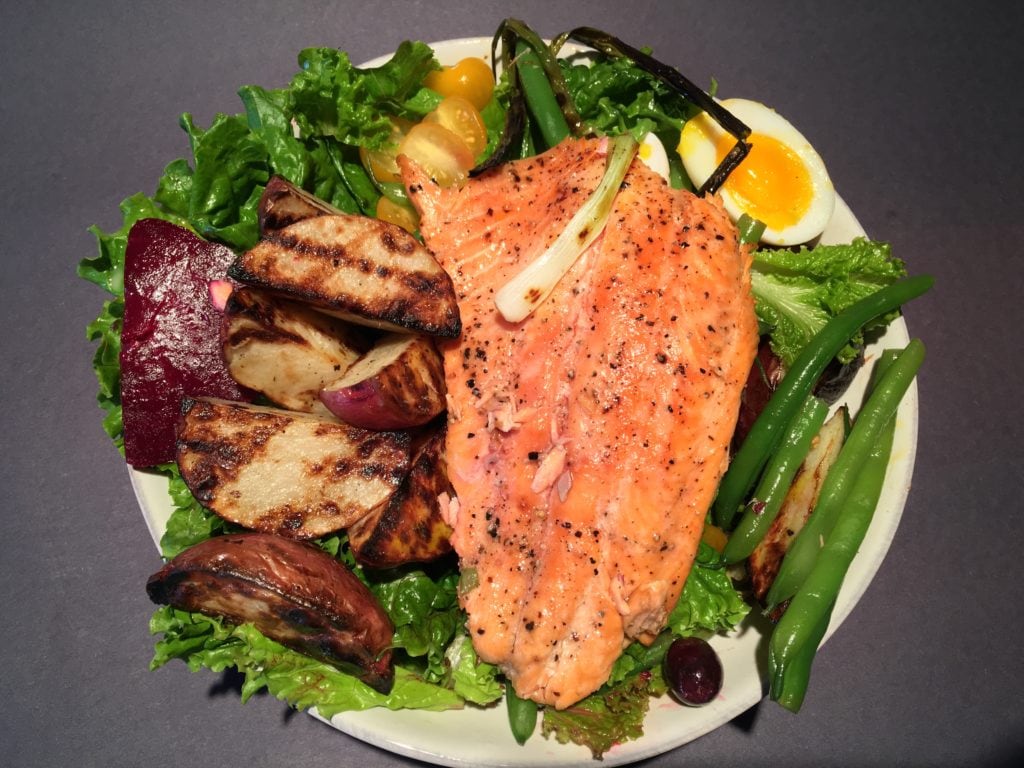 This is also how we did the Zip-lining.  They started us on a super low-to-the-ground line that was probably 30 feet long.  Not so scary, right? Each line got a little higher and a little longer. So 8 lines later, we were all running off of a cliff. It was freeing, joyous even.  And beautiful! It was that simple.  Easy steps build your confidence, and before you know it, you have your new favorite salad- Grilled Vegetable Nicoise Salad with Salmon! It doesn't get much better! Enjoy!
Print
Grilled Vegetable Nicoise Salad with Salmon
A healthy and hearty salad for Spring and Summer!  This grilled salad can be prepared ahead of time or just prior to serving.  It is as delicious at room temperature as it is warm!
Author:
Prep Time:

30 minutes

Cook Time:

12 minutes

Total Time:

42 minutes

Yield:

6

-

8

servings

1

x
Category:

Salad
Ingredients
For the Salmon
2

lbs (1-2 large fillets) salmon – We like Chinook or Coho, Steelhead works as well.

2 tsp

sugar
Salt, pepper, Olive Oil
For the Vegetables
1/2

lb fresh green beans, blanched (See Notes)

1

–

2

Medium Beets, Roasted (See Notes)

1

Medium Eggplant, sliced into

3/4

" rings

1

Bunch green onions

1 1/2 cups

Cherry Tomatoes, sliced

6

small Potatoes, or 1 1/2 lb Fingerlings, cut into wedges

6

Large eggs, boiled as you like (see Notes)

1/2

c Kalamata Olives, pitted

1

bunch Leaf Lettuce (or other leafy green of your choice)
For the Dressing
1

t Dijon Mustard

1

t Sugar

1

Clove Garlic, minced

1/3 cup

White Wine Vinegar

1/3 cup

Extra-Virgin Olive Oil
Instructions
Prepare the Salmon
Rub sugar gently over the top of the salmon fillets.  Generously salt and pepper and drizzle with olive oil.  This can be done up to 2 hours prior to grilling.
Prepare the Vegetables
See notes below on blanching the beans, roasting the beets and boiling eggs.
To prepare the eggplant for the grill, layer the rings in a colander, generously salting both sides as you layer.  Set colander on a plate or in sink for water to drain.  After 20-30 minutes, rinse the salt off of the eggplant slices and drizzle olive oil somewhat generously over both sides.
Drizzle a little olive oil over the potatoes and green onions.
Heat grill to Medium/Medium-High.  Place the salmon (skin-side down), eggplant, onions and potatoes on the grill.  Onions will char in about 5 minutes. The salmon should grill for around 10-12 minutes per inch of thickness, with care to not over-cook. The eggplant and potatoes should cook for about 10-12 minutes, turning as each side chars.
Prepare the Dressing
In a 10-16 oz jar with a lid, place the mustard, sugar, and garlic.  Add several shakes of salt and several grinds of pepper.  Add the wine vinegar, shake to mix.  Then add the oil and shake vigorously to emulsify.
Compose the Salad
Arrange greens on large platter or individual plates.  Arrange green beans, beets, eggplant, green onions, potatoes, tomatoes, olives, and boiled eggs.  Top with cooked salmon.  Lightly drizzle with about 1/3 of the dressing, reserving the rest to pass at the table.
Notes
To blanch the green beans:  Place in pot of boiling water for 2 minutes.  After 2 minutes, plunge beans in a bowl of icy water.  When cold, remove, set aside, dry.
To roast the beets: Wrap beet or beets in foil.  Roast in 400F oven for 1 hour until tender.  Cool, peel.
For boiled eggs:  Allow 7 minutes for soft-boiled, 10 for hard-boiled. Cool in ice bath, peel.
Recipe Card powered by